Disneyland is the most magical place in the world but during the holiday season, the festive spirit in the theme park makes it all the more magical! Teeming with your favorite Disney characters, Disneyland Paris is the perfect place to revel in the Christmas spirit. Christmas in Disneyland Paris features beautiful winter decorations, special holiday season entertainment, an unmissable Christmas parade, and a gastronomical delight of seasonal delicacies . This year, the Disneyland Paris Christmas extravaganza begins on November 13, 2021 to January 9, 2022. If you're planning on visiting the city of lights during the holiday season, set aside at least a day to experience the Christmas celebrations in Disneyland.
Still curious about why you should visit the theme park during Christmas? Our personally curated guide will help you sprinkle some Disney magic on your Christmas for 2021!
Why You Should Visit Disneyland Paris During Christmas?
---
Old-School Disney Magic: There's nothing quite like a visit to Disneyland Paris with its exciting rides, food options and shops themed around your favorite Disney movies, the iconic Disney castle, and the underlying aura of magic in every element.Add a dash of holiday spirit to the proceedings and you have got yourself a fabulous day out with friends and family.
Beauty and the Fireworks: No, this is not the title of an upcoming Disney movie but an apt description of the winter wonderland that Disneyland Paris transforms into around Christmas. A massive, beautifully decorated Christmas tree dominates the landscape along with your favorite Disney characters dressed in their holiday best! At the end of each night, there's a show of dazzling fireworks to celebrate the festive season.
You'll Float Too!: Another highlight of Christmas in Disneyland Paris is the Christmas Parade. While Disneyland parades are memorable throughout the year, there's a special joy in watching Mickey, Minnie, Donald, Goofy and other classic characters aboard their beautiful floats, dressed in their Christmas finery. Each float of the parade is intricately designed and flawlessly celebrates both Disney and the holiday spirit..
Queue Who? : If you visit Disneyland Paris on 25th December, you'll get to enjoy a relatively less crowded Disneyland. Most locals are caught up with family celebrations in Paris which means less crowds and less queues for all rides. This is a blessing because this theme park is known to be one of the most crowded attractions in the city.That said, Christmas celebrations in Disneyland start in November and go all the way to January, so even if you decide to skip visiting Disneyland Paris on Christmas dya, you can choose any other day to experience the Disney magic.
Movie Magic Food: Taking advantage of their many iconic movies, Disney has created restaurants and stalls inside the theme park mimicking those seen in the movies! Most of these eateries also feature a special menu dedicated to the holiday season. Pies and roasted chestnuts galore, eat your way through the day!
Plan Your Christmas In Disneyland Paris
---
Book Your Tickets In Advance
It goes without saying that the days around Christmas in Disneyland is when the theme park is the most crowded (25th December however sees a slim crowd). Book your tickets online in advance to save yourself the hassle of standing in hour long ticket queues. Booking your Disneyland Paris tickets in advance also allows you to take advantage of great discounts and cashback offers.
Take the train to Disneyland Paris
The city of Paris is plenty crowded during the holiday season and getting to Disneyland Paris can be an uphill battle if you rely on a taxi or a bus. Avoid the on road traffic by taking a train to the theme park. You can take the RER A train to the Marne-la-Vallee - Chessy stop, which is a 2-minute walk from the park's entrance.
Check the show timings in advance
There will be a lot happening in Disneyland around Christmas and it's easy to get confused about which attraction to visit and how to manage your limited time inside the park. Do a fair bit of planning, check out the timings of the Christmas special shows and chart an itinerary to make the most of your time in the happiest place on Earth.
Stay longer!
To accommodate all the extra shows and attractions, Disneyland Paris is open for a couple of hours extra. Generally, the park closes at 6:00 PM or 7:00 PM depending on when you visit, but during the Christmas experience, the closing time is extended up to 10:00 PM. Make good use of this extra time to attend the shows and tick of all the rides!
Christmas In Disneyland Paris - Ticket Options
---
Needless to say, Christmas is one of the most popular times to visit Disneyland Paris and tickets sell out like hot cakes. Make sure you grab your atleast 2 weeks in advance.
What's Happening In Disneyland Paris This Christmas
---
1. Mickey's Magical Christmas Lights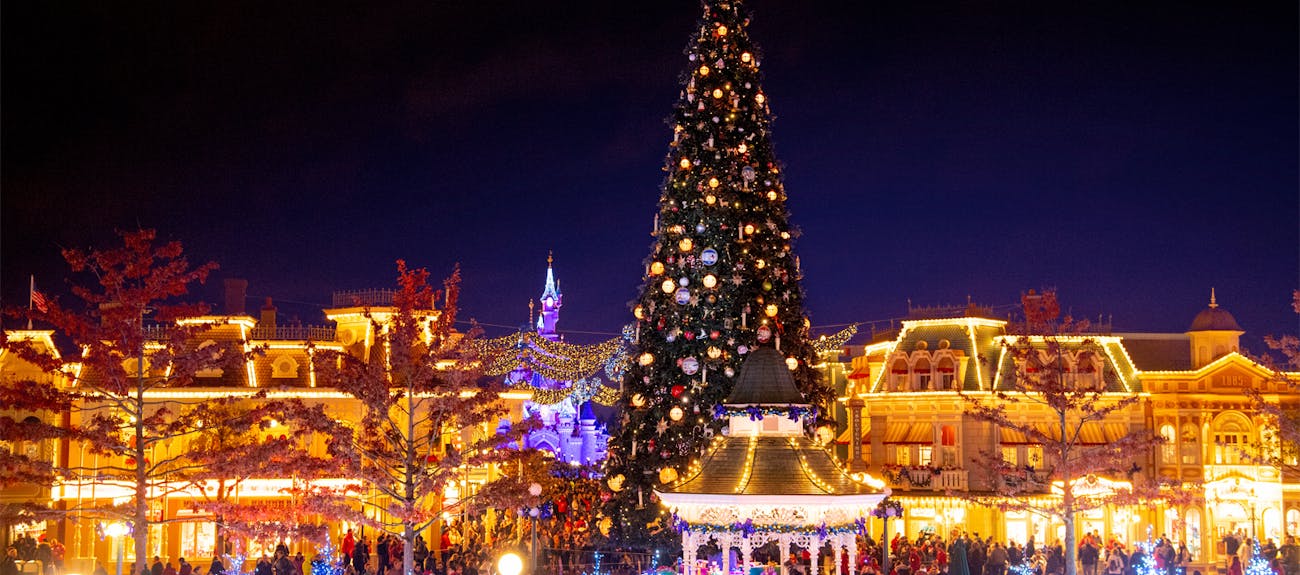 Join Santa, Micky, Minnie and the rest of their spectacular entourage for the annual, holiday season sing-along. The highlight of this fun experience is the lighting up of Town Square's massive Christmas tree with a stunning light display. Joining in on all the fun? All of Disney's iconic royal couples!
2. Disney's Christmas Parade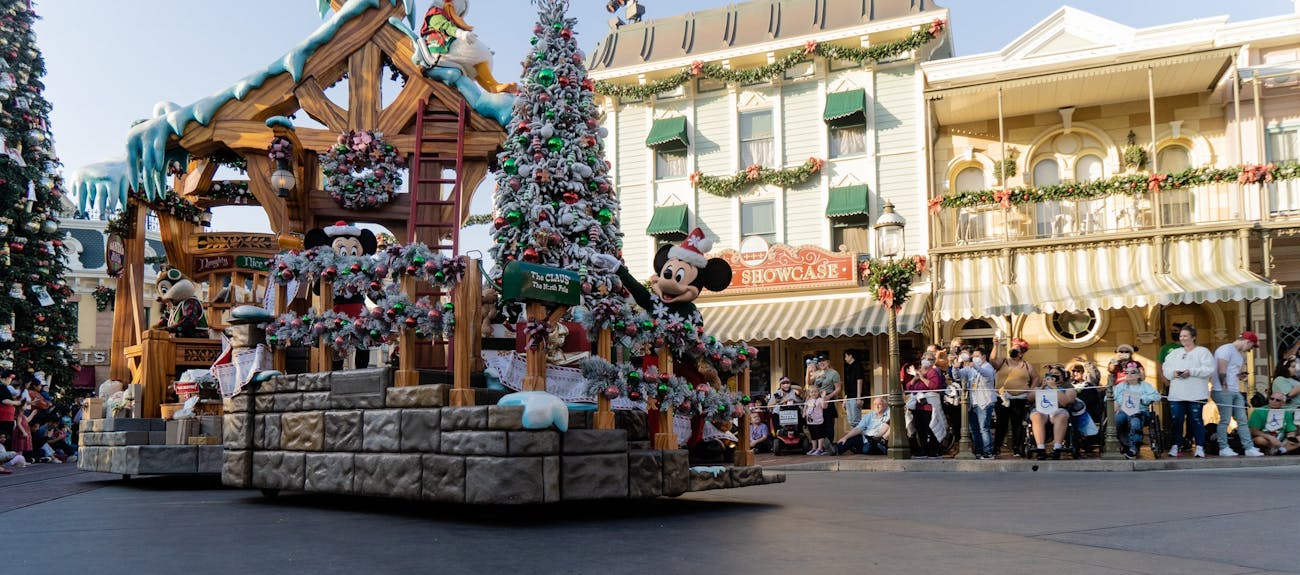 One of the biggest reasons to visit Disneyland during Christmas is the legendary Disney's Christmas Parade. Cheer along the merry procession as your favorite Disney characters, including Mickey, Donald, Daisy, Goofy and more, lead their floats dripping with Christmasy elements.
3. Mickey's Big Christmas Band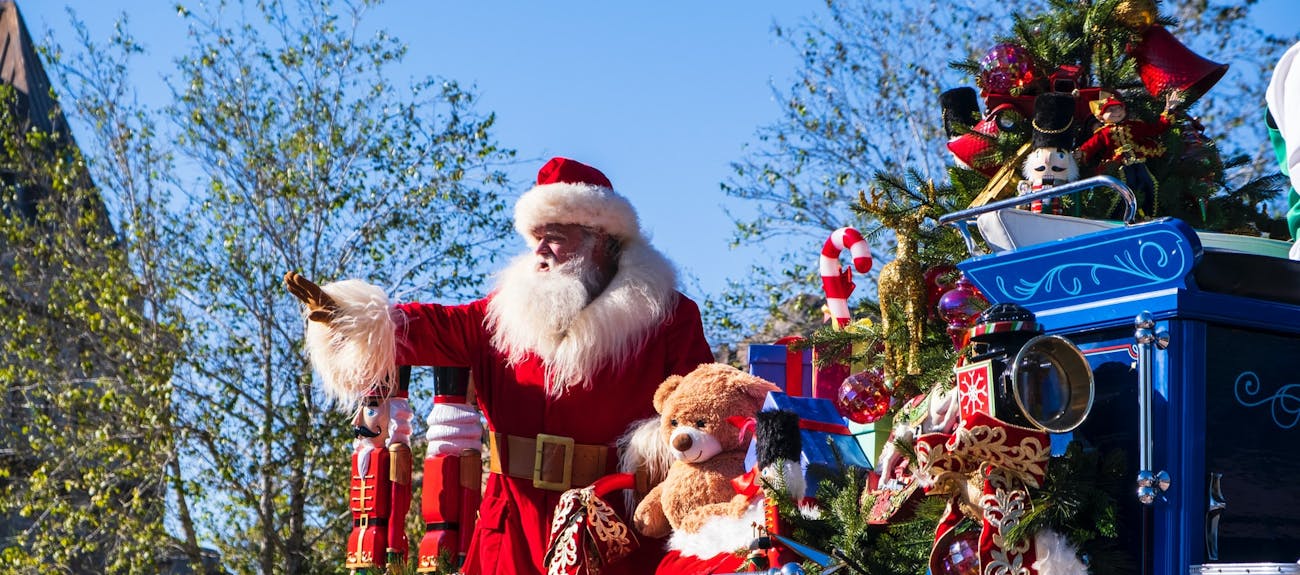 Make your way to Animagique Theatre in Walt Disney Studios Park to see Mickey unlike you have ever seen him before. Watch in amazement as your favorite mouse shows off his drumming talent on this fabulous Broadway-style tap dancing show set to some classic Christmas carols.
4. Christmas at Disney Village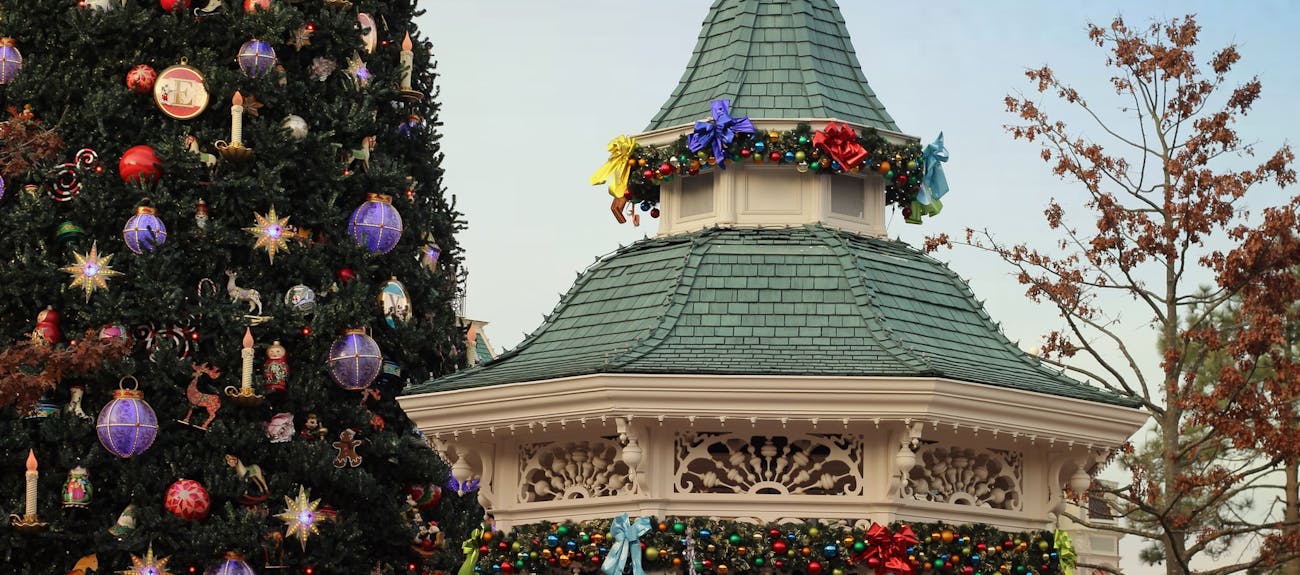 Get ready for an unforgettable Christmas celebration at Disney Village! Holiday season entertainment, an old-school Christmas market and the annual Christmas dinner show come together in harmony to create the most memorable end to the year.
5. Very Merry Encounters with Santa & Disney Characters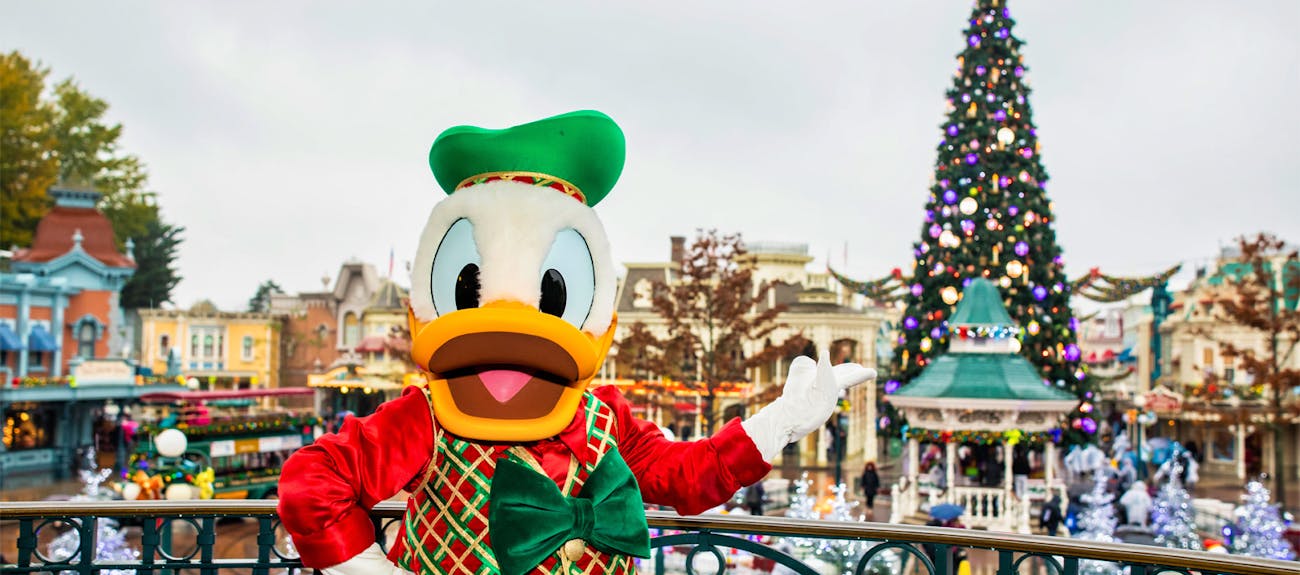 One of the best parts about visiting Disneyland is a chance to meet your favorite Disney characters. During the Christmas season, iconic Disney characters are dressed in their best Christmas finery, ready to click selfies with you. This attraction is available at both Disneyland and Walt Disney Studios Park
6. Starlit Princess Waltz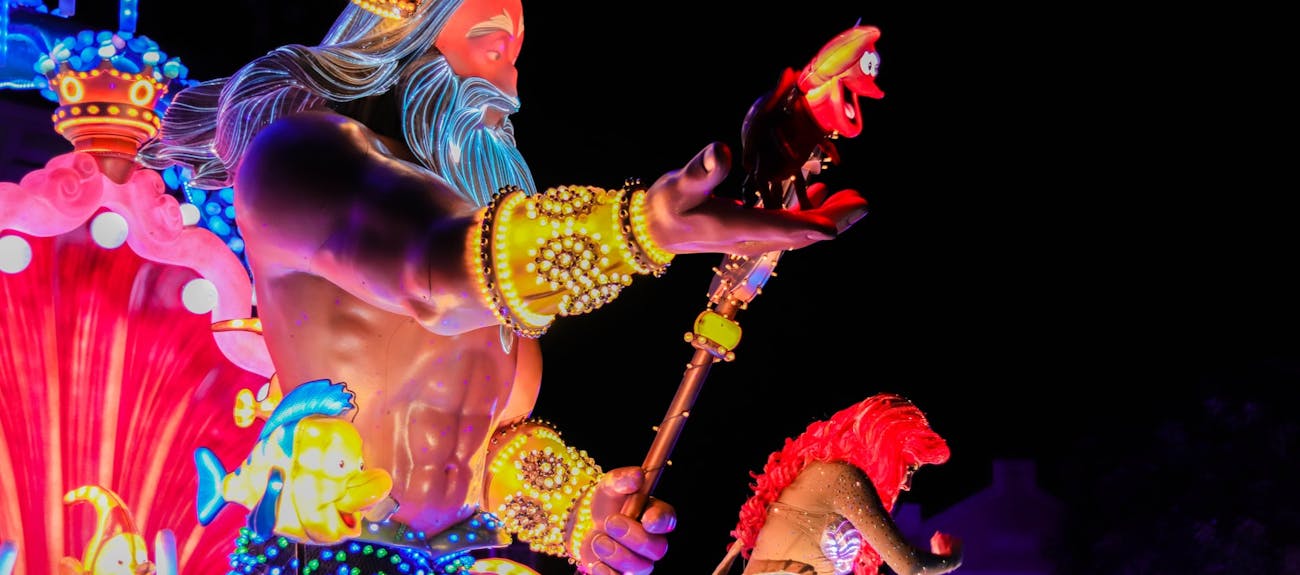 Get ready for the biggest social event of the season at the Royal Castle Stage in Disneyland; the Starlit Princess Waltz! This magical Christmas ball features the biggest gathering of Disney royal couples, including Aurora, Jasmine, Belle, Cinderella and more. Watch in amazement as your favorite Disney princess whirls, twirls and waltzes gracefully on the dance floor.
7. #SURPRISEMICKEY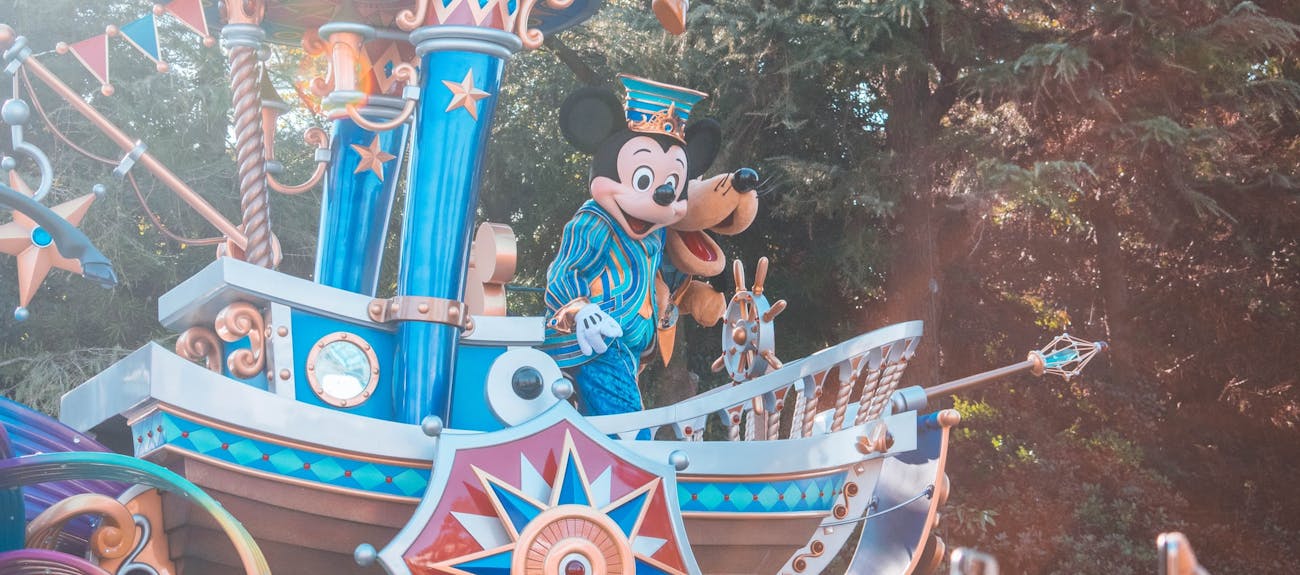 Like the name suggests, this fun little show unfolds as Minnie, Donald, Goofy and Pluto work together to plan a Christmas-themed surprise for Mickey. Watch these iconic characters get on stage and dazzle you with their fabulous dance moves. Remember, don't tell Mickey!
What To Expect In Disneyland Around Christmas
---
If you're visiting Paris around Christmas, a trip to Disneyland is an absolute must for countless reasons. From breathtaking Christmas decorations to holiday season entertainment, there's no other place in Paris (or the world!), that does Christmas like Disneyland. Apart from the regular rides and attractions, the theme park organizes a dozen or so events and attractions themed around Christmas.
Two of the most recent additions to Disneyland holiday celebration are Mickey's Big Christmas Band and #SURPRISEMICKEY. The former features holiday classics performed by an orchestra with tap dancing acts to complement the show. The highlight, of course, is Mickey himself on drums! #SURPRISEMICKEY features Minnie and the rest of the gang put together a special show to surprise Mickey. Both these shows will run until January 5th 2020.
Another highlight of the Disneyland Christmas experience is Mickey's Magical Christmas Lights, the nightly tree lighting ceremony. The Let's Sing Christmas show features Mickey, Minnie, Donald, Goofy and a bunch of singers belt out iconic Christmas songs.
If you enjoy watching parades, Disney's Christmas Parade should be in your must-watch list. The parade takes place twice a day with Mickey and friends leading the charge. Apart from the famous four, there are countless other Disney characters like Stitch, Miss Bunny, select Princesses, Duffy, Thumper and more available all around for park, dressed in holiday season clothing.
Disneylicious dishes, snacks and drinks are the other highlights - available throughout the Disney Parks and Hotels! Who's up for a hot chocolate or some festive fine dining?
Apart from the events, attractions and characters, the park itself is doused in holiday spirit. The restaurants too are beautifully decorated to celebrate Christmas. Out of all the places in Disneyland, Main Street is the most decorated and will instantly put to in the festive spirit. Given everything going on in the park during Christmas, it's the best time to visit.
Disneyland Paris Christmas Opening Hours
---
From November 13, 2021 to January 9, 2022 Disneyland Paris is open from 9:00 AM to 10:00 PM. The timing for other days in the month of December vary on a daily basis. Click here to check the opening hours for specific days.
Hacks For a Magical Christmas in Disneyland Paris
---
Disneyland Paris is extremely busy during the Christmas season and there's generally a queue for everything from restaurants to rides. In particular, dining options become quite limited due to the excessive crowds. To avoid staying hungry for too long, especially after a long day at the park, pre book tour dinner when you buy tickets online.
Make sure to visit the decorated boutiques and tick off the items on your Christmas gift list! La Boutique du Château and Merlin l'Enchanteur are two shops dedicated to Christmas decorations.
Paris in December and January is extremely cold and there's a high possibility of snow as well. To avoid any weather related unpleasantness, layer up and wear warm winter clothes. Specifically, bring hats, scraps and gloves. Tying into the previous point, if you're visiting Disneyland with your kids, bring snacks for the day. You might need to stand an hour to grab a pack of chips with the incessant queues. Another reason why bringing snacks to the park is a great idea is that food available inside is honestly quite expensive.
One of the biggest highlights of visiting Disneyland is the interaction you'll get to have with iconic characters like Mickey, Donald and others. In reality, this interaction becomes a little difficult because of the massive queue. To avoid this, you can book character dining which involves a meal at Inventions where you can individually meet 5-7 main characters from the Disney catalogue.
Disneyland Paris is massive and with the additional Christmas themed events, you'll be truly spoilt for choice. To avoid wasting time figuring out which rides and attractions to experience at the park, do all the planning before your visit. Want to experience as much of Disneyland as possible? Get the fastpass. This handy pass gives you quick access to the rides, helping you save precious time. Be mindful that the fastpass works only on certain rides though . Know more about the fastpass here. If you're staying in one of the main Disney Hotels, you'll be able to enter the theme park one hour before the gates open for public. Labeled Disney Magic Hours, this one hour early access is great since the park is pretty empty at that time and you can go for the popular rides without having to wait in queue.
During Christmas, Disneyland hosts various spectacular parades and lights at the end of the day. Do find the perfect spot to watch the parade, arrive at least 45 minutes before it's scheduled to begin. One good spot is at the bottom of Main Street, opposite Casey's Corner.
FAQ About Christmas in Disneyland Paris
---
Is Disneyland Paris busy on Christmas Day?
Is outside food allowed in Disneyland Paris?
Can you refill water bottles at Disneyland Paris?
Do Disneyland Paris tickets include the Christmas time shows?
What time do Disneyland Paris fireworks start?
Can you exit and reenter Disneyland Paris?
Can you drink alcohol in Disneyland Paris?
What should I wear to Disneyland in December?