Canterbury Cathedral, an architectural masterpiece and a symbol of spiritual symbolism, stands tall in Canterbury, England. With a rich history spanning over 1,400 years, this awe-inspiring Gothic structure welcomes visitors with its towering spires, intricate stained glass windows, and a serene atmosphere that echoes with the footsteps of pilgrims past.
Canterbury Cathedral in a Nutshell
---
Handy information
| | |
| --- | --- |
| ⏰ Suggested Duration: | At least 2 hours |
| ☀️ Best Time to Visit: | 10 AM- 11 AM |
| 🎟️ Canterbury Cathedral Combo Ticket: | £105 |
Must-see at Canterbury Cathedral
The Nave
The Crypt
The Miracle Windows
Getting There
Cathedral House, 11 The Precincts
Canterbury CT1 2EH, UK
Get Directions
Opening Hours
Monday to Saturday: 9 AM–5 PM (Last admission at 4 PM)
Sunday: 11 AM–5 PM (Last admission at 4 PM)
What to Expect at Canterbury Cathedral?
---
Stunning architecture and history: Experience the beauty of Gothic and Romanesque architecture, and explore the cathedral's 1,400-year history.
Be awe-inspired by the stained glass windows: Marvel at the striking stained glass windows, including the famous Miracle Windows telling the story of Thomas Becket.
Discover the crypt and its hidden treasures: Descend into the cathedral's underground crypt to see hidden treasures like the tomb of King Henry IV.
Attend a service or choir performance: Be moved by the powerful melodies of the cathedral's choir performances or experience an Anglican service.
Recommended Canterbury Cathedral Tickets
---
Canterbury Cathedral History
---
As one of the oldest and most well-known religious institutions in England, Canterbury Cathedral holds significant historical and cultural relevance. It has stood as a silent witness to several momentous events that have shaped English history. Among these tales, one stands out: the dramatic murder of Archbishop Thomas Becket in 1170. This spine-tingling incident marked a turning point in the relentless power struggle between the church and the monarchy. Another notable period in the cathedral's history was the dissolution of the monasteries in 1536, which led to its closure. Fortunately, it was soon reopened, and has remained a landmark of the Church of England ever since. Canterbury Cathedral is also home to an impressive collection of art, artifacts, and historical documents. Among the most notable are the stained glass windows and the Canterbury Tales, a collection of stories written by the famous author Geoffrey Chaucer.
Canterbury Cathedral Architecture
---
Canterbury Cathedral is an architectural marvel that has stood the test of time for over 1,400 years. Built-in the Romanesque and Gothic styles, the cathedral is a masterpiece of architecture that has undergone several renovations and repairs over the centuries but has managed to retain its original charm and splendor. As you venture through its hallowed halls, you'll be greeted by a breathtaking blend of pointed arches, ribbed vaults, and elegant flying buttresses seamlessly woven into the very fabric of the building. Every nook and cranny reveals meticulously carved stone and woodwork, while sunlight pours in through intricate stained glass windows, casting vibrant hues across the sacred space. One of the most notable features of Canterbury Cathedral is its exquisite choir screen, a masterpiece of English medieval sculpture. The screen, which depicts scenes from the life of Christ and the Virgin Mary, is a testament to the artistic and religious importance of the cathedral.
Highlights of Canterbury Cathedral
---
1

The Nave

Canterbury Cathedral Nave
The nave of Canterbury Cathedral, a soaring space of divine beauty, captivates visitors with its grandeur and historical implications. Adorned with intricate stone carvings, majestic columns and a vaulted ceiling, the nave serves as the central pathway leading to the high altar, evoking a sense of awe and reverence.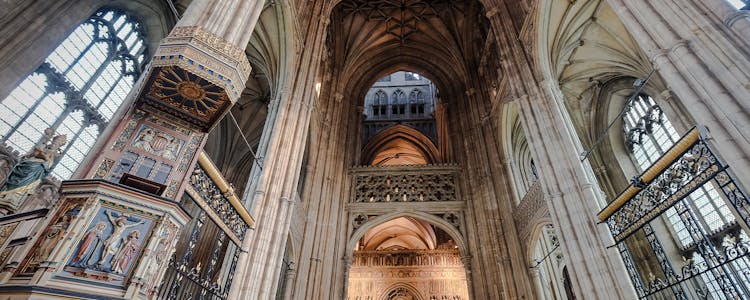 2

The Crypt

Canterbury Cathedral Crypt
Step into Canterbury Cathedral's ancient 11th-century crypt, where history comes alive. Admire the stunning medieval architecture and immerse yourself in tales of the past. A must-visit for history enthusiasts, this captivating experience offers a glimpse into the rich heritage of one of England's most iconic landmarks.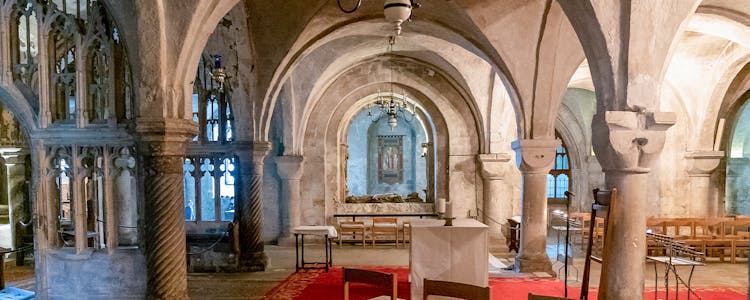 3

The Stained Glass Windows

Canterbury Cathedral Stained Glass Windows
The stained glass windows at Canterbury Cathedral captivate visitors with their exquisite beauty and vibrant colors. Dating back to the 12th and 13th centuries, these masterpieces depict biblical scenes, saints and intricate patterns. Their luminous presence illuminates the sacred space and tells stories of faith.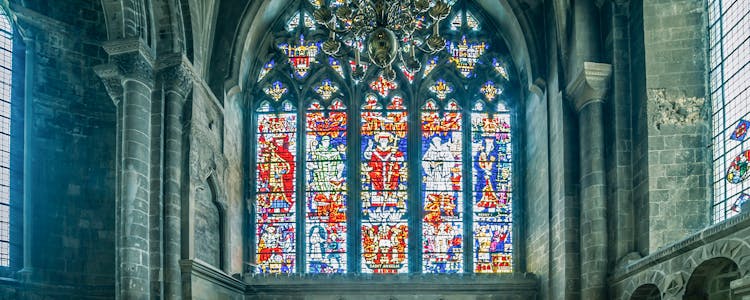 4

The Choir

Canterbury Cathedral Choir
The choir at Canterbury Cathedral is a harmonious embodiment of centuries-old tradition and divine music. Comprising of talented choristers, it fills the grand cathedral with soaring melodies and enchanting hymns. With their ethereal voices, the choir adds a captivating and celestial touch to the experience.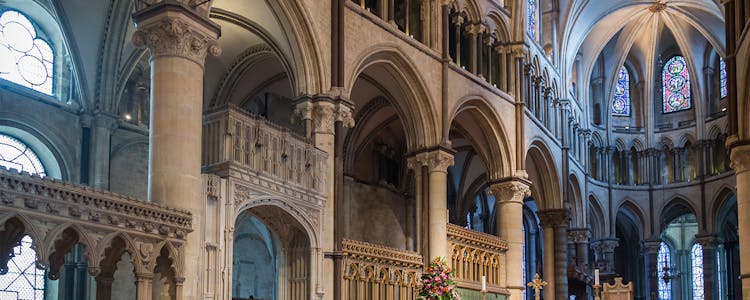 5

The Martyrdom

Canterbury Cathedral Martyrdom
The martyrdom at Canterbury Cathedral refers to the murder of Archbishop Thomas Becket in 1170. This tragic event occurred when Becket clashed with King Henry II over the rights and privileges of the church. The assassination took place within the cathedral, cementing its status as a major pilgrimage site and symbol of religious struggle.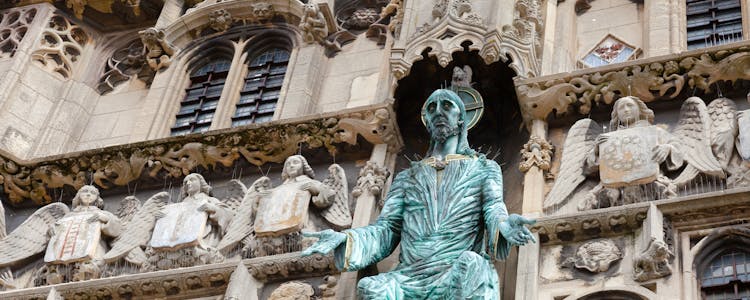 6

The Bell Harry Tower

Canterbury Cathedral Bell Harry Tower
The Bell Harry Tower is an iconic structure within Canterbury Cathedral that offers panoramic views of Canterbury and the surrounding countryside. It is named after the Great Bell, "Bell Harry", which was cast in 1495. Constructed in the 15th century, it showcases intricate Gothic architecture and is rung only on special occasions, such as Christmas and Easter.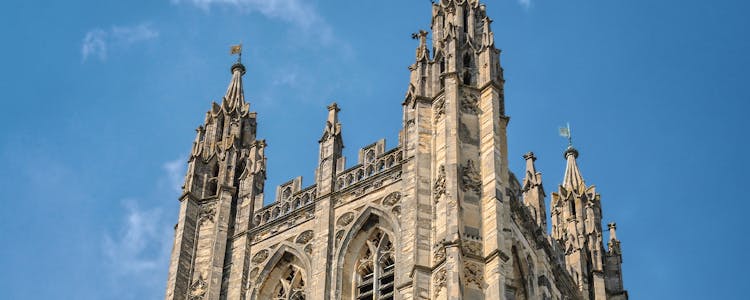 Best Time to Visit Canterbury Cathedral
---
The best time to visit Canterbury Cathedral is in the spring or fall, when temperatures are mild and crowds are smaller compared to the busy summer months. Early morning visits provide a quieter atmosphere and better photo opportunities, especially if you're visiting for religious purposes or historical interests. Ticket prices are standard year-round, but keep in mind that the cathedral is a popular attraction among tourists and locals alike, so arriving early is always encouraged to enjoy it at its best.
Canterbury Cathedral Opening Hours
---
Monday to Saturday: 9 AM–5 PM (Last admission at 4 PM)
Sunday: 11:30 AM–5 PM (Last admission at 4 PM)
On Sundays, access is only available to the cathedral grounds and shop between 11:30 AM-12:30 PM.
The Cathedral church opens at 12:30 PM.
Worship Timings: Daily Eucharist- 8 AM
Lunchtime Eucharist- 12:30 PM (Wednesday and Feast Days only)
Daily Choral Evensong- 5:30 PM
Sunday Choral Eucharist- 11 AM

Getting There
---
Bus
Stagecoach East Kent operates bus services that connect Canterbury with various destinations, with the Canterbury bus station conveniently located just a short 5-minute walk from the Cathedral Precincts. Additionally, National Express provides regular coach services from London Victoria Coach Station to Canterbury.
Train
Southeastern trains provide high-speed rail connection from London St Pancras to Canterbury West station, with a journey duration of under an hour. Additionally, regular train services are available from London Victoria and London Charing Cross, serving both Canterbury East and Canterbury West stations.
Car
Canterbury is well connected to both the M20 and M2 highways and convenient parking options are available in the city center. Additionally, a park and ride system operates, offering frequent bus services from the outskirts of Canterbury, providing a hassle-free transportation solution for visitors.
Insider Tips to Visit Canterbury Cathedral
---
Arrive early in the day to avoid crowds and make the most of your visit.
Consider a guided tour to gain deeper insights into the cathedral's history and architecture.
Don't miss the opportunity to climb the Bell Harry Tower for breathtaking views of Canterbury.
Respect the cathedral's sacred atmosphere by maintaining a quiet and respectful demeanor.
Take time to explore the beautiful gardens surrounding the cathedral for a peaceful and serene experience.
Don't miss the underground Crypt, which is home to fascinating medieval wall paintings.
Check out the Cathedral Gift Shop for unique souvenirs and gifts.
Make sure to dress appropriately for your visit - both modest and respectful clothing is required.
Canterbury Cathedral Facts
---
Canterbury Cathedral is the seat of the Archbishop of Canterbury, the spiritual leader of the Church of England.
It is one of the oldest Christian structures in England, with parts of the building dating back to the 6th century.
The murder of Archbishop Thomas Becket inside the cathedral in 1170 turned it into a major pilgrimage site and inspired Geoffrey Chaucer's 'Canterbury Tales'.
The cathedral was heavily damaged during the English Reformation in the 16th century but was later restored.
It is a UNESCO World Heritage Site and considered a masterpiece of Gothic architecture.
Canterbury Cathedral houses the oldest surviving stained glass in England, including the stunning Miracle Windows.
The Bell Harry Tower is the tallest part of the cathedral. It is 235 feet tall and offers panoramic views of Canterbury and its surroundings.
Restaurants Near Canterbury Cathedral
---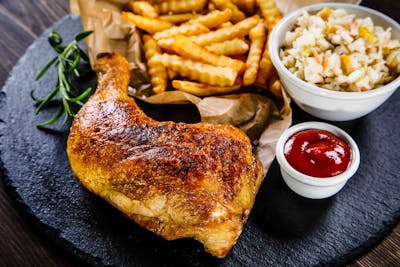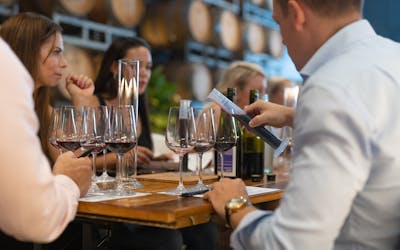 Saint Smokeys BBQ House
Saint Smokeys BBQ House in Canterbury offers a range of chicken dishes that are popular locally. With fast service and wheelchair-accessible facilities, it provides a welcoming atmosphere for all. The menu features healthy options, a kids' menu and late-night food, making it a great spot for a quick, casual lunch or dinner.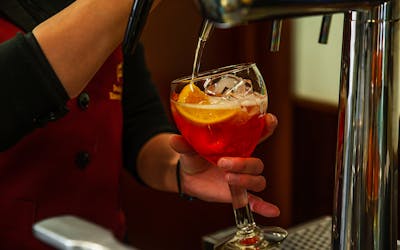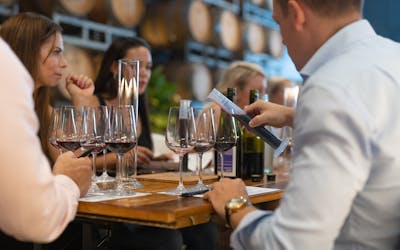 Lily's Social Kitchen
Lily's Social Kitchen in Canterbury is a quirky cafe that is LGBTQ+ friendly. This charming spot offers a delightful range of refreshing drinks and delectable cakes, creating a welcoming atmosphere where everyone can enjoy a tasty treat and feel at home.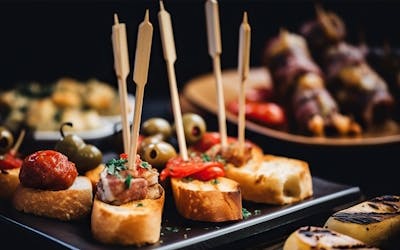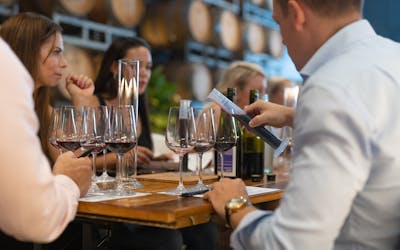 El Sol Tapas Bar & Restaurant
El Sol Tapas Bar & Restaurant in Canterbury is a charming Spanish eatery known for its casual and cosy atmosphere. With a menu featuring a variety of authentic tapas dishes, patrons can indulge in the vibrant flavors of Spain while enjoying a relaxed dining experience in the heart of Canterbury.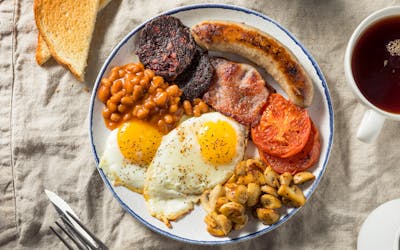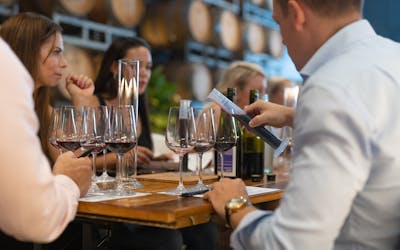 Bill's Canterbury Restaurant
Bill's Canterbury Restaurant, a contemporary European chain, offers a diverse culinary experience with distinct menus for breakfast, afternoon tea, lunch, and dinner. The restaurant is known for its fantastic cocktails, adding a touch of indulgence to the vibrant dining atmosphere.
Places to Stay Near Canterbury Cathedral
---
Things to Do Near Canterbury Cathedral
---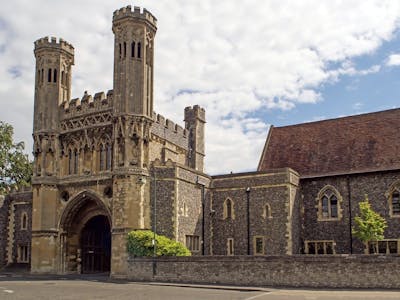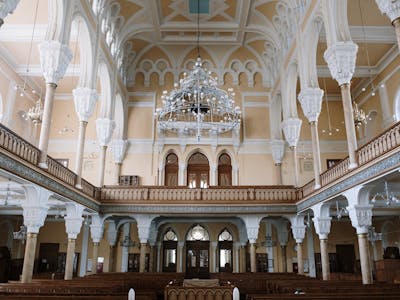 St. Augustine's Abbey
St. Augustine's Abbey, a UNESCO World Heritage Site near Canterbury Cathedral, offers a glimpse into the ruins of a historic Benedictine monastery. Discover its profound role in the propagation of Christianity in England as you explore the remains of this remarkable site, steeped in centuries of religious and cultural significance.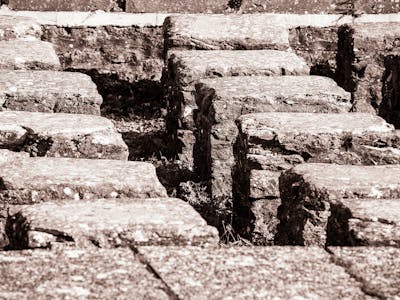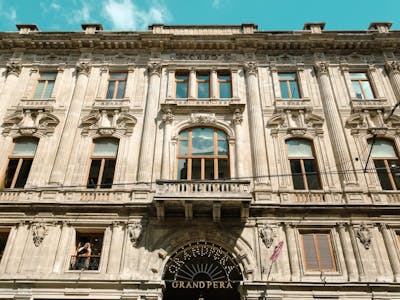 Canterbury Roman Museum
Immerse yourself in Canterbury's ancient Roman history at the captivating Canterbury Roman Museum. The museum is located on the site of a Roman town that was founded in the 1st century AD. Uncover the remnants of a Roman townhouse and explore artifacts that provide insights into daily life during Roman times, including jewelry, pottery, and coins.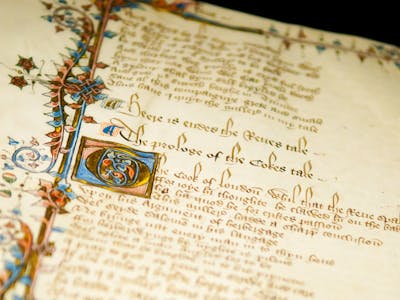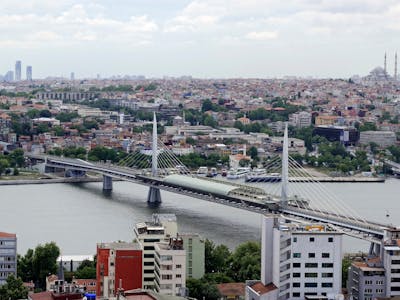 Canterbury Tales
Canterbury Tales is an interactive museum that immerses visitors in the world of Geoffrey Chaucer's 'Canterbury Tales'. The museum is located in the Old Weavers' House, a 15th century building that was once home to a group of weavers. The museum exhibits artifacts that relate to the Canterbury Tales, including costumes, props, and interactive exhibits.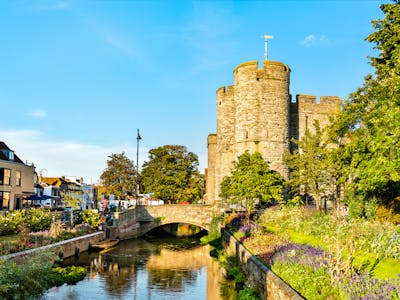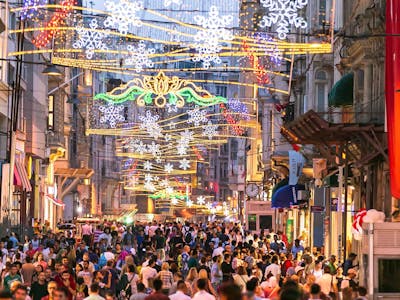 Westgate Towers
Westgate Towers is a medieval gatehouse and the largest surviving city gate in England. The towers were built in the 14th century and they originally formed part of the city walls. The towers were used as a prison and a barracks, and they also played a role in the English Civil War.
Dane John Gardens
Dane John Gardens is a beautiful park just outside Canterbury's city walls. The gardens were created in the 18th century and they are named after the Dane John Mound, a medieval mound that was once used as a training ground for archers. The gardens feature a variety of flowers, trees and shrubs, and they are home to a number of wildlife species as well.
FAQs
---
Canterbury Cathedral is over 1,400 years old, making it one of the oldest and most famous Christian structures in England.
Canterbury Cathedral was built by a team of architects, masons, and craftsmen led by French architect William of Sens. After his departure, English architect William the Englishman took over the construction.
Canterbury Cathedral is a substantial structure with impressive dimensions. The cathedral measures approximately 164 meters (538 feet) in length, and the Bell Harry Tower, its tallest tower, stands at a height of around 72 meters (235 feet).
Canterbury is well-connected by public transportation and buses or trains can bring you close to the cathedral. You can also choose to drive to the cathedral.
Yes, there are washrooms available for visitors at Canterbury Cathedral. They are located within the cathedral complex.
While there isn't a strict dress code, it is recommended to dress modestly and respectfully when visiting Canterbury Cathedral. As it is a religious site, it is best to avoid revealing clothing and to dress in a manner that shows respect for the sacred space and the worshippers.
Yes, photography is allowed but no flash photography is allowed.
Yes, visitors are welcome to attend services at Canterbury Cathedral for free.
Canterbury Cathedral Guide