The Barcelona Erotic Museum is an incredible experience of visual and sensual exploration. Located in the heart of Barcelona, this museum celebrates human sexuality through its vast collection of erotic art from all eras and cultures. You can explore a wide array of artwork and artifacts ranging from the flexible bodies of Kama Sutra or Japanese Shinga to modern-day erotica. The museum also features interactive exhibits, performances, and events. Whether you are a curious explorer or a passionate lover of erotic art, the Barcelona Erotic Museum is sure to be an educational and stimulating experience!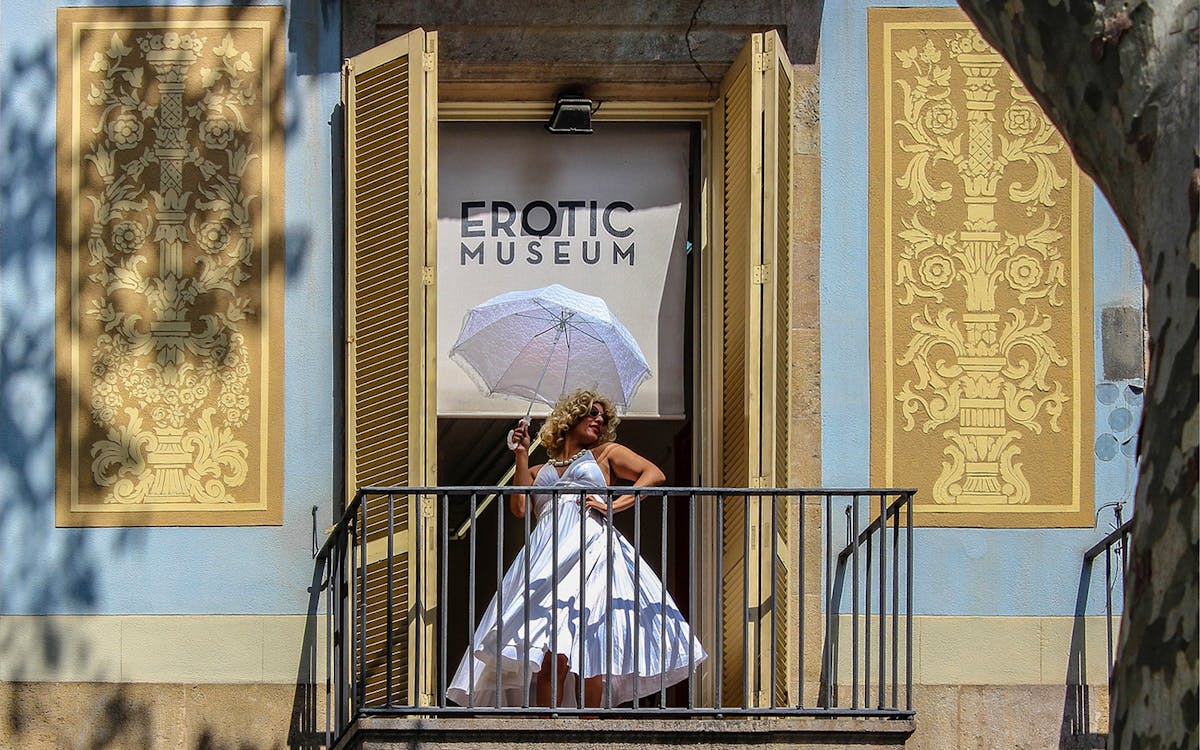 Barcelona Erotic Museum - In A Nutshell
---
Handy information
| | |
| --- | --- |
| ⏰ Suggested Duration: | 1 hour |
| ☀️ Best Time to Visit: | 10 am or 10 pm |
| 💜 Must See: | The Erotic Garden |
| 🎟️ Skip the line tickets: | €12 |
| 🚇 Closest Metro | Liceu |
Must-see
Oriental Eroticism
Kama Sutra
Sexual Records
Great Masters of Painting
Things to know
Established in: 1997
Location: Barcelona
Number of artworks: More than 800

Opening Hours And Address
Everyday from 10 AM to 12 AM

Address: La Rambla, 96 bis, 96 bis, 08002 Barcelona, Spain
Get Directions
Why Is Barcelona Erotic Museum Worth Visiting?
---
Erotic Museum Barcelona is located inside a building apartment with a very subtle hole-in-a-wall like entrance! Although the building looks plain on the outside, it houses a fascinating array of curiosities inside.
It offers interactive exhibitions that provide you with insight into sexual practices around the world.
The Barcelona Erotic Museum is an inviting place for all types of visitors: from kink fans and museum buffs to couples giggling in each other's company.
If you're someone who's a fan of provocative artworks and pieces, this museum is for you!
It is one of a kind in Spain. The Barcelona Erotic Museum is the first and only museum of its kind in the country!
Barcelona Erotic Museum Tickets
---
With your Skip-The-Line tickets, you can choose to enter any time at your own convenience!
Top Highlights Of Barcelona Erotic Museum
---
Take a tour through time and explore the long history of eroticism beginning with the Upper Palaeolithic period at Barcelona Erotica Museum. From there, delve into ancient Egypt when Cleopatra lead humanity to more acceptance and freedom in Greece and Rome. Pompeia is an absolute must-see for anyone looking to gain insight on sexual expression throughout human cultures.
In Japanese art, exaggerated body positions and genitalia are often found. This type of representation is known as shunga or "images of spring" – a euphemism for sex. You can also find the secret to decoding the eroticism embedded in Ancient Chinese artwork in this room!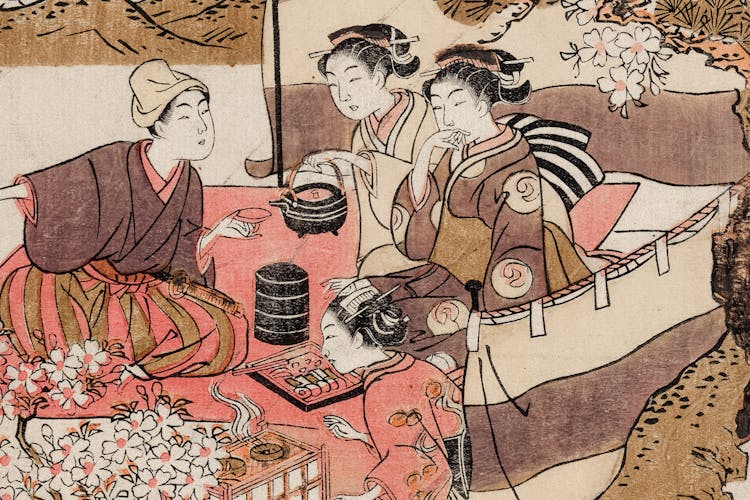 Step into this room to explore the seductive art of Europe from the late 19th and early 20th Centuries with a special assortment featuring illustrations, recordings, images, lithographs and photographs. The exhibition includes pieces by Peter Fendi (1796-1842), Martin Van Maële (1863-1926) and Franz von Bayros (1866-1924).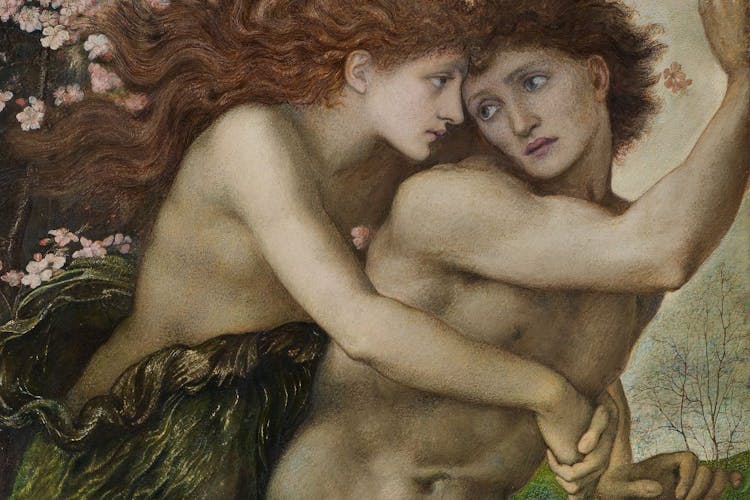 4

Private Collection Alfonso XIII
Step back time and explore the roots of Spanish pornographic cinema, commissioned by Ricardo y Ramón Baños for Spain's King Alfonso XIII himself. This mesmerizing room features short films from Barcelona's Red-Light District, filmed all the way back in 1926! Discover a fascinating part of Barcelona's past and uncover its most intriguing erotica history.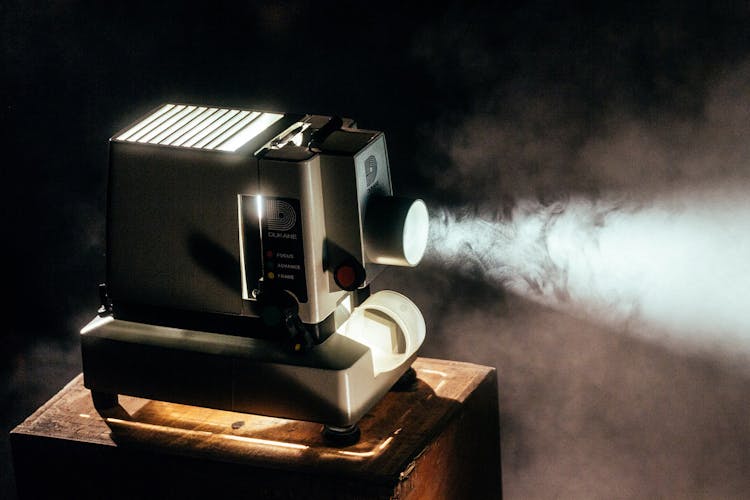 Escape to a hidden oasis in the heart of Barcelona - an urban Eden where you can indulge your desires and explore nature's wonders. This is the Erotic Garden, offering an unparalleled experience of blissful pleasure at the Barcelona Erotic Museum.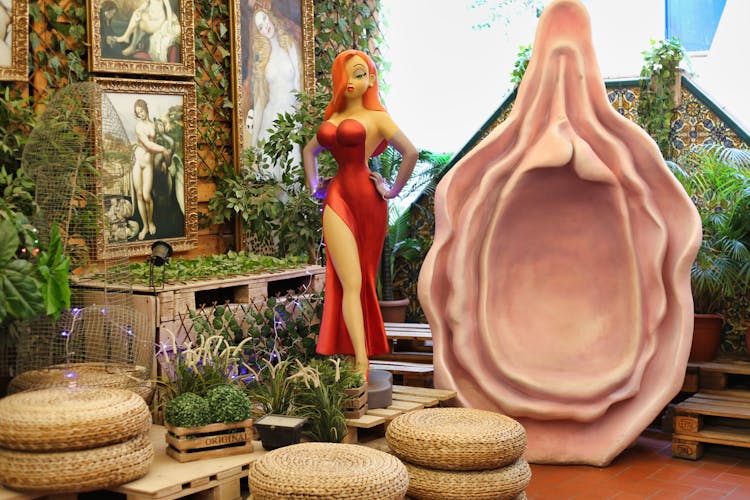 Best Time To Visit Barcelona Erotic Museum
---
The best time to visit the Barcelona Erotic Museum is between March and May, early in the morning or late in the evening, as these are when there are fewer visitors. The museum is open from 10am until midnight, so if you plan your visit for a day that has less people, you will be able to take your time and enjoy all of the exhibits without feeling rushed or overcrowded. But we recommend going to this museum late in the evening to set with the theme!
Additionally you can learn more about the Best Time to Visit Barcelona.
Barcelona Erotic Museum Timings
---
Everyday from 10 AM to 12 AM Midnight
24th December - 10 AM to 5 PM
25th December - Closed
1st January - 12 PM to 12 AM Midnight
Getting There
---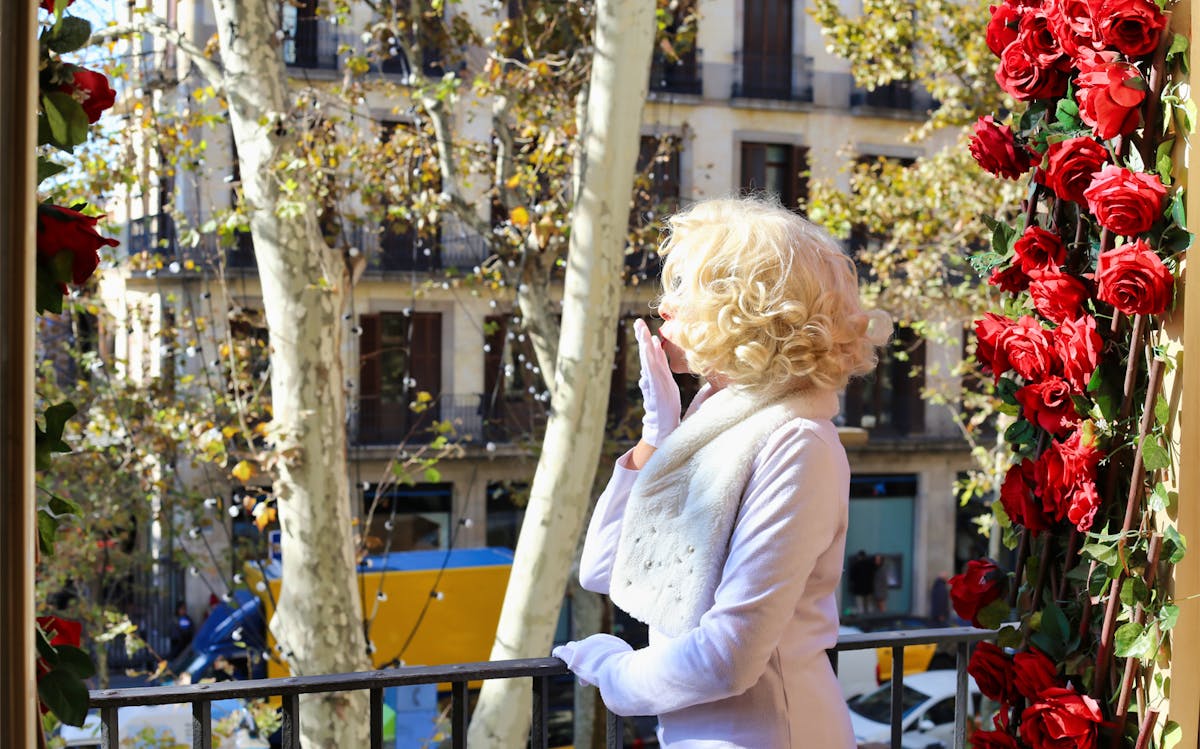 Insider Tips to Visiting Barcelona Erotic Museum
---
Book your tickets in advance to avoid being turned away.
These Skip the line tickets are super handy! You'll avoid waiting in line and make your way straight inside!
Choose to get there early if you want to avoid overcrowding. The Barcelona Erotic Museum is a small space, unlike other museums.
Plan your day out to visit other attractions nearby as well. The Big Fun Museum is literally 30 seconds away from Barcelona Erotic Museum.
With the Barcelona Card, you can get a discount of 22% on the Erotic Museum.
This attraction is not Wheelchair accessable.
Restaurants Nearby
---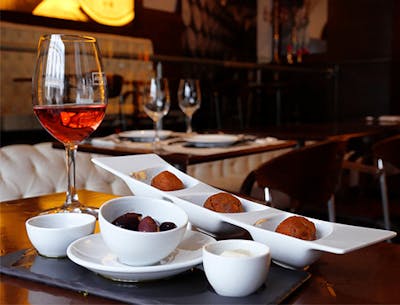 Tosca del Carme
Located close to the iconic Rambla, Tosca del Carme offers an unparalleled selection of menu options. Whether a meat-eater or vegetarian, seafood enthusiast or bread lover - no matter your preference – with over 40 tapas varieties available at all times you're sure to find something that satisfies your taste buds!
Distance from Barcelona Erotic Museum: 350 m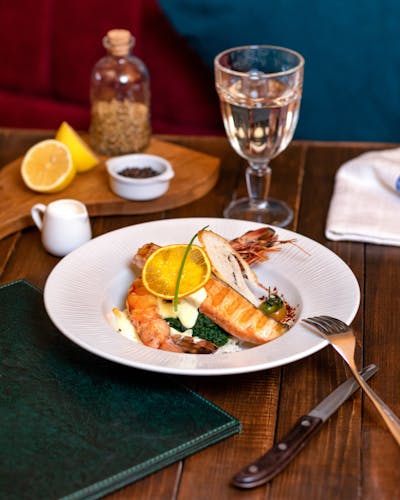 Casa de Vivi - Fauna
Casa de Vivi - Fauna is a restaurant that makes you feel right at home! Located in the first floor of Kimpton Vividora hotel, this restaurant is known for its Mediterranean eclectic flavours, friendly staff and good portion sizes.
Distance from Barcelona Erotic Museum: 400 m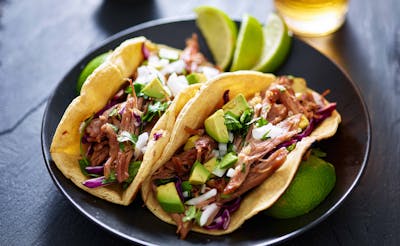 Amades Restaurant
Amades is a restaurant that's being spoken very highly of! The drinks are exceptional, and the tapas is definitely one of the best in Barcelona. Try out the mahi tacos, veggie gyozas, and the churros. When there's 500+ reviews that result in a 4.8 star rating, you know it's going to be a good one!
Distance from Barcelona Erotic Museum: 400 m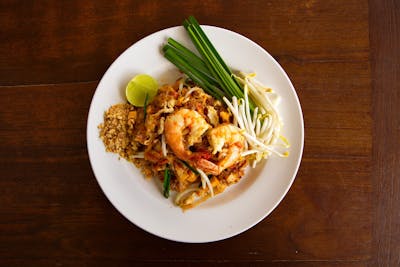 Restaurant Loto
Embark on a flavor journey to the Far East with Loto's Asian cuisine, where they integrate their own enhanced flavors and distinct textures from numerous nations. Experience something delightful that you've never seen before by indulging in Pad Thai, Yakisoba and Curry!
Distance from Barcelona Erotic Museum: 450 m
Other Attractions around Barcelona Erotic Museum
---
Hotels around Barcelona Erotic Museum
---
FAQs
---
The Erotic Museum Barcelona is an interactive museum located in the heart of the city. It provides a unique and immersive experience that allows visitors to explore erotic art, culture and history through interactive exhibits, guided tours, workshops, performances and more.
It costs €12 for Skip The Line tickets to Erotic Museum Barcelona
Yes, photography is allowed but without flash. Videos and commercial filming are not allowed inside the museum.
Yes, the Erotic Museum Barcelona regularly hosts a variety of events and activities including performances, workshops and lectures. The schedule of upcoming events can be found on their website.
The museum is open daily from 10 am - 12 am midnight. Last admission is 11:30 pm.
Barcelona Erotic Museum Guide