When in Sydney, make sure to spend your day with some of the largest mammals in the world-whales! Catch these magnificent animals gliding through the ocean as they migrate up north to warmer waters, during the months of May-August or watch them coming back, with a calf or two in tow, during the months of August-November.
From the gigantic humpback whales, intriguingly patterned orcas and slow-moving southern right whales, observe the behavior of these gentle giants while listening to an engaging commentary onboard. Whether you're a lone tourist or traveling in a large group, there are many different kinds of whale watching cruises and points to choose from in Sydney.
Read on to know all about whale watching in Sydney, the best whale watching spots and a few insider hacks for a terrific experience.
Whale Watching - In a Nutshell
Whale Watching In Sydney - Things to know
| | |
| --- | --- |
| 📍 Location: | Sydney |
| ⏰ Suggested Duration: | 2.5-3 Hours |
| ☀️ Best Time to Visit: | Late June and early July |
| 🎟️ Whale Watching In Sydney Tickets: | Check prices |
Whale Watching In Sydney Address
Circular Quay - Wharf 6,
Sydney NSW 2000, Australia
Get Directions
Best Spots
Royal National Park
Fairfax Lookout, North Head
Cape Solander
Gap Bluff
Know Before You Go Whale Watching In Sydney
---
Here's all that you need to know before going whale watching in Sydney.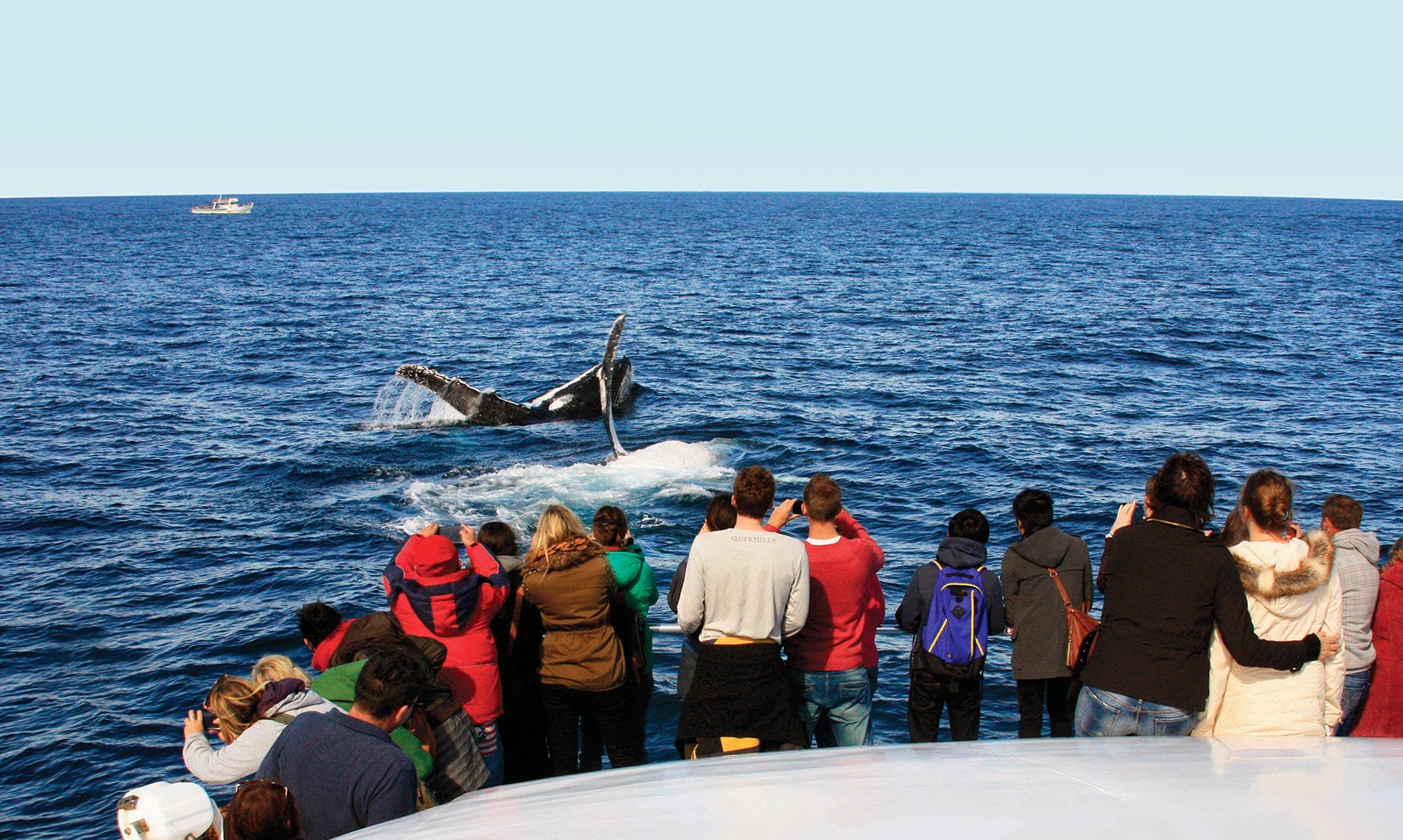 1. Seasons
Sydney has an extensive whale watching season - late May to November. Catch sight of of whales that migrate to the warm waters of the Great Barrier Reef from June to August. After August, one can spot baby whales, also known as calves, gliding through the Antarctic with their mothers, a spectacular sight.
2. Timings
Catch the whales at their best, bright and early in the morning. At this time, the sun isn't too hot and the whales tend to come to the surface more often. So rise and shine, to be able to spot the whales put on a show.
3. Whale Breeds
The Sydney Harbour is a part of the migratory route for the humpback whales, so you'll be sure to see plenty of these beauties. The southern right whales are a common sight too, skimming through the surface with their mouth open and feasting on some krill. Other species you could spot include sperm whales and orcas.
4. How to Dress
If you are going whale watching in the winter, dress warm and bring an extra blanket with you, especially if you are heading out in the early hours of the morning. It tends to get quite chilly out in the ocean, so it's best if you dress in layers that you can later take off if you feel warm.
5. Best Whale Watching Tours In Sydney
If you're on a short trip to the city, combo tours are your best bet for its economical prices and their all-inclusive nature. The 2-Day Hop On Hop Off Harbour Explorer & Whale Watching Cruise Combo allows you to explore the Sydney Harbour and other attractions around it with an afternoon of spotting whales.
The Taronga Zoo & Whale Watching Cruise Combo allows you to enjoy a day with a fun day with animals - from the wildlife in Taronga Zoo to the sea life around the Sydney Harbour. The Sky Safari cable car experience is included in the ticket allowing you to soar high above the zoo, giving you an aerial perspective of the bushy hillside zoo. Booking tickets to these combo tours is best done online, with its easy refundable option.
SeaLife Aquarium & Whale Watching Cruise Combo
When in Sydney, delve into an oceanic world of wonder. Spend the morning exploring a major chunk of marine life at SeaLife Aquarium with its sharks, dugongs, stingrays and seahorses. In the afternoon, venture out into the sea on a remarkable whale watching cruise and witness a unique spectacle that will leave an everlasting impression.
Spot stingrays, enjoy the ocean tunnel walk, check out the shark valley, and marvel at turtles, jellyfish, platypuses, penguins and thousands of other tropical fish.
Head out on a whale-watching cruise in the afternoon and discover these gentle and glorious beasts in their natural habitat. Spot humpbacks, orcas, southern right whales, pygmy rights, and more.
5 Best Spots For Whale Spotting In Sydney
---
Here's our curation of the top 5 whale watching spots in Sydney.
1. Royal National Park
The coastlines at the Royal National Park have many pleasant spots to catch a sight of the whales. The rugged Illawarra coastline is a favorite for its dramatic cliffs and the whales are known to come quite close to the coast. Another good spot is the lookout at Wattamolla.
2. Fairfax Lookout, North Head
The North Head is a headland that separates the Sydney Harbour from the Pacific Ocean. The Fairfax Lookout lies within the North Head Sanctuary through a short walk via the coastal shrubland. The stunning view of the sea from this point is only made better by spotting a whale blow!
3. Barrenjoey Lighthouse Headland, Palm Beach
Located in Kur-ring-gai Chase National Park, the Barrenjoey Lighthouse is a must-see landmark at the northernmost point of Sydney, Barrenjoey Headland. While the walk to the top can we quite the cardio-workout, the panoramic views of the ocean make it all worth it.
4. Cape Solander, Kurnell
Located in the Kurnell section of Kamay Botany Bay National Park, Cape Solander is one of Sydney's best whale-watching spots. This is where Sydney's official whale watching count takes place each year. There's plenty of information available at the lookout, on the whales that you can spot and their migration patterns.
5. Gap Bluff, South Head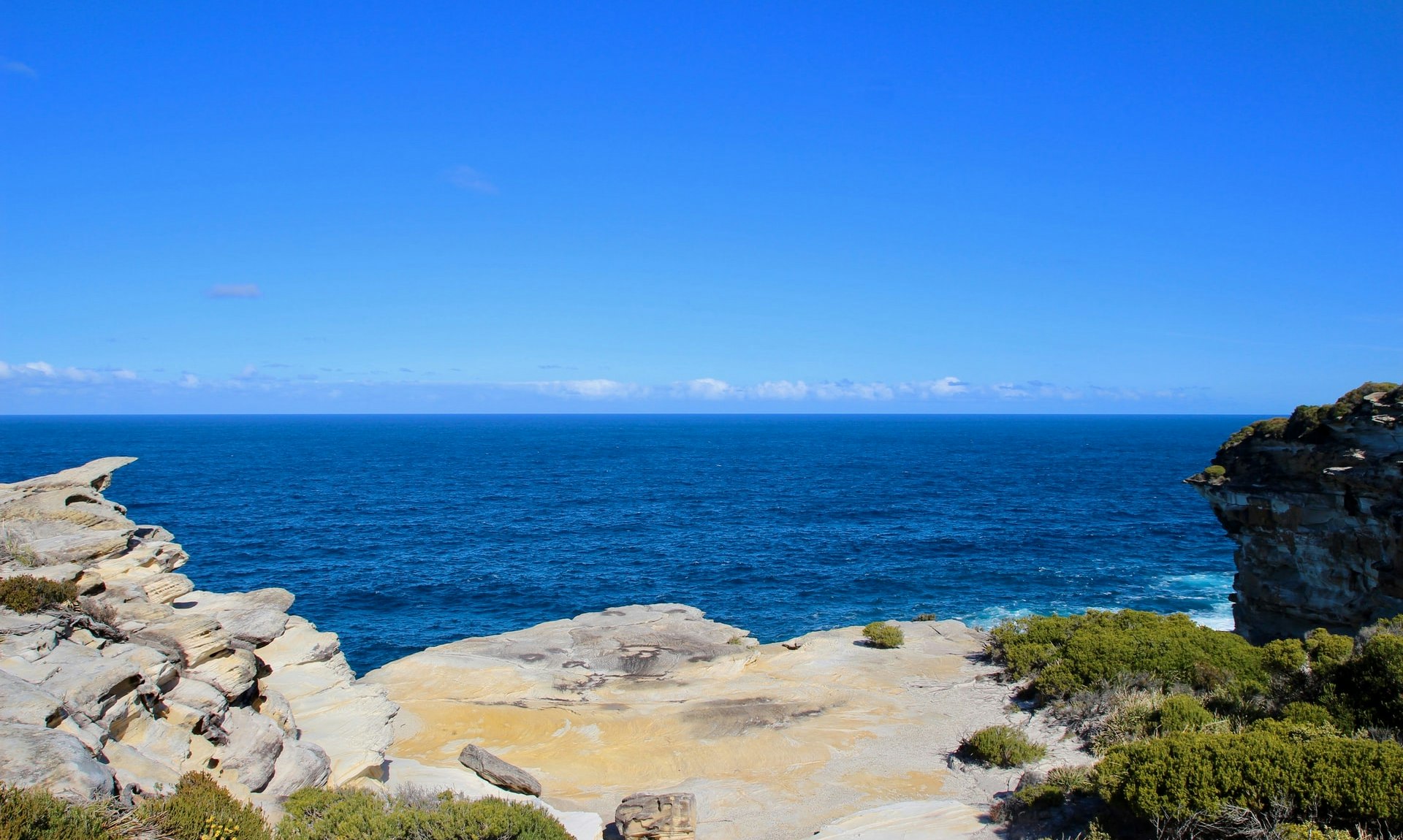 South Head has no shortage of lookout spots, but make sure to walk up to the Gap, an ocean cliff on the South Head peninsula. With both the Sydney Harbour and the Tasman Sea to watch over, you're bound to catch some whales on the surface.
Tips & Hacks For Whale Watching In Sydney
--- How to spot a whale : For a guaranteed whale-sighting, hop on one of the many cruises available at the Sydney Harbour and set out on a whale-spotting journey. If you are a part of a large group, you can hire a boat and enjoy a private evening with family and friends. smaller groups, it's however recommended that you get on with other groups of people on the larger, whale-watching boats.
What to pack : Make sure to carry your camera along for this journey to capture some up and close shots of the whales. Whether you're on land at a whale-watching spot, or on a boat, binoculars will always come in handy too. Bring a blanket along as it tends to get quite chilly along the coastline and at sea.
Check the weather forecast : It's always best to check the weather forecast before heading out into the sea. In case of an unexpected storm, you may not have any luck with whale-spotting.
Make reservations at least a week in advance : It's quite difficult to hire a boat last minute because of the high demand of these tours. Make sure to book your tour at least a week in advance to get slots of your choice. Choose from a long list of cruises and boats, each providing a variety of different amenities and offerings.
More Sydney Guides
---
Check out more detailed guides on Sydney attractions and plan your visit better.
FAQs: Whale Watching In Sydney
---
From mid-May, humpback whales begin passing Sydney on their northern migration from Antarctic waters. The peak months to sight them are towards the end of June and the beginning of July. Be ready to see lots of breaching and males showing off their dominance.
In Sydney, the whale migration goes between May and November. But the absolute best time to see them is late June and early July – probably the last week of June and the first week of July, around about the winter solstice.
In NSW, whale watching season runs from late autumn to early spring, between May and November. However, the best time to see these majestic mammals in action is late June and early July - around the time of the winter solstice.
Whales are never diurnal, but they can be crepuscular. This means they are most active during twilight hours which are both before sunrise and after sunset.
One of the reasons that the morning time is the best time of day for whale watching has to do with weather and ocean conditions. The wind is a key player when it comes to smooth seas, and morning trips often have less wind.
Whale watching season typically runs from June to October and any month is a good time to get up-close and personal with these gentle giants. Everyone's favourite aerial behaviour, when the whales launch their entire body out of the water in a spectacular breach, can be seen at any time.
Usually a whale watching tour takes anywhere between 2.5 to 3 hours in order to navigate the ocean in search of different whale species. Depending on the type of whale, it may be necessary to navigate further out from shore to get the best opportunity to spot them based on their migration and feeding habits.
Along with all the cruises, there are many good whale sighting spots along the coast on either side of Sydney Harbour, with North and South Heads being the easiest for visitors to reach without a car.