The Vatican needs no introduction. Being the centre of the Roman Catholic Church, the Vatican City is the smallest country in the world. Home to numerous religious and cultural sites, the city also treasures a priceless collections of artistic and historical masterpieces that a million flock to catch a glimpse of. Before you set off to visit the Vatican Museum, here's all you need to know about the Vatican entrances. There are a few many entrances and chances are google may mislead you if you don't feed in the exact thing. Hence, here's our guide, simplifying the Vatican Entrances for you.
How Many Entrances Does Vatican Museum Have?
---
The Vatican Museum has 2 entrances - Via Della Conciliazione and Via Vaticano. If you're starting your Vatican City visit at St. Peter's Basilica, we recommend using the entrance on Via Della Conciliazione. However, if you're starting with the Vatican Museums, make your way to the second entrance on Via Vaticano
Which Vatican Museum Entrance Should I Go For?
---
Great question. Once you reach the Via Vaticano entrance, chances are you'll see three lines swarming with tourists, waiting to get inside the Vatican Museum.
Queue 1 - For On-Site Ticket Buyers (Slowest Queue)
Average wait time: 1.5 - 2 hours (during peak season)
You'll notice that one of the 3 queues are really long. Probably even winding down the corner, around the wall; going about 1-2km long. This is the queue for those who have not purchased tickets online and are waiting to purchase them on-site.
Honestly, this is a bad idea. These queues can go on for 2 hours, especially during summers and peak season. You might just be so drained and tired by the time you reach the ticket counter, you'll probably want to just leave the line and grab some cooling gelato. If you planned to get tickets on-site, it's still not too late. Grab discounted online tickets to the Vatican Museum and Sistine Chapel here.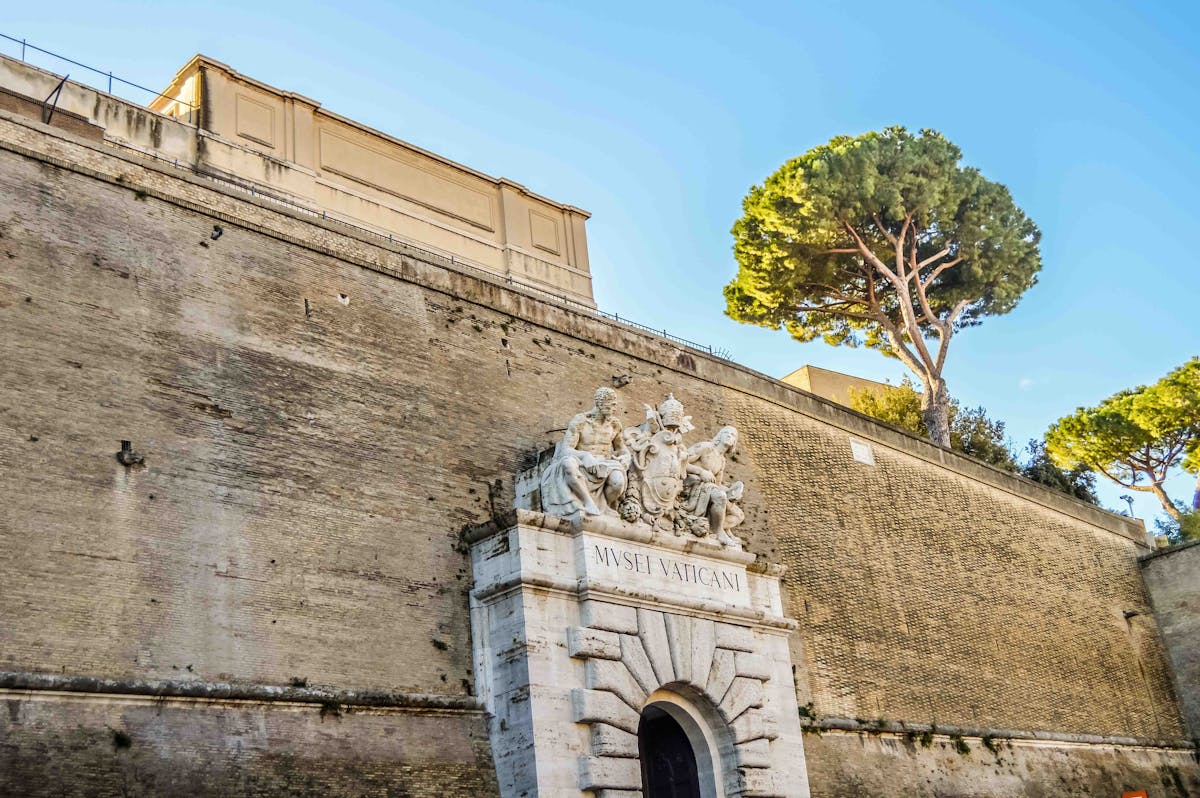 Queue 2 - For Online Ticket Holders
Average wait time: 15 - 20 minutes
With online tickets, you can stand in the queue that starts near the yellow signboard. These lines are for online ticket-holders and are much shorter and move rather quickly. For the record, Skip the Line Vatican Museum tickets do not let you bypass the security queues. It only lets to bypass the long ticket queues that are winding down the walls.
Grab your Vatican tickets today!
Vatican Museum Entrance & How To Get There
---
As mentioned before, the Vatican Museums are most easily accessible from Via Vaticano entrance on the North side of the city state, hence, if you're visiting the Vatican Museum first, we would suggest the below route to reach the entrance.
By Bus
If you're coming by bus to the Vatican Museums, your best bet it Bus No. 49 Look out for Viale Vaticano stop and hop off. You'll see the Vatican Museum's Arch right in front of you.
Alternatively, you could use Bus No. 492 or Bus No. 990 and hop off at the Via Leone IV stop. This one's a quick 5 minute walk from the Vatican Museum entrance.
By Metro
The closest Metro to the Vatican Museum entrance is Valle Aurelia. From here, the museum is a 5 min walk.
By Tram
If you're coming via the tram, know that there's only one tram that stops at the Vatican City. Tram 19 stop at Piazza del Risorgimento and from here, you can take a quick 10 minute walk to the Vatican Museum entrance.
Read more about visiting the Vatican Museums and Sistine Chapel >>
Practical Information
---
Vatican Museum Hours
Monday to Saturday - 9 AM to 6 PM
Final entry is at 4 PM
Guests are expected to exit the museums by 5.30 PM
Free entry on every last Sunday of the month, from 9 AM to 2 PM, last entry at 12. 30. Exception to this is if the last Sunday coincides with Easter Sunday, 29 June Sts. Peter & Paul, Christmas Day, Feast of Stephen and Feast of Sylvester.
St. Peter's Basilica Hours
April to September
7.00 a.m. – 7.00 p.m.

October to March
7.00 a.m. – 6.00 p.m.
Good To Know
Bags or luggage of any sorts measuring more than 40*35*15 centimetres is not allowed inside the Vatican Museums, including the Sistine Chapel. There are however cloak rooms that allow you to store your bags if you're carrying any.
Use of amplified microphones and laser pointers is not allowed.
Dress appropriately before you enter the Vatican. Sleeveless blouses, miniskirts, shorts and hats are not permitted.
Use of mobile phones inside the Sistine Chapel is prohibited. Elsewhere you can use your phone, but it is preferred that you refrain from doing so if possible.
Absolutely refrain from touching any work of art. Alarm and surveillance systems are in place.
You cannot enter the Museums or the Basilica with alcoholic drinks. Any food or drink may be left at the cloakrooms.
Though entrance to St. Peter's Basilica is free, entering the Vatican Museums isn't. But be sure not to miss the latter, for the historical and cultural significance of both are equally important to getting the full experience.
Ensure that you visit the Vatican early in the morning to avoid long queues, and then walk twenty minutes to the Basilica. The latter is also closer to the city, making it easier to exit.
Investing in a guide book may come in handy, for a lot of the charm of these monuments is their historical significance. It may also help with directions – it can get confusing inside!
Visiting both the Vatican Museums and the Basilica could take around 6-7 hours, so plan your meal times accordingly.
Insider Tips
---
If you can't remember the names of the metro station, you're in luck – they're labeled as "Ottaviano-San Pietro" and "Cipro-Musei Vaticani," so they're hard to miss.
Bus No 64 is notoriously famous for its pick pockets as it is mostly frequented by tourists. Keep your belongings close.
If you are looking to walk to the Vatican, it is recommended doing that if you are already in the center of town ( do not attempt walking from the Colosseum). It is a 1.5 hour walk from Trastevere, Piazza Navona, the Pantheon, the Spanish Steps, and Piazza del Popolo, and only a stone´s throw away from Castel Sant´Angelo.
Guided tours make visiting the Vatican City attractions a whole lot easier. You can hit up the Vatican Museums and Basilica without the queues and a local guide by your side. It's definitely worth the extra few euros.
FAQs
---
It takes 15-20 minutes to reach the entrance of the Vatican Museums from St. Peter's Square.
Entry to the Vatican Museums starts from €15 to €70 depending on the type of ticket and tour you opt for.
Skip the line Vatican tickets are highly recommended and absolutely worth the few extra euros, especially if you are visiting during high season. Instead of standing in queues, you can spend those precious few hours inside the Vatican Museum!
It is better to visit the Vatican in the morning since there are lesser queues.
If you haven't purchased an online ticket, the wait time at Vatican can go upto 2 hours. If you have purchased an online ticket or guided tour, expect to wait around 15-20 minutes at max for security check.
Yes, you can buy tickets to the Vatican at the door. However, be prepared to wait 1-2 hours since this line can be excruciatingly long.
Yes, you do not need a ticket to enter Vatican City. However, you need a ticket to enter the Vatican Museums and Sistine Chapel. It is free to enter the St. Peter's Basilica, but you'll need a ticket for a guided tour of the Basilica.