Perched atop the highest hill in Lisbon, Sao Jorge Castle, also known as St George's Castle, stands as an iconic symbol of Portugal's impressive and remarkable past. From this majestic vantage point located within the Alfama district, visitors are gifted with breathtaking panoramic views of not only the Tagus River valley but also its surrounding areas. This centuries-old castle serves as a reminder to all that Portugal is resilient and has long endured throughout history - an ode to their strength and enduranc
For more than a millennium, Sao Jorge Castle has stood watch over Lisbon, providing steadfast protection from looters and preserving the city's ancient history. The fortifications were originally constructed by the Moors in the 11th century before King Alfonso Henriques added additional defenses to them during his reign in 1147. Since then, it has become an iconic landmark of both Portugal's past and present.
Today, visitors can explore an interactive museum within its walls and walk along its ramparts for spectacular views of Lisbon. With its stunning architecture, cultural significance, and breathtaking views, it is no wonder why this is one of Lisbon's most popular attractions!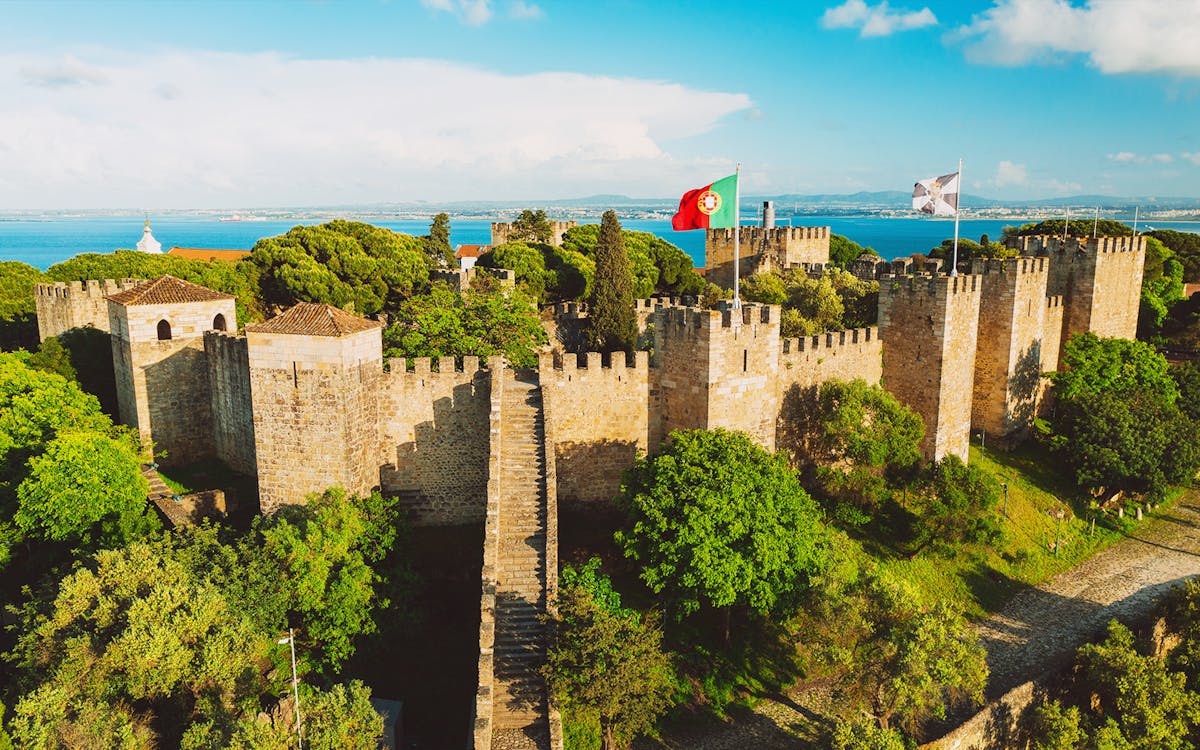 Sao Jorge Castle - In A Nutshell
---
Things to know
UNESCO World Heritage Site designation: 2002
Location: Sintra
Architect: Luigi Manini
Architectural style: Gothic Revival Architecture
Opening Hours And Address
1st March to 31st October: 9 AM to 9 PM
1st November to 28/29th February: 9 AM to 7 PM


Address : R. de Santa Cruz do Castelo, 1100-129 Lisboa, Portugal
Get Directions
Why You Must Visit The Sao Jorge Castle
---
Visiting the Sao Jorge Castle is a must for anyone traveling to Lisbon. The castle provides you with stunning views of the city and its surroundings, as well as a glimpse into its long and storied history. You can explore the ancient grounds of the castle, tour the castle's interior, learn about its history in the onsite museum, and enjoy the breathtaking views from its location high atop one of Lisbon's seven hills. With its well-preserved architecture and spectacular vistas, you are sure to be captivated by this stunning piece of Portugal's past. In addition, the castle is conveniently located in Lisbon's Alfama district and can easily be reached on foot or via public transport. Whether you're visiting for a day trip or staying longer, do not miss out on Sao Jorge Castle!
Sao Jorge Castle Tickets
---
History Of Sao Jorge Castle
---
The Sao Jorge Castle is nested atop a hill that had been inhabited since the 6th century BC, and its earliest fortifications were built in the 2nd century BC. The strategic significance of this location was understood by all who occupied it - from Lisbon's native Celts and Iberians to Roman forces, Visigoths, and Moors.
The first references to Sao Jorge Castle can be found as early as the 11th century, with Arab geographers referring to it as protecting a 'quasabah' or 'fortress'. In 1147, Afonso Henriques - Portugal's very first king aided by crusaders during the Seige of Lisbon – successfully seized control of St George's Castle from the Moors.
In 1255, Lisbon was declared the capital city and Sao Jorge Castle became the royal palace. King João I honored Saint George, the patron saint of England by dedicating it to him in the 14th century as a commemoration of their Anglo-Portuguese pact made in 1371.
However, during the 16th century, when King Manuel I built Ribeira Palace nearby, the Sao Jorge Castle began to lose its significance; this downfall only intensified after two devastating earthquakes damaged it severely leaving it without proper rebuilding until today.
In the 1940s, a massive restoration project was undertaken at the Castle to reconstruct its ramparts, adorn its watchtowers and cultivate gardens in the courtyards.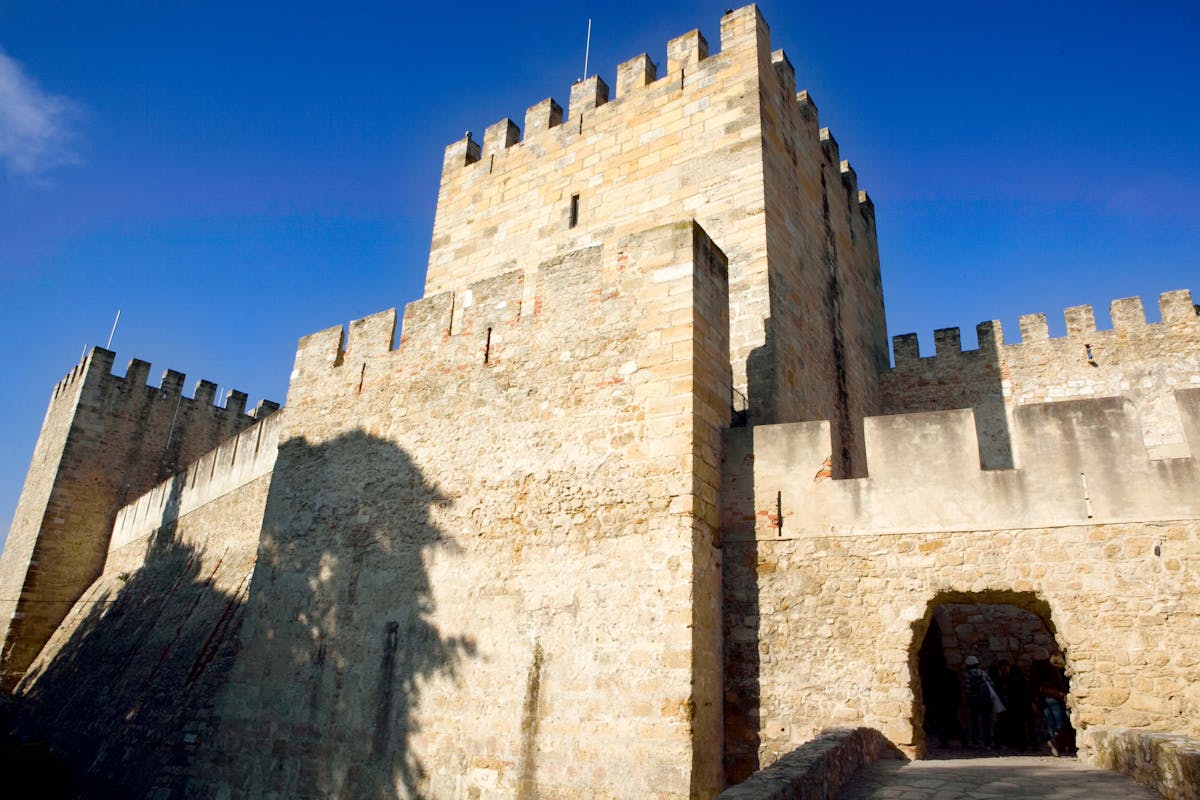 Sao Jorge Castle Architecture
---
The castle is approximately square in shape and was originally surrounded by a wall to create a citadel. Its configuration includes the actual castle, ancillary buildings, gardens, and an expansive terraced square with breathtaking views of Lisbon. To enter this castle, one must pass through the 19th-century gate adorned with Portugal's coat-of-arms, Queen Maria II's name, and 1846 - etching it all in eternity! This gate grants access to the main square, which boasts ornate cannons and a copy of António Soares dos Reis' 19th-century bronze statue of Afonso Henriques.
Perched atop the citadel's highest point in its northwest corner is the medieval castle, acting as a bastion of refuge should attackers breach the city walls. This impressive fortress consists of ten towers and possesses an expansive wall with a door that separates it into two sections. Strategically situated between these imposing structures, this last stronghold offers invaluable protection against any potential siege or invasion.
In addition to its main walls, the castle is safeguarded by a barbican that encircles it on its southern and eastern sides; this low wall hinders siege engines from getting close to the main castle walls. Furthermore, there's also a dry moat partially surrounding this ancient building. To gain access to this castle, you must cross over the stone bridge above said moat - talk about majestic!
Top Highlights Of Sao Jorge Castle
---
1

Statue of Afonso Henriques
In the center of the castle terrace stands a bronze monument to Afonso Henriques, Portugal's first king. He famously wrested control of this caste from Moorish rule in the 12th century with the help of British Crusader Knights. The monument is a tribute to this brave and determined leader who started Portugal's journey toward nationhood.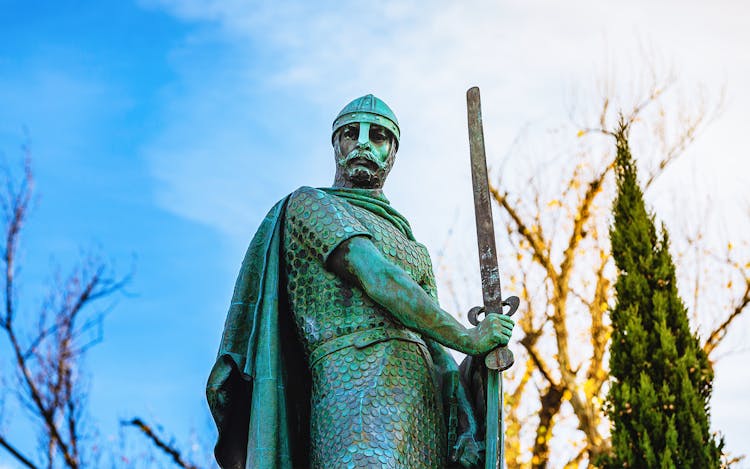 Enter the gates and be greeted by the incredible castle terrace that offers some of Lisbon's most alluring views. From here, you can take in Baixa's vibrant orange rooftops, admire Convento de Carmo and Elevador de Santa Justa from a bird's eye perspective as well as catch sight of the Christo Rei statue across the wonderful River Tagus.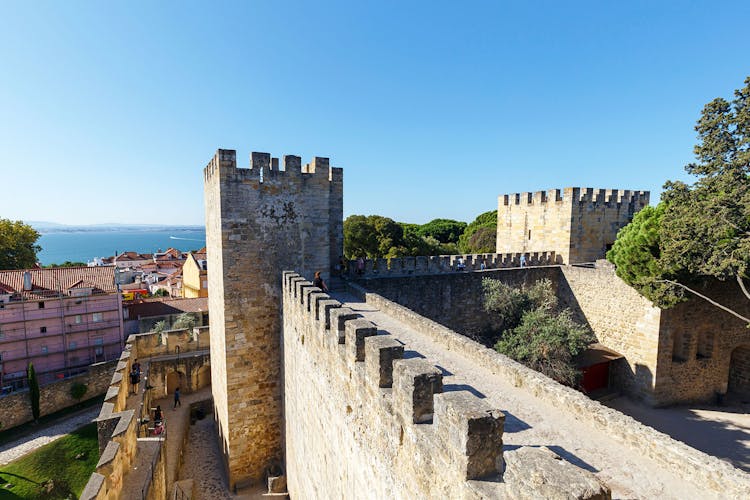 The castle is home to an impressive array of ancient cannons, believed to have been brought in from elsewhere during the reign of King Manuel I. In total, there are eight cannons strategically located along the walls and towers of the castle.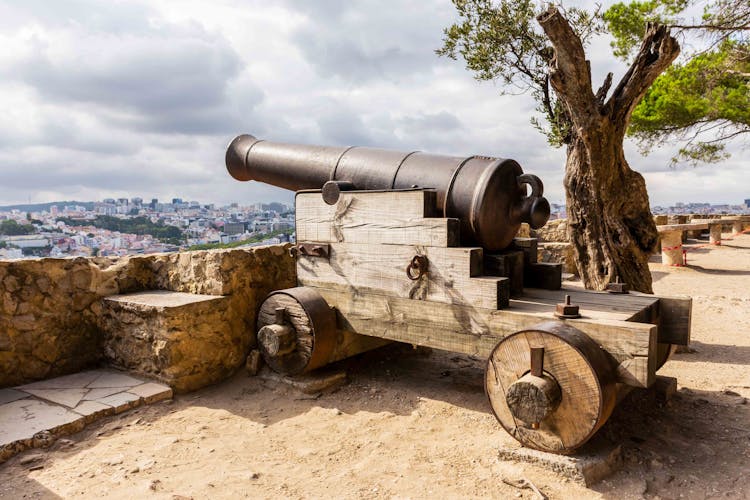 Home to Portugal's primary native species, the garden at Sao Jorge Castle offers an array of trees such as cork oak, olive, carob, strawberry, and umbrella pine that create a picturesque landscape. Additionally, you can find various free trees dedicated to the vegetable gardens of the Royal Palace of Alcáçova which further adds to its charm.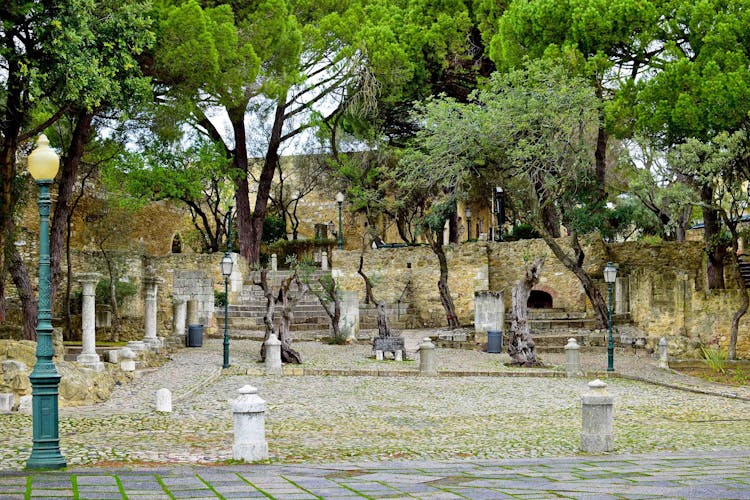 Open to the public, this collection contains artifacts from the alcáçova region (Archaeological Site and Castle) displaying various cultures and lifestyles that span seven centuries leading up to modern-day Lisbon. Special attention is given to the Moorish period between the 11th – 12th century. You need to have a ticket to Sao Jorge Castle to access the museum.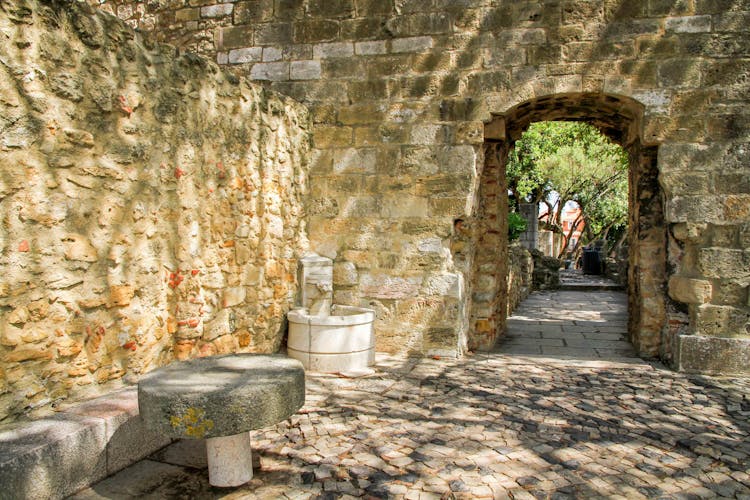 Sao Jorge Castle Timings
---
1 March to 31 October: Monday to Sunday - 9 AM to 9 PM
1 November to 28/29 February: Monday to Sunday - 9 AM to 7 PM
Important Info:
Entry to the Sao Jorge Castle is closed 30 minutes before closing time.
The castle is closed on 1 January, 1 May, 24 and 25 December.
Recommended Duration of Visit
1.5 to 2 hours
Best Time to Visit
The ideal time to explore the castle is during the shoulder seasons of March-May and September-October. Not only will the weather be pleasant, but you'll avoid the large crowds that flock to the city in summer.
Getting There
---
By Car: The closest parking lots are Portas do Sol and Chão do Loureiro. Post this it's a 5 minute walk to the castle. For individuals with special needs travelling by car, you can access the castle's private parking lot. However, for security purposes please contact EMEL at least one day in advance to obtain an entry code before contacting our ticket office (+351 218 800 620) to acquire clearance.
By Bus: 737
Nearest Stop: Praça da Figueira-Castelo de S. Jorge
By Tram: 28 E
Nearest Stop: Santa Luzia Viewpoint, Largo Portas do Sol
By Metro: Rossio metro
Nearest Stop: Praça da Figueira
Restaurants Nearby
---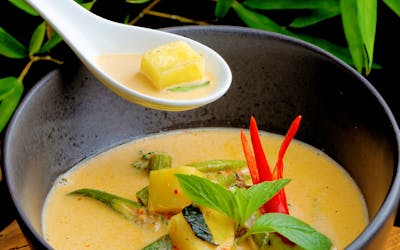 Zambeze
Nestled in Lisbon's historic hub, between Largo do Caldas and Castelo de S. Jorge, Zambeze Restaurante & Rooftop Bar offers a modern and sophisticated atmosphere that is perfect for business or leisurely meals alike; all while being tantalized by the flavors of Mozambican cuisine from Beira region. Try the Duck with Ginger and Coconut Curry.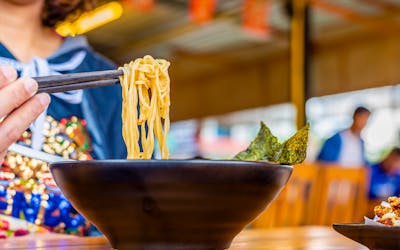 Krua Thai
Indulge in the authentic flavors of Thailand at Krua Thai! Enjoy their exquisite menu featuring a wide selection of classic favorites, all at affordable prices. And don't forget to try the exclusive Krua Thai Gyoza – expertly crafted by Chef Nui and perfected for Portuguese palates.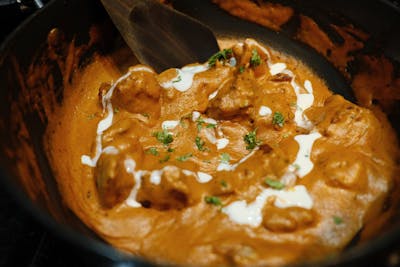 Yak and Yeti
If you are planning to treat your taste buds, Yak and Yeti is just the right spot. Here, flavors come alive as each dish is made from scratch using carefully selected ingredients; whether it's Nepal or India - there's something for everyone! Delight in a range of dishes like chicken chowmin, butter chicken, mix veg curry plus more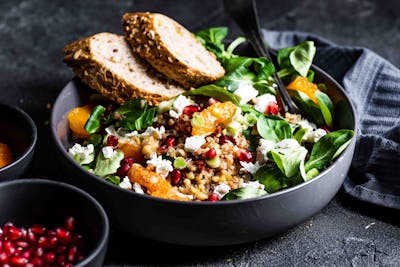 Augusto Lisboa
If you're looking for a hip brunch spot with all the goods, then Augusto Lisboa is your place! Their delectable toasts, scrumptious banana bread, and fresh salads will leave you wanting more. Not to mention their coffee that pairs perfectly with any meal. Get there early though - this popular eatery always has people lining up out the door!
Interesting Facts about Sao Jorge Castle
---
Sao Jorge Castle is the oldest castle in Lisbon and the best-preserved monument of the city.
The site was first occupied by a fortress during Roman times and later rebuilt and developed during the medieval period.
It consists of a keep, walls, towers, courtyards, gardens and a chapel dedicated to St George – hence its name 'Sao Jorge' meaning Saint George in Portuguese.
The castle has been extensively renovated over time but still retains its original form and architecture from centuries ago.
It offers spectacular views over Lisbon's old town as well as some good panoramic views of the Tagus River.
Sao Jorge Castle is one of the most visited tourist attractions in Lisbon, with over two million visitors each year.
In 2018, it was announced that Sao Jorge Castle would become part of UNESCO's World Heritage Sites list.
Insider Tips
---
Wear comfortable shoes: There is a lot of walking involved in visiting the castle and it can be quite steep at times, so make sure you wear good quality, comfortable footwear.
Bring a hat and sunscreen: The sun can get very strong in Portugal during the summer months, so make sure you bring along a hat to protect your face from sunburn as well as plenty of sunscreen.
Take plenty of water: It's important to stay hydrated when visiting the castle, especially if the weather is warm or hot outside. Make sure to bring several bottles of water with you during your visit.
Take plenty of pictures: Sao Jorge Castle is one of the most beautiful places in Portugal and it provides some incredible photo opportunities so don't forget to take plenty of pictures!
Book Skip-The-Line tickets: Booking this ticket will give you skip-the-line access as well as an audio guide that you can use directly from your phone. Don't forget to carry your earphones as well!
Be aware of your surroundings: Make sure that you are aware of your environment while visiting the castle and don't go off by yourself as it can be dangerous due to its height and steep walls. Be mindful of the other visitors and keep your belongings safe.
Other Attractions around the Schönbrunn Palace
---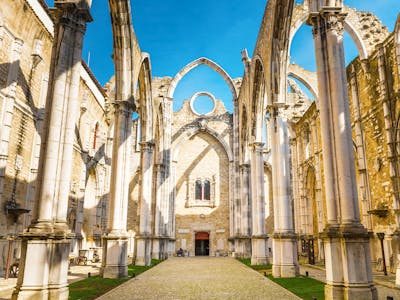 Carmo Convent
The Carmo Convent was built by the Friars of Our Lady of Mount Carmel and served as their home until 1755 when an earthquake destroyed much of Lisbon. Despite efforts to save it from further damage, the convent's roof and walls were irreparably damaged and eventually had to be demolished. All that remains today are its beautiful arches and columns which provide a picturesque backdrop for visitors wishing to explore the history of this religious site.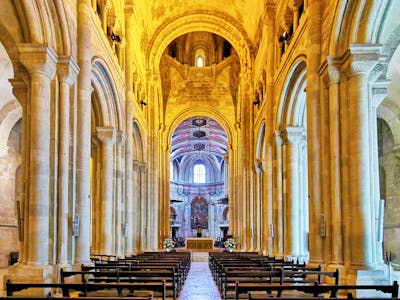 Lisbon Cathedral
Lisbon Cathedral, also known as the Sé de Lisboa, is a medieval Roman Catholic cathedral located in Lisbon, Portugal. It was founded in 1150 and dedicated to Our Lady of the Assumption. The cathedral stands on top of the highest hill in Lisbon, giving it an impressive view of the city below. The building has a Latin cross plan with three aisles and four pointed arches supported by two rows of eight columns each.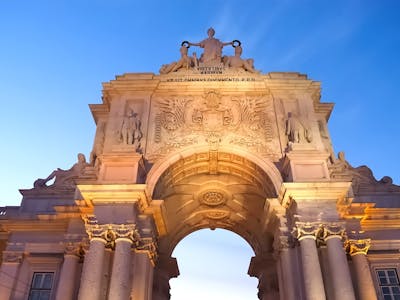 Arco da Rua Augusta
Arco da Rua Augusta is a iconic monument located in the center of Lisbon, Portugal. It was built to commemorate the city's reconstruction after the 1755 earthquake that destroyed much of the city. It is considered one of the most important landmarks in Lisbon and has become an icon for national pride and identity.
Martim Moniz
Martim Moniz is a popular destination for tourists who come to explore the city's rich history and culture. Named after an 11th-century Portuguese soldier - Martim Moniz - it was originally built as his memorial in 1241, and has since been transformed into one of the most vibrant and lively squares in Lisbon.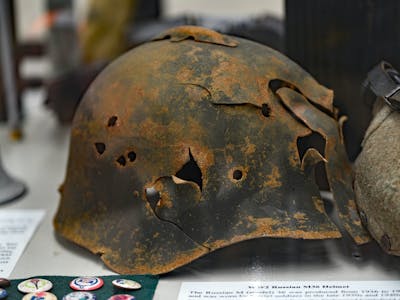 Lisbon Military Museum
The Lisbon Military Museum is one of the most important military history museums in Portugal. Located in the heart of the city, it houses a vast collection of Portuguese weaponry and artifacts from throughout its military history. Visitors to the museum can explore a wealth of exhibits that showcase different periods and conflicts within Portugal's military past. From ancient weapons to modern-day munitions, visitors can learn about many aspects of Portuguese warfare.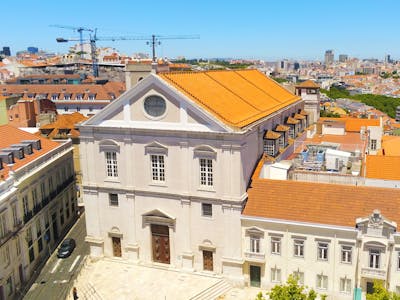 Church of Sao Roque
Church of Sao Roque is an iconic religious site in the city of Lisbon. Famous for its Baroque architecture, this church was built in the 16th century and is considered to be one of the most important churches in Portugal. The Church of Sao Roque has a unique blend of Gothic, Renaissance and Baroque styles that make it a popular destination for tourists looking for some incredible sights in Portugal.
FAQs
---
Sao Jorge Castle is located atop a hill in the historic center of the Portuguese capital city, Lisbon. It was built in the 10th century and offers stunning views of the Tagus River, Alfama district and other areas of Lisbon.
You can reach Sao Jorge Castle by public transportation or taxi. Public transport options include buses and trams that will take you directly to the castle entrance. Alternatively, you can also use Uber or a regular taxi service to get there.
The castle is open every day from 9 am to 9 pm from March through October, and from 9 am to 7 pm from November through February.
Yes, there is a small café located inside the castle grounds where you can get light refreshments. You can also try traditional Portuguese dishes at the nearby restaurants in Alfama district.
Yes, there are many attractions and activities in the area surrounding Sao Jorge Castle. Visitors can explore historical monuments such as the Lisbon Cathedral and Jeronimos Monastery or take part in a Fado music show. The castle is also close to the funicular that takes you up to São Pedro de Alcântara Belvedere, offering breathtaking views of downtown Lisbon.