Located in Southern Portugal, on top of São Pedro de Penaferrim of Sintra, is the castle of Pena Palace. It sits on top of the lush hills, covered in bright colors and cloaking the skyline of Sintra. Bespeaking Romanesque, Neo-Manueline, and a pinch of Moorish architecture, Pena Palace Sintra has become the zenith of Romanticist design in Portugal. On a clear day, you can even spot it from Lisbon. This gem of a castle is worthy of a visit whether you're passing by Sintra or taking a trip all the way from Lisbon. Here is me giving you all the reasons why and how you can pay a visit.
Pena National Palace In A Nutshell
---
Must-see
The Chapel
Pena Park
The Royal Dining Room
The Noble Room

Location
Estrada da Pena, 2710-609 Sintra, Portugal
Get There
Why Visit The Palácio da Pena
---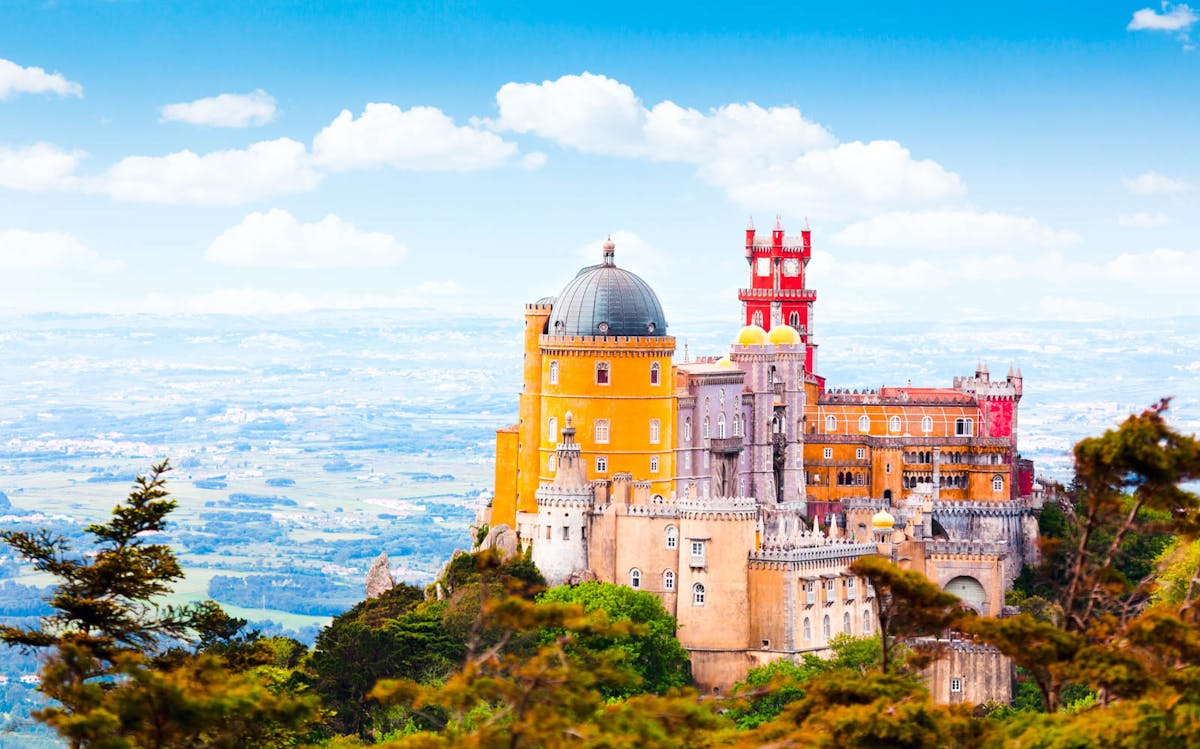 The Pena Palace looks like the crown jewel sitting on top of Sintra. The first thing besides its vastness to capture your attention are the colors and a melange of different architectural styles. The vault arches, the ornate window in the main facade, the drawstring bridge, the clock tower, and the cylindric bastion - each one more beautiful than the other - you'll not know where to look!
For me, the highlight of visiting the Pena Palace was its lush park. It wraps the palace like a forest. The Pena Park is just as mesmerizing as the Palace and was designed with the same exotic taste of Romanticism. You will find a stunning variety of many plant species from all around the world spread over 200 hectares of uneven terrain.
The Pena Palace History
---
The story of Pena Palace goes back to the middle ages after an apparition of the Virgin Mary and a chapel for Our Lady of Pena was built atop Sintra. In the 15th century, King Manuel I who was fond of this chapel ordered a monastery to be built for the Order of Saint Jerome that could host 18 monks. However, this monastery was severely damaged by lightning in the 18th century.
In the early 19th century, King consort Ferdinand II decided to acquire the monastery and the surrounding land to build a summer residence for the royal family on the site. Unfortunately, the royal family had to flee the state during the revolution of 1910. The Portuguese State later purchased the Palace, classified it as a national monument, and turned it into a museum.
It was an immediate hit and people from all over the world flocked to see the Palace. Although the colors had faded to a grey for most of the 20th century, it was restored to its original colors of bright yellow and red in the later years of the century. The Palace was listed as a World Heritage Site by UNESCO in 1995 and one of the seven wonders of Portugal. Today, it is used to host state events by the President of the Portuguese Republic and other government officials.
What Not To Miss In Palácio da Pena
---
Your Palácio da Pena expedition starts even before you reach the Palace doors. If you choose to park your car at the first parking spot, your climb to the hilltop is adventurous & beautiful! Walk by different species of plants and trees from across the world as you make your way to the main entrance of the Palace. Or, you can choose to drive or take a tuk-tuk to the main entrance, explore the insides of the grand castle and descend through the lush green gardens on your way back to the parking lot. Here is what amused me on my tour.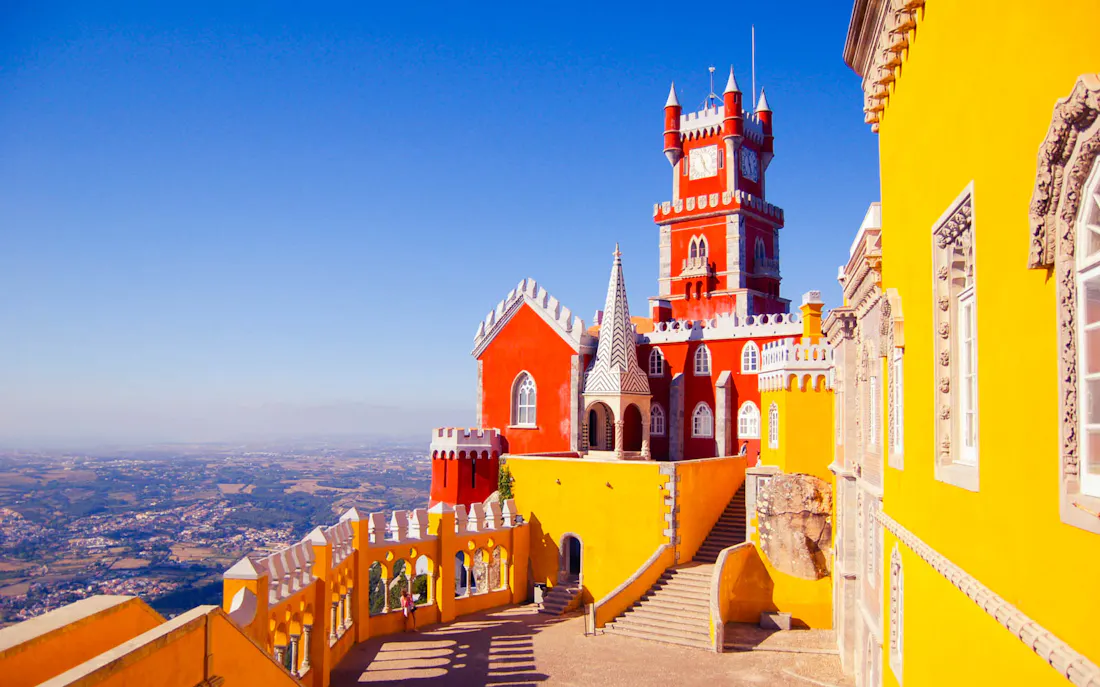 Inside The Palace
As I entered through the main entrance, the vibrant shades of red and yellow facades caught my eye. The grand stone staircase, a Gothic-styled cloister, the statues of mythical creatures from Portuguese fairytales, and the high raised spherical ribbed vault domes were the most unique pieces of art I had seen in all of Europe.
Each room of the Palace tells a different story and has drawn inspiration from various decor styles around the world. The furniture in the dining room transports you to a royal feast and the view from the bedroom's balcony of the thick green forest is nothing short of captivating. The Palace terraces are the showstoppers and make for an amazing photo op. All this apart, the Queen's terrace was my personal favorite. It is the highest of them all, nestled on the background of yellow facades (oh so instagram worthy!), and flaunts a gorgeous panorama of the surrounding valley.
In The Pena Park
At the gardens of Pena, you'll find exotic flora from around the world. Plants and trees you see here are imported from far places yet have prevailed through many years of war and weather. You can also find native Portuguese flora among them. The gardens are a vast maze of wooded paths, which are wheelchair-friendly for the most part.
Scoring Pena Palace Tickets
---
If you are interested in only seeing the Park, you can purchase separate Park tickets. But I totally recommend taking a look inside the Palace, too, since they blew my mind. That said, there are 3 types of Pena Palace tickets you can purchase:
Skip-the-line tickets
National Palace of Pena & Park: Skip the Line Tickets are handy for those traveling on a budget and exploring the castle on their own. You save time and dime since you need not wait in long lines at the ticket booths. Moreverbooking online from sites such as Headout allows you to purchase Pena Palace tickets at a discount. These tickets include entrance to the Palace, Park, and Chalet of the Countess of Edla.
Day Trip From Lisbon
A day trip from Lisbon to Sintra is a great option if you wish to spare the trouble of figuring out the right transportation to and from Lisbon. This tour takes you from central Lisbon on your journey to the top of the Sintra Mountains to tour the Pena National Palace, explore the streets of Sintra, views of the Atlantic coast, and the countryside of Cabo da Roca, the westernmost point of Portugal and Europe. Totally recommend this for those who don't have their private vehicle.
Pena Palace, Cabo da Roca, Cascais & Estoril Tour with Lunch
What better way to spend a day than touring Pena National Palace, Cabo da Roca, Cascais & Estori in the company of a local guide?! . This tour offers you exactly that with a delicious lunch and a whiff of Portuguese culture. You'll not only get to see the major attractions of Sintra but also delve deeper into the food culture of Sinatra.
Sign up for our monthly newsletter
Your dose of travel fix - from hacks and deals to travel tips and everything in between, delivered monthly to your inbox
Please enter a valid email
Unsubscribe anytime
Visiting Pena National Palace
---
How To Get To Pena Palace
By Bus: Palacio da Pena is the closest bus stop and is only 500 meters from the Palace.
By Train: Sintra is the closest train station but is located 3.1 km from the Palace. You can take a bus from the Sintra Estação stop outside the train station to Palacio da Pena stop and walk 500 meters to the Palace.
By Car: Take the N249 road from Lisbon and turn into Av. Conde Sucena 2 até ao Bairro Alto da Boavista. From there you can turn into N375 for 20 minutes until you turn right onto Escadinhas de Santa Maria 6. Then take the Rampa do Castelo 12-2 and turn into Estrada da Pena which will lead you to the Palace. The entire journey should only take 4o minutes.
By Tuk Tuk - You can also take a tuk-tuk from any of the bus or train stations to Pena National Palace for an exotic experience. Beware of the drivers overcharging since it should not cost more than 10 euros per person if you are traveling from anywhere in Sintra itself.
Opening Hours
Pena Park is open from 9 am to 7 pm every day and until 8 pm in the summers. The Palace is open from 9:30 am to 6:30 pm every day throughout the year.
Pena Palace Parking
There are two parking spaces at Parque da Pena. There is one at the bottom of the park but requires a 30-minute walk uphill through the gardens. The second parking space is at the top, near the main entrance. But as you can guess, it's busier and easier if you are not a fan of walking uphill.
Accessibility
There are two parking spaces at Parque da Pena for people with disabilities. You can reach the main entrance of the Palace via wheelchair. If you wish to visit the Park, some routes are wheelchair accessible. The insides of the Palace are mostly wheelchair accessible.
Best Time To Visit
The best time to visit the Park and National Palace of Pena is during the early opening hours. You can easily get a parking spot and the view from the top of the Palace is even better with slim crowds.
Pena Palace Sintra Map
---
Use this interactive map to navigate your way to and around the Palace.
7 Stunning Pena Palace Sintra Facts
---
Pena Palace Sintra is one of the seven wonders of Portugal.
The Palace was built by a German architect Baron Wilhelm Ludwig von Schewge, who blended Neo-Gothic, Neo-Islamic, Neo-Renaissance, and Neo-Manueline architectural styles.
You can identify cultural influences ranging from Middle Eastern to baroque European in many of the rooms.
On a clear sunny day, you catch views of the Palace from as far as Lisbon.
The Palace has a sundial cannon that used to fire a shot every day at noon.
UNESCO classified the Palace and its landscape as a World Heritage Site in 1995.
Many eons ago, a chapel dedicated to Our Lady Of Pena stood on the site of the Palace.
Tips For First Timers
---
Photography is strictly banned inside the Palace.
If you are in for a short hike, park your vehicle at the lower garden and walk through the lush greens to reach the main entrance.
There aren't too many public transportation options besides bus or tuk-tuk to reach the Palace. If you don't have your own vehicle, I would recommend the Pena Palace Tour from Lisbon which offers transfer options from your hotel.
Bring a pair of binoculars to catch the best panoramic views of Southern Portugal and the surrounding ocean.
A pair of comfortable shoes and a bottle of water is highly recommended since there is a fair share of walking involved (if you intend to cover the Palace and Park)
Pena National Palace Reviews
---
This castle is insane. From location to art. Lovely place to visit. My recommendation is that you take a cab up here. Don't try to hike up because it'll ruin the rest of your day. Especially if you wanna see other things. Buy your ticket online. It's the same price "I think" and you'll skip the ticket line. You really don't want to waste time in this area and move quickly. There's so much to see. Hike back down, it's nice and easy.
- Kamal D, Google, September 2021
I was completely blown away by the beauty and the detail in the palace - there is so much to take in not least the views! There are many different styles associated with the outer structures (e.g. the Moorish gate and 16th century one), and inside there are many designs tied to nature in some way - from the stair banisters as rose branches to the shell lamps.
- Sinead Coyle, Google, November 2021
Things To Do Near Pena National Palace
---
Here are some amazing places you should visit if you want to extend your stay in Sintra.
1

Chalet of the Countess of Edla
The Chalet of the Countess of Edla is a small wooden building located in the Alps, first built by an Austrian countess to honor her son's death during World War I. The Chalet overlooks Lake Worthersee, making it easy to see from various points around the lake. The exterior features intricate carving that brings life to its design, including ledges that are shaped like angels, flowers, and hearts. A closer look reveals more details about this beautiful little structure. There are countless flower carvings outside depicting different kinds of flowers, painstakingly laid out over every inch so not one detail is left untouched.

Recommended

2

Sintra-Cascais Natural Park

The Sintra-Cascais Natural Park is located in Sintra and Cascais (Portugal), about 30 minutes west of Lisbon. The Sintra Mountains lie near the Atlantic Ocean, linking to several beaches. The area was formed 600 million years ago with granite rocks that create high cliffs along the coast; there are also caves formed during this time by waves crashing against these cliffs. These formations make it hard for humans to build around Sintra's natural attractions, which makes it perfect for people who love nature and admire its landscape in person.

The Quinta da Regaleira, situated in Sintra, Portugal, has been a popular tourist attraction for over a century. It is also considered by many to be one of the most important monuments in the world - because it contains Masonic elements and symbols representing knowledge since ancient times. The design of the estate goes back to the beginning of 1900 when Mr. Antonio Augusto Carvalho Monteiro decided he wanted to build an estate based on his own imagination and devoted 30 years of his life to achieving this dream.

The Castelo dos Mouros sits on top of a hill overlooking Santa Maria e São Miguel and it includes walls built between the 9th and 13th centuries that are still standing today. There are also many legends surrounding this castle's history which make it an even more alluring destination for tourists who are looking for some entertainment during their stay in Aveiro. Castelo dos Mouros bestows panoramic views over Aveiro, providing stunning vistas at day or night time, with seven towers standing as symbols for each century that passed since its inception.

Recommended


The Sintra National Palace, also known as the Town Palace, was built in the 19th century and its magnificent architecture took almost 30 years to complete. With its fairytale-like appearance, Sintra National Palace will make any visitor fall in love with it at first sight. It blends Neo-Manueline, Moorish, Mudéjar, and Gothic architecture, forming one of the most unique Palaces in the world. The gardens surrounding Sintra National Palace are breath-taking and sprout countless kinds of seasonal flowers. Today, it serves as a voguish historic house museum.

Recommended

Hotels Near Pena Palace Sintra
---
Sintra is a town that has a lot to see and explore. A stay close to the Pena National Palace is a perfect way to spend your time admiring the Palace's beauty from afar Here are my top hotel recommendations near the Palace: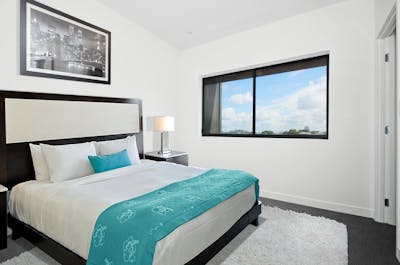 Ibis Lisboa Sintra
If you are on a tight budget yet seek a comfortable experience with all modern amenities, head to ibis Lisboa Sintra. The suites include a smart TV, air-conditioning, WiFi, parking, and a 24-hour front desk service. The place is also located very close to the top attractions of Sintra like Pena National Palace(2.1 miles), Quinta da Regaleira (2.2 miles) and Câmara Municipal de Sintra (2.2 miles).
Price range: €49-55 per night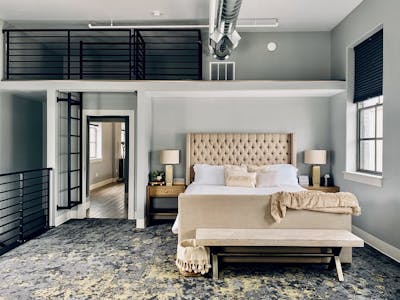 Tivoli Palacio de Seteais Sintra Hotel
Tivoli Palacio de Seteais Sintra is a 5-star hotel that embraces the style and decor of Sintra very well. The hotel resembles a modern fortress and offers the best experiences in the town. There is a luxurious swimming pool, spas, breakfast buffet, and eloquently designed suites, all overlooking the lush hills of Sintra.
Price range: €94-124 per night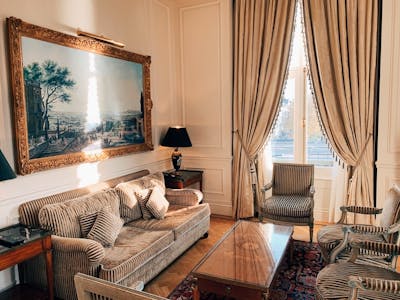 Lawrence's Hotel
Lawrence's Hotel is one of the oldest hotels in the Iberian peninsula dating back to 1764. It became famous for its hospitality during the visits of Lord Byron, famous Portuguese writers, artists, and politicians. It is a 5star boutique hotel located in the heart of Sintra, only 1.5 miles away from Pena Palace.
Price range: €90-100 per night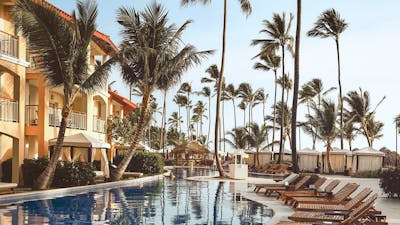 Penha Longa Resort
If you are looking to elevate your holiday experience, stay at Penha Longa Resort. Located in the center of the Natural Park of Sintra-Cascais, it is only a few minutes from the beaches of Cascais and the romantic mountains of Sintra. They include a plethora of outdoor and indoor activities which anyone of any age can enjoy.
Price range: €200-230 per night
Pena Palace Restaurants
---
Here are the closest and best restaurants near Palácio da Pena to munch at.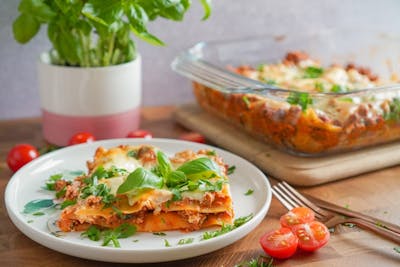 Palacio Nacional de Sintra Restaurante
If you are at the Pena National Palace and are craving some yummy food, worry not. Palacio Nacional de Sintra restaurant is located inside the Palace itself. It's a great option for quick bikes and won't burn a deep hole in your pocket.
Must try: Spinach lasagne, mashed potatoes, baked goat cheese salad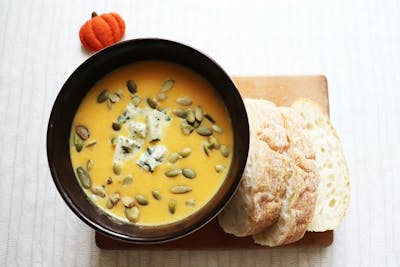 Tascantiga
Tascantiga is a bar that also serves delicious Portuguese, Spanish and European delicacies. The funky ambiance, hospitable service, and great bar menu make it a nice place to hang out with friends and family.
Must try: Chopped dates and ham, crispy bread, fondue parcel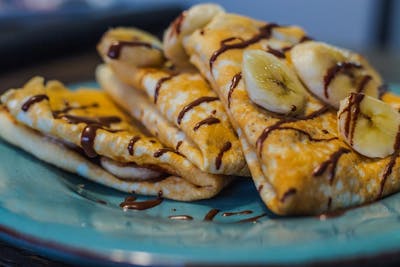 A Praça
Head to A Praça to try European, Healthy, Mediterranean, International, and Portuguese cafe bites. This cozy cafe offers a light ambiance and a budget menu. The cafe is located only 200 meters from the Palace.
Must try: Lentil curry with mango chutney, crepes, poached pear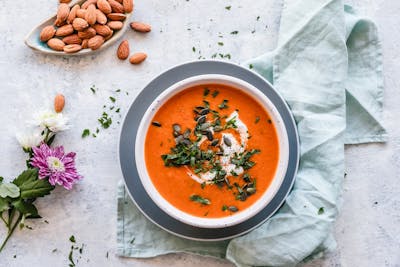 Becco de Sintra
If you want to dine, look no further than Becco de Sintra which is hidden away in plain sight. The restaurant serves amazing Mediterranean, European, Healthy, and Portuguese fusion food. The staff is friendly and the food is appetizing.
Must try: Pimientos padrones, octopus, veggie, soup
FAQs

---
Is it worth going inside Pena Palace?
Why is Pena National Palace famous?
Who lived in Pena Palace?
Is entry to Pena National Palace free?
How much do Pena Palace tickets cost?
How much time do you need in Pena Palace?
How much is a tuk tuk to Pena Palace?
Where is the Pena Palace?