The 2023 Rugby World Cup is the ongoing tenth men's Rugby World Cup, the quadrennial world championship for rugby union national teams. It is taking place in France from September 9 to October 29 in nine venues across the country. This will be the first time the Rugby World Cup will be hosted in France, entirely, after sharing with other countries in 1991 and 2007.
Twenty teams are competing in the tournament, divided into four pools of five teams. The top two teams from each pool will advance to the knockout stage, which consists of quarter-finals, semi-finals, and a final. The third-placed teams in each pool will compete in a repechage round for a chance to play in the quarter-finals.
The favorites to win the tournament are defending champions South Africa, with New Zealand, England, and France, all worthy opponents. The opening game and final will be held at the Stade de France in Saint-Denis, just north of Paris.
Rugby World Cup 2023 - In A Nutshell
Handy information
| | |
| --- | --- |
| 🇫🇷 Host Country: | France |
| 🏉 Number of Teams: | 20 |
| 🏟️ Number of Stadiums: | 9 |
| 🗓️ Dates | 9 September to 29 October 2023 |
Groups
Pool A: New Zealand, France, Italy, Uruguay, Namibia.
Pool B: South Africa, Ireland, Scotland, Tonga, Romania
Pool C: Wales, Fiji, Australia, Georgia, Portugal
Pool D: England, Samoa, Japan, Argentina, Chile

Things To Know
New Zealand and South Africa are the most successful with three Rugby World Cup titles each, Australia has 2 and England has 1.
The All Blacks are the only team to defend their championship by winning back-to-back titles in 2011 and 2015.
The fastest drop goal at any Rugby World Cup was scored by Jonny Wilkinson in 35 seconds, against Japan in 2003.
The Webb Ellis Cup, the trophy awarded to the winners of the Rugby World Cup, is named after William Webb Ellis, who is credited with inventing the game of rugby. However, there is no evidence to support this claim.
Host Cities & What To Do There
1. Bordeaux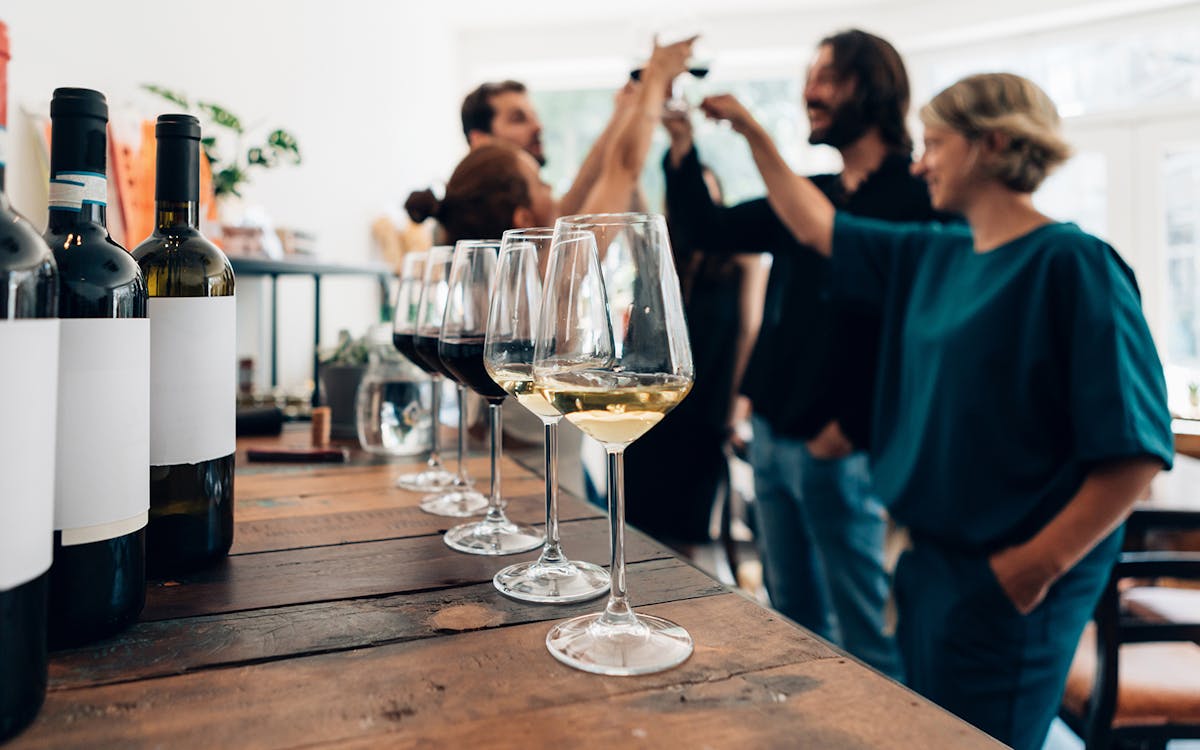 Stadium: State de Bordeaux
Capacity: 42,060
Important Games: Ireland vs Romania, Wales vs Fiji, Fiji vs Georgia
As the city comes alive with the tournament's excitement, you can try out fine Bordeaux wines, stroll along the Garonne River, and indulge in some authentic French cuisine at charming bistros. Amid the cheers of rugby enthusiasts, historic landmarks like Place de la Bourse and Bordeaux's Gothic cathedrals stand as testaments to the city's rich heritage.
Top Attractions in Bordeaux
Base sous-marine: Base sous-marine in Bordeaux is a WWII U-boat bunker turned cultural venue. It is primarily an art museum, but also hosts concerts and immersive experiences.
La Cité du Vin: La Cité du Vin is a wine-themed museum that offers a journey through the world of wine with tastings, exhibitions, and educational programs.
Parc de l'Ermitage Sainte-Catherine: This park in Bordeaux is a hidden gem that offers a serene escape, with lush greenery, scenic walking paths, and panoramic views of the city. The park also features a natural lake with turtles and fish!
2. Lille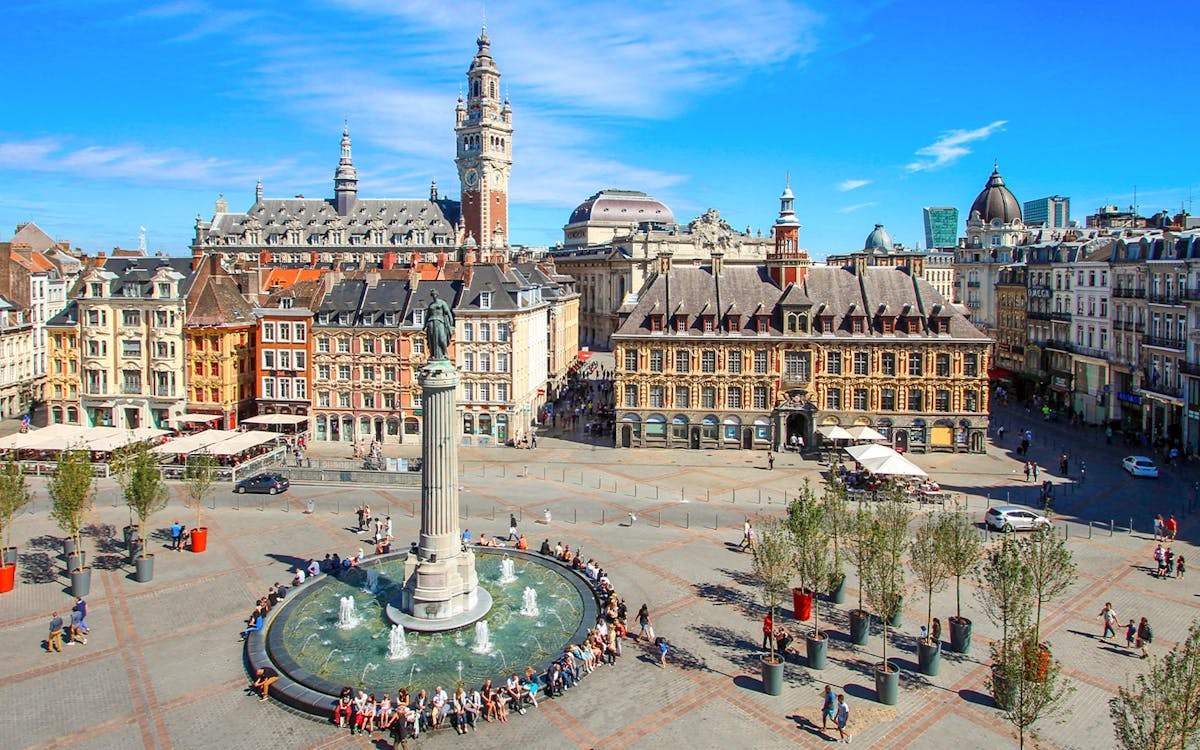 Stadium: Stade Pierre Mauroy
Capacity: 50,096
Important Games: France vs Uruguay, Scotland vs Romania, England vs Samoa
Amidst the rugby fervor, you must check out Lille's renowned cuisine at bustling marketplaces, admire its striking architecture, such as the Grand Place and Palais des Beaux-Arts, and of course, the flavorful French pastries! Lille's welcoming atmosphere ensures that both rugby enthusiasts and culture seekers can revel in a vibrant ambiance.
Top Attractions in Lille
Natural History Museum: Lille's Natural History Museum showcases biodiversity through fascinating exhibits, featuring a diverse array of flora and fauna. It's an educational experience for all ages.
Palais des Beaux-Arts: Palais des Beaux-Arts in Lille is a cultural gem housing a collection of art, including works by renowned artists like Rubens and Rembrandt, making it a must-visit for art enthusiasts.
Notre-Dame-de-la-Treille Cathedral: Notre-Dame-de-la-Treille Cathedral is a striking blend of contemporary and Gothic architecture. Its intricate facades and stunning interior make it one of the most beautiful buildings in the city!
3. Lyon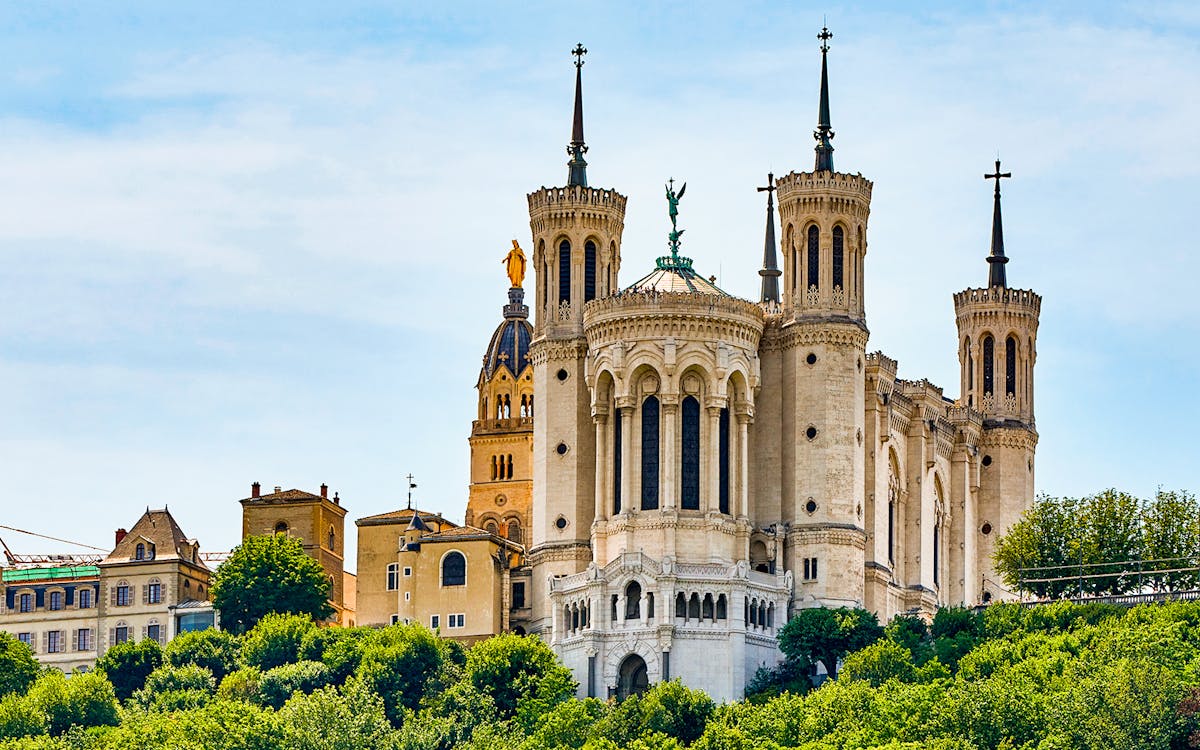 Stadium: Oi Stadium - Lyon
Capacity: 58,883
Important Games: Wales vs Australia, Uruguay vs Namibia, New Zealand vs Italy, New Zealand vs Uruguay, France vs Italy
Lyon is full of some really cool experiences for both food connoisseurs and history enthusiasts. Beyond its rugby connections, Lyon is sure to captivate the palates of rugby enthusiasts, especially those with a penchant for gourmet delights. Known as the gastronomic capital of France and the birthplace of the influential French chef Paul Bocuse, this city is sure to take you on a culinary journey that you'll remember.
Top Attractions in Lyon
Basilica of Notre-Dame de Fourvière: This stunning basilica sits atop Fourvière Hill and offers breathtaking panoramic views of the city. The interior is equally impressive, with intricate mosaics.
Vieux Lyon (Old Town): The charming cobbled streets of Vieux Lyon are sure to lure you in, a UNESCO World Heritage site. Explore the Renaissance-era buildings, traboules (hidden passageways), and visit local shops for souvenirs.
Les Halles de Lyon - Paul Bocuse: A food lover's paradise, this indoor food market is named after the famous chef Paul Bocuse. Sample gourmet products and traditional Lyonnais specialties from local vendors.
Parc de la Tête d'Or: Lyon's largest urban park boasts a beautiful botanical garden, a large lake where you can rent boats, a zoo, and plenty of green spaces for picnics and leisurely walks.
Musée des Beaux-Arts de Lyon: Explore a vast collection of art spanning from ancient Egypt to contemporary works in this renowned museum. It's one of France's most important art museums.
Traboules: Lyon is famous for its traboules, a network of hidden passageways and courtyards. Discover these secret shortcuts and learn about their historical significance!
Croix-Rousse: Visit the Croix-Rousse district, once the center of Lyon's silk industry. Explore its vibrant streets, visit the Maison des Canuts (Silk Workers' House), and enjoy panoramic views from the amphitheater.
4. Marseille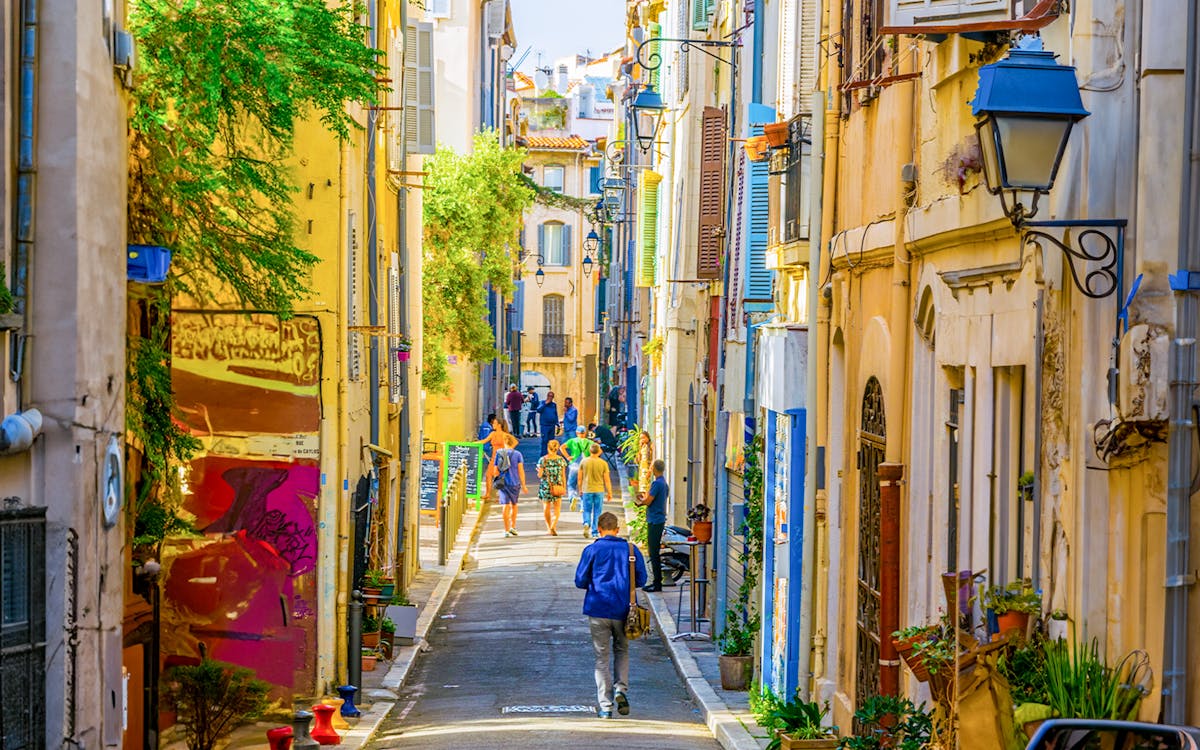 Stadium: Stade De Marseille
Capacity: 67,847
Important Games: England vs Argentina, South Africa vs Scotland, France vs Namibia, South Africa vs Tonga, Quarterfinal 1–winner, Quarterfinal 3–winner
With a seating capacity of nearly 67,400, the Orange Vélodrome in Marseille ranks as the country's second-largest stadium (after the Stade de France) and will host six matches during the event. To immerse yourself in the vibrant and multicultural ambiance of Marseille, take time to explore the historic Vieux Port, recently enriched by its first food hall; Le Panier, the city's oldest and most picturesque neighborhood, characterized by its quaint, flower-lined alleys, vibrant facades, and street art; and the region's natural wonders.
Top Attractions in Marseille
Basilique Notre-Dame de la Garde: This iconic basilica atop a hill offers stunning panoramic views of Marseille and the Mediterranean Sea.
Vieux-Port (Old Port): This is the historic heart of the city, where you can enjoy fresh seafood, watch boats, and experience the lively atmosphere.
MuCEM (Museum of European and Mediterranean Civilizations): Explore Mediterranean cultures through some very cool exhibits and contemporary architecture here.
Le Panier: This historic district is known for its charming streets, colorful buildings, art galleries, and cafes.
Calanques National Park: Discover the natural beauty of limestone cliffs, crystal-clear waters, and hiking trails in this picturesque national park.
Château d'If: Take a boat trip to this historic fortress-prison, famous for its role in "The Count of Monte Cristo" and its fascinating history.

5. Nantes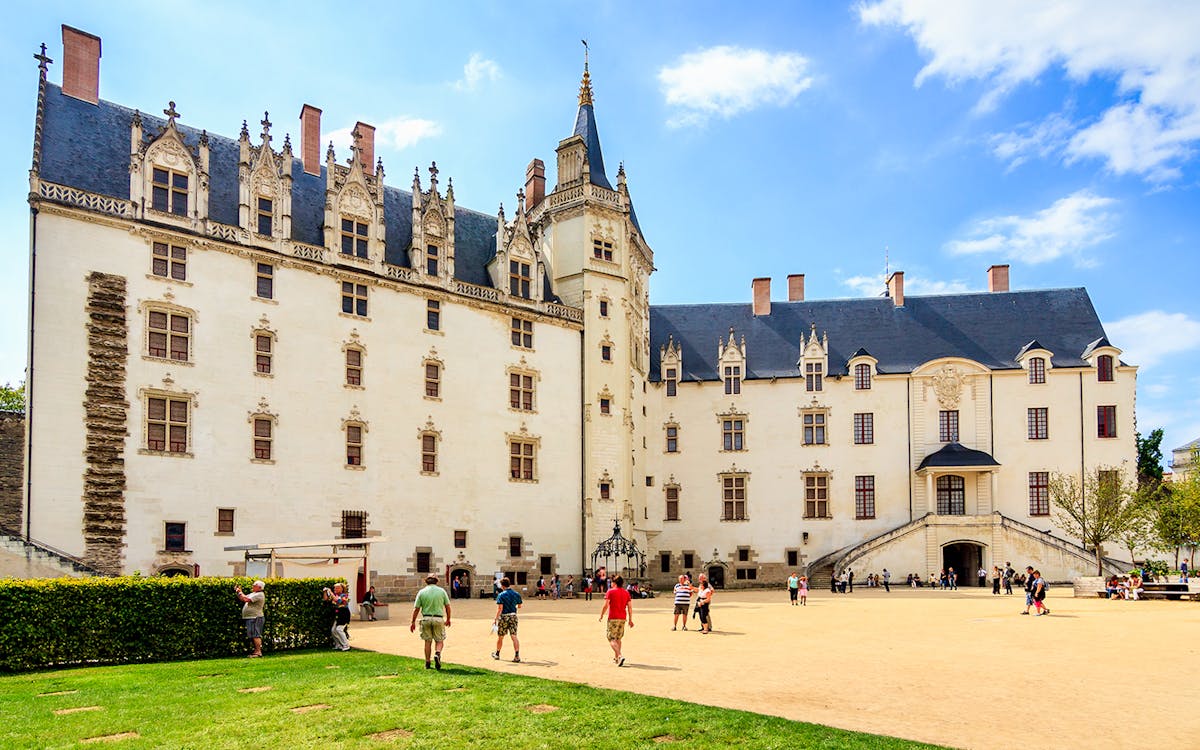 Stadium: Stade de la Beaujoire
Capacity: 35,520
Important Games: Ireland vs Tonga, Argentina vs Chile, Wales vs Georgia, Japan vs Argentina
Located along the picturesque Loire River, Nantes is dotted with medieval architecture, including the striking Château des Ducs de Bretagne, which houses a fascinating museum recounting the region's history. Strolling through the charming streets of the historic center, you'll come across quaint cafe and quite a few artisanal boutiques. Whether exploring its cultural offerings, savoring delicious French cuisine, or simply enjoying the serene riverbanks, Nantes promises a memorable and authentic French experience.
Top Attractions in Nantes
Château des Ducs de Bretagne: A medieval castle with a captivating history museum, offering a glimpse into the region's past.
Machines of the Isle of Nantes: A fantastical world of mechanical animals and whimsical creations, perfect for a unique and imaginative adventure.
Île de Versailles: A serene Japanese garden nestled in the heart of the city, providing a tranquil escape from urban life.
Nantes Cathedral (Cathédrale Saint-Pierre-et-Saint-Paul de Nantes): A masterpiece of Gothic architecture with stunning stained glass windows!
Passage Pommeraye: A beautifully preserved 19th-century shopping arcade, a must-visit for its elegant architecture and boutique shops.
Jardin des Plantes: A lush botanical garden showcasing a diverse range of plant species, perfect for a leisurely stroll and nature appreciation.
Musée d'Arts de Nantes: An art lover's paradise, this museum features an impressive collection of European art from the Middle Ages to the present day.
6. Nice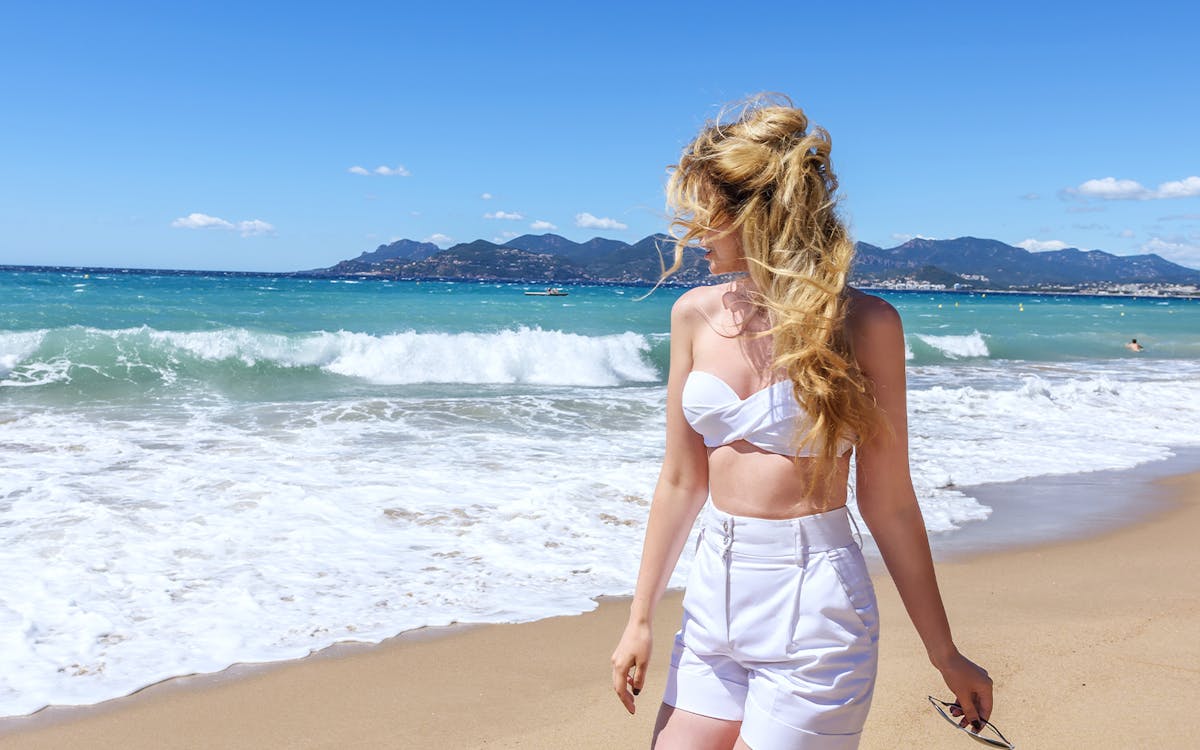 Stadium: Stade de Nice
Capacity: 35,983
Important Games: Wales vs Portugal, England vs Japan, Italy vs Uruguay, Scotland vs Tonga
The stunning coastal city of Nice captivates with its sun-kissed beaches, vibrant Promenade des Anglais, and charming Old Town (Vieux Nice) adorned with colorful buildings and bustling markets. Nice also boasts a rich cultural scene, highlighted by the Marc Chagall National Museum and the Matisse Museum, celebrating the works of these renowned artists. The city offers a perfect blend of sophistication and seaside relaxation!
Top Attractions in Nice
Promenade des Anglais: A picturesque waterfront promenade adorned with palm trees, offering stunning views of the Mediterranean Sea and a perfect spot for a leisurely stroll.
Old Town (Vieux Nice): A labyrinth of narrow, winding streets lined with colorful buildings, vibrant markets, and cozy cafes, providing a glimpse into Nice's historic and cultural heritage.
Castle Hill (Colline du Château): Offering panoramic views of the city, a serene waterfall, and remnants of ancient fortifications, Castle Hill is a scenic park and escape.
Marc Chagall National Museum: A museum housing some of Chagall's mesmerizing artwork, displayed in a serene setting with a stunning stained glass installation, providing an immersive art experience.
Matisse Museum: A tribute to the legendary artist Henri Matisse, showcasing a captivating collection of his paintings, sculptures, and personal artifacts in a serene villa surrounded by olive trees.
Russian Orthodox Cathedral (Cathédrale Orthodoxe Russe): A striking architectural gem with colorful onion domes, offering a unique glimpse into the city's Russian heritage and religious art.
Promenade du Paillon: Meticulously landscaped, this urban park features fountains, sculptures, and walking paths, providing a serene oasis in the heart of the city.
Nice Cathedral (Cathédrale Sainte-Réparate de Nice): A magnificent Baroque cathedral with intricate façades and ornate interior, showcasing exquisite religious art and architecture.
7. Saint Denis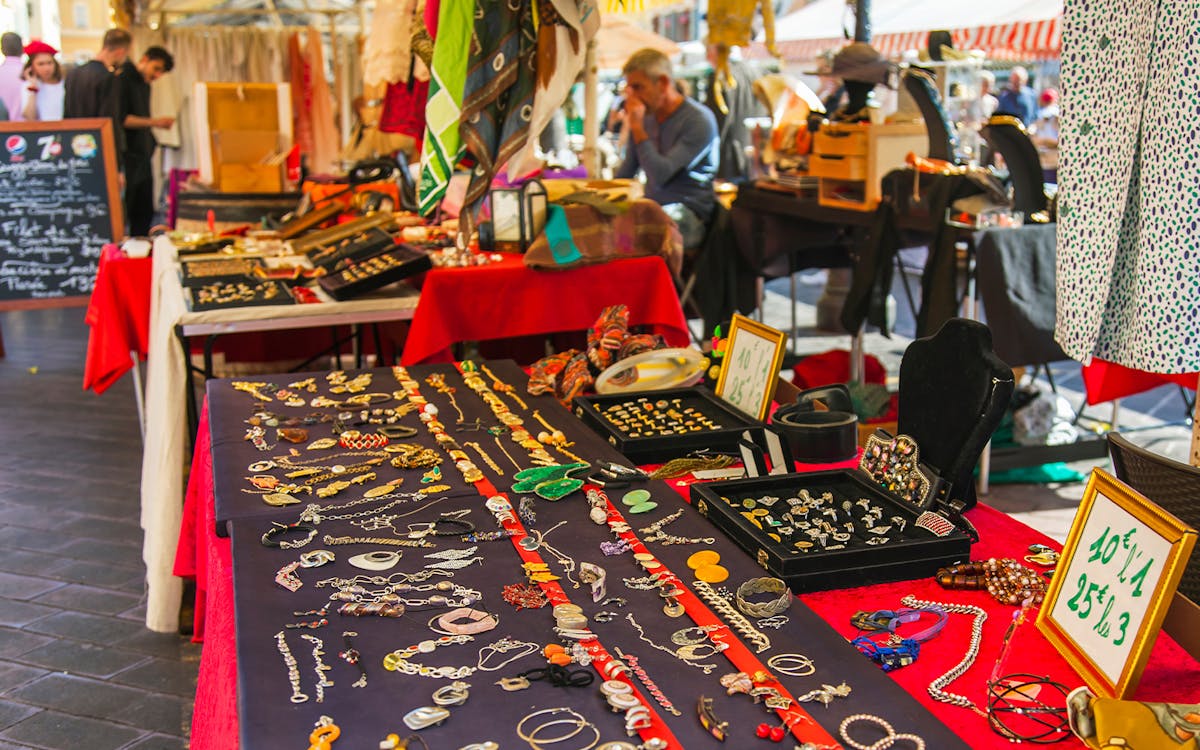 Stadium: Stade De France
Capacity: 80,023
Important Games: South Africa vs Ireland, Ireland vs Scotland
Saint Denis, a suburb just north of Paris, is a cultural mosaic known for the mighty Stade de France, the national stadium of France and the central venue for Rugby World Cup 2023. Renowned for its Gothic-style Basilica of Saint-Denis, the city offers varied cultural experiences, from art and history to multicultural cuisines.
Top Attractions in Saint Denis
Basilica of Saint-Denis: Known as the first Gothic-style structure, this Basilica houses the tombs of many French kings and queens, making it a must-visit for history enthusiasts.
Musée d'Art et d'Histoire de Saint-Denis: This museum showcases local history and culture, including Gallo-Roman artifacts and modern artworks.
Parc de la Légion d'Honneur: A beautiful park adjacent to the Basilica, perfect for a peaceful stroll and picnicking.
Marché de Saint-Denis: One of the largest markets in the Île-de-France region, where you can find fresh produce, multicultural food options, clothing, and more.

7. Saint-Étienne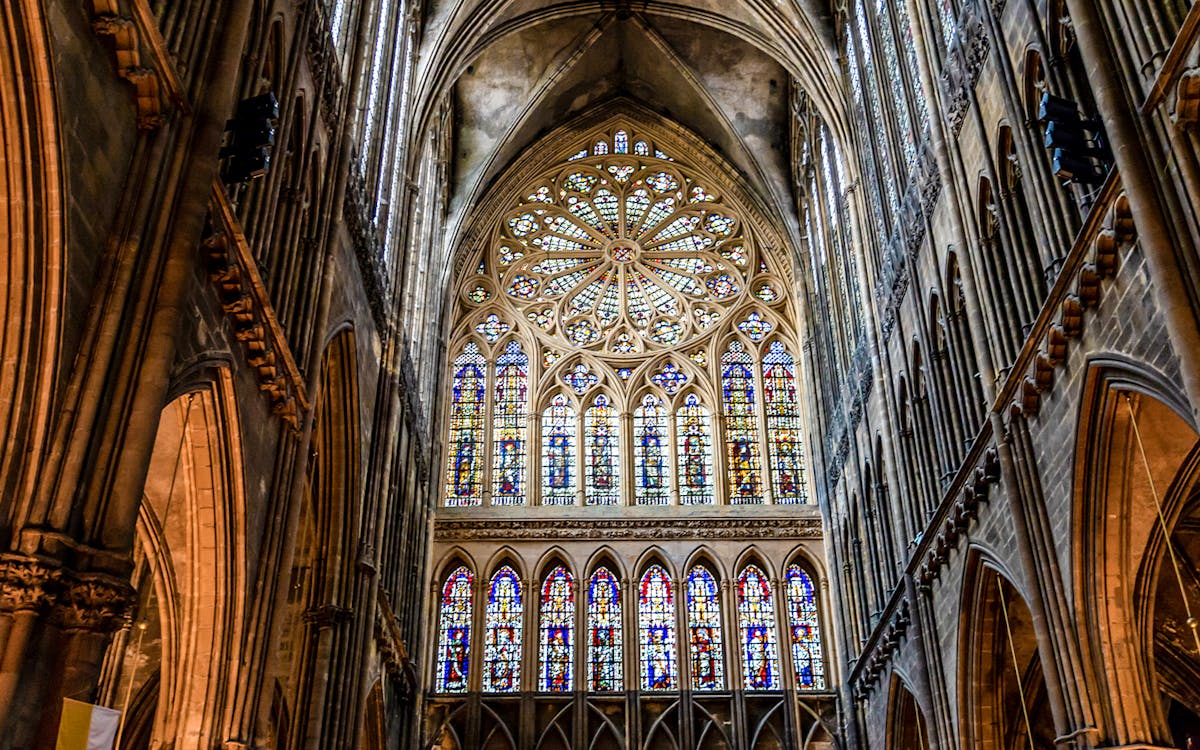 Stadium: Stade Geoffroy-Guichard
Capacity: 41,965
Important Games: Argentina vs Samoa, Australia vs Portugal
Saint-Étienne is renowned for its industrial heritage and vibrant cultural scene. The Saint-Étienne Design City, a UNESCO Creative Cities Network member, regularly hosts international design biennials. The Stade Geoffroy-Guichard, famously known as "Le Chaudron" (The Cauldron), will be one of the notable venues for the Rugby World Cup 2023. Its charming streets, contemporary art scene, and lively food markets make Saint-Étienne a must-visit destination.
Top Attractions in Saint-Étienne
Pilat Regional Nature Park: This expansive park is a paradise for nature lovers and adventure enthusiasts, offering opportunities for hiking, mountain biking, and bird watching amid stunning landscapes.
Cité du Design: This center for innovation and creativity is a testament to Saint-Étienne's status as a UNESCO City of Design.
Musée d'Art Moderne et Contemporain: It houses one of France's most extensive collections of modern and contemporary art.
Le Corbusier's Site Le Corbusier: A UNESCO World Heritage site that showcases the architectural genius of Le Corbusier.
Saint-Étienne Cathedral: This impressive 16th-century Gothic cathedral is a city landmark and a must-visit for its beautiful stained glass windows.
8. Toulouse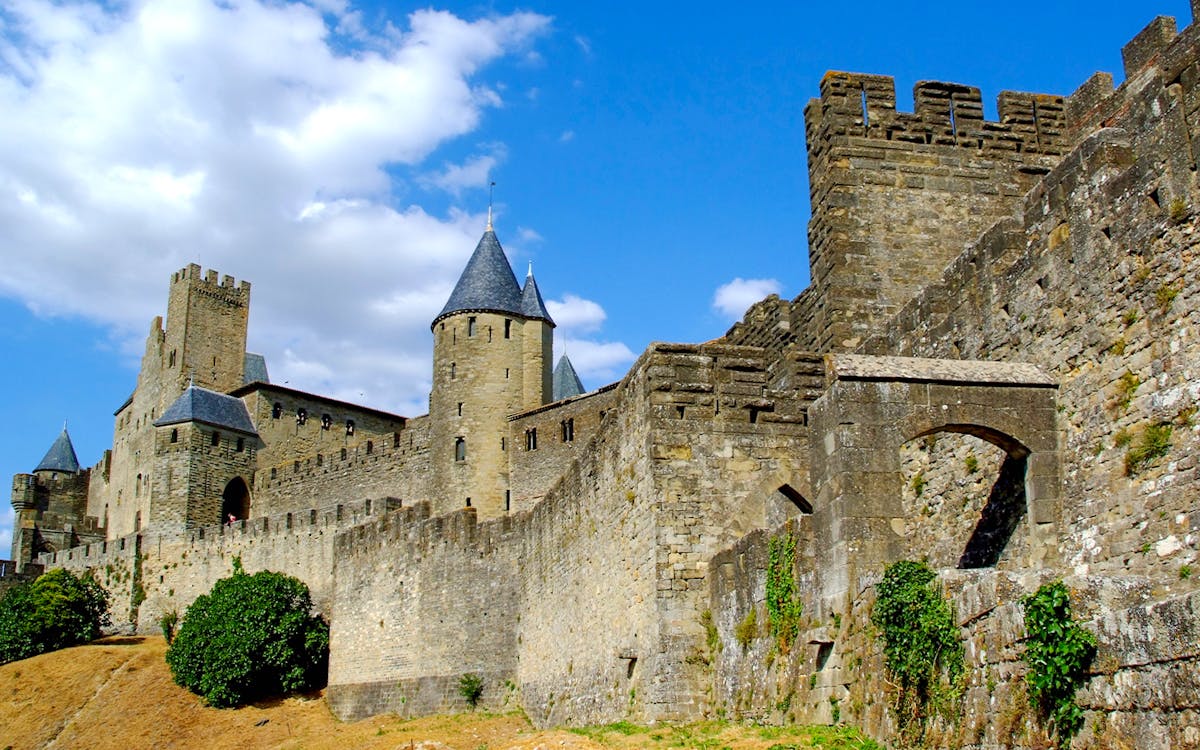 Stadium: Stadium De Toulouse
Capacity: 33,103
Important Games: Georgia vs Portugal, Japan vs Samoa, Fiji vs Portugal
The 'Pink City' of Southern France, Toulouse is renowned for its stunning architecture, vibrant culture and delicious cuisines. Explore pink buildings, visit the Airbus headquarters (pioneers in sustainable aerospace) and watch the Rugby World Cup, 2023 in Stadium De Toulouse.
Top Attractions in Toulouse
Carcassonne: A must-visit UNESCO World Heritage Site, Carcassonne is a medieval fortified city which attracts lovers of culture and history from all over the world.
Cité de l'espace: A 4,000m2 exhibition space with 4 hectares of gardens, Cité de l'espace features real space crafts such as Mir space station and the Soyuz capsule, a giant-screen IMAX cinema and a Planetarium with interactive and immersive shows, featuring the discovery of space.
Montpellier: A vibrant city which is a blend of history and modernity, Montpellier has something for everyone; from medieval architecture and museums to a lively nightlife and a grand shopping scene.
Rugby World Cup 2023 Host Cities