Quinta de Regaleira is an awe-inspiring, captivating UNESCO World Heritage Site tucked away in the charming city of Sintra, Portugal. Its lush gardens and grottoes are adorned with beautiful fountains and astounding architectural structures that have been delighting tourists for generations. The Quinta de Regaleira's enchanting atmosphere adds a mysterious allure to its enigmatic symbols which fascinate visitors from around the world. Built in 1904 by Italian architect Luigi Manini, it has become one of Sintra's premier tourist destinations over time. The captivating grounds of Quinta de Regaleira also lead to a secluded underground chapel. Unearth its hidden tunnels that lace throughout this beautiful estate while admiring breathtaking views of Portugal's lush countryside. Understand why it has become one of the nation's most beloved attractions as you explore its mysterious fountains, wells and other structures - an enchanting experience like no other!
With its ornate architecture and intricate decorations representing alchemy, Masonry and the Knights Templar, the Quinta de Regaleira is a fascinating place to explore. Its mysterious underground grottoes, symbolic wells and initiation towers have inspired many writers and filmmakers with their secrets. Let your curiosity guide you through this captivating estate as part of one of its guided tours where you can learn more about its history while discovering all of it's hidden gems!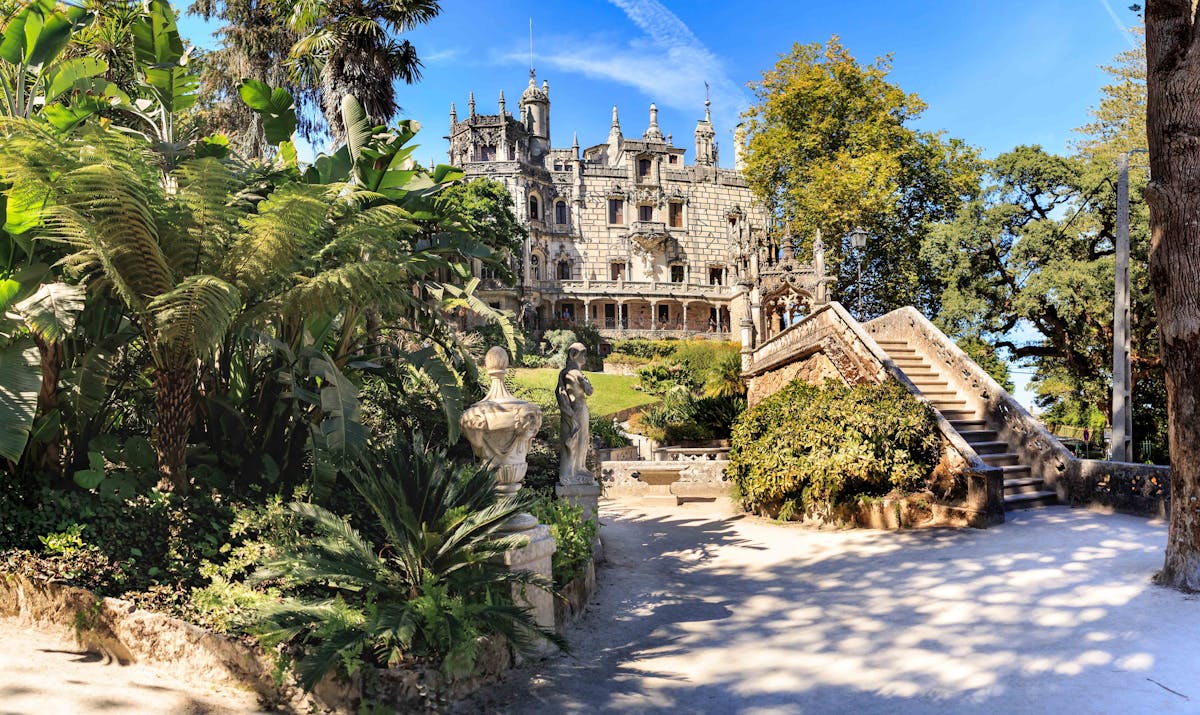 Quinta de Regaleira - In A Nutshell
---
Handy information
| | |
| --- | --- |
| ⏰ Suggested Duration: | 1.5-2 hours |
| ☀️ Best Time to Visit: | Before 11 am or after 3 pm |
| 💜 Must See: | Initiation Well |
| 🎟️ Quinta de Regaleira Skip The Line: | €11 |
| 😍 Quinta de Regaleira Guided Tour: | €25 |
| 🎫 With Audio tour on your phone: | €23 |
Must-see
Regaleira Gardens
Initiation Well
Garden Tunnels
Regaleira Chapel
Things to know
UNESCO World Heritage Site designation: 2002
Location: Sintra
Architect: Luigi Manini
Architectural style: Gothic Revival Architecture
Opening Hours And Address
January to March: 10 AM to 6.30 PM
April to September: 10 AM to 7.30 PM
October to December: 10 AM to 6.30 PM

Address : R. Barbosa du Bocage 5, 2710-567 Sintra, Portugal
Get Directions
Why You Must Visit The Quinta de Regaleira
---
Quinta de Regaleira is an incredibly unique and beautiful estate that should not be missed. The sprawling grounds are filled with hidden passageways, secret gardens, and architectural surprises, all of which will leave you in awe. Quinta de Regaleira is also home to two amazing wells – the Initiation Well and the Unfinished Well – both of which offer a captivating glimpse into Portugal's magical past. Additionally, the chapel located on the property provides visitors with a tranquil respite from the hustle and bustle of everyday life. If you are looking for an exciting adventure or just want to escape reality for a while, then visiting Quinta de Regaleira is your chance to do so! You won't regret it!
Quinta de Regaleira Tickets
---
History Of Quinta de Regaleira
---
The Quinta de Regaleira estate was acquired by Antonio Augusto Carvalho Monteiro in 1892. He hired the Italian architect Luigi Manini to transform it into a mysterious and fascinating place. Using an eclectic mix of Gothic, Renaissance, and Manueline architectural styles, Manini designed numerous fountains, grottos, towers, wells, and other features that were meant to inspire contemplation and evoke a sense of mystery.
The Quinta has a core that is the Palace of Regaleira. This palace is ornately adorned with symbols from many esoteric organizations such as alchemy, Masonry, the Knights Templar and Rosicrucianism. The grounds are also full of secret pathways along with two initiatory wells - one to ascend and another for descending. It's bursting with remarkable attractions at every turn!
The Quinta de Regaleira has been designated as a UNESCO World Heritage Site since 2002, owing to its extraordinary mix of styles and mystery-filled symbolism. Visitors can explore the underground tunnels, enjoy the magnificent views from the towers and wells, or take in some of its history by visiting the library located within the Palace buildings.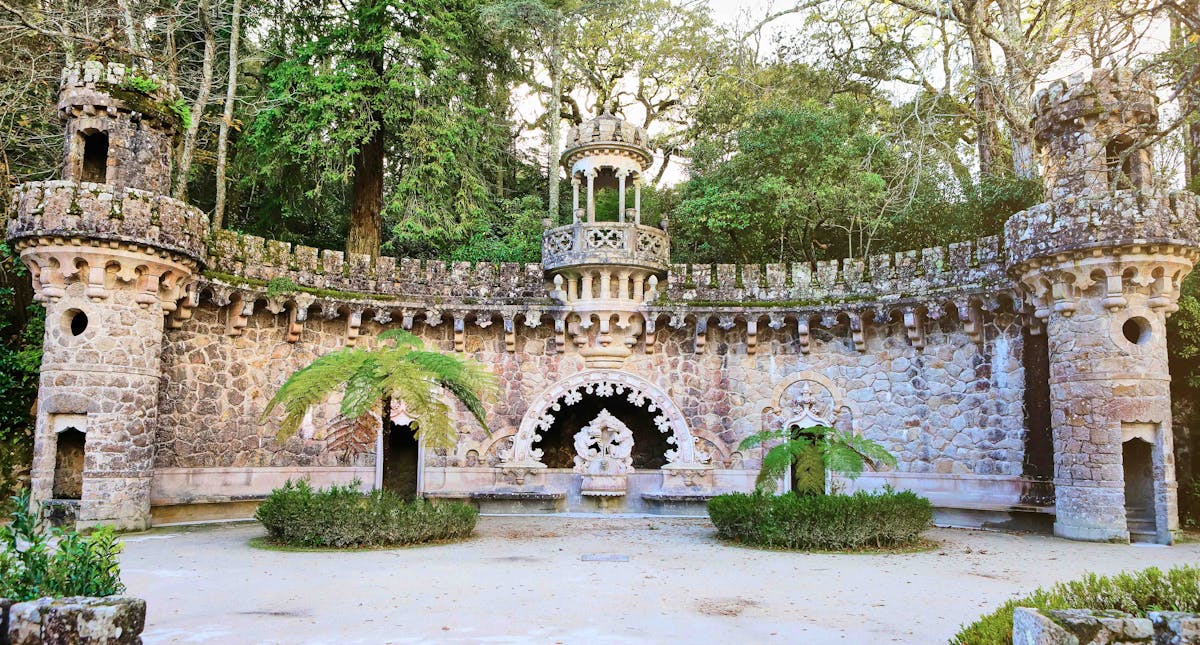 Quinta de Regaleira Architecture
---
Built between 1904 and 1910, the Quinta de Regaleira features a unique blend of architectural styles ranging from Gothic architecture to Neo-Manueline and Renaissance Revival elements. The centerpiece of the estate is an elaborate palace with towers, gardens, and grottoes that are home to several mysterious symbols and sculptures.
The palace complex was designed by Italian architect Luigi Manini. It consists of two main buildings connected by a series of terraces and stairways. The ground floor contains a chapel, conservatory, library, kitchen, dining room and billiard room while the upper floors contain large salons and bedrooms decorated in traditional Portuguese style.
The gardens of the estate feature numerous sculptures, statues, and grottoes. These include a grand staircase with a nine-meter tower that leads to an underground initiatory well connected to a series of tunnels and secret passageways. Other notable features include a Roman Catholic chapel dedicated to Our Lady of Penha, a waterfall and pond, and a pair of massive stone towers with balconies overlooking the surrounding countryside.
Top Highlights Of Quinta de Regaleira
---
The structure consists of a spiral staircase leading down into the underground grotto, with nine levels representing the nine circles of initiation. At the bottom of the structure is a small pool, which symbolizes rebirth and the acceptance of new knowledge.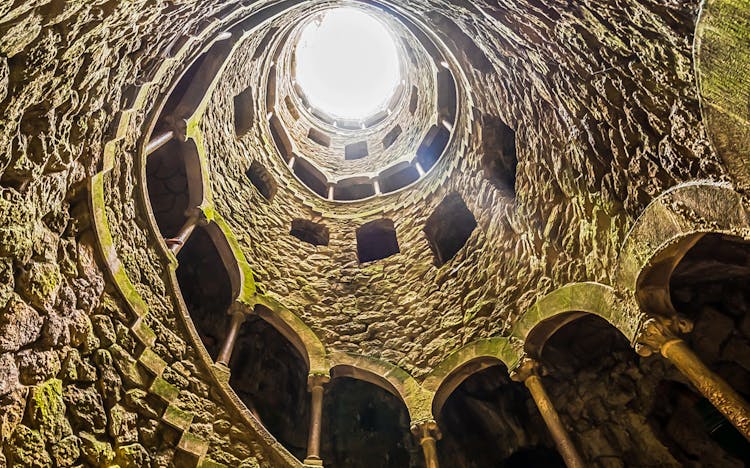 The Unfinished Well at Quinta da Regaleira is a mysterious construction that was designed to be an inverted tower, located in the grounds of the estate. It features several internal chambers connected by tunnels and winding staircases, constructed from granite blocks. The well appears to have been abandoned during its construction, leaving it open to speculation and wonder.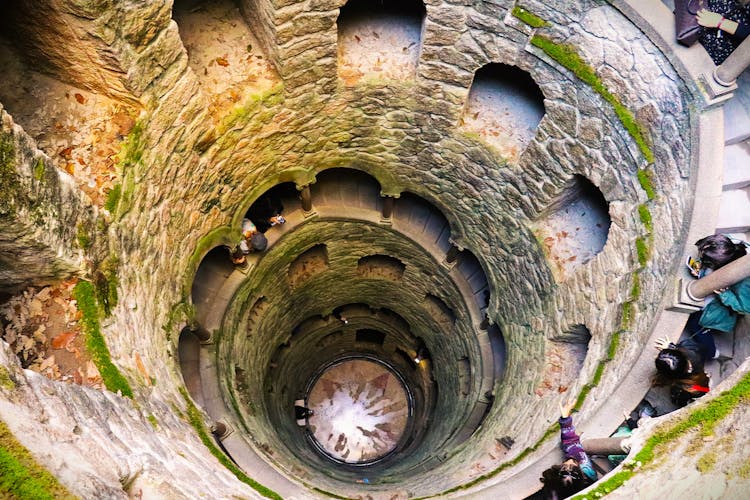 The Gruta de Oriente is a unique structure of underground stone walkways and chambers. This mysterious network of passageways has intricate carvings and designs that add to its allure. Inside the Gruta de Oriente, visitors can explore a variety of chambers and passages that feature many carvings and sculptures depicting various symbols from around the world.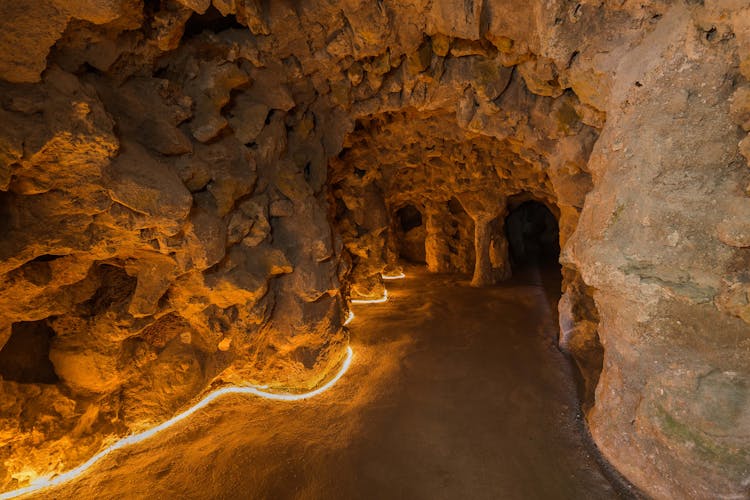 Situated in front of the grand facade, the Regaleira Chapel is a mirror image to its royal parent. With vibrant murals, gorgeous stained glass windows and lavish stucco adorning every corner of its interior, this chapel captures all that's holy with artful depictions such as Teresa de Vila and Saint Anthony gracing the walls.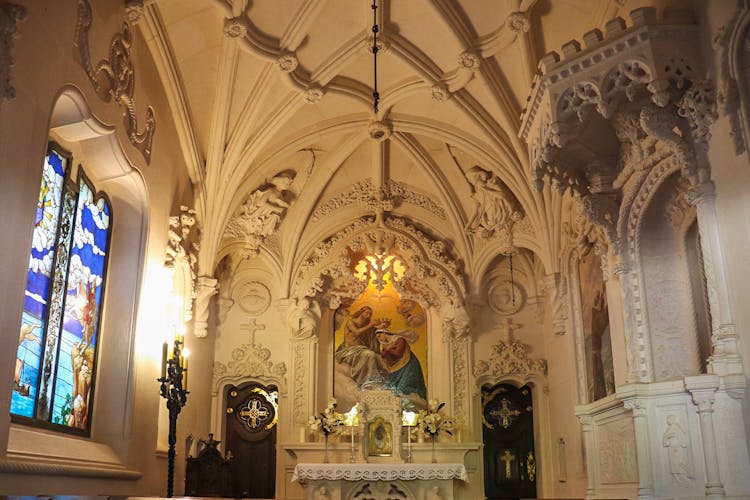 Wander through enchanted tunnels and grottos, admire statues and fragrant flower gardens, uncover hidden treasures like Waterfall Lake (Lago da Cascata), a chapel, Leda's Cave beneath the Regaleira Tower and more! Marvel at Gruta do Labyrint - secret underground passages that encircle a small lake - breathtakingly beautiful views await you around every corner!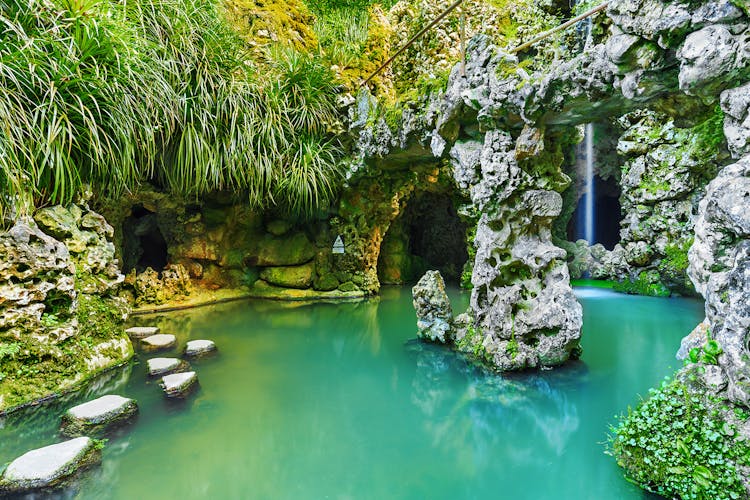 Quinta de Regaleira Timings
---
January to March: 10 AM to 6.30 PM
April to September: 10 AM to 7.30 PM
October to December: 10 AM to 6.30 PM
Important Info:
Last Admission: 5.30 PM
Closed On: 1 January, 24, 25, and 31 December
Recommended Duration of Visit
2 to 3 hours
Best Time to Visit
The Quinta de Regaleira is most delightful to explore during the months of May through October when the weather is mild. For a truly tranquil experience, arrive early in the morning or late afternoon on weekdays - you'll find that it's at its quietest then!
Getting There
---
By Car: The distance from the Lisbon Airport is 21.9 km.
Nearest Parking: Parking Quinta dos Lobos
By Bus: 433, 434, 446, and 417
Nearest Stop: Hotel Lawrence
By Train: Oriente to Sintra, Rossio to Sintra
Nearest Stop: Sintra
Restaurants Nearby
---
Casa do Fauno - Pub Mediveal
This mediveal themed pub is an excellent place to take a break from sightseeing and relaxing for a while. Once you enter, you hear mediveal songs that pair with the decor of this place.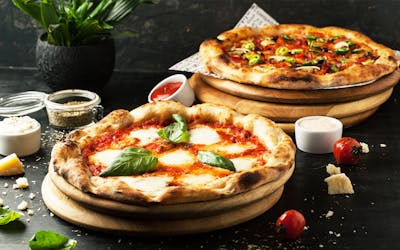 Fatto da Claudio Coelho
Fatto da Claudio Coelho is a beautiful Italian restaurant that serves some of the most spactacular pizzas. Everything about the service, food, wine, ambiance and speed of food delivery is top grade! The restaurant is located only 2 minutes from the gates of Quinta de Regaleira.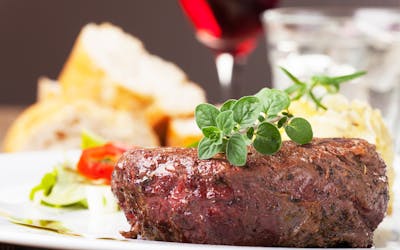 Romaria de Baco
Nestled in the city of Sintra's iconic downtown, between its Tourism Office and St. Martinho Church lies Romaria de Baco; a restaurant showcasing an abundance of dishes that honor traditional Mediterranean cuisine through authentic flavor combinations. The Beef Loin with Port Wine Sauce and Almond Rice is a must try!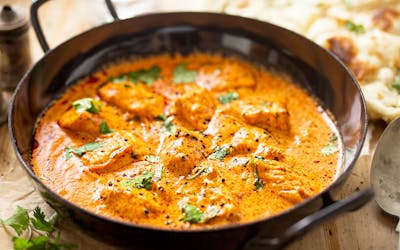 Bengal Tandoori
If you're feeling famished after a day full of sightseeing, head to Bengal Tandoori for an unforgettable dining experience. Here they specialize in classic Indian and Italian cuisines that will tantalize your taste buds. Their star dishes include succulent butter chicken, fluffy naan breads, and flavorful chicken tikka
Interesting Facts about Quinta de Regaleira
---
It was built at the end of the 19th century by millionaire António Augusto Carvalho Monteiro, who wanted to create a "Palace of Wonders".
The Quinta is a unique combination of Gothic, Renaissance, Manueline and Baroque architectural styles.
It features beautiful gardens, fountains, sculptures and mysterious underground tunnels known as the Initiation Wells.
These wells contain nine "stations" which were once used by secret societies to perform initiation rites and spiritual ceremonies.
There are also several unusual sculptures in the gardens such as a large stone fountain and statues of mythological figures such as mermaids and dragons.
The Quinta also has a beautiful chapel, known as the Chapel of São Pedro de Penaferrim, located underground.
Insider Tips
---
Wear comfortable clothes and shoes: The grounds of Quinta de Regaleira are expansive, making it important to wear comfortable clothing and shoes suitable for walking.
Have a map or guide book handy: There is so much to explore at Quinta de Regaleira that it can be easy to get lost in the beauty of the place. Having a map or guide book on hand will help you navigate around this fascinating property.
Bring your camera: The architecture and scenery of Quinta de Regaleira are breathtaking and make for an ideal photography opportunity, so don't forget to bring your camera!
Take your time: With its many hidden passages, secret gardens, mysterious wells, and underground tunnels, Quinta de Regaleira is a complex property. To get the most out of your visit, take your time to explore every detail of this unique site.
Find the symbols around you: Throughout Quinta de Regaleira there are many intricate symbols and details that tell stories. Make sure to look out for these as they will give you insight into the history of the place.
Stay safe: The grounds of Quinta de Regaleira are steep in places so it's important to stay safe while exploring them. Wear sensible shoes with a grip and keep away from any dangerous drop-offs or unstable ground.
Learn about its past: Take some time to research the history of Quinta de Regaleira before your visit. This will give you a better understanding of the property and allow you to appreciate its beauty even more.
Other Attractions around the Schönbrunn Palace
---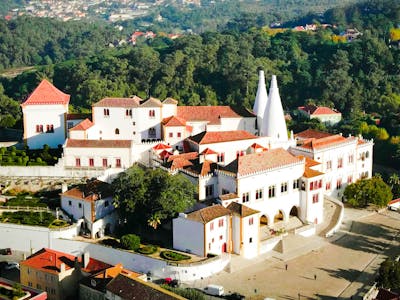 Sintra National Palace
This magnificent Sintra National Palace was built during the Middle Ages and it has served as a summer residence for various Portuguese royal families throughout its long history. The palace is an important example of Portuguese late-Gothic Manueline architecture, featuring intricately carved stonework, ornate courtyards, and stunning stained glass windows.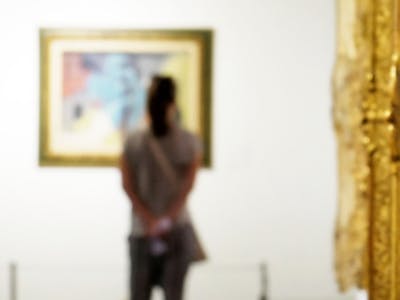 NewsMuseum
NewsMuseum Sintra is a fascinating museum located in the historic town of Sintra, Portugal. The museum showcases the history of news and its impact on society from ancient times to the present day. It highlights how the development of news has influenced our culture, politics, and economy.
Parque da Liberdade
Located in the historical center of Sintra, this park offers breathtaking views and plenty of activities. The lush vegetation, including cork trees, pine trees, holm oaks, and eucalyptus groves make it an ideal destination for bird watching or simply enjoying a peaceful stroll through its winding paths.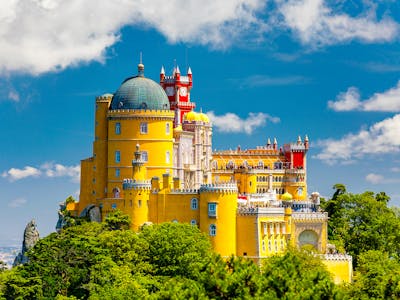 Pena Palace
Pena Palace was built in the 19th century by King Ferdinand II. It is considered one of the most important and most beautiful examples of Romanticist architecture in Europe. The palace was inspired by multiple architectural styles including Neo-Gothic, Neo-Manueline, Moorish Revival and Neo-Islamic.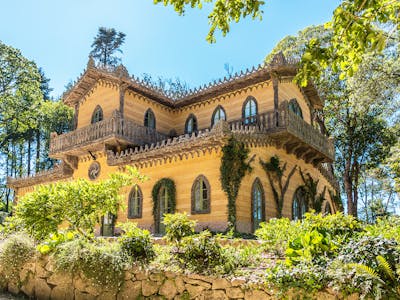 Chalet of the Countess of Edla
The Chalet of the Countess of Edla was built by the wealthy Count of Edla in 1889 as his summer residence. The building has an interesting history that spans back to the late 19th century when it served as a palace for the royal family. It then became a retreat for high society figures before eventually being opened up to visitors as a museum.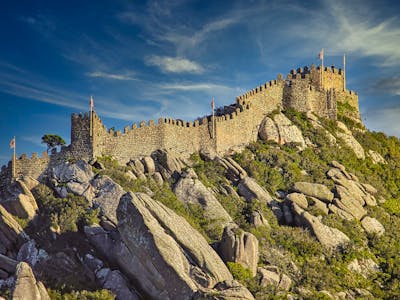 Castelo dos Mouros
Castelo dos Mouros is an iconic medieval castle located in the hills of Sintra, Portugal. It was built during the 8th century and stands as one of the most impressive military fortifications in all of Europe. The walls are made up of slanted stone blocks that date back to around 1000 years ago, giving it an almost otherworldly look.
FAQs
---
The Quinta de Regaleira is open from 10 am to 6:30 pm every day, except for certain holidays. It is recommended that you arrive as early as possible in order to make the most of your visit and avoid long queues.
The Quinta de Regaleira offers a variety of attractions including a palace, chapel, gardens, grottoes, fountains and lakes. You will also find an Entrance Tower which you can climb up to enjoy great views of the city. Moreover, don't miss out on the Initiation Well and the Unfinished Monument.
Yes, guided tours are offered at the Quinta de Regaleira by a professional guide who will explain the history and architecture of this beautiful estate.
There are no restaurants inside Quinta de Regaleira but there are several places nearby where you can grab a bite to eat.
Yes, photography is allowed but please remember to be respectful of the site and its visitors. Tripods are not permitted and flash photography is discouraged in certain areas due to potential damage to works of art.
Quinta de Regaleira Guide