Berlin is one of the most vibrant cities in Europe. Every year during Easter, Berliners gather to celebrate the joyous holiday with a variety of activities for people of all ages. From traditional Easter markets to special church services and performances, there's something for everyone to enjoy during this special time of year. From decorating eggs to indulging in traditional German cuisine, there are plenty of ways to celebrate the season in Berlin. Plus, what better way is there than taking part in an epic Easter egg hunt?

We'll take you on a special journey that combines the festivities of Easter and the lively spirit, parties and carnivals and bonfires of Berlin! Don't miss out on discovering why celebrating Easter in Berlin makes for such a unique experience!
Easter in Berlin 2023
---
Easter in Berlin this year falls on Sunday, April 9th. Although most places choose to remain open on this day, the day after Easter (April 10th) is a public holiday.

The annual Easter markets are one of Berlin's most beloved traditions. Booths offer everything from chocolate eggs to souvenirs and hot cooked meals, with live entertainment and activities for all ages. The iconic landmark adds a touch of grandeur to the festivities, making it a perfect place to spend Easter weekend.

With the three-day weekend (8th to 10th April) drawing hordes of visitors from around Europe, it's essential to reserve tickets for attractions in advance so that you can make your way through even the longest lines swiftly. Pre-booking online tickets is a sure-fire way to guarantee an effortless and enjoyable experience!
Easter in Berlin – Traditions and Festivities
---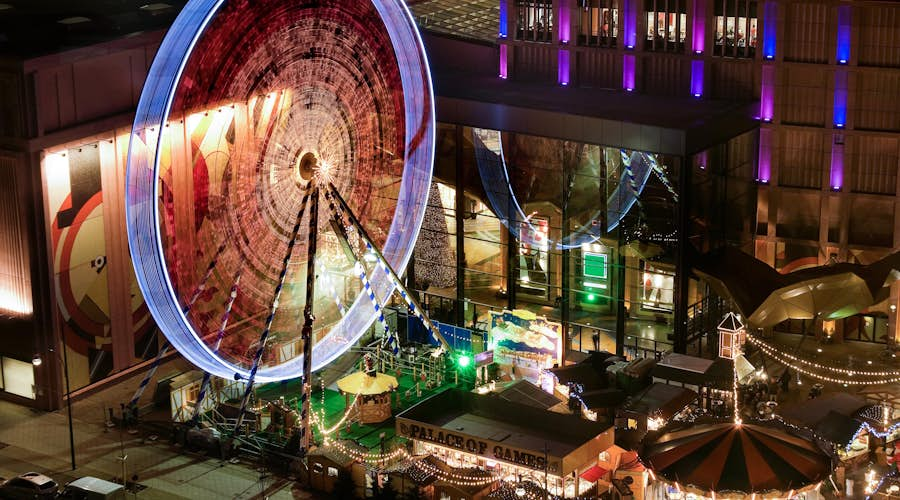 Berlin provides the perfect place for Easter festivities with two lavish events. Alexanderplatz's market takes on a festive and cozy atmosphere, boasting of wines stands alongside an inviting beer garden and countless performances to keep everyone entertained. If you're searching for a more classic experience, Kurfürstendamm will be sure to delight with its picturesque egg illumination and captivating carousels. Plus, there is an abundance of live entertainment that's perfect for a family outing!
On Easter Eve, Berlin celebrates the occasion with bonfires in Britzer Garden and Wendenschloss Lido. Britzer Garten park in Neukölln offers an abundance of entertainment options for locals and visitors alike: soulful music, traditional German cuisine, and a jovial atmosphere to come together as a community.
What's Closed on Easter in Berlin
---
On Good Friday, most stores are closed which makes it tough for shoppers. However, some kiosks and shops may remain open. To ensure your shopping experience isn't hindered, visit the stores on Easter Saturday as they will be running like a typical Saturday. Conversely, Easter Sunday is usually like any other Sunday in Berlin, where only a few shops remain shut and the others function as usual.
On Easter Monday, all of Germany takes a day off! While most banks, post offices and other businesses are closed for the holiday, you can still find some stores open - tourist attractions may remain operational and those along highways or at transportation hubs such as airports and train stations are likely to stay open.

On Easter Sunday and Monday, museums and other attractions will remain open as usual. Make sure to book your tickets to these attractions in advance. However, some sites that are typically closed on Mondays may extend their hours to accommodate the holiday - it's best to check in advance. Additionally, if you plan on dining out this Easter weekend be sure to book a reservation ahead of time!
Those looking to explore Berlin during Easter, you're in for a treat because most of the attractions like the Berlin TV Tower, Reichstag tours, DRR Museum, Berlin Dungeon, The Wall Museum East Side Gallery and a few more are open through the weekend. Make sure you buy tickets in advance as they sell like hot cakes during the holiday season.
How to Celebrate Easter in Berlin
---
1. Carillon Easter Concerts 2023
On Easter, come and listen to carillonneur Jeffrey Bossin play solemn chorales, vivid spring songs, and stirring April hymns for free at the open-air concerts. The impressive 42-foot tall bell tower in Tiergarten features 68 bells that can be heard throughout the park! Don't miss out on a Sunday concert during summertime - you won't regret it! The free concerts take place on the 9th and 10th of April, 4 PM onward.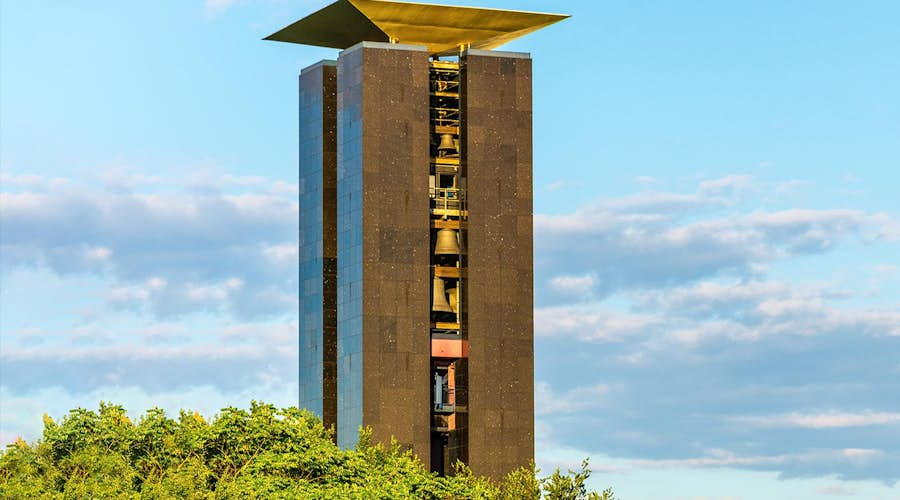 2. Britzer Garten - Easter Bonfire
On the 8th of April, Britzer Garten will host a very special bonfire. The traditional Easter celebration will take place in the late evening after sunset. Visitors can expect to see a spectacular display of flames and smoke as the Neukölln Volunteer Firefighters tend to the fire. Rob Ryan Roadshow will provide musical entertainment throughout the night with country, rockabilly and Americana music. There will also be plenty of food stalls serving up an array of local delicacies and handmade crafts available for purchase at the traditional Easter market.
3. Devour a scrumptious meal at the Berlin TV Tower
Elevate your experience to the top of Berlin's iconic TV Tower with a fast-view ticket and reserve a table at the Revolving Restaurant Sphere! From 203 meters above ground level, take in spectacular views of Germany's captivating skyline. Make your selection between an Inner Circle seat or Window seat for even more sweeping sights while indulging in delicious treats. Book an afternoon spot for a perfect lunch!
4. Wendenschloss Lido Bonfire
The Wendenschloss lido Easter bonfire is a longstanding tradition in the area of Berlin-Köpenick. Each year, locals gather around the lake to light an extravagant bonfire on the night before Easter Sunday. The event brings out all sorts of people, from young couples to large families enjoying a warm spring evening. The bonfire is a great time for socializing and sharing stories about past Easters as well as celebrating new beginnings. As the flames reach their peak height, visitors get up and dance around it singing popular songs from the region.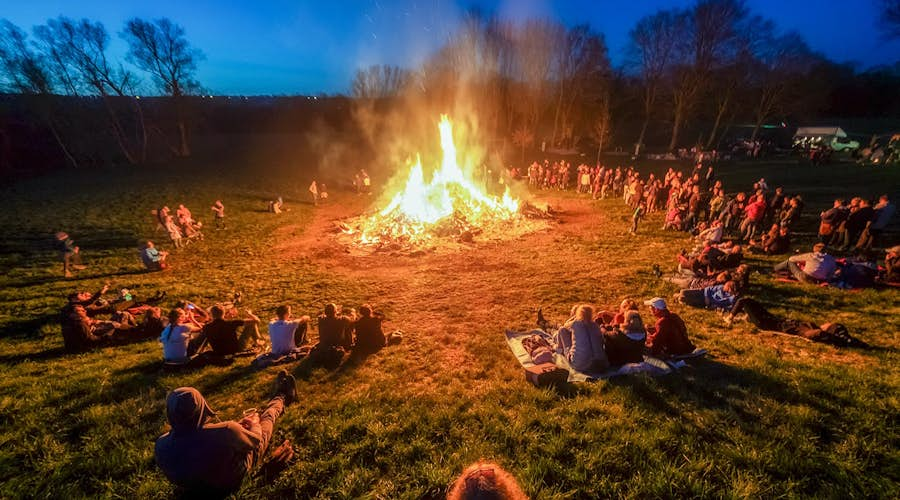 5. Reggaeville 2023 - Easter Special
The Reggaeville Festival in Berlin is an annual event that brings together lovers of reggae music from around the world. It takes place in one of Europe's most vibrant cities and gives revelers a chance to enjoy top-notch performances by some of the most renowned acts in the genre. This year, artists like Lutan Fyah, Droop Lion, Max Romeo, Lila Iké and more will be featured. Starting from the 5th of April till the 8th, Reggaeville is sure to be a four day party!
6. Explore the city on a Hotrod Tour!
Looking for an unforgettable Easter sightseeing experience? Embark on a thrilling 80-minute Berlin cruise with your very own hot rod! Feel the wind in your hair and look cool as you drive past iconic landmarks. Who says sightseeing has to be dull? Make it adventurous, have fun, and add an entirely new perspective to exploration with this unique journey!
7. Easter Knight Spectaculum 2023
If you're a fan of medieval festivities and knights in shining armor, then the Easter Knight Spectaculum at Spandau is an event not to be missed! Enjoy thrilling live music performances on two stages with theatrical and acrobatic shows. Get blown away by fire displays as well as a fakir show. Participate or observe knight fights on foot, plus jousting tournaments from atop horses - all part of this memorable medieval celebration!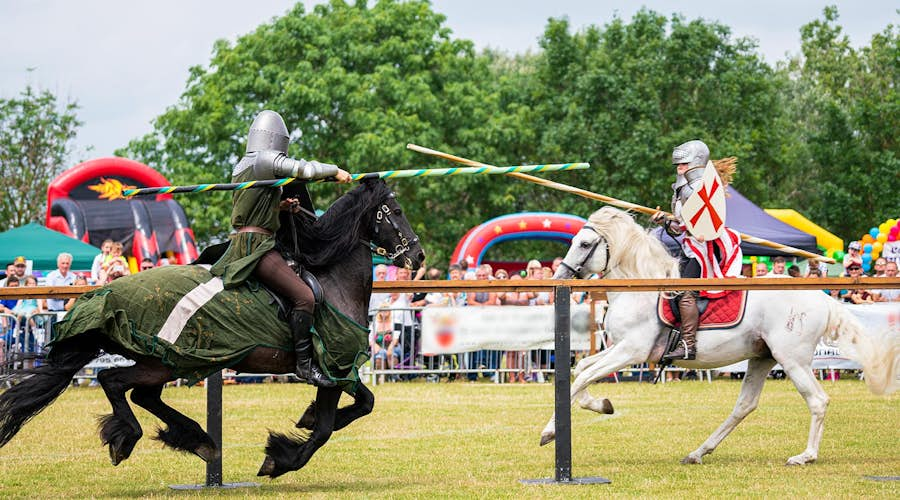 8. Handicraft Easter market
Immerse yourself in the romantic atmosphere of Trinity Church and marvel at the stunning works of potters, painters, and designers at the Handicraft Easter Market from April 3rd onward. Shop for unique jewelry, pottery, sculptures, and wooden or metal figures as well as a wide selection of Easter decorations while being serenaded by "Confessin' The Blues" trio. Enjoy delicious treats to complete your experience!
9. Easter Celebrations at Gardens of the World
The Gardens of the World in Berlin is hosting an exciting Easter program this year. From April 9th to April 10th, visitors will be welcomed by a festive atmosphere with live music and puppet theatre performances. Attendees can also join the traditional egg dance amongst colorful daffodils and tulips, or have their faces painted while exploring the gardens. The event will also feature a variety of food stalls providing delicious treats that all ages can enjoy.
Easter Dining in Berlin
---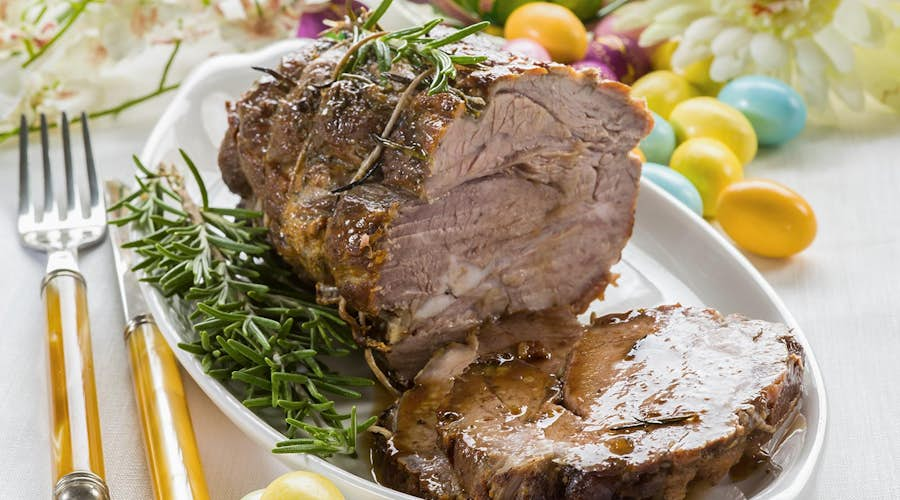 Lamb Roast
Eating Lamb roast on Easter in Berlin is a beloved tradition. Every year, locals and visitors alike gather around the table to partake of this traditional meal. The key to a great lamb roast is in the preparation and cooking process. Traditionally, the meat is slow-roasted over an open fire, with herbs and spices added to enhance its flavor. You can find Lamb Roast at BLOCK HOUSE Friedrichstraße, or MontRaw Restaurant.
This traditional cake has many layers of deliciousness, with some having up to seven layers! The top layer of the cake is made of crunchy honeycomb and almond slices, while the middle layer consists of fluffy cream cheese and custard. If you're looking for some, head to hansis brot, or Wex Bäckerei.
Kaffee und Kuchen
Kaffee und Kuchen is a beloved tradition in Berlin during Easter celebrations. On the day itself, families and friends gather together to enjoy delicious cakes and pastries accompanied by freshly brewed coffee. Popular choices include classic German treats such as Apfelkuchen (apple cake), Zwetschgenkuchen (plum cake), Sauerkirschenkuchen (sour cherry cake) and Schokoladenkuchen (chocolate cake). This is best enjoyed at home!
Weather during Easter in Berlin
---
Berlin's weather during Easter is usually mild and pleasant. During the month of March, temperatures typically range from 45 to 60 degrees Fahrenheit (7-15°C). The days are often sunny with light winds. April tends to have slightly higher temperatures with average highs around 61 degrees Fahrenheit (16°C). Rain showers may occur but it's generally a dry season in Berlin at this time of year.
Whether you decide to spend Easter outdoors or indoors, make sure to pack sun protection such as sunscreen, hats, and sunglasses. Even if it's overcast outside, UV rays will still reach your skin so remember to take care! For those who want to enjoy the outdoors, there are plenty of opportunities for nature walks and bike rides. Many parks in the city also host special Easter activities like egg hunts, outdoor concerts, and more. Enjoy your time in Berlin this Easter!
Tips for Visiting Berlin During Easter
---
Berlin is a vibrant and exciting city, so take some time to explore the many attractions it has to offer. Visit unique museums such as the DDR Museum or Natural History Museum, soak up some culture at an outdoor street performance, or spend a day exploring the different neighborhoods.
Celebrate Easter in Berlin with traditional festivities like parades, markets, and egg hunts. On Good Friday, attend a solemn procession around Kreuzberg's Friedhof am Halleschen Ufer cemetery grounds before heading over to Alexanderplatz for one of Europe's biggest Easter markets on Saturday.
Many restaurants, pubs, and parks organize special events during the Easter season. Enjoy a beer garden at one of the outdoor park bars in Prenzlauer Berg or check out some live music on the terrace at Badeschiff for an unforgettable evening.
Berlin is home to many historical and natural attractions outside of the city limits that are worth visiting during your stay. Take a day trip to Potsdam, Leipzig, or Dresden to explore their unique architecture and culture or take a hike through Brandenburg's lush forests.
Easter is the perfect time to pick up some unique souvenirs from Berlin's local shops and markets. Stop by one of the city's many flea markets or browse through artisanal stores in Neukölln and Friedrichshain.