A recently completed high-rise building in the heart of Berlin, Berlin TV Tower is THE attraction to be at. Fascinating heights, iconic views and adventure - what else do you really need?
Berlin TV Tower in a Nutshell
---
Handy information
| | |
| --- | --- |
| ⏰ Suggested Duration: | 45 mins |
| ☀️ Best Time to Visit: | Morning 10 am |
| 🎟️ Berlin TV Tower Fast View Ticket: | €24.50 |
| 😍 3 Course Dinner: | €105 |
| 🚇 Closest Metro: | Berlin Alexanderplatz Bahnhof |
Viwes from the Berlin TV Tower
Reichstag
Brandenburg Gate
Berlin Main Station
Olympic Stadium
Museum Island Potsdamer Platz
Things to know
Number of visitors per year: 1.2 million
Construction Began: 1964
Established: 1969
Architect: Hermann Henselmann
Height: 368 m
Opening Hours And Address
10 am to 10 pm, from November to March
9 am to 11 pm, from April to October
P.S. The Tower will be closed on 7th November, 2022

Address : TV-Turm Alexanderplatz Gastronomiegesellschaft mbH Panoramastraße 1A D-10178 Berlin
Get there
Why Visit The TV Tower
---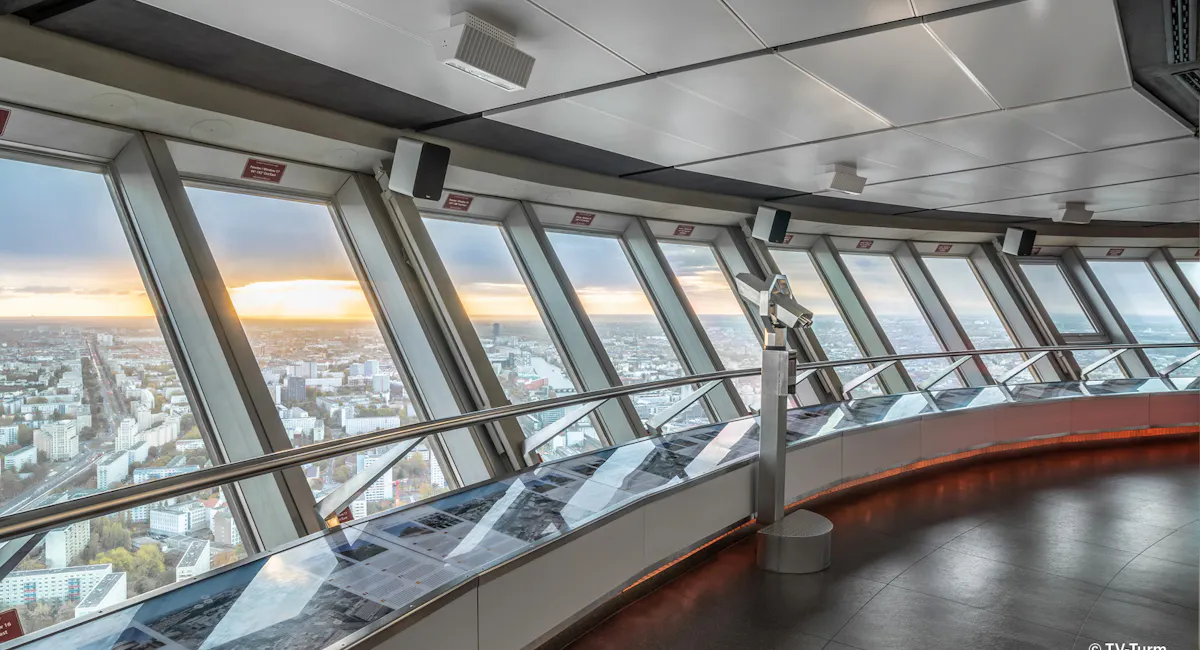 1.The Berlin TV Tower is an observatory deck that stands at a whopping height of 207 m above ground level. You know what that means? If you want sweeping views of Berlin, this is where you go.
2. Going up the tower also makes for a fun game of 'Spot the Landmark', as what else is there really to do when you're 207 m high up?
3. With excellent views, you also get gourmet food! The TV Tower is home to a revolving restaurant that takes on a culinary journey, quite literally.
4. Think of all the awe-inducing pictures you can take for the 'gram, with the views as the backdrop!
Berlin TV Tower Tickets - Which One Should You Buy?
---
The Berlin TV Tower is a favourite among tourists and locals alike, as it IS the perfect way to end a day with a beautiful sunset and some adventure. Hence, long waiting lines are natural. Here are the top rated Berlin TV Tower tickets you can buy, so you can save time and dime:
While all tickets we offer have a fast view mandate, you can choose additionals depending on whether you want a great breakfast, or a great meal with the views!
Buy your Berlin TV Tower tickets on Headout and save $8 using code: HOBLOG
Top things to do at Berlin TV Tower
---
1

Drool over the views!

Observatory
The Berlin TV Tower is known for the beautiful views it has on offer. Once here, not only will you see the city in a different light (from 209m above ground), but the beautiful city of Berlin, is nothing less than a sight to behold.
Good for: Couples and Families
Timings: 10 am to 10 pm (November to March), 9 am to 11 pm (April to October)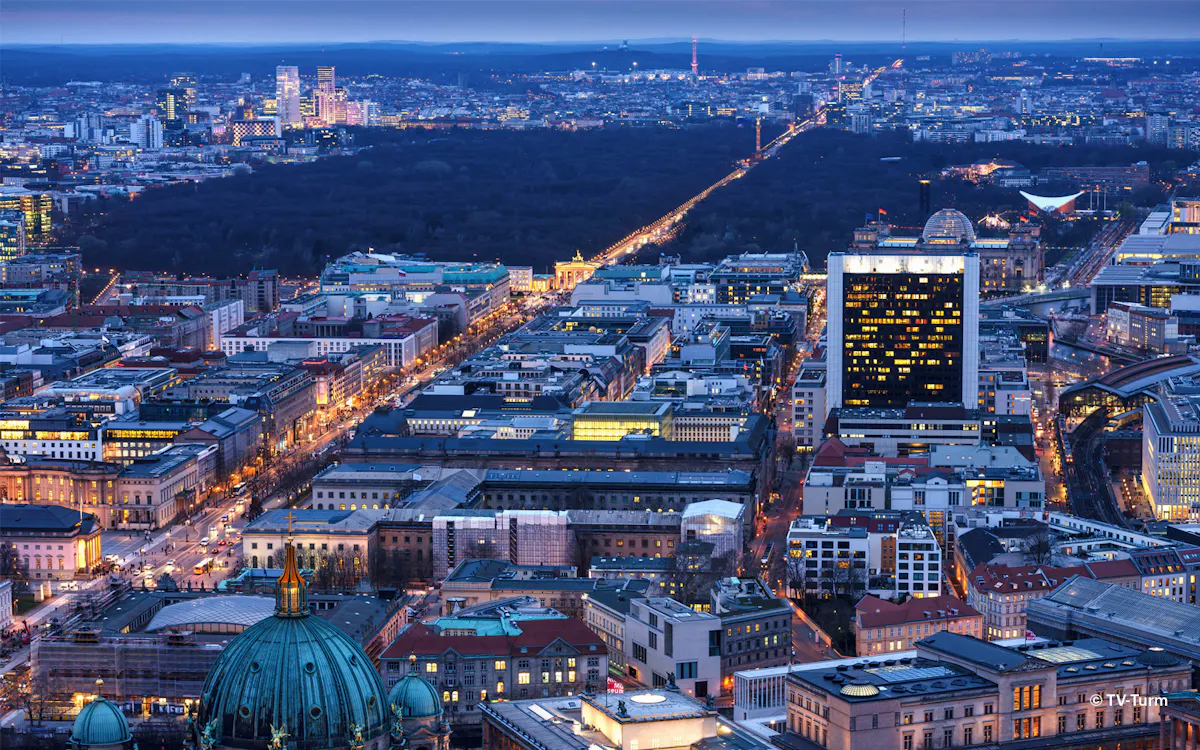 2

Eat while revolving

Dine
Nope, we're not kidding. The Berlin TV Tower is home to revolving restaurant! A WHOLE revolving sphere! This ticket booked throuhg Headout will reserve the best seats (inner circle or the windows) for you at the restaurant. Good food, incredible views, and a restaurant that revolves, what else do you need?
Good for: Adventure and food enthusiasts
Timings: 10 am to 8 pm, in 30-minute intervals
3

Brekkie with a view

Dine
Yes, we wrote brekkie! Afterall, what better way to break your fast than eat good food and look at good views. Nothing. You have our word. This also makes for a fun date experience, so take your significant other along for a breakfast with a view!
Good for: Adventure and food enthusiasts
Timings: Slots are available daily at 10 and 10:30 am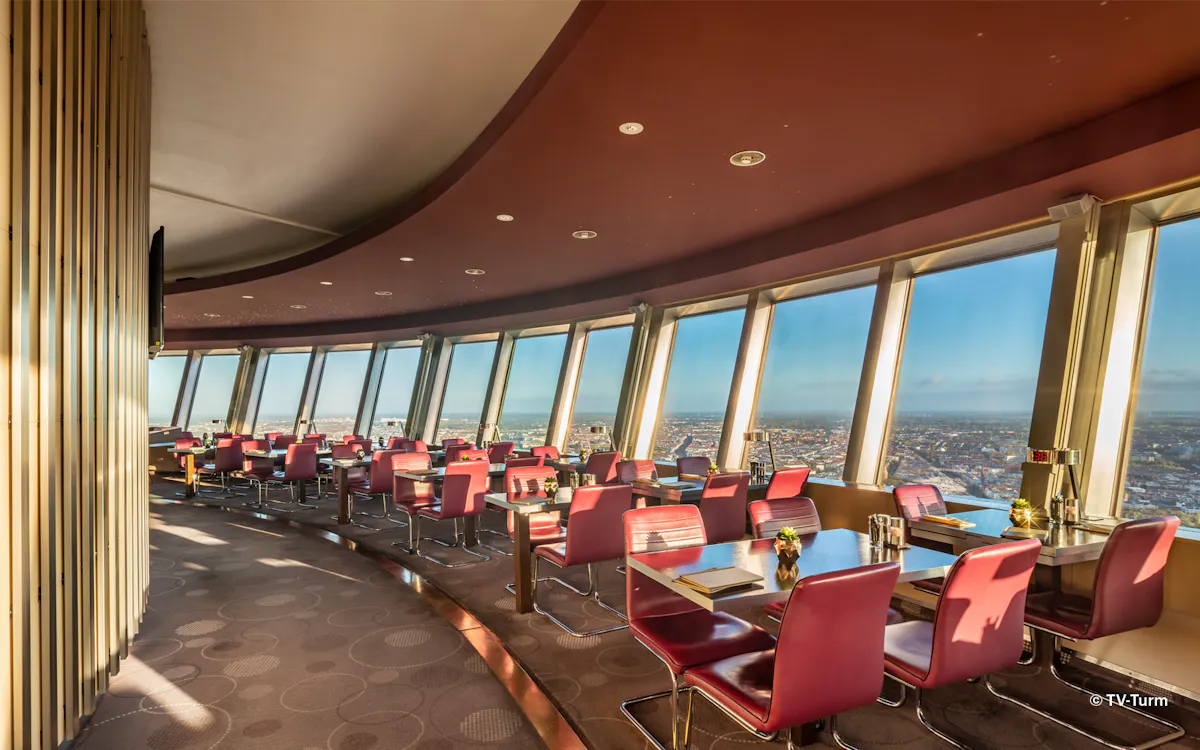 4

High Tea, quite literally!

Dine
Be entranced by your unique surroundings as you sip tea in the Revolving Restaurant Sphere. See the whole of Berlin from high up in the iconic TV Tower, and take in the stunning views of its most famous landmarks 203 meters below.
Good for: Adventure and food enthusiasts
Timings: Slots are available daily at 2 pm, 2:30 pm and 3:00 pm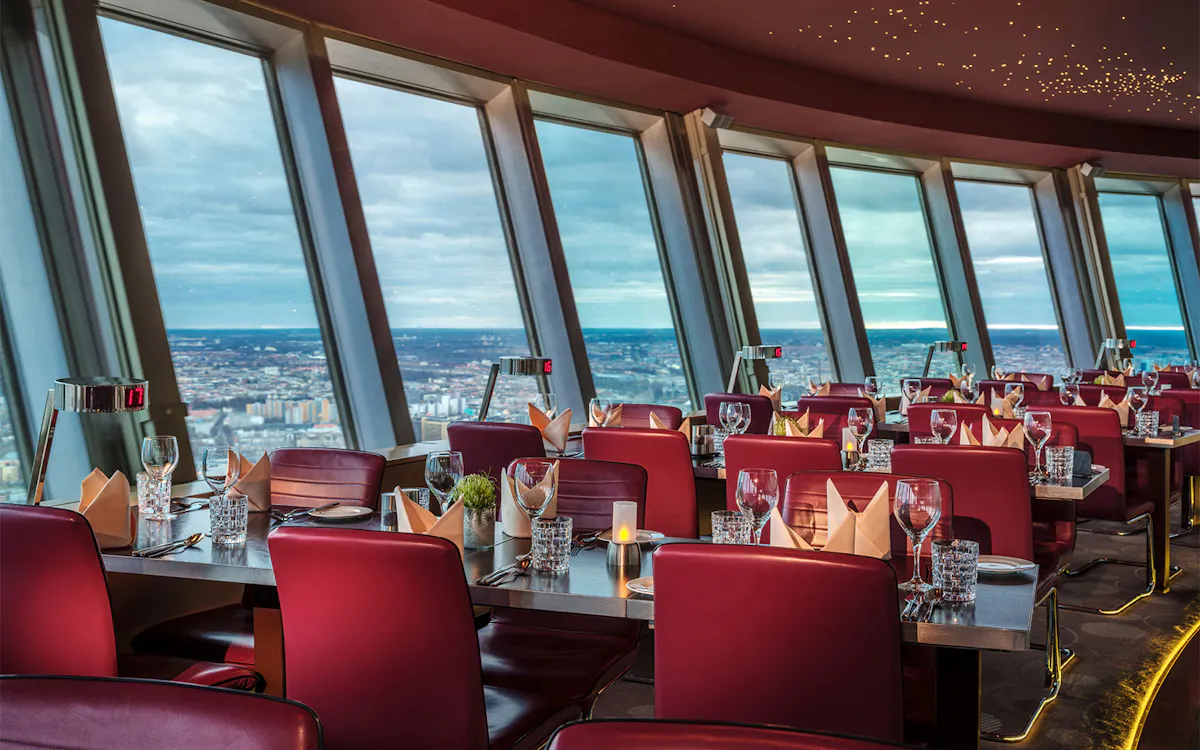 Plan Your Visit
---
Berlin TV Tower Opening Hours
The Berlin TV Tower is open from 10 am to 10 pm, from Novemeber to March, and 9 am to 11 pm from April to October
Getting to the Tower
By Bus
Buses 100, 200, M48, N5, or TXL will take you to S+U Alexanderplatz - the TV Tower is a 3-minute walk away

By Metro
Trains HBX, RB14, RE1, RE2, RE4, RE7, S3, S5, S7, or S9 will take you to the Berlin Alexanderplatz Bahnhof - the TV Tower is a 2 minute walk away


Best Time To Visit the Berlin TV Tower
While there is no perfect time to visit the TV Tower - it's an established fact that the views are best during sunset. Ideally, it's also the perfect time to bump into a plethora of people. If you're someone who loves beating the crowd, sometime early morning, or late evening should be the best time to visit.
Things to Know before you visit Berlin TV Tower
---
1. It is mandatory to show one of the following documents at the entrance:
A Covid-19 negative test result, not older then 24 hours
Proof of completed vaccination, older than 14 days
Proof of recovery from Covid-19, not older than 6 months
Valid pupil ID card, for Berlin pupils
2. When you book a restaurant inclusive ticket, it's important to know that the time you've booked the ticket for, is your reservation time at the restaurant - so go there first.
3. When you're making resevations for the restaurants, if you reserve a spot in the inner circle, you can't request for a window seat later.
4. Queues for security check and the elevator are expected, and natural, since the TV tower is such a popular attraction.
5. Infants under 4 can enter the tower for free
6. Entry to the tower is not permitted to guests who need physical assistance/use crutches, solely because of the architectural design of the tower.
Thing to do near near Berlin TV Tower
---
Here are some top attractions which are located near Berlin TV Tower, that you should add to your itinerary.
Restaurants Near Berlin TV Tower
With good views, good food is primary. Here are the restaurants where you can find the best meals to unwind with after an adventurous day at TV Tower:
---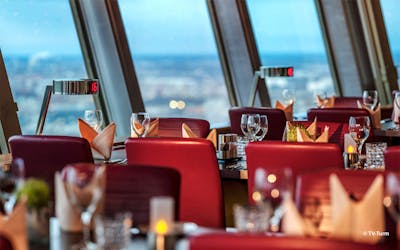 Revolving Restaurant Sphere
If us talking about it for the entirety of this blog wasn't enough, we had to include the revolving restaurant again, duh! With an extensive menu ranging ages, cuisines, seasons, and drinks, if you're on the hunt for good food with views that leave you mesmerized, this place is it.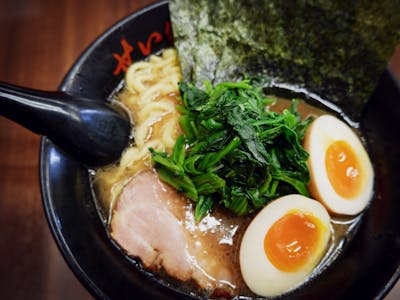 Momotaro Tavern
One of the best restaurants in town for Asian food, Momotaro Tavern is the place to be! Famous for its ramen, it is the perfect spot to be when you're hungry and need prompt service.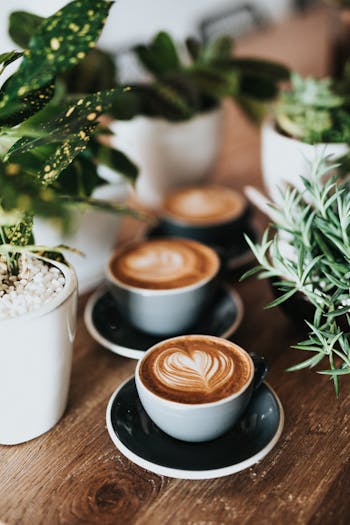 Gregory's
A one-stop shop for every meal and cuisine you can imagine, Gregory's is certain to raise your spirits every time you visit. Oh also, don't forget to try the coffe - it's famous!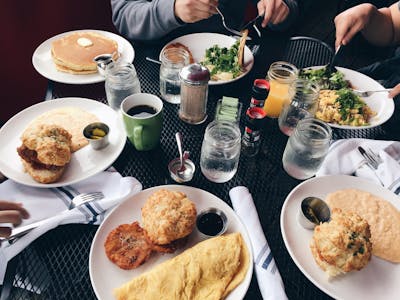 The Reed
Nope, this restaurant is not named after the iconic character of Jeremy Reed from 'The Mindy Project', but it certainly is as charming. 😛
Extremely well-known for providing the best brunch in town, you know you have to visit the restaurant!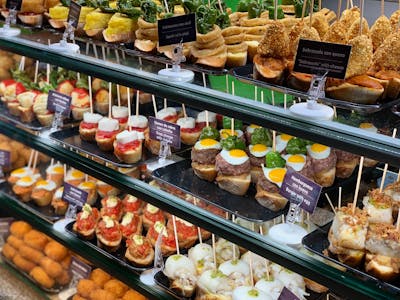 El Colmado
If you're on the hunt for Spanish food, this is it. With tapas that are widely known, and service and views that'll leave you asking for more, you know this restaurant is a must-visit. Must we tempt you anymore?!

Frequently Asked Questions
---
Where is Berlin TV Tower?
How much does a ticket to Berlin TV Tower cost?
How do I reserve my seat at the revolving restaurant of Berlin TV Tower?
How tall is the Berlin TV Tower?
What are the opening hours for Berlin TV Tower?
Ready To Explore Berlin?
Check the top things to do in Berlin packed with itineraries, tours, culture trips, best hotels, restaurants, and a lot more.