For a long time, Dubai was a city built for cars. The expansive road network, the city's love for cars and the subsidized fuel prices enabled everyone to own their own personal vehicles. The public transportation systems in Dubai that we see today is a fairly recent undertaking, roughly a decade old. But like everything Dubai does, the RTA (Roads and Transport Authority) have built a public transport network that rivals some of the best in the world. The buses are efficient, the metro is modern, the cabs are everywhere(in a good way) while the water taxis are an experience of their own.
In this guide, we will take a look at all the major public tranport options available in Dubai and what you need to know about them before visiting the crown on the Persian Gulf.
Dubai Public Transportation - The Basics
---
The public transportation system in Dubai - metro, buses, trams, abras, ferry, water taxi - are managed by the RTA. The best part is that all these services use the same ticket type - the NOL card. You don't need to worry about purchasing a different ticket for each service. Road taxis however need to paid primarily by cash.
What is the NOL Card?
The NOL card is a smart card that allows commuters in Dubai to use various RTA transport modes in with a single card. With its 'touch and go' feature, you simply have to tap your card on the card reader at the entry and exit gates of the Metro and Waterbus stations; at the entrance gate of every RTA Bus and on all RTA parking meters. The system automatically charges the crrect fare from your card. Remeber that he credit must be added to the card before travel. The NOL cards will get you access to the following services in Dubai:
Metro
Buses
Water Buses
Dubai Tram
RTA's Paid Parking
Dubai Water Bus
Abra Rides
Types of NOL Cards
NOL Cards come in 4 major types:
Red

- The Red NOL card is a paper card that can be bought for only AED 2. It can then be loaded with up to 10 Single Trips. These cards can be bought from any ticket vending machine. The Red NOL card can only be used on only one mode of transport at a time (e.g. on Metro only, Bus only). Perfect for tourists.

Silver

- The Silver card is an e-card that allows you to travel on all the modes of transport (unlike the Red ticket) and can be loaded with up to AED 5000. The card costs AED 25 and includes an AED 19 e-purse value. The Silver NOL card is valid for 5 years. Perfect for tourists and locals.

Gold

- The Gold card is similar to the Silver card in all ways except that it also allows you to access the privileged Gold class cabins on the Dubai metro and trams. Perfect for tourists and locals.

Blue

- The Blue card, or the Nol Personal Card, is similar to the Silver card. It's added advantages are discounts for students and senior citizen on metro and free travel for those with disabilities. Available for locals only.
Getting to Dubai City From the Airport
---
Dubai has two airports - Dubai International Airport (DXB) and Al Maktoum International Airport (DWC).
DXB is a modern airport handling huge international passenger traffic, and is equipped with world-class facilities. Situated just north of the city, it has three terminals with Terminal 3 being the largest airport terminal in the world. DWC on the other hand is doesn't handle a lot of passenger traffic and is dedicated primarily to cargo. In this guide, we'll focus on how to get to Dubai City from DXB.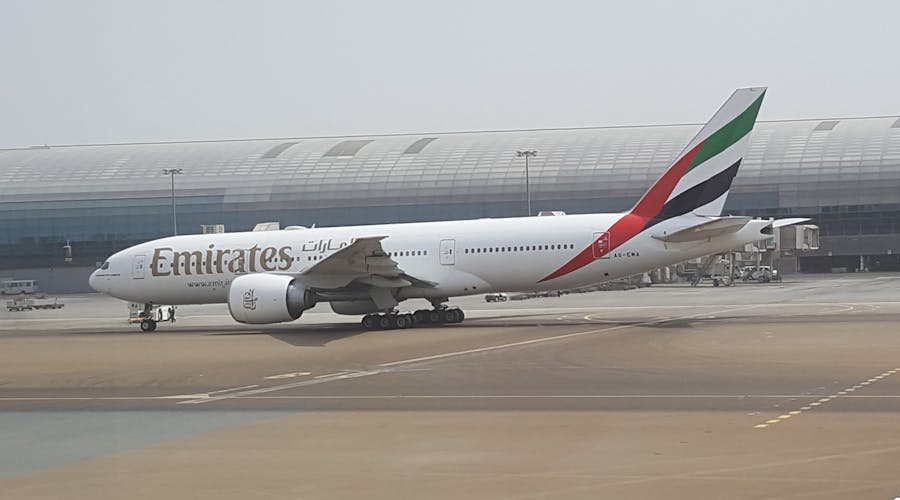 By Metro
Both terminals 1 and 3 are connected to the city via a major metro network. The red-line of the Dubai Metro has stops at terminals 1 & 3. One of the major Dubai Metro lines, it connects the airport to Dubai Downtown, JLT/DMCC, Dubai Marina/DAMAC, and Jebel Ali. If you happen to land at Terminal 2, you can get to Terminals 1 and 3 via bus if you want to take the metro the city.
Timings
The timings are from 05:50 to 00:00 (on Friday - from 13:00 to 01:00). It takes about 40 minutes to reach the city centre from the airport by metro, with trains every 5 to 7 minutes.
Tickets
You can use the NOL card to travel on the metro or get tickets from ticket machines and ticket counters at the station. The cost of a one-way ticket is $1.60 - 2.00 (5.80 - 7.00 AED).
By Bus
The RTA(Roads and Transport Authority) of Dubai handles an efficient network of buses in Dubai. Its fleet consists of air-conditioned buses with fares that start from about $2 per journey to the city centre. Buses leave from stands opposite Terminal 1, 2, and 3. Remember, to use public bus services in Dubai, you must purchase a prepaid NOL card as cash is not accepted. Bus No. 401 and 402 take you to the city. Children below 5 years of age and below 90cm (Metro) travel for free.
By Taxi
The airport is well connected to the city and at no time of the day will you face any issues with getting a taxi. Taxis are easily available and pretty convenient, even though they are more expensive than other public transport options. Luckily, there is hardly any fluctuation in cab fares as all taxi companies in Dubai are generally franchised by the government of UAE. The taxis available outside the airport use the meter and start at AED 25.
Private and Shared Transfers
While most people prefer to take a cab from the airport, it gets quite expensive. On the other hand, shared transport comes across are reasonable as well as a comfortable option. With minibuses, vans, luxury limousines, a driver waiting for you at the arrival gate and getting dropped right at your hotel, taking a shared or private transfer from the airport is quite an easy and efficient option.They are not only way cheaper than private cabs but also save you time and rids you of hassles associated with public transport.
Public Transportation Within Dubai
---
---
Metro
---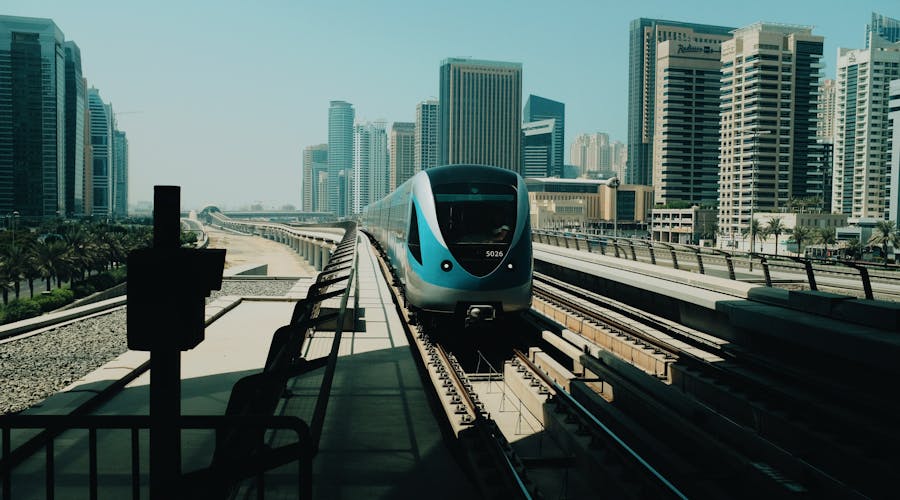 The Dubai Metro offers one of the easiest ways to get around the city. With two lines that run for a total length of 50+ kms, 49 stations and trains that run every couple minutes - using the Dubai Metro is easy and efficient.
The Dubai Metro has two lines:
• Red Line - It runs from Rashidiya (near Dubai Intl Airport) to UAE Exchange (formerly Jebel Ali). The Red Line has 29 stations.
• Green Line - It runs from Etisalat Metro Station to Al Qusais Creek in Al Jaddaf. The Green Line has 20 stations.

Passengers can switch lines and transfer between them at Union or Bur Juman Station.
Dubai Metro Tickets
To use the Dubai Metro, you will have to purchase the NOL card. For single usage or a day pass, go for the Red NOL Card. If you're in Dubai for a longer duration, then you can go for the Silver/Gold/Personal card.
Click here to learn more about the NOL Card and buying it online.
Dubai Metro Routes & Stations Map Click here to view the map in detail.
---
Bus
---

The RTA runs a fleet of around 1,500 state-of-the-art buses that connect the entire city of Dubai. With 119 internal lines (35 that connect to metro stations), the Dubai bus network covers 82% of the urban area in the Emirate of Dubai.
The buses used by the RTA are air-conditioned, equipped with NOL card sensors at the entry & exit points and easily accessible by people with special needs. Combine this with the coverage area and you have one of the most efficient bus networks in the world. The bus stops are air-conditioned too to keep you safe from the Dubai sun.
Dubai Bus Tickets
Similar to the Dubai Metro and other transport modes operated by the RTA, you will need to get yourself a NOL card to travel on the buses. Cash is not accepted on Dubai's buses. Passengers are required to hold their NOL card at the e-card readers while boarding and getting off the bus to be charged the correct amount for the trip. Click here to learn more about the NOL Card and buying it online.
Dubai Bus Timings
• Main Stations - Gold Souk, Al Ghubaibah
5:00 am - 12:00 Midnight
• Sub Stations - Al Satwa, Al Qusais, Al Quoz Industrial, Jebel Ali
5:00 AM - 11:00 PM
6:00 AM - 10:10 PM (Jebel Ali sub station buses)
• Metro Feeder Stations - Al Rashidiya, Mall of the Emirates, Ibn Battuta, Dubai Mall/Burj Khalifa, Abu Hail, Etisalat
5:15 am - 1:10 am
Dubai Bus Stations
There are 15 major bus stations in Dubai, and numerous bus stops along the way. The major bus stations are divided into Major Stations, Sub Stations and Feeder Bus Stations. You can check out the official Dubai RTA bus station list to learn all about them.
---
Trams
---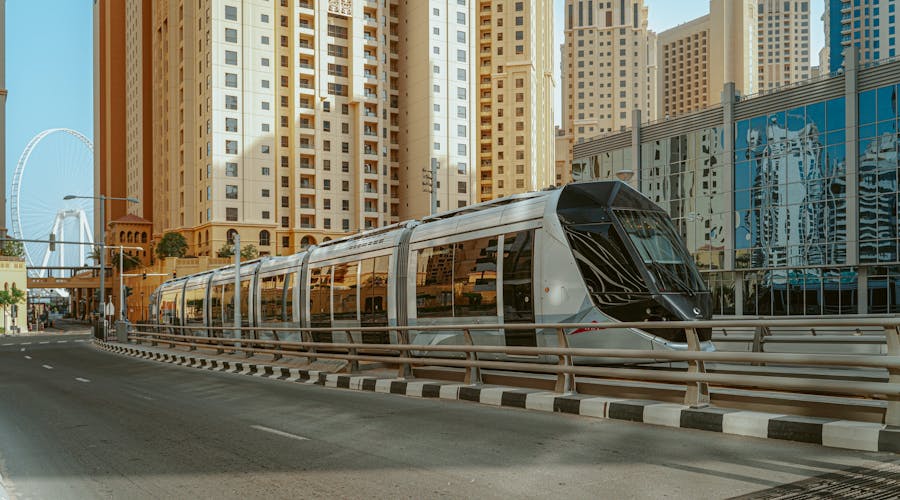 The RTA operated Dubai Tram has been part of the Dubai Public Transport network since 2014. The tram line is currently limited and runs for 14.5 kilometers along Al Sufouh Road, connecting Dubai Marina to the Palm Jumeirah and Al Sufouh. One can transfer from the tram to the metro at the Jumeirah Lakes Towers Station and Dubai Marina Station of the Dubai Metro's Red Line. The tram is also connected with the monorail of the Palm Jumeirah.
Dubai Tram is the third tramway project in the world (and the only one outside Europe) that is powered by ground-based electric supply system. It comes with additional services such as Wi-Fi, disabled access, private cabins and cabin for women and a dedicated metro police.
Dubai Tram Tickets
Similar to the Dubai Metro and other transport modes operated by the RTA, you will need to get yourself a NOL card to travel on the tram. The tram has a fixed fare of AED 3 per ride regardless of the travel distance.
Dubai Tram Timings
• Weekdays
6:00 am - 1:00 am
• Friday
9:00 am - 1:00 am
---
Taxis
---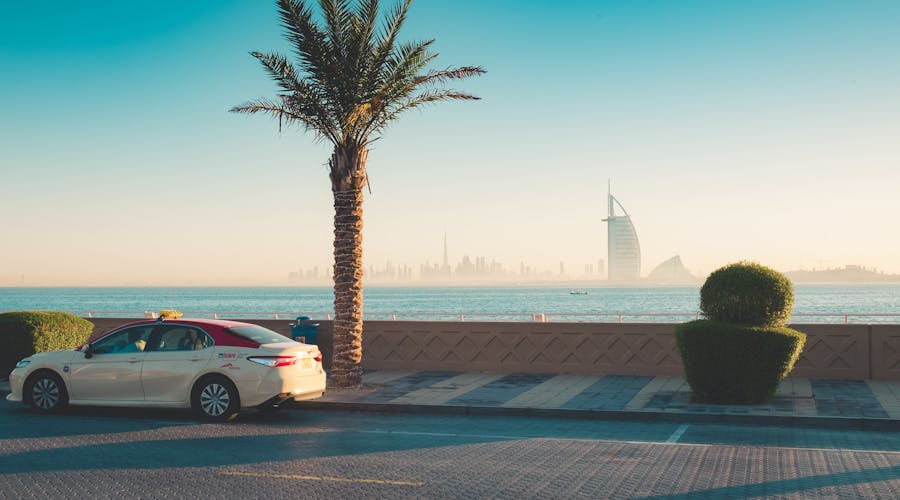 Like every other major city in the world, taxis are ubiquitous throughout the city and easily available. Despite being the most expensive form of public transport in the city, its ease and comfort easily makes it one of the most convenient ways to move around the city.
Taxis in Dubai are run by various companies - Dubai Transport, Arabian, National, Cars, and Metro. All run at similar rates, at AED 1.75/km, with the minimum charge capped at AED 12. Taxis can be easily found at the entrances of malls, shopping destinations and all major tourist attractions. You can also hail one on the road, though it does get difficult during rush hour.
---
Monorail
---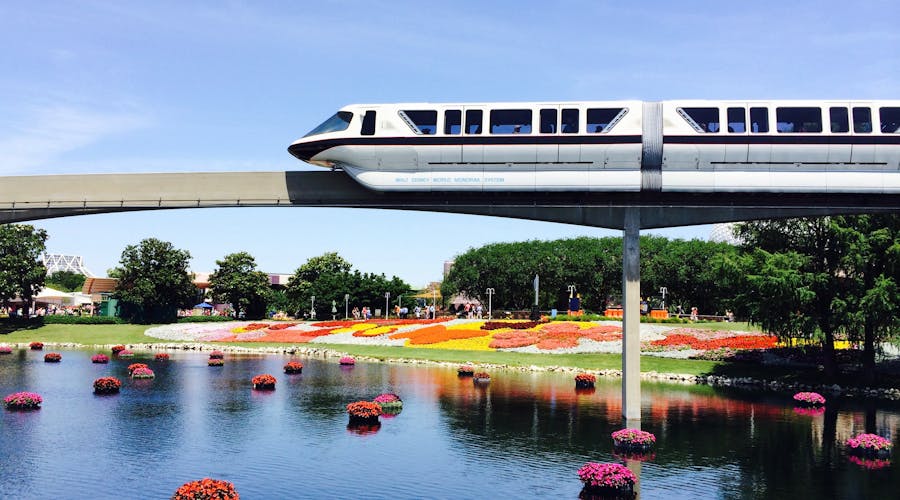 Opened in 2009, the Dubai monorail is the first monorail in the Middle East. The Dubai Monorail runs on the Palm Islands and connects it to the mainland with further plans to connect the line to the Metro Red Line.
Dubai Monorail Tickets
The Dubai Monorail accepts only cash. You cannot travel on the Dubai monorail with a NOL card. A one-way ticket costs AED 20 and a return ticket costs AED 30.
Dubai Monorail Timings
9:00 am - 10:00 pm daily
Sign up for our monthly newsletter
Your dose of travel fix - from hacks and deals to travel tips and everything in between, delivered monthly to your inbox
Please enter a valid email
Unsubscribe anytime
---
Dubai Abras
---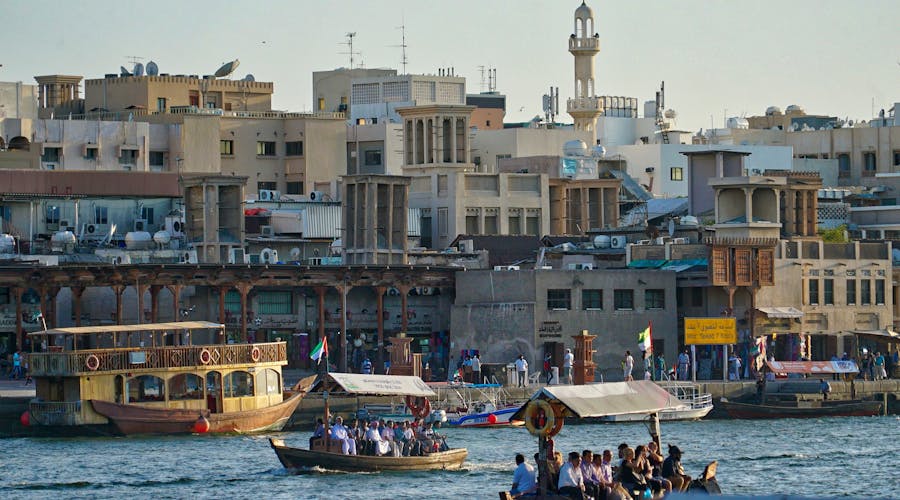 Abras are the city's most traditional form of transport. Half boat and half raft, the abras have retained their design and functionality for centuries and are a present-day link to the old days of Dubai. Abras are the most common forms of boats you'll see plying their trade and ferrying passengers across the beautiful 14-km stretch of the Dubai Creek.
Dubai Abra Routes & Timings
• Bur Dubai Abra Station to Deira Old Souk Abra Station and vice versa - 6.00 am – 12.00 am
• Dubai Old Souk Station to Al Sabhkha Abra Station and vice versa - 24 hour service
Dubai Abra Fare
• AED 1 per passenger, per trip
• AED 2 per person per trip in one direction (air-conditioned abras)
---
Dubai Ferry
---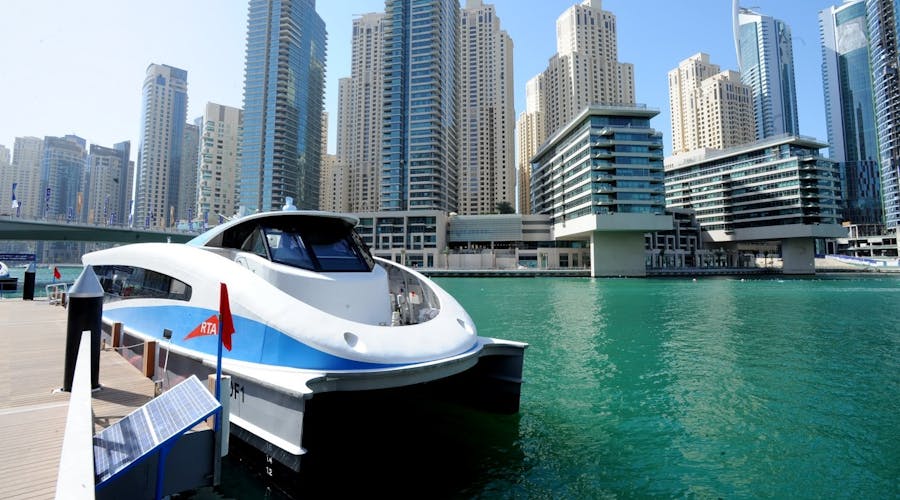 One of the newest forms of public transport in Dubai, the Dubai Ferry is also operated by the RTA. These modern air-conditioned sailing vessels operate on the Dubai Canal and the Dubai Marina.
Dubai Ferry Tickets
Most Dubai Ferry Terminals have only 1 have only 1 ticket kiosk selling tickets. This leads to long ticket queues with lines that are upto 30 minutes long during peak hours. Hence, getting your tickets online is your best bet. Get your Dubai ferry tickets here.
Dubai Ferry Routes & Timings
The Dubai Ferry currently has 5 terminals:
• Dubai Marina
• Al Ghubaiba
• Dubai Canal Station
• Al Jaddaf
• Sheikh Zayed Road Station

Amongst these 5 terminals, the top 3 are : Dubai Marina, Ghubaibah and Dubai Canal Ferry Stations. Below are the routes from each of these 3 stations.
Starting From Dubai Marina
• One way trip to Al Ghubaiba with a stop at Dubai Water Canal - 11 AM, 1 PM & 6:30 PM
• Circular Tourist trips to Burj al Arab and back - 3 PM
• Sightseeing circular trip to Atlantis and back - 5 PM
Starting From Al Ghubaibah
• One way trip to Dubai Marina with a stop at Dubai Water Canal - 11 AM, 1 PM & 6:30 PM
• Circular Tourist trip within the creek - 3 PM
• Circular trip to Jumeirah Beach and back - 5 PM
Starting From Dubai Canal Station
• Dubai Canal to Al Jaddaf - 2:05 PM & 7:35 PM
• Dubai Canal to Al Ghubaiba - 11:50 AM, 2:50 PM & 7:20 PM
• Dubai Canal to Dubai Marina - 11:50 AM, 2:50 PM & 7:20 PM
Dubai Ferry Ticket Prices
• Gold Class: 75 AED
• Silver Class: 50 AED
Dubai Ferry: Dubai Marina Round Trip
Headout Price: AED 55
Book Now
Hop-On-Hop-Off Tours
--- Hop-on-hop-off buses are perfect for tourists as it not only takes care of your transportation woes, but also shows you the most important highlights of the city. Dubai has Big Bus and City Sightseeing Hop On Hop Off Buses, both of which have planned routes with a total of about 40 stops along the way. You can get on the bus at any of these stops and get down wherever you like.
Big Bus Routes
Big Bus operates three lines in Dubai:

• Red Line - Dubai Mall (through which you can visit the Burj Khalifa), City Walk, Wafi, Burjuman, Old Souk, Heritage Village, Spice Souk, Dubai Museum, Gold Souk, Riviera, and Deira City Centre.

• Green Line - The Jumeirah Public Beach, Souk Madinat, Burj Al Arab, Mall of the Emirates, and the Dubai Mall. The scenic drive is not to be missed!

• Blue Line - Mall of the Emirates, Marina Walk, Marina Mall, Marina Promenade, The Beach, Bay Side, Tallest Block, Media City, Al Ittihad Park, and Atlantis The Palm.
Top Rated Hop On Hop Off Bus Tours