While we aren't anywhere near singling out one city that is best suited for everyone's holidays, we certainly are spoilt for choices when deciding a destination for vacations. Dubai is one such city that has risen like a phoenix over the past few years. Not only is it one of the most commercially and scientifically advanced cities in the world, but Dubai has also taken rapid strides to cater to the demands of a modern wayfarer. The city's excellence in the matter is well demonstrated in the state of Dubai's extensive water network. Apart from the traditional dhow, and the elegant abra, Dubai has now expanded their water tourism offerings to a sleek ferry ride around the city. Read on to find out how to watch the City of Gold unravel while you take a luxurious boat ride on the Dubai Ferry.
What Is The Dubai Ferry?
---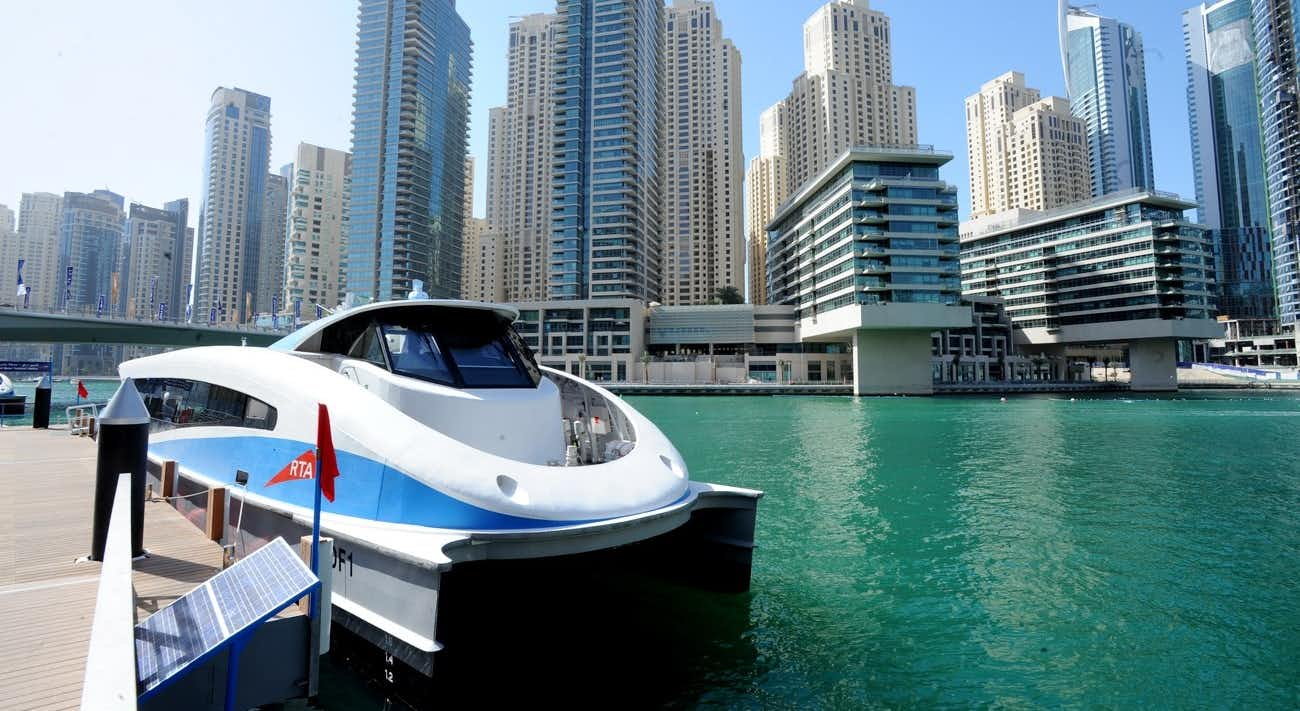 Dubai Ferry is a testament to the city's unwavering will to make Dubai a premium tourist destination on the planet. Established in 2011, Dubai Ferry was initially intended to improve water route transit by the Road and Transport Authority. Currently, with this activity, you climb aboard a luxurious boat that takes you to explore the waterways of Dubai. From the Dubai Canal to the Dubai Marina, you gain a unique perspective of the cosmopolitan city from this traffic-free route. There are a two different class of tickets which enables you to book tickets in accordance to your comfort needs. With free entry for children below 5 years of age, taking a ride on the Dubai Ferry is the perfect way to experience Dubai from the waters with your family.
Is The Dubai Ferry Worth It?
---
Dubai is packed with experiences that may range from austere to exhilarating. If you are thinking if you should include Dubai Ferry in your itinerary, these pointers should convince you:
The Dubai Ferry touches upon the major local attractions of Dubai, including Burj Al Arab, and Palm Jumeirah. There's no better way to see all of these attractions than from the waterways, away from the mind-numbing traffic of the city!
While the Gold class tickets let you take a seat towards the front of the boat, the Silver class tickets allow easy access to the open deck of the boat. Whichever ticket you decide to purchase, you're gifted an unprecedented view from the Dubai Ferry.
The state of the art Dubai Ferry Boats are accessible via wheelchair so that everyone can be a part of the experience.
The onboard snack bar makes the ride one of the most lavish ones you have ever taken.
Dubai Ferry Tickets
---
In most Dubai Ferry terminals, there is just one single window kiosk selling tickets . Due to this, ticket lines can take upto 30 minutes during peak hours. Moreover, quite a few people take a while to decide the route and finalise on which ticket they want, amounting to more waiting in lines. Hence, buying your Dubai Ferry tickets online is highly recommended, in order to save yourself the trouble of standing in queues under the scorching sun.
Dubai Ferry Terminals
---
The Dubai Ferry currently has 5 terminals. You can hop on/ hop off at any of these 5 terminals depending on the route you choose and ticket you buy.
Dubai Marina
Al Ghubaiba
Dubai Canal Station
Al Jaddaf
Sheikh Zayed Road Station
There was a 6th station named 'Al Mamzar' which was shut due to lack of demand.
Dubai Ferry Routes
---
Amongst the 5 Dubai Ferry terminals, the top 3 are : Dubai Marina, Ghubaibah and Dubai Canal Ferry Stations. Below are the routes from each of these 3 stations.
Dubai Ferry Routes Starting From Dubai Marina
11 AM, 1 PM & 6:30 PM : One way trip to Al Ghubaiba with a stop at Dubai Water Canal
3 PM : Circular Tourist trips to Burj al Arab and back
5 PM : Sightseeing circular trip to Atlantis and back
Dubai Ferry Routes Starting From Al Ghubaibah
11 AM, 1 PM & 6:30 PM : One way trip to Dubai Marina with a stop at Dubai Water Canal
3 PM : Circular Tourist trip within the creek
5 PM : Circular trip to Jumeirah Beach and back
Dubai Ferry Routes Starting From Dubai Canal Station
2:05 PM & 7:35 PM : Dubai Canal to Al Jaddaf
11:50 AM, 2:50 PM & 7:20 PM : Dubai Canal to Al Ghubaiba
11:50 AM, 2:50 PM & 7:20 PM : Dubai Canal to Dubai Marina
Know Before You Go On The Dubai Ferry
---
Dubai Ferry Timings
From Dubai Marina and Al Ghubaiba: 11 AM, 1 PM, 3 PM, and 5 PM. For a detailed schedule on the Dubai Ferry Timings, check the official website.
Frequency
The frequency varies depending upon the route and number of passengers.
Dubai Ferry Ticket Prices
Gold Class: 75 AED
Silver Class: 50 AED
Ticket Validity
Since the tickets have to be bought in person just before boarding, they are valid only for the day and the timing chosen.
Services onboard
Kiosk onboard for snacks & souvenirs
Entertainment services - 4 LCD Screens
Restroom facilities for men, women and passengers with reduced mobility
Enjoy access to educational videos which are location- triggered and provide valuable information about prominent attractions around you.
Dubai Taxi vs Dubai Ferry
---
Dubai Ferry

Dubai Taxi

About
It is of the most scenic waterway tour in the world. As you take a comfortable seat inside a deluxe boat, you get to watch the city of Dubai in all its glory.
It is an easy mode of transit in Dubai through its waterways. Dubai Taxi works like a taxi cab, except it operates on water. It is generally used a means of transport and not as a mode of sightseeing.
Price
50 - 75 AED per person
400 AED per hour (Chartering)
Starting from 55 - 205 AED (Commuting)
Route
Multiple routes available starting from Dubai Marina and Al Ghubaiba.
42 pickup and dropoff points around Dubai Marina, Dubai Water Canal, and Palm Jumeirah.
Frequency

A provisional frequency of 2 hours

Service available on demand

Timings

11 AM, 1 PM, 3 PM, and 5 PM

10 AM to 10 PM

Capacity

100 pax at a time

11 pax at a time
Dubai Ferry Reviews
---
If you want to explore Dubai by water on a budget, use Dubai Ferry which is operated by Dubai public transport company. It is a better and cheaper alternative to expensive luxury yacht tours. Dubai Ferries do not have guided tours though. The boats are new, speedy, with comfortable seats and AC. But the best viewpoints are outside on the deck. There are several interconnected routes that let you see most Dubai sights (The Palm Jumeirah, Dubai Marina, Dubai Water Canal, etc). The price for each route is around 50 AED (~ 13 USD). Tickets can be bought only at ticket offices at the places of departure. Routes and prices are available online at Dubai Ferry website.
ikostenko
A Ferry trip from Dubai Creek to Dubai Marina- the cheapest way to see Dubai from the water! An awesome ride, 1hr and 40 minutes to sightsee from the water - fabulous and totally affordable. Leaving from either location, the ferry runs 3 times per day, morning midday and evening. I took the 11am departure from Dubai Creek- and it was fantastic. You can be inside in air conditioned comfort- or outside on the back deck, soaking up sun and smelling the sea. I preferred the second option- much more fun.
_awalloschek
Read more Dubai Ferry reviews and see what past visitors have to say about this epic boat ride.
Handy Tips For Your Dubai Ferry Ride
---
If you're planning to buy the tickets on-ground, make sure you arrive well in advance as there is only a single small kiosk and the tickets queue can take upto 30 minutes during peak hours. It is best adviced to grab your Dubai Ferry tickets online to save time.
If you're finding it hard to pin point the Ghubaibah Dubai Ferry Station , ask for the HSBC bank as it is a known landmark in Bur Dubai.
If you have time , squeeze in a trip to Bastakiya, the heritage area of Dubai as it is just a 20 minute walk from the Ghubaibah Ferry Station.
Know that all round trips will only run if there are atleast 10 passengers onboard.
The Dubai Ferry boats can be hired for your private trip at any available time between 9 AM and 9 PM .
Unfavorable weather conditions may cause the trip to be canceled or cut short. If cancelled, your ticket will be refunded.
Check the weather before booking your tickets as it is quite pointless taking a Dubai Ferry ride on a day when the visibility is low, when there is a sand storm etc.
Time your Dubai ferry ride around sunset to experience the golden sky soaking the Dubai skyline from the comfort your boat.
Dubai Ferry Ride FAQs
---
How much is the Dubai ferry ticket?
Where can I buy tickets for Dubai ferry?
What are Dubai ferry routes?
How many Dubai ferry terminals are there?
What sights are covered on the Dubai Ferry routes?
What are Dubai ferry timings?
What is the duration of a typical Dubai ferry?
What is the frequency of the Dubai ferry?
What are Dubai ferry ticket prices for children?
What are the facilities available on Dubai Ferry?
Discover Dubai Through The Waters
---
Other than the Dubai Ferry, check out the other watercrafts in Dubai! You're always spoilt choice in this city.