The amalgamation of seemingly opposite yet interconnected towns Buda and Pest, Budapest is magical in its truest sense. Whether the abundance of water baths that date way back to the 16th century or the enriched history of the city, the unique Danube bend or the tongue-tangling Hungarian cuisines, the City of Baths is undoubtedly magnificently magical. Especially in May, when the spring sun washes the city and reflects on the clear Danube water, the city is a delight. Here is our special guide for Budapest in May and all its wonders.
What makes Budapest in May special?
---
Time and money effectiveness - One of the perks of visiting Budapest in May, is that it is the off-season. For one you can experience almost all attractions without the hassle of long queues and reservations at popular restaurants could be easily made. In addition, hotel rooms and flights are slightly less expensive than the summer season.
The liveliness - Budapest is on a full celebration mode during May as various annual events such as Budapest 100, Rosalia - Rosé Festival and Budapest Beer Festival among others are organized. You can experience the history, culture, Hungarian cuisine, wine, and beer through these events
Beautiful Weather - May is often nice and sunny during the day and slightly cooler in the night, making for one of the best months to walk around. The increase in temperature across the month is offset by rains, which instead of hindering your plans, further enhances the beauty of Budapest.
Budapest Weather in May
---
While summer heat makes a prominent appearance in May, frequent rainfall allows you to enjoy a moderate temperature. The average daily temperature goes up to 16°C, the day time average high is of 21°C with an average drop to 11°C at night. Budapest in May experience over 12 hours of sunshine and about 70 mm of rainfall on an average.
Budapest in May: Things to do
---
Standing atop the banks of the Danube, the iconic Hungarian Parliament boast grandeur in both its exterior and interior. The largest and tallest building of Hungary offers you plenty of wonderments from Hungarian Coronation Regalia to gorgeous glass painting by Miksa Róth. This Neo-Gothic inspired structure is best explored with a guided tour.
May Timings
Daily: 8:00 AM – 4:00 PM
Closed on 1 May(Labour Day)
The magnificent Art-Nouveau style Gellért Spa, located within the Hotel Gellért is amongst the most popular baths of the 'Spa City,' While the thermal spa, indoor pool and wave pool can be enjoyed throughout the year, the scenic outdoor pool of this 101-year-old spa, opens only between May - October.
May Timings
Daily: 9:00 AM – 7:00 PM
Explore the Ancient Capital of Buda
The weather in Budapest in May is perfect for those exploratory walks in Buda, through notable historic landmarks such as Sandor Palace, Matthias Church, Margaret Bridge and the Fisherman's Bastion among others. Opt for a guided tour of Buda, to understand the history illustrated by the ancient capital of Hungary.
May Timings
Guided Tours start daily at 10:00 AM and 2:30 PM
Explore the Touristy Pest
Set predominantly on a flat bourgeois plain Pest hosts plenty must-see landmarks such as St. Stephen's Basilica, Shoes on the Danube Bank, House of Hungarian Art Nouveau, and Liberty Square. Take advantage of May's weather to dip your toes into Hungary's more recent history with a guided tour of Pest.
May Timings
Guided Tours starts daily at 10:00 AM
A large part of Buda & Pest charm is attributed to the Danube, that dissects yet connects the two cities into one. Explore the magnificent beauty of both sides of Budapest through a Danube River Cruise, you can either opt for a sunny May morning cruise or a cozy night cruise.

Check out the top rated Danube river cruises.
May Timings
Timings vary according to the chosen cruise
Take a Day Trip to Gödöllő
Queen Elizabeth, who was fondly addressed as Sisi, loved the Gödöllő Palace and upon your visit, you'll know why. From the magnificent 18th century, Baroque and Zopf style palace to the flamboyant gardens adorned with blooming May flowers, every nook and corner makes for an amazing Day Trip to Sisi.
Want to check out more day trip options from Budapest? Head here.
May Timings
Tour starts at 10:00 AM on Thursdays and Saturdays
Before entering the city of Budapest, the Danube river takes a mysterious curve, dubbed as the Danube Bend. As scenic as it is puzzling, the Danube Bend passes villages of Esztergom, Visegrád, and Szentendre. The sunny weather of May allows you to explore this unique u-turn and the neighboring villages with ease.
May Timings
Tour starts at 9:00 AM on Thursdays and Saturdays
Go on a Hungarian Food Tour
From Langos to Kolbász & Hurka, from Kürtőskalács to Túró Rudi, Hungarian food is a culinary treat. But where to have the authentic experience from? Well, a professional tour guide, who knows the city inside out exactly knows which places, so opt for a Budapest Food Tour to experience May's fresh produce.
May Timings
Food Tour starts at 2 PM on Fridays
Visit the Szentendre Artists Village
Situated at the gate of Danube Bend, this quaint Baroque town is often referred to as the Artist's Village. Home for more than ten galleries and museums, dedicated to Hungarian arts, Szentendre Village is especially beautiful during May, thanks to the blooming flowers of the spring season and moderate weather
Want to check out more day trip options from Budapest? Head here.
May Timings
Organized day tours starts at 10:00 AM on Wednesdays, Fridays, and Sundays
The cobbled-stone streets of Budapest and its Roman style architecture offer unending beauty. So why restrict yourself to long walks, when you can enjoy May's sunny weather and some of Budapest's most notable attractions including Vörösmarty Square, Andrássy Avenue, and St. Stephen's Basilica, via a segway tour around the town.
May Timings
Tours start daily at 10:00 AM, 2:00 PM and 4:00 PM
Budapest in May: Events to Look Out For
---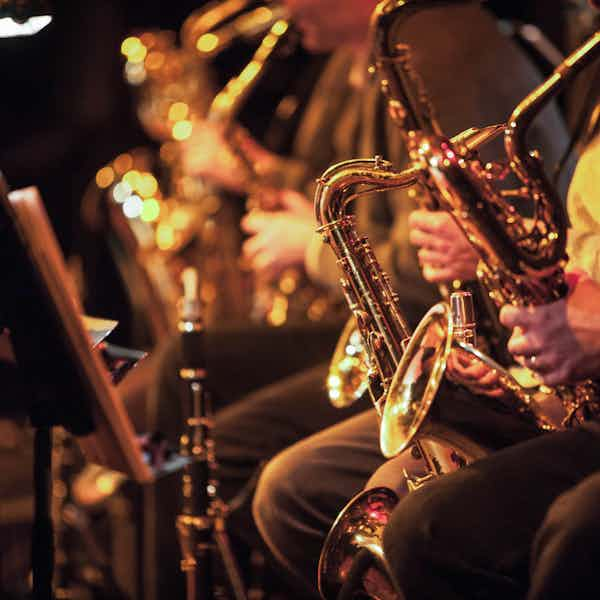 Jazzfest Budapest
26 April - 17 May, 2023
A true-blue (see what we did there? :P) celebration of the music form, Jazzfest Budapest brings together musicians from 23 countries and 5 continents. With concerts in concert halls, clubs, and public spaces, it is an excellent opportunity to enjoy jazz music in a unique way.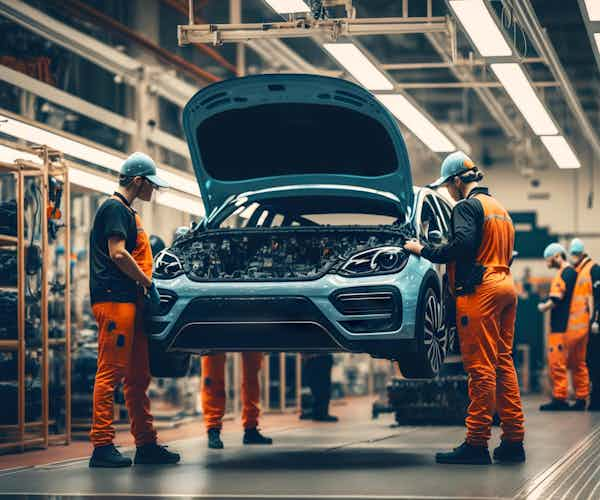 Automative Hungary
16 - 19 May, 2023
An International Trade Exhibition for the automative industry suppliers, created a decade ago to serve as a meeting forum for stakeholders in the Hungarian automotive industry. The event is dedicated to showcasing the latest technologies and trends in the Automotive Industry.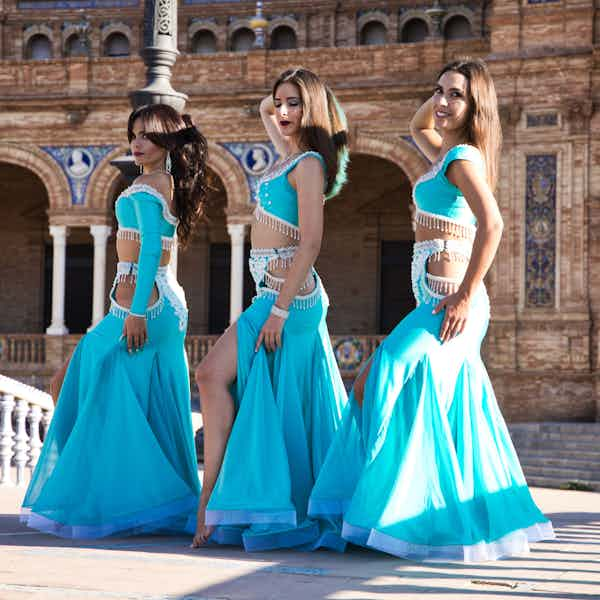 CAIRO! Fest Budapest 2023
11 - 14 May, 2023
If you're passionate about bellydancing and want to experience the vibrant and welcoming community of Europe, the CAIRO! Fest Budapest is the perfect festival for you. For four unforgettable days, you'll have the opportunity to immerse yourself in 16 amazing dance workshops, led by 10+ international master teachers, and witness many more performers.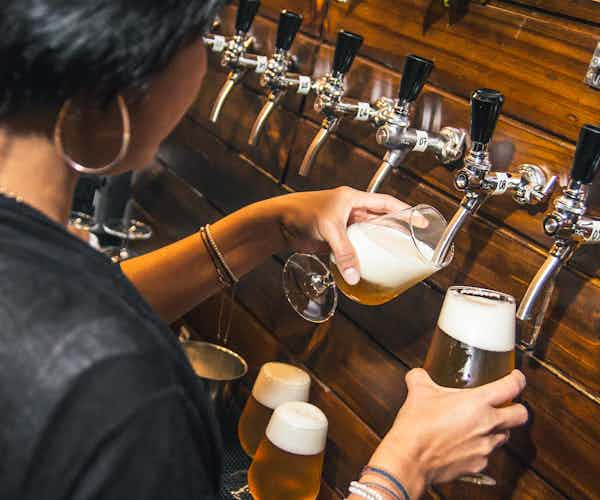 Budapest Beer Week
22 - 28 May, 2023
Budapest Beer Week is an annual event held in May in Budapest, Hungary. It features over 60 microbreweries from around the world, showcasing their unique beer products. Visitors get to taste an incredible selection of beers, including the famous Hungarian beer specialty, Korty, which is fermented with Tokaji Aszu.
Budapest in May: 3-day Itinerary
---
If you're visiting Budapest in May and are looking for an itinerary that you can simply adapt, here's our handcrafted 3 day itinerary. You can also take a look at our 2 day and 1 day itineraries for visiting Budapest.
Budapest Essentials
---
Budapest Weather in May
As the month of proceeds, the temperature starts rising in Budapest; the high temperature increases from 19°C in the beginning of May to 23°C at the end, while the low temperature varies from 8°C - 12°C. Being on the wettest months of the year, May observes over 70 mm of rainfall spread across 14 days.
Where to Stay in Budapest in May
Being one of the most visited cities of Europe Budapest offers a variety of accommodation option. The best part is that the city is relatively inexpensive and depending upon your budget you can opt for a uber-luxurious stay or a budgeted hostel. Here are some options that you can opt for:
Luxury – Kempinski Hotel Corvinus, The Ritz-Carlton Budapest, Four Seasons Hotel Gresham Palace, Intercontinental Budapest
Mid-Range - Baltazar Budapest, Boutique Hotel Victoria, Hotel Palazzo Zichy, Hilton Budapest, Prestige Hotel Budapest
Budget - Maison Bistro & Hotel, Hotel Rum, The Hive Party Hostel, Hostel One Basilica, Fifteen Boutique Rooms.
What to Pack for Budapest in May
May offers you perfect sight seeing weather not too hot, nor too cold, so pack accordingly. Ensure that you include an umbrella and a lightweight windcheater for the rainy days and a good SPF sunscreen and sunglasses for the sunny days. The windcheater would double up as jacket for those chilly evening. Opt for medium - lightweight clothes and a comfortable pair of shoes/sandals. Note that Budapest has a lively night culture, so carry evening clothes and accessories accordingly.
Getting Around in Budapest in May
Budapest is an easy city to maneuver through, mostly thanks to its public transport system. Invest in a Budapest City Pass that will allow you use public transportation for free. The Metro, with its four lines – M1, M2, M3 and M4, almost covers the entire city. The tram routes 2,4,6 cover all the notable, must-visit spot.

In addition, with more than 200 bus routes, buses in Budapest is not just readily available, but is a faster and cheaper way to commute within the city. Do note that most of the Budapest Public Transport system shuts down by 11 PM, you will have to rely on cabs after that.
Budapest in May - Must Try Delicacies
---
While visiting Budapest in May, here are a few seasonal delicacies you must try!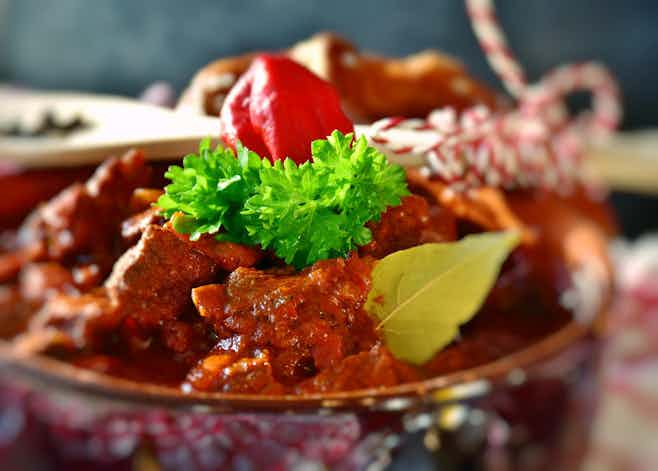 Gulyás (Goulash)
A classic spicy rich stew, so famous that it is often referred to as Hungary's national dish. Goulash is a meat stew and cooked with onions, paprika, tomatoes and pepper. Traditionally cooked on iron cauldrons over wood fires and served alongside a fresh white bread and chopped hot paprika.
Where to eat: Budapest Bisztró, Gettó Gulyás, Bestia Lángos
Available all year round, Lángos is a classic comfort food that is delicious, savory and affordable. A doughy flatbread is deep fried and served warm with a variety of toppings such as sour cream, mashed potatoes, grated cheese, garlic butter. A perfect Lángos is crisp on the outside and soft and plump in the middle.
Where to eat: Retro Bufe, Lángos Papa, Drum Cafe Kürtőskalács
Long strips of sugary dough are wrapped around cone-shaped spits, that are then brushed with butter and roasted over charcoal. When removed from the spits, it released steam like a chimney, which leads to its another name, Chimney cake. The sugary crispy coating is then slathered with cinnamon, ground walnuts and caramel.
Where to eat: Molnár's Kürtőskalács Kávézó, Street Cakes, Hoppácska Töltött Káposzta (Stuffed cabbage)
A very popular dish across Central Eastern European as well as parts of Asia. A traditional Hungarian Töltött Káposzta features cooked cabbage leaves stuffed with pork mince and beef, rice, tomatoes, sauerkraut and obviously paprika. A typical dish around spring and winter times, popular at home and at high-end restaurants as well.
Where to eat: Csarnok Vendéglő, Százéves Restaurant Meggyleves
A chilled sweet soup made from sour cherries, sour cream, and sugar, Meggyleves is the most common version of Gyümölcsleves. Typically served as a chilled starter or a light summer dish, its fresh, tart, creamy and definitely delicious and best made in spring and summer as you get fresh cherries.
Where to eat: Kispiac Bisztro, Kerek Vendeglo
Tips for Visiting Budapest in May
---
Validate your ticket - Just buying a ticket for any of the public transport system in Budapest is not enough, you will have to validate your ticket at the boarding place. An unvalidated ticket is considered no ticket and can be fined anything between HUF 6000 to HUF 10,000.
May Fests - Budapest observes a plethora of events related to food, wine, music and culture, organised throughout the month of May. Before deciding upon your vacation plans, do check the events happening that week and plan your itineraries accordingly.
Be spontaneous - Be open and spontaneous about your evening entertainment, explore alfresco restaurants, open-air bars, street food markets and illustrious coffee houses among other things.
Visit multiple Baths/spas - Being the shoulder season, you can find great deals on multiple baths across the city. Since there is nothing like too much of rejuvenating time, ensure that you indulge in some relaxing down time at multiple spots, depending upon your budget.
Explore, Explore and Explore - Along with their neighbouring cities, Buda and Pest are a unique experience that words couldn't do justice to. Depending upon your choice, ensure that you take advantage of May to either explore the area through walking tours, bus tours or a boat ride on the Danube.
A Month-By-Month Guide To Visiting Budapest
---
More Budapest Guides
---
Looking for more things to do in Budapest? Here are a few guides that will help you plan your Budapest vacation better.