Budapest is a union in all senses, right from its geography; it's the union of three historic cities Buda, Pest and Óbuda. Here the raucous tunes of the Hungarian folk dances find common space with the thumping beats of electronic dance music in ruin bars. It is here that ancient castles and palaces meet the bridges that connect to a cosmopolitan Budapest that is becoming a force to reckon with in Eastern & Central Europe. And it is here that the hearty goulash finds space on the same table as revolutionary gourmet food. In April, Budapest embraces spring and comes alive with a zest for life like the best cities in the world. Here is a guide to enjoy this abundance of culture and history while visiting Budapest in April.
Why is Budapest in April a must-visit?
---
Outdoor weather – The sun is out, and the temperature is pleasantly warm in Budapest in April. While you cannot yet start swimming in the outdoor pools at the baths, it is perfect for walking tours and enjoying the blooming gardens and cherry trees. It is also a good time for day trips outside Budapest to witness spring in the countryside.
Budapest on Budget – Budapest in April is enjoying the shoulder season when international tourists are still a month or two away from crowding the city. You can expand your travel budget by getting good deals on airfare and accommodation, and spend it on special tours and activities.
Festive Budapest – There is a festive air in Budapest in April! The celebration of Easter and Passover brings the residents out of their homes, participating in fairs and kids activities while the art and culture season is at peak with film and theatre festivals, notably the Budapest Spring Festival.
Budapest Weather in April
---
It's officially spring in Budapest in April and the temperatures are rising throughout the month, making it a pleasant time to be in the city. The average temperature is around 11°C with a day-time high of 19°C and night-time low of 6°C. The city experiences 6 to 8 days of rainfall with more chance of clear skies than previous months.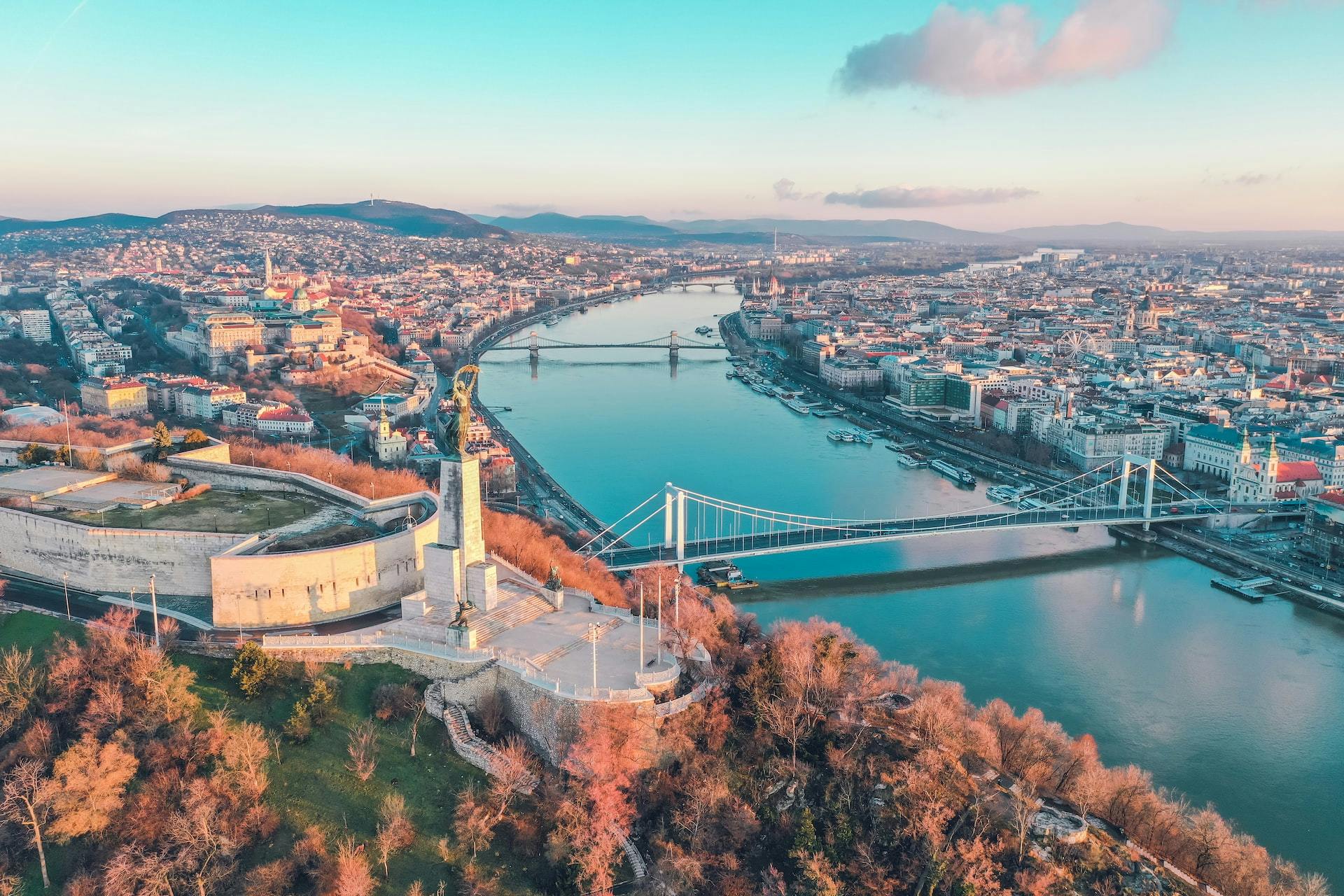 Budapest in April : Things to do
---
The House of the Nation, as the Hungarians call their Parliament, is an impressive building facing the Danube River. Built in 1904, it is constructed in Gothic-revival style and is the largest building in Hungary. A guided tour is the best way to explore this stunning architecture, with opulent interiors.
April Timings
Daily: 8:00 AM – 4:00 PM
Get pampered like royalty in the grand Gellért Spa located in the famous Gellért hotel. The spa includes thermal pools that are fed by natural springs and known to have therapeutic properties. However, it's the luxurious Art-Nouveau architecture that sets it apart from other baths in Budapest.
April Timings
Daily: 6:00 AM – 8:00 PM
Discover the Ancient Capital of Buda
Every step you take in Buda will bring you up and close with a part of history of ancient Hungary. The weather in April is perfect for a walking tour which will take you to landmarks like Margaret Bridge, Matthias Church, Fisherman's Bastion and a short climb upto Gellért Hill for a view of Budapest.
April Timings
Guided Tours start daily at 10:00 AM and 2:30 PM
Explore the Monument Brimming Pest
If Buda has all the ancient landmarks, Pest is where Hungary's more recent history took place! A walking tour through the flat Pest will take you through iconic landmarks like St. Stephen's Basilica, Hungarian Parliament, Liberty Square, and House of Hungarian Art Nouveau, all of them built in the past century.
April Timings
Guided Tours starts daily at 10:00 AM
The Danube has witnessed the growth of Budapest from two cities to the great cosmopolitan capital that is today! Go on a river cruise to explore the attractions along the waterfront, and the weather in April is pleasant enough to enjoy the open-air cruises. Enjoy folk dance, live shows and dinner on board on special theme cruises.
April Timings
Timings vary according to the chosen cruise
Take a Day Trip to Gödöllő
A National Monument of Hungary, the Gödöllő Palace was the resting residence of King of Hungary back in the 20th century. It's most beloved resident was Queen Elizabeth who was fondly called as Sisi. A day-trip to Gödöllő will give you insight into the Hungarian Empire, and the blooming gardens are a sight to behold in April!
April Timings
Tour starts at 10:00 AM on Thursdays and Saturdays
The region known as the Danube Bend is a part of the river surrounded by picturesque hills close to Budapest, nestled with the villages of Esztergom, Visegrád, and Szentendre. In April, a tour will take you by bus to the bend and return by boat from Szentendre to Budapest.
April Timings
Tour starts at 9:00 AM on Thursdays and Saturdays
Go on a Hungarian Food Tour
Sample a platter of Hungarian salamis, dig into a Langos, and relish the Kolbász & Hurka! A food tour of Budapest is the perfect way to enjoy Hungarian delicacies with a guide who will take you to authentic restaurants, local cafes, and pubs. April promises the best of fresh produce of Spring!
April Timings
Food Tour starts at 2 PM on Fridays
Visit the Szentendre Artists Village
It seems like time has stopped at Szentendre! The quaint Baroque town in the Danube Bend is also known as the Artist's village thanks to the number of artists who call it home. It has more than ten galleries and museums dedicated to various Hungarian arts. A day trip in April promises a beautiful springtime getaway!
April Timings
Organized day tours starts at 10:00 AM on Wednesdays, Fridays, and Sundays
The sunny spring weather of April is an ideal time to glide across Budapest on a Segway. Enjoy the relaxing ride as you can view the landmarks along the Danube without breaking a sweat. Cover attractions like Vörösmarty Square, Andrássy Avenue, and St. Stephen's Basilica on this tour.
April Timings
Tours start daily at 10:00 AM, 2:00 PM and 4:00 PM
Budapest in April : Events to Look Out For
---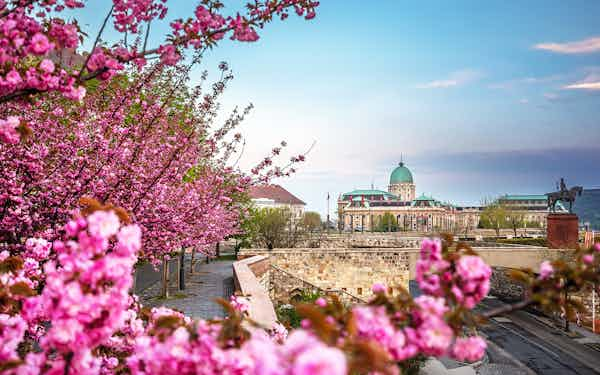 Cherry Blossom Festival
April 2023
Cherry Trees bloom not just in Japan but in the beautiful environs of the Füvészkert Botanical Gardens in Budapest. The Sakura festival is a celebration of Japanese culture and traditions, and you can participate in tea ceremonies, origami and calligraphy exhibitions, and kid's workshops where they can learn about Japan.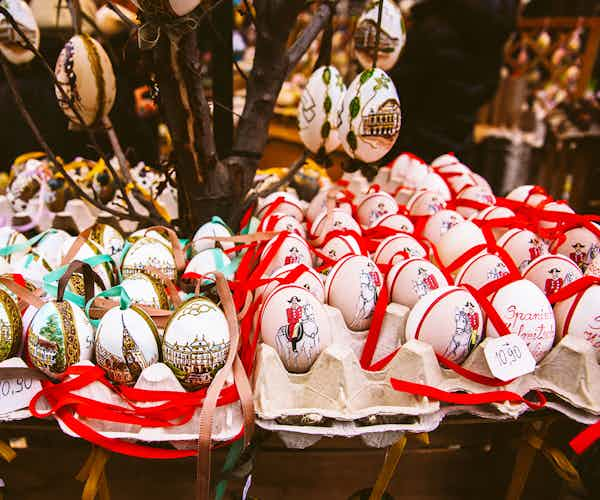 Easter in Budapest
9th April, 2023
Budapest has multiple events running to celebrate Easter, especially for kids with Easter Egg hunts. Spring is also the time to indulge in festivities and good food with fresh produce, and you can sample this at two fairs in the city at Vorosmarty Square and Vajdahunyad Castle Easter Fair.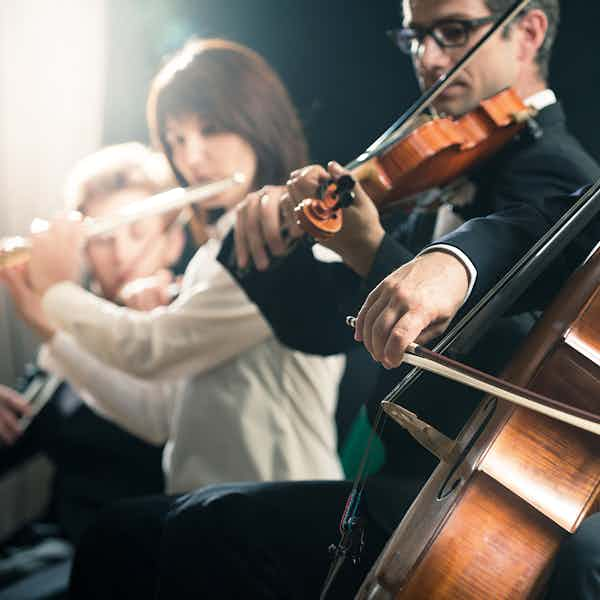 Budapest Spring Festival
20th April – 2nd May, 2023
In its 40th year, the Budapest Spring Festival brings together the best Hungarian artists and performances in events that cross over classical music, opera, jazz, world music, theatre, and visual arts. It's conducted in iconic venues across the city like Hungarian National Museum, Liszt Museum, and National Dance Theatre.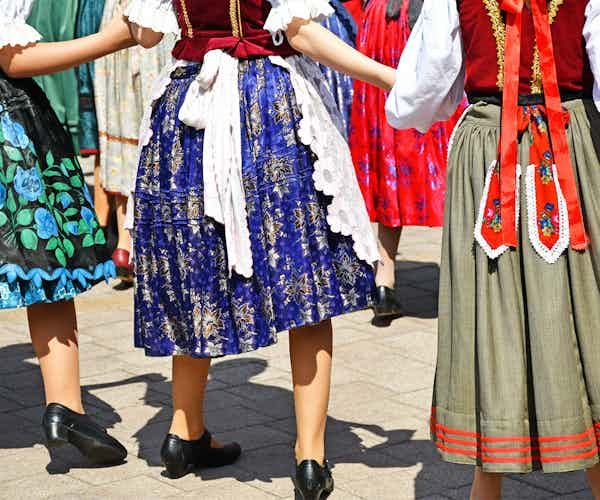 Hungarian Folk Dance Festival
14th to 16th April, 2023
The National Táncház Festival and Fair or known as the Hungarian Folk Dance Festival is a fantastic event that highlights Hungarian folk dance and music. The event is held at Papp László Budapest Sports Arena and includes competitions for professional and amateur dancers. It's a sight to behold!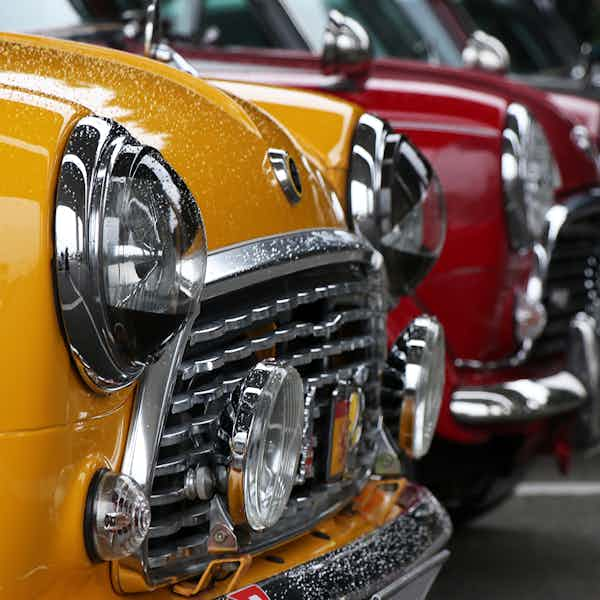 Oldtimer Show Budapest
14th April – 16th April, 2023
The Oldtimer show is a trip down nostalgia! Known locally as the oldtimer weekend, the festival encourages owners of Vintage cars and motorbikes to display their wheels at the Railway Museum of Budapest. Plus, there are tons of events to participate and meet other nostalgia seekers at the festival.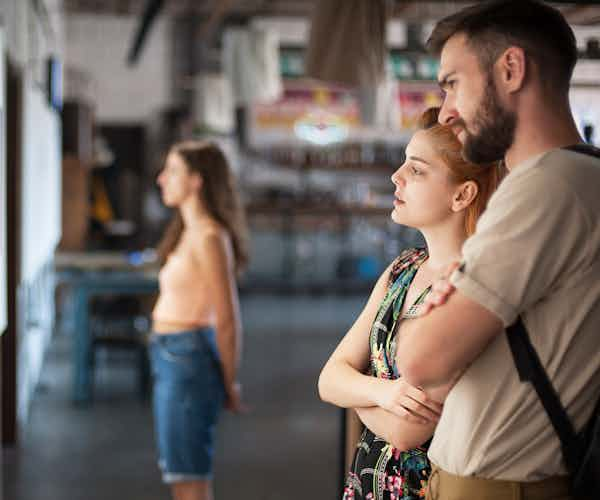 Budapest Art Week Festival
25th April, 2023
2023 is the 4th edition of the Budapest Art Week and will have over 72 venues including galleries and museums participate and showcase the central theme of the festival. The festival is in collaboration with Moscow's Garage Museum, and the programs will range from guided tours, workshops, and screenings to meeting the artists.
Budapest in April : 3-day Itinerary
---
If you're visiting Budapest in April and are looking for an itinerary that you can simply adapt, here's our handcrafted 3 day itinerary. You can also take a look at our 2 day and 1 day itineraries to visiting Budapest.
Budapest Essentials
---
Budapest Weather in April
The weather in April in Budapest is getting warmer as its springtime. Over the years, the temperatures have risen and you can expect temperatures up to 23°C towards the end of April. The days are clearer and you will have over 13 hours of sunshine, which increases to 14.5 hours to the end of April.
Where to Stay in Budapest in April
Budapest is one of the most visited cities in Europe and despite being a capital city it isn't very expensive. You will get better value for your Euro in Budapest. Here are some amazing places to stay for every budget and taste in Budapest –
Luxury Stays – Aria Hotel, Four Seasons Hotel Gresham Palace, The Ritz-Carlton Budapest, Kempinski Hotel Cornivus, Intercontinental Budapest, Iberostar Budapest
Mid-Range Options – Hotel Moments, Prestige Hotel, Hotel Palazzo Zichy, Hotel Parliament, Boutique Hotel Victoria, Baltazar Budapest, Hilton Budapest
Backpacker Budget – Maverick City Lodge, Pal's Hostel, The Hive Party Hostel, Avenue Hostel, Shantee House, Hostel One Basilica, Fifteen Boutique Rooms
What to Pack for Budapest in April
Budapest in April has pleasant warm days and cool nights, so while you can get out your summer dresses and tops on sunny days keep a jacket handy to cover up when it turns cloudy! The key is to bring layers, bring a light sweater for boat trips or to walk along the river, and rainproof jacket and shoes to keep dry in the occasional shower. Comfortable shoes are a must, and the city hosts many cultural events in April, so ensure you carry semi-formal evening clothes if you choose to attend.
Getting Around in Budapest in April
Public Transport is efficient and has a lot of options in Budapest. In April, the weather is good which makes exploring on foot comfortable and safe, especially within the old parts of the city. If you wish to venture further then invest in a Budapest City Pass which has free public transportation, or you can also buy single tickets. Just make sure you validate the ticket at boarding of any transport, buying a ticket isn't enough as you might be fined for not validating it! The Metro has four lines (M1, M2, M3, and M4), Tram routes 2,4,6 can take you to all the spots, while there are buses and taxis freely available.
Budapest in April - Must Try Delicacies
---
Budapest is in the throes of a food revolution and you can find delectable dishes in all sorts of places from street food stalls, food markets, fairs, and fine dining restaurants. Here are the top dishes to try in Budapest: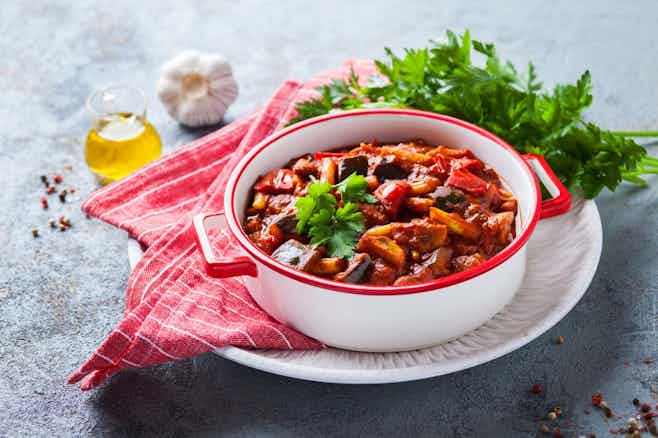 Lecsó
The Lecsó is spring on a plate! The dish is a traditional Hungarian ragout stew dish that has the freshest bell peppers, tomato, and onion and seasoned with garlic, pepper, and salt. Often it is accompanied by scrambled eggs, bacon, or rice for a creamier consistency.Where to order: 21 Hungarian Kitchen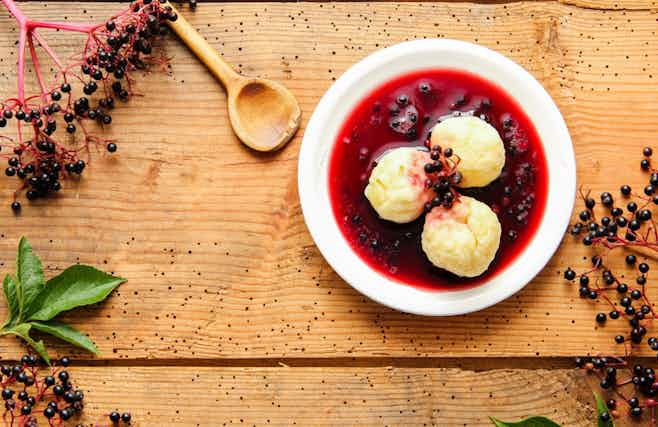 Gyümölcsleves
Roughly translated to fruit soup, this dish is made up of fruits like berries. It might seem like a perfect dessert, but Hungarians eat this dish as a main course. It is a popular dish in spring and summer when there is an abundance of fruits in the country. Where to eat: Kispiac Bisztro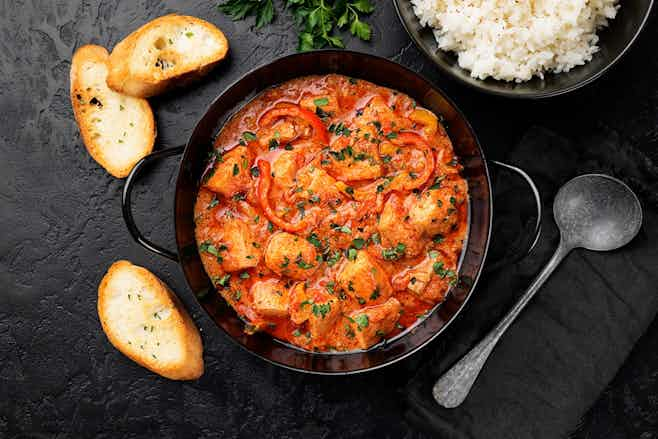 Csirke Paprikas
Chicken Paprikas is one of the most famous Hungarian dishes and the perfect dinner dish in the wintry evenings. Made with paprika, this Chicken gravy dish is served with thick egg noodles. The starchy-spicy combo is wholesome and tasty making it the perfect winter comfort food. Where to order: Paprika Jansci Restaurant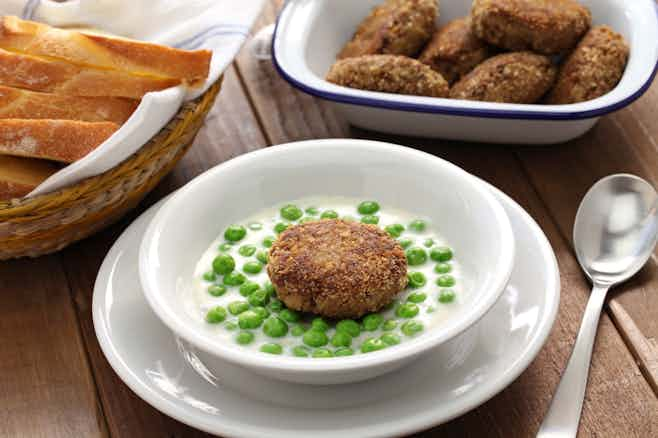 Főzelék
Hungarians love their stews and soups and one of their favourites is the Főzelék. This rich creamy delight is made with potato, peas, lentils, carrot, and sour cream, and accompanied with toasted bread. The filling soup will keep you going for hours for sightseeing in Budapest. Where to eat: Főzelékfaló Ételbár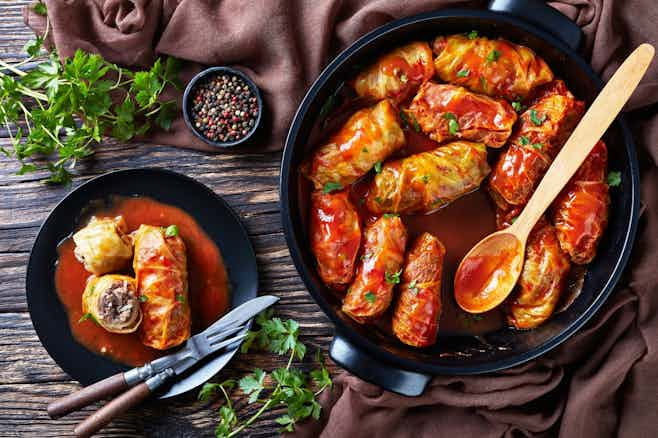 Töltött Káposzta
Cabbage is a staple in Hungarian cuisine and this dish is made of cooked cabbage filled with pork, rice, tomatoes and sauerkraut. It is usually made during Easter and April is a good time to find this dish in traditional Hungarian restaurants. Where to eat: Csarnok Vendéglő
Tips for Visiting Budapest in April
---
Budapest is heaven for party lovers, and you can enjoy the weekend parties at the thermal baths in the city. But if you want to take it up a notch, buy a ticket to the Hyperspace Electronic Music Festival on 13th April 2019. It's Hungary's biggest electronic dance music festival.
Film and theatre are celebrated heavily in Budapest in April. There are two significant events – the Titanic Film Festival (4th April – 13th April) that focuses on contemporary films, and the Budapest International Theatre Festival (10th April – 5th May) that is conducted at the Hungarian National Theatre and brings together theatre groups from 11 countries!
Passover is a Jewish festival that is celebrated from 19th April to 27th April 2019. You can participate in the events and special feasts at venues in the historic Jewish Quarter of Budapest especially at the old Dohany Street Synagogue (Largest in Europe).
Book lovers can rejoice, the 26th Budapest Book Fair will be conducted from 25th – 28th April 2019 at Millenáris in Budapest. You can meet over 100 authors from 25 countries and over participate in book signings, author meets, and workshops.
It is the perfect time to enjoy outdoors in Budapest in April, and if competition gets your adrenaline high, then you should participate in the 34th Telekom Vivicittà Spring Half Marathon (13th – 14th April). If you enjoy taking it a bit slow, join in the I Bike Budapest Fest (22nd April 2019) that is a cycle rally across the city.
FAQs
---
What are the top things to do in Budapest in April?
What is the temperature in Budapest in April?
What are the best day trips to take from Budapest in April?
Are any famous attractions closed in Budapest in April?
What is an ideal itinerary for visiting Budapest in April?
Is April a good time to visit Budapest ?
A Month-By-Month Guide To Visiting Budapest
---
More Budapest Guides
---
Looking for more things to do in Budapest? Here are a few guides that will help you plan your Budapest vacation better.