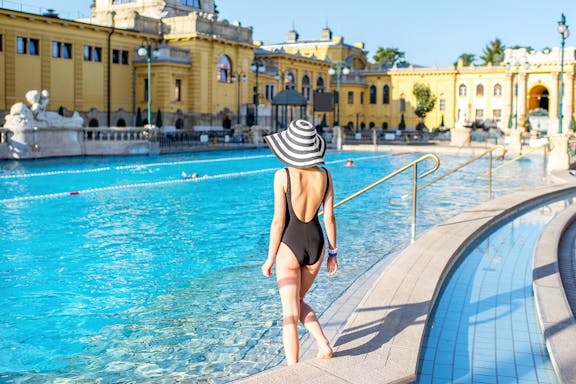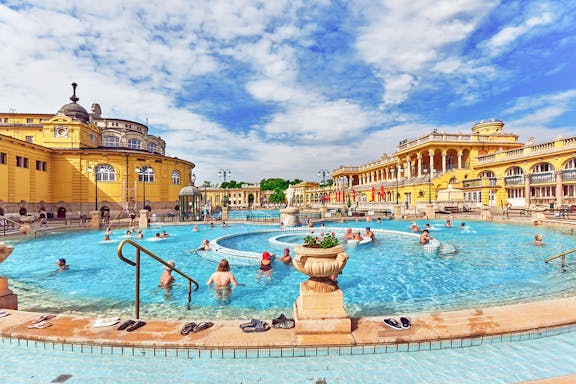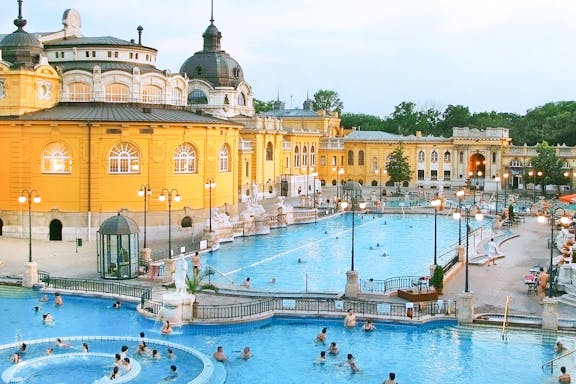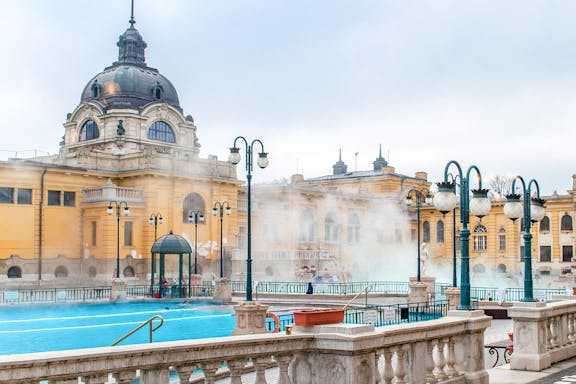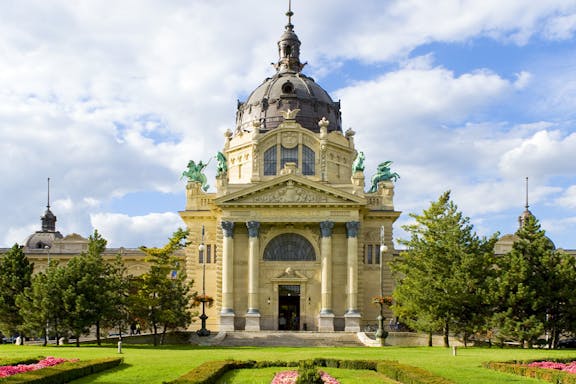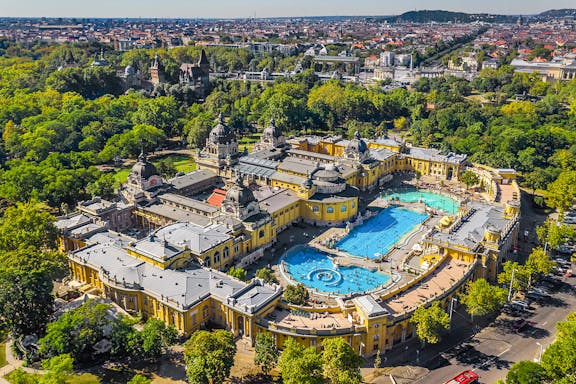 Millions love heading out with us
Looking for a fantastic way to unwind in Budapest? Look no further than the Széchenyi Baths, where relaxation meets architectural grandeur. As the largest medicinal bath complex in Europe, it boasts an impressive array of 18 thermal pools filled with mineral-rich, naturally warm waters. But that's just the beginning; the Széchenyi Baths offer a whole world of wellness, including spas, saunas, massages, and much more, ensuring your visit to this enchanting spot is nothing short of fulfilling.
Why Visit the Széchenyi Baths?

Historic Marvel: Széchenyi Baths aren't just any spa; it's a stunning neo-baroque masterpiece dating back to 1913. Soak in the history as you soak in the thermal waters. 
Thermal Healing: The Baths are fed by natural thermal springs renowned for their medicinal properties. Enjoy a soothing soak that's good for both body and soul.
Outdoor Pools: Experience the unique sensation of bathing outdoors, even in winter. The outdoor pools maintain a comfortable temperature all year, letting you soak beneath the open sky.
Night Magic: Széchenyi Baths are open until late into the evening, allowing you to experience the magic of soaking under the stars.
Massage Marvels: Treat yourself to a massage or spa treatment. Their experts know how to knead away stress, leaving you feeling rejuvenated.
All Your Széchenyi Baths Ticket Options

Full-Day Tickets

Combo Tickets

Széchenyi Bath Palm House Pass

These tickets give you access to the Széchenyi Baths for a full day. You can opt for a fast-track entry option to skip the lines and dive straight into relaxation. You also get the option to choose between a locker or a private cabin to store your belongings. 

Recommended Ticket:

With combo tickets, you can enjoy a full day of pampering at the Széchenyi baths and embark on a scenic Danube River sightseeing cruise after a day full of relaxation or explore the majestic Hungarian Parliament with a guided tour.

Recommended Tickets:

Indulge in the ultimate luxury experience at the Széchenyi Baths. Get full-day access to an exclusive relaxation area, the Palm House, with a private cabin. Enjoy complimentary amenities like a bathrobe, towel, disposable slippers, a swimming cap, a refreshing cocktail (alcoholic or non-alcoholic), a fruit bowl, and more.

Recommended Ticket:
Which Széchenyi Baths Ticket Should You Go For?
Plan Your Visit to the Széchenyi Baths

Opening Hours

Getting There

Tips & Guidelines

Szechenyi Baths Complex: 7 AM - 8 PM (Weekdays) | 8 AM - 8 PM (Weekends)
Private Spa: 9 AM and 6 PM every day  
Private Medical Spa: 9 AM to 5 PM on weekdays
Program Sauna: 7 AM - 10 AM on weekdays
Saunas and Hot Air Chambers: 10 AM - 7:30 PM
Daysplam: 9 AM - 6 PM (Weekdays) | 10 AM - 6 PM (Weekends) | Closed on 10 October 2023 (from 2.30 PM)
Drinking fountain: Tuesday - Saturday: 1 AM -5 PM | Sunday - Monday: Closed

Please Note:

Cash desks close at 7 PM.
You are supposed to leave all the pools and pool areas at least 20 minutes before closing time.
Some indoor pools might be out of use after 26 July 2023 because of maintenance work.
The light sauna is currently unavailable due to technical reasons.
Sauna nr. 2 is also unavailable because of renovation work. 

Health Precautions: If you have any underlying medical conditions, it's advisable to consult your doctor before indulging in thermal bathing to ensure it's safe for you.
Pregnancy Considerations: Pregnant guests should consult their doctor before visiting the Széchenyi Baths. The spa does not provide massages to pregnant women for safety reasons.
Refreshments: Food and drinks are available for purchase at the spa.
Coed Experience: Széchenyi Baths are mixed-gender, so you'll be sharing the pools with people of all genders. It's part of the unique experience.
Seasonal Closures: Keep in mind that the spa is closed for restoration work during the autumn season, so plan your visit accordingly.
Things To Do at Széchenyi Baths

Thermal Baths

Soak in the warm, mineral-rich waters of 15 outdoor and 3 indoor thermal pools and let your worries melt as you gaze at the stunning Budapest skyline.

Steam Baths

Venture into Széchenyi's steam rooms for a deeper sense of relaxation. Choose from a variety of options, including a wet steam room, a salt inhalation steam room, and a thermal cascade hot air chamber to top off your luxurious bath. 

Sauna

Indulge in the ancient art of sauna therapy at Széchenyi Baths. You can choose from options like the Finnish sauna, Vulkanic sauna, aroma sauna, and light sauna. Detoxify your body and enhance your overall well-being.

Massage Therapies

Experience ultimate relaxation by ending your day with a soothing massage. Choose from a variety of massage options and leave feeling utterly refreshed.

Outdoor Pools

Soak in outdoor thermal pools while surrounded by stunning architecture and breathtaking views. The outdoor area also boasts a pool with a jacuzzi and whirlpools, allowing you to indulge in hydrotherapy.

Széchenyi Beer Spa

Széchenyi Baths has not one but two beer spas! You'll find six acacia tubs in each spa, where you can relax in a delightful mix of beer ingredients and hot thermal water for 45 minutes. Treat yourself to some beer from the beer taps next to the tubs. 

Palm House

The Palm House inside Széchenyi Baths is surrounded by exotic plants and soothing palm trees, creating a tropical oasis in the heart of Budapest. The glass rooftop allows natural light to filter in, creating a tranquil atmosphere that's perfect for relaxation. 

Széchenyi Bath Parties

Picture psychedelic music, mesmerizing visual effects, and live DJs – all in the magical setting of Széchenyi's thermal pools. Széchenyi Bath Parties usually take place on most Saturdays from 9:30 PM to 2 AM, providing a unique nightlife experience you won't find elsewhere.
Swimming Pool

The Széchenyi Baths feature a splendid 50-meter swimming pool. The water temperature in the swimming pool hovers between a comfortable 78.8°F - 82.4°F, ensuring a refreshing swim regardless of the weather outside.

Outdoor Thermal Pool

Unwind in the outdoor thermal pool at Széchenyi Baths. The water temperature in this pool remains a toasty 100.4°F even during the chilly winter months. Imagine yourself immersed in warm, mineral-rich waters while the crisp winter air surrounds you - it's pure bliss!

Leisure Pool

Head to the lavish outdoor leisure pool if you're seeking pure relaxation in a picturesque setting. Here, you can bask in the Budapest sunshine and take in the gorgeous views while enjoying water temperatures ranging from 86°F to 93.2°F. 

Indoor Medical Pool

The indoor medical pool at Széchenyi Baths is known for its therapeutic properties. Spend around 20 minutes soaking in these healing waters with water temperatures ranging from 82.4°F to 104°F, ensuring you receive the full therapeutic benefits.

Plunge Pool

Relax your muscles by indulging in the plunge pools at Széchenyi Baths. These pools offer a range of water temperatures, from a refreshing 64.4°F to a toasty 104°F. A dip in the plunge pool will make you feel revitalized and ready to take on more exploration in Budapest.
Széchenyi Baths Tickets FAQs

Are Széchenyi Baths tickets available online now?

Yes! You can easily book your tickets on our website and have a guaranteed spot to soak in the soothing waters. We recommend booking your Széchenyi Baths tickets way in advance as the baths are incredibly popular, and slots can be booked out for months.

What is the price of Széchenyi Baths tickets?

Széchenyi Baths tickets typically start from

€25

. This is a full-day entrance ticket and includes sauna access.

Is skip-the-line entry included in my Széchenyi Baths tickets?

What is the best time to visit the Széchenyi Baths?

The Széchenyi Baths is a fantastic destination regardless of the season. The baths feature thermal pools with different temperatures, allowing you to enjoy warm waters during the winter months and refreshing cold plunge pools during the summers. It is a good idea to plan your visit on weekdays rather than weekends or public holidays to avoid large crowds.

What do I need to bring when visiting the Széchenyi Baths?

Please carry your swimwear, swim cap, flip-flops, and towel when visiting the Széchenyi Baths.

Are there discounts on Széchenyi Baths tickets?

Is there a dress code at Széchenyi Baths?

While there isn't a strict dress code, it's important to wear appropriate swim attire. Revealing or inappropriate clothing is not allowed.

Can I bring food and drinks to Széchenyi Baths?

Outside food and beverages are generally not allowed at Széchenyi Baths. However, there are on-site cafes and bars where you can purchase refreshments.

Are Széchenyi Baths open in the winter?

Yes, Széchenyi Baths are open year-round. They're especially magical during the winter months when you can soak in the warm thermal waters surrounded by the crisp, cool air.

Are private cabins at Széchenyi Baths worth it?

Private cabins offer added privacy and a secure space to change and store your belongings. If you value comfort and convenience, they are definitely worth considering.

Is there a time limit for how long I can stay in the Széchenyi Baths?

There is no strict time limit for your visit to Széchenyi Baths. You can stay as long as you like during the opening hours.

Can I take photos inside Széchenyi Baths?

While taking photos in the outdoor area is generally allowed, it's important to respect the privacy and comfort of other visitors.

Where is Széchenyi Baths located?

What are Széchenyi Bath's opening hours?

Széchenyi Baths typically open from 7 AM - 8 PM on weekdays and 8 AM - 8 PM on weekends. The timings for spas, saunas, and other services might vary.

How do I get to Széchenyi Baths?