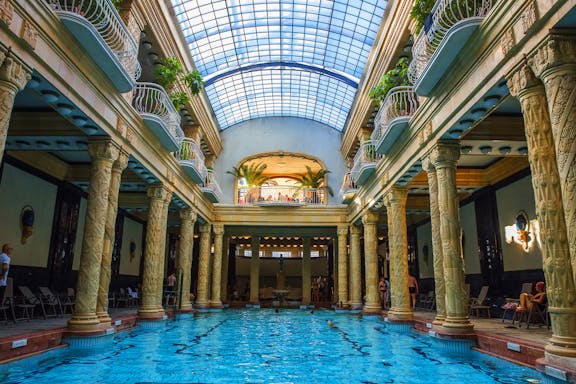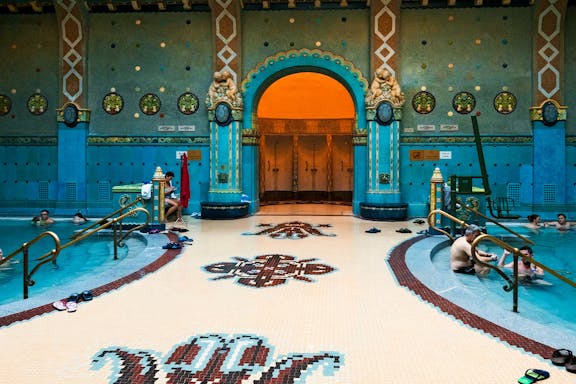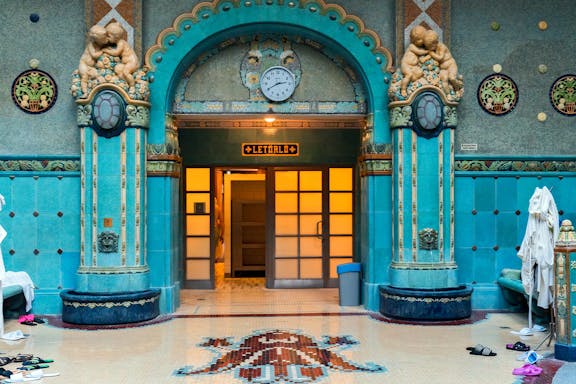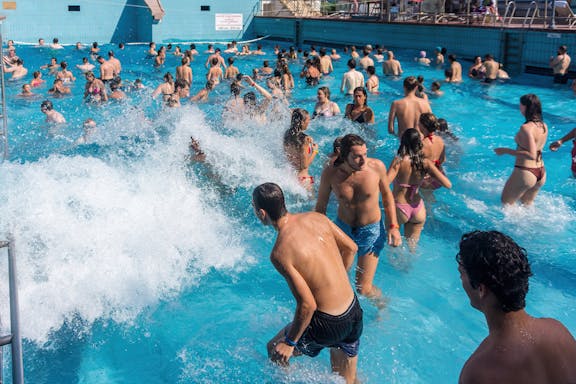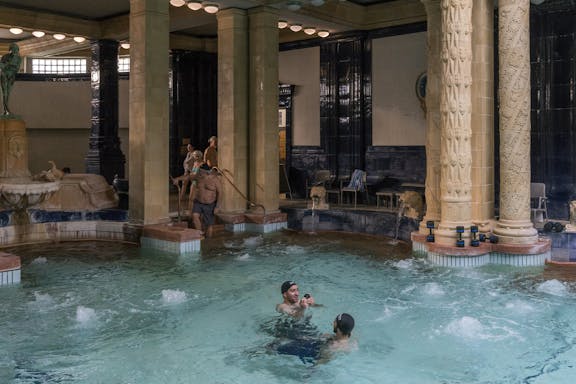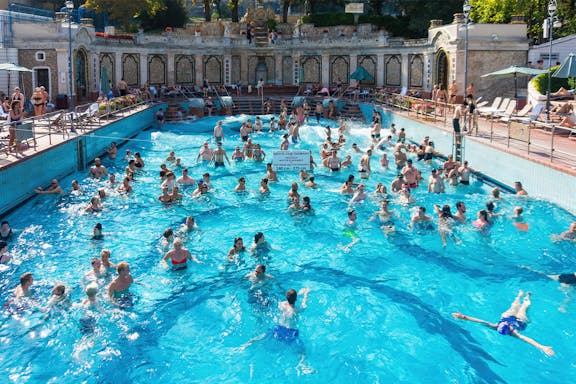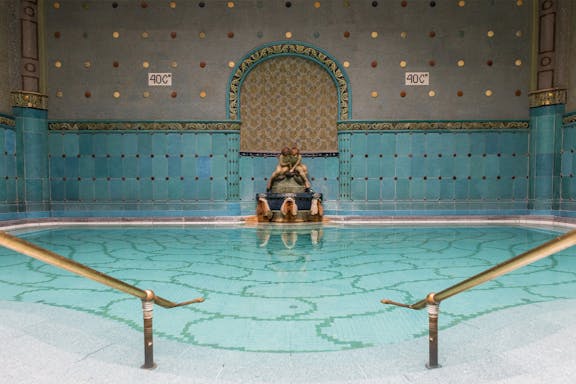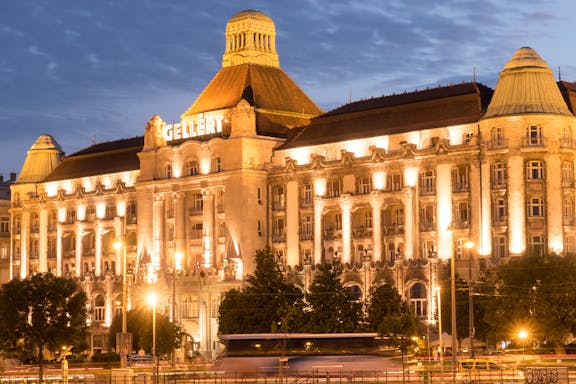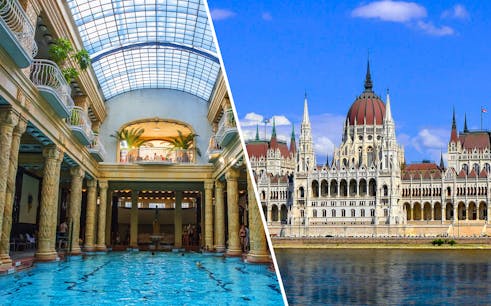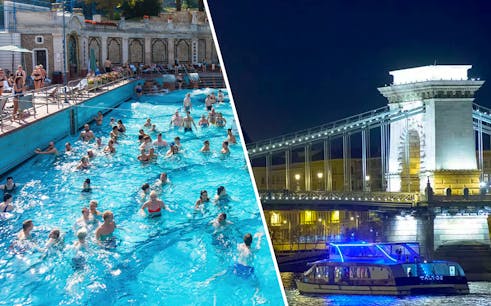 Gellert Thermal Baths Guide

Nestled in the heart of Budapest, the Gellert Baths stand as a testament to the city's rich thermal heritage. With their stunning Art Nouveau architecture and healing thermal waters, these baths have been attracting tourists and locals alike for over a century. Let's dive into why the Gellert Baths should be on your must-visit list and how to make the most of your trip.
Why Visit the Gellert Baths?

Architectural Marvel: The Gellert Baths boast a striking Art Nouveau design with intricate mosaics, colorful stained glass windows, and grand halls, creating a luxurious ambiance.
Healing Waters: The mineral-rich springs are believed to have therapeutic properties, making them the perfect place to relax and rejuvenate.
Variety of Pools: Whether you prefer a hot soak or a refreshing swim, the Gellert Baths offer a range of indoor and outdoor pools at different temperatures.
Wellness and Spa Services: Beyond the pools, the Gellert Baths offer a wide array of wellness and spa services. From massages to saunas, you can pamper yourself to your heart's content.
Historical Significance: These baths have a rich history dating back to the 13th century. You'll be soaking in centuries of tradition and culture.
All Your Gellert Baths Tickets Options

Full-Day Ticket

Combo Tickets

Ideal for: Travelers seeking a complete Gellert Baths experience.
What's included? 
This comprehensive ticket grants you full-day access to all services of the Gellert Thermal Baths. It also includes a convenient locker or a private cabin to store your belongings.
Why choose this ticket?
With this ticket, you can enjoy a hassle-free day of pampering and relaxation in the historic Gellert Baths. Leave your worries behind as you soak in the healing waters and explore the stunning Art Nouveau architecture.
Recommended Ticket:

Ideal for: Culture and relaxation enthusiasts.
What's included?
The combo tickets grant you skip-the-line access to the Gellert Baths and include a visit to the Hungarian Parliament or a dinner cruise.

Relax in the calming waters of Gellert Baths, then go on a guided tour of the iconic Hungarian Parliament with skip-the-line entry.
Or, after spending a day of relaxation at the baths, you can embark on a delightful 3-course candlelight dinner cruise on the Danube. Enjoy a delectable menu, a live piano show, a private table, optional window seating, and unlimited drinks.

Why choose these tickets?
The combo tickets offer fancy discounts, allowing you to experience Budapest and save money at the same time. With these combo tickets, you can experience the best of Budapest's relaxation and culture in one seamless journey.
Recommended Tickets:
Which Gellert Baths Ticket Should You Go For?
Plan Your Visit to the Gellert Baths

Opening Hours

Getting There

Tips & Guidelines

General Timings: 9 AM - 7 PM daily
Saunas: 10 AM - 6 PM
Steam Chambers: 10 AM - 6 PM
Please Note: 

Cash desks remain open till 6 PM.
The pool area closes at 6:40 PM.
The plunge tub and outdoor Finnish sauna are out of use after 24 April 2023.

Best Time to Visit: Mornings are usually less crowded, providing a peaceful bath experience, but evenings can offer a more livelier atmosphere.

Getting There:

By Bus: You can take bus routes 7, 7A, 107, 109, 133, or 233. The nearest bus stop is Szent Gellért tér, a short walk away from Gellert Baths.
By Tram: Tram options include 19, 41, 47, 49, or 56. The closest tram stop is also Szent Gellért tér.
By Car: If you're driving, the distance from Budapest International Airport to Gellért Baths is approximately 20.5 km. The nearest parking spot is at Allee, about 1 km away.

Arrive Early: Beat the crowds by arriving early in the morning when the Gellert Baths open. This way, you can enjoy the thermal pools, saunas, and other facilities with fewer people around.
Weekday Visits: If your schedule allows, plan your visit on a weekday. The weekends tend to be busier, so you'll have a more relaxed experience during the week.
Bring Your Essentials: Don't forget to pack your swimsuit, flip-flops, a towel, and a bathrobe. 
Book in Advance: Book your Gellert Baths Tickets online to secure your spot, as the tickets can get sold out quickly.
Hydrate: The thermal water can be quite warm, so drink plenty of water during your visit to avoid dehydration.
Health Precautions: If you have any medical conditions or are pregnant, it's a good idea to seek advice from your doctor before your trip to ensure a safe and enjoyable experience.
Things To Do at Gellert Baths

Wave Pool

Dive into the refreshing wave pool, where you can ride gentle waves and bask in the Mediterranean-style atmosphere. It's like a day at the beach, right in the heart of Budapest!

Plunge Pool

Take a plunge in the cold pool for an invigorating experience. It's a traditional European practice that stimulates circulation and leaves you feeling revitalized.

Thermal Pools

Indulge in the healing properties of thermal waters that Budapest is renowned for. The Gellert Baths boast multiple thermal pools of varying temperatures, each offering unique therapeutic benefits.

Sunbathing Terrace

Soak up the Hungarian sun on the sunbathing terrace, which provides stunning panoramic views of the city. It's the perfect spot to soak, unwind, and work on your tan.

Spa

Treat yourself to a spa session at Gellert Baths. From facials to body wraps, the spa offers a range of rejuvenating treatments that will leave you feeling pampered and refreshed.

Saunas

Experience the detoxifying power of saunas in Gellert Baths. The complex features a selection of saunas, including Finnish saunas, hot chambers, and steam rooms, where you can sweat out your stress.

Massage Treatments

Indulge in a world-class massage by skilled therapists. Whether you opt for a Swedish or Thai massage, you'll emerge feeling like a new person.

Mud Treatments

Try the mud treatments for a unique wellness experience. These therapies use mineral-rich mud to nourish your skin and promote overall well-being.
Gellert Baths Tickets FAQs

Are Gellert Baths tickets available online?

Yes! You can easily purchase your

Gellert Baths tickets

online on our website. Booking online allows you to choose your preferred date and time slot, ensuring a hassle-free experience. It's not only convenient but also guarantees your entry, especially during peak tourist seasons.

Is skip-the-line entry included in my Gellert Baths tickets? 

Absolutely! When you purchase your

Gellert Baths tickets

, you gain the valuable privilege of skipping the long lines. This means less time waiting and more time relaxing in the soothing thermal waters. So, don't forget to secure your tickets in advance from our website to enjoy this fantastic perk.

What is the cost of Gellert Baths tickets?

Gellert Baths tickets typically start from

€25

. It typically includes full-day entry into the baths complex, access to all the services, and locker or cabin usage.

Are there discounts on Gellert Baths tickets? 

What is the best time to visit the Gellert Baths?

The best time to visit the Gellert Baths largely depends on your preference. Mornings tend to be less crowded, offering a serene atmosphere for relaxation. On the other hand, evenings can be magical as you soak in the thermal pools under the starry Budapest sky. Weekdays are generally quieter than weekends, so plan accordingly for a more peaceful visit.

What do I need to bring when visiting the Gellert Baths?

Carry your swimsuit, towel, flip-flops, and swim cap. Swim caps are necessary for entering the swimming pools.

Is there a dress code at Gellert Baths?

Yes! It's necessary to wear decent swimwear in the thermal pools and spa. In the saunas and steam rooms, you'll need a towel or robe for covering up when moving between these areas. Additionally, a swim cap is necessary for entering the swimming pools. 

Can I bring food and drinks to Gellert Baths?

Outside food and drinks are not allowed inside the Gellert Baths complex. However, there's a café on-site where you can enjoy refreshments and light snacks. It's the perfect place to recharge between dips in the pools.

Are Gellert Baths open in the winter?

Yes, the Gellert Baths are open year-round, making them an excellent choice for winter relaxation. Imagine soaking in the warm thermal waters with chilly air around you—a truly enchanting experience.

Where is Gellert Baths located?

How do I get to Gellert Baths?

You can reach Gellert Baths by taking bus routes 7, 7A, 107, 109, 133, or 233 to the nearest bus stop,

Szent Gellért tér

, or by hopping on tram 19, 41, 47, 49, or 56. The closest tram stop is also Szent Gellért tér. You can also easily access the baths on foot if you're near the city center.

What are the opening hours of Gellert Baths?

The baths typically open from 9 AM to 7 PM every day. The timings for spas, saunas, and other services might vary.