Standing tall and proud in the heart of Dubai is the Burj Khalifa, one of the most recognizable landmarks in the world. With an astounding 162 floors reaching a height of 2,717 feet, this architectural marvel holds the record for being the tallest tower in the world. Visitors have the privilege of going all the way to the top and marvel at the futuristic city of Dubai.
You should take a guided tour of the Burj Khalifa so you can find out everything there is to know about this brimming landmark: its history, its construction, and the reason it is such an anomaly. Step into a state-of-the-art building along with an expert guide for a memorable experience.
Wondering whether or not to opt for a Burj Khalifa guided tour? Fret not, for we have put together a quick guide with all the information you need to know about these tours: advantages, what one can expect, travel tips, frequently asked questions, and more! So, what are you waiting for? Let's get scrolling!
Advantages of A Burj Khalifa Guided Tour
---
Expert navigation through the building
Upon arrival, you'll be greeted by your expert tour guide who will lead the way from there: as you zoom to the top floors of this towering building, you'll learn everything there is to know about this record-breaking building, including facts, figures, and fun stories: all while promising an altogether more wholesome experience.
Waltz around ticketing queues
One of the world's most popular attractions, the Burj Khalifa is always crowded- as are the ticketing queues. A guided tour ensures you have pre-reserved tickets (most of which are skip-the-line as well), which means you can walk to the front of the line with no hassles.
Avoid planning your trip from scratch
One of the advantages of booking a Burj Khalifa guided tour is that you don't have to get involved in the planning process: simply show up on time and enjoy the experience. All the planning is taken care of for you by the tour guide, and you're promised a hassle-free Burj Khalifa visit!
A safe & comfortable experience
Whether or not you're at one of Dubai's most sought-after attractions, a safe experience is always guaranteed with a tour guide leading the way: you'll know where to go, what to avoid, all while enjoying the best of the attraction to the fullest. Comfort and safety is always a guided tour's key selling points.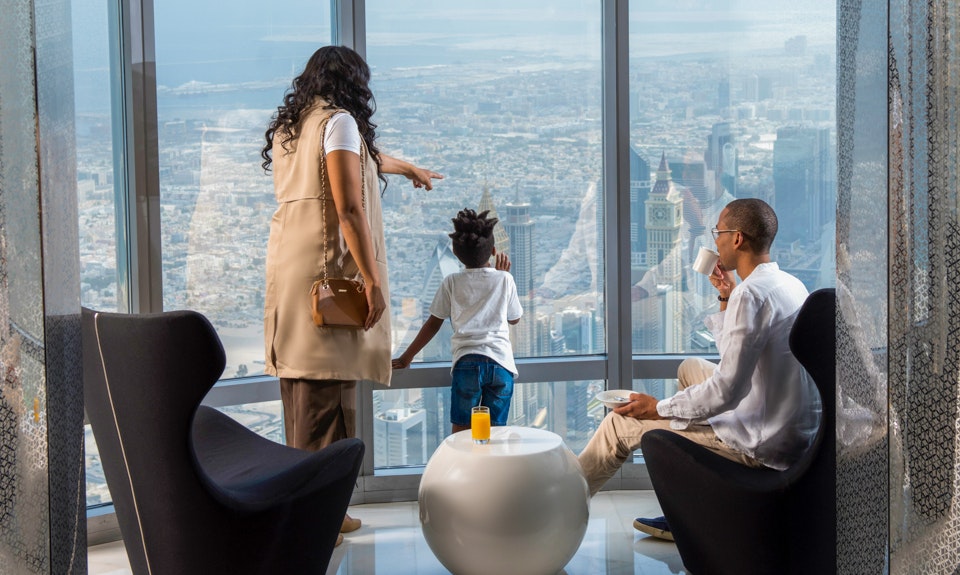 Get comfortable with fellow tourists
What better way to make new friends in a foreign land than by being forced to mingle with your tour group-mates? Jokes aside, it is a common notion that people bond with fellow group mates quite seamlessly- so this is a great way to make some new friends, share your experiences, and collect valuable tips on exploring Dubai further.
The Best of Burj Khalifa Guided Tours
---
There are a number of Burj Khalifa tours available for online booking. Here is a list of our recommended Burj Khalifa tours and tickets we think you'll enjoy.
Burj Khalifa
Your Ultimate Guide to Visiting the Burj Khalifa
Plan a well informed visit to the Burj Khalifa! Entrances, tips, practical info, rules and more!
Choosing the Best Burj Khalifa Tour
---
1

Introductory Guided Tour
Discover the feeling of being on top of the world from the world's highest observation deck atop Burj Khalifa. A guest ambassador will tell you all about what makes this building so magnificent while you zoom up to the observation deck on the world's fastest elevator. The tour includes entry to levels 124, 125, & 148, as well as servings of dates and Arabic coffee at At The Top Sky lounge, for an authentic experience.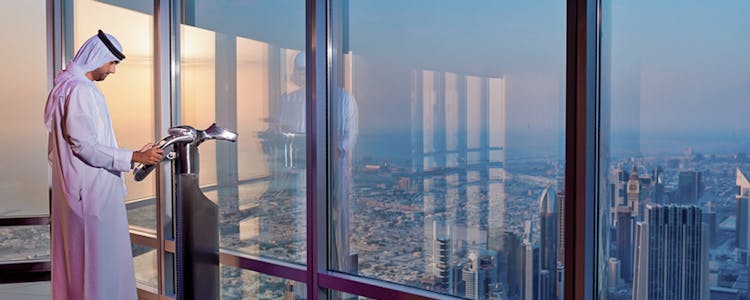 2

Fast Track Access to Observatory Deck
One of Dubai's most popular tourist attractions, the Burj Khalifa is always crawling with guests. There is nothing more irksome than waiting around in ridiculously-long ticketing queues. If you're like us, book skip-the-line Burj Khalifa tickets and enjoy the attraction irk-free!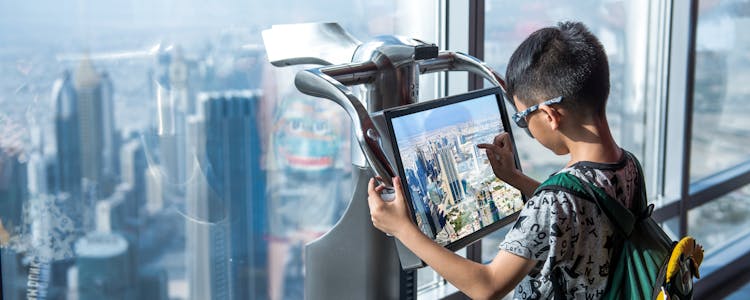 Fancy a tour of Dubai along with access to its most-frequented landmark? You've come to the right place. A combo ticket is always the way to go: you save money and time with a single ticket, and enjoy all the Quintessentially-Dubai tings you'd want to experience: a Dubai city tour, a dhow cruise, and a visit to the Burj Khalifa!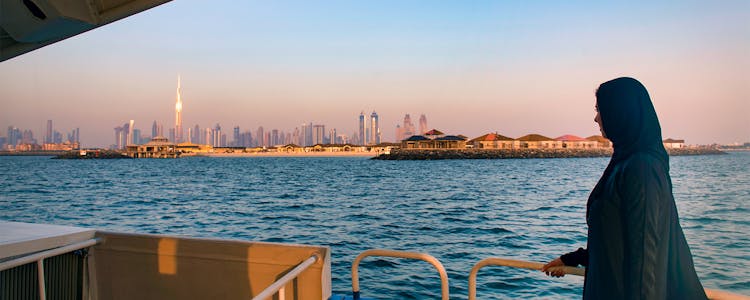 Combine your visit to the ever-glorious Burj with a few other exciting, must-visit Dubai landmarks- a combo tour ensures you have significant savings (upto 60%)! Peruse our list of combo tours along with the Burj Khalifa that we recommend for all.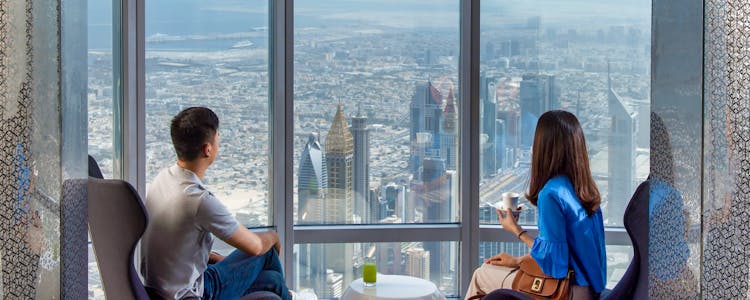 Burj Khalifa Tours Deconstructed - A Typical Guided Tour Experience
---
A Warm Welcome
Skip the long lines and head right in to start your guided tour of the world's tallest building. Your tour begins with a warm cup of Arabic coffee at the customer lounge at At The Top Sky, after which you will be taken to the observation deck. To get to the deck you'll get to step into the world's fastest lift traveling further than any other lift in the world.
Zoom Up On The World's Fastest Elevator
Dubai loves breaking records so you won't just be heading to any observatory deck but the highest one in the world. This means that the view from up there is going to be unforgettable and make you feel like you're literally on top of the world.
SKY Lounge & Observatory Deck
Once you get to the SKY lounge, you get to take in spectacular views of Dubai while enjoying some traditional dates and drinks. You can even step out onto the terrace area for some picturesque views of the city. After this, you will be taken to levels 124 & 125, where you can stay as long as you'd like, soaking in the views and taking panoramic pictures of the landscape.
Late Hours
If you're visiting after 6 PM, you can catch the live musical fountain show from a bird's eye view - a truly magical sight. This is the best vantage point you can get in the whole city. The light and fountain show takes place every half hour between 6 PM & 11 PM.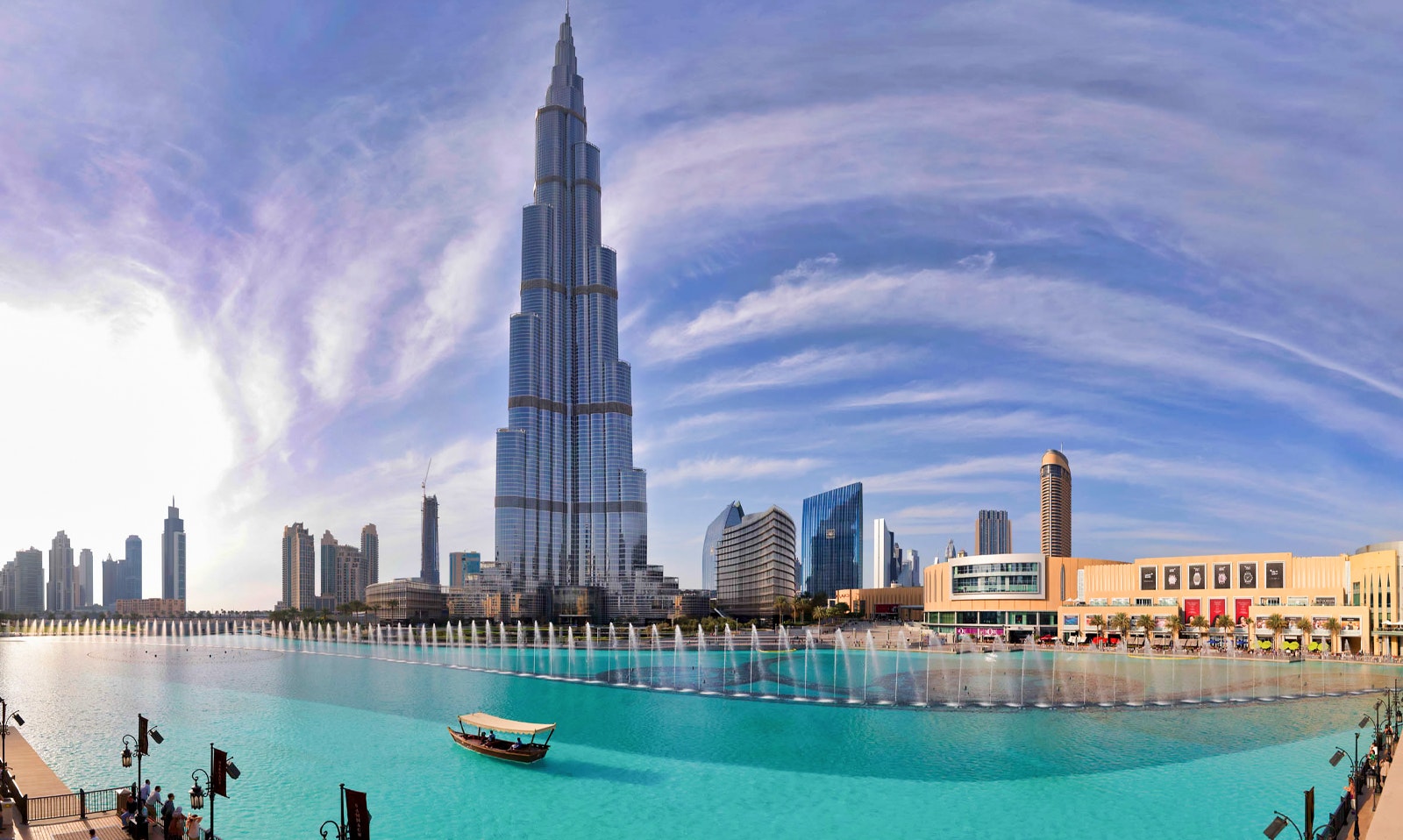 Are Burj Khalifa Tours Worth The Hype?
---
Burj Khalifa is one of the most iconic structures of our time. The building holds the record for being the world's tallest building and the world's tallest free-standing structure. A guided tour of the most impressive building in the world is sure to be worth it.
Gain insight into what makes this building so impressive as you marvel at its outstanding architecture and design. Learn about its history, how it was built, and other interesting and fun facts about it. Having an expert guide walk you through this magnificent structure will leave you with an unforgettable experience.
Burj Khalifa Practical Information
---
Opening Hours
Sunday-Wednesday: 10 AM - 10 PM
Thursday-Saturday: 10 AM - 12 Midnight
Getting to the Burj Khalifa
By Bus: Buses 27, C26, and X28 will take you to Dubai Mall.
By Car: If you're driving to Burj Khalifa, you can park at the Dubai Mall parking lot. Take the Financial Center Road and keep driving until you find Dubai Mall on the right. The mall also has valet parking.
By Metro: Take the red line metro (M1) and get off at Dubai Mall/Burj Khalifa. There is a walkway from the station to Dubai Mall, which is attached to Burj Khalifa.
By Taxi: Taxis are easily available from any part of the city, but it isn't the most economical option.
Burj Khalifa
A Dubai Local's Guide To Visiting Burj Khalifa At The Top
A local's insights on what it is to go to "Burj Khalifa At the Top"'" and "Burj Khalifa At the Top Sky".
Insider Tips
---
Here are some handy tips to keep in mind while booking your Burj Khalifa tour:
Burj Khalifa is a hotspot for tourists all year round, so book your tickets online and in advance so you can secure a spot on your visit. Get there at least 30 minutes before your slot, just in case there happens to be a crowd.
Because the Burj Khalifa is a popular tourist attraction, you'll want to plan your visit either when it opens or just before closing time to avoid large crowds.
Wear comfortable shoes since you'll be doing a lot of walking in Dubai Mall and on your guided tour of Burj Khalifa.
Make a day out of your visit and indulge in other nearby attractions like Dubai Aquarium, Dubai Fountain, and Souq Al Bahar. You can also dine at any of the restaurants in the area, with stunning views of the fountain.
Finally, if you love shopping and have a big budget, Dubai Mall is the place to find just about anything that you'd want to buy.
FAQs
---
How long is the Burj Khalifa guided tour?
What are the timings for the Burj Khalifa guided tour?
Can I book a private tour just for myself?
Are the Burj Khalifa night tours better than the day tours?
What is the best tour for budget travellers?
Ready to Explore The Rest of Dubai?
---
Check out our compilation of the top things to do in Dubai and plan your visit like pro!
First time visiting Dubai? Explore Dubai like a local with our handy Dubai Travel Guide. Discover handy information, travel tips, itineraries, and more!