Feasting at a Burj Khalifa Restaurants is one of the top things to do at Downtown Dubai. Gazing at the view of the Dubai Fountains and the Burj Park while dining at the best restaurants in the world is an experience everyone dreams of. Take a spoon of your meal and watch the sunset on Downtown Dubai's horizon. The restaurants situated in the Burj Khalifa are like none other, offering their guests the best service, aura and best in class delicacies. Their chefs specialize in a variety of cuisines, each restaurant carrying its own piquancy.
At.mosphere
The world's highest restaurant from ground level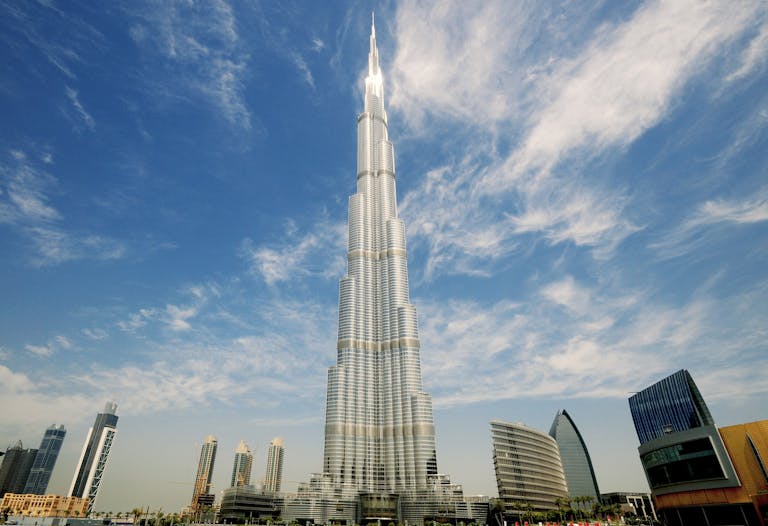 Image Courtesy - Armani Hotel Dubai
Stationed on the 122nd floor of the highest building ever built, At.Mosphere is an incomparable fine-dining experience. The chefs offer you a wide variety of International cuisines to choose from and the dessert and drinks menus are extensive. The elevation of the restaurant, both factually and the grandeur of it makes it distinctive. The service here is efficient and friendly. The ambiance of At.Mosphere is a tough one to replicate.
Cuisines: International
Price for two: AED 750
Open Hours: 07:00 AM to 12:00 AM
Beef Bacon, Wine, Steak, Salmon, Tea, Oysters, Pumpkin soup with truffle.
Review of At.mosphere
Excellent experience at the top of the world. Felt like we were flying up in the air while lounging and celebrating my wife's bday. From the service, taste, music, ambience everything about this place was perfect. We booked the window seat which was worth it cause we enjoyed the view every minute of it. Got the most lovely people as our hosts, just made us feel so special for our special celebration.
Harsh Vardhan, Google Reviews, September 2021
Recommended Burj Khalifa tickets
Armani Hotel Dubai
A creation of Giorgio Armani and developmental expertise of Emaar Hotels and Resorts, The Armani Hotels located in the Burj Khalifa, is an extravagant affair at Downtown Dubai. Their ambiance and culinary expertise tell them apart from other fine-dining restaurants.
Armani Amal
An Indian banquet at the Burj Khalifa
For taste buds that crave South Asian zest, Armani Amal is situated on the 3rd floor of the mighty Burj. Bringing together the cultural veritable salver of the region and alluring view of downtown Dubai, it is a perfect venue for a dinner after touring the city. The Chicken Quesadilla and Butter Chicken are a must try. The amiable service and the ambiance of Armani Amal are sure to captivate you.
Cuisines: Indian/North Indian
Price for two: AED 900
Timings: 7:00 PM – 11:30 PM
Dal Makhani, Gajar Halwa, Roti, Kulcha, Murgh Makhani, Chicken Quesadilla, Butter Chicken.
Review of Armani Amal
Great view to the biggest dancing fountain in the world, lovely nice ambiance, very friendly service staff especially Mr. Theri De Silva... the food is amazing... Best indian Cousine in town. The Manager see to it that we are enjoying our dinner and explain food details we trying to know. Very kind they make people feel valued and very welcome.
Armani Ristorante
Quintessential Italian Restaurant
This exquisite Italian restaurant blends traditional and contemporary dishes and serves you with the best recipes from their competent chefs. The service is solicitous and the waiters are always on their toes. The Chitarra spaghetti, lobster and creamy 'Bagnavcauda' sauce are the chef's special recipes. Sip some from the reserve collection of wine on their deck and gaze at the most amazing views of the Dubai fountains.
Cuisines: Italian
Price for two: AED 900
Timings: 7:00 PM – 11:30 PM
Pasta, Spaghetti, Tiramisu, Salmon, Cocktails, Steak.
Review of Armani Ristorante
Taking part for Dubai Restaurant Week 2021, my friend and I decided to experience Armani Ristorante. From the onset, we were greeted in an elegant lobby and likewise treated to an absolute pleasant atmosphere of a lunch. Thank you for the hospitable services of Jenzy-Lyn and mr Soham for making my friend's birthday celebration a memorable one.
Albert, tripadvisor, April 2021
Armani Mediterraneo
Exceptional F&B coupled with a splendid view
Stationed on the lobby level, Armani Mediterraneo's chefs master the Mediterranean cuisine radiantly. Their exclusive buffet and fully stacked bar are their forte. Overlooking the Dubai Fountain and Souk Al-Bahar, the ambiance of this restaurant is close to perfection. The striking attribute of this luxurious hotel is its minimalistic design. Their seafood menu is remarkable and the most loved dishes are crab legs and smoked salmon. The live cooking station gives the guests a unique opportunity to peer over the shoulders of a top chef.
Cuisines: Mediterranean
Price for two: AED 550
Open Hours: 6:00 AM – 11:00 AM, 12:30 PM – 3:00 PM, 6:30 PM – 10:00 PM
Salmon, Salad, Sea Food, Pasta
Review of Armani Mediterraneo
The breakfast @armani mediterraneo was always delicious. There is a buffet in combination with an a la carte menu. The whole staff is beyond the expectations!
Oliver Andereggen, September 2021
Sign up for our monthly newsletter
Your dose of travel fix - from hacks and deals to travel tips and everything in between, delivered monthly to your inbox
Please enter a valid email
Unsubscribe anytime
Armani Lounge
Uncompromised guest service and classy dining
Another restaurant stationed at the lobby level ideal for any time of the day is the Armani Lounge, an outstanding fine dining eatery. They offer an extensive selection of world-class beverages. With a very welcoming and professional staff, this place is a good fit for both professional and casual meetings. The best dishes on the menu are the citrus crush, wild berry, red velvet frappe, potato and cheese filo cigars, and Armani cheesecake.
Cuisines: European, Italian
Price for two: AED 600
Open Hours: 8 AM – 2 AM
Citrus Crush, Wild Berry, Red Velvet Frappe, Potato and Cheese Filo Cigars, Armani Cheesecake, Coffee, Cappuccino, Tea.
Review of Armani Lounge
We had a great time in the Armani lounge . The coffee was lovely and so was the presentation. However , our time was made even better by Daud who served us. He was friendly , polite and overall his service was of excellency. Thanks Daud for Greta coffee and a great chat.
Armani Hashi
Authentic Japanese recipies by the Bay
On the concourse of the Burj Khalifa is the Armani Hashi, serving traditional Japanese and seafood with an illustrious view of the Dubai Fountains. Choose the outdoor seating if you're visiting on an evening after exploring the city. The live music and the chef's classic Sushi, Maki Roll, and Sashimi make you crave for some more time at the place. The service is exceptional and they accommodate food to suit your sensitivities.
Cuisines: Japanese, Seafood
Price for two: AED 700
Open Hours: 6:30 PM – 11:30 PM
Sushi, Maki Roll, Sashimi, Salmon, Coconut Cake, Salads, Oysters
Review of Armani Hashi
Amazing Staff. Very welcoming and friendly and kind and efficient. Especially GERLIE who was our waitress. Thumbs up to her. You have to order Chilean seabass as a main course and the raw seabass as a starter. Both were amazing
Located on the ground floor of the tallest building in the world, Armani Deli is an Italian inspired gourmet restaurant serving authentic Italian and European flavors with a daily-changing menu. The 24-carat gold coffee is the paramount item on their menu and is fancied by all tourists The brunch at Armani Deli is a sophisticated affair.
Cuisines: Italian, Cafe, Desserts
Price for two:AED 650
Open Hours: 12:00 PM – 12:00 AM
Pasta, Tiramisu, Salmon, Chocolate Cheesecake, Ravioli, 24-Carat Gold Coffee.
Review of Armani Deli
The beet salad with citrus was tasty. Fish soup was good, not thick. For mains we had salmon and sea bass; both cooked to perfection. The desserts were amazing. The fig tart was unique and perfectly done. The coconut and mango custard was heavenly... The setting is also regal. The water and light show plays every 30 minutes. You can see this from indoors and outdoors. The service was excellent. The setting is very elegant. 5 stars all around.
JSJNY, Tripadvisor, May 2021
Which are the best Burj Khalifa restaurants?
Do I need to buy a ticket to visit a Burj Khalifa restaurant?
Is it expensive to eat at a Burj Khalifa restaurant?
Is there a dress code to dine at a Burj Khalifa restaurant?
Do I need to reserve a table at a Burj Khalifa restaurant?
Do Burj Khalifa guided tours include a meal ticket to one of the Burj restaurants?
Recommended Burj Khalifa Combo Experiences
Ready to head to Dubai?
Check out other things to do in Dubai and read our comprehensive Dubai Travel Guide packed with itineraries, tours, culture trips, best hotels, restaurants and a lot more.