Feasting at a Burj Khalifa Restaurants is one of the top things to do at Downtown Dubai. Gazing at the view of the Dubai Fountains and the Burj Park while dining at the best restaurants in the world is an experience everyone dreams of. Take a spoon of your meal and watch the sunset on Downtown Dubai's horizon. The restaurants situated in the Burj Khalifa are like none other, offering their guests the best service, aura and best in class delicacies. Their chefs specialize in a variety of cuisines, each restaurant carrying its own piquancy.
The Complete List of Burj Khalifa Restaurants
At.mosphere
The world's highest restaurant from ground level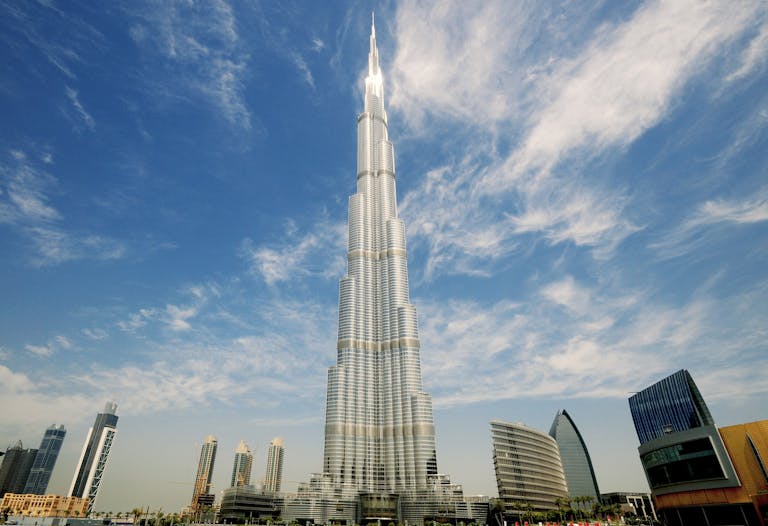 Image Courtesy - Armani Hotel Dubai
Stationed on the 122nd floor of the highest building ever built, At.Mosphere is an incomparable fine-dining experience. The chefs offer you a wide variety of International cuisines to choose from and the dessert and drinks menus are extensive. The elevation of the restaurant, both factually and the grandeur of it makes it distinctive. The service here is efficient and friendly. The ambiance of At.Mosphere is a tough one to replicate.
Cuisines: International
Price for two: AED 750
Open Hours: 07:00 AM to 12:00 AM
Beef Bacon, Wine, Steak, Salmon, Tea, Oysters, Pumpkin soup with truffle.
Review of At.mosphere
At.mosphere offers a multisensory experience at an altitude of 442 metres, fine-tuning the traditional gastronomic experience that will linger long in your memory. Like its astounding height, dinner at At.mosphere is out of this world.
Ayesha Shaikh, Harper's Baazar Arabia, 7th August 2017
Recommended Burj Khalifa Experiences - At The Top Tickets
Burj Khalifa Restaurants at Armani Hotel Dubai
A creation of Giorgio Armani and developmental expertise of Emaar Hotels and Resorts, The Armani Hotels located in the Burj Khalifa, is an extravagant affair at Downtown Dubai. Their ambiance and culinary expertise tell them apart from other fine-dining restaurants.
Armani Amal
An Indian banquet at the Burj Khalifa
For taste buds that crave South Asian zest, Armani Amal is situated on the 3rd floor of the mighty Burj. Bringing together the cultural veritable salver of the region and alluring view of downtown Dubai, it is a perfect venue for a dinner after touring the city. The Chicken Quesadilla and Butter Chicken are a must try. The amiable service and the ambiance of Armani Amal are sure to captivate you.
Cuisines: Indian/North Indian
Price for two: AED 900
Timings: 7:00 PM – 11:30 PM
Dal Makhani, Gajar Halwa, Roti, Kulcha, Murgh Makhani, Chicken Quesadilla, Butter Chicken.
Review of Armani Amal
Entering Burj Khalifa is always an amazing experience for some reason and the moment you enter Amal you are welcomed by live music being played and welcome drinks, of course. I sat there on the couch for about 15-20 mins listening to them play the instruments so beautifully.
Foodgasmic Tales, 25th March 2017
Armani Ristorante
Quintessential Italian Restaurant
This exquisite Italian restaurant blends traditional and contemporary dishes and serves you with the best recipes from their competent chefs. The service is solicitous and the waiters are always on their toes. The Chitarra spaghetti, lobster and creamy 'Bagnavcauda' sauce are the chef's special recipes. Sip some from the reserve collection of wine on their deck and gaze at the most amazing views of the Dubai fountains.
Cuisines: Italian
Price for two: AED 900
Timings: 7:00 PM – 11:30 PM
Pasta, Spaghetti, Tiramisu, Salmon, Cocktails, Steak.
Review of Armani Ristorante
Armani/Ristorante is the sort of restaurant where your table manners become impeccable and you eat extremely slowly and carefully to better absorb each mouthful. This is an occasion restaurant – so if you are lucky enough to go, enjoy every minute and stay until the very end, soaking up your surroundings.
Sarah Townsend, Arabian Business, 28 December 2016
Recommended Burj Khalifa Experiences - Skip The Line Tickets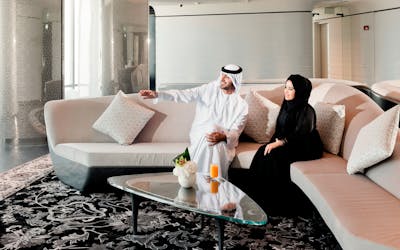 Burj Khalifa Fast Track Tickets
Burj Khalifa: At the Top Sky with Coffee & Int...
Burj Khalifa Combo Ticket Offer
Burj Khalifa: Fast Track Access + Dubai Aquari...
Armani Mediterraneo
Exceptional F&B coupled with a splendid view
Stationed on the lobby level, Armani Mediterraneo's chefs master the Mediterranean cuisine radiantly. Their exclusive buffet and fully stacked bar are their forte. Overlooking the Dubai Fountain and Souk Al-Bahar, the ambiance of this restaurant is close to perfection. The striking attribute of this luxurious hotel is its minimalistic design. Their seafood menu is remarkable and the most loved dishes are crab legs and smoked salmon. The live cooking station gives the guests a unique opportunity to peer over the shoulders of a top chef.
Cuisines: Mediterranean
Price for two: AED 550
Open Hours: 6:00 AM – 11:00 AM, 12:30 PM – 3:00 PM, 6:30 PM – 10:00 PM
Salmon, Salad, Sea Food, Pasta
Review of Armani Mediterraneo
It was a nice experience for the kids to enjoy the Dubai Fountain from the Burj directly. The staff was very nice and even the chef took care of the kids. The ambiance outside in the evening is also nice as the weather was amazing.
Issa Eid, 21st December 2018
Sign up for our monthly newsletter
Your dose of travel fix - from hacks and deals to travel tips and everything in between, delivered monthly to your inbox
Please enter a valid email
Unsubscribe anytime
Armani Lounge
Uncompromised guest service and classy dining
Another restaurant stationed at the lobby level ideal for any time of the day is the Armani Lounge, an outstanding fine dining eatery. They offer an extensive selection of world-class beverages. With a very welcoming and professional staff, this place is a good fit for both professional and casual meetings. The best dishes on the menu are the citrus crush, wild berry, red velvet frappe, potato and cheese filo cigars, and Armani cheesecake.
Cuisines: European, Italian
Price for two: AED 600
Open Hours: 8 AM – 2 AM
Citrus Crush, Wild Berry, Red Velvet Frappe, Potato and Cheese Filo Cigars, Armani Cheesecake, Coffee, Cappuccino, Tea.
Review of Armani Lounge
Visited to meet a friend of mine visiting from overseas and learned he was a pure vegetarian, so wasn't sure if he will get anything to eat as per his liking in case he wanted to have something. Was very much surprised when we learned that he could have vegetable samosas and falafel sandwich...wow it turned out to be fantastically yummylicious!
Deepak Sharma, 17th August 2018
Recommended Experiences - Burj Khalifa Sunset Specials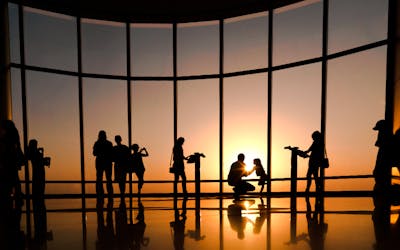 At The Top Tickets
Burj Khalifa: Sunset - At the Top (Level 124 &...
Burj Khalifa Combo Ticket Offer
Sunset at Burj Khalifa At The Top + Dhow Creek...
Armani Hashi
Authentic Japanese recipies by the Bay
On the concourse of the Burj Khalifa is the Armani Hashi, serving traditional Japanese and seafood with an illustrious view of the Dubai Fountains. Choose the outdoor seating if you're visiting on an evening after exploring the city. The live music and the chef's classic Sushi, Maki Roll, and Sashimi make you crave for some more time at the place. The service is exceptional and they accommodate food to suit your sensitivities.
Cuisines: Japanese, Seafood
Price for two: AED 700
Open Hours: 6:30 PM – 11:30 PM
Sushi, Maki Roll, Sashimi, Salmon, Coconut Cake, Salads, Oysters
Review of Armani Hashi
It was heartening to bite into prawn tempura that, unlike the preparations in many restaurants, wasn't drowning in soy sauce. The makis (vegetable as well as prawn) held their own. There's quite a variety in desserts - I was pleased with coconut cake and mochi ice cream.
Anamika, Khaleej Times, 2nd March 2018
Located on the ground floor of the tallest building in the world, Armani Deli is an Italian inspired gourmet restaurant serving authentic Italian and European flavors with a daily-changing menu. The 24-carat gold coffee is the paramount item on their menu and is fancied by all tourists The brunch at Armani Deli is a sophisticated affair.
Cuisines: Italian, Cafe, Desserts
Price for two:AED 650
Open Hours: 12:00 PM – 12:00 AM
Pasta, Tiramisu, Salmon, Chocolate Cheesecake, Ravioli, 24-Carat Gold Coffee.
Review of Armani Deli
What we loved about the Il Brunch Italian at Armani/Deli – the dishes are simple and straightforward, delicious and handmade using the very best, natural and fresh Ingredients.
Burj Khalifa Restaurants FAQs
Which are the best Burj Khalifa restaurants?
Do I need to buy a ticket to visit a Burj Khalifa restaurant?
Is it expensive to eat at a Burj Khalifa restaurant?
Is there a dress code to dine at a Burj Khalifa restaurant?
Do I need to reserve a table at a Burj Khalifa restaurant?
Recommended Burj Khalifa Combo Experiences