Madrid is the capital of Spain and has a population of over 5 million people. It houses the Congress of Deputies, which is the legislative branch of the Spanish Government. It also has an interesting selection of monuments. Those who enjoy lively nightlife will enjoy what Madrid has to offer because it boasts some marvelous nightclubs along with other various entertainment options in each area from your choice of more tranquil cafes and pubs offering a variety of different types of drinks. There are several museums in Madrid where visitors can get a peek at Spain's distinct art history.
If you are more interested in eating than going out at night, there are some particularly tasty restaurants to try out in Madrid. Plan out your Madrid itinerary with this Madrid trip planner that will help you to find the best time to visit the city, nightlife, best day trips from Madrid, and more.
Best Time To Visit Madrid
---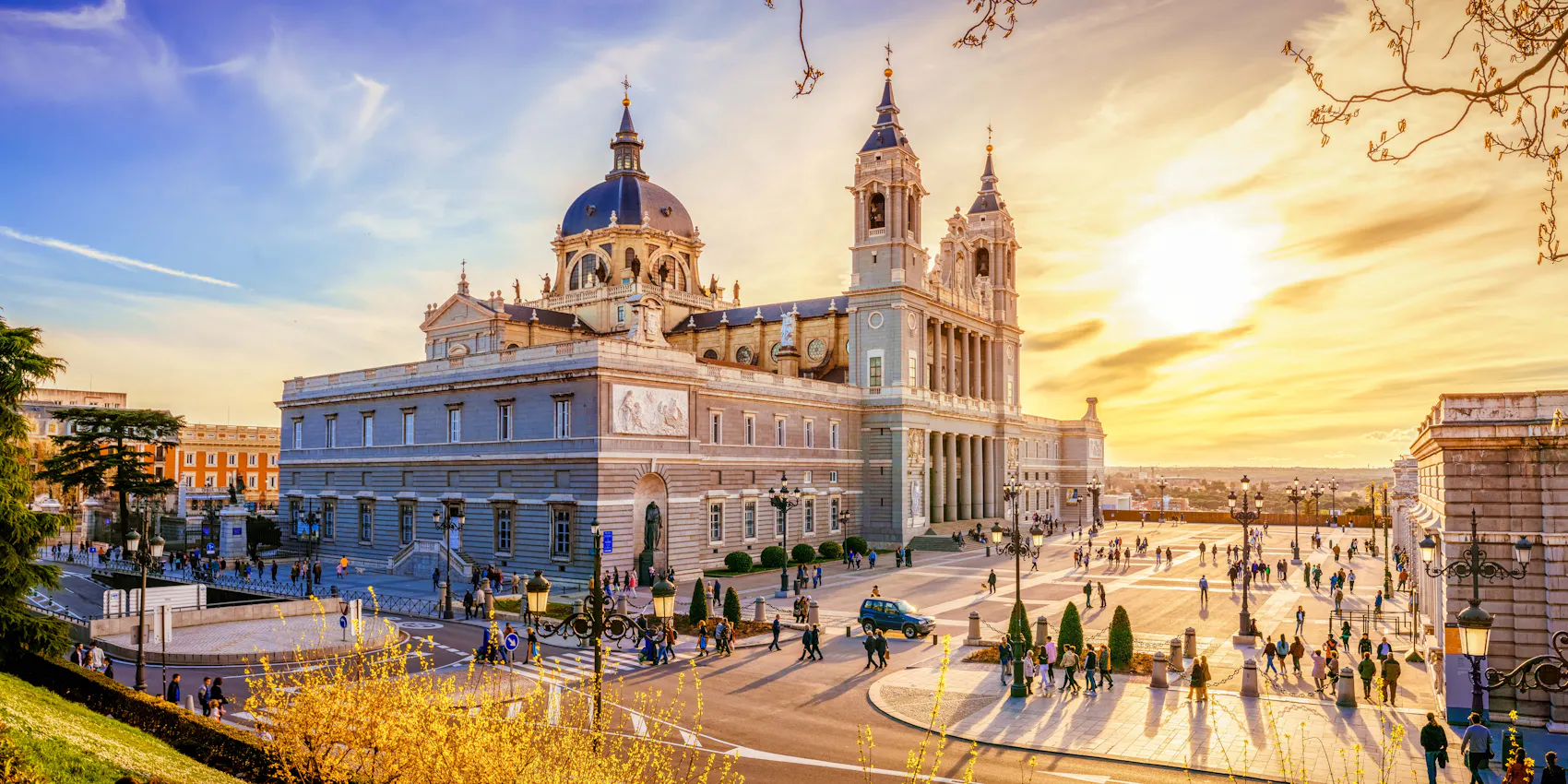 Fall and Spring are the perfect times to visit Madrid, with just enough travelers around to avoid it feeling desolate. During these two seasons, Madrid blow fully comes alive as you walk through its streets. Passing by the famous El Prado museum or even getting lost in a maze of tapas bars on every street corner feels new in this vibrant city. The weather from September to November and March to May gives one reason enough to take leisurely walks along the streets of Madrid so you can better feel what each street has to offer you. In case it's still too cold for your taste in October, there's also a lively autumn festival happening that month
Read more about the best time to visit Madrid.
Madrid Itineraries
---
Depending on how long you're in Madrid for - whether it's just a day, 3 or 5 days, we have the perfect itineraries crafted for you. Go through these Madrid itineraries and plan your stay well in advance!
If this is your first time traveling to Madrid, we know you'd love some help planning your daily itineraries. Apart from the basic planning (flight tickets, visa, accommodation etc.), you'll need to consider your day-to-day activities - where to go, what to see, how to get there, and more. But fret not, for we are here to help.
Madrid 1-Day Itinerary
Madrid 3-Day Itinerary
Packing For Madrid
---
Fall and winter are two of the most enjoyable seasons for weather in Madrid. Fall breezes can be crisp and cool so it's always a good option to bring a scarf with you to stay warm. Packing a thick, cozy sweater, a warm coat, and ankle boots is one stylish way to be during these months when temperatures start getting colder. Close-toed flats or sneakers are your best bet as far as footwear goes throughout autumn and spring. A sunny day in summer will call for a sundress, shorts, or tank tops!
Where to Stay in Madrid
---
La Latina is a neighborhood north of Madrid's city center full of rolling hills and lots of vibrant local life. Having been in this area for centuries, La Latina has a rich cultural and historic identity that will take visitors on a tour through time. It was one of the first neighborhoods formally mapped out in the city!
Accommodation on a Budget
There is no dearth of budget-friendly rooms in Madrid. Some of the best places to find accommodation without burning a hole in your pocket are Room Mate Alicia, Praktik Metropol, Sleep'N Atocha, Artrip Hotel, Suites Viena, and Hostal Oriente among others.
Nightlife
Without a doubt, Madrid is one of the most energetic cities in the world. Beginning each night with a bang and ending it with a crescendo, this city knows how to party! Whether you're into chic bars or extravagant clubs, nothing can stop you from getting your groove on in this metropolitan oasis. Some of the best places to groove in while you are in Madrid are Teatro Kapital, Palacio De Gaviria, Joy Eslava, Sala El Sol, Fabrik, Fábrica Maravillas, La Vía Láctea, La Corolla, ThunderCat Club, and Teatro Barceló among others.
Shopping Hub
Madrid has some of the best shopping options in Spain, with one-of-a-kind local brands and top fashion labels from Europe and across the world. Gran Vía, Serrano, Las Rozas Village, Fuencarral, and Princesa are some of the best places in Madrid where one can shop until they drop.
Kiss of Luxury
Madrid is a city that brings to mind the word "luxury". Madrid offers high-quality standard services, such as cultural events and world-famous museums that you can't find in other places around the world. Some of the things that one should do to experience the lavishness of Madrid are taking a stroll through the Plaza de Oriente, wine tasting and vineyard visit at La Rioja, and Cheuca tour among others.
Getting Around In Madrid
---
The Madrid Metro is like a river through the city. The Madrid Metro is an iconic part of the city's landscape and everyday life. The metro system offers some degree of convenience over traveling by bus across the city. There are 12 lines, 1 of which is a tramline, and more than 300 stations. While it may not be as fast as taking a bus or traveling by car, the metro will get you to your destination all the same. However, one should opt for the bus while planning their Madrid itinerary as it is one of the cheapest and best options to experience some scenic views.
Madrid Travel Tips & Hacks
---
It's a good idea to buy a transportation card before planning your Madrid itineraries because it helps you save money on transportation by allowing you to ride buses and subways without having to buy separate tickets each time.
Use public transit during rush hour. Madrid can be very crowded at times, so try not to use it if possible. Instead, walk around or take taxis instead of trains and buses during peak times.
Carry a backpack! You can wear it while walking around and carrying all your stuff easily on your back, which is much easier than trying to carry everything by hand.
If you're not comfortable with walking alone, consider renting a bike and riding around the city with friends or family members.
Get a map of the city so you can see where everything is located. It will make your life easier if you have this on hand when you're wandering around.
Take advantage of street parking—it's much cheaper than paying for an official parking spot! Just look for signs that say "privado" (private).
If you want to see some of Madrid's most famous landmarks, head over to Plaza de España or Plaza Mayor. This square is home to many important buildings in Madrid including the Royal Palace, which houses Goya's masterpiece, "The Sleep of Reason Produces Monsters."
If you're looking for something more traditional Spanish food, try La Almozara (Calle del Puente de Toledo) or La Carbonera (Marqués de Villaverde)
Visit the Prado Museum. It's a must-see for any art lover, with some of the world's best paintings and sculptures from ancient times through modern times.
Don't assume that everything will be closed at night. Many places in Madrid are open all day long, including museums, parks, and historical sites.
5 Best Day Trips From Madrid
---
Day trips from Madrid can be a wonderful way to spend a short break from your busy life in the capital. They offer a taste of different places and provide you with glimpses into the less-visited parts of Spain, as well as allowing you to explore other bits of the country that are not on the beaten track. Don't forget to include some of these places while chalking out your Madrid itinerary.
Check out our list of 5 best day trips from Madrid:
FAQs: Madrid Trip Planner
---
Yes, Madrid is a must-visit place in Spain. There are so many reasons to visit Madrid. While it's not quite as famous for its architecture, it does have some of the most beautiful buildings in Europe. It has the history, culture, food, and shopping to rival any city you've seen before and plenty more besides!
The best time to visit Madrid is in May and early June, when the weather is warm and sunny, but not too hot, and the temperature is always comfortable. If you find yourself traveling to Madrid in fall or spring, though, you should be fine! The weather is typically milder during those times of year—and if there are any rainy days, they tend to be short-lived.
Madrid is a big city and it's easy to get overwhelmed by the activities available. But you don't have to be alone; there are things you can do every day from Madrid: from watching bullfights to visiting vineyards, from visiting castles to enjoying a famous flamenco performance – everything is possible!
A taxi will be your best option if you need to get somewhere quickly or if there are multiple stops on your route that are too far away from each other for walking.
Madrid is a city that never sleeps, so don't be surprised if you find yourself up until the wee hours. You'll want to pack a few pieces of clothing that can also function as an outfit: a pair of jeans and a light sweater or jacket are great options for everyday wear. Consider packing a dressy outfit in case you want to have a groovy time in Madrid.
There are so many different neighborhoods and areas to explore in Madrid that it can be overwhelming. The Malasaña neighborhood is one of the most popular areas in Madrid due to its nightlife and sidewalk cafes where people gather during the day.
Madrid Trip Planner Guide