With more than 10 million tourists visiting every year, Madrid is one of the top destinations in Spain, next to Barcelona. The cosmopolitan hub is famous for its most vibrant and energetic nightlife across the globe. A welcoming city with a wide range of activities for people of all ages, Madrid's cultural diversity is something to be experienced.
If you have already visited the historical places and museums Madrid has to offer, a day trip is a good idea to experience the tradition and heritage of Spain. Day trips allow you to tour more places without paying for accommodations. You can travel at your own pace and have an in-depth exploration of the country you are travelling.
Best Day Trips From Madrid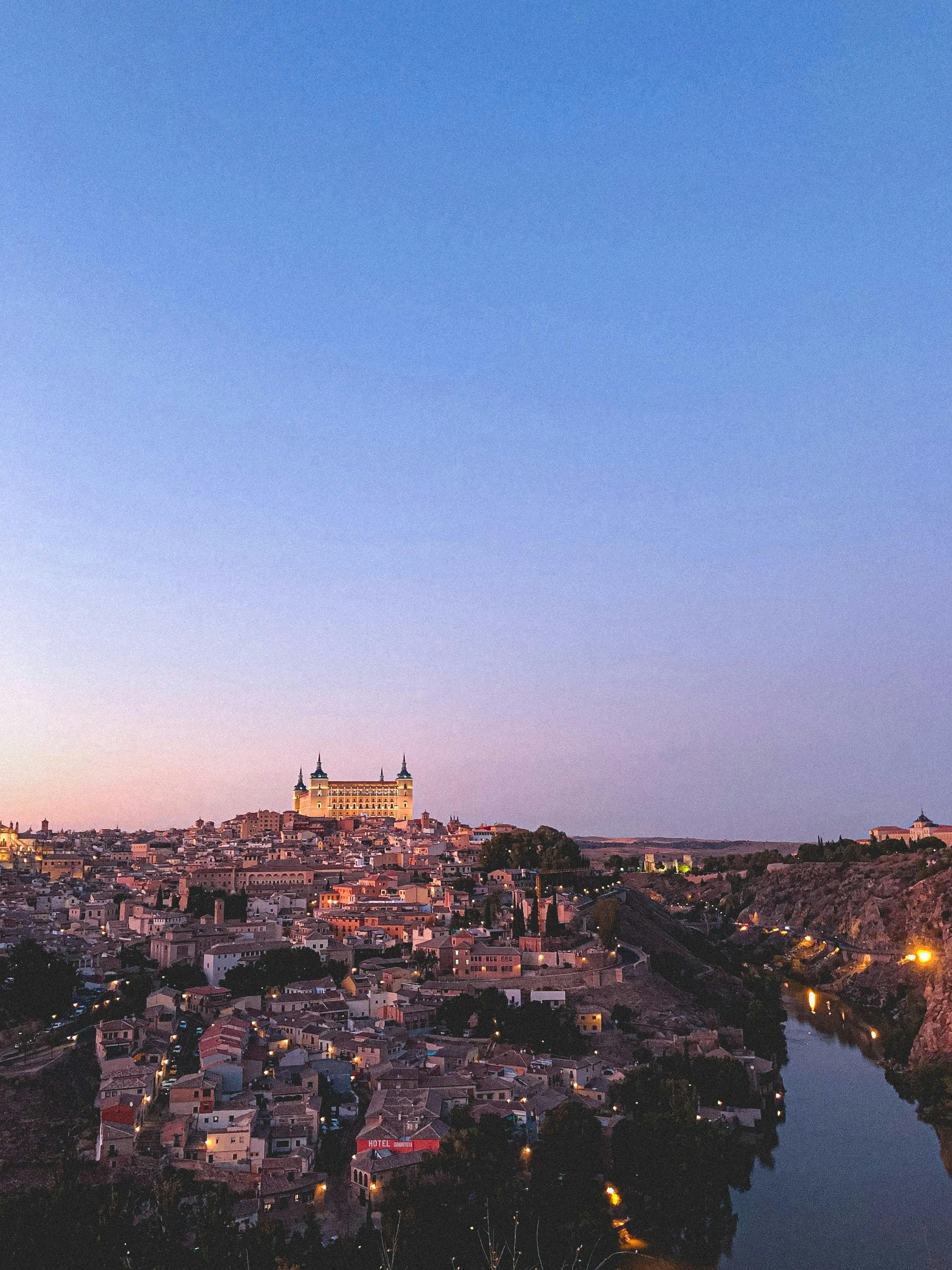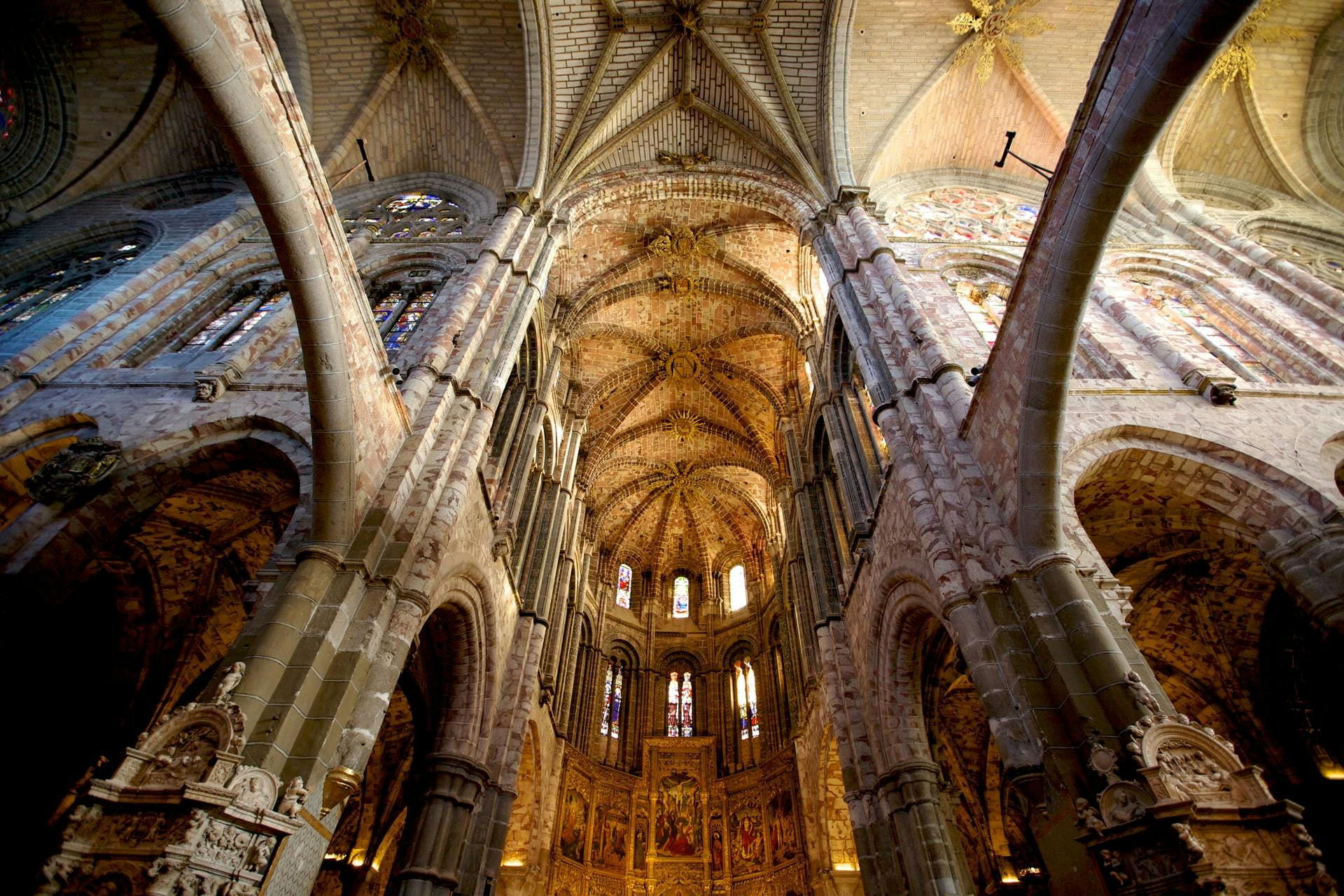 Guadarrama National Park
67 km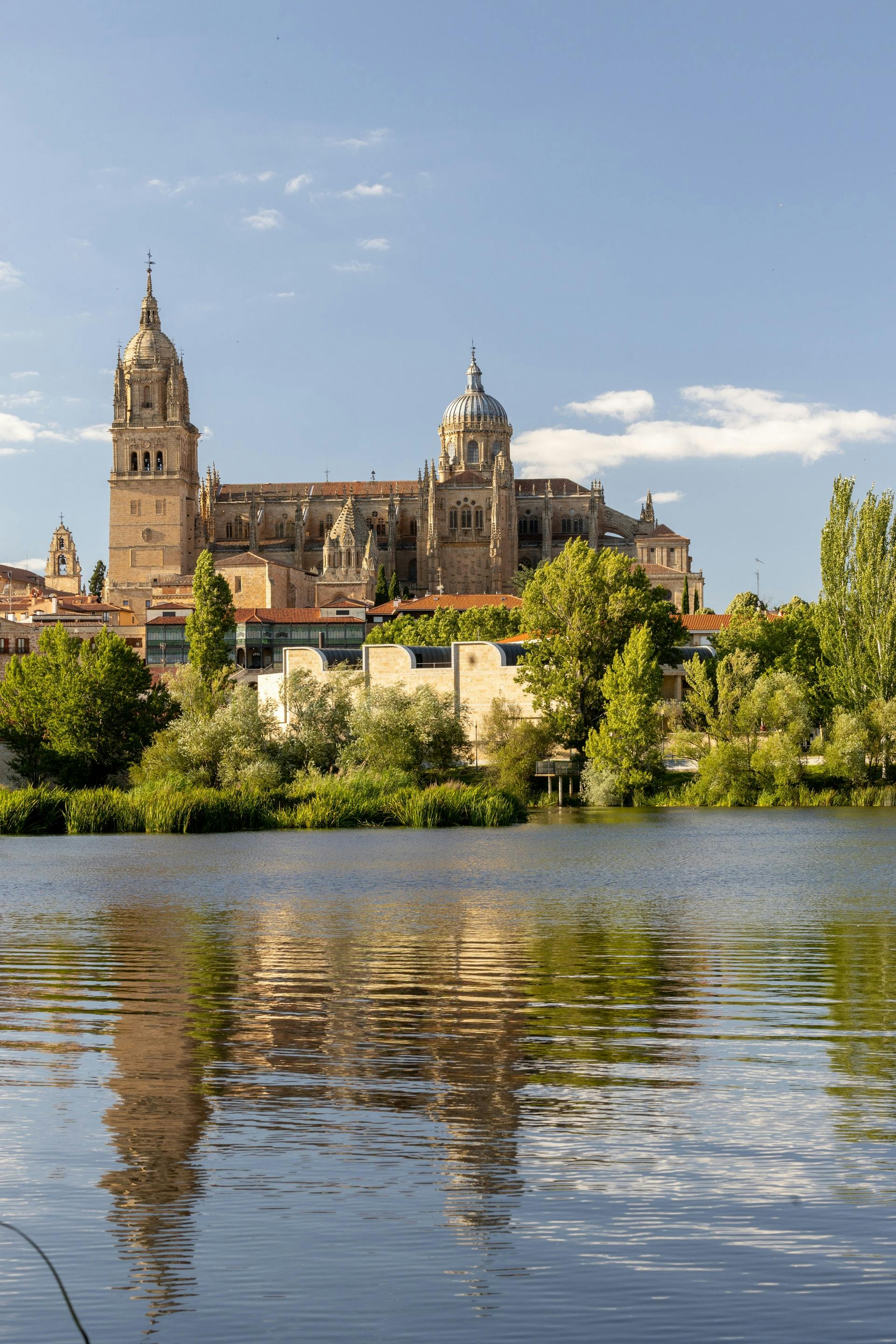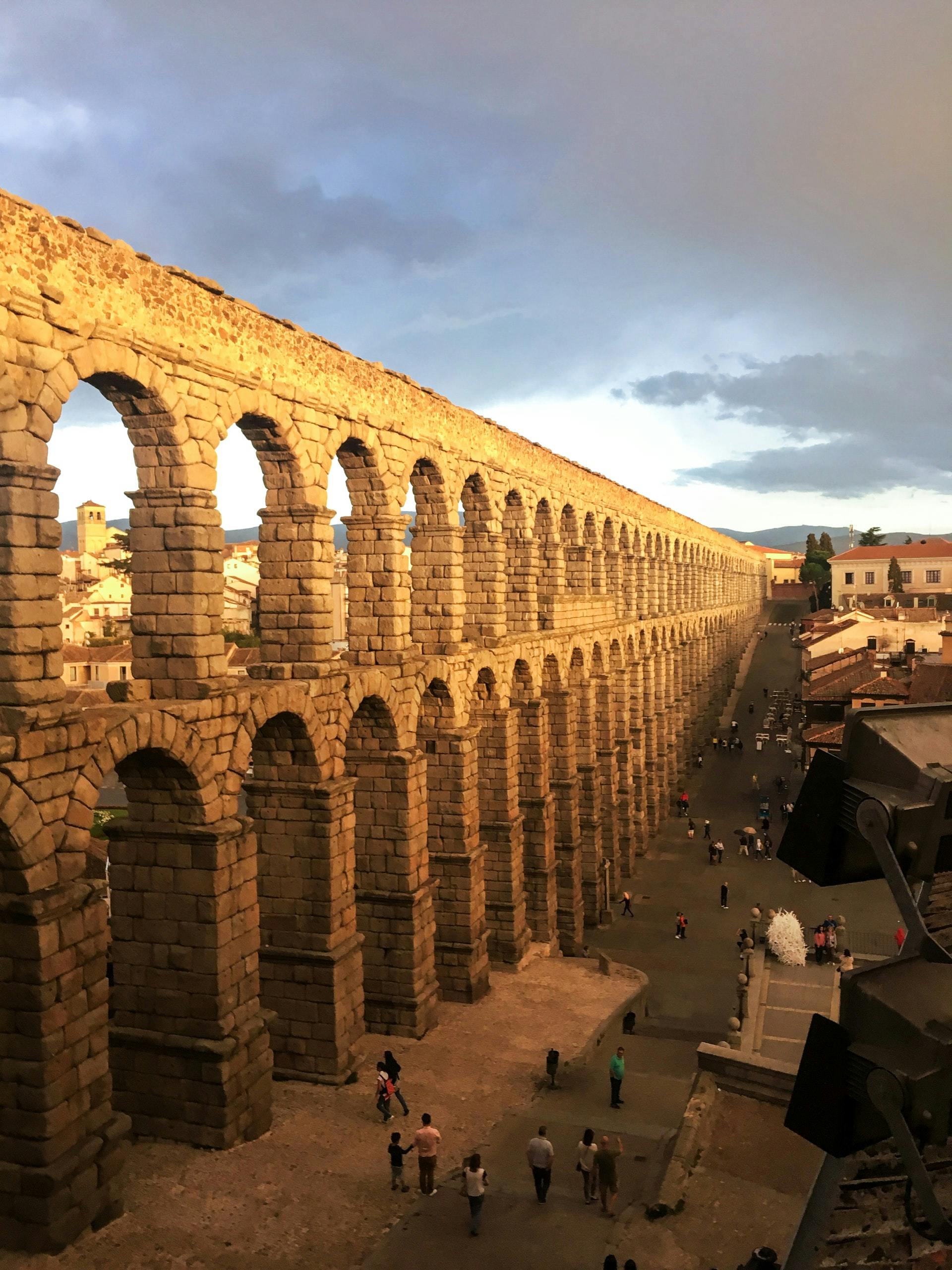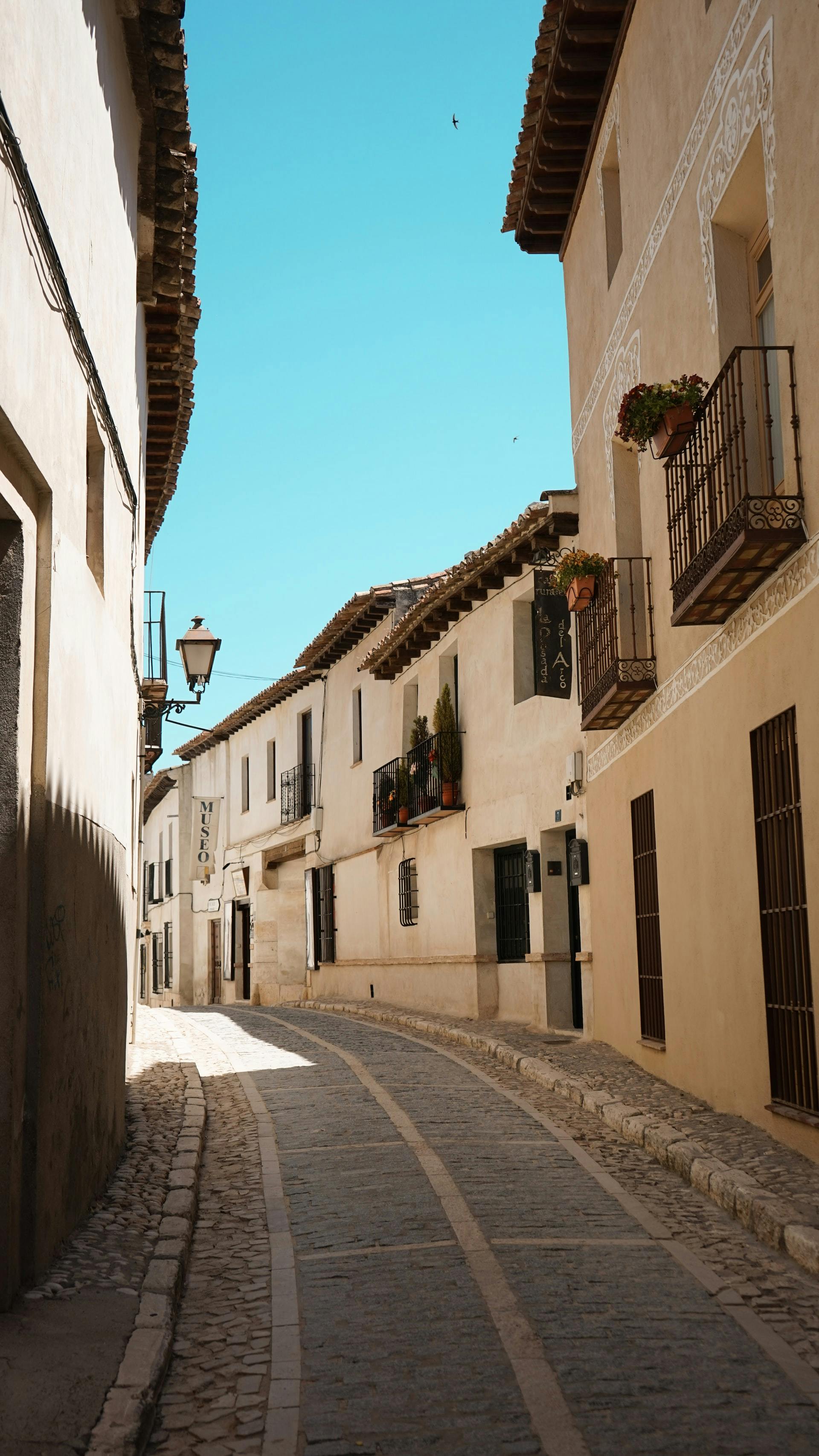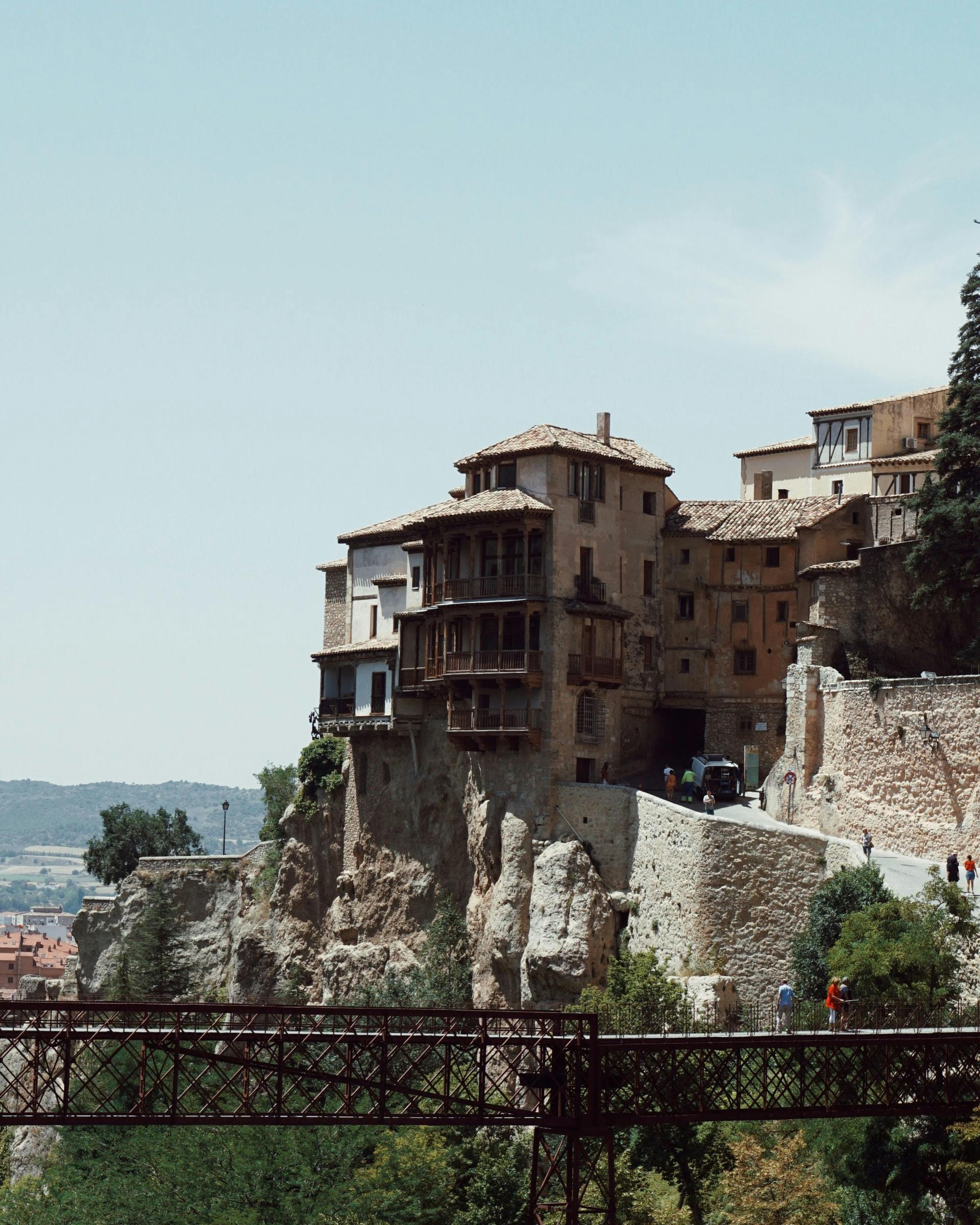 1

Toledo
Day Trips From Madrid
73 kms
Distance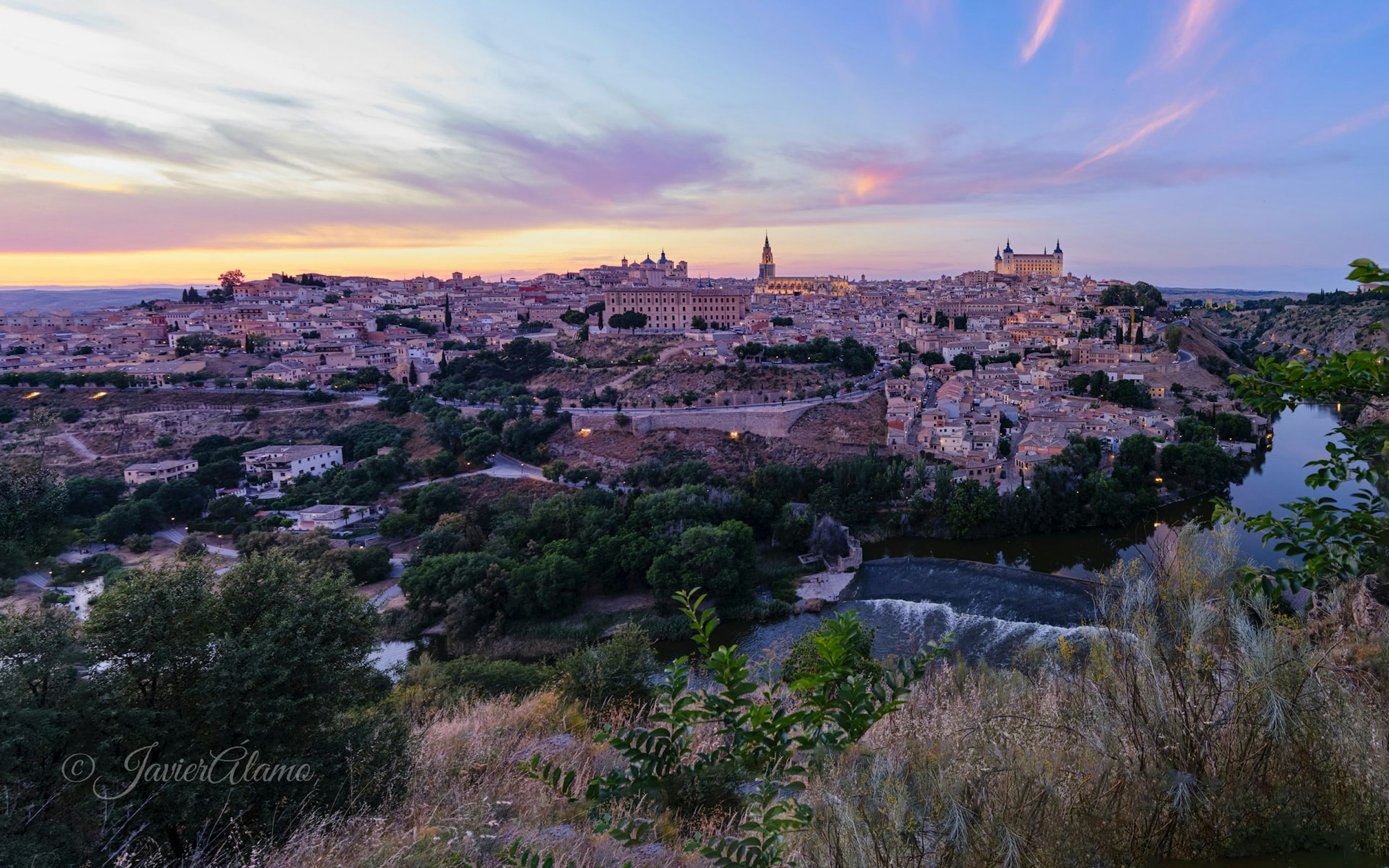 World Heritage Site
Land of History
A fascinating UNESCO World Heritage Site known for its rich history, it is not an overstatement to call Toledo the heart of Spain. Overlooking the Tagus River, Toledo is located in the center of Spain. As it is close to Madrid, Toledo is an excellent destination to be covered in a day trip.
The hilltop walled city is also called the "City of three cultures," with Muslims, Christians, and Jews thriving in the land of Toledo for centuries. The fine architecture reverberates the confluence of these cultures. This Medieval wonder has several churches, mosques, synagogues, and palaces waiting to be discovered.
Best Time to Visit
May to September
Cultural Influences
The Medieval city has a unique history with the blend of cultures from Islam, Christianity, and Judaism that are visible in its fascinating architecture. History buffs will have a wonderful time looking at the various styles and designs combined with historical influences.
Arabic Baths
Another reason to visit Toledo is that the Arabic Baths are a legacy of the Moors that are still present throughout Spain. The Medina Mudejar Banos Arabes is still open, and you can experience the refreshing, ancient Arabic tradition of bathing with a hot/cold pool and massages.
Diverse Cuisines
As Toledo is the place where three different cultures meet, the cuisines there add something from each of them while making up a unique dish altogether. The vast variety of food available in Old Town incorporates rich flavours and produce from the countryside.
Sword Workshops
The swords of Toledo are exhibited in armoury shops across the world. During the 15th Century, Toledo was popular for its superior steel, delivering durable swords. Mariano Zamorano and his team carry the legacy forward as they still forge swords in their shop similar in manner to the ancient times.
The distance between Madrid and Toledo is 45 miles (73 km). Trains and Buses are available, but you can also choose to self-drive if you want to travel at your own pace. The entire journey will take not more than 1 hr 30 minutes and makes it easy for you to enjoy your day trip.
Bus
Buses are a comfortable option, with some offering air-conditioning and free Wi-Fi. Buses are available from Plaza Eliptica Station, operated by ALSA, that takes you directly to the main Bus Station at Toledo within 1 hour.
Train
The fastest option is to travel by train; however, the hotel you are staying in, your budget and schedule constraints are some important factors. The ticket costs £11 but book in advance to avoid additional charges. Renfe operators have frequent fast trains that take only 30 minutes to reach Toledo.
Car
Many rental companies in Madrid offer rental cars. You can also have rideshare that costs comparatively less. The journey can be covered in an hour as there is a direct route through Highway A42.
Alcázar de Toledo
After traversing Alcantara Bridge in Toledo, the first thing that will catch your sight is Alcazar de Toledo. Originally built as a Roman palace in the 3rd Century, Alcazar has the Biblioteca Autonomica and Museum of the Army inside of it. The stone fortification was constructed at the highest point of the city.
Timings - 11 am-5 pm
Castillo de San Servando
If you choose to travel by train, the first spot you can visit after leaving the Toledo Railway Station is Castillo de San Servando. Initially built as a monastery, the place was later converted into a fort for the Knights Templar. Unfortunately, it is not open to tourists but you can tour the outside premises before going to Alcantara Bridge.
Mosque of Cristo de la Luz
One of the ten mosques built during the Moorish era, the Mosque of Cristo de la Luz is an interesting building. It was formerly a mosque, but after Reconquista it was turned into a church and added a semi-circular section to the structure.
Timings - 10 am-5:45 pm
Museo del Greco
Domenikos Theotokopoulos, better known as El Greco, was a Greek sculptor and painter who spent much of his time in Toledo. The Museo del Greco is dedicated to his paintings and compositions that form a vital part of the Spanish Renaissance.
Timings - 9:30 am-7:30 pm
Toledo tours from Madrid
2

Avila
Day Trips From Madrid
109 km
Distance
UNESCO World Heritage
Land of History
Another medieval wonder known for its formidable walls that were built to keep the Moors away, Avila had both Moorish and Christian rulers until Alfonso VI's Reconquest in 1805. The prominent architectural style in the historic city is Romanesque, which can be seen in its churches and other buildings.
The city inside the wall stands still and feels as if centuries have passed and nothing has really changed. The atmosphere is calm and ancient, transporting tourists who visit the place to Medieval Spain.
Due to its proximity to Madrid, a day trip to Avila is a good option to relax from the hustle and bustle of city life and have a relaxing day in this serene land.
Best Time to Visit
March to May
Travel Time
1 hour 30 minutes
UNESCO Site
Avila is one of six UNESCO World Heritage Sites in Spain. As the city is small, you can easily cover all the destinations in a day. Enjoy wandering around the streets, admiring the special architecture, and having fun at tapas bars..
The Walls
The great defensive walls that encompass the historic city of Avila are striking highlights of the place. They were originally built to protect the city from the Moorish onslaught. With 80 towers and 9 gates, these walls have been heavily preserved and are one of the best models of Medieval walls in Europe.
Castilian Food
Eating out in Avila is a special experience as the delicacies and dishes of the city are revered across Spain. Tour the inner and older parts of Avila, where you will discover a wide variety of tapas bars and restaurants serving Castilian cooking.
Avila is located 68 miles (109 km) away from Madrid. The fastest way to reach Avila is by car and you can have a budget-friendly trip with rideshare.
Bus
The cost of traveling by bus is no less than the train but it gets you there earlier taking an hour and fifteen minutes. The ride costs about £9 but you can get a small discount on a round-trip ticket. Buses are operated by Jimenez Dorado company and depart from Madrid South Station.
Train
The direct train from Madrid to Avila operated by state-owned Renfe departs every hour and takes 1 hour 30 minutes to reach Avila. The ticket costs about £14 and can be bought from the Renfe website.
Car
If you want to travel at your own pace and stop in the middle to visit neighboring cities, the best way is to drive to Avila. It takes more than an hour and there are tolls along the highway. They may not always accept foreign credit cards, so do not forget to carry some euros.
Basílica de San Vicente
Located beyond the town walls, Basilica de San Vicente is built on the place where Saint Vincent was martyred. The basilica was constructed in the 12th century with numerous architectural styles. The towers have a Gothic reflection, with Baroque altars and a nave mixing both Romanesque and Gothic styles.
Timings: 10 am-1:30 pm, 4 pm-6:30 pm
Convento de Santa Teresa de Jesús
Located opposite the Puerta de La Santa, Convento de Santa Teresa de Jesus is constructed on the birthplace of Santa Teresa. It was built as a monastery for Carmelite nuns and also has a church, Iglesia de Santa Teresa, with a modest Baroque façade and a magnificent statue of Saint Teresa.
Timings: 9:30 am-1 pm
Catedral de San Salvador
One of the most notable ancient structures incorporated into the ancient town walls, Catedral de San Salvador is the oldest Gothic-style monument in Avila. A striking characteristic of this cathedral is the Puerta de Los Apóstoles, a figural decoration designed by Donatella.
Timings: 7 am-12 pm
Avila tours from Madrid
3

Guadarrama National Park
Day Trips From Madrid
67 km
Distance Lying less than an hour away from Madrid, Sierra de Guadarrama is the latest region to be designated a National Park by the Government of Spain. Home to 12 diverse ecosystems, the area is free from human invasion and thus the natural assets here are preserved and untouched.
The park covers more than 34,000 hectares and has an altitude peak of 2428 meters called the Peak of Penalara.
Brimming with biological and geological resources, Guaderrama has 43 unique trees, some of which are more than a hundred years old. Escape the busy life of Madrid to enjoy a day relaxing in the natural environment of the park.
Best Time to Visit
December to April
Travel Time
1 hour and 30 minutes
Embrace the Wilderness
Sierra de Guadarrama National Park has rich wildlife, with more than 1,200 species. A few of which are on the verge of extinction. With more than 1,500 different types of plants, the entire region designated as National Park is a haven for nature lovers.
Hiking
Guadarrama National Park is also a favorite spot for hikers. If you are visiting the park during the summer months, it is the best time to enjoy hiking. The trails encompassed by lush green landscape and picturesque scenes make it a wonderful place for hiking.
Skiing
The mountain peaks become a hub of adventure during the winter months. The slopes make a wonderful place for skiing and snowboarding.
Guadarrama National Park, also located close to Madrid, has a distance of less than 70 km between the two.
Bus
It takes approximately 1 hour and 45 minutes to reach Sierra De Guadarrama National Park from Madrid if you take a bus. This is also a budget-friendly option. Direct buses are available from Madrid Moncloa that leave the tourists on Ctra. Services are available throughout the day operated by ALSA.
Train
As there are no direct trains available from Madrid to Guadarrama, it is not the best option for a day trip. If you do take a train the entire journey will be three and a half hours long as you will first reach Cercedilla and then catch another train for Pto. Navacerrada, which is still 3 km away from the park.
Car
Driving your own car or booking a taxi is the fastest way to reach Guadarrama National Park as it takes 1 hour. Renting a taxi can be expensive, so it's better to drive your own vehicle.
Parque Natural de Peñalara
Located in the center of Sierra, Penalara Natural Park takes its name from the highest peak in the Madrid region. It is brimming with scenic beauty, right to the summit of Penalara. From lush fields to glacial lakes, the peak located 2428 m above is a paradise for hikers.
El Escorial
Declared a UNESCO World Heritage Site, El Escorial was initially built as a grand palace in 1584. During the course of its history, it has been used as a monastery, library, hospital, and university. At one point, it was the home of the Kings of Spain and is a burial place for several important figures.
Valley of the Fallen
A macabre memorial for those who died during the Spanish Civil War, Valley of the Fallen is an underground basilica serving as the resting place of the Dictator Francisco Franco. The monument is deemed to be one of the architectural wonders of 19th century Spain.
Day Trip to Guadarrama National Park
4

Salamanca
Day Trips From Madrid
214 km
Distance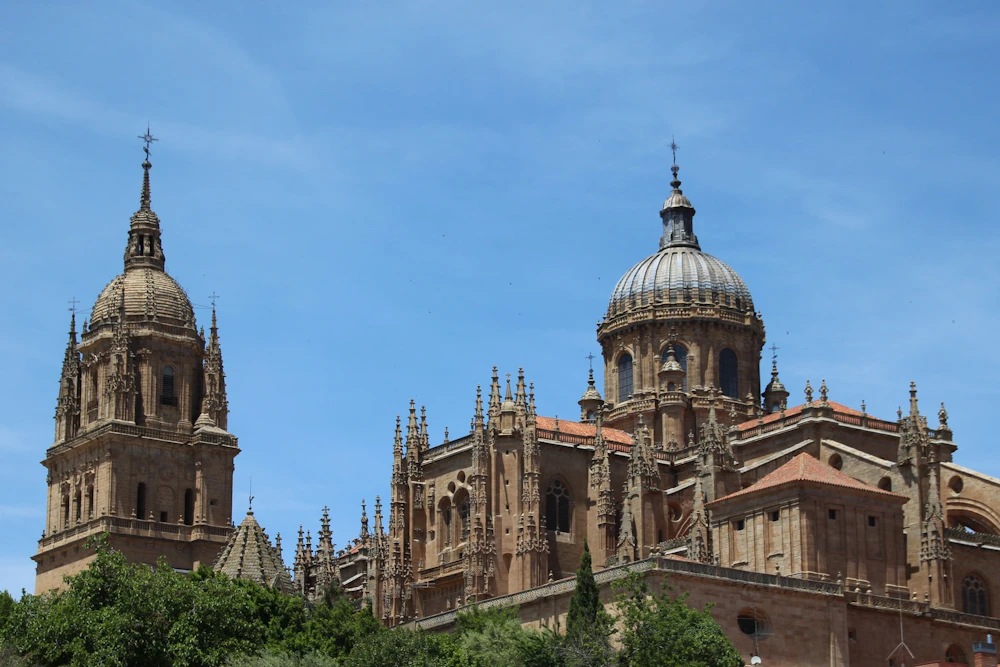 Sandstone Architecture
Historical University
A day trip to the city of Salamanca includes a walk through the history, art, and knowledge that surrounds the city's past. Known as the "university city", it has one of the earliest universities in Europe and the first one to establish one in Spain. Even today, Salamanca has a vibrant community made up of youth that come from different backgrounds and nationalities.
The city has monuments reflecting a wide range of styles- Romanesque, Baroque, Moorish, Renaissance, and Gothic with several examples of religious architecture. Cathedral, museums, bars, restaurants, etc. are some of the highlights of Salamanca you can enjoy on your day trip.
Best Time to Visit
March to April
Student Life
Located at the core of "Old Castilla", Salamanca boasts to be the heart of learning the purest aspect of the Spanish language. Students from across the globe join the community as every year the university town welcomes more than 2000 foreign students.
The Central Market
One of the highlights of Salamanca is The Central Market. Located near the very popular Plaza Mayor, The market is inside a 19th-century building and offers a wide range of food. However, its main appeal is to allow travelers to experience the local life inside the city.
Doll Museum
Salamanca also offers one of the most elegant doll collections in the world. Sheltered inside the Modernist palace of Casa Lis, there is a large selection of porcelain dolls from around the world.
As Salamanca is located in northwestern Spain, the distance between Madrid and Salamanca is 214 kilometers.
Bus
The average time to reach Salamanca by bus is around 3 hours, however you can also reach in 2 hours and 15 minutes with the fastest bus. Buses are operated by companies like BlablaCar and Avanza; they depart from Intercambiador Moncloa and take you directly to Salamanca Central Bus Station.
Train
Madrid to Salamanca train services are operated by Renfr Viajeros and take almost two hours to reach Salamanca. Prices start from £10.50 with 8 direct trains available.
Car
The driving distance between the two cities is 214 km, and it takes 2 hours in normal traffic. You can also go for a rideshare option, which is more pocket-friendly.
Plaza Mayor
A major place to visit in Salamanca is the historical square, built in the 18th Century. Located in the UNESCO-designated Heritage Site of the Old City, Plaza Mayor is recharged with cafes and restaurants during the daytime, and is the best example to admire the vibrancy of the city's nightlife.
Catedral Nueva
A monumental cathedral that outshines the resplendence of the Old Cathedral, Catedral Nueva has a refined Gothic Architecture standing next to the Old Cathedral. Positioned at the dominant hilltop, its chapel inside has masterpieces waiting to be discovered.
Timings: 10 am-5:30 pm
Salamanca University
A trip to Salamanca would be incomplete without touring its distinguished university. Established on the model of the Bologna University of Italy, Salamanca University was the first university in Spain. Inside it you can visit the Sala Calderón de la Barca (library) and Museo de Salamanca (Museum).
Timings: 9:30 am-6:30 pm
Casa de las Conchas
Casa de las Conchas, or House of Shells, is a stunning Gothic-style building renowned worldwide for its spectacular facade that has more than 300 stone shells depicting Santiago Order's symbol.
Timings: 9 am-9 pm
5

Segovia
Day Trips From Madrid
92 km
Distance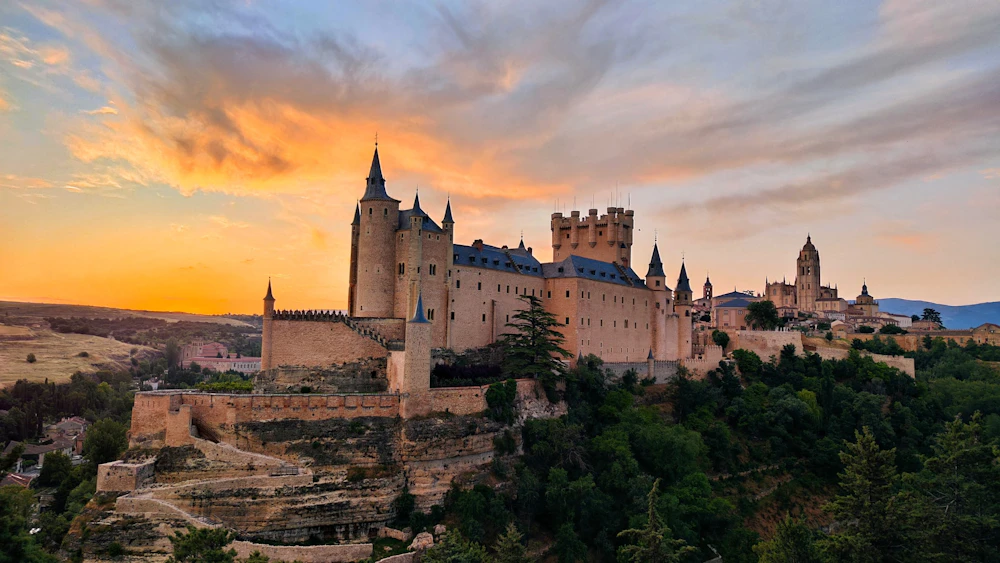 UNESCO's World Heritage site
Historic
If you are taking a camera with you, Segovia is the place to fill up all your storage. With a heritage dating back right from 80 BC with the Romans, Segovia is nestled on a rocky hilltop located northwest of Madrid.
The historic aqueduct, magnificent castle, breathtaking cathedral, and dazzling churches are some of the wonders this place has to offer. With a past that has Moorish influence during the Medieval age, the ancient walled city has a majority of its tourist spots in the Old Town which was designated a World Heritage Site by UNESCO.
While discovering all the historic gems of the town, you can also have a refreshing time at the boutiques, cafes, and restaurants.
Best Time to Visit
June to September
Travel Time
1 hour 6 minutes
The Aqueduct
One of the major infrastructures of the town is its remarkable Aqueduct. It was originally built as a structure to carry water, but presently it is one of the most-visited tourist attractions, constructed by the Romans during the 2nd Century AC.
Exquisite Gastronomy
Segovia is also famous for its wonderful gastronomy, especially the roasted dishes and the way chefs cook them. The flavor and aroma of these cuisines are unforgettable. El Mesón de Cándido is one of the famous restaurants in the town.
Old City
It is not just the awe-inspiring convents and churches of Segovia that are worth watching. Save some time to stroll in the streets of the rustic old city and explore the people and the environment.
Segovia is located just 92 kilometers away from Madrid. The quickest way to reach Segovia is by train; however, a bus ride is the cheapest. As the distance is short, you will have plenty of time for your day trip.
Bus
If you do not have a problem spending an extra hour on your journey, buses are cheaper than trains. Bus fare begins from £6 and more than 50 buses are available.
Train
You can catch a train from Chamartin Station that departs once every hour and takes about half an hour to reach Guiomar Station in Segovia. Most of the tourist destinations are far from the station, so you'll want to book earlier to get the best deals. The ticket for the train is £12.
Car
If you take the A-6 to AP-61 road, it will take about an hour to cover the 90-kilometer journey. You can also take A-6 to N-603, which takes a little longer but allows you to explore other cities.
Alcazar
After Aqueduct, the most-visited monument in Segovia is the Alcazar. The first impression of this castle will make you think of Disney films. In reality, this fortress was built in the 12th century and inspired Walt Disney who made a similar castle in Snow White. It is almost hard to think that this marvelous castle was once used as a prison.
Catedral de Segovia
Located at the heart of the city, Catedral de Segovia is a majestic cathedral positioned atop the highest point of the Old Town and dominating its surroundings. This monument marked the conclusion of the Gothic Cathedral in Spain.
Real Casa de Moneda
Called the Royal Mint of Segovia, Real Casa de Moneda is one of the oldest commercial buildings in Spain as it was built in the 16th Century. Perched near the Alcazar and beside the Eresma River, the monument houses a museum depicting the account of coin production in Spain.
Iglesia de la Vera Cruz
Inspired by the Church of the Holy Sepulchre and established by the Knights Templar, Iglesia de la Vera Cruz is recorded as a National Monument. A feeling of mysticism fills the church and its somber haven.
6

Chinchon
Day Trips From Madrid
62 km
Distance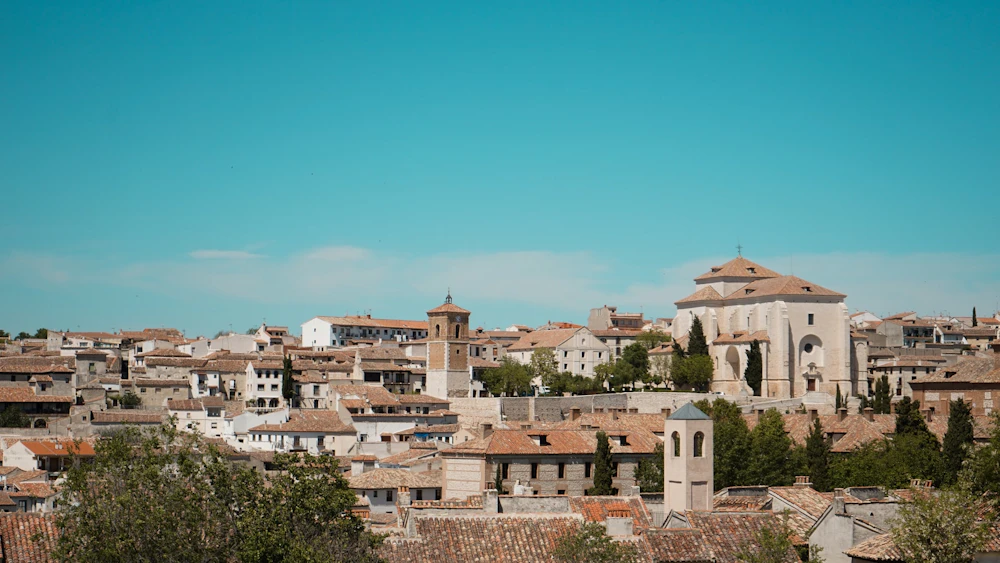 Located 45 kilometers away from Madrid, Chinchon is perched on the Tagus-Jarama River Basin. It is encompassed by vineyards and groves, and its urban center was declared a Historic Artistic Site in 1974. Chinchon is one of the most remarkable old towns in south-eastern Madrid.
Chinchon is a region distinguished for its group of houses on a hilltop and Medieval Plaza. It is ideal if you want to experience Spanish life in its rawness. Chinchon is also famous for its traditional gastronomy and tempting cuisines.
As Chinchon is a small town that can be easily covered in a day trip, you can also enjoy taking a walk in the Plaza Mayor and enjoying one of the delicious meals at a restaurant.
Best Time to Visit
June to August
Plaza Mayor
Just like most of the towns in Spain, Chinchon has a Plaza Mayor at its heart. The oval-shaped Plaza is one of the finest in Spain, hemmed with restaurants and cafes that are embellished with wooden balconies. Sit at one of these and bask in the customary happenings of the town.
Anisette Liquor
A special drink made since the 16th Century in Chinchon, Anis bears its name and distinctive taste from the anise seeds. The Spanish ladies herald this liquor for its healing and anti-aging properties without mixing it with brandy. Enjoy a glass of anis at one of the pavement cafes on your day trip!
Pleasing Gastronomy
Chinchon is recharged with tempting restaurants with traditional cuisines in the central plaza, but make sure you do not fall for one of the overpriced ones.
Chinchon is located 62 km away from Madrid. The entire journey is relatively short and perfect for a day trip.
Bus
The bus to Chinchon leaves every half an hour or an hour. It will take around 45 minutes and will drop you near Plaza Mayor.
Car
The driving distance between Chinchon and Madrid is 62 kilometers. If the traffic is normal, it will take 50 minutes to reach the destination.
The Count's Castle/ Castillo de los Condes
Also known as the Chinchon's Castle, this monument is placed on the highest point of the town. It was built as a Renaissance Castle, but is now deserted and awaiting restorations. You can enjoy the view from the outside.
Catedral de Segovia
Located at the heart of the city, Catedral de Segovia is a majestic cathedral positioned atop the highest point of the Old Town and dominating its surroundings. This monument marked the conclusion of the Gothic Cathedral in Spain.
Timings: 9:30 am-9:30 pm
Clock Tower
After the demolition of Our Lady of Grace Church during the War of Independence, Clock Tower was one of the only monuments left unscathed. The historic tower is worth seeing on your day trip.
Church of Our Lady of The Assumption
Originally, a chapel was connected to the Count's Palace with dominant Gothic Architecture. The modern church incorporates Gothic, Renaissance, and Baroque styles and is worth emphasizing.
7

Cuenca
Day Trips From Madrid
172 km
Distance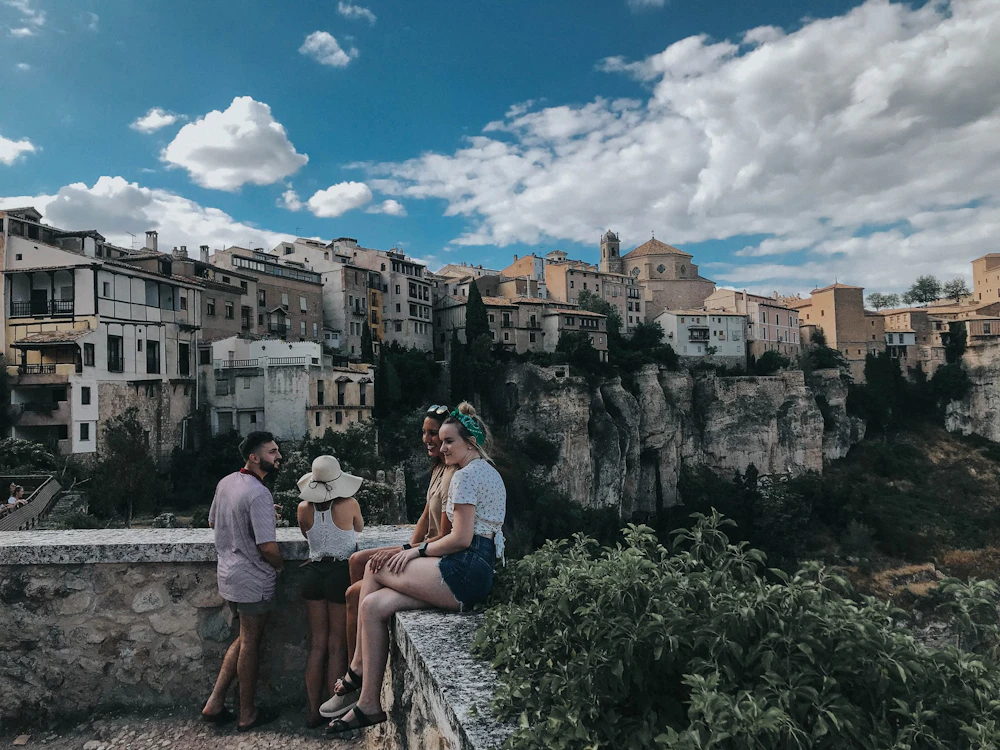 UNESCO World Heritage site
A beautiful city with many sightseeing locations, Cuenca is a walkable destination nestled between the ravines of the Hussar and Jucar rivers. The fountains and bridges in Cuenca reflect the Roman impact. The region was consolidated into a town during the Moorish period.
The UNESCO World Heritage Site is one of the most breathtaking towns developed during the Medieval period. Enjoy a day trip walking in the preserved alleys and streets of Cuenca, with a tour of its historic monuments.
The city is replenished with art museums and a haven for history buffs. If your dates of travel align with the events and festivals in town, you might be lucky to celebrate the Spanish way!
Best Time to Visit
April to June
Modern Art
The art museum in Cuenca has jaw-dropping compositions. The Museo de Arte Abstracto Español houses unique collections with the rare feature of exhibiting the art near the windows, creating an illusion of natural portraits as you take a look at the gorges beneath.
Fascinating Landscapes
One of the primary reasons for visiting Cuenca is its breathtaking landscapes. The word "Cuenca" literally means basin, and the river gorges, bumpy cliffs and hilltops provide a scenic view.
Picturesque Trails
Cuenca's hiking and walking roads provide a refreshing experience. Mirador Barrio del Castillo gives a stunning view of the Rio Huecar while the hilltop of Cerro del Socorro houses a statue of Jesus, similar to Rio De Janeiro's statute.
The distance between Cuenca and Madrid is around 172 kilometers (106 miles), which can be covered in around two hours.
Train
There is a direct train operating every day within two hours departing from Madrid-Puerta De Atocha and arriving at Cuenca Fernando Zobel. The entire journey takes an hour and the ticket costs £14.
Bus
If you choose to travel by bus, they leave every four hours. The journey takes 2 hours 30 minutes. It is not a good option to go for if your schedule is tight.
Car
The driving distance between the two cities is 166 kilometers. It takes approximately 2 hours to cover this distance.
Hanging Houses
Declared as a UNESCO World Heritage Site, the Hanging Houses are the most famous spots in Cuenca. Initially, the entire Huecar Gorge was bordered by hanging houses but today only three of them remain. These stunning Medieval monuments were restored in the 20th century.
Catedral de Santa María la Mayor
Cuenca's spectacular cathedral, built in the 12th and 13th centuries, is perched on the town's main square. Its main highlights are the combination of Norman and Gothic Architecture and the connected Palacio Episcopal ( Bishop's Palace).
Convento de las Carmelitas Descalzas
Carmelite nuns found an abode in this beautiful Baroque convent standing proudly at the highest point of the city. The building also encompasses a museum containing over 3,000 articles of contemporary art.
*
Day Trips From Madrid Map
Things To Consider Before Booking A Day Trip From Madrid
Research on local festivals
Get to know about events and festivals in advance so that you might experience local traditions on your day trip.
Train tickets
If you plan to go by train, it is best to book your tickets in advance for the best deals.
Attractions
If the day trips include visiting a major tourist attraction, book your entry tickets before.
Guided Tours
Take a guided tour if you think you haven't researched enough about the place you are visiting.
Pack comfortable clothes
Pack your clothes according to the season you are traveling. The Mediterranean heat can be unbearable so wear comfortable clothes if you are planning to go during the summer.
FAQs
What are the best Madrid day trips by car?
Some of the most scenic roads for a day trip from Madrid by car are Chinchon, Patones de Arriba, Cuenca, Toledo and Avila
What should I do if I have one day in Madrid?
You can start off by visiting Parque del Buen Retiro, Palacio de Cibeles and Golden Triangle of Art in the morning. After lunch you can visit Mercado San Miguel, Puerta del Sol, and Plaza Mayor. And in the evening you can head to Palacio Real de Madrid, and the Temple of Debod.
Is one day enough in Madrid?
With so much to see and do in Madrid, you'll need three days to see the major attractions. But one day is quite sufficient to offer you a taste of the city that will leave you asking for more!
What's the best time to visit Madrid?
The best months to visit Madrid are September to November and March to May, when the weather is pleasant.
What's the easiest way to travel within Madrid?
The best way to get around Madrid is by subway. There are a few metro routes that run all the way up to the Madrid-Barajas Airport (MAD) and into the city's southern districts.