Easter is an important holiday for many Christians around the world, and Madrid is no exception. Celebrating Easter in Madrid can be a fun and meaningful experience, as the city offers lots of great activities to enjoy during this festive season. Whether you're planning a day trip or an extended holiday, Easter in Madrid offers something to satisfy even the most discerning traveler. From charming processions and savory dishes to unique shopping experiences, make sure your experience of this beautiful city is filled with memories by following these tips on how to maximize your time in Madrid for Easter.
Easter in Madrid 2023
---
Easter in Madrid this year falls on Sunday, April 9th. Starting on Palm Sunday (April 2nd) and concluding Easter Sunday (April 9th), the Holy week or Semana Santa is an eventful period full of religious ceremonies, concerts, and countless other entertainment opportunities. Maundy Thursday and Good Friday are officially granted holidays.

One of the main attractions during Easter in Madrid is watching or participating in one or several of its famous processions. These religious parades take place all over Spain, but you can find some of the most impressive ones in Madrid. All throughout Semana Santa, different brotherhoods will parade through the city's streets carrying statues and singing religious songs. The traditional costumes worn by the participants are truly a sight to behold and add to the festive atmosphere.

Easter also offers an opportunity to sample some delicious Spanish cuisine. Many restaurants in Madrid specialty dishes that are only available during Easter time, such as cod omelette and roasted lamb. Other popular Easter treats include pestiños (sweet fried pastries) and torrijas (a type of French toast). As well as savory dishes, there is no shortage of sweet desserts that are perfect for celebrating Easter in Madrid.

Finally, Madrid is the ideal city for shopping during Easter. From handmade crafts to specialty Easter sweets and chocolate eggs, there are lots of unique souvenirs that you can take home with you. If you're looking for something more traditional, head over to some of the local shops which sell religious statues, candles, incense and other items related to Holy Week in Spain.
Easter in Madrid – Traditions and Festivities
---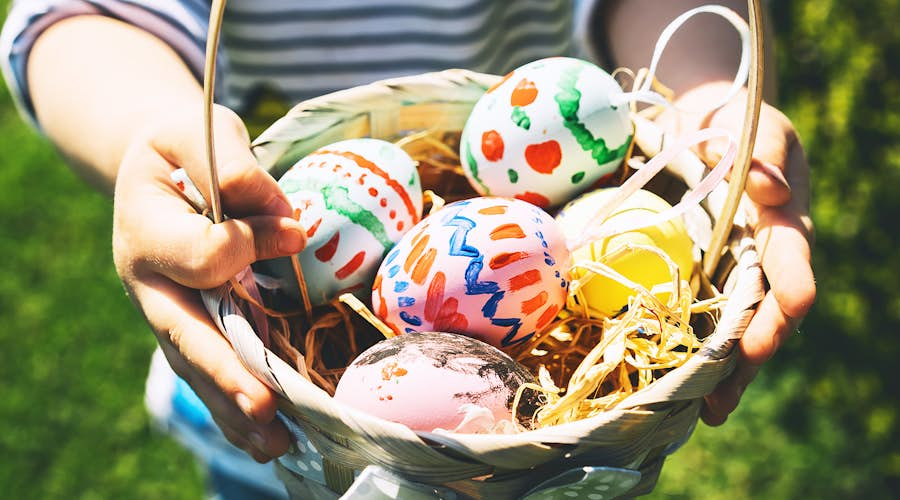 Easter in Madrid is full of centuries-old traditions, religious ceremonies and festive celebrations. On Palm Sunday, the streets are filled with people carrying palm branches as they parade towards churches and cathedrals for a blessing. During the sacred week of Semana Santa, people march through the city with statues and religious hymns. Vibrant attires add to the merry atmosphere while locals celebrate this age-old tradition in style.
Good Friday is celebrated in Madrid with solemn processions throughout the city, where religious statues are carried throughout the streets on wooden platforms called tronos. These processions usually end at midnight when people gather outside cathedrals to sing "Vivos" (Hallelujah) in praise of Jesus.
On Easter Sunday, people attend Mass before gathering together with friends and family to enjoy a traditional Easter meal. This is often followed by 'pascua' or egg-cracking competitions, where participants compete to see who can break the most eggs without breaking their own.
Things to do on Easter in Madrid
---
1. Go on a City Tour of Madrid
Madrid is one of the most vibrant and exciting cities in Europe, with a wealth of culture, history, and attractions to explore. Taking a city tour is an excellent way to get acquainted with the sights and sounds of Madrid. You can take guided walking tours that will lead you through various neighborhoods in Madrid and introduce you to some hidden gems that may not be featured on traditional city tours.
2. Witness La Borriquita procession
Experience the cultural beauty of Madrid as you observe La Borriquita, one of the city's most celebrated Easter processions. Commencing from Almudena Cathedral and Royal Palace, its path winds through downtown Madrid until it reaches Malasaña quarter. It truly is an experience not to be missed! The procession winds its way through various streets in central Madrid before coming to a halt outside the Church of San Isidro, where it is blessed by clergy and then continues back to its starting point. It's a beautiful sight to behold and is a great opportunity to witness some traditional Spanish culture during Easter week!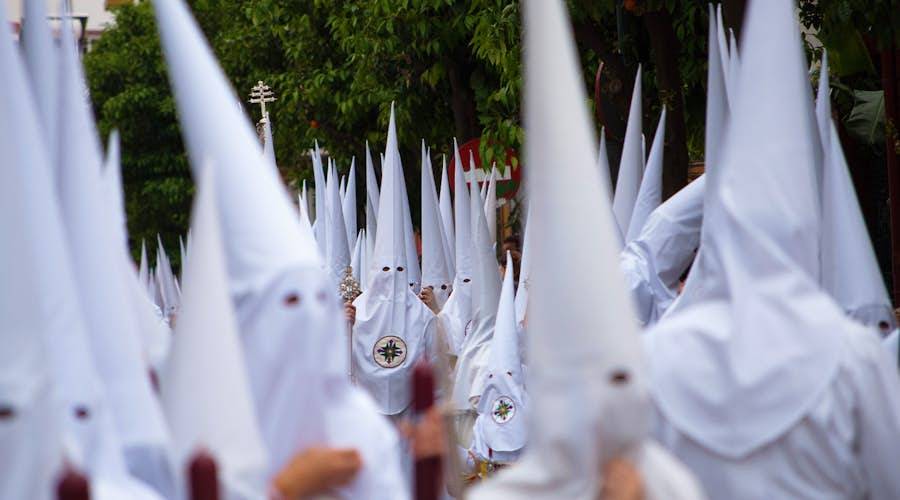 3. Miércoles Santo Procession (Holy Wednesday)
Holy Wednesday marks the midpoint of Easter celebrations in Madrid, and they are well underway. Around 7:30pm on this day, the Archbishop preforms The Stations of the Resurrection Vía Crucis ceremony. Following shortly after that is a remarkable veneration conducted by the Brotherhood of "Cruzados de la Fe", who reverently remove their Christ icon Santísimo Cristo de la Fe from his resting place at Atocha 87 to perform a besapié - an act where his foot is kissed with much devotion.
4. Jueves Santo Procession (Holy Thursday or Maundy Thursday)
The religious celebration of Jueves Santo (Holy Thursday or Maundy Thursday) is one of the most captivating events that happens throughout Easter Week. At 7:30-8pm, locals gather outside Calle Toledo 37 to witness a spectacular moment where "costaleros" bring out two statues from Colegiata de San Isidro—the Virgin Maria Santísima de la Esperanza and Jesús del Gran Poder. As they carefully maneuver their way through the main door with great effort, cheers and applause erupt from those watching in admiration!
5. Sacred musical performances on Easter Sunday
Every year during Holy Week, Madrid is home to a traditional musical program. The Ciclo Música de Órgano, held at the Church of San Ginés (Arenal, 13) features performances from Bach and Boccherini. Spectators are wowed by beautiful Saetas before gathering for Easter Sunday's Tamborrada Maña celebration beginning with Plaza Mayor in Madrid, as drummers march throughout the city honouring Jesus Christ's resurrection over three days after his death.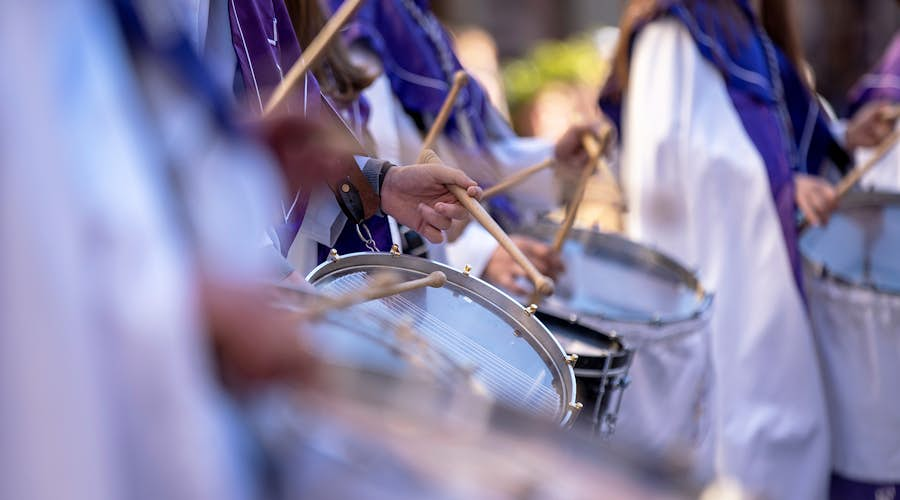 6. Head to Toledo for another unique Easter experience
The city of Toledo is a beautiful hilltop city located in Castilla-La Mancha and surrounded by the Tagus River. During the Easter period, the streets are filled with festivities that include processions and parades. The highlight of the easter celebrations in Toledo is attending the "Semana Santa" or Holy Week.
7. Catch the age old Passion Play at Chinchon
During Easter Week, the Spanish town of Chinchón in the Madrid region celebrates Jesus Christ's death and resurrection with a spectacular enactment. Upwards of 250 actors join in on this eventful occasion at dusk on Saturday (April 8th) — taking place across many iconic locations throughout the city including Plaza Mayor Square, Town Hall, San Roque Square and Calvary. It is truly an awe-inspiring experience!

This traditional event has been a staple in the region since 1963, making it among the oldest of its type. The show is filled with dramatic scenes and vibrant colors set amidst an incredible setting that ends with what all attendees eagerly wait for: Jesus' Resurrection. In La Asunción Church, Christ's Ascension is presented amid white smoke and doves - creating a powerful moment no one will soon forget.
8. Celebrate Easter with nature at Guadarrama National Park
Embark on an extraordinary day trip from Madrid and explore the majestic Guadarrama National Park, along with the timeless Manzanares el Real castle. Revel in nature's beauty as you take delight in its diverse wildlife, flora and fauna inhabiting Sierra de Guadarrama.
Easter Dining in Madrid
---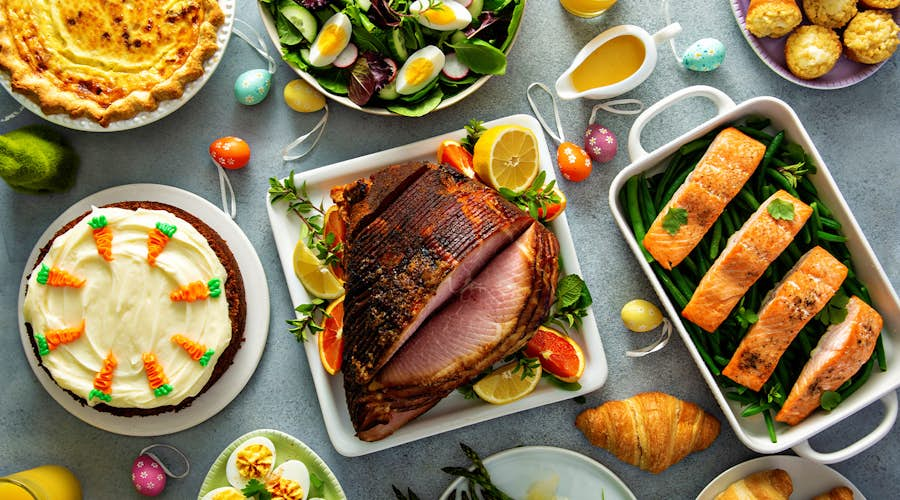 Mona de Pascua
Mona de Pascua is an Easter tradition in Madrid. It's a sweet pastry that consists of a cake filled with marzipan, candied fruit, and topped with sugar icing. If you are visiting the city during Easter time, it would be a great idea to try some Mona de Pascua! It's usually found in most bakeries around town and is sure to make your day extra special. You can buy this at Pasteleria Villagarcia in Madrid.
Bacalao al pil-pil
Eating Bacalao al pil-pil in Madrid for Easter is a tradition that has been celebrated in the Spanish capital for centuries. This traditional dish of salted cod, olive oil, and garlic, is an important part of the festivities for locals and visitors alike. The combination of flavors makes it the perfect accompaniment to a festive meal during this special time of year. Head to Pil Pil Basque Cider House to have this delicious dish!
Torrijas
Get ready to fall in love with torrijas – an irresistibly delicious Spanish dessert that's a variation on French toast. During Semana Santa, it can be found in abundance all over Spain. Similar preparation is used for this delightful treat; however, there are several key differences: the addition of citrus zest like lemon or orange instead of vanilla extract and oil being utilized instead of butter when frying the bread slices. Some even prefer to dip them into wine for what's known as 'torrijas al vino'! Head to Asador Katuzarra to have some Torrijas!
Weather during Easter in Madrid
---
The weather in Madrid during Easter is usually mild with temperatures ranging from 8°C (46°F) to 20°C (68°F). Generally, the days are sunny and bright but there may be occasional showers. It's a great time for exploring the city and enjoying the outdoors. Many locals celebrate this holiday with traditional foods like paella, chocolate eggs and a variety of other delicacies. The streets of Madrid come alive during Easter as thousands of locals take part in colorful processions, special church services and lively celebrations. During this season, visitors can experience Spanish culture at its finest! All in all, it's an ideal time to visit Madrid for those who want to enjoy some nice springtime weather while taking in the sights and sounds of the city.
Tips for Visiting Madrid During Easter
---
Visit Easter processions and take part in the popular festivities: Madrid offers a wealth of Easter celebrations, from grand religious events to street parties. Be sure to join in the festivities, as it is a great way to witness traditional customs and culture.
Explore the city's many attractions: If you visit during this time of year, the warm spring weather is perfect for sightseeing around Madrid's attractions. Take a stroll through the Plaza Mayor or enjoy a sunny day at Retiro Park.
Sample some delicious local cuisine: The culinary scene in Madrid has something for everyone – from traditional tapas to modern Spanish favorites like Iberico ham and paella. Enjoy some classic dishes like patatas bravas and huevos rotos (scrambled eggs with potatoes).
Shop for souvenirs: Easter is a great time to shop for souvenirs, as the city offers plenty of unique items from traditional Spanish products to modern designer pieces.
Stay in a local guesthouse or Airbnb: Madrid's accommodation options have many types of lodging, from luxurious hotels to cozy guesthouses and Airbnbs. Staying in a local accommodation will allow you to get more immersed in the culture and atmosphere of Madrid during Easter.
Explore the city at night: Madrid really comes alive at night during Easter, with plenty of restaurants and bars staying open late for customers. Take the opportunity to explore the beautiful city after dark for a truly unique experience.