Step into the magnificent halls of the Royal Palace of Madrid, filled with rich cultural and historical significance. Get a taste of the glamour of Spanish Royalty as you marvel at the many historical and artistic pieces that adorn the many rooms inside the palace.
On your Madrid Royal Palace guided tour, an expert historian will explain everything there is to know about this attraction: it's history, cultural significance, famous artworks, and then some. With each guided tour, you enjoy priority access into the landmark, ensuring you don't waste time standing around in line.
Not sure how to go about choosing the right Madrid Royal Palace guided tour? Allow us to help:
Advantages of a Royal Palace Madrid Guided Tour
---
No need to wait in line to get in:
Madrid Royal Palace is crowded throughout the year, so you'll mostly spend a good hour (or two) waiting in long lines before you enter the palace. With your guided tour ticket, you can skip to the front of the line, meet your guide, and waltz right into the palace- hassle free!
Expert guidance while exploring the palace:
A historical marvel such as the Royal Palace of Madrid comes with generations worth of stories. It's good to have some company while you do your exploring- what better way than to do so with an expert historian who knows every little detail and oodles of stories hidden behind the palace walls? Your guide will tell you all about the history of the palace, its inhabitants, and some lesser-known facts about the attraction!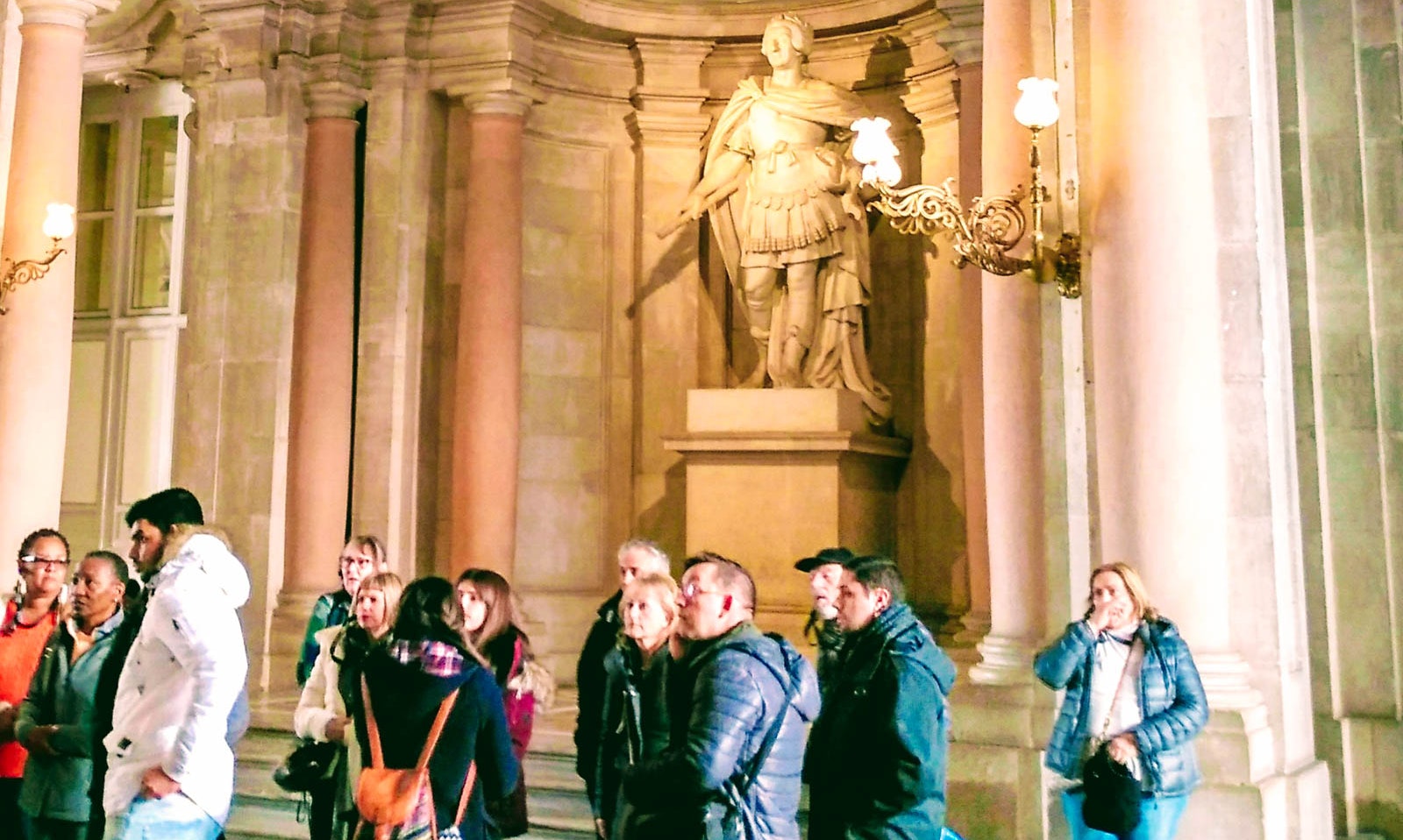 Small tour groups are available
All for taking a guided tour but not-so-sure about walking alongside total strangers? In the wake of the recent pandemic, we have all become a little more conscious about social distancing, which works out fine at the Royal Palace of Madrid because you can now book a small tour group for a safe and more exclusive touring experience.
Flexible timings to suit your schedule
When booking your Madrid Royal Palace tickets, you'll notice various time slots are available for your tour throughout the day. This makes it convenient for you to choose your desired time slot- guaranteeing flexibility while booking. Choose timings that fit into your travel schedule with ease.
Easy navigation through the palace
The Madrid Royal Palace is a massive structure spread across 1,40,000 sq. ft. Making your way through the palace can be quite confusing and tiresome. On a guided tour, you will be taken from one area of the palace to the next in an organized manner, making sure you don't miss out on anything important. Enjoy a fun, organized, and educational way of exploring the Madrid Royal Palace with guided tours.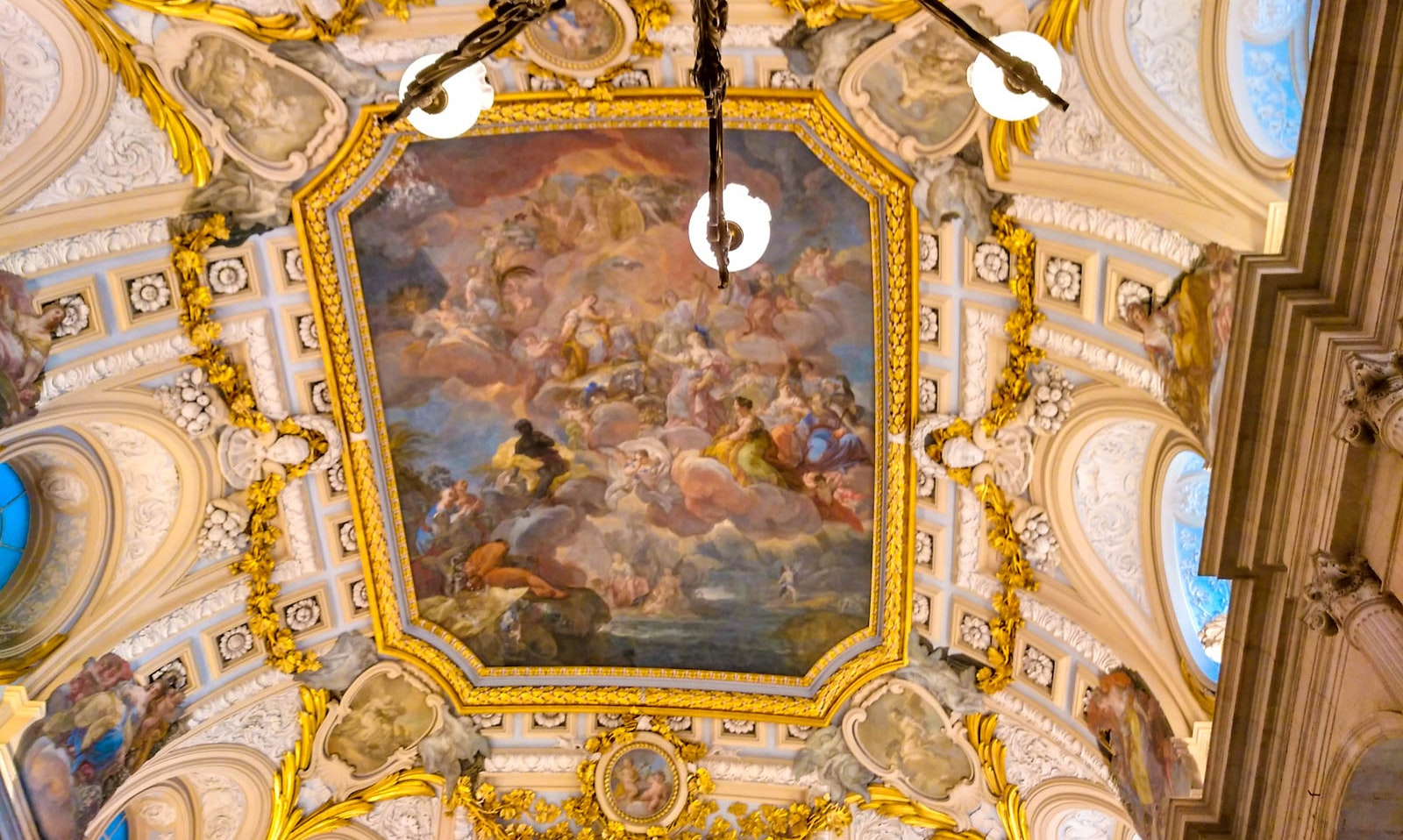 The Best Madrid Royal Palace Guided Tours
---
Guided Tours
Combo Guided Tours
Are Madrid Royal Palace Tours Worth The Hype?
---
Simply put, yes- a guided tour to the Royal Palace of Madrid is well worth your money. This magnificent attraction has generations of stories within its walls, which you won't be able to enjoy on your own. Guided tours are a sure-shot way to make sure you have a wholesome experience on your visit, especially when you're exploring this iconic Spanish landmark. All you have to do is show up: the rest- from beginning to end- is taken care of for you!

Choosing the Best Madrid Royal Palace Tour
---
Depending on your preferences, there are certain ways to choose the right Madrid Royal Palace guided tour for you:
Enjoy priority access to the Royal Palace of Madrid without the hassle of waiting in long lines. Your guided tour comes with a skip the line feature and gives you access to all major areas of the palace. Check out the iconic rooms inside the palace including the Royal Library, the Royal Chapel, the Crown Room, and more, without waiting around in line.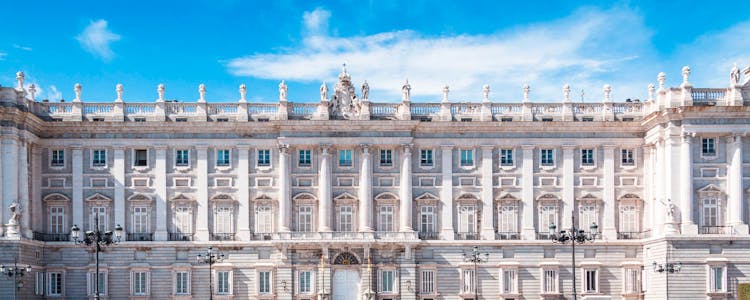 Fancy yourself a guided tour of the Madrid Royal Palace but not sure your plan is set in stone? Fret not. Book now and cancel later (at least 24 hours prior to the day of your tour) so you have a reserved slot in case you can make it. This ensures you won't have to waste time at the attraction buying tickets if your day opens up.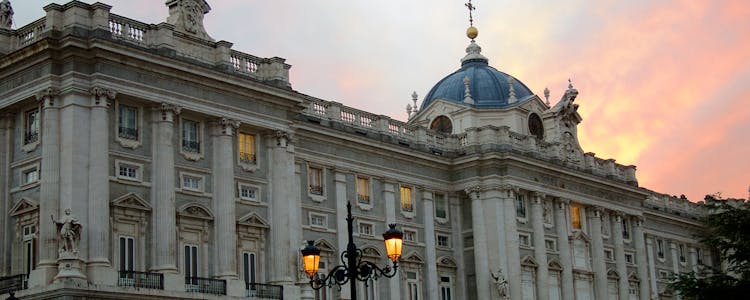 3

More Than Just The Palace
Make the most of your day by visiting two iconic attractions with one ticket: The Madrid Royal Palace & the Prado Museum! Take a walk through the many well-known areas inside the grandest palace in Spain and admire the exquisite collections of European art from the 12th-20th centuries!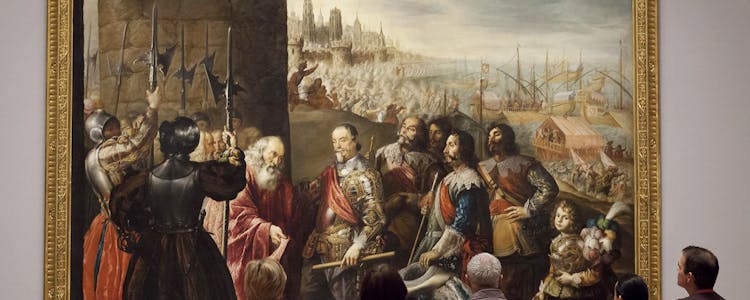 4

Royal Kitchen Tour Included
Devour the splendor of Spanish royalty as you marvel at the many historical and artistic pieces inside the palace. Pair that up with a visit to the unique Royal Kitchen: see where food is prepared in the bakery workshop, wine cellars, and preparation room!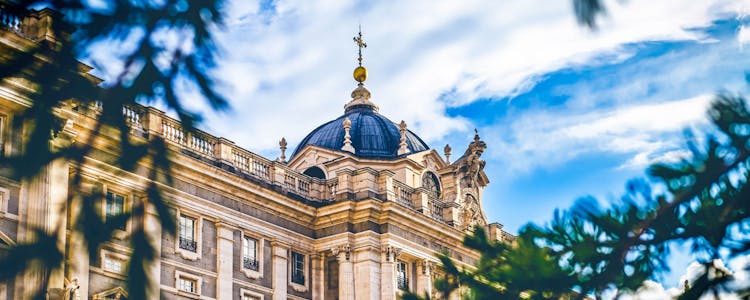 Madrid Royal Palace Tours Deconstructed - A Typical Guided Tour Experience
---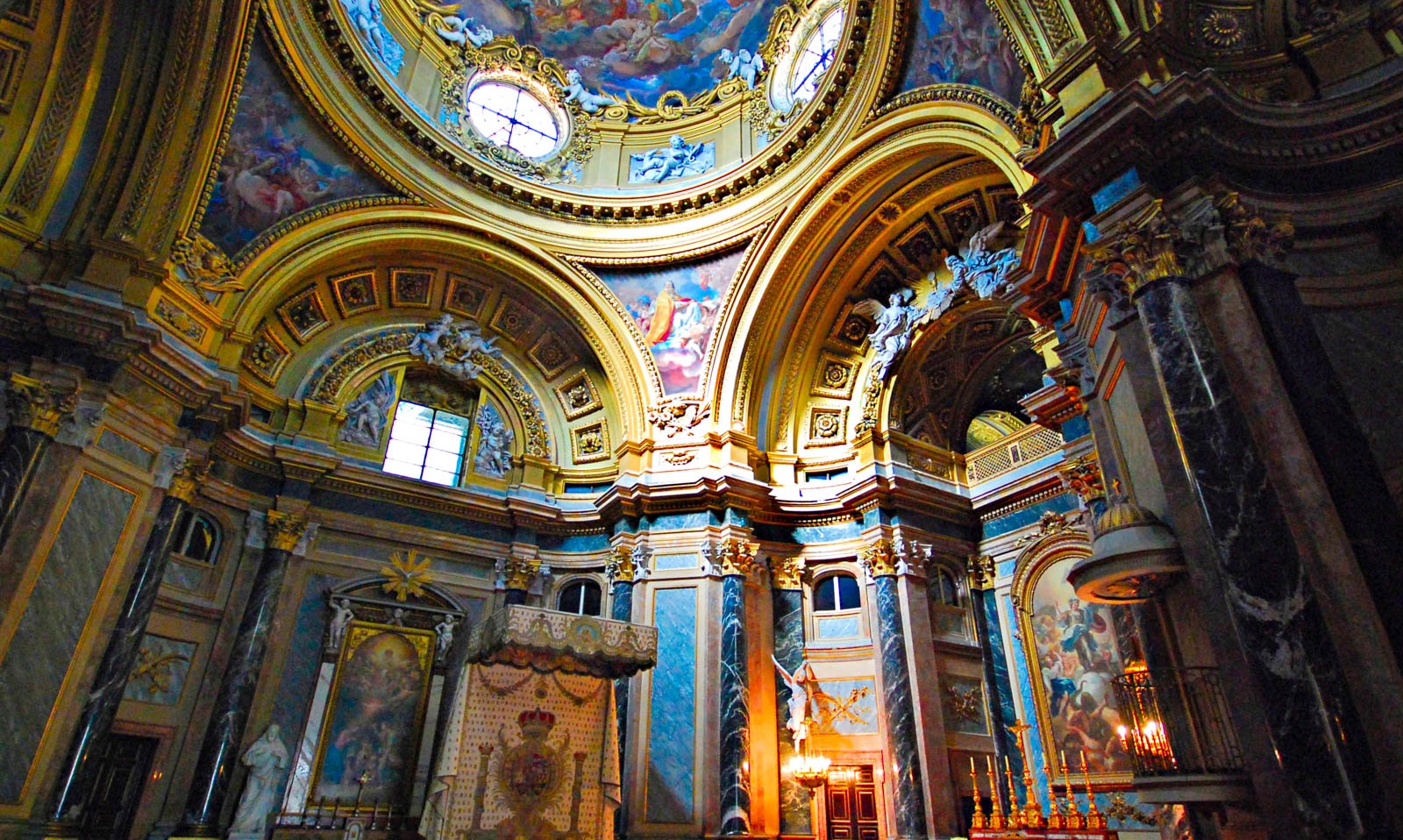 The Royal Rooms
Your guide will walk you past the iconic Royal Rooms of the palace. Learn about the significance of each room as you admire the historical tapestries, artworks, and design. You will be taken to the Royal Library, the Grand Staircase, the Crown Room, Private Apartments, and more.
Mesmerizing Artworks
Madrid Royal Palace is home to an exclusive collection of artworks by many renowned artists including Velázquez, Goya, Caravaggio, and many others. Take a close look at their works as well as other ancient artifacts such as armors, swords, and intricate tapestries.
Royal Armory
Comparable to the Imperial in Vienna, the Royal Armory of Madrid is remarkably praised. Accommodating armory from the 15th century, there is much to marvel at: the riding gear of Carlos V & Felipe II, the tools used in the battle of Mühlberg by Emperor Charles V, and signed armour by Filippo Negroli- the greatest armourer of all time- these are just some of the pieces you'll spot here.
The Crown Room
Previously known as the Chamber of Queen María Cristina, the now Crown Room houses the jewels of the Hispanic monarchy, that have only recently been opened to the public. Along with the crown, you'll also see the sceptre. The chiselled, embossed and gilded silver-made crown and the sceptre made of rock crystal, silver-plated filigree, and enamels will have you ooh-ing and ah-ing!
Hall of Mirrors
You thought the Palace of Versailles was the only attraction that had a Hall of Mirrors? Make your way through Madrid's very own Hall of Mirrors, originally used as a dressing table by Queen María Luisa de Parma! This remarkable room is filled with pink marble walls and white and blue embellishments, and is easily one of the most stunning rooms in the palace.
For Combo Guided Tours Only:
Prado Museum
Choose a combo tour with the Prado Museum and explore this additional landmark in the Madrid. Housing the works of Francisco Goya, El Greco, Hieronymus Bosch, Fra Angelico, Diego Velázquez, Raphael, and Titian, among others, this remarkable museum is one of Madrid's absolute must-visits. A combo guided tour that includes a visit to the Prado Museum is a bang for your buck. If you wish to book more Prado Museum Tickets, peruse your options here.
Madrid Royal Palace Practical Information
---
Opening Hours
The Madrid Royal Palace is open every day throughout the week, however, timings differ according to seasons.

In summers (April to September), the palace is open from Monday to Saturday between 10:00 AM to 7:00 PM and on Sunday between 10:00 AM to 4:00 PM.

During winter (October to March), the palace is open from Monday to Saturday between 10:00 AM to 6:00 PM and on Sunday between 10:00 AM to 4:00 PM.
Getting to the Madrid Royal Palace
By Bus: Bus routes 3, 25, 39, and 148 will get you to the Royal Palace of Madrid.
By Car: There is no onsite parking at the Royal Palace of Madrid. The closest car parks are Aparcamiento Plaza de Oriente and Parking Palacio de los Duques.
By Metro: If you're traveling by metro, take lines 5 or 2 and get off at the Opera Station.
By Train: If you're taking the train to Madrid Royal Palace, get off at the Principe Pio Station.
By Taxi: You can catch a local taxi which will take you straight to the Royal Palace of Madrid.
Insider Tips
---
Here are some handy tips to keep in mind while booking your Madrid Royal Palace tour:
Madrid Royal Palace is completely accessible to people with reduced mobilities.
There is a storage facility for large bags and luggage at the entrance of the Madrid Royal Palace.
Handheld cameras and cellphones are permitted for the purpose of photography. However, flash photography and the use of tripods is not allowed.
You will have to cover a large area by foot at the palace so we recommend wearing comfortable footwear.
Infants between the ages of 0 - 5 years can enter for free while children between 6 - 15 years are eligible for guided tour tickets at a discounted rate.
St. Peter's Basilica Tours
FAQs
---
Will the prices change for a larger/smaller private group?
What time do Madrid Royal Palace guided tours start?
When does Madrid Royal Palace stay shut?
Can I book a private tour just for myself?
Which is the best Madrid Royal Palace tour for budget travelers?
Ready to head to Madrid Royal Palace?
---
Purchase discounted Madrid Royal Palace tickets via Headout today! Explore Royal Palace of Madrid in a hassle-free fashion with all the need-to-know information in hand.
Fancy heading out to some other stunning Madrid attractions? Take inspiration from our list of the best things to do in Madrid here.
In Madrid for a few days?
In the city for a few days and want some help charting out an itinerary? Check out our 1 day in Madrid and our 3 days in Madrid itineraries for inspiration.