Corinne and River from North South Travels are full-time travel bloggers, content creators, and a dynamic couple from the UK with an undying passion for travel. What started out as a couple venture - traveling to destinations afar and sharing their stories with the rest of the world - has recently taken a turn for the better! Having welcomed their daughter, Mila into the world last year, you'd think they'd stay put for a bit. But as Corinne says, "traveling is in our bones." They knew their love for travel couldn't take a break, and beyond that, they hoped it'd pass on to little Mila. And by the looks of it, it sure did...
We connected with Corinne and River to learn more about their interesting ventures, their travel stories with little Mila in tow, and some useful tips for aspiring travel bloggers with children!
North South Travels' Take On Traveling With Children
Is traveling with children something you'd envisioned before? How hard is it to plan a destination to travel with your child, keeping in mind their comfort and safety?
Yes, definitely! Traveling is in our bones and we knew that we wanted to pass that on to our children. When Mila came into our lives, it was a no-brainer that we would continue to travel with her. We knew we had to adapt our travel lifestyle to a travel family lifestyle, and it's been great!
One thing we always keep in mind is just how adaptable children are. Of course we take factors like climate (not traveling to extreme heat or extreme cold climates while she's still so young) and safety of the location into consideration, but other than that we don't limit our destinations.
If we have long-haul flights, we make sure we bring her creature comforts. If we are traveling by car, we arrange a car seat in advance. As we mentioned, it's all about adapting. Even so, it doesn't require a lot more planning than traveling solo or as a couple. Give it a try!
HEADOUT HOT TIP!
Introduce your kids to the trip ahead of time. With too many new things going on, kids can get overwhelmed, uncomfortable, and ultimately unhappy. Letting them know what to expect ahead of time ensures they are happy, comfortable, and excited about what's coming next.
What do you do to make sure your children are as excited about traveling as you are?
Well, so far Mila can't talk to actually tell us if she enjoys traveling as much as we do, but we do get cues from her that suggest she just might. The sheer amazement on her face when we climb a mountain or pass a waterfall, her little squeals when we feed tortoises or swim in the ocean.. Seeing how happy she gets makes us more excited about traveling, if that's even possible. We hope, in time, she gets to learn more about different cultures, and be excited by the endless possibilities traveling can bring- just as excited as we are!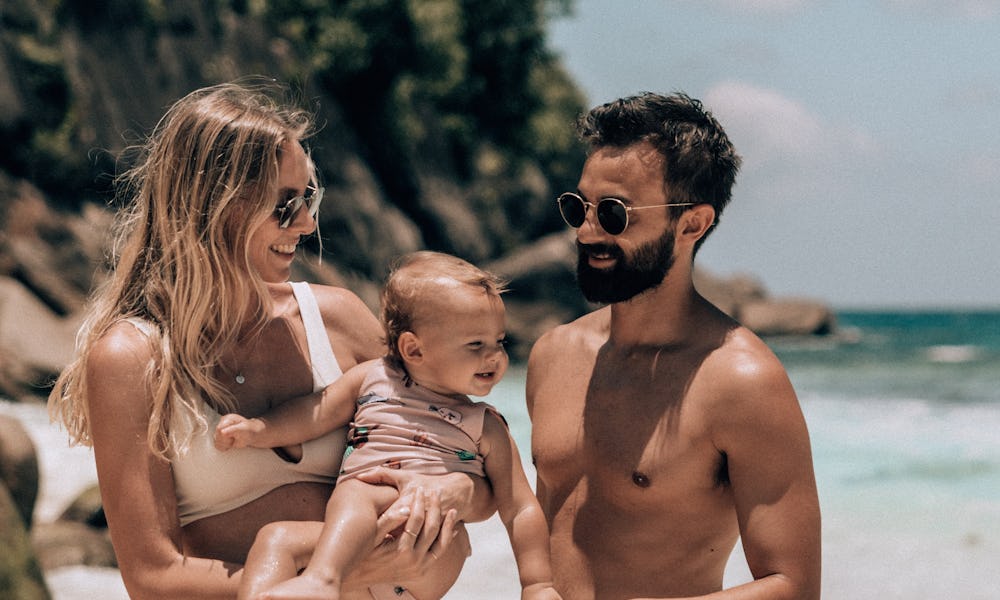 Your top 5 kid-friendly destinations for a holiday?
1. UK: As Brits ourselves we are excited to be exploring more of the United Kingdom this year. It encompasses such a variety from highlands to coastal beaches and the whole isle is scattered with campsites and holiday parks making it easy and affordable for families to have a holiday.
2. Spain: River grew up in the south of Spain and it is somewhere we have already taken Mila. You can choose between history filled cities like Barcelona or Madrid to southern Spanish villages spread along the mediterranean coast in the warm year round Andalusian region.
3. Dubai: We lived in Dubai for over 4 years and it was where Mila was born. It's a great place to visit with kids as there is so much to see and do, from aquariums to water parks to sensoray museums. However we'd only recommend visiting between October - April as the summer months are way too hot.
4.Greece: Greece is one of our favourite countries we explored as a couple and one we'd love to take Mila to. It's ideal for island hopping with children as most ferry companies allow children under 5 years old to travel for free.
5. Seychelles: For something slightly more high end but surprisingly catered to children. We have recently returned for our trip to the Seychelles and we were pleasantly surprised at the amount of other families with young children we came across and how many kids clubs and child-friendly activities there were.
HEADOUT HOT TIP!
Before your trip, make sure you have plenty of media downloaded and ready-to-use. You never know where WiFi will be unavailable, and it's almost guaranteed that your children will desperately need a change or a new episode when that happens. Always be prepared.
Do you plan your day-to-day itineraries in such a way that Mila tires out in time for bed?
We always have a loose idea of what we would like to do at the destination we're visiting- it's part of the job to research the environment and plan some activities. That said, we do not plan out detailed itineraries as such. We also do not believe in "tiring out" Mila in time for bed. In our experience, children thrive in the outdoors and partaking in a variety of activities everyday challenges them mentally AND physically - which is just as tiring. Fresh air, new places and new faces are all effective sleep remedies for little Mila.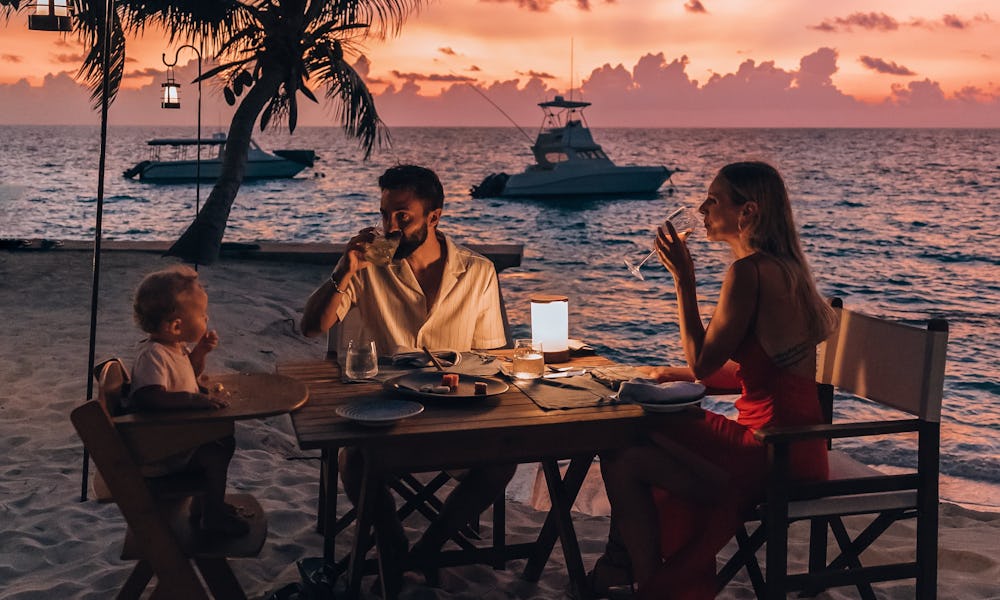 Headout's Top Experiences For Traveling With Children:
Traveling with kids can get expensive. How do you budget your trips? Any easy hacks one can keep in mind?
It absolutely can get expensive. As they get older you need to factor in flights, extra rooms, more costly activities, and more.
However for us right now, ways we keep the cost down is by traveling while Mila is still young.
For some this might seem daunting but they're so easy to travel with from 0-6 months.
From 0-2 years, they can sit in your lap (which means no extra flight tickets).
Take lots of local trips and cover ground by car/minivan/RV- this eliminates flight expenses altogether.
Pack lots of snacks and your own lunches. You won't have to stop at expensive eateries on the way, ensure they're eating (relatively) healthy, and you have it ready to eat as soon as they need food (which is often very out-of-the-blue!)
Stay away from guided tours and explore the local area together as a family. It's cheaper you won't be restricted to certain places at certain times.
HEADOUT HOT TIP!
Ask for child discounts wherever you go. You'd be surprised how many places give you child discounts. Not just attraction tickets, but for public transportation (buses, trains), private guided tours, restaurants, and more! Never hurts to ask.
How do you pick activities to do that everyone in the family can enjoy?
As Mila gets older this will be something that we'll have to address more closely, but for now, we pick family activities we can do together based on the duration of the activity, and if outdoors, the weather outside.
As parents traveling with children, you have to factor in the number of naps they like to take during the day (Mila requires between 1-2 naps), so you have to end the activity before they get too tired and lose interest.
It'll take some getting used to, but after the first couple of times, you'll get the hang of it, and it won't seem like planning at all.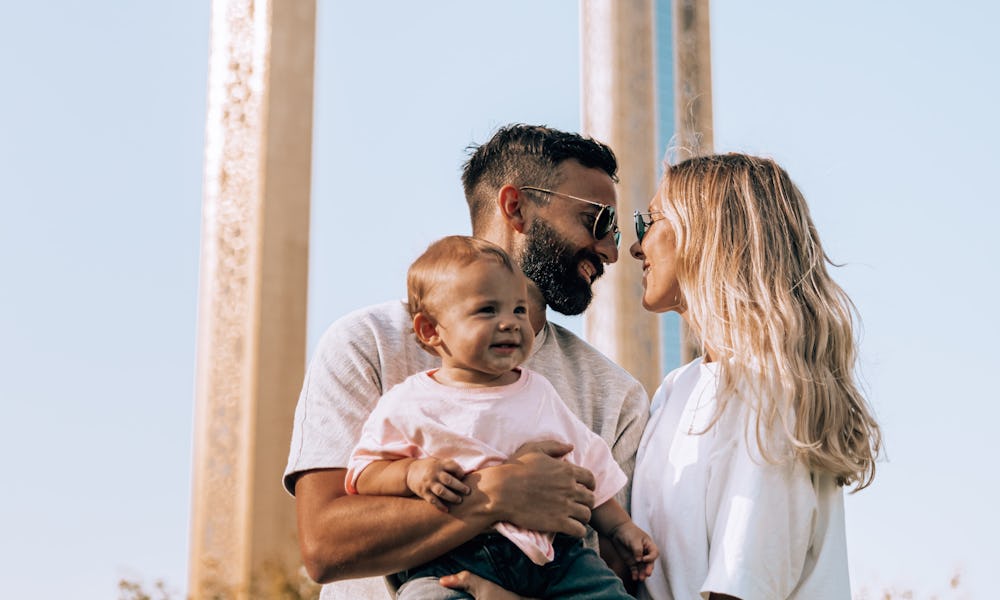 What are some of the most useful tips you could give other aspiring parents looking to start travel blogging with their children?
GO. FOR. IT! If you have young children - don't think twice. This is the best time, as you don't have to factor in school. Of course, if you're home-schooling your kids, then even better, you can travel and educate as you go!
We started our travel blog as a couple and have tailored our content to help and teach how to travel as a family since we had Mila and the response has been amazing. Our best tips for people aspiring to start travel blogging with their kids is to document everything!
How, you ask? Create a website, curate a blog, share your travel photos, videos, and more through social media outlets, and/or start a travel vlog on YouTube- whichever suits your style.
If you've never done anything of this sort before, fret not. YouTube is a great tool to help self-teach you a lot of documenting tools i.e. photo editing and video creation.
Ultimately document what you love and the love for it will come through!
HEADOUT HOT TIP!
Babies cannot equalize their ears on their own. Ear pain due to elevation change is one of the main reasons they cry on planes. Feeding them during elevation change helps relieve pressure. The sucking motion equalizes the ears naturally. Feeding also distracts them from the mild discomfort they are bound to feel during take-off and landing.
When traveling with kids, what's your go-to activity for some "me" time?
We tend to get me-time when Mila is napping or in the evenings when she's asleep. During this time, we tend to get most of our work done too: edits, writing, emailing etc. However, if we really do want to indulge in an activity, for Corinne it would be an hour at the Spa and for River it would be fitting in a workout.
Traveling with Children: FAQs
Is traveling with children difficult?
Can I get breast milk through security?
When flying, do I need to get a separate seat for my child?
Where can I change my baby's diaper on a plane?
What are some of the must-haves when traveling with children?