Experience the enchantment of Shrek's Adventure! London—an immersive attraction that transports visitors into the whimsical world of Shrek and his beloved fairy tale companions. Packed with thrilling 4D flying bus rides, live shows, and interactive exhibits, this unforgettable journey is suitable for all ages. Whether you're a fan of the films or seeking a fun-filled day out, don't miss the magical allure of Shrek's Adventure! London.
Know Before You Go
---
Getting There
Riverside Building, County Hall Westminster Bridge Road SE1 7PB
London - England
Get Directions
Opening Hours
Monday, Tuesday, Wednesday, Friday: 10 AM to 3 PM
Thursday: 11 AM to 3 PM
Saturday-Sunday: 10 AM to 4 PM
Last Admission: 3 PM or 4 PM
Why Experience Shrek's Adventure?
---
The tour provides a one-of-a-kind immersive experience transporting you directly into the enchanting realm of Shrek's magical world. Interactive exhibits, 4D experience, live actors, and special effects add to the magic.
Whether you're a fan of the Shrek films or not, there is plenty to enjoy on this tour. There are plenty of activities and exhibits that will appeal to all age groups.
Being located in the heart of London, on River Thames's South Bank, makes it easy to access from any part of the city.
Visitors can easily combine other popular attractions in London, such as the London Eye, the London Dungeon, and SEA LIFE London Aquarium to make the most of their holiday.
Plenty of spectacular activities and photo opportunities at the Dreamworks Play Station that's full of fun zones where you can meet your favorite characters, create your own music, learn to fly your own dragon, and so much more.
Recommended Shrek's Adventure Tickets
---
Depending on the kind of experience you seek and time in hand, you can choose from a variety of Shrek's Adventure! tickets.
Highlights of Shrek's Adventure!
---
#1 4D Flying Magic Bus
The ride on the 4D Flying Magic Bus is the highlight of Shrek's Adventure tour. With Donkey in the driver's seat, the immersive attraction takes you on a thrilling journey through to the lively Far Far Away Land, via Berk, and the famous Valley of Peace. The 4D aspect of this ride truly makes it an unforgettable experience. As the wind blows through your hair and water splashing around, the journey comes alive, immersing you in a vivid and tangible experience.
#2 Rumplestiltskin Carriage
In the thrilling Rumplestiltskin Carriage experience, you will discover an added layer of excitement. As you encounter the Fortune Teller and her mystical crystal ball within her enchanting caravan, she activates its powers through the magic of dancing. However, be wary, for the mischievous Rumplestiltskin has become aware of your presence and is hot on your trail. To evade his clutches, you must swiftly exit the caravan and seek shelter at the Poison Apple pub. Prepare for an adventure filled with twists and turns as you outsmart Rumplestiltskin.
#3 Poison Apple Hub
Stepping inside, you are instantly transported to another dimension, immersed in its spine-chilling decor, dim lighting, and eerie atmosphere. The bartenders, dressed as witches and warlocks, further enhance the enchanting ambiance. It is here that you have the chance to encounter Puss in Boots, the notorious cat hired to eliminate Shrek. Prepare for a captivating encounter in this bewitching setting.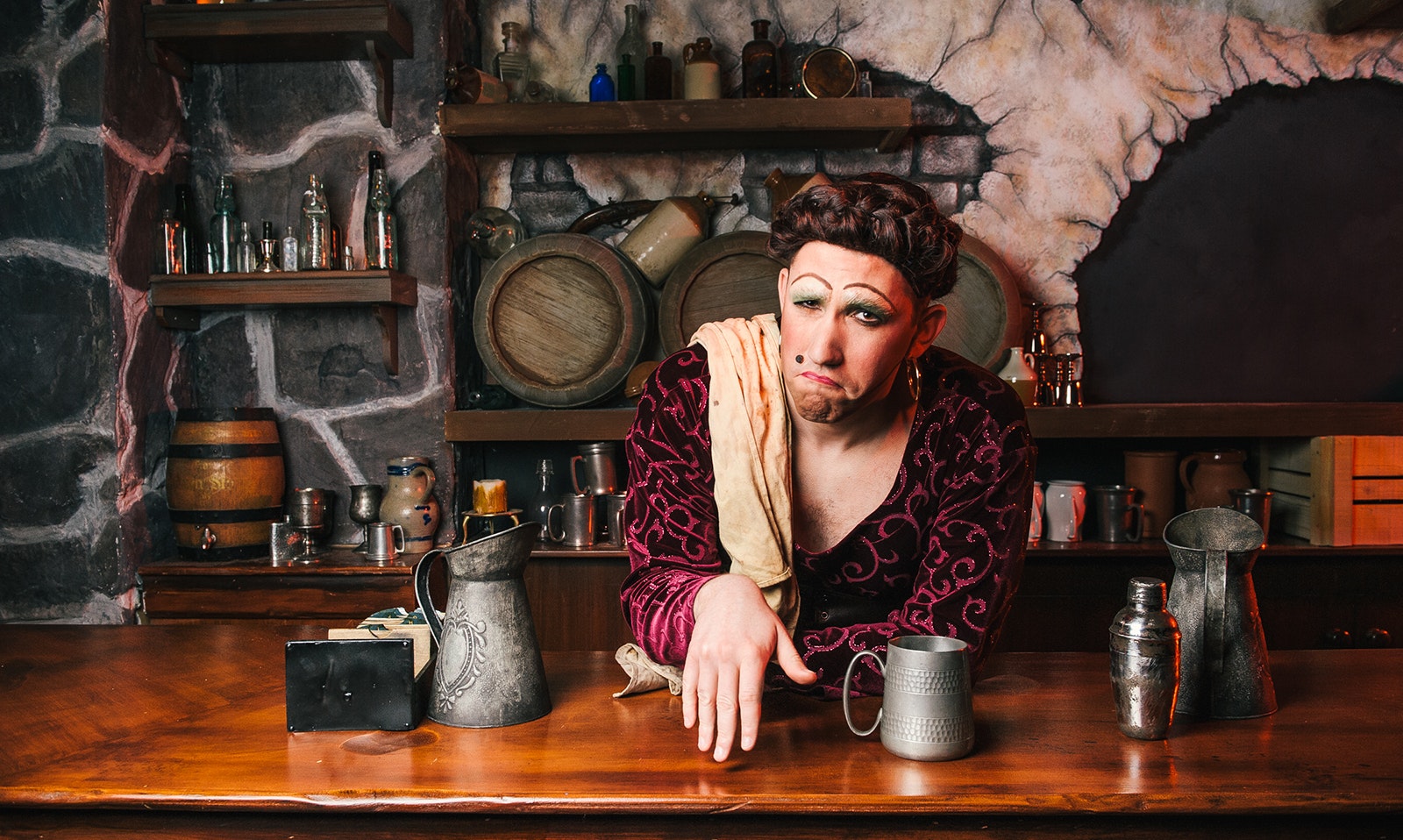 #4 The Swamp
As you continue the journey, you arrive at "The Swamp," where a furious Rumplestiltskin unleashes his army of witches to pursue the visitors. Luckily, you cross paths with Cinderella, who has the potential to assist you, but she appears to be preoccupied with her phone! Eventually, she locates a Fortune Teller who possesses the Gorgoyle map, but there's a catch—the payment must be made in gold. Thus, you embark on a mission to locate Shrek's rumored hidden treasure, believed to be concealed within the depths of the toilet. Prepare for a comical and adventurous quest to secure the needed gold.
#5 Farquaad's Dungeon
As you step into the aftermath of Lord Farquaad's demise, you find yourself in the presence of Thelonious, overseeing the torture chamber where Pinocchio is held captive. However, there is a glimmer of hope shining through as Thelonious offers you a chance at freedom, contingent upon answering his questions correctly. The adrenaline surges as the Magic Mirror introduces a time limit, heightening the challenge and infusing the atmosphere with an electrifying intensity. Brace yourself for a thrilling test of knowledge and wit as you strive to secure your release from the clutches of Thelonious.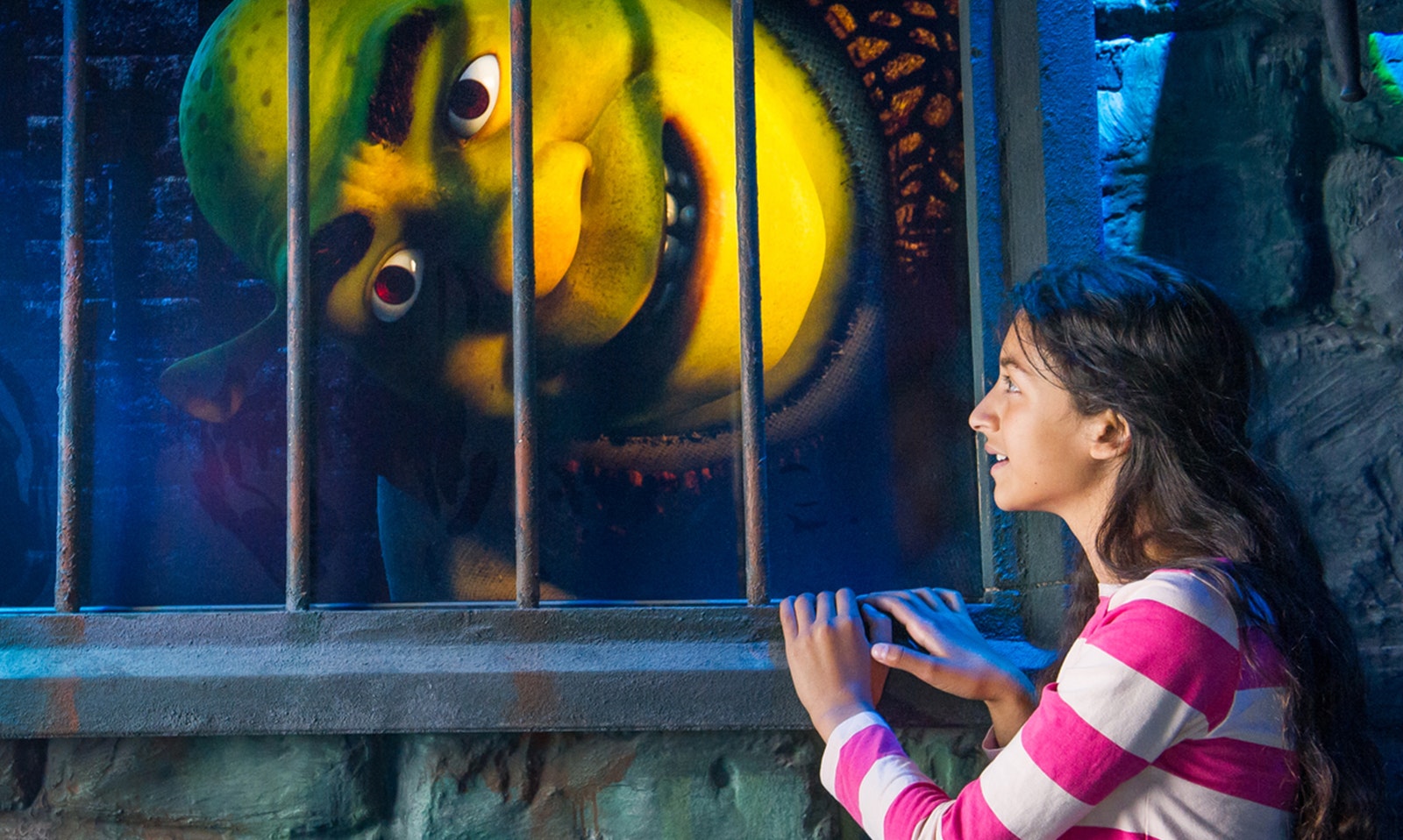 #6 Dreamworks Stations
As the tour draws to a close, you find yourself at the culmination of your journey, where you finally come face to face with the legendary Shrek. After this memorable encounter, you enter the captivating realm of Dreamworks Stations, brimming with an array of intriguing activities. Immerse yourself in the Kung Fu Panda Zone, where you can delve into the art of Kung Fu, honing your skills alongside beloved characters. Additionally, explore the Madagascar Zone, inspired by the whimsical and zany world of the Madagascar films, promising an experience filled with laughter and adventure.
Best Time to Visit Shrek's Adventure
---
London is a popular tourist destination year-round, but the summer months (June to August) and the holiday season (December to early January) tend to be the busiest. If you prefer to avoid crowds, visiting London during the shoulder seasons (spring and fall) is ideal.
If you prefer milder weather, March to May is the best time to visit London when the temperatures are around 16 degree Celsius. Summer is also the best time to visit London if you want to attend music festivals and concerts, such as the BST Hyde Park concerts and the Wireless Festival.
Shrek's Adventure Timings
---
Monday, Tuesday, Wednesday, Friday: 10 AM to 3 PM
Thursday: 11 AM to 3 PM
Saturday-Sunday: 10 AM to 4 PM
Last Admission: 3 PM or 4 PM
Getting There
---
Car
Shrek's Adventure Tour has an agreement with the National Theatre Car Park and Q-Park Car Park. You can prebook the National Theatre car park through their website by paying a rate of £6. For Q-Park car park, you can click on
Bus
Westminster Bridge Road: 12, 53, 59, 76, 148, 159, 211, or 341
Belvedere Road: 77 or RV1.
York Road: 211, 77 or 381.
Train
Nearest Stop: Waterloo and Charing Cross Stations
Tube
Nearest Stop: Waterloo and Westminster
Tips to Visit Shrek's Adventure
---
To avoid long queues and ensure availability, it's best to book your tickets online in advance.
You can purchase a Merlin Annual Pass to visit 30+ attractions in the UK in addition to Shrek's Adventure. Some of these include SEA LIFE centers, Thorpe Park, Madame Tussauds, and more.
Arrive at least 15 minutes before your scheduled tour time to allow for security checks and to avoid being rushed.
You'll be on your feet for most of the tour, so wear comfortable shoes and dress in layers as the temperature inside can vary.
Allow extra time to explore the gift shop and take in the surrounding area of the Southbank, which offers plenty of restaurants and attractions to enjoy after your tour.
Shrek's Adventure Facts
---
Shrek's Adventure tour is Merlin's sixth midway roll-out, the others being Madame Tussauds, Legoland Discovery Centre, The Dungeon,Sea Life and The Eye.
Merlin partnered with Simworx, a leader in 3D and 4D simulation attractions, to develop the 4D flying Magic Bus ride.
The owners Simworx used a combination of 3D projection-mapping and 3D printing to bring the characters to life and create 'wow' moments. This is the secret behind the life-like talking figures of Shrek and Puss in Boots.
Restaurants Near Shrek's Adventure
---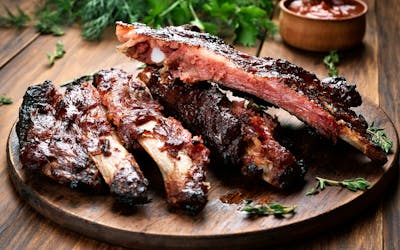 Jungle Cave
Formerly known as the Rainforest Cafe, Jungle Cave is a forest-themed restaurant in Piccadilly Circus. The interior replicates a rainforest environment, complete with artificial trees, plants, and animatronic animals that move and make sounds periodically. The a-la carte menu has everything from BBQ ribs, vegan burgers, to desserts.
Distance from Shrek's Adventure: 1.4 miles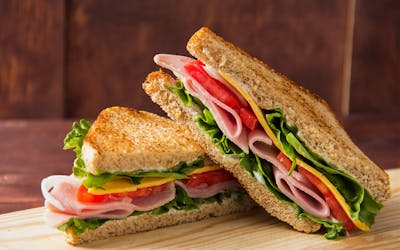 Hard Rock Cafe London
The Hard Rock Cafe London is known for its atmosphere, featuring music memorabilia from some of the biggest names in rock and roll history, including guitars, costumes, and more. Food is great too, with a choice of delicious American-style cuisine, including burgers, ribs, and sandwiches. Hard Rock Cafe London regularly hosts live music performances and other events, making it a great place to catch a show or enjoy some entertainment while you dine.
Distance from Shrek's Adventure: 1.4 miles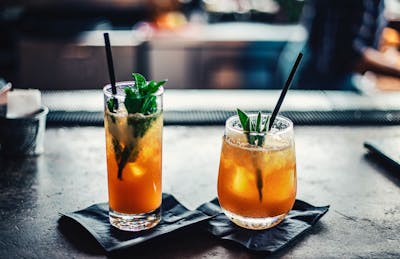 Gillray's Steakhouse & Bar
If you are looking for British dining experience, head to Gillray's Steakhouse located on Westminster Road, overlooking River Thames. In addition to its delicious food offerings, Gillray's has a bar that serves a variety of cocktails, wines, and beers. A bonus point is the breathtaking views of the famous London Eye.
Distance from Shrek's Adventure: 0.1 mile
Places to Stay Near Shrek's Adventure
---
Things to Do Near Shrek's Adventure
---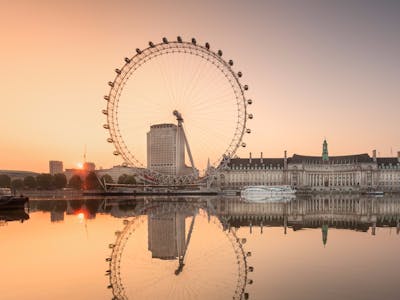 The London Eye
The London Eye is a giant ferris wheel situated on the South Bank of the River Thames, just a short walk from Shrek's Adventure. The 32 enclosed capsules on the wheel offer breathtaking panoramic views of London, making it a popular tourist attraction. The ride lasts for approximately 30 minutes and allows you to spot landmarks such as Big Ben, the Houses of Parliament, St. Paul's Cathedral, and Buckingham Palace.

Distance from Shrek's Adventure: 0.4 mile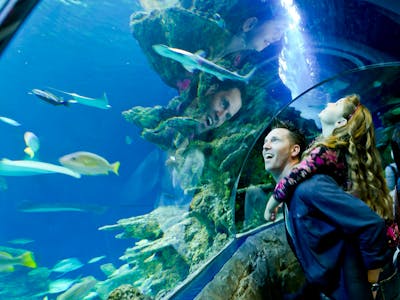 SEA LIFE London Aquarium
SEA LIFE London Aquarium is a popular attraction located within walking distance of Shrek's Adventure. The aquarium features a wide variety of marine life, including sharks, rays, penguins, and sea turtles. Visitors can walk through a glass tunnel to marvel at the underwater world. There is also a recreation of a sunken shipwreck, featuring various species of fish, rays, and other sea creatures.

Distance from Shrek's Adventure: 446 ft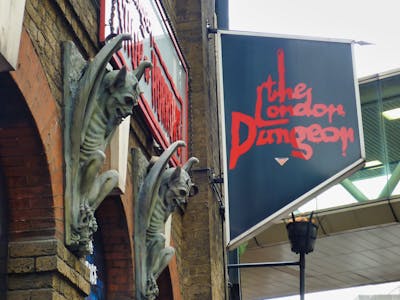 The London Dungeon
The London Dungeon is a popular tourist attraction in London that takes visitors on a journey through the darker side of the city's history. It features a series of live-action shows, special effects, and interactive exhibits that bring to life some of the most gruesome and terrifying events from London's past, such as the Great Fire of London, Jack the Ripper's murders, and the Black Death. The attraction also includes a ride, which takes visitors on a journey through the dark and twisting streets of Victorian London.

Distance from Shrek's Adventure: 0.4 mile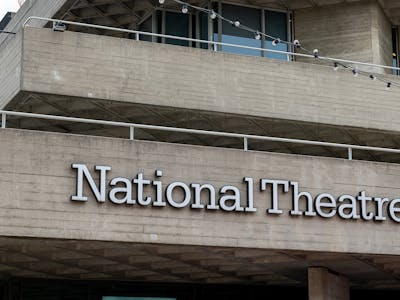 The National Theatre
The National Theatre is a prominent theatre complex located just across the river from Shrek's Adventure. It showcases a wide range of productions, including plays, musicals, and operas, and also offers tours of the backstage area.

Distance from Shrek's Adventure: 0.7 mile
FAQs
---
Shrek's Adventure opens at 10 AM on all days except Thursdays, when it opens at 11 AM. The closing times are 3 PM on weekdays and 4 PM on weekends.
Shrek's Adventure does have "tour guides" for the flying bus ride. You can explore all the other sections on your own!
While photography is not allowed during the 4D magic bus experience, you can take photos at the end when you meet and greet Shrek and other DreamWorks characters.
The walk-through experience takes 1 hour. However, you may need an additional 30 minutes in the interactive area when you meet Shrek and others.
No. You can, however, find plenty of cafes near Shrek's Adventure, such as the iconic Hard Rock Cafe London.
Shrek's Adventure London Guide