The Schönbrunn Palace, located in Vienna, Austria is a magnificent baroque palace that dates back to the 16th century. It was once the summer residence of the Habsburgs and has been designated as a UNESCO World Heritage Site since 1996 due to its impressive architecture and vast gardens. The palace features 1,441 rooms, 40 of which can be visited, and is the largest palace in Austria.
It has a grand cour d'honneur, which is the entry court to the palace, as well as two magnificent gardens that are filled with various sculptures, fountains, and pavilions. The palace also features an array of attractions such as the Imperial Apartments, where Empress Sisi spent much of her time; the Hall of Mirrors, which contains over 60 Baroque paintings; and a natural history museum with dinosaur fossils on display. Visitors can also explore the Schönbrunn Zoo and take part in guided tours throughout the grounds. Read ahead to know more about the Schönbrunn Palace and to get a unique insight into Austria's rich history.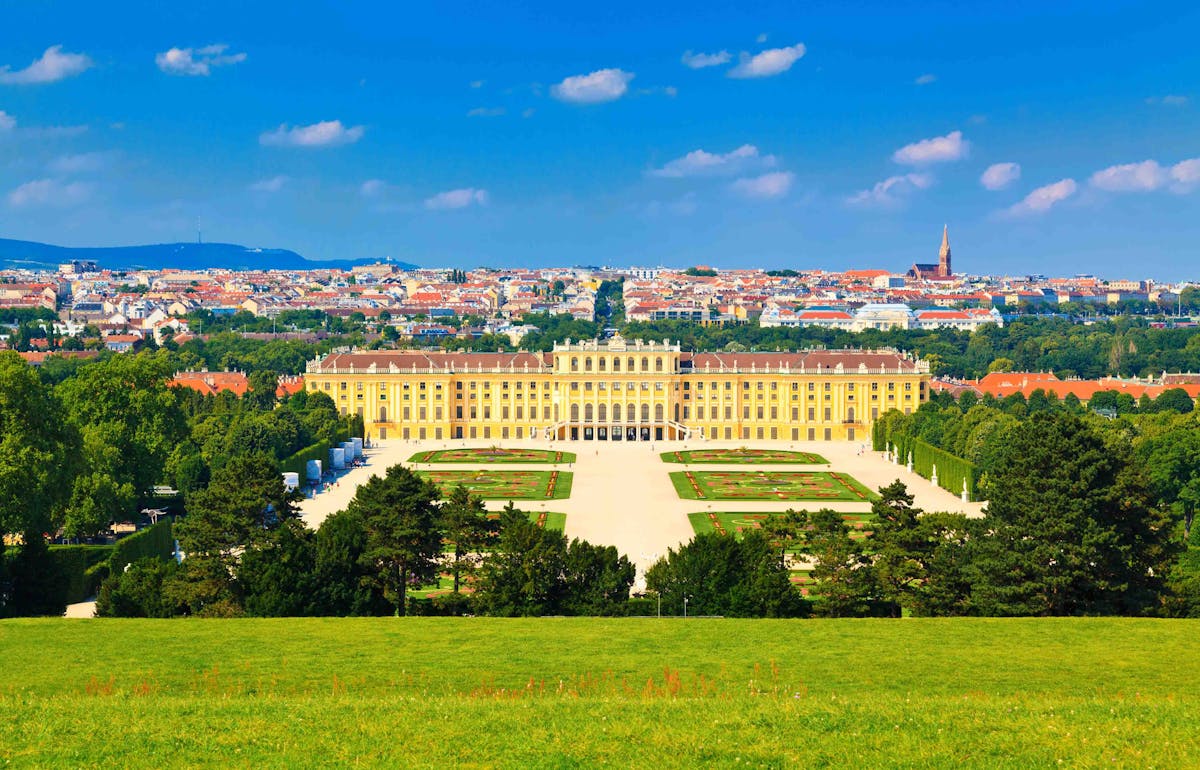 Schönbrunn Palace - In A Nutshell
---
Handy information
| | |
| --- | --- |
| ⏰ Suggested Duration: | 1-3 hours |
| ☀️ Best Time to Visit: | Early Morning or between 3pm-4pm |
| 💜 Must See: | Hall of Mirrors |
| 🎟️ Schönbrunn Palace Skip The Line Tour: | €48 |
| 😍 With a Vienna City Guided Tour: | €59 |
| 🎶 Mozart & Strauss Concert in Schönbrunn Palace: | €81 |
Must-see
Hall of Mirrors
Schonbrunn Palace Park
Grand Gallery
The Gloriette
The Imperial Apartments
Things to know
Number of visitors per year: 2 million
UNESCO World Heritage Site designation: 1996
Established: 1700
Architect: Johann Bernhard Fischer von Erlach, Nicolò Pacassi
Architectural style: Baroque architecture
Opening Hours And Address
Palace Timings
January to June (Every day): 9:30 AM to 5 PM
July to December (Every day): 9 AM to 5:30 PM

Garden Timings
Everyday: 6:30 AM to 5 PM.

Address :Schönbrunner Schloßstraße 47, 1130 Wien, Austria
Get Directions
Why You Must Visit The Schönbrunn Palace
---
The Schonbrunn Palace is a must-see destination for travelers visiting Vienna. It's one of the most stunning palaces in all of Europe, with an impressive history that dates back to 1569. Visitors can explore the palace's sprawling grounds and marvel at its awe-inspiring architecture. From grand state rooms to beautiful gardens and fountains, there is much to see while exploring the palace. The palace also has the Schonbrunn Zoo located onsite, which has been a popular attraction since 1828! With its colorful baroque design, manicured gardens, interesting artifacts and historical tours, this iconic landmark offers something for everyone. Whether you're looking for a romantic stroll or simply want to soak up some culture, the Schonbrunn Palace is an unforgettable experience.
Recommended Schönbrunn Palace Tickets
---
History Of The Schönbrunn Palace
---
The Schonbrunn Palace was originally built as a hunting lodge for the Habsburg dynasty beginning in the 16th century. Before it became a palace, Schonbrunn was owned by members of the Habsburg family for centuries. Emperor Maximilian II purchased the land in 1569 and gave it to his son, Rudolph II, who initially used it as a hunting lodge. In 1683, Emperor Leopold I remodeled it and added a formal garden with terraces and fountains.
By the turn of the 18th century, Maria Theresa had taken over control of the palace from her father. She ordered extensive renovations to be done on Schonbrunn and turned it into an opulent summer residence for the Imperial family. During this period, many of the existing Baroque structures were constructed and vast gardens were established around the palace grounds.
After the passing of Maria Theresa in 1780, Schönbrunn Palace saw no use until Emperor Franz II (I) came to power during the early 1800s. When plans for the Congress of Vienna began forming in 1814/15, it became apparent that renovations were sorely needed at Schönbrunn if it was going to meet modern standards. Under court architect Johann Aman's supervision and with a refurbished façade, this palace acquired its famous look which still stands today.
In 1918, after World War I ended, Schonbrunn Palace was seized by the Republic of Austria and declared a state property. It has since been open to visitors as a museum where tourists can explore its various rooms, including those used by the Imperial family. Today, it is one of the most popular tourist attractions in Austria and is also a UNESCO World Heritage Site.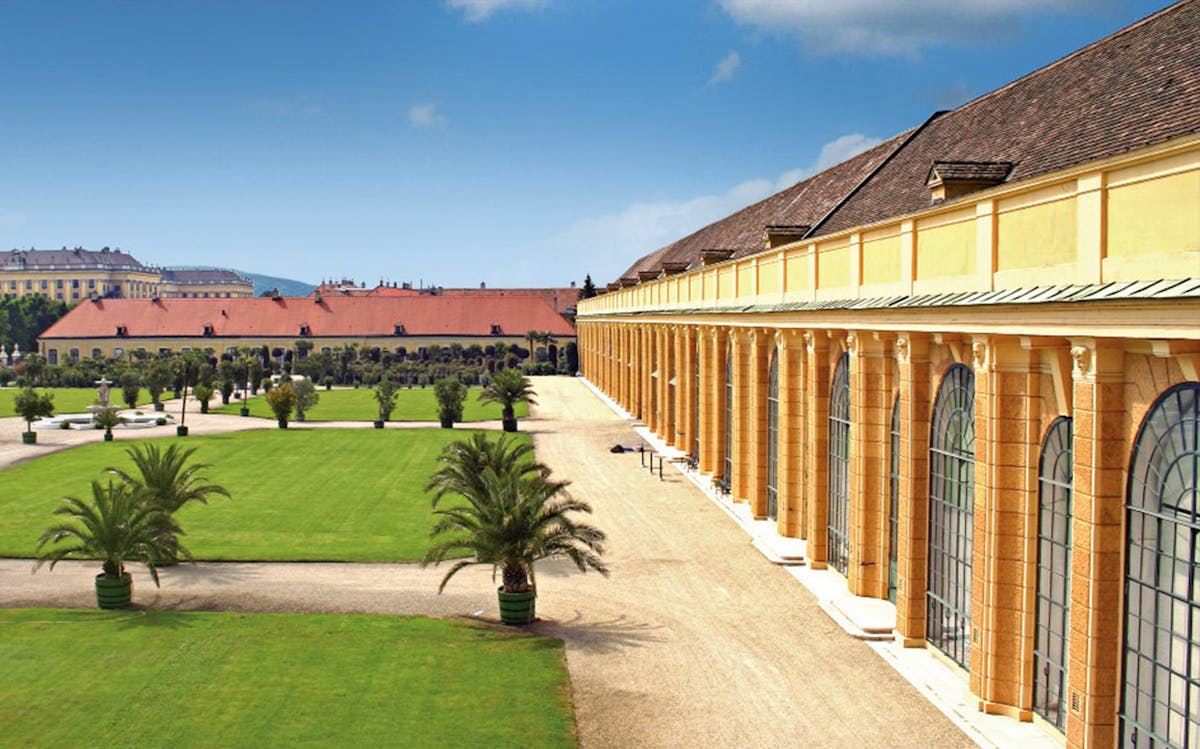 Schönbrunn Palace Architecture
---
Characterized by ornate exterior facades and luxurious internal arrangements masterminded by some of that age's most renowned architects and artists, the Schonbrunn Palace unquestionably radiates an aura of aristocracy. The majestic main building is comprised of two colossal wings linked together by a central pavilion that showcases an elaborate staircase hall, and it's perched on remarkable parks and gardens that are landscaped with terraces, groves, and meadows. Furthermore, the Gloriette offers visitors awe-inspiring panoramas of Vienna from its mountain peak!
The royal building's exterior was crafted in the classic Rococo style, with lavish decorations such as curves and scrolls. The most noteworthy of these is certainly the central pavilion, which features a magnificent clock tower decorated with sculptures symbolizing justice and truth. Inside the palace, one can find gorgeous high ceilings, elegant wood carvings, intricate stucco designs, marble floors and pillars - all marvelously put together to complete this grandiose masterpiece!
The Schonbrunn Palace Park is a work of art, crafted by celebrated architects Jean-Nicolas Jadot de Ville-Issey and Nicolas-François Blondel. Trees are planted in an exquisite pattern radiating from the center of the palace, with 1,400 trees forming around it. A maze, artificial lake and fountains add to its beauty; grottoes further enhance its charm!
The Schonbrunn Palace symbolizes the impressive Habsburg monarchy and continues to mesmerize tourists all over the globe with its stunning beauty. It is undeniably one of Vienna's most emblematic symbols, reminding us of the city's erstwhile grandeur.
Top Highlights Of The Schönbrunn Palace
---
The Hall of Mirrors, with its divinely gilded Rococo décor, stands as a beacon for the opulent elegance of Maria Theresa's reign. The shimmering white walls coupled with the ornate wooden paneling and glimmering mirrors reflect candlelight in an awe-inspiring display. Its beauty is simply unparalleled! Illuminating the grandeur of the Rococo era, this room is bound to a famous individual: Wolfgang Amadeus Mozart. When he was only six years old, it's said that he performed in this very room for Maria Theresa during 1762 - an event destined to live on as part of history!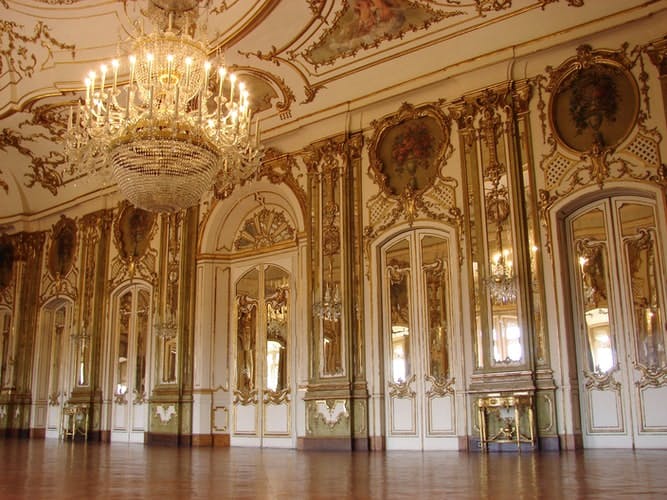 Maria Theresa and her husband Franz Stephan's palatial apartment began with the Blue Chinese Salon, a chamber graced by its radiantly luxurious decor. The room's title is derived from its distinctive Chinese wallpaper emblematic of 18th century enthusiasm for Eastern Asian art pieces.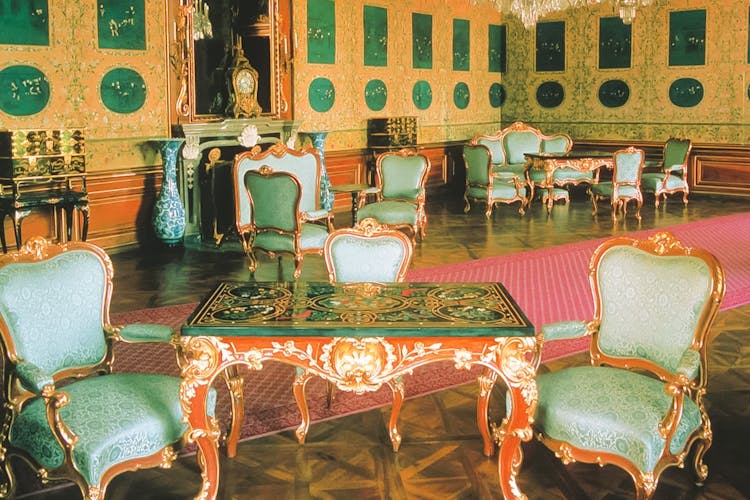 The Great Gallery is a stunningly lavish room, measuring 43 metres in length and nearly ten metres wide. Its luxurious interior with its gilded stucco decorations and ceiling frescoes captures the essence of Rococo art perfectly. Not only is it an architectural masterpiece at the heart of the palace, but its elaborate decor also pays tribute to Maria Theresa's rule over Habsburg.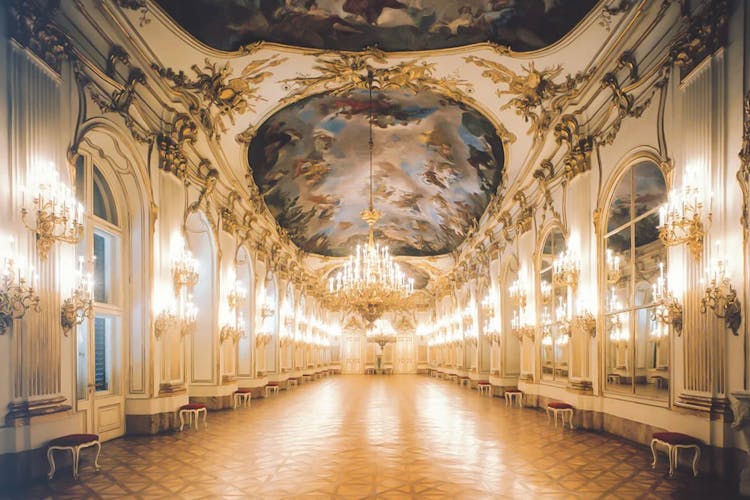 Nestled within the Small Gallery, two majestic state rooms gleam with exquisite works of art from China and Japan. Richly lacquered panels are ensconced in stark white wooden paneling, decorated by gilt frames that cradle a plethora of delicate porcelain objets d'art - beauty, and abundance only revealed upon closer inspection.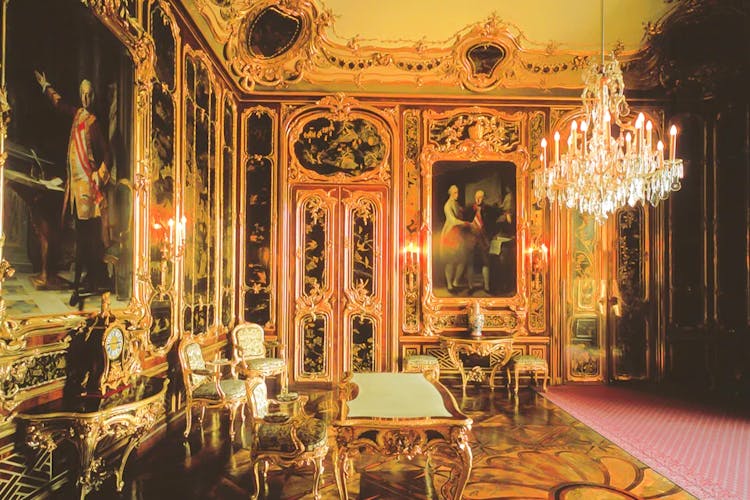 Boasting immense art-historical importance, the Vieux Laque Room at Schönbrunn is a sight to behold. The black lacquer panels from China provide an aura of luxury throughout and it was originally built as Franz I Stephan's personal reception room. After his untimely passing in 1765, Maria Theresa dedicated the space to him and eventually gave it its present look we see today. Altogether, this awe-inspiring interior serves as testament to their love for one another that transcends time itself.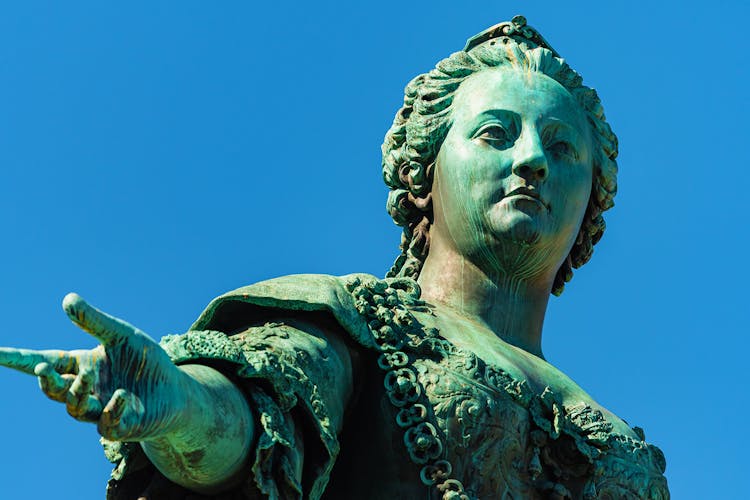 The Gloriette is a famous structure in the gardens of Schönbrunn Palace. Built in 1775 by architect Johann Bernhard Fischer von Erlach, it stands atop a 60-meter high artificial hill overlooking the palace grounds and the city of Vienna beyond. From its vantage point, visitors can take in stunning views of the palace grounds, surrounding woods and meadows, as well as sweeping vistas of Vienna's skyline.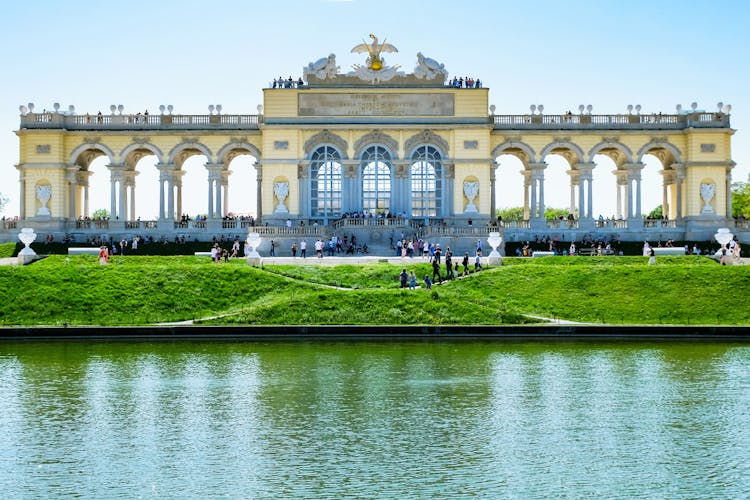 Step into the world of imperial splendor at the Imperial Carriage Museum. Awe-inspiring carriages, exquisite gowns and fine works art offer a vivid glimpse into court life – from coronations to weddings, arduous journeys to high-spirited hunts, children's games and funeral processions.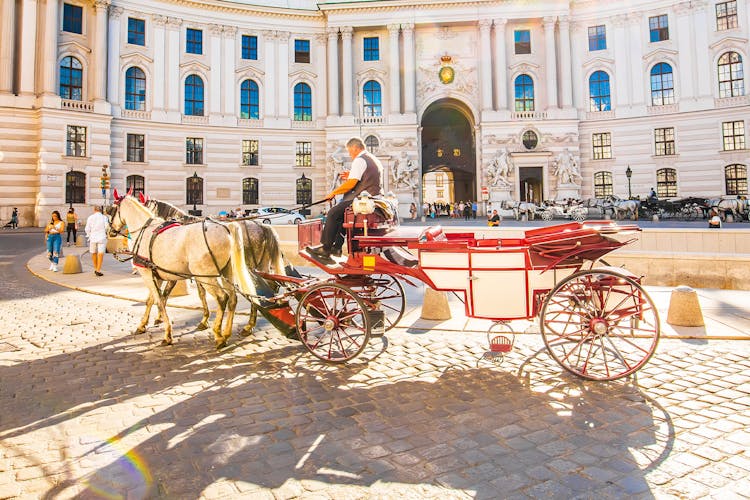 Steeped in history, the Schonbrunn Palace Zoo is renowned as the oldest operating zoo on Earth. Emperor Francis I opened this majestic establishment centuries ago and today it remains a beloved destination for families who want to explore its extraordinary wildlife offerings—including a polar bear enclosure, a captivating panda section, and even an aerial walkway that traverses through lush forests.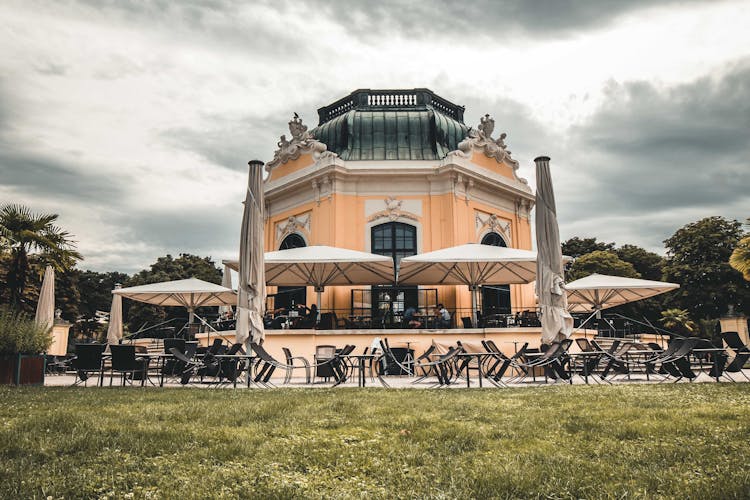 The Privy Garden at Schonbrunn Palace is a stunning display of the majestic beauty of nature. The grounds, designed by Johann Ferdinand Hetzendorf von Hohenberg in 1775, are an 18th-century formal baroque garden that boasts a series of terraces and wide avenues lined with statues and fountains. It also features an impressive array of cut hedges, radiating patterns and ornate flowerbeds bursting with colorful blooms.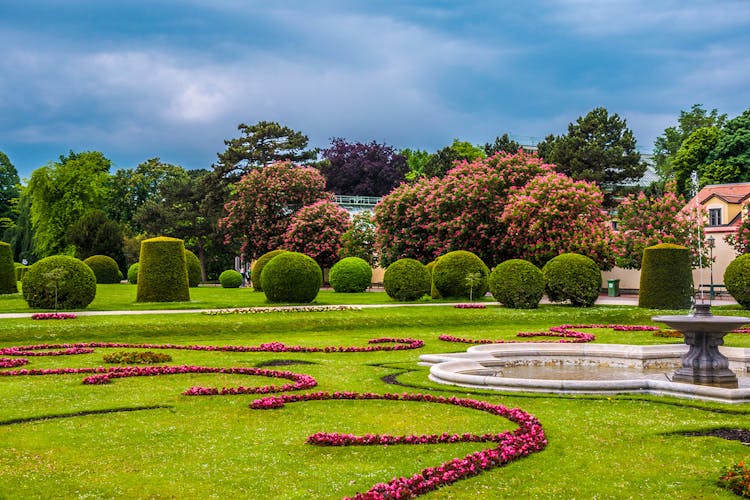 10

Schonbrunn Palace Concerts
Following your meal, why not cap off the night with a visit to the prestigious Schönbrunn Orangerie? This celebrated concert hall was once graced by none other than Wolfgang Amadeus Mozart himself in 1786! The Schönbrunn Palace Orchestra will then take center stage and treat you to a selection of some of these musical geniuses' most prized works. It's an event that every classical music lover – and even those who aren't necessarily fans – should experience firsthand!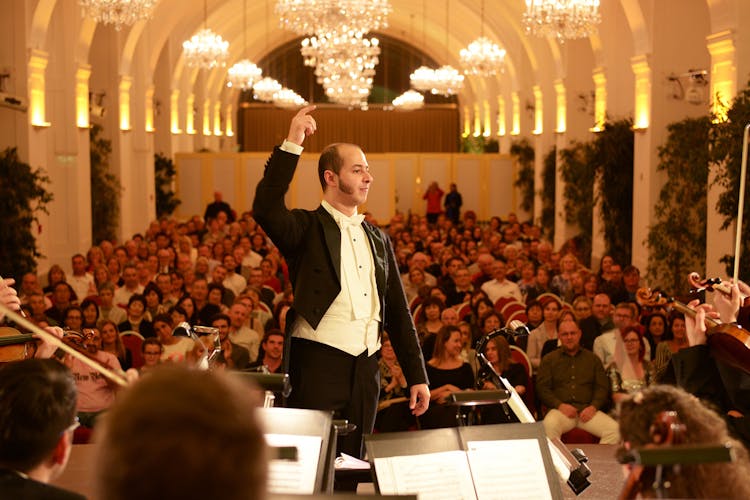 Schönbrunn Palace Timings
---
Palace Timings:
January to June (Every day): 9:30 AM to 5 PM
July to December (Every day): 9 AM to 5:30 PM
Garden Timings:
Everyday: 6:30 AM to 5 PM.
Recommended Duration of Visit
You can spend anywhere between 2 to 4 hours at the Schonbrunn Palace. A 2-hour Guided Tour lets you avoid the queues and discover the UNESCO World Heritage. You get an exclusive look at grandeur as you explore the palace grounds and gardens.
You can also enjoy a dinner + concert package that lasts for 4 hours. This includes a three course meal followed by a stunning orchestral performance!
Best Time to Visit
The mild weather from April to May or September to October is the best time to visit the Schonbrunn Palace.
Getting There
---
By Metro: Take a train from route U4 to reach the palace
Nearest Stop: Schloss Schonbrunn
By Tram: Board on any train on line 10 or line 60
Nearest Stop: Schloss Schonbrunn
By Car: The distance between the Vienna International Airport to the Schonbrunn Palace is 28.9km
Nearest Stop: Schönbrunn Palace Parking Lot
By Bus: Get on a bus on route 10 A to reach the Palace
Nearest Stop: Schloss Schonbrunn
By Taxi: Take a cab from the city center along lines 10 and 58
Nearest Stop: Schloss Schonbrunn
By Train: Board a train along the Westbound tram line 608
Nearest Stop: Schloss Schonbrunn
Restaurants Nearby
---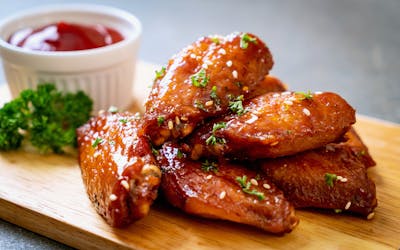 Wiener Grill Haus
The Wiener Grill Haus is an excellent local food place. The restaurant is a 10 minute walk from the Schonbrunn Palace. Known for its excellent service and friendly staff, the Wiener Grill Haus is a great place to enjoy a good portion of ribs, salad and chicken wings with fries and sauce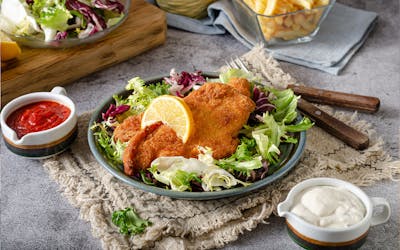 Tafelspitz Restaurant
This restaurant is great for someone who wants to discover Viennese cuisine. The Wiener Tafelspitz, also known as Viennese fillet of beef, is their signature dish. It is said that the dish was made famous by Emperor Franz Joseph I himself!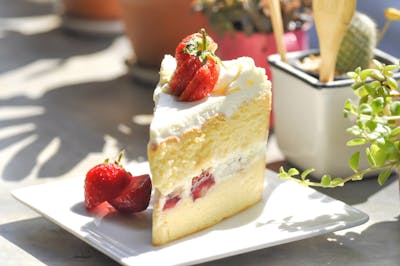 Café Gloriette
Located inside the Schonbrunn Palace, Cafe Gloriette is known for their cakes, breakfast and coffee. The Kaffee Advokat is a must try, and they claim that Maria Theresia preferred to drink coffee with orange liqueur herself! You can also indulge in Herrengulasch (a savory goulash) with dumplings, sausages and eggs to experience a traditional Viennese meal. Top it off with the delightful vegetable strudel accompanied by cream of chives and salad for an unforgettable culinary adventure!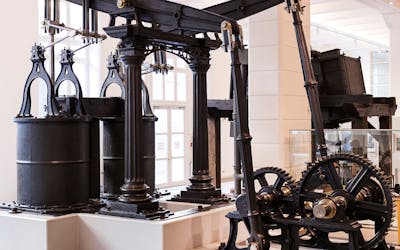 Old-Viennese Wurst Stand
This one's a classic hot-dog and beer restaurant. A perfect place if you want to snack between meals. The bratwurst and the cheese sausage are popular here. Combine that with a beer and you're good to go for a day of exploring!
Interesting Facts about the Schönbrunn Palace
---
Schonbrunn Palace was originally a hunting lodge that was built for the Habsburgs in 1569
The palace's Baroque architecture and gardens were designed by famous architects such as Johann Bernhard Fischer von Erlach and Lukas von Hildebrandt
Schonbrunn is one of the most popular attractions in Vienna, with over 2 million visitors every year
It is also a UNESCO World Heritage Site, recognized for its cultural significance to Austria and Europe as a whole
The name 'Schonbrunn' means 'beautiful spring' in German, referring to an artesian well on the property which provided water to the palace
Between 1744 and 1918, Schonbrunn Palace was home to the powerful Habsburg rulers who ruled over modern day Austria, Czech Republic, Hungary, Croatia and other parts of Europe
Emperor Franz Joseph I lived in Schonbrunn Palace for almost 70 years until his death in 1916
The palace has 1,441 rooms spread across four floors, making it one of the largest Baroque structures ever built
There are also 14 km of paths that wind through Schonbrunn's expansive gardens and parks, including a zoo which opened in 1752 – making it the oldest zoo in the world!
Throughout its history, Schonbrunn Palace has been the location of many important historical events, including several treaties and negotiations between European empires
Insider Tips
---
Book your tickets in advance to avoid the long queues at the ticket office
Arrive early to make the most of your time exploring the grounds and gardens
Be sure to visit the Gloriette viewpoint for a stunning view of Schonbrunn Palace and Vienna
Take a guided tour which will give you exclusive access to some of the palace's more hidden gems, like secret passageways and courtyards typically off-limits to visitors on self-guided tours!
Stop in one of Schonbrunn's cafés or restaurants for traditional Viennese pastries and coffee while admiring the breathtaking views
Don't forget to take some time to explore the stunning gardens, which are full of surprises!
Make sure to use the free audio guide available at the entrance for a great overview of Schonbrunn Palace and its history
When visiting in summer make sure to wear comfortable clothing, as it can get quite hot inside the palace
Check out special events like concerts and fireworks that are held in Schonbrunn Palace throughout the year!
Don't forget your camera - there are plenty of beautiful photo opportunities around every corner of Schonbrunn Palace!
Other Attractions around the Schönbrunn Palace
---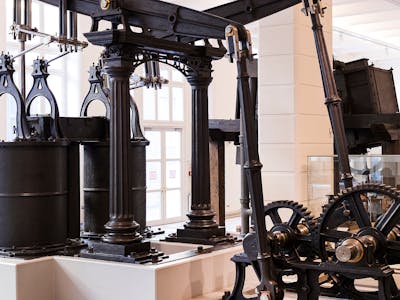 The Technical Museum
The Technical Museum Vienna (Technisches Museum Wien) is a museum in Vienna, Austria that showcases the history of technology and engineering. Founded in 1908, it is one of the oldest museums of its type in Europe and boasts an impressive collection. Its displays include items as varied as historic steam locomotives, printing presses, early aircraft designs, and automobiles from throughout the past two centuries.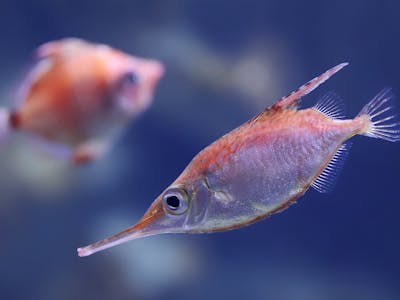 Haus des Meeres
The Haus des Meeres is an aquarium in Vienna, Austria. It was founded in 1934 and is one of the oldest public aquariums in Europe. The main attraction of the Haus des Meeres is its huge variety of fish, marine mammals, reptiles, invertebrates, and plants. Visitors can enjoy a wide range of interactive displays featuring live animals such as sharks, sea turtles, stingrays, eels and jellyfish.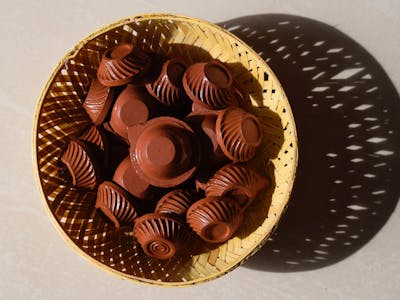 The Chocolate Museum Vienna "BO-YO"
The Chocolate Museum Vienna "BO-YO" is a dream come true for any chocolate lover. Located in the heart of Vienna, this museum and shop offers an incredible selection of chocolates from all over the world. Visitors can explore the history and science of chocolate making and learn about its many uses throughout time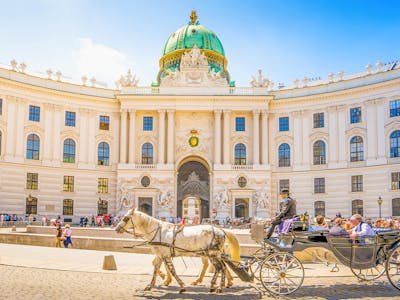 The Hofburg
The Hofburg is a former imperial palace located in Vienna, the capital of Austria. It was built in the 13th century and has since served as the official residence of the Habsburgs, who ruled over most of Central Europe for over 600 years until 1918. The Hofburg is considered to be one of the grandest and most important buildings in Vienna and its history reflects the rich history and culture of Austria.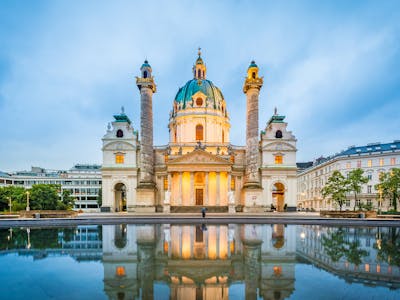 Karlskirche
Karlskirche is an iconic Baroque church located in Vienna. The exterior features two grand towers which are decorated with statues of saints created by sculptor Lorenzo Mattielli. Inside, visitors can admire the stunning frescoes painted by Paul Troger and Franz Anton Maulbertsch as well as impressive marble sculptures crafted by Balthasar Ferdinand Moll.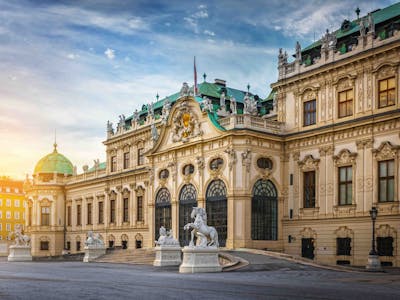 Belvedere Palace
Belvedere Palace is a historic palace located in Vienna, Austria. The palace is comprised of two Baroque palaces—the Upper and Lower Belvedere—which are connected by an ornate formal garden and fountain. Today, it serves as a museum complex housing some of the most renowned works of art from the Middle Ages to present day.
FAQs
---
Getting to Schonbrunn Palace is easy. By public transport, take the U-Bahn line U4 from the city center and get off at "Schönbrunn" station. You can also take a tram (lines 10 or 52) from the city centre and get off at "Schloss Schönbrunn" stop. Both are located just outside the palace gates.
The full tour includes access to 40 imperial chambers which include state apartments, private living quarters and stunning royal gardens with its maze, fountains and sculptures. Depending on your ticket, you may also have access to the palace park and the Labyrinth, Gloriette terrace and Rose garden.
Yes! The Palace hosts a variety of cultural and educational activities throughout the year such as concerts, plays, exhibitions and guided tours. Check their website for more information about upcoming events.
A full tour of the palace takes around 2-3 hours depending on how much time you take to explore each room and garden area.
Photography is allowed in all areas of the palace, however you are not permitted to take photos or videos in the state rooms and private apartments for security reasons. Please note that flash photography is forbidden.