PortAventura World
If you have a yen for adventure, action and excitement while in Barcelona, the PortAventura World is your first port of call. The PortAventura World is located 1 hour and 20 minutes from Barcelona proper in a city called Salou.
In this PortAventura World Guide, learn more about each theme park, the opening times, enjoy quick access to discounted tickets, view maps and explore your hotel options.
Why You Must Visit PortAventura World Barcelona
---
Packed with nerve-shredding rides for all age groups and an excellent range of on-site hotels, bars and restaurants, PortAventura World is the ideal place to experience thrills and chills while absorbing Catalan culture on the coast of rural Spain.
This fantasy land is divided into 3 parts - PortAventura Park, Ferrari Land and Caribe Aquatic Park.
While the PortAventura Park is divided into 6 epic realms, the Ferrari Land has wild rides and the Caribe Aquatic Park is all about flumes and splash-happy zones.
You'll need a day in each theme park to make the most of it, so book your stay in one of the four hotel complexes in PortAventura World and experience 3 days of sheer fun!
Visiting PortAventura World should definitely be on your bucket list. It is one of Europe's largest theme parks and is also made of 6 theme areas that are inspired by exotic places from around the world. It has had 65 million visitors over the last 20 years, making it one of the most popular theme parks in the world.
PortAventure World is an fun-filled leisure complex featuring the PortAventura and Ferrariland theme parks and the water park Caribe Aquatic Park

Visit this iconic site with an array of thrilling rides for an adrenaline-junkie.

Spend a perfect day with your loved ones in Barcelona's favourite leisure complex.
Buying PortAventura World Tickets Online
---
Portaventura World tickets can be purchased directly through the official website or in person at the entrance of the attraction. Or, save time, money, and energy by purchasing discounted tickets with Headout, a trusted online marketplace! As an added bonus, when you book with headout you'll receive 5% cashback credit that you can use toward any other purchase on Headout.
Hot tip: Peruse our list of discounted experiences in Barcelona to visit after this.
Combo Ticket Package: All 3 Parks in 1!
PortAventura World is divided into three parks: PortAventura Park, Ferrari Land and Caribe Aquatic Park. With this combo ticket, you'll have access to all 3 parks with an added bonus: you can explore them over the course of 3 days!
Is The PortAventura World Annual Pass worth it?
---
Enjoy unlimited access to all the attractions at PortAventura World including PortAventura Park, Caribe Aquatic Park, and Ferrari Land with the annual pass. Get exclusive advantages both inside and outside the park. Enjoy unlimited access to all the attractions at PortAventura World including PortAventura Park, Caribe Aquatic Park, and Ferrari Land with the annual pass. Get exclusive advantages both inside and outside the park
Price - starts from €163
Inclusions
Free parking for pass holders
Discounts on admissions to parks
Exclusive discounts at restaurants, shops, and hotels inside the resort.
Other offers for shops and activities outside the resort
PortAventura World: Zones Explained
PortAventura World: 10 Rides You Simply Cannot Miss!
1. Dragon Khan
You will spin and spiral through 8 loops in 69 seconds. This ride is the symbol of PortAventura and can achieve speeds of 110 km/h, promising an instant adrenaline rush.
Best For: Teens and Adults
Zone: China
Height Criteria: A maximum height restriction of 195 cm

2. Furius Baco
An experiment gone out of control, Furious Baco is a grape collecting machine that will catapult you downwards. This ride will go from 0 to 132kh/m in 3 seconds, crossing over ditches and shooting through tunnels!
Ride Type: Wet
Zone: Mediterrània
Height Criteria: 140 cm - 195 cm

3. Red Force
Red Force is the fastest roller coaster in Europe. This legendary coaster is Ferrari Land's primary highlight. This exhilarating ride is 122 meters high and can reach a mind-boggling speed of 180km/h in under 5 seconds.
Ride Type: Dry
Park: Ferrari Land
Height Criteria: 140 cm - 195 cm

4. King Khajuna
King Khajuna which is located in Caribe Aquatic Park is the tallest water slide in PortAventura World. Thrillseekers will enjoy this slippery vertical drop that overcomes multiple waves.
Ride Type: Wet
Park: Caribe Aquatic Park
Min Height140 cm

5. Shambhala
This is the tallest rollercoaster in the park and is considered a hypercoaster due to its height and speed. What's cool is that it has five ascents and descents that make it a unique experience.
Ride Type: Wet
Zone: China
Min Height 140 cm

6. Hurakan Condor
This legendary drop will take you to 100 meters at a snail's pace before dropping you. As you await your impending doom, make sure you soak up views of the park from up high.
Ride Type: Dry
Zone: Mexico
Height Criteria 140 cm - 195cm

7. Grand Canyon Rapids
This family-friendly ride promises a bunch of swirls and twirls along the way before drenching you under the waterfall. Waterside gangsters will shoot you with water guns too, but it is much more easy going than the scary rollercoasters!
Ride Type: Wet
Height Criteria 110 cm - 195cm

8. El Torrente
Hop on an inflatable boat and test your mettle against the powerful surges and twists of the ride. What's brilliant about this ride is that it goes faster with more people on board. So, grab your friends and give it a whirl!
Ride Type: Wet
Park: Caribe Aquatic Park
Height Criteria 140 cm - 195cm

9. Stampida
This wooden rollercoaster in the Far West region is unique as it's only 1 km. However, it features a ton of ascents and descents. It's the perfect ride to gauge your limits before attempting the Shambala or Red Force.
Ride Type: Dry
Zone: Far West
Max Height 195cm

10. El Diablo – Tren de la Mina
This ride in the Mexico area will take you through unpredictable corners and get your heart pumping. It's not for the faint of heart (especially since "The devil" is taking charge)!
Ride Type: Dry
Zone: Mexico
Max Height 110 cm - 195cm

All You Need to Know Before Visiting PortAventura World
PortAventura World Summer Timings
PortAventura Park: 10:30 AM - 11 PM
Ferrari Land: 11 AM - 5 PM
Caribe Aquatic Park: 10:30 AM - 6:30 PM
Since timings vary every season, do check the PortAventura World timings on the website before setting off.
Getting To PortAventura World
By Car: You can get to PortAventura World via the A-7. If you're hiring a car, then it's better to make the booking arrangements before to prevent long wait times. As for the car service, we recommend hiring PortAventura's official car hire partner GoldCar as you'll get a 20% discount.
By Train: There is a train stop near PortAventura World on the R-17 / RT2 line run by Rodalies de Catalunya (if you're coming from Catalonia). However, if you're coming in from outside of Catalonia, the best option is to avail the Camp de Tarragona AVE by Renfe.
From the Airport: The park is just an hour away from Barcelona's El Prat de Llobregat Airport. However, if you manage to come in from Reus Airport, then PortAventura World is only 15 minutes away.
By Bus: If you're coming in from Costa Daurada the bus company Plana offers a daily coastal bus service that links different towns with the park. If you're traveling from Barcelona, it's best to avail a direct bus from Julià Travel. They offer a direct bus from Barcelona to PortAventura World. These companies will let you know the nearest pick-up point to your location.
Facilities at PortAventura World
The Ferrari Land Barcelona hours vary with season.
Washrooms and Changing rooms
Special Lockers
Daycare for Pets
Wheelchairs
Rules & Restrictions at PortAventura World
Pets are not allowed due to hygiene concerns. However, there is a kennel to leave your pet for the day.
You can re-enter the park only if you have the ticket with you.
If you lose your personal property, you can report it to guest services
Rain will not affect park services, and you will not be refunded
There are height restrictions for certain rides. So, plan accordingly.
Best time to visit PortAventura World
Although the park is open throughout the year, it's best if you visit it during the summer months (between June and August). This is the best time to enjoy the water rides. Check the weekly weather report before heading out to keep track of the rainy days.
While summers are ideal to enjoy the water rides, they are also the most crowded months. If you do not fare well with crowds, plan your trip towards the end of June or mid-August. It is also better to plan your trip for a minimum of two days as you can cover the park at a leisurely pace.
What to wear to PortAventura World
Clothing
The theme park recommends visitors wear extra comfortable and breathable clothes like shorts, T-shirts, leggings, etc. While cotton might be tempting, polyester clothing might be a better option as it is lighter and dries much faster. So, you won't have to be worried about sweat patches in your photographs.
If you visit the theme park during the colder seasons, it's better to get a raincoat as it will prevent you from getting wet from the splashes. Additionally, it can help during a rainy day. If it's really cold, it's better to get a light jacket and wear pants.
Footwear
As for footwear, it's best to wear sports shoes like trainers as you're going to be on your feet the entire day. So, choose comfort and practicality over style.
Accessories
It's best to get a fanny pack or something similar to help carry your valuables. Additionally, a cap, sunglasses, and some sunscreen can help beat the heat.
Parking at PortAventura World
This PortAventura World has a massive parking lot for all kinds of vehicles. Because of its size, we recommend you take a photograph of the parking spot number or a landmark. Additionally, the theme park also offers pick-up services for electric cars.
The rates for the parking lot are as follows:
Regular spot: €12
Preferential zone parking: €14.50
Campervans and trucks: €12
Motorcycles: €3.50
Gift shop & picking a souvenir at PortAventura World
Souvenirs are a vital part of any trip: from ride photographs that capture your happiness to trinkets that make you smile 10 years down the line, PortAventura World has 30 gift shops to help make your trip truly unforgettable.
You should visit Records de PortAventura Park in front of Mediterrània lake if you want a T-shirt to remember this trip by. They also have a ton of plush toys for the little ones. If you're looking for something to snack on or take home, head to Dolços i més at the PortAventura Park entrance for their amazing range of sweets.
Best Rated PortAventura Hotels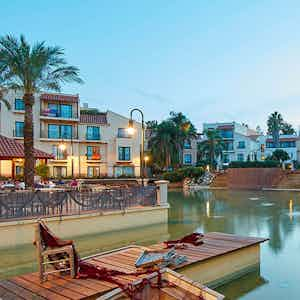 Hotel PortAventura
Styled after the Mediterranean fishing villages along the southern Catalonian coast, this hotel has 2 outdoor pools, 4 restaurants and 7 bars serving a mix of local and international cuisine.
Read More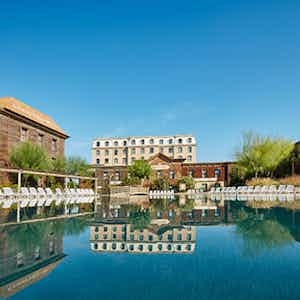 Hotel Gold River
Inspired by the Wild West, the interiors are styled like the American Golden Rush.The hotel has 3 river-style swimming pools and organizes evening and daytime entertainment.
Read More
Hotel Mansion De Lucy
Transport yourself to the Victorian Era in this hotel, a luxurious dream stay themed around the Far West. Relish European delicasies at the famous Lucy's Cuisine while you're here.
Read More
PortAventura Reviews & Tips
Book entry tickets for all 3 parks online as they are cheaper than buying them at the gate, plus you can avail the combo deal savings online.
If you're staying in one of the PortAventura hotels, check whether your booking is inclusive of access to parks. That way, you do not have to purchase seperate tickets.
School holidays and weekends pull in maximum crowds, so time your visits for houlder season and midweek to save up on standing in long queues.
Always start from the most popular ride and work from there against the flow of crowds. Most people keep the best for the last, but working the other way round will help you save up on time.
Sunscreen, hats and shades are an absolute must if you don't want to turn salmon-pink by the end of the day. Wear them, and reapply them every 5 hours.
Outside food and drinks aren't allowed, though plenty of people seem to flout this rule. You are allowed to bring your own water bottle and refill them at the drinking fountains throughout the park.
Comfy footwear will keep you in good spirits as you'll have to walk several kilometres some of it uphill too. Uncomfortable shoes can be quite the buzzkill.
Make sure you check your kids height before coming in as access to rides are strictly height bound. Height restrictions vary for each ride, so before standing in queue, make sure your child meets the limit.
Restaurants in PortAventura World are available in wide variety and are a good value for money ( not a rip off like other theme parks ). Prices are similar to cinemas and airports and options are in plenty for kids as well. Check out all the Restaurants in PortAventura World.
Estrella Damm is the only beer available at PortAventure World and smoking is permitted in the park premises.
The Reus airport is a mere fifteen minute ride from PortAventura World. Ryanair has frequent flights to Reus airport.
There are many events that run through the year in PortAventura World. Check the Events Calendar to see if you can schedule your visit to coincide with the closest event. From the Cirque du Soleil to Halloween to Christman celebrations, PortAventura World is all the more magical during festivities.
If you're up to hole-in-one, there are three golf courses in PortAventura.
PortAventura World Reviews
I'm not really sure how anyone can not like this place?! We went with a 2 and 3 year old and there was a full 2 days worth of entertainment for us all and we could have stayed longer. The park is huge and has lots of rides for little ones in the Sesame Street area and a few spotted across the park too. We went to many of the shows and they were absolutely incredible, and entertained all of us, the talent was what you'd expect from a £40 show so I feel we definitely had our money's worth! Even if you don't like rides, the shows are worth coming for.
-Hayley U, TripAdvisor
Loved it here! Came on a school trip a couple of years ago (April 2018) and this was an amazing day. I bought the fast pass that you could only use once on each ride and that was amazing as it was just the right amount of time. Perhaps if you're staying all day the unlimited one would be a good option, but if on a school trip get the one that you use once on each ride, which gets you on all the main rides and more apart from one. Amazing! The food was lovely too and we all had the best time! Haven't visited during the pandemic though so I am unsure on the safety procedures.
-Annabel Stevens, TripAdvisor
Read more reviews about Portaventura World on TripAdvisor.