Paris is a city of lovers, where lovers of all kinds converge to experience the best moments of their life. Lovers of architecture, lovers of art, lovers of gastronomy, lovers of haute couture, lovers of history and of course, the romantic lovers! The cosmopolitan city is at the confluence of all European cultures and offers the best of culture, heritage, and history with 37 UNESCO World Heritage Sites. More than 89 million tourists visited France in 2017 ranking it among the top tourist destinations worldwide. It's a city for all seasons and eternity, with the Eiffel Tower beckoning travelers from all corners of the world.
Quick Jumplinks to Navigate the Paris in September Guide
What makes Paris in September a must-visit?
---
Paris turns slightly chilly at the turn of September when the leaves start to change colours, but the flowers are still in bloom. The weather gets a bit unpredictable but the long sunny days still shine through. It is also when the crowds are dwindling away, and the Parisians are back to their homes from their holidays. September is the best month to experience Paris as a local would do!
There are many festivals, events, exhibitions and concerts that still go on to celebrate summer. But it is also when the cultural season in Paris starts with classical music concerts, ballet, and dance theatre events. Except for the odd rain showers, the cool climate is suitable for day trips and long walks in the city. Ideal for romantics, September is just the right time to become a Parisian!
Paris Weather in September
---
Paris in September changes colors from bright greens of summer to golden autumnal colors. Paris in September sees a large variation in temperatures - from 17°C during the day to 23 °C at night. While an average rainfall of 54 mm is expected through the month, sunny and bright days are far more.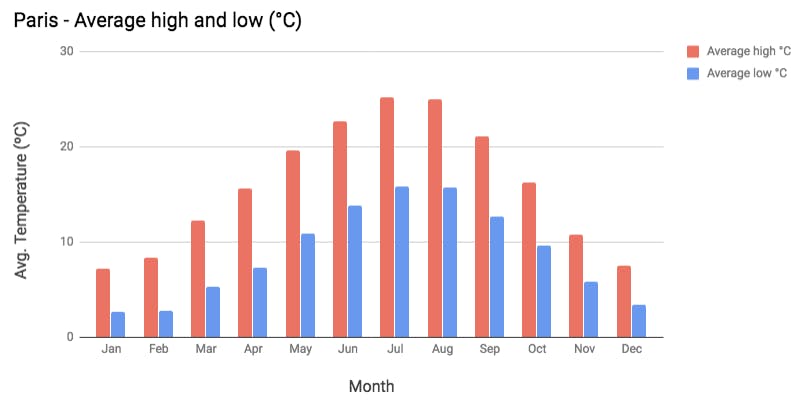 Visiting Paris in September : Things to do
---
Revisit Romance At The Eiffel Tower
Of course, there is no 'right' season to visit the Eiffel Tower. It's one of those classic and evergreen landmarks that make an impression on you any time of the year. But the play of weather from bright and sunny to cloudy and brooding, offer the perfect backdrop to capture the different moods of the Eiffel.
Catch the Night Fountain show at Versailles
Not enough words can capture the magnificence of the Palace of Versailles and its gardens which showcase the grandeur of the golden period of the French royalty. The Palace and its gardens are now a UNESCO World Heritage Site and more than 6 million tourists visit each year. In the summer evenings, the gardens come alive with the fountains that dance to the rhythm of the music.
Louvre Museum - In Society
Louvre often beats the Eiffel in terms of visitors who come to pay a visit to the famed 'Mona Lisa.' The world's largest art museum has permanent of almost 38,000 objects that will keep you busy for days! The museum though has several temporary exhibitions that showcase rare works and the 'In Society' exhibition is on during September which features exquisite pastel works of the 17th & 18th century.
Orsay & Musée de L'Orangerie - Picasso Blue & Rose
Musee D'Orsay has the best collection of French art, and the Musee de l'Orangerie has a vast repository of the world's best impressionist and post-impressionist paintings. In the first of its kind of event, both the museums are collaborating to present 'Picasso. Blue and Rose' an exhibition featuring unseen and remarkable paintings and sculptures of Picasso of the period 1900-1906. You can view this exhibition starting 18th September 2018 at the Musee D'Orsay.
Enjoy a Seine Dinner Cruise
The 'City of lights' comes to life at night when all its monuments and attractions are lit up in a spectacular display. This view is particularly breathtaking from the banks of the River Seine which winds through all its important landmarks. Enjoy a 1.5 hr cruise on the Seine snug in the heated Batobus and dig into a delicious three-course meal.
The Champagne region of France is the ideal day trip destination from Paris. From vineyards to historic cathedrals, there is a lot to explore in the area. You can go on a day trip to see the Reims Cathedral and tour champagne houses in Montagne de Reims. September is traditionally the harvest of grapes, and if you are lucky you might see a harvest yourself!
The medieval Gothic style abbey of Mont St. Michel is an architectural marvel. Rising above the flats off the coast of Normandy, the abbey has seen the tides of time change St. Michel from a monastery to a prison. Perfect for a day trip, Mont St. Michel is one of the most popular attractions in France and is also a UNESCO Heritage Site. The long days of September will give you more time to explore this unique island commune.
Paris in August : Events to Look out for
---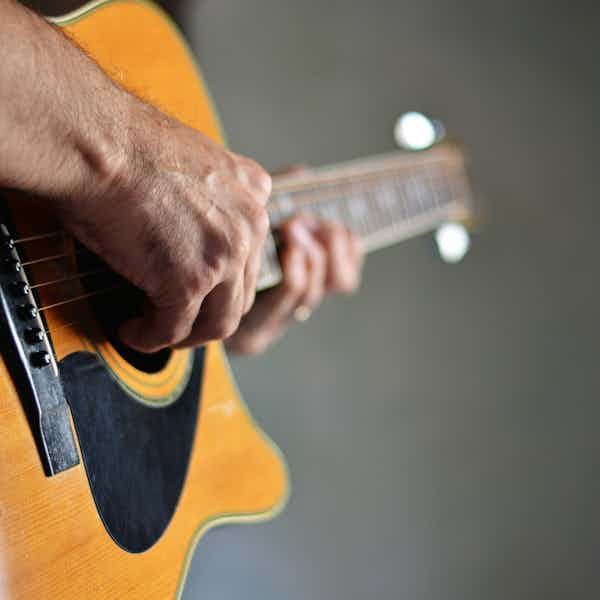 Concert all over Paris
Date: All of September
The live music season continues to bless Paris with some of the best artists in the world. As we get to the tapering end of the summer, make full use of those bright sunny days and sway to the tunes of your favorite artists! Celine Dion, Glass Animals, Machine Gun Kelly, Sum 41, Simple Plan, Arcade Fire, and many more, will perform in Paris this September.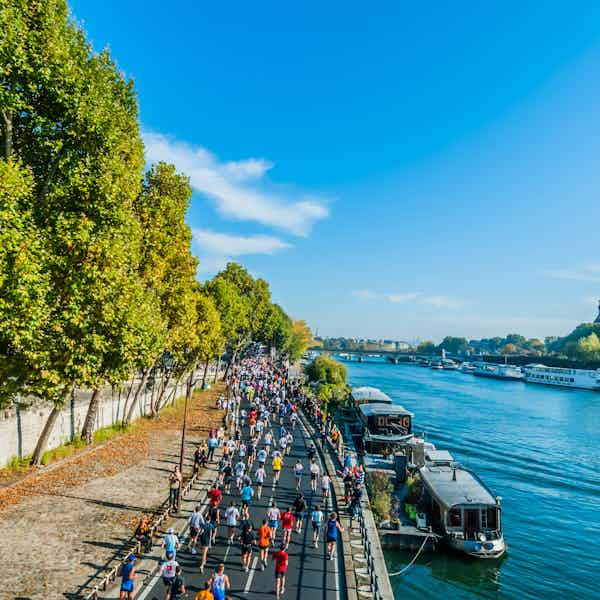 Le Grande Classique – Paris to Versailles Run & Walk
Date: September 25, 2022
The best way to celebrate great weather is to be outdoors and what better than participating in one of the world's best long distance races! Le Grande Classique is a 16 KM race starting from the base of Eiffel Tower to the Palace of Versailles. More than 25,000 runners participate in this grand event celebrating the beautiful city of Paris. It is conducted every year on the last Sunday morning of September.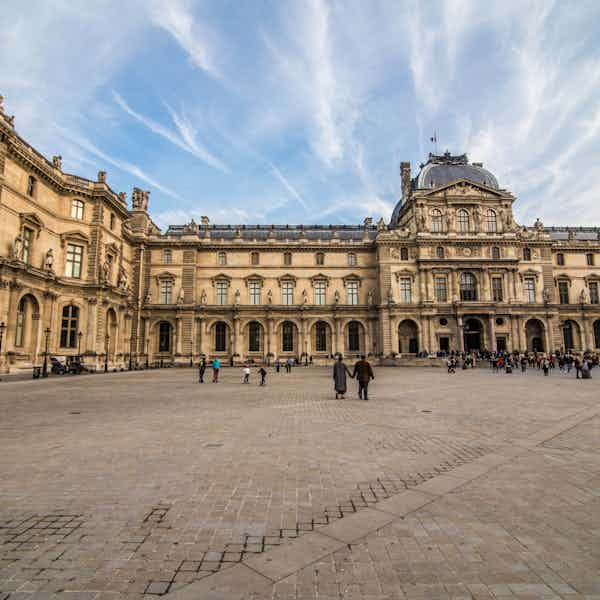 European Heritage Days in Paris
Date: September 17 – 18, 2022
The European Heritage Days are one of the best tourism initiatives worldwide. Pioneered in France back in 1984 it has been adopted as a cultural event for all of the European Union states. These days are a celebration of European heritage and marked by concerts, events, and workshops. The most incredible days are the 'Open Door Days' when visitors can enter any museum/attraction for free! So from the Louvre to Musee D'Orsay, you can soak it all in for free on the weekend of 17th and 18th September.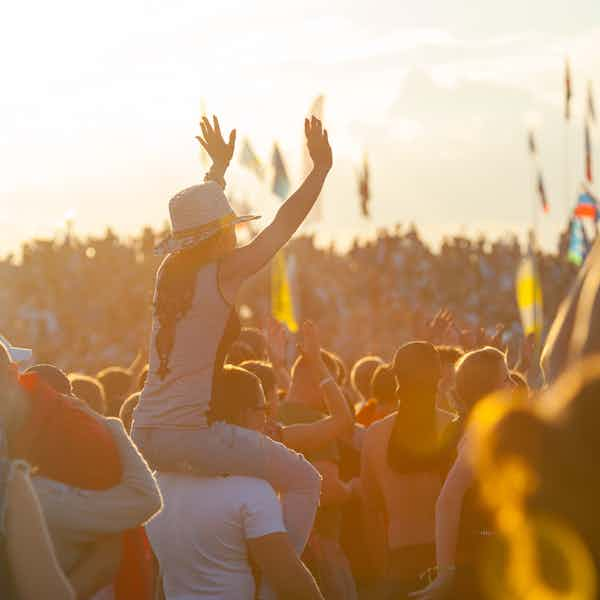 Peacock Society Open Air Festival
Date: September 10th - 11th, 2022
Peacock Society Festival is a world-renowned electronic music festival that takes place in Paris, France. Every year, top DJs and producers from around the globe descend upon the City of Light to perform at this massive event. Peacock Society has become one of the most highly anticipated festivals on the international electronic music calendar, and it is not to be missed.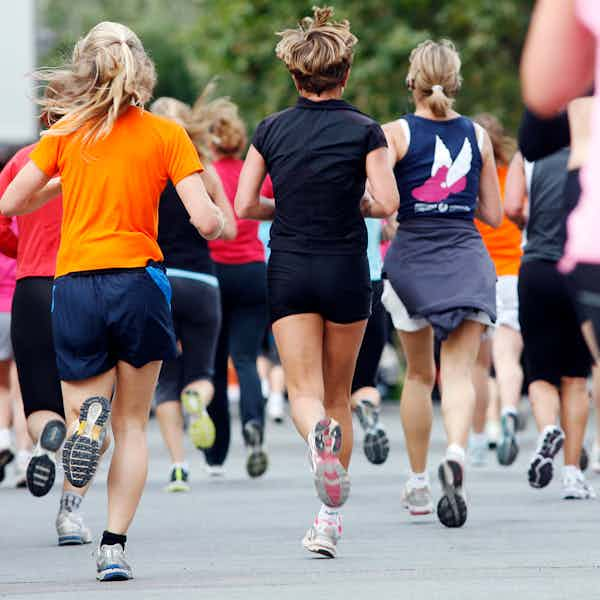 La Parisienne
Date: September 11th, 2022
La Parisienne is an annual women-only marathon held in Paris, France. The course starts and finishes at the Eiffel Tower, and passes some of Paris' most iconic landmarks including the Louvre Museum, the Arc de Triomphe, and the Champs-Élysées. La Parisienne is a popular marathon for women of all ages and abilities and attracts runners from all over the world. The race is known for its friendly atmosphere and its beautiful course, which makes it a great choice for first-time marathoners or those looking for a fast marathon time.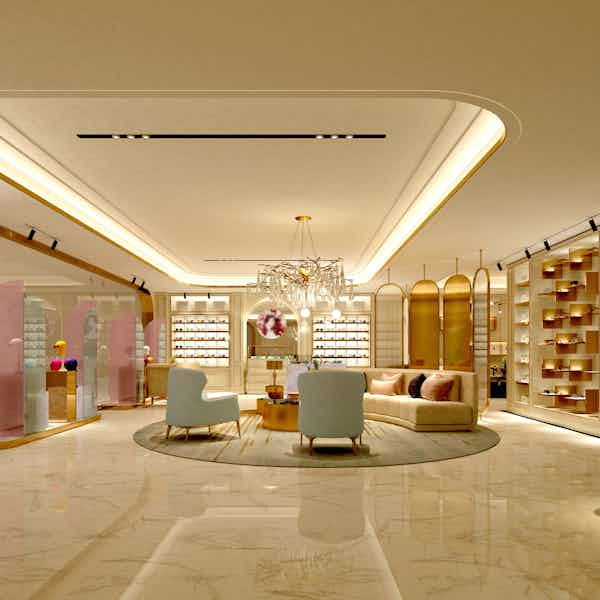 Paris Design Week
Date: September 8th - 17th, 2022
Paris Design Week is an annual event that celebrates the best in international design. Held in the City of Light, the event attracts some of the world's top designers, architects, and brands to showcase their latest work. The week-long event features a range of networking and educational opportunities, as well as a chance to see some of the newest and most innovative designs.
Paris in September - 5 Day Itinerary
---
Check out our carefully curated itineraries and plan your visit to Paris better. Whether you're visiting Paris for 1 day, 3 days or 5 days; our itineraries packed with top experiences and traveler tips are bound to come handy.
5 Days in Paris Itinerary
Paris Essentials
---
Weather
September witnesses the colors of Paris changing from bright greens of summer to the golden autumnal colors. The average temperatures range around 15 degrees C and while rain is to be expected you can also get lucky with bright and sunny days. With climate change looming, Parisian weather has been quite unpredictable over the years.
Where to Stay
Paris is a tourist city and has a range of accommodation options fitting every budget. Here are some of the best places to stay in Paris –
• 5 & 4 star hotels – Maison Souquet, Le Bristol Paris, La Reserve Paris, The Peninsula Paris
• 3 star hotels – Le Relais des Halles, Hotel 34B – Astotel, Hotel de Londres Eiffel, Cler Hotel
• Budget hotels – Nouvel Hotel, Hotel d'Argenson, Hotel L'interlude, Hotel Darcet, Hotel de Flore
• Hostels – Les Piaules, Le Regent Montmartre, Le Montclair, St. Christopher's Canal, Generator Paris
What to Pack
The weather in Paris is unpredictable and hence it's best to pack a bit of both summer and rainy season clothing. Carry an umbrella and rainproof shoes as well as light jackets and coats. Ensure you bring a good pair of walking shoes as no matter which weather, Paris demands a lot of walking! Also carry sunscreen and a hat/cap for those bright and sunny days in between.
Getting Around Paris
Paris and its suburbs are divided into 6 zones, which are traversed by many modes of transport.
• Metro – The cheapest & most convenient transport runs almost all-day long
• RER and Tram – Hyper-local transport options, easy for last mile connectivity in the suburbs of Paris
• Buses – A wide extensive network that runs parallel to the metro and helps in last mile connectivity
• Night Bus Service – The saviour of night crawlers and party hoppers, it runs from 12:30 AM to 5:30 AM
What to Eat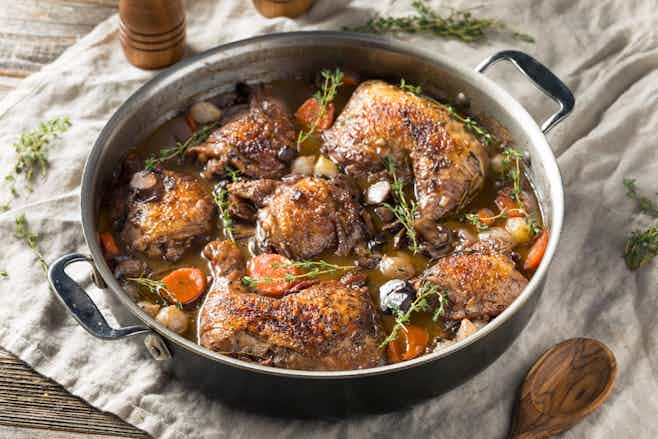 Coq au vin
The French have mastered cooking with wine and the Coq au vin or 'Rooster in wine' is a quintessentially French dish. With rustic origins, this dish finds itself in fine dining restaurants today and is mostly a chicken braised with wine, lardons, mushrooms and a host of seasonings like salt, pepper, thyme, bay leaf, and parsley.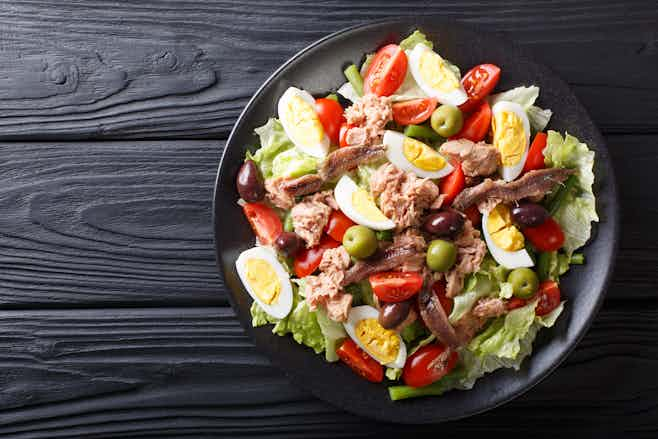 Nicoise Salad
This salad is literally 'summer in a bowl'! The crunchy salad originated in Nice, and the recipe includes fresh tomatoes, hard-boiled eggs, anchovies, Nicoise olives in olive oil dressing. Even the celebrity chef Gordon Ramsay approves of it and calls it 'The finest summer salad of all'!
Croissant
This famous, buttery, light French delight is extra tasty when eaten with a chocolate filling, and even more so when had for breakfast. Try it out at Des Gâteaux et du Pain or at Du Pain et des Idées to be truly satisfied.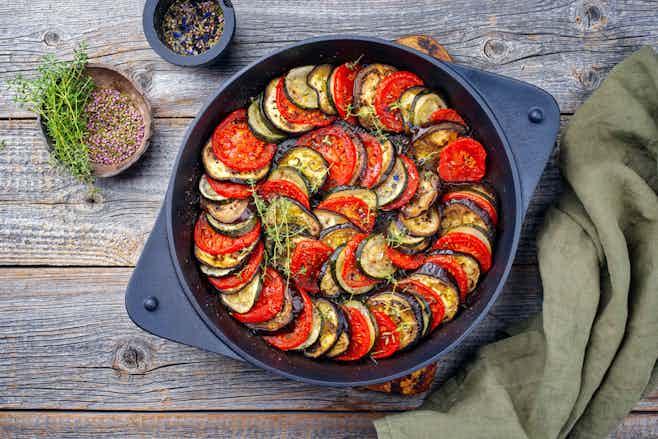 Ratatouille
Even the vegans will approve of this classic French dish – Ratatouille. It is a lovely vegetable stew that is often has a side dish or baked or stuffed in other dishes like crepes. The recipe uses a variety of vegetables like zucchini, eggplant, bell peppers and is seasoned with spices.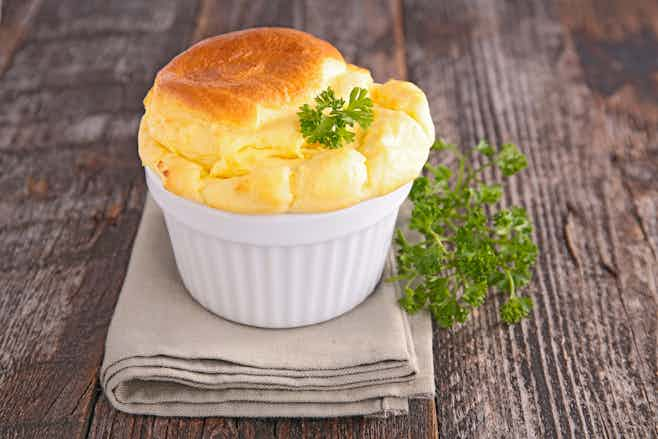 Soufflé
Soufflés are fluffy little delights that melt in your mouth. The egg-based dish is made in both sweet and savory versions and often served in individual servings. The desert soufflés are famous and include recipes with chocolate, jam, berries, banana, and lemons.
Tips to Visit Paris in September
---
For those who love arts of all kinds – theatre, music, dance, film and visual – the Festival D'Automne is a great opportunity. Starting on 13th September 2018, the festival is conducted at over 40 venues in Paris including Theatre de l'Odeon and Centre Pompidou.
The Paris Design Week is a one of its kind event that focuses on the work of designers, from product design to interiors, and fashion to food! If you love design, then you should be there from 6th to 15th September 2018.
Events in Paris are never conducted on a small scale! The Fete de La gastronomie is a city-wide festival held to celebrate the 'French Gastronomic Meal' which is a part of the UNESCO list of Intangible heritage. This year it will be conducted on 21st, 22nd, and 23rd September 2018 and will include food walks, workshops, tastings, food markets, street food stalls, exhibitions and much more!
If you thought Paris was only about classical music, the Techno Parade would leave you pleasantly surprised. The Techno Parade is a one-day event when thousands of fans take over the streets to celebrate electronic music. There are open-air DJs, crazy floats and it's just one big party out on the streets.
You don't have to worry about missing out on the famed summer blooms of Paris, as the Fetes des Jardins or the Garden Festival will more than make up for it. More than 150 parks and gardens of Paris will be thrown open to the public for free on 22nd and 23rd September. All the green thumbs can rejoice as there will be gardening workshops, walks, and more fun events!
Explore Paris by Months
---
Ready to Visit Paris?
---
For more detailed Paris guides, here are some helpful quick links!