With stunning architecture, cobbled streets, old bridges and long church spires that reach the sky, Hamburg is the ideal holiday spot for leisure tourists and history buffs. The city is also home to the world's most extensive model railway system, the Miniatur Wunderland, located in the central part of Hamburg's historic warehouse district, Speicherstadt. Think of Lilliput, from Gulliver's Travels -- only with real, life-like simulations of high-speed vehicles, tracks, iconic buildings, landscape central to different cities and tiny people!
Buy Miniatur Wunderland tickets to see the exotic replicas of France, Italy, North America, Germany and a few Scandinavian countries and marvel at the attention to detail that's gone into making these exhibits a popular tourist attraction.
Miniatur Wunderland - What's The Hype?
---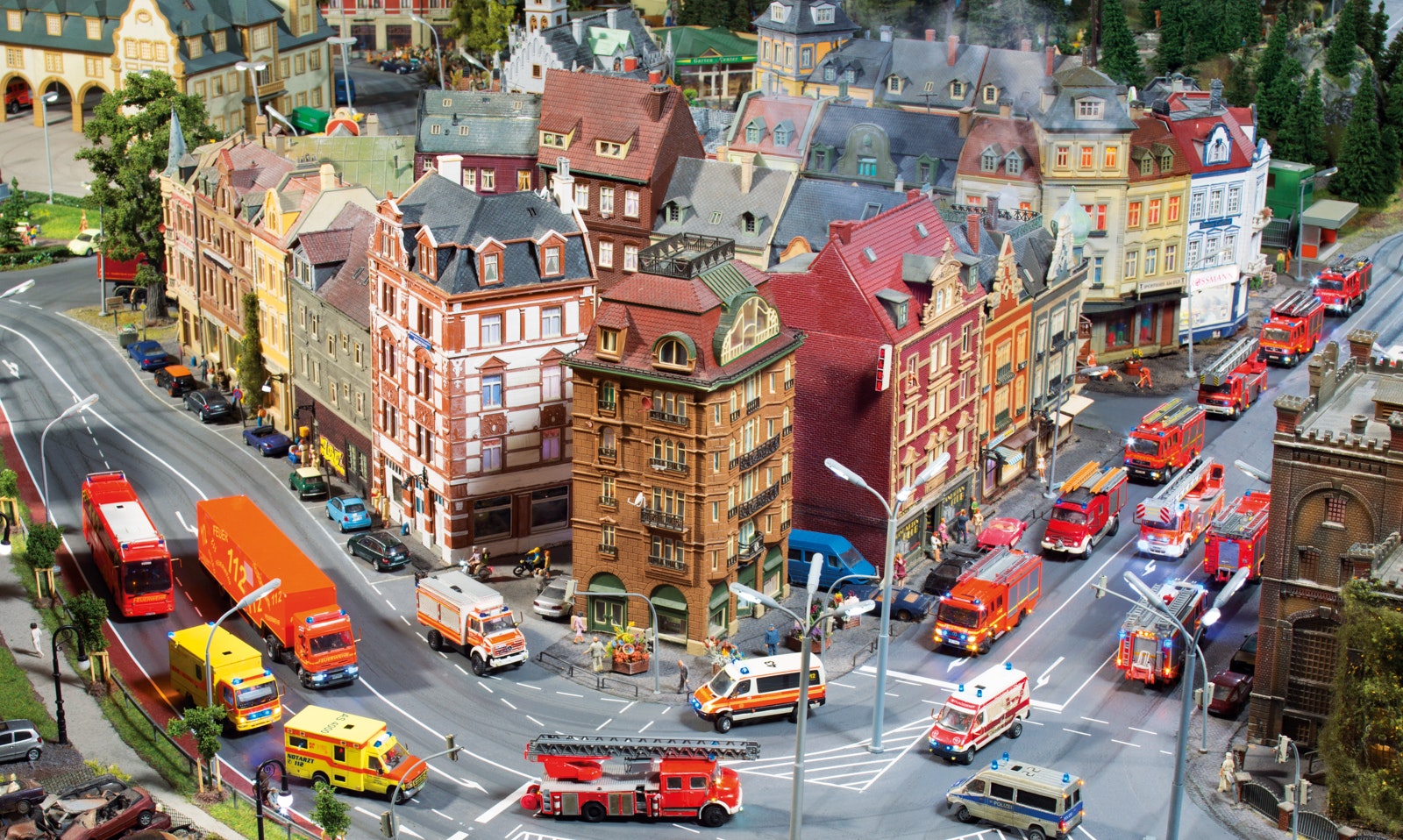 The world's largest miniature model railway system in the world, the Miniatur Wunderland is the brainchild of brothers Frederik and Gerrit Braun and their friend, Stephan Hertz. The story goes that Frederick Braun came across a model shop while holidaying in Zurich and was instantly reminded of his childhood dream to build a model railway station. Convinced with making his dream a reality, the team approached Gerhard Dauscher, a professional model maker and hired other excellent craftsmen to work on their dream. They inaugurated the Miniatur Wunderland in 2001 with three model sections: Central Germany, Knuffingen and Austria. Made with tons of steel, wood and plaster, this dream has expanded rapidly and currently has nine sections with plans of expansion till 2028.
Miniatur Wunderland Tickets
---
Buy your Miniatur Wunderland tickets online and save yourself the time spent in queues on-site.
What to Expect at Miniatur Wunderland
---
The Hamburg Miniatur Wunderland holds a Guinness World Record for the largest miniature in the world.What makes it unique is the sheer scale of each model and the extreme attention to detail in its construction. Be it a visit to the Grand Canyon in America or to Europe's beautiful churches, the intricacies are magnificent!
Buy Miniatur Wunderland tickets to experience visual storytelling at its best. It comprises computer-controlled cars, airplanes, fire fighting engines and an extensively-designed railway track besides water channels for ships and boats. There are several landscapes and terrains with mini human figurines that are placed strategically, making it resemble a real-life city. You can engage with exhibits that have a push button to facilitate actions like getting a mini chocolate bar at the Chocolate Factory, illuminating some lights, or seeing your face displayed on a TV screen.
Miniatur Wunderland: A Detailed Overview
---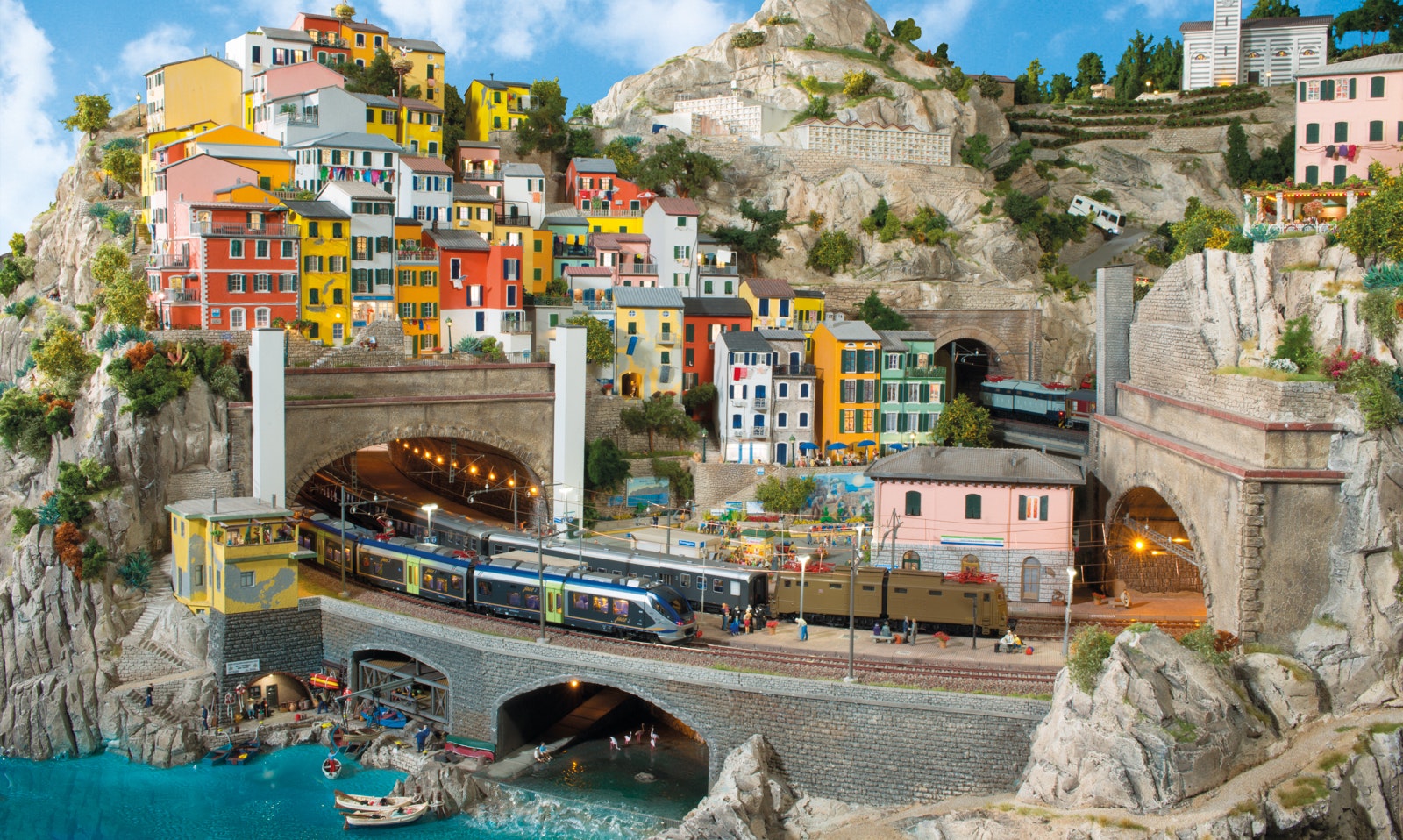 The Miniatur Wunderland in Hamburg is spread across an area of 1490 sq. m. and is divided into nine sections -- modeled across different nations like Germany, Italy, Austria, Monaco, Switzerland and the USA. At the Miniatur, a day lasts for only 15 minutes and when the sun goes down, almost 300,000 LED lights spring to life to resemble a warmly-lit evening.
All the vehicles -- 9250 cars and buses, 42 planes and over 1000 trains -- work in tandem via intelligent simulation in different situations. The rail track covers an area of 15400 m while a replica of the Baltic sea features ships floating on a life-like 30,000-litre water basin complete with simulated tides. The world's largest miniature airport, The Knuffingen airport, uses a sophisticated flight simulation software to control landings and take-offs.
The situations depicted in the form of simulations at the Miniatur Wunderland are life-like, relatable and an absolute treat to the eye. From citizens enjoying beer at the Oktoberfest in Bavaria to them bargaining at a road-side stall selling fish in Knuffingen. You can also see couples enjoying a conversation on a bench in Scandinavia's town square or catch a glimpse of town folk heading for Christmas mass in America.
The Miniatur Wunderland also lets you witness expert technicians and professional modelers at work, thanks to the open-to-view workshops and construction areas. It houses forty computers run by working behind the scenes to ensure the smooth functioning of the different models. Google Maps has an interesting tie-up with the Miniatur Wunderland and allows you to navigate through the layout easily.
Know Before Your Visit to Miniatur Wunderland
---
Timings
Open all year round from 09:30 AM to 06:00 PM. It is recommended that you visit early morning or late afternoon to avoid large crowds.
Tickets
It's recommended that you purchase Miniatur Wunderland tickets online as the queues at the counter could be extremely long.
Adults pay €20 and children over 100cm upto 15 years pay €12.50. Senior citizens and students pay €17. Infants below 100cm can enter for free.
Getting There
You can get to Miniatur Wunderland by bus, subway or train.
By bus: If you're taking the bus, alight at Auf dem Sande (Speicherstadt), which is just a minute away from the building.
By train: Closest train stations are Baumwall, Messberg and Stadthausbrücke, all located within 5 to 10 minutes walking distance. You can find the best route options here.
By car: 44 parking slots have been reserved for visitors in front of Miniatur Wunderland. Parking fee is €1 per hour.
For more information on transport options, check here.
Address
Kehrwieder 2-4/Block D, 20457, Hamburg, Germany
Tips for Your Visit
---
Pre-book your tickets online to choose a favorable time slot. You can also opt for skip-the-line tickets to avoid waiting in the queue.
If you arrive without booking tickets, check the website's waiting time prediction tool to plan your visit better
It's a good idea to plan your tour early in the morning and on weekdays rather than weekends or public holidays to avoid crowds
You can avail the locker facility to store extra luggage during your visit
Keep your distance from the models and do not touch them unless the exhibits specify an action button
You can pick up Miniatur Hamburg coins, magnets or tiny mementos as souvenirs
Based on the season you visit, check for special events like Wunderland at Night or Culinary Trip around the world on the Miniatur Wunderland website
FAQs
---
What are Miniatur Wunderland ticket prices?
Are children allowed inside Miniatur Wunderland?
What are Miniatur Wunderland timings?
How much time will it take to complete a tour of the Miniatur Wunderland?
Is photography allowed inside Miniatur Wunderland?
Is Miniatur Wunderland wheelchair-accessible?
Does the Miniatur Wunderland offer guided tours?
Are pets permitted inside Miniatur Wunderland?
Miniatur Wunderland Guide