In Hamburg's HafenCity, you will see an impressive glass building on the banks of Elbe river. Wondering what it is? This is the Elbphilharmonie ( pronounced as Elb-phil-har-mo-nie), a world class concert hall comprising of three concert halls, a Westin hotel, 15 floors of 45 apartments, an 80-metre escalator - the longest in Europe and a plaza flaunting 360° panoramic views of the city. Elbphilharmonie, which opened its doors in January 2017 has evolved to become a new cultural landmark in just a year's time, attracting millions to its grandeur. Here's all you need to know about the Elbphilharmonie Hamburg, a bit of history, a little on its stunning interiors and how you can get Elbphilharmonie tickets to view the best of this Hamburg plaza.
Elbphilharmonie in a Nutshell
Opening Hours
The Elbphilharmonie Hamburg is open daily from 9:00 AM to 11:30 PM.
The Elbphilharmonie Plaza, an area open for public viewing remains also open from 9:00 AM to midnight daily. Varied timings follow on the below dates :

October 1st & 2nd - 10:00 AM to midnight
December 24th & 31st - 9:00 AM to 3:30 (last admission: 2:30)
Know before you go
Starting Prices for Elbphilharmonie Tickets - €20
Suggested duration 1-2 hours
Entrances:

To enter Grand Hall / Brahms Foyer: Johannes-Brahms-Platz
To enter Recital Hall: Gorch-Fock-Wall
To enter Studio E / Artists' Entrance: Dammtorwall 46
If you're looking to purchase a ticket and enter the building, make sure to enter through the main entrance marked "Elbphilharmonie' . Admission takes place only at the main entrance and is by concert ticket or Plaza ticket only. Once you purchase the tickets, the tube takes you to the Plaza and foyers of the Grand and Recital Halls.
Location
- Hamburg, Germany
Getting to Elbphilharmonie
By Underground rail
You can take the Underground Line U3 and get down at Baumwall ( 450m from Elbphilharmonie) or take Line U4 and disembark at Überseequartier (950 m from the Elbphilharmonie)
By Bus
If you're coming by bus, the best bus lines are 111 and 6 which will drop you at Am Kaiserkai ( 150 m away) and Auf dem Sande ( 550 m away) respectively.
By Ferry
Ferry 72 from the Landungsbrücken pier will drop you right in front of Elbphilharmonie. This is an exciting and great public transport option.
By Car
Elbphilharmonie has a multistorey paid car park which is open 24/7 and will cost you €4.50 per hour. There are 433 parking spaces available.
By Bicycle
Since there are bicycle stands available in front of Elbphilharmonie, you can take them from any part of the city and park them here safely.
Elbphilharmonie Hamburg - A Brief History
---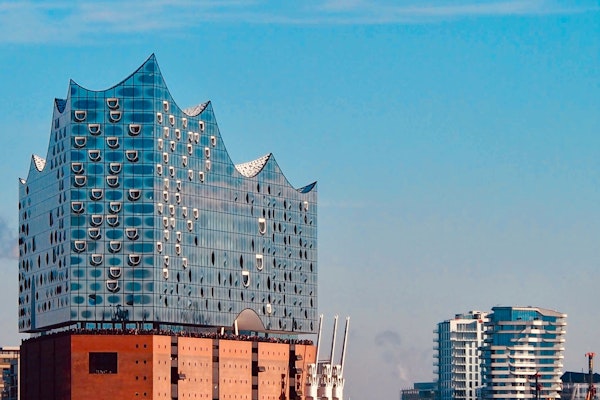 The Elbphilharmonie Hamburg stands today where Kaiserspeicher, the first warehouse in Hamburg was built back in 1875. Kaiserspeicher was a magnificent Neo - Gothic structure, a masterpiece for its times and earned fame as Hamburg's landmark when the city became an center for international trade. However, during World War 2, the Kaiserspeicher was completely destroyed and by 1963, the building was detonated. Soon, the Kaispeicher A was erected on same site and became a storage house for cocoa, tea and tobacco till the 90s. With the rise in container transport, Kaispeicher A lost its important and ultimately stood empty.
In 2007, the Kaispeicher A was completely gutted and the foundation stone for the Elbphilharmonie Hamburg as we know today was laid. Though gutted, the brick facades of Kaispeicher A remained and Elbphilharmonie was built as an interplay of archaic appearance with a bold curve of dazzling glass. The commission for the Hamburg Elbphilharmonie was entrusted to Herzog & de Meuron, who priced the project at 186 million euros, with an opening scheduled for 2010. After a succession of delays, revisions and legal disputes, the final cost for the Hamburg Elbphilharmonie came to 798 million euros and a 7 year delay.
However, it has drawn half a million visitors since it opened in November 2017 and is touted to be a momentous beacon in Hamburg music history. Only time will tell, but here's a modern building representing a modern Germany, a definite pride for Hamburg.
Which Elbphilharmonie Tickets Should You Buy?
---
If you have purchased tickets for the Elbphilharmonie's Grand Hall and/or Recital Hall for a musical performance, your ticket is inclusive of a Plaza access for 2 hours before the event. Make sure to come a little early and enjoy the breathtaking views of Hamburg before the enthralling musical extravaganza.
Concert tickets are also inclusive of a round trip to Elbphilharmonie. You can use the tickets to hop onto public transportation ( valid in the HVV-Gesamtbereich incl. Schnellbus) on the day of the event and travel to and fro Elbphilharmonie, Hamburg. Note, the Plaza tickets are NOT inclusive of public transportation.
While the Elbphilharmonie Plaza entry is free of charge, the paid tickets allow you to skip the line. This is highly recommended during weekends and peak tourist seasons as the tourist hordes can swamp the lines for hours together.
If you're up for a session of beer tasting, walk into Störtebeker Elbphilharmonie, a Nordi-inspired restaurant and beer hall for some post/pre show imbibing. Here, you can enjoy 6 German beers for 9 Euros!
You cannot access the Plaza or concert halls from the garage. From the parking garage, use the B group elevators to travel to the ground floor. From here, you'll be required to pass through admission control and security before getting on the Tube ( or A ground elevator)
If time permits, you can take a quick tour of the Komponisten-Quartier, the Composers Quarter on the Peterstraße which stands adjacent to Elbphilharmonie. This series of composer museum pay homage to Brahms ( Hamburg being his birthplace) and to Bach ( his son), Mahler and other legendary composers who were born in Hamburg. The locals say, a visit to Elbphilharmonie finds a full circle to the city's music roots only after visiting the Composers Quarters.
Exploring Elbphilharmonie Hamburg - Inside Out
---
There are 5 noteworthy parts to the Elbphilharmonie, Hamburg. In this section, we'll take you through a sneakpeak of Hamburg's Elbphilharmonie , inside out and all around.
The Tube
The Tube is a 82-metre-long ( 270 foot long), curved escalator that begins at the entrance of the Elbphilharmonie Hamburg. It moves at a snail pace, but that's by design. It should take you about 4 minutes to ride all the way up, a rather interesting 4 minutes. The tube is sequined with thousands of reflective discs shedding an illusory effect. This ride leads you to an observation platform, flaunting sweeping views of the Elbe River, the container harbour and docks, bristling with cranes.
The Plaza
At 37 metres above ground level, this Elbphilharmonie Plaza is a public viewing platform which remains open to the public seven days a week, all day long. The Elbphilharmonie Plaza is wedged between the building's modern prismatic facade and the old brick warehouse making for an ideal viewpoint. You can enter the Plaza without a ticket (entry is free but you can make an advance reservation of €2 online if you'd like to skip the queues). From here, you can watch all of Hamburg in full view, river Elbe winding along the endless docklands, boats moored on the side of the river, the city's spires soaring above flat-top buildings. From the Elbphilharmonie Plaza, you can access the concert halls, hotel lobby, Elbphilharmonie Shop, and Deck & Deli via stairways and lifts.
The Grand Hall
The Grand Hall at Elbphilharmonie is at the heart of this grandiose building. With a capacity of seating 2,100 guests, the Grand Hall is designed in vineyard style wherein the orchestra sits in the middle with the rows of seats rising steeply in interwoven tiers. This style of seating ensures unobstructed sightlines of the stage and an impeccable listening experience from each and every seat. The acoustics in this hall has been developed by the internationally renowned acoustics specialist Yasuhisa Toyota. He has decked the hall with grooved plaster and paper panels designed to create balanced resonance, resembling sea shell imprints and creating a dazzling effect overall. They say that making music an experience that is accessible and approachable was written into the DNA of Elbphilharmonie Hamburg.
The Recital Hall
The Recital Hall is 572-seater intimate space designed for multipurpose musical disclosures like chamber music, lieder and solo recitals, jazz and world music. Equipped with flexible seating and stage elements, the Recital Hall is classically designed with elegant milled wood panelling which ensures impeccable acoustics.
Kaistudios
The Kaistudios with a capacity of 150 seats is a safe space echoing with the freedom of creative expression in all forms, be it music, seminars, workshops or rehersals. If you pop by, it is likely that you'll see a participatory project or a musical instrument workshops running by in full swing. It occupies the 2nd and 3rd floor of Elbphilharmonie Hamburg and is nicknamed the "World of Instruments".
Taking a guided tour through Elphilharmonie is the best way to explore the magnificient concert halls, the spectacular plaza and other parts of this astounding building. Depending on the tour you choose, you will be taken through the old Kaispeicher warehouse, the Plaza, the foyer areas and the Grand Hall with an expert guide by your guide. Here's our curation of the best Elbphilharmonie Tickets
Attractions near Elbphilharmonie
---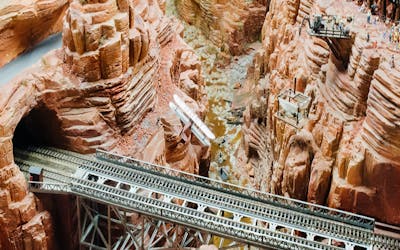 Miniatur Wunderland
Miniatur Wunderland is the world's most extensive nmodel railway system, located in Speicherstadt - Hamburg's historic warehouse district. This place has real, life-like simulations of high-speed vehicles, tracks, iconic buildings, landscape central to different cities and tiny people. Talk about exciting!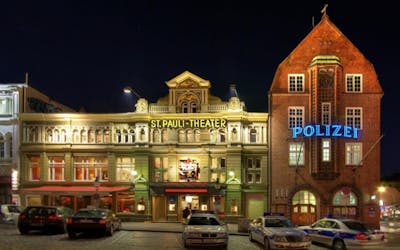 St Pauli and Reeperbahn
St Pauli and Reeperbahn are the soul of Hamburg. No, we're not lying. Currently at its flashy best, this district was originally a planned military base. These two places, revel in their vices. For real.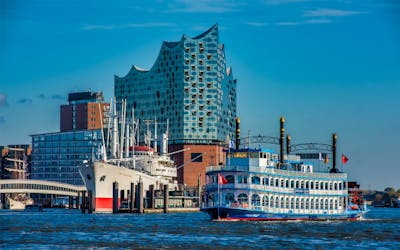 Hamburg Harbour Cruises
Hamburg Harbour Cruises are the best way to explore the Hamburg Port, which is in fact, the largest port in Germany and acts as the primary connect between Germany and the rest of the world.
Insider Tips for Visiting Elbphilharmonie Hamburg
---
Before you go on a tour of the Elphilharmonie Hamburg, here are a few things you should know:
All guided tours start from the Elbphilharmonie Visitor Center which stands opposite the Elbphilharmonie building (Am Kaiserkai 62).
Make sure to be here atleast 15 minutes before the tour departure time. The Elbphilharmonie tickets follow a strict cancellation policy and cannot be amended, refunded or rescheduled if you arrive late for the tour or cannot participate for the tour
Guided tours are timed keeping in mind the concert and rehersal schedules. Hence, one cannot purchase them on the spot and have to purchase tickets for a guided tour online only.
Guided tours last for about an hour with a maximum of 30 pax in one group
You can opt for a German guided tour ( this tour lasts for 75 minutes and has only 15 participants in the group) or an English guided tour.
A guided tour of the Elbphilharmonie may not be conducive for kids below the age of 8.
If you're traveling with a person of reduced mobility, the companion can take part in the tour free of charge, however purchasing a ticket is required. It is advisable to purchase this ticket for the companion from the ticket office than online as most online portals do not provide this facility. You will be required to show an id ( Grade B disability pass as well) in order to avail the free entry.
FAQs: Elbphilharmonie Hamburg
---
The Elbphilharmonie (German pronunciation: [ˈɛlpfɪlhaʁmoˌniː] ( listen); "Elbe Philharmonic Hall"), popularly nicknamed Elphi, is a concert hall in the HafenCity quarter of Hamburg, Germany, on the Grasbrook peninsula of the Elbe River. It is among the largest in the world.
The initial idea for rejuvenating Kaispeicher A was of the construction of the MediaCityPort - an office building for the media industry, which was to tower up to a height of 90 metres on top of the Kaispeicher A, with a gross surface area of 50,000 square metres.
Why Herzog & de Meuron's Hamburg Elbphilharmonie Is Worth Its $900 Million Price Tag
Hamburg's former mayor, Ole von Beust, has been given much of the blame for the botched timeline and cost overrun. The building's costs ballooned from $200 million to an estimated $870 million—with German taxpayers paying the difference.
No two panels absorb or scatter sound waves alike, but together they create a balanced reverberation across the entire auditorium.