An ancient Roman fishing town located in the ambit of Mount Vesuvius, Herculaneum ruins offers a rare experience to the travellers. This tiny city, buried by the devastating eruption of Mount Vesuvius in AD 79, has been conserved well to become a UNESCO World Heritage Site. It harbours rare archaeological treasures giving a glimpse of its original splendour. About halfway between touristy towns Pompeii and Naples, Herculaneum is a hidden gem far richer in its conserved heritage and far less crowded than its popular neighbouring towns. The pyroclastic surge as a result of the eruption led to the preservation of much of organic based wooden objects, roofs, mosaics, frescoes, skeletons etc. giving us a unique peek into how the ancient Romans lived. Not visiting Herculaneum while in such close vicinity would be a huge regret!
Quick Jumplinks to Navigate the Guide
Herculaneum History
---
Herculaneum before eruption
Herculaneum was a 2000 year old, ancient Roman city about 5 miles to the southeast of Naples, in Campania, Italy. With just about 4,000–5,000 inhabitants, this splendid town lay in the shadow of Mount Vesuvius. Although it was a small seaside fishing town, Herculaneum was a wealthy town that possessed a great number of lavishly done up houses with coloured marble cladding, buildings with frescoed roofs and mosaics, classic Roman furniture, wine racks, household shrines and much more.
Herculaneum Excavation
In A.D. 79, this prosperous city along with the bigger neighbouring towns bore the fury of volcanic eruption of Mount Vesuvius. It was engulfed and buried by superheated pyroclastic flows of molten rock that encased it into a solid mass of pumice and ash. A horrific disaster albeit, it converted the living, breathing city of Herculaneum into a thoroughly protected time capsule. As archaeologists dug into the ruins in the recent years of mid 18th century, they discovered well preserved wooden and other rare organic artefacts such as roofs, racks, beds, baby cots, doors, food and even some 300 skeletons along the seashore. Since then it has been fascinating destination for many travellers.
Hot Herculaneum Deals!
---
Herculaneum Tour - What To See?
---
Baths (Thermae)
These are well-preserved thermal baths, separate for men and women. The water fed by a deep well was heated by a large furnace and distributed around the baths by a network of pipes. The men's bath has a floor mosaic of dolphins while the women's floor has a well preserved geometric pattern and intact wooden shelves.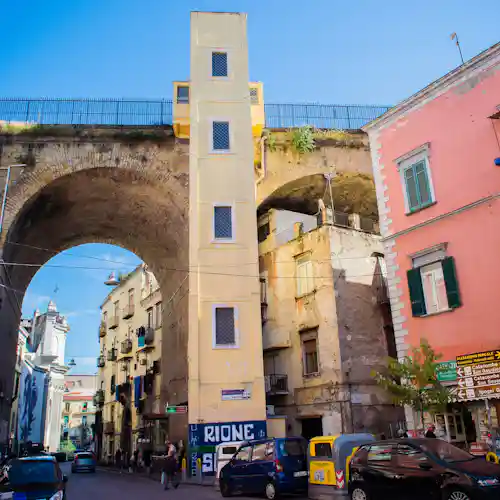 House of Neptune and Amphitrite
Named after Neptune and Amphitrite, a sea goddess and wife of Poseidon, this place has one of the most beautiful mosaic glass wall. The adjoining wall is also covered with a glass mosaic, with marble masks above it. It has a garden room that replaces the peristyle giving it a unique touch.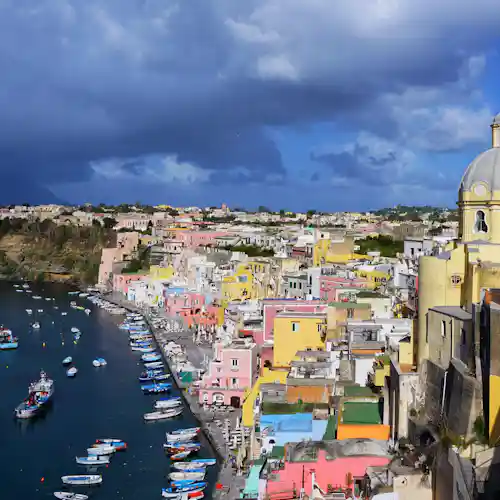 Villa of the Papyri
Home to the famous Herculaneum scrolls, named after the unique library of papyri (scrolls) this is a large and luxurious villa along the coastline. Spread over four terraces, it has an exquisite architecture and has been home to rare works of art like frescoes, bronze and marble sculptures etc.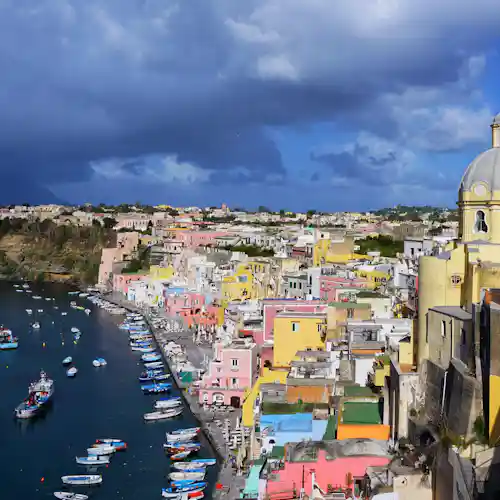 House of the Deer
Another luxurious waterfront two storied villa with a central courtyard.The floor with marble chips and mosaic patterns is quite an awesome sight. The frescoed walls are not to be missed. It had a huge garden adorned with marble tables and deer statues, well preserved now in the onsite museum.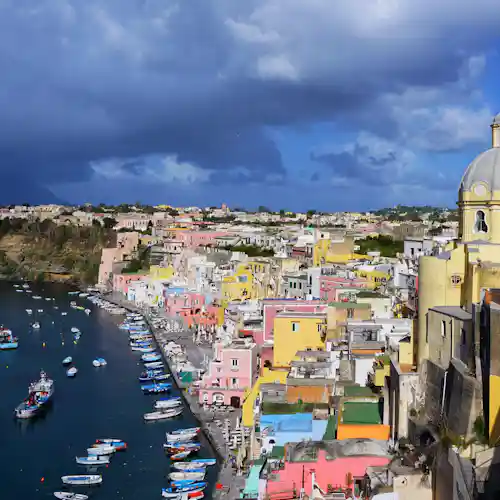 House of the Relief of Telephus
This elegant three story mansion is right across the House of the Deer. It has a spacious atrium with ionic columns and a marble basin which leads down to a park. Famed for an excellent marble relief, it has cast replicas of many of its original marble masks.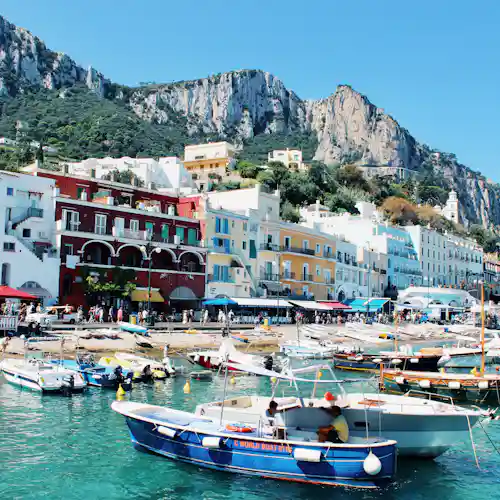 Samnite House
This is one of the oldest aristocratic mansions discovered so far in this town. The house has rich stucco and fresco decorations and an elegant atrium with a gallery and small rooms around it. The typical columns and pillars of that era mark the structure.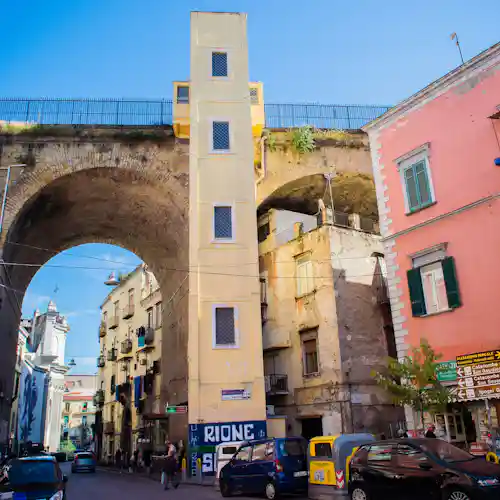 Hall of the Augustales (Sacello degli Augustali)
This meeting hall for the priests( usually ex-slaves) of the Emperor Augustus is a very large square shrine lit by an opening in the roof. It has excellent frescoes depicting historical gospels like Hercules in Olympus with Juno and Minerva and Hercules fighting an Etruscan god etc.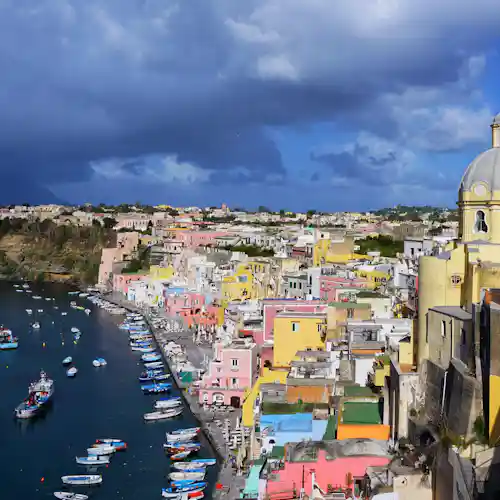 House of the Black Room/Salon (Casa del Salone Nero)
This opulent house has a little courtyard garden and beautiful mosaic flooring. It also has remains of the art appreciated by Herculaneum's natives in the form of very fine wall paintings on a rather unusual black background.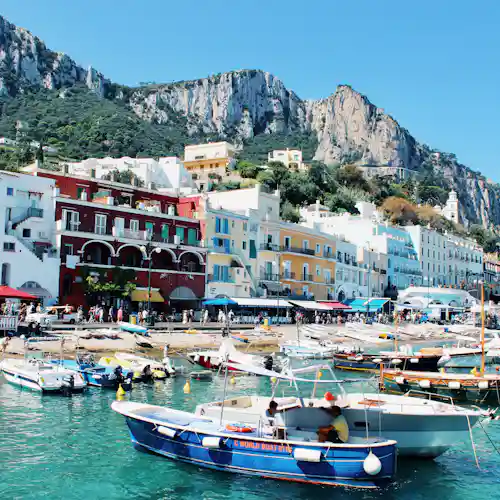 House of the Beautiful Courtyard (Casa del Bel Cortile)
Based on the lines of an Italian medieval courtyard, this beautiful house has walls with black and white mosaic paintings. A display case with two skeletons fused in a volcanic rock is the salient attraction of this house.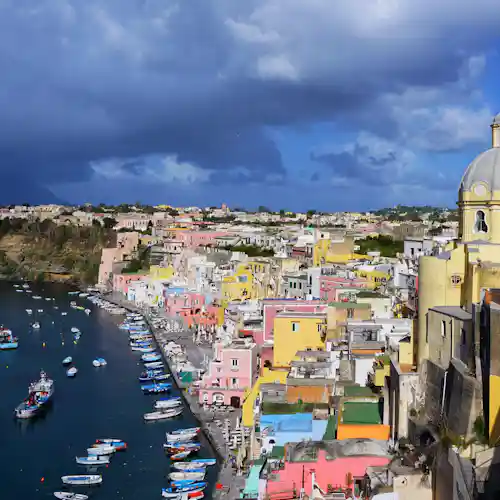 Palaestra and Shops
There are a series of shops including weavers looms, a dye shop and a bakery with ovens and mills. Behind these is Palaestra, a grassy area, also known as the outdoor gym. It is bordered by the remnants of pillars and was a public field for games and other events.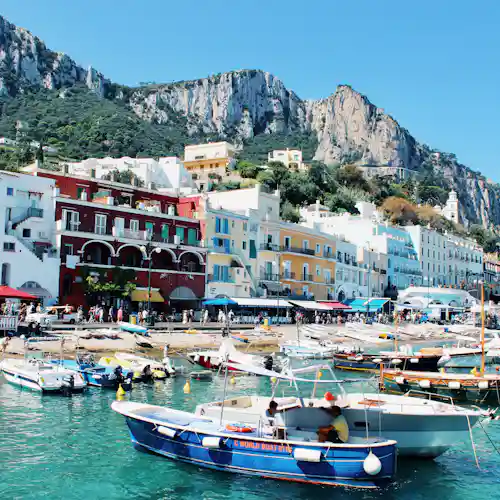 Herculaneum Tickets
---
Herculaneum Priority Entrance Ticket
Skip past the long lines and make your way into Herculaneum with your priority access ticket
Discover the UNESCO World Heritage Site of Herculaneum, an ancient Roman town better preserved than it's sister-site Pompeii.
Herculaneum Half Day Tour From Naples
Roundtrip transfers between Naples and Herculaneum aboard a fully-fitted GT coach with audio commentary on board
Guided tour tickets of Herculaneum Ruins not included in the ticket price
Pompeii and Herculaneum Full Day Archaeological Excursion From Naples
Visit the 2 sister UNESCO World Heritage Sites: Pompeii and Herculaneum in 1 day
Indulge in delicious regional cuisine on the way with lunch prices included in the ticket
Herculaneum Or Pompeii ?
---
People are often confused whether they should visit Herculaneum or Pompeii. Herculaneum and Pompeii, though preys of the same calamity are very different towns. Let us look at the differences more objectively to make a conscious decision.
Herculaneum

Book Now

Pompeii

Book Now

Ticket Price
Starts from € 11
Starts from € 15
Duration of visit

Smaller town hence can be visited in 3 hours

Comparitively bigger and requires minimum 6-7 hours

Ease of Navigation

Easy to navigate as it is small and ample sign boards are present.

Being vast it is more challenging and time consuming to navigate, and lack of signboards in Pompeii makes it harder

Getting to the site

Congested streets around excavation make the access for tour buses difficult, hence less touristy

Fairly approachable with paid parking facilities but hordes of tourist buses make it hard to get here

Experience

Far better experience as the ruins have been well preserved due to the pyroclastic nature of destruction. More trees , hence better shade making the walking less tiresome

A lot of artefacts and details were completely destroyed due to direct impact of volcanic eruption. Not a single tree, hence less place to rest and take shade.

Art

Smaller but wealthier town, hence has more art and archeological preserves. Much of the site is still being excavated.

Larger town but not as rich in art as Herculaneum. However, due to its size there is more to see and more impressive structures like the amphitheatre are present here.

Preservation of Artefacts

Pyroclastic flow capsuled the town hence protecting the ruins

More plaster bodies here which helps understand Fiorelli's method of preservation

Kid friendliness

Being a smaller site, it is easier to explore with kids. Also this has more interesting preserves for kids to understand

Covering the whole of Pompeii in a day with kids can be tiring.

Proximity to Mt Vesuvius

Located 7.1 kms from Mt Vesuvius

Located 10.3 km from Mt Vesuvius
Visiting Herculaneum - How To Get There?
---
---
Rome to Herculaneum
---
Herculaneum is about 150 miles south of Rome, close to Naples. The best way to get to Herculaneum from Rome is by train. This is the fastest and most comfortable option.It takes about 2 to 3 hours depending on whether you take the high speed or slow speed train. The journey involves transfer at Naples to another line. You can catch any train to Naples that leaves from Termini railway station. From Naples the Circumvesuviana line goes to Herculaneum (Ercolano Scavi station). A round trip can cost anywhere from 30€ to 100€ depending on the train.
There are round trip coaches from Rome to Pompeii and Herculaneum with guided tour. You can enjoy the countryside vistas from the comfort of your coach. They are a good second choice. Renting a car can be another option for families and groups specially if you are planning to cover nearby places too.
---
Naples to Herculaneum
---
Herculaneum is very close to Naples, just about 8 miles. You can take the train along Circumvesuviana line from Napoli Stazione Centrale / Garibaldi to Sorrento and get off at ERCOLANO station. The archaeological site is hardly 700m from the station.
The more expensive options of renting a car or a cab are always there and though it is comparitively more expensive than the public modes of transport, it won't burn a hole in your pocket.
---
Pompeii to Herculaneum
---
Herculaneum is hardly 10 miles away from Pompeii. You can take the train going to Naples on Circumvesuviana line from the Pompei Scavi/Villa dei Misteri stop to Ercolano Scavi stop. When you exit the station and go down the stairs, it is a downhill walk of just 10 minutes to the Herculaneum entrance.
If you're not on a budget, you can easily rent a car or a cab from either of the sites to the other!
Hot Herculaneum Deals!
---
Herculaneum Opening Times
---
From 1 November to 31 March | Every day from 8:30 AM – 5:30 PM (with last entrance 3.30 PM)
From 1 April to 31 October | Every day 9:00 AM – 7:30 PM (with last entrance at 6:00 PM)
Herculaneum remains shut on 25th December, 1st January and 1st May.
Insider Tips for Visiting Herculaneum
---
As you walk down the steps from the station, you are pestered by quite a few eager taxi drivers for a drive to Herculaneum. Do not give in to the temptation as it is just an easy 10 minutes downhill walk from there to the site.


Kids have to be either prepared to walk through the site or have to be carried around in sling/ backpack as strollers are difficult to move in the cobble stoned hilly terrain.


It can get quite hot during summers. Carry your own water bottle which you can keep refilling at many water fountains of Herculaneum.


Carry some snacks or pack a picnic. Food options around the site are few and expensive.


To know the Herculaneum facts, a guided walking tour to this kind of historical site is highly recommended. You can rent an audio guide or purchase a guide book and Herculaneum map at the information desk near the ticket window.
If you're a teacher or student, consider buying a Campania Artecard, which offers free or reduced admission to many museums and archaeological sites in and around Naples and Campania. The three-day card includes free public transport as well.
Herculaneum Ruins FAQs
---
What are the ticket prices for Herculaneum ruins?
What are Herculean ruins timings?
How long do you need at Herculaneum ruins?
Are kids allowed to the Herculaneum ruins?
How to reach Herculaneum ruins?
What can we see in Herculaneum tour?
What is Herculaneum famous for ?
Is Herculaneum better or Pompeii?
What is the ticket price for children in Herculaneum?
Where can I buy Herculaneum tickets?
What should I carry with me to Herculeum?
Should I book a guided tour to Herculeum?