From Naples: Herculaneum Half-Day Tour
(
)
Rated 4.5 out of 5.0 from 1619 reviews.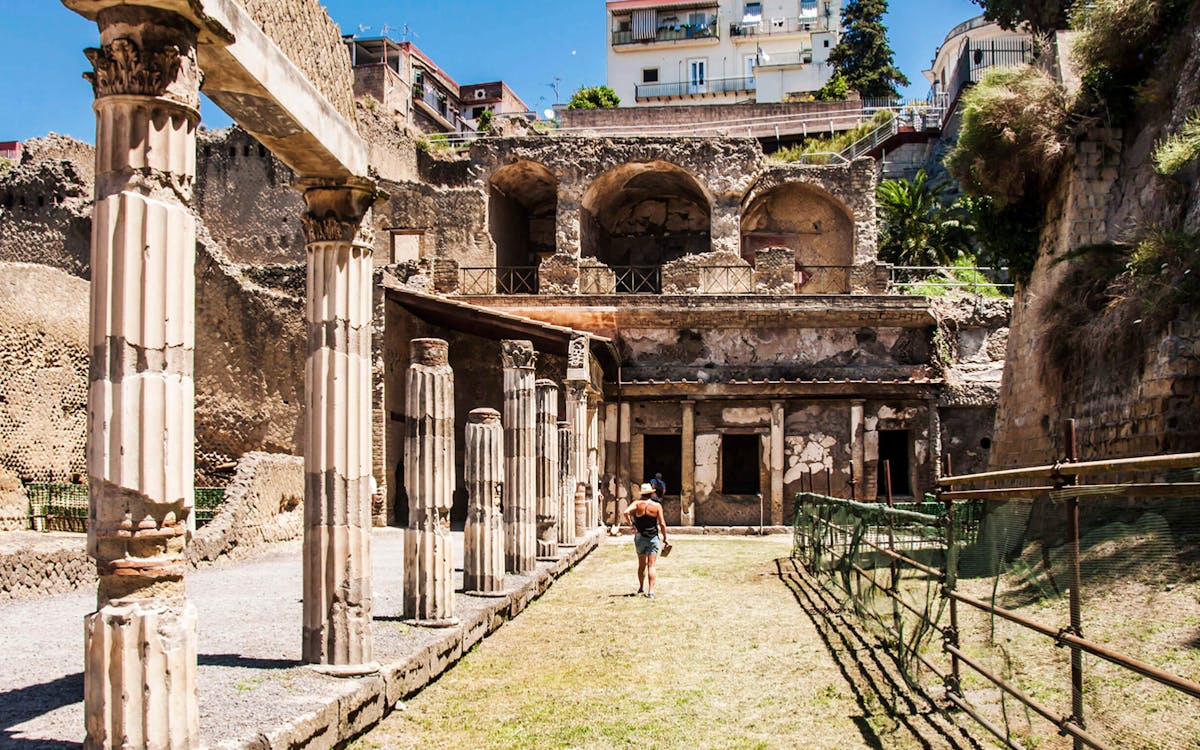 Examine the remains of the Vesuvian eruption in Herculaneum as you delve into the UNESCO World Heritage Site with an expert guide on a half-day tour from Naples.
Take a tour around the ruins of Herculaneum, a well-preserved Roman town that suffered the same fate as Pompeii in 79 AD.

Discover picturesque villas, bathhouses, frescoes, metal works, and more preserved in their near-perfect state in Herculaneum.

Enjoy hassle-free transfers from your hotel in Naples aboard a fully-fitted GT coach with audio commentary on board.
3-hour guided tour of Herculaneum

Expert local guide

Audio guides

Round-trip transfers from Naples

Fully-fitted GT coach
You can cancel these tickets up to 48 hours before the experience begins and get a full refund.
Vivid history lessons

Get picked up from your accommodation in central Naples and head towards one of Italy's most iconic sites, Herculaneum, on a half-day tour. Located 20-minutes from the city, Herculaneum is one of the greatest archaeological finds owing to its near-perfect preserved state. Drive down on the air-conditioned GT coach with onboard commentary on the site and prepare yourself for a one-of-a-kind experience.

Upon arrival, you will be greeted with visuals from over 2 millennia ago. After purchasing the admission ticket (your tour leader will assist you with this), its time to step into the ruins and explore. See houses with upper floors intact, the majestic basilica, the marble bathhouses, the large spa complex and many more sights which make up the famous ruins. You will also be able to study Vesuvian art by viewing frescos, murals, paintings, and busts all preserved as they were. A truly fascinating experience!

A tale of 2 towns

Although less famous than in its sister city Pompeii, Herculaneum is the better preserved of the two. Spread over a smaller area, the town boasts of a heritage dating back to the 6th century BC. A town richer than Pompeii, Herculaneum showcases rich Greco-Roman antiquities in a near perfect state. Herculaneum is famous for its long ticket queues, but your tour leader will help you procure tickets to the ruins upon arrival. Skip past the long queues and make your way into the ancient town for an adventure unlike any other.

Nothing can prepare you for what you're about to see. Marble bathhouses, extravagant frescoes, intricate busts, and everything else carefully preserved by nature thanks to the volcanic ash and debris. Take it all in as you navigate through the cobbled streets and peer into the window of the past. Whether you're a historian or not, this is an experience that will be forever etched in your memory.
What to bring

It's recommended to wear comfortable shoes as this experiences involves a fair amount of walking.

What's not allowed

The following are not allowed on this tour: Large baggage and suitcases.
How To Use Your Ticket


You will receive an email with your Herculaneum Half-Day Tour ticket voucher shortly. You don't need to take a print of this. Just show the voucher on your mobile device along with a valid photo ID when your tour guide comes to pick you up. Please be ready at least 15 minutes prior to ensure a prompt and timely pick-up.
Similar experiences you'd love