Until your tastebuds have savoured a smacking plate of Bangkok street food, you haven't tasted a real Thai meal. A mix of flavours and fragrance, street food in Bangkok is a burst of spice, sour, sweet and salt; a treat in it's truest senses for food enthusiasts. It's no wonder that CNN declared Bangkok as the world's best street food city! For adventerous foodies who are looking for an offbeat dining experience, every heard of the Floating Markets in Bangkok? Shopping mixed with dining, hop aboard a beautifully decorated long-tail boat and sway down the narrow waterways of the bustling, vibrant markets in Bangkok. Once you hop off, find yourself amidst market stalls, souvenir stores and an abundance of locally harvested tropical fruit.
Bangkok has multiple floating markets, and why not? This is the only country in the world that has them! Here's all you need to know about the best floating markets in Bangkok - what you can expect, a few quick tips and when is the ideal time to visit them.
Floating Markets in Bangkok - In a Nutshell
Floating Markets In Bangkok - Things to know
| | |
| --- | --- |
| ⏰ Suggested Duration: | 2 Hours |
| ☀️ Best Time to Visit: | before lunchtime |
| 🎟️ Floating Markets In Bangkok Tickets: | Check Prices |
| 💜 Must See: | Damnoen Saduak |
Floating Markets In Bangkok Opening Hours
Most Markets are open everyday and they begin as early as 4am and close by 7pm
The Best Floating Markets In Bangkok
---
Damnoen Saduak
#1 Floating Market In Bangkok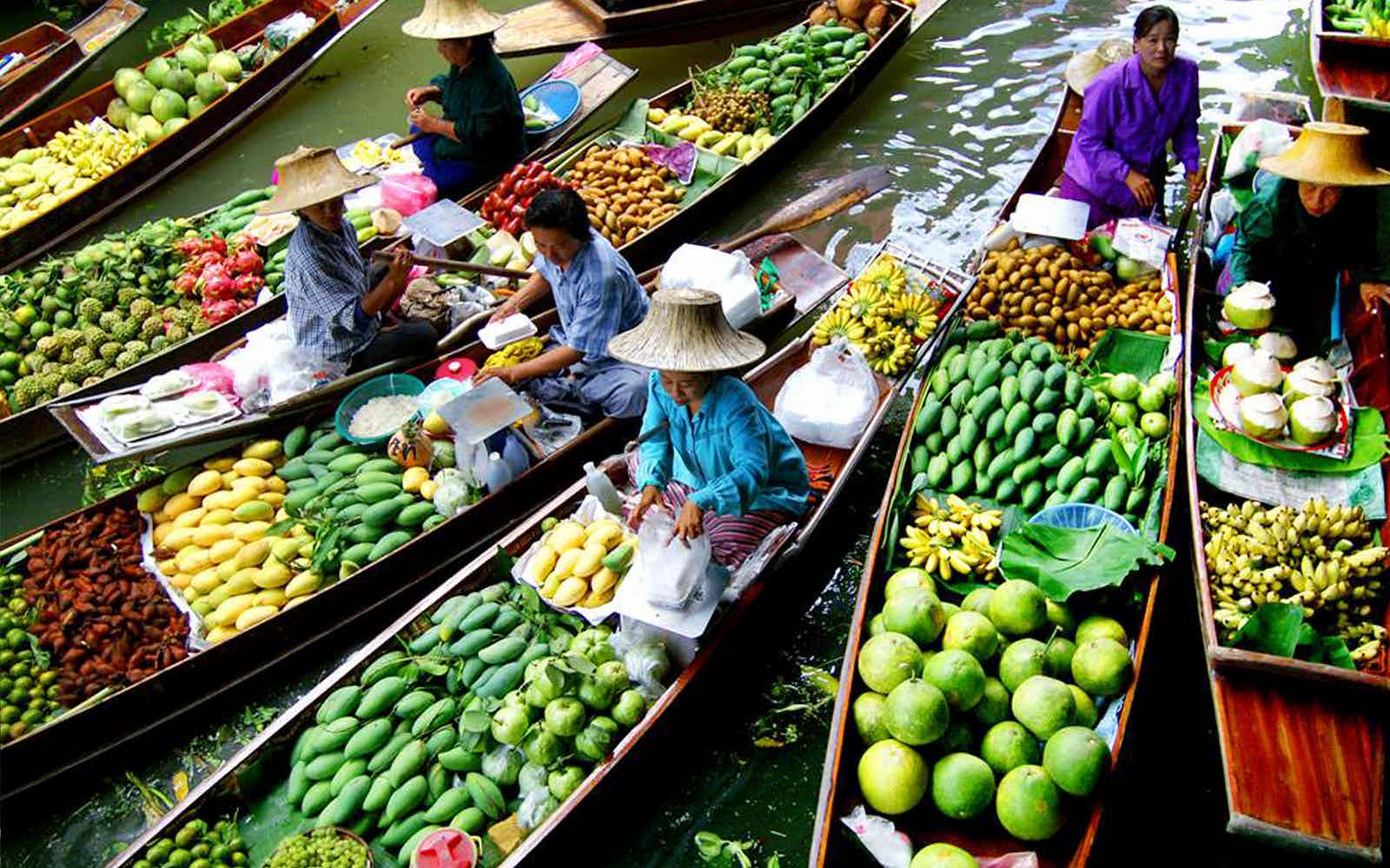 Nicknamed the city's "official" floating market, Damnoen Saduak is the largest and oldest floating market in Bangkok. Established in 1866, it is the perfect blend of antiquity, history and chaos! This infectiously heaving canal is bustling with vendors in their narrow wooden boats, selling a variety of local produce - from delicious delicacies to tropical fruits, regional agricultural produce and even Thai handicrafts!
The Good
Though most people find the Damnoen Saduak floating market extremely crowded, it also makes for a vibrant scene among the common images of a floating market
For photographers, a sunny day at the Damnoen Saduak floating market promises a plethora of great pictures.
Being the oldest and largest floating market in Bangkok, visiting Damnoen Saduak promises the real essence of a floating market, no matter how crowded it may be.
The Bad
Since tourists flock here in thousands, you're not likely to see many locals here. Hence, the prices of most products are on the costlier side as well.
With respect to distance from Bangkok city limits, the Damnoen Saduak floating market is quite far. It is around 100km from Bangkok suburbs and could take you more than an hour of driving.
Since this is quite the tourist hotspot, you're likely to spot quite a few it scammers here. Keep your wallets and belongings safe at all points, even on the boats.
Know Before You Go
Must-Do
Watch out for smiling ladies in large straw hats selling Kanom Krok, (Grilled Coconut-Rice Hot Cakes), mango sticky rice and pork satay - the definite must-try's.
Best Time To Visit
An early morning start is worth it to avoid the heat and catch Damnoen Saduak at its liveliest.
Local Tips

Always haggle. The locals charge tourists an exorbitant price which you're expected to negotiate.
A Damnoen Saduak tour is highly recommended so that you're entrusted with a local specialist who knows the market inside out and can help you navigate through the best parts. It can get quite overwhelming for tourists, hence a local guide's company is often appreciated.
Keep your hands inside the boat at all times, and make sure your kids do not lean outside the boat. There have been many accidents in the past and you do not want to soil your holiday!
Weekdays, 7:00 AM – 12:00 PM
We went by boat into the market, a very nice way of experiencing the market. We jumped off and walked through the different areas that we already passed. Be aware of the snakes (no wild ones, but still..) and get a guide, well worth the extra money - Aidanlaws121, Tripadvisor 2019
Amphawa Market
#2 Floating Market In Bangkok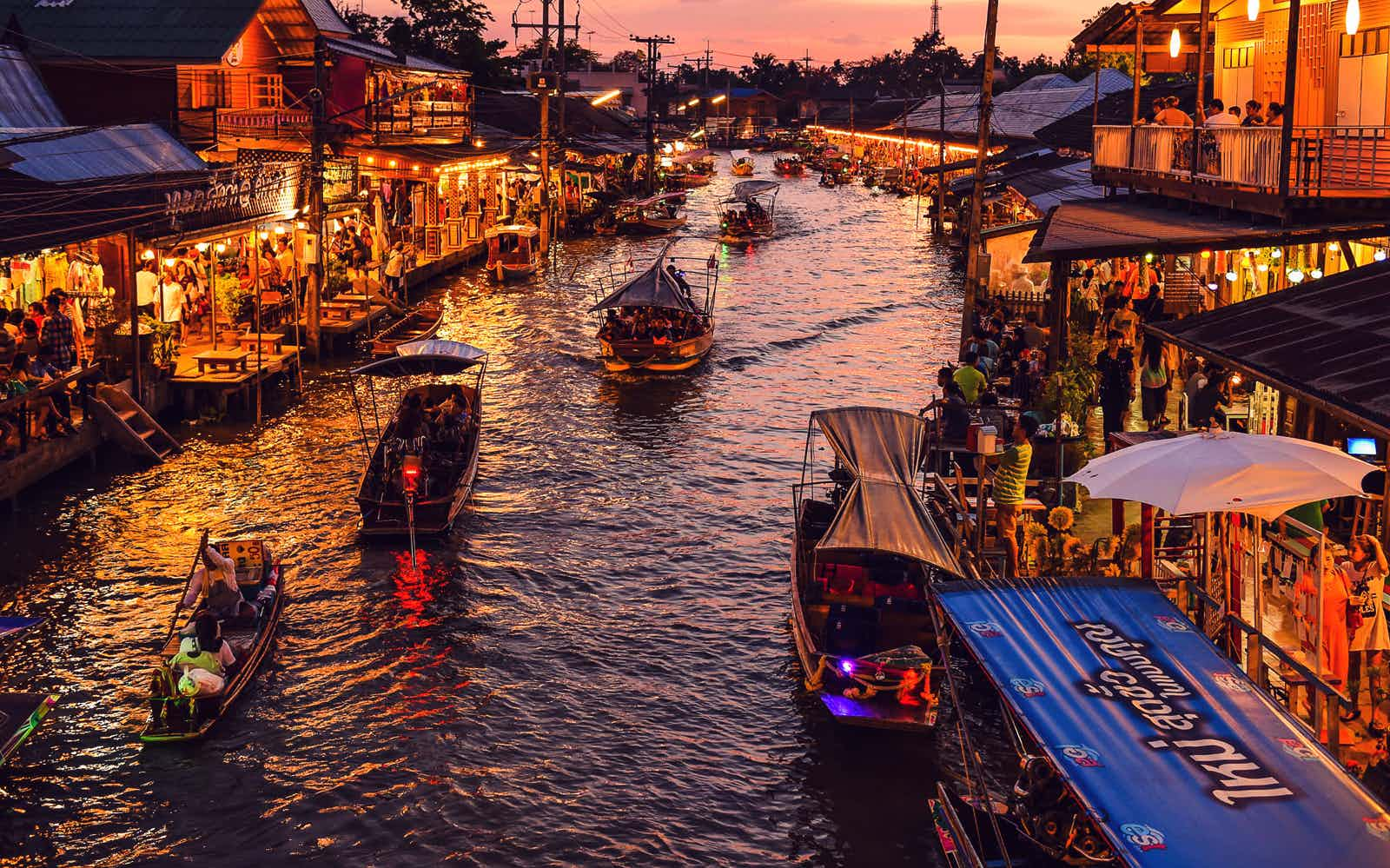 Situated about 50 kilometers away from the city, the Amphawa floating Market surrounded by beautiful traditional teak wooden houses is a favourite amongst locals and tourists alike. While it is not as large as Damnoen Saduak, its charm lies in its compactness - the hustle and bustle in crammed alleyways. This market's reputation is crowned by its fresh and delicious seafood making it immensely popular amongst Bangkokians who want to enjoy the quaint atmosphere while they feast on barbecued mackerel and shrimp. If you can fancy having your seafood cooked to your taste, the Amphawa floating market is a good place to try your luck. You can buy your seafood and have the friendly locals cook it to your taste as you float by experiencing traditional Thai music. There is also a wide range of Thai arts and crafts, the perfect place to pick up a few souvenirs after a scrumptious meal.
The Good
This floating market is flanked by colourful small wooden houses selling souvenirs, snacks, and sweets; adding to the beauty of the canal. You're likely to be in a dilemma whether to click pictures of the floating market or the houses!
Since the Amphawa floating market is only 50km from Bangkok city, you can plan other activities for the day since, making for a good choice if you're short on time.
The Amphawa floating market is located close to the Wat Bang Koong temple which has the famous golden statue of a sitting Buddha ensconced inside a Banyan tree. Wat Bang Koong also has a small park dedicated to children with camels, African ostriches, deer, wild boars, sheep, and peacocks.
Unlike most other floating markets, Amphawa is open until 8:00 pm, allowing you to experience the magic of floating markets after sunset, if you're good with braving the crowds.
The Bad
Since Damnoen Saduak floating market has earned the reputation of being the tourist trap, more tourists are now flocking towards the Amphawa floating market, thus increasing the crowds here.
Know Before You Go
Must-Do
Make sure you buy a plate of fresh river prawns or feast on some grilled fish on the bank. Squid at Amphawa is also a popular local delicacy that should not be missed.
Best Time To Visit
An early morning start is worth it to avoid the crowds and catch Amphawa at its quietest.
Local Tips

The fire-fly watching tour at night is a lesser known fun experience offered at the Amphawa floating market.
The sweets and toys at Amphawa is unique to this floating market. You're not likely to find them elsewhere.
Fri, Sat and Sun from noon until 8:00 pm
The best tasting & cheapest fresh seafood you'll ever have! Get the full experience by eating next to the river as boats drive by and breathe in the freshly grilled seafood with a bottle of Chang! Come here hungry! This is a must! 10/10!

- DJHeinie, Tripadvisor 2019
Taling Chan
#3 Floating Market In Bangkok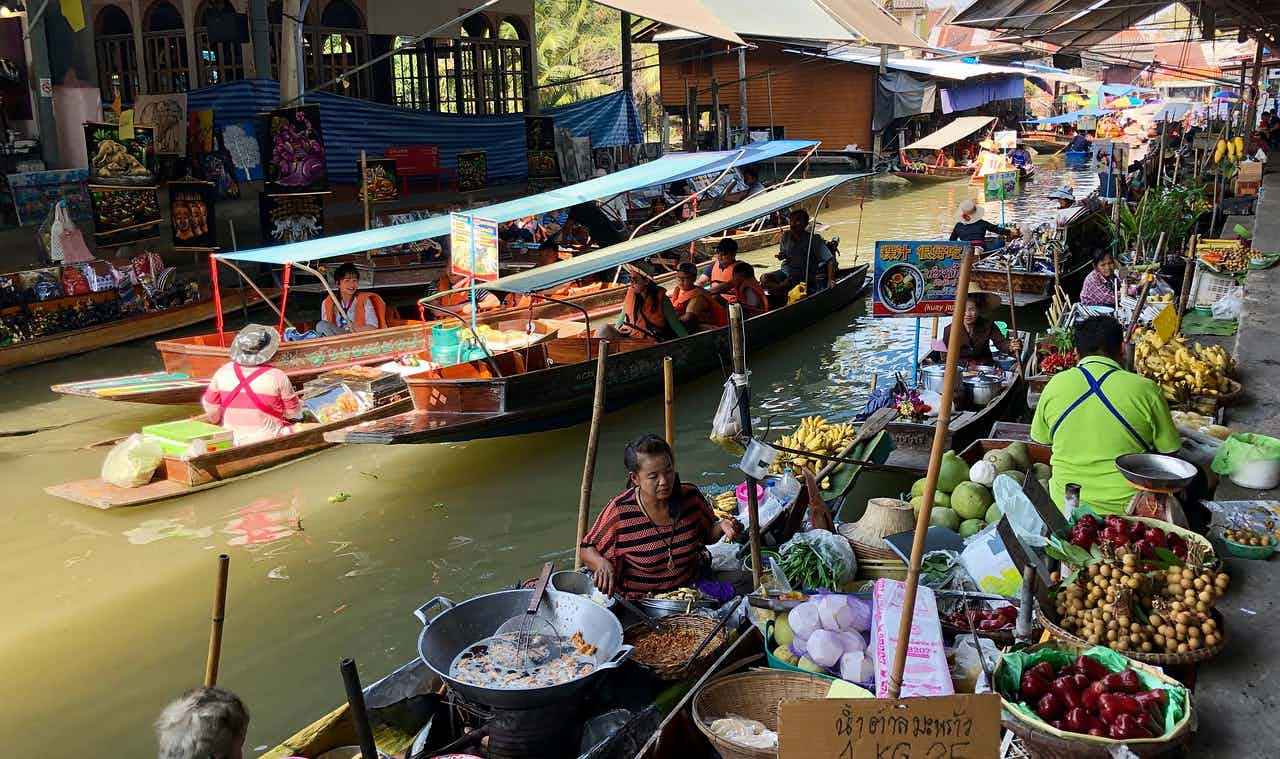 Talin Chan is one of the lesser-known floating markets in Bangkok mainly because it is much smaller than the famous two - Amphawa and Damnoen Saduak. This non-commercialised floating market promises a day of shopping, eating and relaxing massages! Rewind after walking the length of the market and floating on a long tail boat with a foot massage that will cost you just about 100 baht! Another characteristic difference between Talin Chan is that it is more of a riverside market where vendors park along the edge of the canal to sell their produce, rather than a chaotic network of waterways teeming with boats. Grab a plate of Som Tum seafood salad and watch the market life pass you by, you've had the perfect Talin Chan floating market experience.
The Good
Taling Chan is just 12km from Bangkok making for an easy visit using the city's public transport.
Get a chance to tune into local Thai musicians as they play their instruments, adding a authentic touch to your experience here.
The Bad
Always negotiate the price for the long-tail boats as this market is infamous for its exorbitant transport prices.
One of the many reasons for Talin Chan's popularity is its lack of a traditional charm, with fewer wooden houses and tourist boats than Amphawa and Damnoen Saduak.
Know Before You Go
Must-Do
You cannot leave Talin Chan without trying the Grilled Panda Shrimp and Salt-Crusted Grilled Fish with Lemongrass and Durian.
Best Time To Visit
Lunchtime makes for a great time to visit Talin Chan as you can make a meal out of your time here at one of the many parked boats serving scrumptious local delicacies.
Local Tips

If you're one to love plants, the nursery at Talin Chan is said to be one of the best in Bangkok. You'll find all sorts of exotic seeds and flowers, including orchids and bonsai trees.
If you're looking for something fun to do, buy a loaf of bread for 12 baht and feed the fish in the water! You will be surprised how big they are and how many of them can get into a small feeding area.
9.00 am – 05.00 pm on weekends
300 Soi Chak Phra 17, Khwaeng Khlong Chak Phra, Khet Taling Chan,
Krung Thep Maha Nakhon 10170, Thailand
Google Map Directions
I went here with my family on a Saturday because I read somewhere that it's closed during the weekdays. We went there by Grab and I was surprised how near the market is to the city. Paid only less than 100B for the ride. We took the shared boat tour which was 69B each. After that, we ate at one of the floating eateries. Paid 450B for some rice, a grilled fish, and some king prawns. They also have a lot of small stalls that sell street food, souvenirs and plants.

- LiaSumbz, Tripadvisor 2019
Khlong Lat Mayom
#4 Floating Market In Bangkok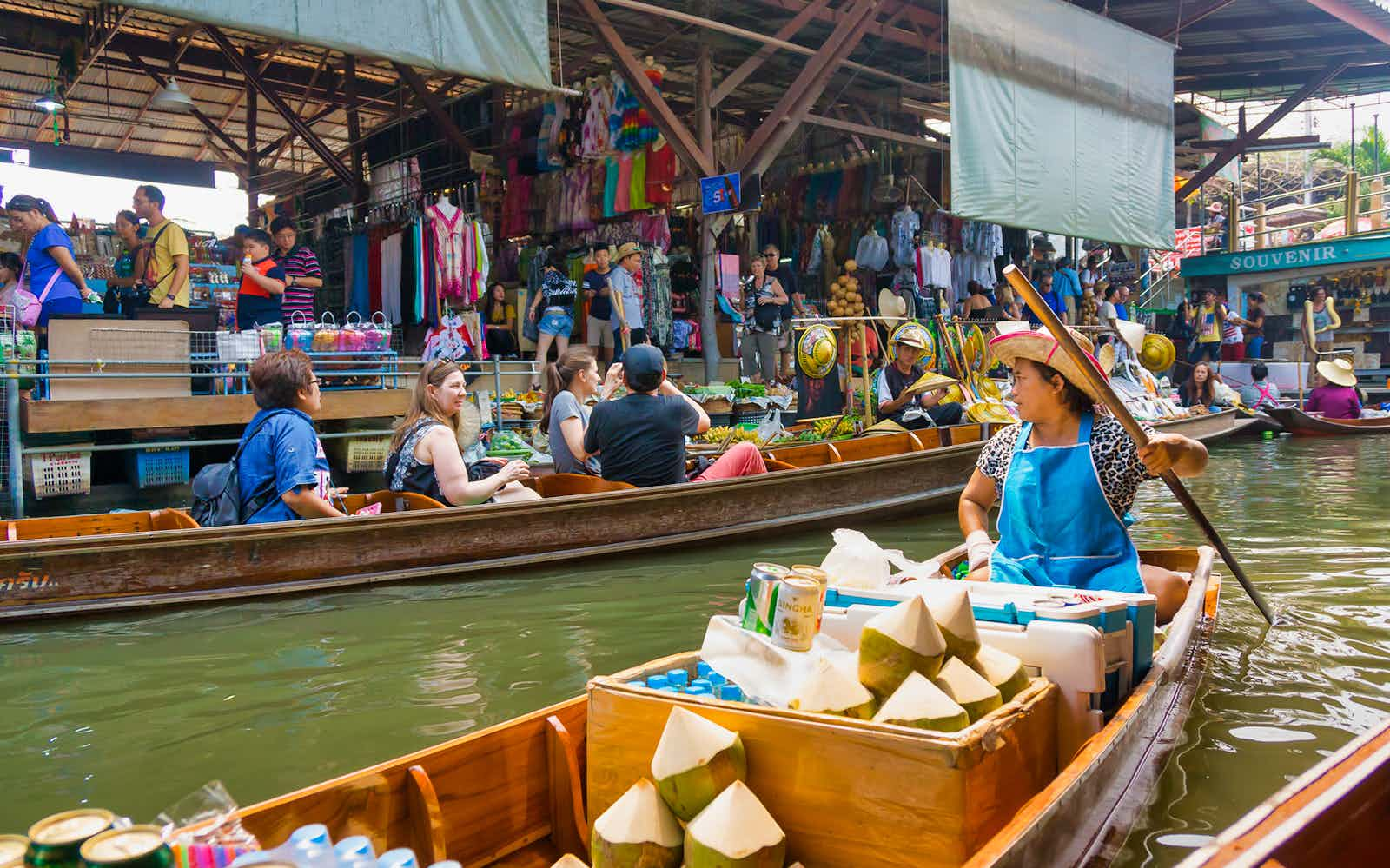 The smell of roasting BBQ pork wafting in the air is likely to guide to the Khlong Lat Mayom, another floating market that's in close proximity to Bangkok city. Just 20km from the city limits, you don't need to sign up for an organized tour to explore Khlong Lat Mayom; making it a favourable choice for those traveling on a budget. The canals at Khlong Lat Mayom are slender and narrow with most vendors on land, taking away the clutter. All this apart, the biggest draw to Khlong Lat Mayom in undoubtedly its many food stalls. Name a dish and you're likely to find it here. In fact, be prepared to spend your contemplating your choices down to two, or maybe six! Sandwiched between the umpteen food stalls, you will find irresistible handicrafts and clothing stores as well.
The Good
Whizz through the canals and feed your eyes with the surrounding lush greenery, quaint homes and locals going about their daily routine.
You will be spoilt for choice with the abundance of Thai food at Khlong Lat Mayom. Gorge on a skewer of gai galae (bbq grilled chicken), try the flavorsome mungbean noodles, or pla pao (popular salt-crusted fish) and some tasty khao lam (sticky rice with sugar and coconut) for a sweet finish to the day.
Khlong Lat Mayom is located close to the Talin Chan floating market, allowing you to visit two markets in one day with proper planning.
The Bad
Khlong Lat Mayom is quite small, with just about 10 boats and no longtail boats. If you don't come early in the morning, you'll have to wait a long while to get a ride.
Know Before You Go
Must-Do
Try the "bowl" noodles (noodles with Khao Soi curry), Pla Pao (grilled salted fishes) and Goong Ob Woon Sen mixed with sauce, prawns and vermicelli; all three a quirky treat for your taste buds
Best Time To Visit
It's best advised to spend a whole day here so as to make the most of your time here - eating, shopping and boating.
Local Tips

Come early, and come hungry because there's so much to eat.
Although the market does get packed during the weekend, Khlong Lat Mayom is still a calm and friendly market. Spend a few hours walking around, and sitting at a table eating and contemplating your next thing to eat!
Sat & Sun, 09:00 am - 4:00 pm
This is a lovely place for a traveler to have a first hand experience of what's a Thai floating market is about and the relevance of it to the local community. It is frequented by locals, food and it feels untouched by the touristy marketing - limited number of souvenir shops and machine driven boats. Good to pop by in the morning (as early as you can) before the locals come by to enjoy their fav spot.

- Lachezis, Tripadvisor 2019
Bang Nam Pheung
#5 Floating Market In Bangkok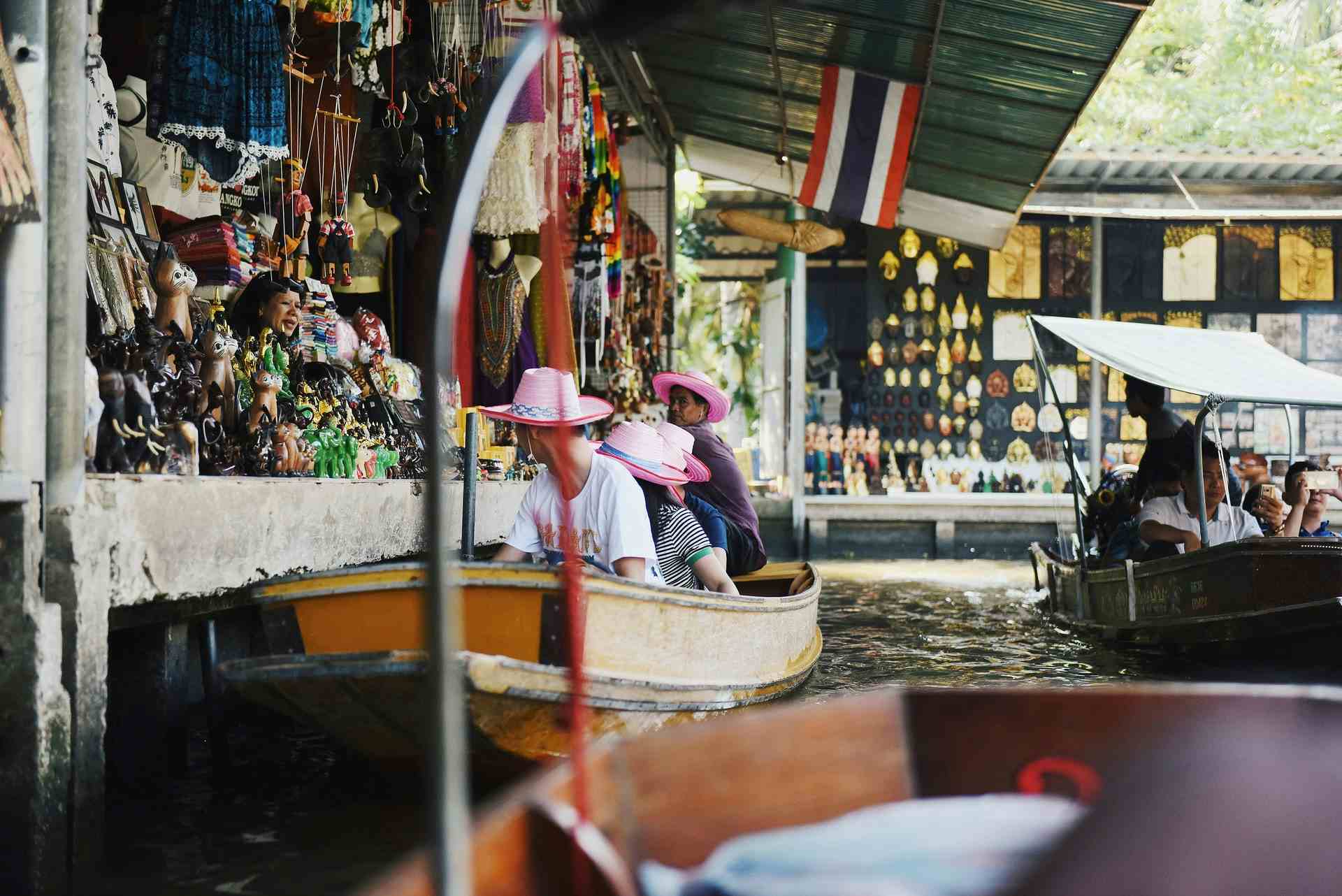 The best part of the Bang Nam Pheung floating market is its location inside Bangkok's 'green lung'. Cozied in the lap of nature on the side of the Chao Phraya River, gliding by the Bang Nam Pheung floating market is a feast to your eyes ( and lungs!). Though it is fairly small, this market is a good excuse to venture to a more peaceful area of Bangkok away from the skyscrapers and concrete jungle. Not to forget tucking into a lip-smacking plate of spicy mango salad with steaming sticky rice. With most of the stalls on solid ground, this floating cum riverside market is not the typical canal crowded with a fleet of wooden boats. However, it is a real local market with a copeable amount of activity, a soothing step into the village way of life in Bangkok. Hop off your long tail boat after floating around for a bit and walk around under the shade of trees, cross the mangrove forest and enjoy a day close to nature.
The Good
Exploring the narrow lanes and meandering under very large trees is very enjoyable compared to the over-heated narrow constructions found in other floating markets in Bangkok.
The locals at Bang Nam Pheung are very friendly, especially if you are daring enough to sample any of the quirky dishes on display.
The Bad
This is not the quintessential floating market since most of the stalls and activity is on land. Hence, if you're looking for a "floating market" give Bang Nam Pheung a skip.
Know Before You Go
Must-Do
Gac Fruit, something that is not at all common in Bangkok is rather famous at Bang Nam Pheung. Make sure you have a juice of gac fruit, a blend that tastes tomato and papaya.
Best Time To Visit
Anytime of the day is a good time at Bang Nam Pheung. It's never too crowded, hence
Local Tips

Rent a bike at one of the ferry stations (50 Baht for whole day) and sneak along to the market.
While walking around, you're likely to see local artisans working on paintings and singing. Stop by and enjoy a whiff of the local culture.
Even though it is only few kilometers from Bangkok, it's not that easily reachable without local help or your own transportation.
Saturday and Sunday from 8 am – 2 pm
Got lost for about an hour trying to find this place but it was SO worth it. High quality products for extremely reasonable prices. Everything from children's board games to hipster t shirts to tiny dollhouse food to actual steaming hot street food... this market had it all, but not in over whelming amounts. Definitely an essential part of any cycling day trip in the green lung!

- Jenkerach, Tripadvisor 2019
Frequently Asked Questions About Floating Markets In Bangkok
---
Which is the best floating market in Bangkok?
Are floating markets safe for children of all ages?
Are floating markets in Bangkok open during the weekdays? Why do they close early?
Which floating market is further away from Bangkok city limits?