The most popular Bangkok activities rank right up there among the best in the world. The likes of the Grand Palace, the floating markets, the Wat Pho are quite popular in the tourist fraternity. Finding a place that would keep the kids occupied, though, is always tricky, no matter where you go. The Thai capital, however, has a great place in Dream World Bangkok to solve this conundrum. Dream World Bangkok is a premier amusement and adventure destination for kids and adults alike. This park is Bangkok's answer to Disneyland and is rightfully called "The World of Happiness".

With multiple rides and attractions, Dream World can easily keep your child occupied for a day or two. Additionally, if you fancy it, Dream World also has a few thrilling rides that might pique the interest of your fun side. It is also located merely an hour or so away from the city. If you are in Bangkok with the kids, you must head to Dream World. Before heading there, here's our quick guide to all that you must know - ticket prices, insider tips, best time to visit Dream World Bangkok and a lot more information that you'll find handy.
Is Dream World Bangkok Worth A Visit?
---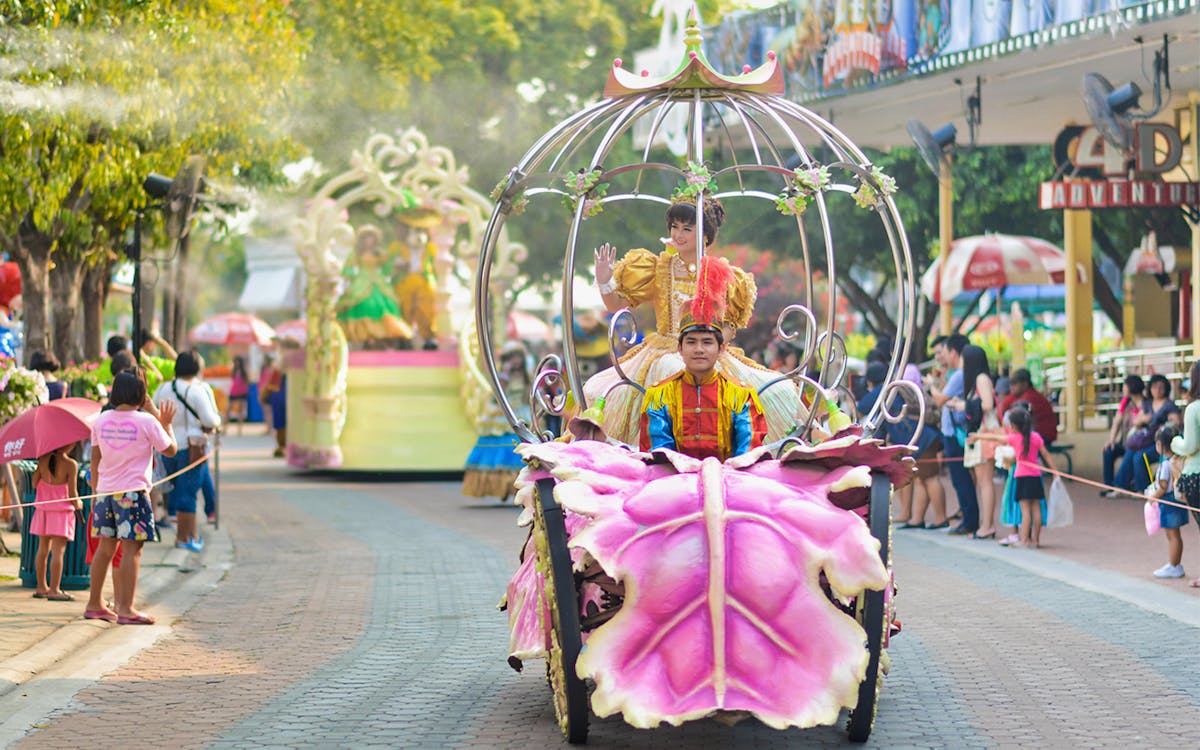 Given how most amusement parks would cost you a small fortune anywhere in the world, Dream World is a breath of fresh air. Not only is the entry charge reasonable, but you will also be able to opt for combo deals via Headout to obtain the best value.
It is nearly impossible to find a place that provides kids and adults a balance of entertainment and fun. Dream World, however, has small rides and simple activities for kids and families, as well as the challenging ones to keep the adults engaged.
Bangkok experiences a tropical climate through the year and can get especially simmering during summer. The water activities at Dream World Bangkok can come to your rescue if you are in the city at this time. They are fun, refreshing and all you need on a hot summery day.
One of the most popular attractions of the Dream World is the Snow Town. It is an exclusive cold attraction that is complete with snow, snowmen, polar bears, and sleighs. Done your jackets and boots and join the icy fun in the heart of sizzling Bangkok.
Social media appeal is now a major measuring scale of the quality of a destination. Dream World has quite a few well-groomed sculpted spaces that are ideal for clicking some envious photographs with friends and family.
Recommended Dream World Bangkok Tickets
---
Dream World Bangkok tickets are economically priced and a true value for money. Here are our top picks for the best priced Dream World Bangkok tickets. We strongly recommend buying your tickets online as the on-site ticket queues could take anywhere between 45 minutes to 1 hour.
With your Dream World Bangkok Ticket, you can gain unlimited access to 26 rides, and get a one time access to 4D, Alien, Bump Car, and Haunted House. You can also choose to modify your ticket to a Dream World + Snow Town pass where you can enter Snow Town and get a Coat and pair of Boots on rent (included in the ticket), or you can modify your ticket to a Dream World Super Visa pass and get access to all rides without restrictions.
There are also ticket options available to include a Lunch Buffet, so that you fuel up on energy to enjoy the rest of the day!
Best Rides At Dream World Bangkok
---
Here's all that you should aim at completeing over 6-7 hours at Dream World Bangkok.
If you're looking for a unique experience while in Bangkok, Dream World's cable car is a must-try! Situated at the top of the amusement park, it offers paddlers an incredible bird's eye view of the surrounding landscape. Whether you enjoy aerial views or not, this is an experience worth having. The ride itself is safe and secure with attendants always on hand to ensure your safety. Plus, the panoramic views of Bangkok city and its surrounding areas are absolutely breathtaking! You will also get to see Dream World's famous rollercoasters, water slides and more from afar.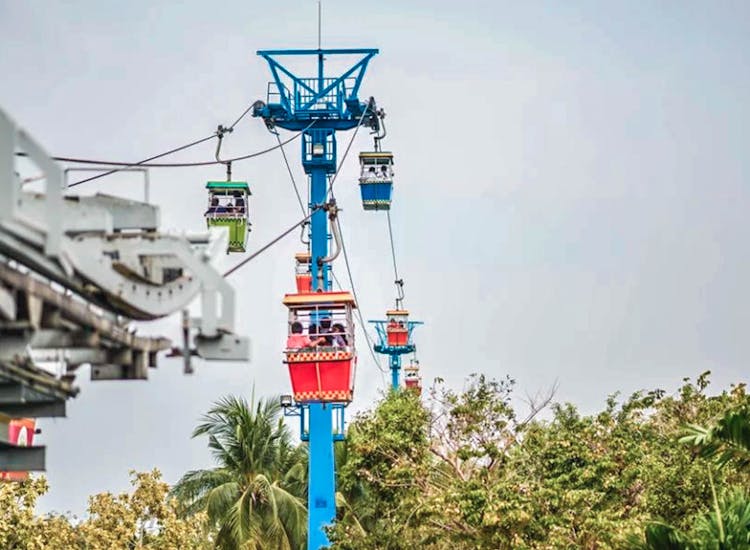 For an unforgettable experience that will definitely get your heart racing, come to Sky Coaster at Dream World Bangkok! Unlike anything you've experienced before, this gravity-defying ride sends you soaring high into the sky. You'll be safely strapped in so there's no need to worry – just enjoy the exhilarating feeling of being weightless as you fly through the air! This is a perfect activity for those who love thrills and adventure, so if you're brave enough, don't miss out on this once-in-a-lifetime opportunity!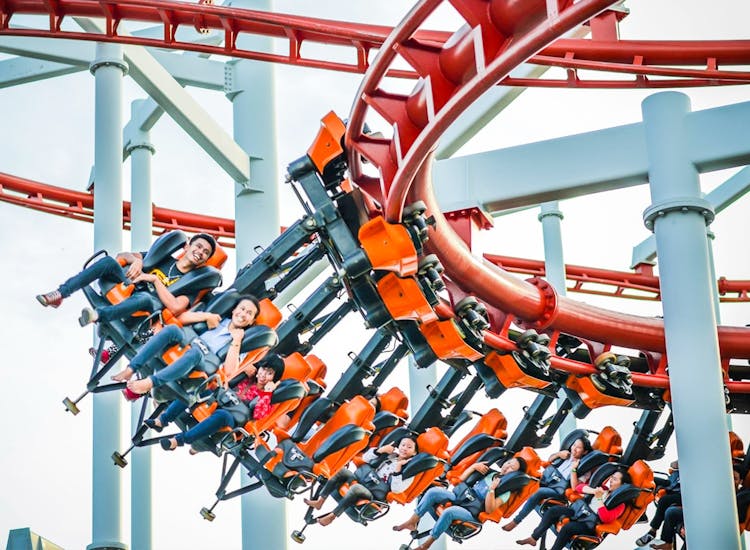 If you're in search of an exhilarating experience, look no further than Dream World Bangkok's Tornado! This one-of-a-kind roller coaster will provide you with an adrenaline rush that is unmatched. With speeds up to 60mph and two enormous loops, it's the ideal way to get your heart pumping. You'll scream with joy as you quickly descend down a steep drop and remain upside down in midair.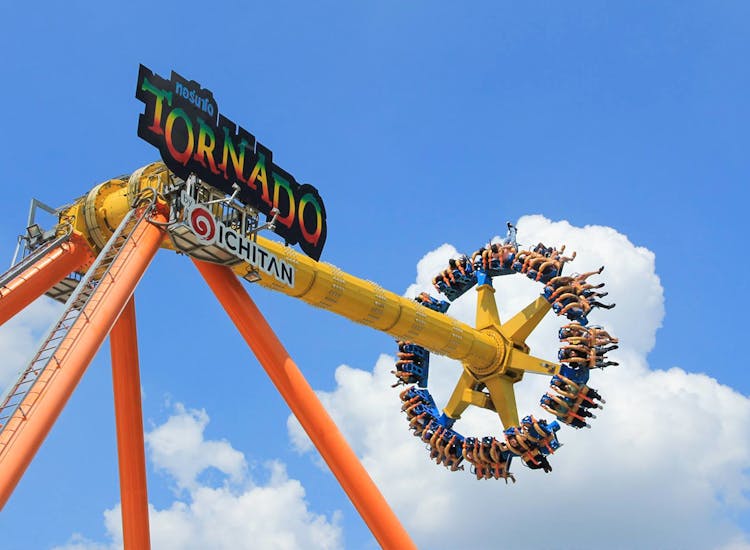 The Grand Canyon Water Ride is the perfect way to get your heart pumping. With a mix of slides, rapids and waves set against a stunning canyon backdrop, this ride will leave you feeling exhilarated. The loops and curves are designed to ensure maximum excitement, so prepare yourself for a wild ride! At the end of it all, you'll be glad you took the plunge and conquered this daring attraction. So if you're up for a challenge and want to experience some serious thrills – hop on board the Grand Canyon Water Ride!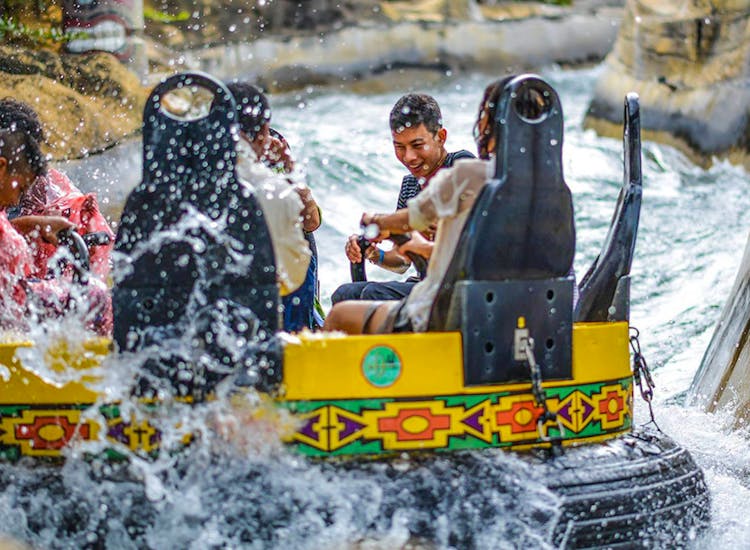 Super Splash is the perfect way to cool off on a hot day, and you're guaranteed to get wet! With five different slides of varying difficulty, there's something for everyone. And if you're feeling daring, try out the 65-foot drop —you'll be sure to feel like an extreme sports champion when you reach the bottom!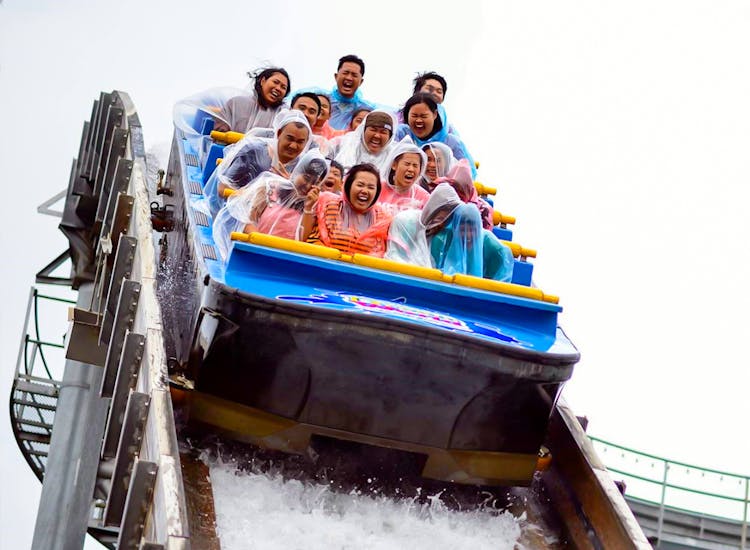 Best Time To Visit Dream World Bangkok
---
If you are looking for the best time of the year in terms of weather, late December to early March is your window. While it is still hot, its less likely to hamper your overall experience.

If your priority is to visit Bangkok when it is relatively empty, you are going to have a tough time. Bangkok is never free of tourists. But you may try your luck during a very brief period between late November and early December.
Know Before You Go To Dream World Bangkok
---
Dream World Bangkok Timings
Wednesday, Thursday, Friday & Monday: 10:00 AM to 5:00 PM
Saturday & Sunday: 10:00 AM to 6:00 PM
Tuesday: 10:00 AM to 9:00 PM
Restaurants Inside Dream World Bangkok
KFC is the most popular eatery in the park. This chain outlet offers a mix of American and local snacks menu.
Yam Yam offers pan-Asian cuisine that is cooked right in front of you.
Food Station is the park food court with a number of pop-ups offering a selection of global cuisine to choose from.
Facilities Available Inside Dream World Bangkok
Information Center
Lost & Found
First Aid Station
Restaurants
Restroom for Differently Abled
Shuttle Service
Prayer Room
Assembly Point
How To Get To Dream World Bangkok
---
By Car
It takes about 40 to 45 minutes depending on the traffic to get to Dream World by car or taxi. You can take Route 31 and Pathum Thani.
By Bus
Dream World is connected to Bangkok via a number of buses. You could take bus number 188, 59, 212, and 340 to reach Dream World.
By Train
Not many trains travel from Bangkok to Dream World. Trains number 342 and 318 will drop you close to the Dream World, from where you can take a short stroll to the park.
Coach Transfers from Bangkok to Dream World
Headout has packaged Dream World Tours that include round trip transfers for Dream World Bangkok. This is the most convenient and economic way of traveling to and from Dream World Bangkok.
Siam Park City versus Dream World Bangkok
---
Siam Park City

Dream World Bangkok

About
Siam Park City is a popular amusement park near Bangkok. It is located in the Khan Na Yao District. A large number of visitors include this adventure waterpark in their Bangkok itinerary.

Learn More

Located in the Thanyaburi District of Thailand, Dream World Bangkok is one of the most popular parks in the area. The rides and attractions of Dream World mainly cater to children.

Learn More

Best Rides

Big Double Shock, Log Flume, Ranger

Snow Town, Grand Canyon, Sky Coaster

Best For

Adults & Kids

Mostly Kids below 15

Distance from Bangkok

32.2 km

41.1 km

Timings

Daily 10 AM to 6 PM

Monday to Friday 10 AM to 5 PM; 10 AM to 7 PM on Holidays and Weekends

Address

203 Suan Siam Rd, Khwaeng Khan Na Yao, Khet Khan Na Yao, Krung Thep Maha Nakhon 10230, Thailand

62 Tambon Bang Yitho, Amphoe Thanyaburi, Chang Wat Pathum Thani 12130, Thailand
Verdict
Siam Park City is closer to Bangkok and has a wider range of attractions that cater to adult visitors, but if you are in Bangkok with kids, Dream World is the obvious choice for you. The added advantage of having a round trip transfer and buffet lunch inclusive combo tickets to the Dream World is also unbeatable.
Insider Tips Your Dream World Visit
---
Wear comfortable walking shoes and breezy clothing as you will be out walking for long periods of time.
Carry and apply sufficient sunscreen to avoid getting sunburnt on a typical Bangkok day.
Begin your trip by taking a cable car ride to the back end of the park and begin your exploration from there as it may not be as crowded as the other side of it.
Reach the park as early in the day as possible if you want to explore the area at your own pace.
Witness The Colors of the World parade if you happen to be in the park during the weekends.
See action sequences from movies unfold right before your eyes with the Hollywood Action Show held on weekdays at 2:30 PM and weekends at 12:30 PM, 2:30 PM, and 4:30 PM.
If you're interesting in go-karting you will have to pay additional 180 baht at the ride counter.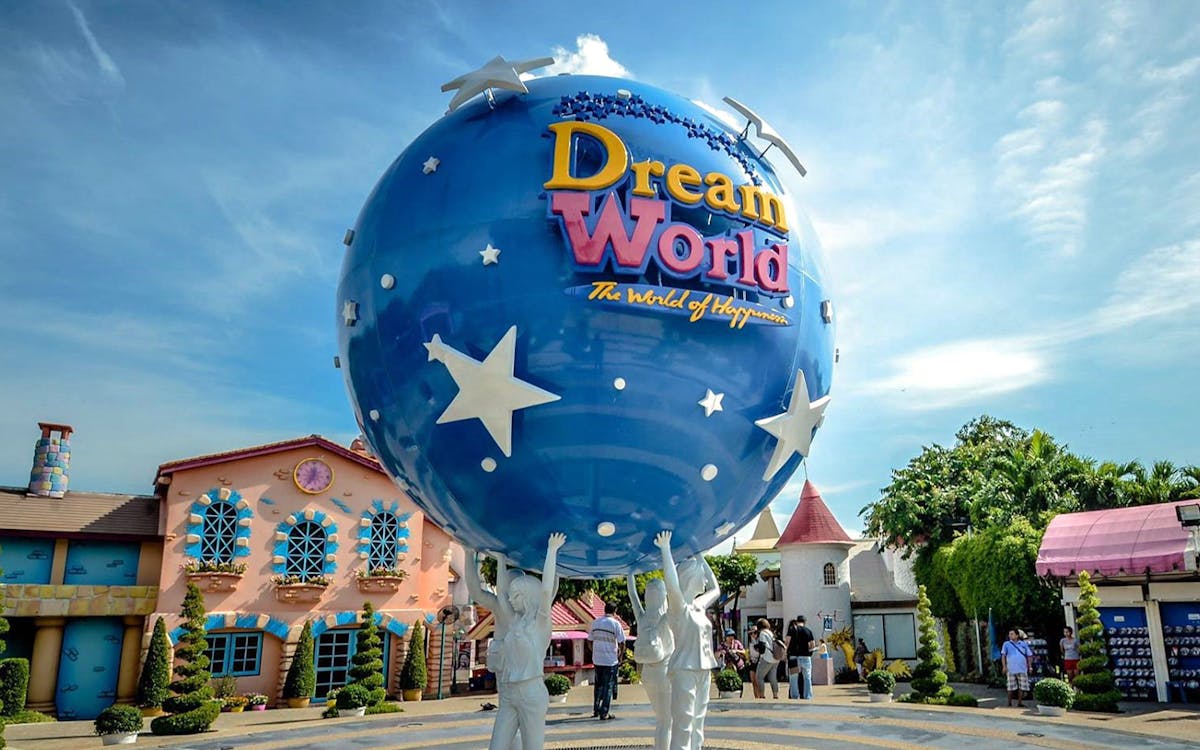 Dream World Bangkok Reviews
---
Loved the attractions, the animal farm in particular was my favorite 🙂 Toilets are impeccable and generally the park was very clean. Awesome experience!
Lam, Headout, October 2022
Things went as plan, it made things a lot easier and money saving for us, rather than going to some other dealer or agency to book tickets
Naushin, Headout, October 2022
FAQs
---
What safety measures are in place at Dream World Bangkok?
Are Dream World Bangkok tickets available online now?
What are the different Dream World Bangkok tickets options?
Are any discounts available on Dream World Bangkok tickets?
What are Dream World Bangkok opening hours?
What is the best time to visit Dream World Bangkok?

How do I get to Dream World Bangkok?

Can children go on the rides at Dream World Bangkok?