All too often you are left wondering if a travel pass or any "deal and discount" is actually worth it. Is it like a Boxing Day sale or a Christmas one? Those seem genuine because we all know they're clearing stocks. Or do they resemble deceptive sales with inflated prices and illusory discounts? Call me a skeptic, but I'll keep crunching the numbers to make sure it's economical, or at least valuable, if not cheap. Naturally, when traveling, I do the same. And when the time came to plan the family trip to Europe, all eyes were on the Eurail Pass. The legendary, well-marketed, budget-friendly, luxury-offering pass. It seemed like this Lord of the Travel Passes needed investigation. So, here we are with my breakdown of the Eurail pass, and whether it is worth buying.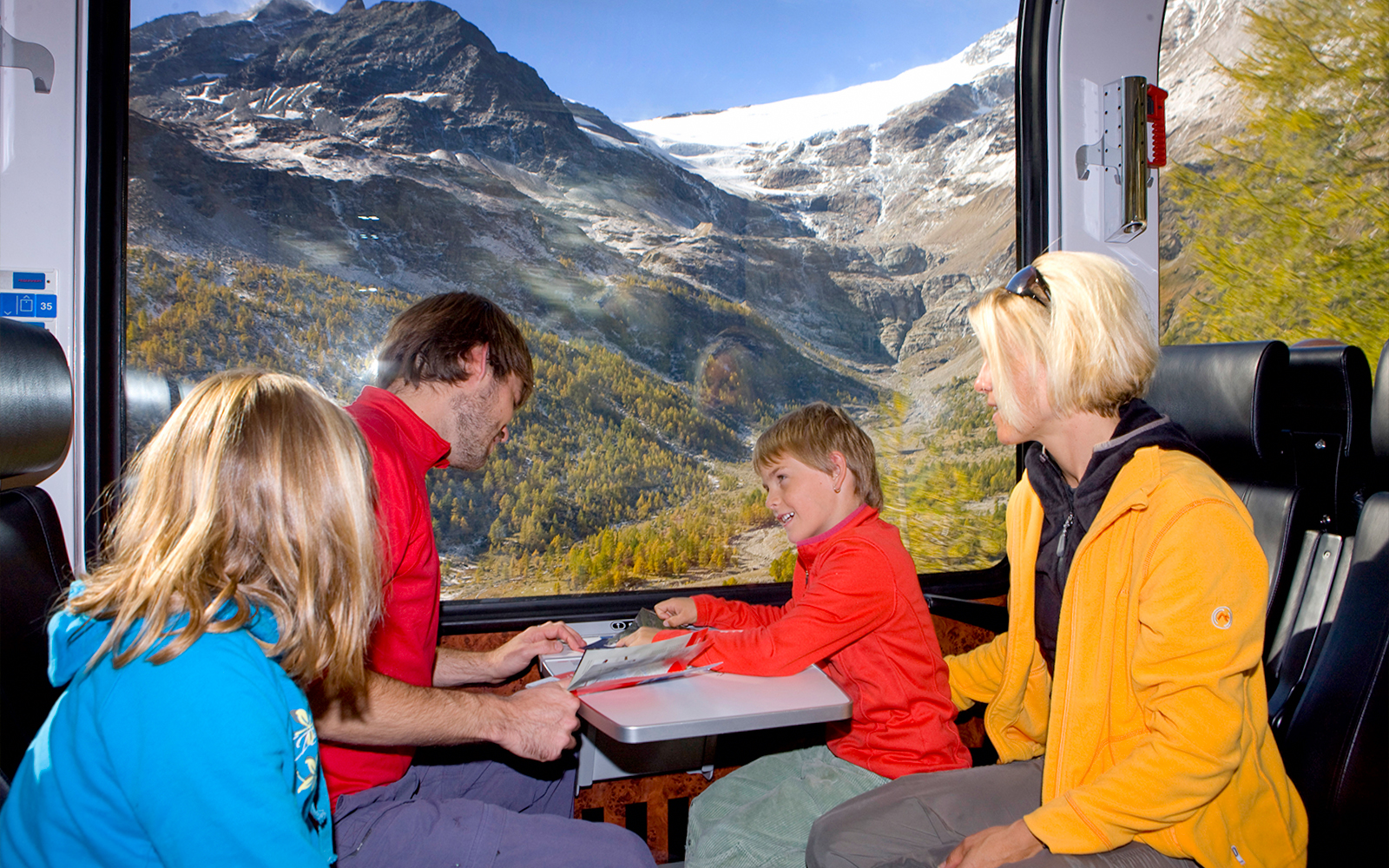 What is the Eurail Pass?
---
A Eurail Pass is like your magical key to unlocking the wonders of Europe by train. It's an all-in-one train ticket allowing you to hop on and off most trains across the European continent. Think of it as a passport to freedom and flexibility, letting you weave through bustling cities, charming towns, and stunning landscapes at your own pace. Whether you're dreaming of sipping an espresso in a quaint Italian café, marveling at the Eiffel Tower, or getting lost in the cobbled streets of Prague, the Eurail Pass makes these dreams into reality, all with the ease of a single ticket.
This is only for non-Europe residents. If you live in Europe, then the Intertail Pass is for you.
Is the Eurail Pass really worth it?
---
Considering a train journey through Europe and mulling over the Eurail Pass's value? You're in good company. I took a good number of months to actually decide if I wanted it or not. I went ahead with it and got one. And personally, I cannot recommend it enough. Especially for the trip I did with my family.
Tried & Tested
The trip: Ghent > Brussels > Dusseldorf > Berlin > Dresden > Prague > Český Krumlov > Linz > Salzburg > Vienna > Budapest
The travelers: Two unnecessarily adventurous parents, both above the age of 50 years, and one 30-ish year old, whose idea of adventure swings from skydiving to living life on the edge…of her couch. That is me, in case you were wondering.
The mission: To explore. We've all been to these countries before, but we wanted to have a bit of a relaxed trip and revisit some old favorites, and see some new spots (like Dresden, Budapest, and Český Krumlov).
The duration: 28 days
The travel pass: Global Pass: 10 days in 2 months
The price: € 1496 (€ 481 each for the senior passes and € 534 for the adult)
Now that you have context, here is why I think the Eurail Pass is a bargain and when it might not be, alongside real-life savings examples from my journey.
My logic? Eurail Pass + seat reservations > individual tickets = Go For The Eurail Pass!
To make it clear, these were prices for off-peak, 2nd class tickets which are significantly less than the 1st class option.
Ghent to Brussels: € 12
Brussels to Düsseldorf: € 90
Düsseldorf to Berlin: € 100
Berlin to Dresden: € 52.50
Dresden to Prague: €45
Prague to Český Krumlov: € 25
Český Krumlov (Budejovice) to Linz: € 25
Linz to Salzburg: € 30.40
Salzburg to Vienna: € 60
Vienna to Budapest: € 50
Booking fees: € 7 per reservation which means about € 70 for all the tickets.
The total is € 559. That is already more than the price for the adult, and with the inconvenience of having to buy each ticket separately! See, it's so much more convenient.
Skepticism Surrounding Eurail Passes
Travel passes, with their bold claims of huge savings on various attractions and commutes, often come under scrutiny. After all, many times they're priced steeply. We did wonder if we'll even recover the 'investment', let alone save anything. So, does the Eurail Pass fall into this category? Is it genuinely a good deal, or would you be better off buying individual tickets?
Being a travel enthusiast who loves value for money, I took it upon myself to crunch the numbers. I spent a good four weeks going through Europe with the Eurail Global Pass, traversing 5 countries, 11 cities and 2000 kilometers by train. The result? A whopping 55% saving over buying individual train tickets. That said, the real worth of a Eurail Pass varies based on your itinerary, travel preferences and priorities.
Recommended Eurail Pass
---
Is the Eurail Pass Right for Your Trip?
---
Let's delve into whether the Eurail Pass will add value to your specific journey. This includes potential savings calculations, times when it's likely a good buy (or not), insights from my Eurail experience, and sample travel plans with costs.
With a Defined Itinerary
If you're clear about your European train plan, it's straightforward. The Eurail Pass becomes a wise choice if the pass's cost combined with seat reservations is less than individual train tickets. We had a fairly detailed itinerary and we knew we were visiting these 11 cities/towns. So the Global Pass that allowed us to travel for 10 days in 2 months was ideal. Yes, we know we just spent 30 days when the validity was for two months. But, it was still more economical.
For a Flexible Itinerary
If your travel plan isn't fixed, take the total cost of the Eurail Pass and divide by the number of days. This average 'daily cost' will show the amount you'd need to save each day for the pass to be worth it.
For instance, a 2nd class Eurail Global Pass offering 15 travel days over two months, priced at €518. The 'cost' per day works out to €34.53. If every 'travel day' leads to savings of at least €34.53, the Eurail Pass is likely a good deal.
Evaluating Point-to-Point vs. Eurail Pass
If you can book tickets two months in advance, buying individual tickets might save a tiny bit. But, it's worth noting that these tickets usually lack flexibility. A Eurail Pass, for a marginally higher cost, offers greater freedom to modify plans or routes. If your journey is across Western and Central Europe, then it is valuable as train tickets are more expensive this side of Europe.
Planning with Limited Information
If you're unsure about your travel route or dates, breaking down the Eurail Pass's cost to a 'per day' or 'per week' basis can provide clarity. For instance, a two-month Continuous Pass at €768 translates to about €90 per week, meaning a saving of €90 weekly would make the pass worthwhile. It's essential to consider dynamic pricing. Train ticket prices fluctuate based on demand, travel season, special events, and more.
When is the Eurail pass NOT beneficial?
---
Individual tickets, when combined with your clear itinerary, prove cheaper.
Train journeys are primarily short hauls.
Your travels are in regions like Eastern Europe or the Balkans, where train tickets are usually affordable.
Your preference leans towards longer, economical bus rides over pricier, faster trains.
Types of Eurail Passes
---
Choose between a Continuous Pass (use any day during a fixed period) or a Flexi Pass (a fixed number of travel days within a set duration).
Global vs One Country
The Eurail Pass comes in two options: Global and One Country. The Global Pass is like a golden ticket with access to trains in 33 countries! The One Country Pass, on the other hand, is more like a special invitation to explore every nook and cranny of a single European gem. With a One Country Pass, you can typically choose from 3, 4, 5, 6, or 8 travel days in one month, but some countries offer slightly different passes.
Pass Validity: Flexi vs Continuous
Then there's the Flexi vs Continuous debate. Flexi is like a buffet – travel on any day within a set period. Continuous? It's more of an all-you-can-travel, non-stop adventure for a consecutive number of days. We went with Flexi because, hey, we're planners!
Continuous Pass
This means travel on as many trains as you like for a specific number of days straight. This is ideal for a fast-paced, flexible trip. You can plan a route or just hop a train to where you want on the day. Just make sure you travel back-to-back days, or lose out one day on the selected total number of days. Currently, the options are unlimited travel for 15 days, 22 days, or 1, 2, or 3 months. It's more expensive but allows for total freedom.
Flexi Pass
The Flexi Pass, on the other hand, lets you choose a set number of travel days within a set period, either 4, 5, or 7 travel days in 1 month, or 10 or 15 travel days in 2 months. Travel on as many trains as you like on each of your selected travel days – across as many destinations as you like. If you want to travel all the way from Rome to Paris to Berlin, all in one day, it's still only counted as 1 Day, as long as you travel from 00:00 midnight to 11.59 pm on the same date. You can use your travel days any time within the selected number of days or months of your start date. Spread them out or use them back-to-back, it is all up to you. There is no limit on the number of trains you can get onto on a single day.
Coach Preference: 1st Class vs 2nd Class
The 1st Class option is like flying business without the wings – more space, fewer people, and a touch of luxury. As for 2nd Class, it is more about the journey than the frills. It's comfy, it's cozy, and it's where the real travel stories unfold.
Thanks to my parents, and their desire to get to train stations 60 minutes prior to the departure, and their decision to not want to reserve seats, we picked 1st Class.
Fun Fact: If you get 1st Class tickets, you get access to the 1st class lounges at the train stations. This includes free and unlimited food and beverages all day long. You also don't need to book seats as first class is almost never full, even during peak travel hours and holiday season.
Train services you can use with a Eurail Pass
---
Train Services Supporting Eurail Pass The Eurail Pass is accepted on national railways in 33 countries and numerous private railways. This includes popular routes like the Eurostar, high-speed trains such as the InterCity Express, scenic trains like the Glacier Express, night trains like the Nightjet, and even certain buses and ferries (additional costs might apply).
What Trains Can I Use the Eurail Pass On?
---
The Eurail Pass is accepted on a vast array of trains across Europe:
High-Speed Trains: These include France's TGV, Germany's ICE, Italy's Frecciarossa and Italo, and Spain's AVE. They're perfect for covering long distances quickly.
Regional and InterCity Trains: These trains connect smaller towns and cities, offering a more local experience.
Scenic Trains: Trains like Switzerland's Glacier Express or the Bernina Express offer breathtaking views.
Night Trains: Options like the Nightjet connect countries overnight, letting you sleep on the train.
Countries You Can Visit
---
With the Eurail Global Pass, you can explore up to 33 countries across Europe. This includes popular destinations and some hidden gems. This is the same as the Interrail pass, but that is specifically for Europe residents. Here's a breakdown of the countries:
Western Europe: France, Germany, Italy, Spain, Portugal, Belgium, Netherlands, Luxembourg, Austria, Switzerland, Ireland, and the UK.
Northern Europe: Sweden, Norway, Finland, and Denmark.
Central Europe: Poland, Czech Republic, Slovakia, Hungary, and Slovenia.
Eastern Europe: Romania, Bulgaria, Greece, Turkey, and Serbia.
Baltic States: Estonia, Latvia, and Lithuania.
Mediterranean: Croatia and Montenegro.
Additional Regions: Bosnia and Herzegovina, and North Macedonia.
How to use the Eurail Pass
---
Using the Eurail Pass is super easy. But here's a step-by-step guide to mastering the Eurail magic:
Activation: Before setting off, activate your pass. You can do this at a European train station or online before you travel. It involves validating your pass by getting it stamped and dated. Don't skip this. You will get fined on the train and it's a solid price to pay for this default!
Plan Your Route: Europe's your oyster, but you need a map to find the pearls. Use the Eurail timetable to plan. This tool shows most European train times and helps you avoid routes that require reservations.
Reservations: Since we had 1st Class passes, we did not need reservations at all. But some trains like high-speed, international, and night trains need them. You can make reservations online, at the station, or through the Eurail Reservation Service (for a small fee).
At the Station: On your travel day, arrive at the station a bit early. Stations can be large and a bit confusing, so give yourself time to find your platform. Or like I said, go chill out at the lounges.
Boarding the Train: No need to show your pass when entering the station. Once on the train, keep your pass and passport handy. The train staff will check them during the journey.
Travel Diary: Keep your travel diary up to date. Before boarding, enter your trip (date and route) in the travel diary section of your Eurail Pass. This is crucial – not doing so can result in a fine. If you thought this was a travel diary with your emotions, that is fine too.
Off-Peak Travel: For a more relaxed journey, travel during off-peak times. Trains are less crowded, and it's easier to find a good seat.
Duration of Use: Remember, the Flexi pass allows travel on a certain number of days in a given period – use them wisely. Continuous passes are for consecutive days of travel.
Top tip: You don't need to actually pick a specific train beforehand. Just show up at the train station and you will be let onto the train for your next destination. If you miss the train too, no problem. Just hop on the next one! If you had a regular train ticket, you would have to have caught the specific train you booked the ticket for.
Eurail Pass vs Interrail Pass?
---
The Eurail and Interrail Passes are similar but cater to different travelers:
Eurail Pass: Exclusively for non-European residents. If you live outside Europe, this is your ticket to unlimited travel across the continent. This was me and my family.
Interrail Pass: Designed for European residents. If you're a citizen or resident of a European country, you'll use Interrail for your train adventures.
Is First Class Worth It on European Trains?
---
Wondering whether to splurge on First Class or stick to Second Class for your Euro adventure? Well, I loved it because it made me feel that much more special, and it did have several perks I've listed down below.
First Class offers wider, plusher seats and extra legroom. Perfect for stretching out and relaxing. I am all of 5'4" so this meant I could sprawl across with a book!
Generally, fewer families and children travel in First Class, making it a quieter space. Ideal for work if you're on a workation. Or just for peace.
On certain trains like Eurostar, AVE, and TGV Lyria, you get at-seat meal service included in your ticket. A delightful touch of luxury!
With a First Class ticket, you often get complimentary access to First Class lounges at stations, offering free WiFi, snacks, and a comfortable waiting area. The coffee at most places is not the best, but hey juices, hot meals and lots of cookies and biscuits make it worth your while.
Some services, like Eurostar Business Premier, offer expedited check-in and boarding. A real time-saver!
Often, the price gap between First and Second Class is small, and sometimes First Class is even cheaper due to availability.
No difference in luggage allowance between First and Second Class, but First Class might offer more space for your bags.
In contrast, Second Class is more budget-friendly, still offers comfortable seating, and has clean facilities. It's a great option if you're not fussy about the extra amenities and want to save money. Plus, you can always bring your own snacks!
The final verdict: Is a Eurail Pass worth it?
---
Yes, yes and yes! It is totally worth it for more than just saving money. If you want flexibility, when you're booking at the last minute, you want to travel on a swanky and luxury train, you can save plenty of time, money and effort!
FAQs about the Eurail Pass
---
You can purchase a Eurail Pass online right here on Headout. Make sure to buy your pass before you start your trip, as they are generally not available for purchase within Europe.
Unused Eurail Passes have a validity of up to 11 months. So rather than cancel, which usually involves a fee, just use it at a later date!
Yes, Eurail offers discounts for different groups of travelers. Youth passes (for individuals under 27) are typically cheaper than adult passes. There are also discounts for groups of 2 to 5 people traveling together with the Saver Pass, and some discounts for seniors aged 60 and above.
Ideally, get your Eurail Pass before arriving in Europe. They are available in select countries but at a higher price.
You can activate your Eurail Pass up to 11 months after the purchase date. The activation needs to be done before you start using it for travel though.
While the Eurail Pass is valid on most trains operated by the national railway companies in the countries covered, some private railway lines, high-speed trains, and night trains require an additional reservation and/or fee.
Yes, you must have your passport with you when traveling with a Eurail Pass. Train conductors may check it along with your pass. This is not only for identification, but as a non-Europe resident, you may need to clear immigration across some borders.
Seat reservations can be made online through the Eurail Reservation Service, at train stations, or sometimes through the railway company's website. It's best to make reservations as early as possible, especially during peak travel seasons.
First-class passes offer more spacious seating and are generally less crowded than second class. Some additional amenities might be available in first class, such as power outlets and complimentary food and beverages on certain trains. Plus, lounge access at train stations.
The Eurail Pass is primarily for train travel and does not include most local city transportation like buses and trams. However, some local and regional trains might be included.

There's no limit to the distance you can travel in a single day with a Eurail Pass. You can take as many trains as you like on each day of travel.


Yes, Eurail Pass holders often get discounts on ferries, buses, hotels, and attractions. Check the Eurail website or guide for details on additional benefits.