Unlock the secrets of ancient Egypt at the Egyptian Museum Barcelona as you immerse yourself in a world of mummies, pharaohs, and hieroglyphics! With its remarkable collection and immersive exhibits, this museum is a must-visit for those seeking to uncover the mysteries of one of history's most fascinating civilizations.
Egyptian Museum Barcelona in a Nutshell
---
Handy information
| | |
| --- | --- |
| ⏰ Suggested Duration: | 2-3 hours |
| ☀️ Best Time to Visit: | Early morning on weekdays |
| 💜 Must Do: | Explore the Mummy Room |
| 🎟️ Entry Ticket: | €12 |
| 🚇 Closest Metro | Urquinaona Metro Station |
Must-see at the Egyptian Museum Barcelona
Rosetta Stone
Tomb of Thutmose III
Statues of Gods and Pharaohs
Ancient Egyptian Jewelry Collection
Getting There
Address
C/ de València, 284, 08007 Barcelona, Spain
Get Directions
Opening Hours
Monday to Friday - 10:00 AM to 2:00 PM
Saturdays - 10 AM to 8:00 PM
Sundays - 11:00 AM to 2:00 PM
Closed on 1 and 6 January, 25 and 26 December
Why is Egyptian Museum Barcelona worth visiting?
---
Rich Ancient Treasures: Immerse yourself in the world of ancient Egypt with a remarkable collection of artifacts, including mummies, pharaohs, and exquisite jewelry.
Fascinating Exhibits: Experience immersive exhibits that bring the stories of ancient Egypt to life, offering a glimpse into the rituals, beliefs, and daily life of this captivating civilization.
Rosetta Stone: Get up close to the iconic Rosetta Stone, a key to deciphering hieroglyphics and unlocking the mysteries of the ancient Egyptian script.
Mummy Room: Step into the Mummy Room and marvel at the preserved remains of ancient Egyptians, gaining insights into their burial practices and beliefs in the afterlife.
Guided Tours: Enhance your visit with a guided tour, where knowledgeable experts share fascinating stories and insights, adding depth and context to your exploration.
Recommended Egyptian Museum Barcelona Tickets
---
Depending on the kind of experience you seek and time in hand, you can choose from a variety of Egyptian Museum Barcelona tickets.
Egyptian Museum Barcelona History
---
Since its establishment in 1994, the Egyptian Museum Barcelona has become an integral part of Barcelona's heritage. Its collection of artifacts, meticulously curated and beautifully displayed, showcases the lasting impact of Egyptian culture on the world. From the majestic pharaohs to the exquisite jewelry and hieroglyphic inscriptions, every exhibit tells a story of a civilization that shaped the course of history.
Not only does the museum delve into the distant past, but it also highlights the connection between Barcelona and Egypt throughout the years. Its architecture, reminiscent of ancient temples, transports you to the banks of the Nile, creating an immersive experience that sparks the imagination. It's no wonder that the museum has attracted scholars, artists, and even film enthusiasts. In fact, the Egyptian Museum Barcelona served as a filming location for scenes in popular movies, adding a touch of pop-culture fascination to its allure.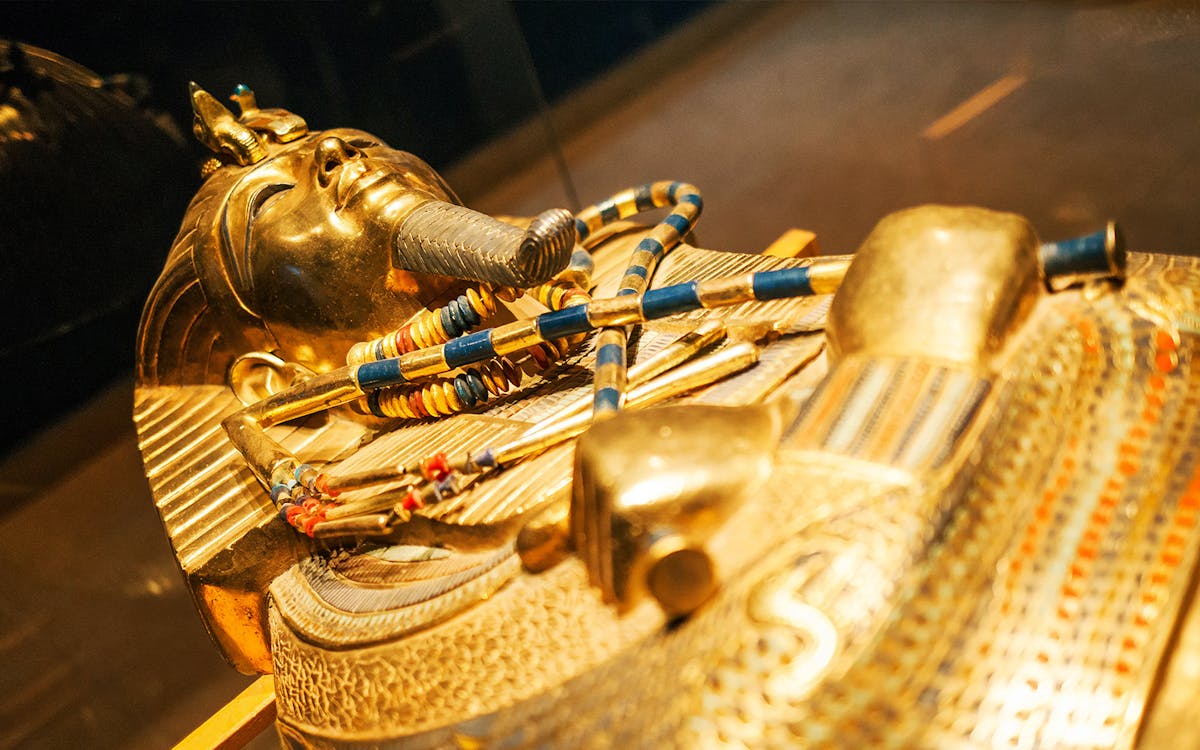 Egyptian Museum Barcelona Architecture
---
The architecture of the Egyptian Museum Barcelona is a mesmerizing blend of ancient Egyptian and modern influences. As you approach the museum, you'll be captivated by its facade, reminiscent of a grand temple from the banks of the Nile. The ornate details, symbolic motifs, and towering columns transport you to a bygone era.
Inside, the museum's design continues to impress. The exhibition spaces are thoughtfully arranged, creating an immersive journey through Egypt's history. One of the most interesting areas is the Mummy Room, where dim lighting and atmospheric decor enhance the aura of mystery and intrigue.
Highlights of Egyptian Museum Barcelona
---
Witness the enigmatic Rosetta Stone, a key that unlocked the secrets of hieroglyphics. Marvel at its trilingual inscription, which helped scholars decipher the ancient Egyptian script and gain a profound understanding of this fascinating civilization.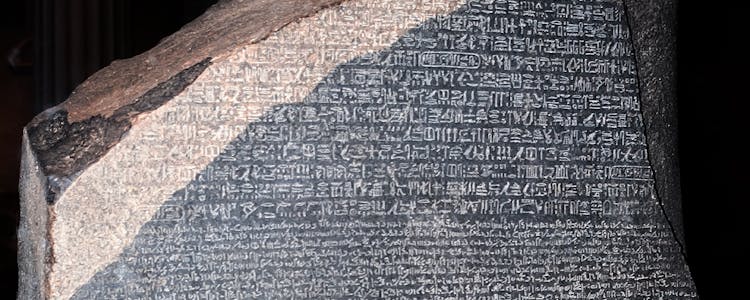 Step into the mysterious Mummy Room, where ancient Egyptians found eternal rest. Encounter well-preserved mummies and unravel the secrets of their elaborate burial rituals, an eerie and awe-inspiring experience that brings you closer to the mysteries of the afterlife.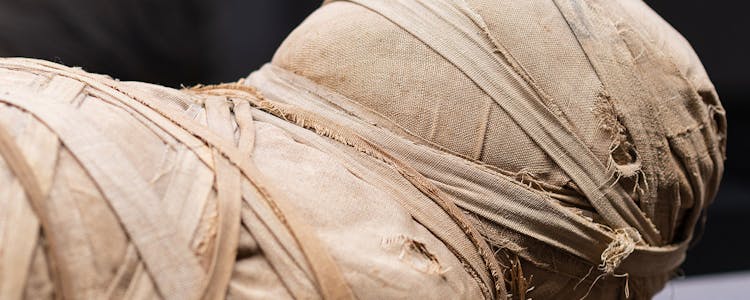 Discover a reconstructed temple from Luxor dedicated to the great pharaoh Thutmose III. Admire the intricate carvings and hieroglyphics that depict historical events, gods, and pharaohs, transporting you back in time to the grandeur of ancient Egypt.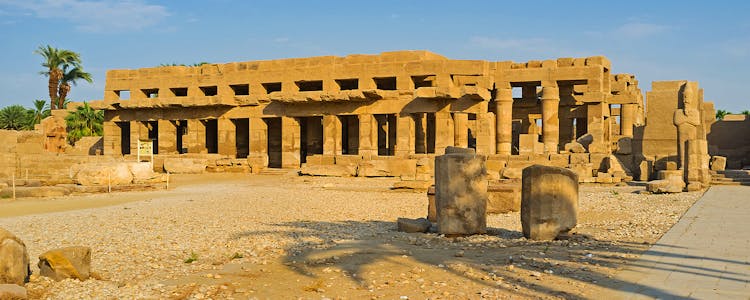 Encounter a captivating collection of intricately decorated sarcophagi. These ornate coffins not only protected the deceased but also served as a canvas for elaborate artwork, showcasing the artistic prowess of ancient Egyptian craftsmen.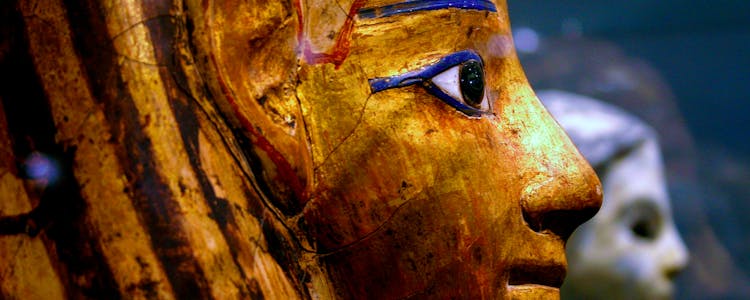 Encounter the beautifully decorated wooden coffin of Nedjemankh, an esteemed priest. Marvel at the intricate details that showcase the Egyptians' belief in the afterlife, with vivid depictions of gods, protective spells, and symbolic motifs.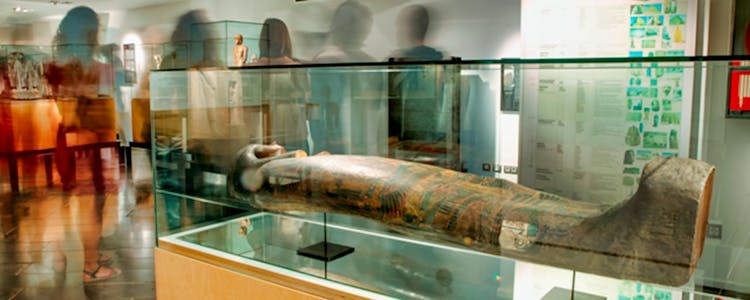 Best Time to Visit Egyptian Museum Barcelona
---
The Egyptian Museum Barcelona should be visited during weekdays and avoiding peak hours, which are typically between 11 am and 3 pm. This will help you avoid larger crowds and enjoy a more relaxed experience. Consider visiting during the quieter seasons, such as spring or autumn, when tourist traffic tends to be lower compared to the bustling summer months. Additionally, take into account the daylight hours, as the museum's exhibits are best appreciated with natural light.
To make the most of your visit, plan to arrive early in the morning or later in the afternoon. This will allow you ample time to explore the museum's highlights without feeling rushed or overwhelmed. Remember to check the museum's website or contact them directly for any updates or special events that might affect visitor traffic.
Egyptian Museum Barcelona Opening Hours
---
7 January to 21 June and 12 September to 30 November
Monday to Friday - 10:00 AM to 2:00 PM and 4:00 PM and 8:00 PM
Saturdays - 10 AM to 8:00 PM
Sundays - 11:00 AM to 2:00 PM
1 December to 5 January
Monday to Saturday - 10:00 AM to 8:00 PM
22 June to 11 September
Monday to Saturday - 10:00 AM to 8:00 PM
Sunday - 10:00 AM to 2:00 PM
Closed on 1 and 6 January, 25 and 26 December
Getting There
---
Bus
Bus lines 45, 120, V15, and H16 have stops near the museum. Pl Catalunya - Rambla Catalunya is the nearest stop.
Metro
The nearest metro station to the museum is Urquinaona, which is served by Line 1 (Red) and Line 4 (Yellow). From there, it's a short walk to the museum.
Tram
The nearest tram stop is La Ribera, which is served by Tram Lines T4 and T6. From La Ribera, it's just a brief stroll to the museum.
Insider Tips to Visit Egyptian Museum Barcelona
---
Look for the mysterious "Magic Square" on the back of the Stela of Amenemhat. Its numbers add up to the same sum in every direction, a true ancient mathematical marvel.
While the Rosetta Stone and mummy exhibits are popular, don't miss the lesser-known sections like the Coptic art collection or the fascinating artifacts from the Graeco-Roman period.
The museum's knowledgeable guides are passionate about Egyptian history and are eager to share intriguing stories and lesser-known facts. Don't hesitate to engage them in conversation.
Step into the picturesque courtyard, adorned with statues and greenery. It's an ideal spot to take a break, snap some photos, and soak in the serene ambiance.
After your museum visit, wander through the nearby Gothic Quarter, a labyrinth of narrow streets filled with historic buildings, charming squares, and delightful cafes.
Egyptian Museum Barcelona Facts
---
One of the museum's prized possessions is the 2,200-year-old mummy of Nespamedu, an Egyptian priest. It is remarkably well-preserved, allowing visitors to get an up-close look at the intricate mummification process.
The museum's collection includes a rare example of a Book of the Dead, an ancient Egyptian funerary text that provides instructions for the afterlife journey of the deceased.
It houses an impressive collection of shabtis, small figurines placed in tombs to serve the deceased in the afterlife. These intricately crafted figurines represent workers and servants and were believed to come to life and perform tasks on behalf of the deceased.
The museum has a replica of the famous Rosetta Stone, as the original is housed in the British Museum. The replica allows visitors to examine the stone's inscriptions and understand its significance in deciphering ancient Egyptian hieroglyphics.
The Egyptian Museum Barcelona houses the largest collection of Egyptian artifacts in Spain, with over 1,000 pieces on display, offering a comprehensive exploration of ancient Egyptian history and culture.
Restaurants Near Egyptian Museum Barcelona
---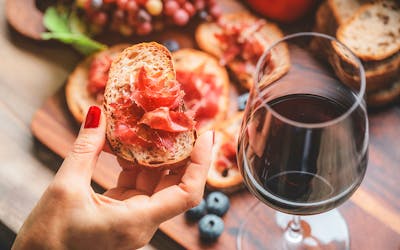 El Xampanyet
A lively and traditional tapas bar with a cozy atmosphere. Try their renowned house cava and delectable bite-sized dishes like patatas bravas and grilled squid. Enjoy the lively ambience and standing-room-only experience.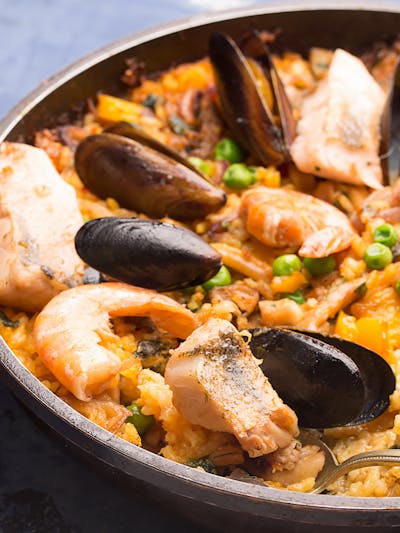 Bodega La Puntual
Step into this charming, rustic tavern for authentic Catalan cuisine. Savor their delicious seafood paella and Catalan classics like escalivada. The warm and welcoming atmosphere complements the traditional flavors perfectly.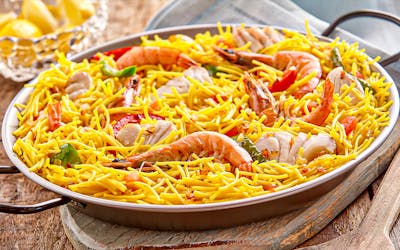 Restaurant 7 Portes
Indulge in a fine dining experience at this historic restaurant known for its Catalan cuisine. Don't miss their famous rice dishes, such as paella and seafood fideuà. Immerse yourself in the elegant atmosphere and timeless charm.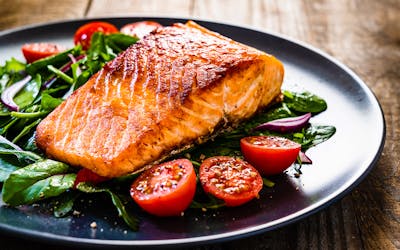 La Paradeta
A casual seafood eatery with a unique twist – you choose your seafood from a display, and they cook it to perfection. Feast on fresh grilled prawns, octopus, and mussels. Enjoy the lively and bustling atmosphere.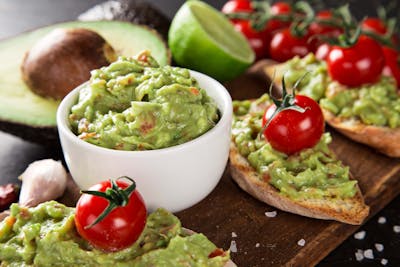 Tapeo Born
Discover a fusion of Mediterranean and Asian flavors in this trendy tapas bar. Try their creative dishes like tuna tartare with guacamole and kimchi, paired with artisanal cocktails. Enjoy the modern and vibrant ambience.
Places to Stay Near Egyptian Museum Barcelona
---
Things to Do Near Egyptian Museum Barcelona
---
Park Güell
Designed by the renowned architect Antoni Gaudí, Park Güell is a UNESCO World Heritage site and offers breathtaking views of the city. Explore its vibrant mosaic structures and unique architecture, including the iconic dragon staircase. A must-visit for Gaudí enthusiasts and nature lovers alike.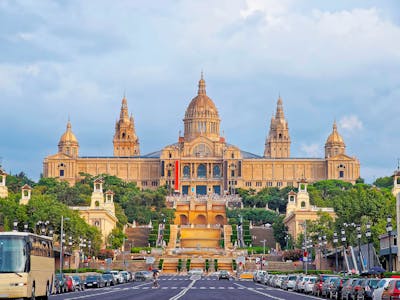 Montjuïc Hill
Rising above the city, Montjuïc offers a wealth of attractions. Visit the Montjuïc Castle for panoramic views, explore the gardens of Montjuïc Park, or immerse yourself in art at the Joan Miró Foundation. The Magic Fountain of Montjuïc hosts a captivating light and music show in the evenings.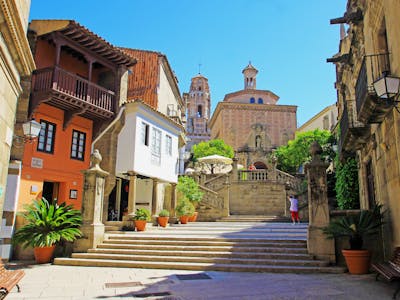 Poble Espanyol
This open-air architectural museum showcases replicas of iconic Spanish buildings, reflecting the country's diverse architectural styles. Wander through its charming streets, browse artisan shops, and savor authentic Spanish cuisine. Poble Espanyol is a cultural gem that provides a glimpse into Spain's rich heritage.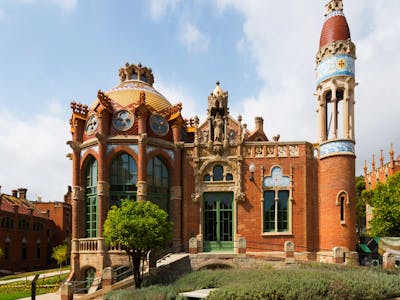 Hospital de Sant Pau
A hidden gem, this modernist complex is a UNESCO World Heritage site. Admire its stunning architecture, intricate details, and beautiful gardens. Take a guided tour to learn about the history and significance of this remarkable institution.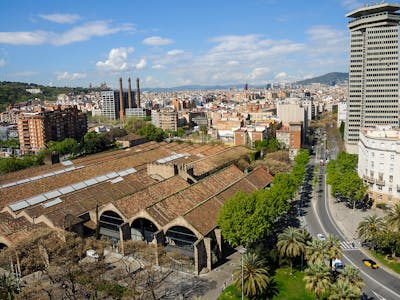 El Raval Neighborhood
Just a short distance away, El Raval is a vibrant and multicultural neighborhood that offers a mix of art, history, and gastronomy. Visit the contemporary art museum MACBA, explore the narrow streets lined with eclectic shops and cafes, and experience the local atmosphere.
FAQs
---
The Egyptian Museum Barcelona was opened in 1994, around 29 years back.
The Egyptian Museum Barcelona covers approximately 2000 square meters of gallery space, displaying over 1000 exhibits.
Yes, the skip-the-line tickets for Egyptian Museum Barcelona are worth it.
You can take a metro or a bus to Egyptian Museum Barcelona, as the stops are close to the place.
The Egyptian Museum Barcelona remains closed on 1 and 6 January, 25 and 26 December.
No, the museum is not open on Christmas and New Year.
While there are no restaurants inside the museum, there are a lot of eateries around the place.
Yes, there are washrooms at Egyptian Museum Barcelona.
No, there's no dress code to visit the museum.
Egyptian Museum Barcelona Guide