Disney's first Broadway production was "Beauty and the Beast", which made its bow in 1994. The musical ran for 13 years and was soon joined by other theatrical adaptations of classics such as The Lion King, Aladdin and Mary Poppins.
Disney Broadway musicals are unlike any other production performed in the world - high-value production, some of the best sets, costume designs, and an overall magical atmosphere.
Disney's musicals have some of the longest runs on Broadway, including The Lion King, which opened in 1997 and is running till date. While most people might have seen famous Disney movies on a screen, their Broadway adaptations are completely different and mesmerize viewers into a new world.
Disney Broadway musicals are often quick to sell out but those lucky enough to score tickets are guaranteed an awe-inspiring experience. Here's all you need to know about catching a Disney show on Broadway.
Top 8 Disney Musicals To Have Screened On Broadway
---
In no particular order, these are the top 8 Disney musicals to have come on Broadway.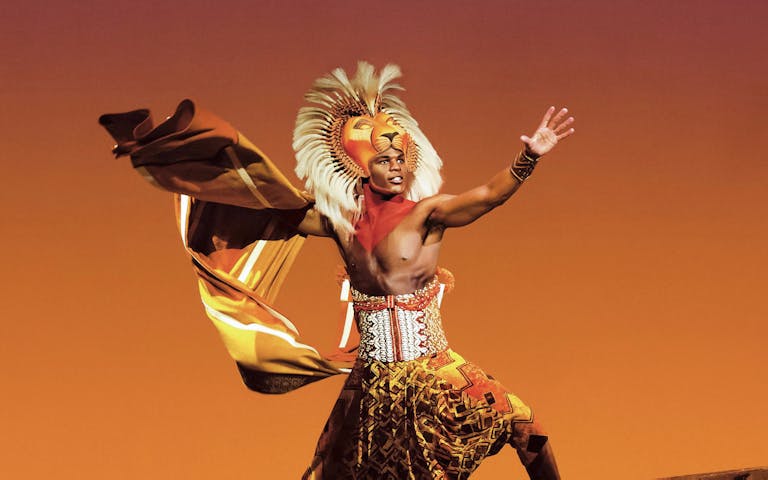 An adaptation of the 1994 Oscar-winning movie, the Lion King, this popular Disney Broadway musical enraptured audiences with the thrilling story of Simba - a lion cub that witnesses his father and reigning King Mufasa's death, grows up in the jungle and returns home to challenge his uncle Scar's place on the throne. An experienced cast with stunning actors, such as Bradley Gibson and Stephen Carlile leads the audience through a captivating two-act musical. World-renowned musician Sir Elton John composed a majority of the play's soundtrack.
Here are a few reviews about Lion King on Broadway
"This show brought tears to my eyes more than once. It's not "just a remake" of the animated film (or the new cgi/ live action-like), there's something undeniably human that comes with the gifted actors and musicians that are part of this ensemble. The scenery, the costumes, and the music really place you someplace magical from the beginning. If there ever was a first Broadway show to take your kids, this is the one"
- Lester Ojeda
"My husband and I took our daughter to see The Lion King when it first opened on Broadway 25 years ago. We thought it was wonderful then. This past weekend we brought our daughter and her three children to see the show. It was just as amazing and wonderful ( maybe even more so) this time."
- Lynda_Lou46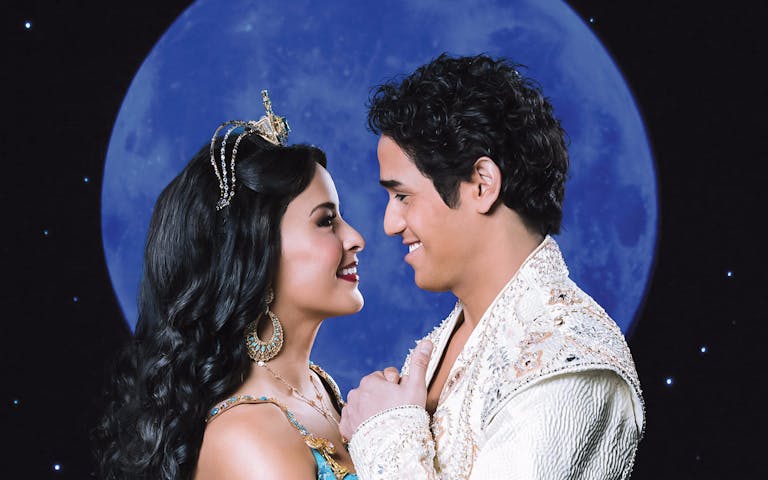 Based on the 1992 animated classic with the same name, Aladdin is based in the fictional city of Agrabah and follows the story of a poor youngster named Aladdin. He acquires a magic lamp and is then granted 3 wishes by the Genie living within it. An intriguing story ensues where he entices the Kingdom's princess, Jasmine, and thwarts the evil Jafar. This two-act musical lists among the highest-grossing Disney Broadway musicals of all time.
February 26, 2014 - present
Here are a few reviews about Aladdin on Broadway
"I must say this show Aladdin is so magical. Magnificent performances, singing, dialogues, acting, costumes, etc. Very well done, definitely one of the shows you can see more than once. I sat in the balcony, all the way in the back which wasn't bad at all. The theater is huge so wherever you sit you'll get a good view. I definitely recommend it with your loved ones or by yourself. worth spending every penny"
- Rabi
"Oh my gosh. It was fab!! I can not recommend it enough. The genie was out of this world- in fact, every single character was. Genie was played by Major Attaway and he was incredible. Also loved Jafar and Iago- they were brilliant too. Every single song was amazing, especially 'Friend Like Me' which obviously is the best number in the show. The costumes were out of this world, you will only appreciate it if you visit, cannot explain how much they sparkle. The special effects were brilliant, the theatre is beautiful
- Liv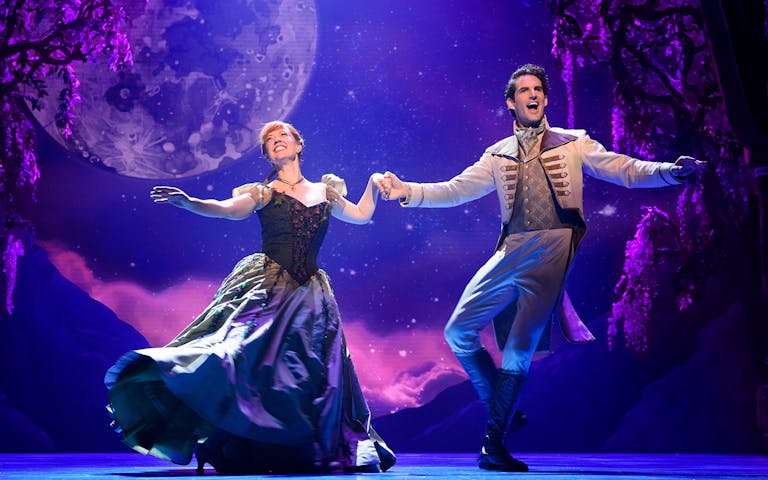 A new addition to the list of Disney Broadway musicals, Frozen is a highly successful show. Everyone is bound to have heard of the popular 2013 movie Frozen, and the Broadway show has a similar yet unique story. The play revolves around two princesses, Elsa and Anna. Elsa has magical powers which she struggles to control and consequently, flees the kingdom. Anna then goes on a quest to find her older sister. Both siblings overcome challenges with the help of friends they make on the way.
February 22, 2018 - present
Here are a few reviews about Frozen on Broadway
"My husband and I took my 5-year-old daughter to this show in February 2020. She was enthralled (and frankly, so were we). There was a feeling of magic throughout the entire show… The orchestra was top notch for this show - true talent. The leads, especially Anna, were amazing. The show had quite a bit of humor in it along with drama and excitement. The set was well done and the effects were fab. The added musical numbers (that were not in the movie) were a real treat… All in all, a spectacular show for all ages."
- Anna H
"'Stunning' is the only way to describe this superb Broadway show! Our family Christmas was spent in New York this year and it was wonderful. One of the most memorable experiences was our Christmas Eve treat to see 'Frozen'. We were three generations and the show had us all spellbound. The effects were truly magical, we loved it."
- Carole D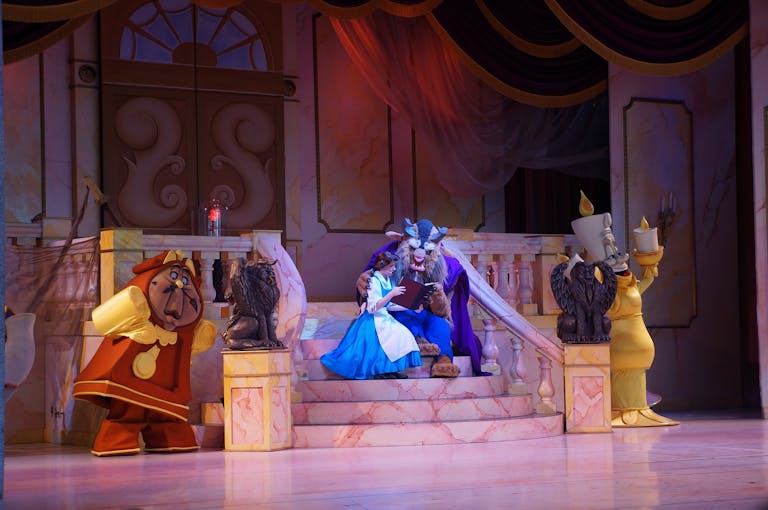 This Disney classic was Broadway's 10th longest-running show as it ran for 13 years - 1994 to 2007. It was one of the most cherished theatrical shows and clocked around 5,461 performances on Broadway. Based on the 1991 Academy Award-winning animated movie with the same name, the musical follows the story of a cursed Prince who needs to find true love to revert back to his human form. Subsequently, Bella, a beautiful young woman, ends up trapped in the Prince's castle. Will they learn to love before it's too late?
April 18, 1994 - July 29, 2007
Here are a few reviews about Beauty & the Beast on Broadway
"Got to see a show on Broadway so we watched Beauty and the Beast. Fantastic production. Had me in tears all the way through as it been a dream of mine to see it in NY and it was a belter of a finale!!"
- yankee70s
"'Beauty and The Beast… I saw years ago probably when I was 12 and I loved it. The costumes, the set, the music the whole show was unbelievable and I am so upset I didn't get to see it again before it left Broadway. I only hope it comes back one day so I can see it again."
- TheresaP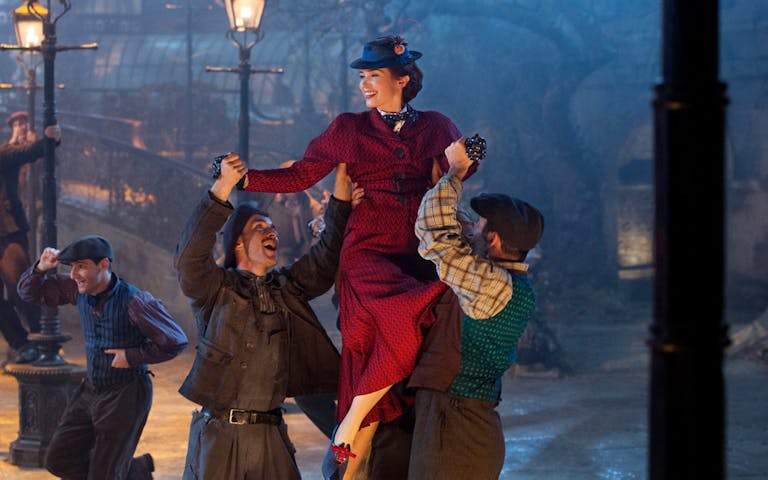 Borrowing elements from the children's books and the 1964 Disney film, the Broadway musical revolved around a magical nanny named Mary Poppins and her endeavors in the Banks household, especially her adventures with the children Michael and Jane. The musical was an adaptation of a West End production of the same name and officially opened on Broadway in November 2006. It ran for six years and 2,619 performances before being replaced by Aladdin.
November 16, 2006 - March 3, 2013
Here are a few reviews about Mary Poppins on Broadway
"This show was spectacular. I have never seen a show on Broadway before and I was blown away by the experience. The New Amsterdam Theater is gorgeous, the sets and props were wonderful, and the performers were amazing. I had a wonderful time. I would recommend this show to anyone - young and old alike, it was definitely a highlight of my trip."
- skamper4
"... I want to say that my family (me, daughter, and 8 and 11 year old) absolutely loved the show. Broadway shows simple dazzles, and all of us were delighted with the uplifting story of Mary Poppins. The dancing, singing, acting, and sets were all first-rate. Our 8-year-old just couldn't believe the way scenes changed! And the magic of Mary Poppins' flying -- well, whether you're 8 to 70, you are thrilled!"
- Barbara H A childhood classic for most adults today, The Little Mermaid is one of Disney's most endearing films. The 1989 movie of the same name is renowned worldwide and was adapted into a Broadway production in 2008 with minor changes to the storyline. It marked the Broadway debuts of director Francesca Zambello and lead actress Sierra Boggess. Despite the show only running for a year and a half (685 performances), it remains one of Broadway's Disney favourites till date.
January 10, 2008 - August 30, 2009
Here are a few reviews about The Little Mermaid on Broadway
"I'd see it again in a heartbeat! Visually ingenious and emotionally satisfying. Forget the kids: I oohed and aahed like a six-year-old. A musical that does justice to the lovely film from which it sprang."
- Terry Teachout
"One of the most ravishing shows I have ever seen on a Broadway stage. More than just a visual feast. Combines story, song and inventive staging into something that lifts our spirits and renews our faith that theater for 'children' can be enjoyed by everyone."
- Richard Zoglin Similar to the 1999 movie which made Tarzan a much loved Disney character, the Broadway production tells the story of a young man named Tarzan raised in the forest. The story revolves around his meeting with British naturalist Jane, their subsequent romance and other adventures. The musical was directed by Bob Crowley and had over 480 shows at the Richard Rodgers Theatre in its approximately 14-month run.
May 10, 2006 - July 8, 2007
Here are a few reviews about Tarzan on Broadway
"The first 10 minutes of Tarzan are dazzling... I enjoyed it more than expected. Some of the sets and costumes were unconvincing, but Josh and Jen are so likable as Tarzan and Jane they'll win you over. The performance I attended was sold out and received a standing ovation from the audience. I don't regret going."
- TravelingGuy
"From Bob Crowley's lush, fanciful scenic and costume design to its intricate uses of animation and projected images, Tarzan offers plenty of the flash considered catnip for tourists and casual fans."
- Elysa Gardner Inspired by the Newsboys strike of New York City in 1899, Disney released a movie on a similar theme in 1992. This movie went on to gain a cult following and was eventually turned into a Broadway production 20 years later. The Disney Broadway musical sees Jack, a newspaper hawker "newsie" in Manhattan, his disabled friend Crutchie and fellow newsies, who stage a protest over the increasing price of newspapers.
March 29, 2012 - August 24, 2014
Here are a few reviews about Newsies The Musical on Broadway
"This is one of my favorite musicals. I saw it 5 times. I love the almost all-guy cast... such cuties. The dancing is spectacular and the singing is unbelievable. I love almost all of the songs. I was obsessed with the movie the Newsies, and the musical does it justice. Great show, great songs, such a good time."
- afelric1
"I saw this show with small expectations because of the movie, but man I was blown out of the water! A mass of singing, dancing,revolting, and very good looking guys in a huge musical extravaganza! After the show, I bought the album, shirt, and bag and l left with a long-lasting expression. This is a must-see for all broadway lovers."
- Lauren A