An evening of magic, sensuality, and charm, Le Crazy Horse de Paris is a one-of-a-kind experience that will forever be etched in your memory. Discover a new world of dancing and seduction that celebrates beauty, poise and the female form.
Located across the Seine from the Eiffel Tower, Crazy Horse is Paris's most avant-garde cabaret with a rich 65 year-old culture. The iconic venue, originally a wine cellar, was transformed to a nightclub thanks to Alain Bernardin. Since then, it has one of Paris' top cabarets, along with the Moulin Rouge and Le Lido. Putting women and creative expression at the focal point, Le Crazy Horse de Paris exudes artistic femininity and charms by putting sophisticated and flawless dancers into the spotlight.
Crazy Horse has opened its doors to exceptional performers from all over the world, playing host to Dita Von Teese, Chantal Thomass, Pamela Anderson and several other prominent world celebrities.
For more information about Cabarets in Paris, click here.
Crazy Horse Paris - Is it worth it?
---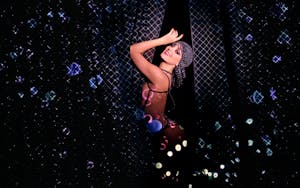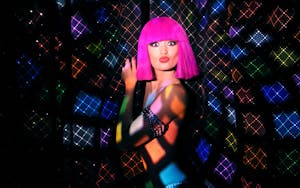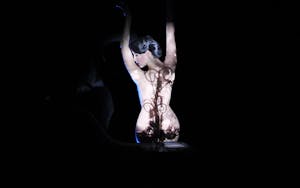 The second you step into the Crazy Horse, you will be engulfed in glamour. With plush, velvet armchairs and little lights throughout, the Crazy Horse sets stage for a cozy and intimate performance.
With over 100,000 visitors each year, Le Crazy Horse De Paris is often referred to as a "temple of femininity". With twelve girls performing on the stage, interspersed with other performers, viewers feel like they are at a private show, and the dark mood sets the tone for the enchanting evening.
A Crazy Horse Experience
Descend the wide, red staircase and step inside the red room adorned with velvet, mirrors and lacquer. Feel the magic, excitement and heat as you take a seat on the velvety armchairs and discover the charm of Le Crazy Horse Saloon.
The current show being performed at the Crazy Horse is 'Totally Crazy': a melange of old-school cabarets with delightful new twists. Featuring over 12 dancers from around the world, along with the combined efforts of a massive behind-the-stage team, you will experience a dazzling, sensational show that brings together all the iconic acts that have made cabaret a legend.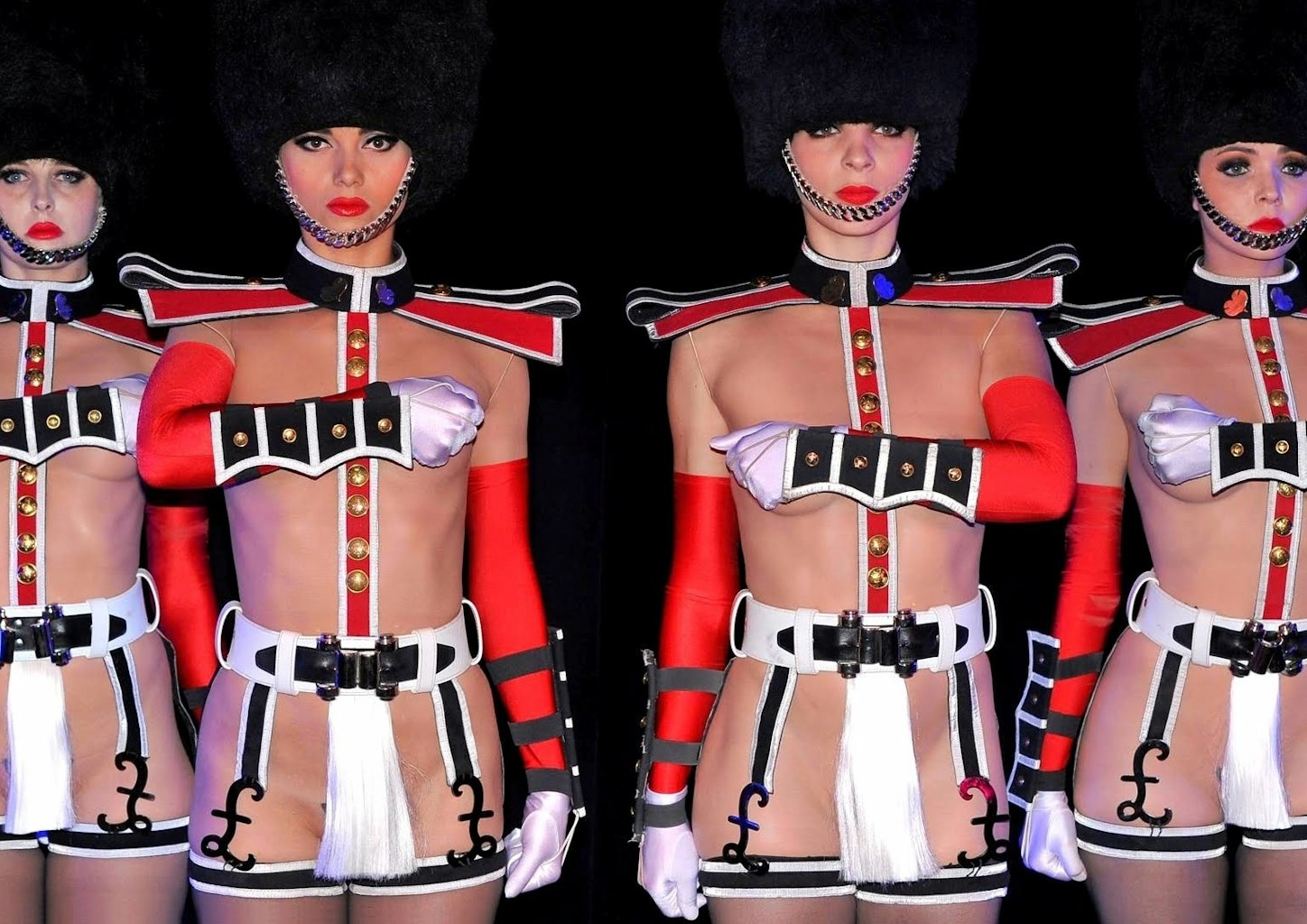 Crazy Horse Paris Tickets
---
Selecting the Best Crazy Horse Paris Tickets
---
The Crazy Horse offers a wide range of ticket options to choose from. You can choose to enjoy a performance with or without champagne, or experience a beloved dinner show. There are two shows per day: one at 8:30 PM and another at 11 PM. On Saturdays, there are three performances: 8:30 PM, 11 PM, and 12 AM. There is no difference between any of the performances, aside from their timing.
Crazy Horse Paris

Book Now

Crazy Horse Paris Show and Dinner

Book Now

About
Prepare to be astounded by the legendary sensational cabaret performance at the Crazy Horse saloon Paris.

Learn More

Enjoy dinner at one of the famous restaurants near the venue, and then proceed to the Crazy Horse for a night of splendour and glamour!

Learn More

Highlights

Watch 'Totally Crazy' - a Parisian cabaret show with world-class performers.
Witness a dazzling performance by Burlesque duo Lolly Wish and George Bangable.
Choose from a range of ticket options, including one with champagne and hors d'oeuvres.

Watch a stunning cabaret performance by the Le Crazy Horse troupe.
Enjoy a pre-show performance by Burlesque duo Lolly Wish and George Bangable.
Also included is a lavish dinner from a restaurant of your choice.
---
About the Show: Totally Crazy
---
Paying homage to 65 years of dazzling art and glamor, 'Totally Crazy' unites the cabaret's most iconic acts and offers new innovations. The brainchild of Andrée Deissenberg, with impeccable direction by Stéphane Jarny, the 90-minute show highlights the elegance, daring-nature, glamor and seduction that Crazy Horse is known for.
Your evening will begin 30 minutes before the show, as Lolly Wish and George Bangable, the internationally acclaimed Belgian burlesque duo, put on a magical performance for you. The main show captures legendary performances into a single-evening, plus, be treated to several iconic acts including "God Save our Bareskin" and "U Turn Me On".
This ultra-rhythmic, colorful and vibrant show will also feature other prominent cabaret acts such as "Upside Down", an act known for its visual extravaganza; "Voodoo" an African intensive performance; the playful "Reine des Coeurs"; and the magnanimous and breath-taking "Undress to Kill".
---
Crazy Horse Rules & Regulations
---
Age restrictions: Individuals must be at least 10 years of age to enter the venue. All guests between 10-18 must be accompanied by their parents/guardians.
Arrival: Guests are advised to arrive at least 45 minutes before the scheduled starting of the show. This will ensure you have enough time to get into your seats before the Burlesque act which starts 30 minutes before the show.
­Cancellation Policy: Refunds are issued only for cancellations made before 7 days prior the show date. Any cancellation or alteration requests after this will not be reimbursed or honored.
­Dress code: Smart, elegant clothing. No sports wear/home wear will be allowed.
­Duration: A cabaret show at the Crazy Horse lasts 2 hours.
­Pets: Please note that pets are not allowed in the premises.
Photography: Photography and videography at the venue are prohibited. However, onsite photographers are available to provide you with souvenir portraits, free of cost.
Seating: The seating chart is made by the maitre d'hotel before you arrive and you will be seated as per the charts allotment. Don't worry, all seats offer good visibility.
Smoking Policy: Smoking inside the Moulin Rouge is strictly prohibited.
---
Practical Information
---
Show Times
Crazy Horse Paris has shows at 8:15 PM and 10:45 PM Friday through Sunday.
On Saturdays, there are three shows: 7 PM, 9:30 PM, and 11:45 PM.
Getting There
Le Crazy Horse De Paris is located at 12, Avenue George V, 75008 - Paris
Situated near the Seine River, the venue is easily accessible via public and private transport through the city.
By Subway: Line 9 - Alma-Marceau, RER A: Charles de Gaulle Etoile
Line 1 - George V - Franklin D.Roosevelt, RER C: Pont de l'Alma
By Bus: Lines 42, 63, 72, 80, 92; Exit at Alma-Marceau
By Car: Nearest Car Park at Alma George V :10,avenue George V
---
Crazy Horse Paris Reviews
---
Everything was dosed, with taste and fines, a lot of emotions... Exceptional scenario and performers. The lighting was perfect. The dinner was great. What more? Viva Crazy horse! We will be back!
Zlatin, Headout, November 2022
We were surprised how well it worked out for reservations online. We enjoyed the show and the restaurant. We actually requested an earlier dinner but the restaurant was not open at that time. We appreciated that the service tried to accommodate us. Thanks for a wonderful experience.
Cristian, headout, September 2022
Read what others have to say about Crazy Horse in Paris on Headout.
---
FAQs
---
At Crazy Horse, you're in for an unforgettable night! The performers have been dazzling audiences for over 70 years with their classic cabaret numbers, modern burlesque-style dances, and jaw-dropping acrobatics. Get ready to be dazzled!
Crazy Horse is open seven days a week, so no matter what your schedule looks like, you can always find time to enjoy the show. The shows start from 8 pm onward.
Yes! All visitors must be 18 or over to attend the performances. The venue also reserves the right to refuse admittance regardless of age. So make sure you bring your ID cards.
You can find a great selection of delicious cocktails, champagne, and wine from the bar. Plus, they have a kitchen that serves up a range of light snacks before the show starts – perfect for getting your evening off to a tasty start!
Yes, all guests must dress to impress. Smart casual is usually appropriate, but if you want to go all out, try something a bit more daring and make your evening at Crazy Horse Paris truly memorable!
You can purchase your tickets on Headout. Make sure to book them much in advance!