Planning a visit to Singapore? You're in for a treat because this Asian destination is a delight through the year. However, each month in Singapore has its pros and cons. Before booking your tickets, here's what you should know about what goes in Singapore every month of the year. We understand that the best time to visit Singapore maybe subjective, but our guide is designed to help you figure out the month that suits you best. Read on!
Best time to visit Singapore - Know Before You Plan Your Trip
---
Singapore, the most popular travel destination of Southeast Asia is a year-round destination. Sitting right on the equator, this tiny nation with warm and humid climate throughout the year, is packed with boundless options to have fun. February to April is a period comparatively more pleasant and dry with less crowds and hence a good time visit.
Best time to visit Singapore - For Different Kinds Of Travelers
Best Time for Sightseeing : February to April are the best months for sightseeing as they attract minimal rainfall and the weather is generally dry. Also there are few public holidays and schools are open during this period which means less crowds.
Best Time for Backpackers : Any month is a great time to visit Singapore for backpackers. However one can get good discounts on hotels and flights in the months of August and September.
Best Time for Honeymooners : February to April are the best months for honeymooners. Weather is nice and it is not a typical tourist season, giving them enough space, privacy and pleasant environs.
Best Time for Festivals in Singapore :December to early February period is a big festival and celebration time for Singapore with Christmas, New Year and Chinese New Year. June to August is the best time for those keen on shopping festivals of Singapore. There are also mid-autumn festivals and events that take place in October.
Singapore Through The Year
---
High Season in Singapore : Owing to its more or less consistent weather, Singapore is always welcoming travellers all year round. December and January see sizeable crowds as the atmosphere gets festive and joyful with Christmas, New Year and Chinese New Year falling around the same month. July to September also is high season for Singapore when the popular Great Singapore Sale and the Singapore Food Festival takes place.
Shoulder Season in Singapore : After the new year festivities wane off, Singapore sees slightly less crowds in the months between February to April. Weather wise these are good months as there isn't much rainfall and these months are in between winters and summers. October is another shoulder month which may not see heavy crowds but offers many interesting events and festivals for travellers to enjoy.
Low Season in Singapore: With almost steady weather throughout the year, Singapore hardly sees a significant dip in tourist traffic. However, the summer months of May and June see higher temperatures, haze and rainfall. November again is a wet and humid month with sluggish crowds. Those looking for flight and hotel deals can take advantage of these months.
Best Season To Visit Singapore
---
Singapore with a typical monsoon tropical climate owing to its proximity to the equator, doesn't show huge variation in various seasons. However, here are how the 4 seasons would typically look like.
Singapore in Spring
Spring months of March, April and May are hot and relatively dry. Brief showers once in a while are quite welcoming. However the upside of heat is the refreshing pink bloom on trumpet trees lined by the roads and everywhere else. The Sakura Matsuri show presenting a canopy of pink and white cherry blossoms adds to the natural hue of Singapore in Spring.
Singapore in Summer
Summers in Singapore though not drastically different from other months are quite hot and humid. The best time to stay outdoors is either early in the morning or late evening as the heat can be quite harsh. Myriad possibilities of indoor activities, shopping festivals and beaches are few things that make the hot summers of Singapore super cool!
Singapore in Autumn
Autumn is hot and rainy for Singapore with thunderstorms and morning haze. However, Singapore is one city that is always buzzing with activities. Mid autumn events and festivals make it worthwhile to travel to Singapore in these months. Also, this is the best time of the year to avail yourself of some good deals on your bookings.
Singapore in Winter
Singapore gets cooler during the winter months and it is quite rainy owing to the Northeast Monsoons. This is the time when spirits pick up with a lot of fun events, live performances, parties and cultural activities. The city gears up for Christmas and NewYears and adorns a festive look.
Weather In Singapore Year Round
---
The weather in Singapore year round has been charted on a graph below. The Highs are depicted in red and the Lows in blue.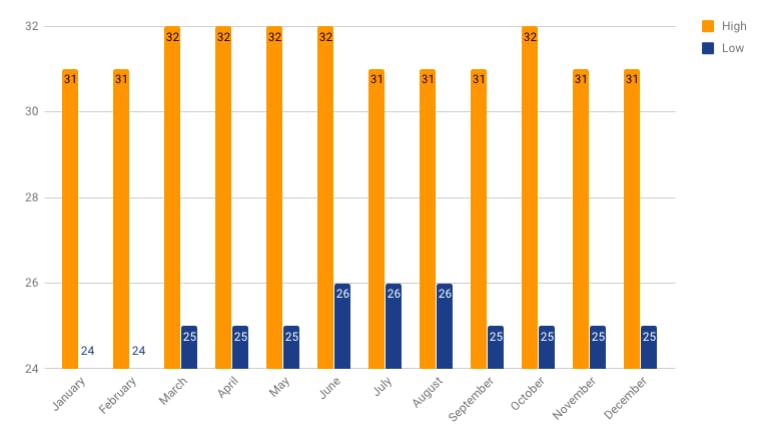 A Month-By-Month Guide To Visiting Singapore
---
Follow our detailed guide to pick a month for your Singapore exploits.
Singapore In January
Average Temperature: 24°- 31°
With the conclusion of the holiday season, January is quiet and peaceful in Singapore. The wet and windy weather in January is perfect for those looking to enjoy the city at their own pace. Main attractions of Singapore like the Jurong bird park, Singapore Zoo, Gardens by the Bay and the Night Safari can be enjoyed with slim crowds, an absolute relief after the December madness. While it does rain through the month, it does not pour long enough to soil your plans. Singapore offers some prominent events and festivals in January, like the Pongal Harvest Festival, M1 Singapore Fringe Festival and the colourful Dahlia Dreams.
Singapore In February
Average Temperature: 25°- 31°
February is the tail end of the rainy season and high humidity in Singapore. With the beginning of the dry period, February makes an ideal month for outdoor activities like Singapore river cruise, Adventure Cove Waterpark, Marina Bay Sands Skypark etc. and not to forget lounging on the beach. The Chinese New Year that falls in February brings the whole city alive with festivity and an amalgamation of various cultures. With the end of the holiday season there are fewer tourists in this month which means calmer and restful experience. Singapore blossoms with Spring surprises, parades, festivals, parties and carnivals in this month making it a great time to visit Singapore.
Singapore In March
Average Temperature: 25°- 32°
As the northeast monsoon season comes to an end, March in Singapore ushers in the beginning of spring with consistently warm temperatures. March is the month to take a stroll through the beautiful cherry blossoms at Japanese event, Sakura Matsuri. You can witness the Heritage festival which takes you through Singapore's history, communities, and legendary moments. Spring is also the time for Boutique Fairs offering big discounts on exclusive local and designer brands. Be it enjoying the famous gardens by the Bay, spending time relaxing on Siloso beach or going shopping on Orchard Road, Singapore is a great place to get outdoorsy in the month of March.
Singapore In April
Average Temperature: 26°- 32°
April is most often described as the driest month of the year in Singapore. Even though a shoulder season for Singapore, weather in April is relatively nice. With lesser crowds and not much rain, this month is quite suitable for sightseeing and enjoying water sports at the beach. It is also very pleasant time to experience the radiance and vibrancy of the culture of Singapore that is reflected in its festivals and events. Some of the unique features of April are, the Chinese Qingming Festival, Singapore International Jazz Festival, HSBC Singapore Rugby Sevens, World Gourmet Summit and many others.
Singapore In May
Average Temperature: 26°- 35°
May is slightly hotter than April with slightly increased humidity. However, loads of aqua adventures, cafes, indoor parks, museums and theatre can be interspersed with outdoor activities to give you a good mix of entertainment. Singapore being a melting pot of various cultures is always bubbling with festivity all round the year. You can witness temples and monasteries beautifully decorated with lights and flags on the 'Vesak Day' that commemorates the birth and enlightenment of Buddha. Art and theatre enthusiasts can enjoy International Arts Festival held in Singapore in May/June. There are many other musical events and concerts held in May to rock the month.
Singapore In June
Average Temperature: 26°- 32°
June marks the onset of southwest monsoons for Singapore. However it observes comparatively lesser rainfall than the impending months. The month also marks the officially beginning of the high season, however, it sees lesser crowds than the next couple of months, making it a favourable choice. June unfurls some of the most popular and famous events of the city. Beginning with Eid called Hari Raya Puasa in Singapore, the city opens up with night bazaars and food stall selling delectable treats. Ultra Music Festival, beginning of The Great Singapore Sale, the Dragon Boat Festival and a number of other interesting events make June one of the fun months to visit Singapore.
Singapore In July
Average Temperature: 26°- 31°
Rains make the heat slightly more tolerable and fortunately they don't last for too long a span. The famous attractions of Singapore which attract tourists from all over the world are buzzing with crowds. With sunscreen, hats, and sunglasses, you are all set to walk its streets and explore the wonderful city. Much looked forward to mega event, The Great Singapore Sale, offering incredible offers and discounts is in full swing in July. You can experience the multicultural heritage of Singapore through the famous, mind boggling Singapore Food Festival held in this month. Many more events, concerts and shows await the visitors, making July a great month for all kinds of travelers.
Singapore In August
Average Temperature: 26°- 31°
August is not much different from other months in terms of temperature, yet it is wetter with southwest monsoons. Being a low season with reduced tourist inflow, August offers much quieter and relaxed atmosphere. A lower demand for accommodation pushes up your chances of getting good deals. You can even strike some good bargains at shopping! All this in no way indicates a dull time for Singapore. Always buzzing with liveliness, Singapore has an exciting collection of events in August . From the fascinating Hungry Ghost Festival to the fun Singapore Night Festival, there's something for everyone here.
Discounted tickets for your Singapore visit
Singapore In September
Average Temperature: 25°- 31°
The so called autumn month of Singapore is hot and humid with ample rains. However life doesn't come anywhere close to a halt in this spirited city. The heat is not intolerable with the rains in spurts getting the temperature down. Outdoor activities are quite manageable interspersed with so many indoor recreation options. Singapore buzzes with zest and spark with its mid autumn festivities. The city sparkles with the lantern festival held in the month of September. Besides this there is Singapore Grand Prix, Snow Patrol in Concert, Nights at Orchard Pop-up and much more to make you have a whale of a time in this amazing city.
Singapore In October
Average Temperature: 25°- 32°
October is warm with sudden heavy showers which fortunately last only for a short time. This helps reduce the afternoon heat due to cool sea breeze. You can perhaps start your day with an outdoor attraction, go on to explore some indoor activities or malling in the afternoon and resume the outdoor fun in the evenings. October also gives you the opportunity to be a part of many celebrations that Singapore has. You can join the extravaganza at Singapore Fall Fashion Week, be a part of popular Halloween parties, witness the Nine Emperor Gods Festival or simply enjoy the numerous famous attractions of Singapore. You are spoilt for choice!
Singapore In November
Average Temperature: 25°- 31°
With Northeast monsoon just around the corner, November sees a jump in rainfall but like the previous month, rain doesn't last over a long stretch of time. Mornings are usually not so wet as it normally rains towards the afternoon or evening. You can enjoy the green landscape of this modern yet soulful city. The interconnected matrix of shopping malls, indoor food courts, local markets and world-class museums give you enough options to gainfully spend your precious time while it rains outside. This is the perfect month to go hiking in Singapore. Those looking to do something special besides the fabulous attractions of Singapore can check out the festivals and events like Christmas on a Great Street, Singapore International Film Festival, Singapore Biennale and many others.
Singapore In December
Average Temperature: 25°- 31°
Rains finally see a much welcomed dip in December, right in time for the tourist season. The city is brimming with fun and festivity and the large crowds add to the verve giving it a cheerful boost. The tourist season ushers a hoard of live performances, parties, food stalls, shopping choices and cultural bonanza. One can enjoy the spirit of Christmas with festivals like Christmas Wonderland at Gardens by the Bay or Christmas on a Great Street, Orchard Road. New Year's Eve is big in Singapore with too many options to party all night. Events like ZoukOut at Siloso Beach, the dance music festival are simply not to be missed.
Must-try bucket list adventure experiences in Singapore
Singapore 5-day Itinerary
---
5 Days in Singapore Itinerary
FAQs
---
The best time to visit Singapore is from February to April, as the weather is relatively dry and cool, with average temperatures ranging from 23°C to 32°C. These months also see the least amount of rainfall.
The busiest months in Singapore are usually June, July and August, as these months see the most number of tourists.
The coldest months in Singapore are usually December and January, when temperatures can drop to as low as 21°C.
The best time to visit Singapore for the first time is from February to April, as the weather is relatively dry and cool, with average temperatures ranging from 23°C to 32°C. These months also see the least amount of rainfall.
The best months to avoid tourist crowds in Singapore are usually June, July and August, as these months see the most number of tourists.
The cheapest time to visit Singapore is typically from December to March, as hotel prices are generally lower during these months. However, flight prices may be higher during this period due to the Christmas and New Year holidays.
Ready To Visit Singapore
---