Ever fancied a behind-the-scenes look through the premier league stadiums? Buckle up for a virtual hangout with Pep, a strut down famous tunnels, a picture with Arsene Wenger, and a sneak peek into matchday madness! With the Premier League ready to kick off, here's our pick of stadiums and tours that promise thrills, spills, and a dug-out view of your favourite football club. Don't just watch it on TV every weekend, head out and see it in real life!
1. Stamford Bridge, Chelsea FC
---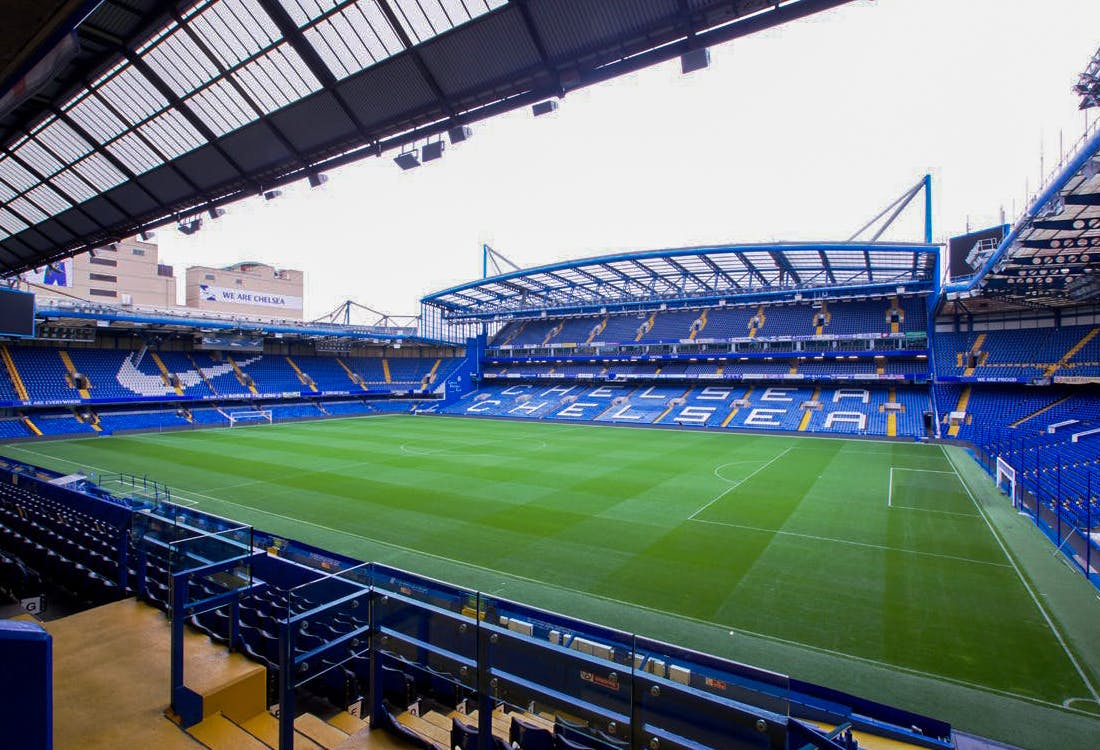 Where: Fulham Road, London
Capacity: 40,343
One of the oldest football stadiums in England, Stamford Bridge Stadium, located in Fulham, London, is the home ground of the famous Chelsea Football Club. It was officially opened in 1877, but it wasn't until 1905 when it was used for football. Apart from a tour of the stadium, don't miss the museum packed with trophies, memorabilia and interesting facts about the club. If you're a supporter of the club, then obviously stop over at the Chelsea Megastore for all official merchandise. We highly recommend taking a picture at the museum wall which says, "I am not from the bottle. I am a special one!" Why? Because that is one of the most iconic quotes of Jose Mourinho, former Chelsea manager, when he signed for the club.
Stamford Bridge was first offered to now London rivals Fulham Football Club, but they declined due to budget constraints. The Mears (the founders) decided to form their own football club, Chelsea, to compete with Fulham after considering selling the site to the Great Western Railway Company.
2. The Emirates, Arsenal FC
---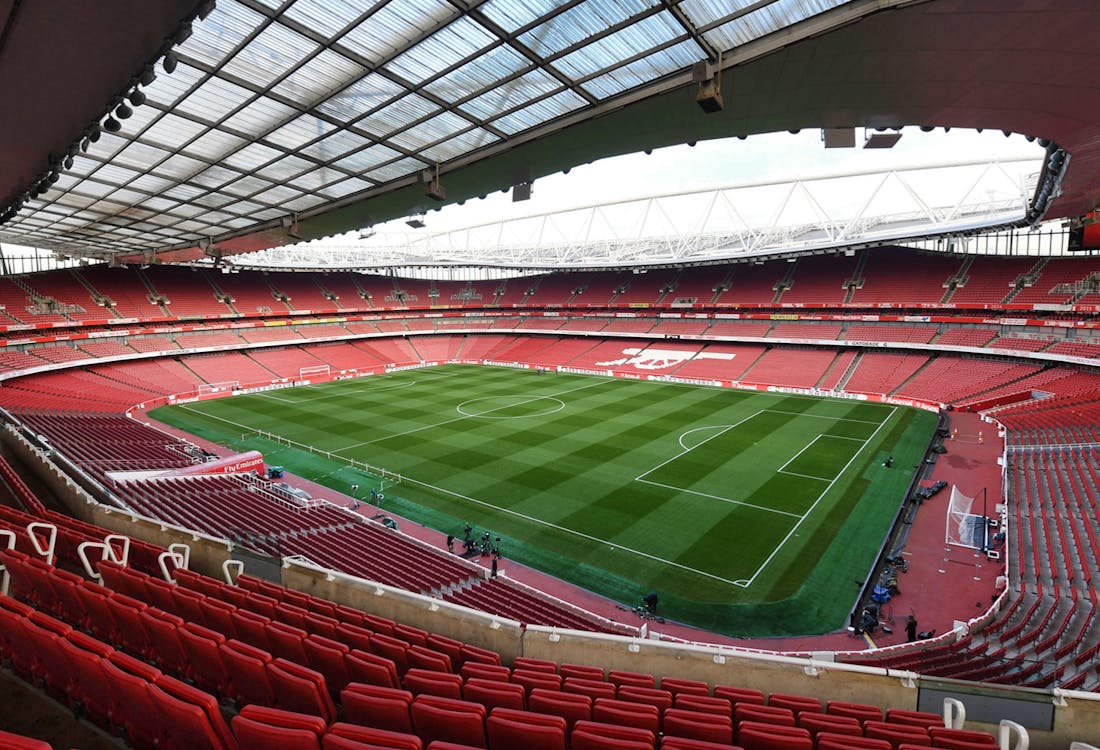 Where: Hornsey Road, London
Capacity: 60,704
They may have missed out narrowly on winning the league in 2023, but you should not miss seeing Emirates, the Home of Arsenal FC. One of the most successful clubs in English football history, with 13 Premier League titles and 14 FA Cup 14 wins, the Emirates Stadium has been their home since 2006, after moving from the popular Highbury. As of 2023, The Emirates is home to a number of artworks, including a large-scale mural "Found A Place Where We Belong" by Reuben Dangoor that depicts the history of Arsenal Football Club "Victory Through Harmony", a sculpture by David Shrigley that depicts a cannon firing a dove, and a series of sculptures by Jason deCaires Taylor that depict some of the club's greatest players, including Tony Adams, Dennis Bergkamp, Ian Wright, Joe Hulme and of course, the inimitable Thierry Henry. If you're a Gunner, then you have to take a minute to marvel at the bronze statue of Arsène Wenger - the most revered and successful manager of Arsenal. It depicts him lifting one of his three Premier League titles, at a place he literally and metaphorically helped build ground up.
Recommended Stadium Tour
The famous 'Clock End' at the Emirates is a nod to tradition, originally featured at Highbury and now incorporated into the new stadium. It's a symbol of Arsenal's past and present, connecting memories with modern matchday excitement. A replica even travels with the team, as manager Mikel Arteta wants away dressing rooms to feel like home.
3. Anfield, Liverpool FC
---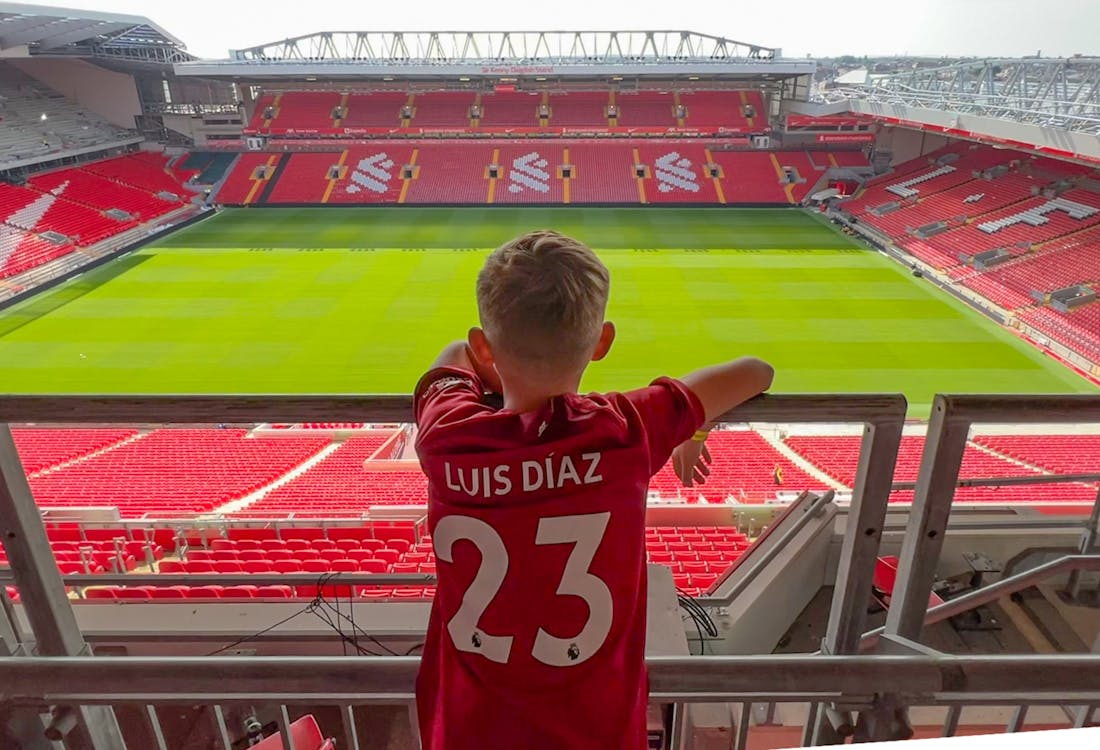 Where: Anfield Road, Liverpool
Capacity: 53,394
They may have made a name for themselves with their "Never Walk Alone" anthem, but Anfield truly epitomizes the spirit and success of Liverpool FC. One of the most storied clubs in English football history, with 19 Premier League titles and 6 UEFA Champions League wins, Anfield has been the fortress of Liverpool since 1892. As of 2023, Anfield is adorned with tributes that echo the club's rich heritage, including the famous "This is Anfield" sign that greets players as they walk onto the pitch, and the Bill Shankly Gates, named after one of the club's most celebrated managers. The Spion Kop stand is a place of legends, holding the passionate supporters that make Liverpool's home games an electrifying experience. If you bleed red, take a moment to stand by the Hillsborough memorial and remember the fans who tragically lost their lives, a somber but significant part of the club's history.
Recommended Stadium Tour
Anfield's Kop Stand was once the largest single-tier stand in the world, creating an unrivaled atmosphere. The stand is named after a famous hill in South Africa, and the fans in this section are known for their intense support, contributing to what many call the "12th man" effect on the pitch. This distinction is now held by Salt Lake City Stadium in Utah.
4. Tottenham Hotspur Stadium, Home of Spurs
---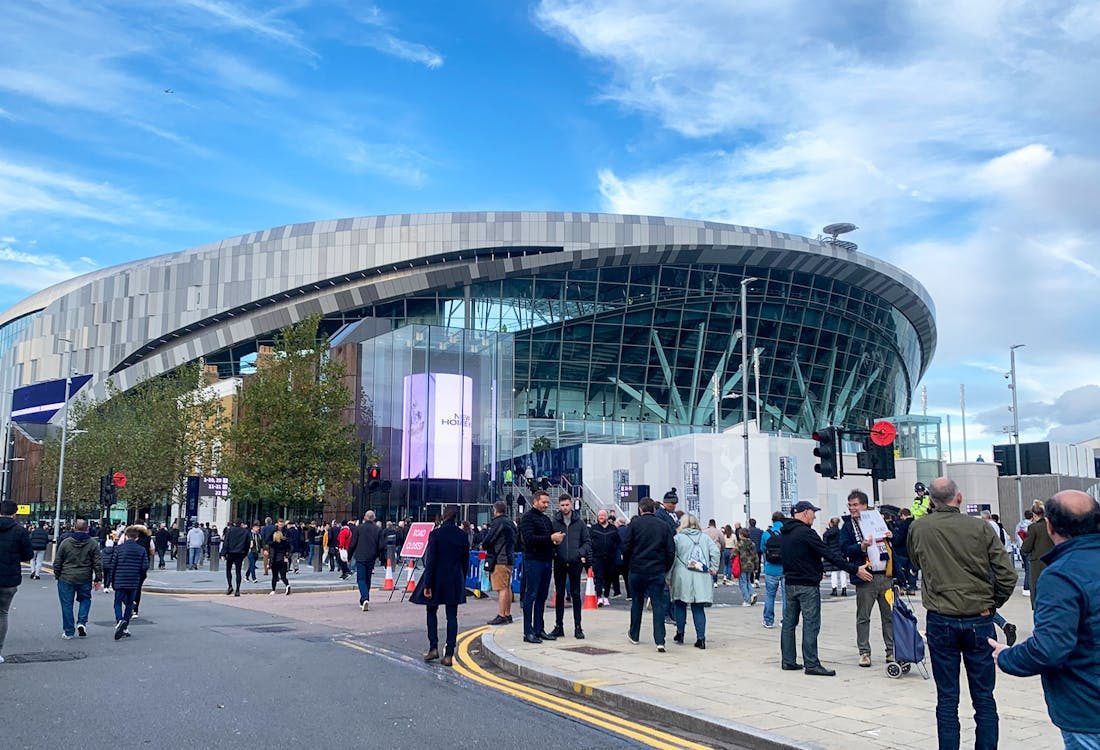 Where: Tottenham High Road, London
Capacity: 62,850
Where football meets cutting-edge design, the Tottenham Hotspur Stadium is a testament to Tottenham's ambition and modern outlook though tragically it's not showing up in the Harry Kane negotiations. Having seen numerous achievements, including their storied runs in European competitions, the Spurs found their new home here in 2019, a worthy successor to the historic White Hart Lane. The stadium is also a multi-purpose arena with an in-house microbrewery and a unique retractable pitch beneath it which can even host an NFL game (Twickenham is the other stadium with this option). If you're a Spurs fan, the bronze cockerel atop the South Stand is a nod to the mascot, a symbol standing tall since Tottenham's earliest days. The stadium's sweeping lines and innovative features beckon all, inviting fans to experience football's future while cherishing the past. The trophy cabinet however, remains largely empty, as the club hasn't won a single one since 2008.
The Tottenham Hotspur Stadium features the longest bar in a UK stadium, aptly named the "Goal Line Bar." Spanning 65 meters, it ensures that fans don't miss out on matchday refreshments or the thrill of the game.
5. Wembley Stadium, England's National Stadium
---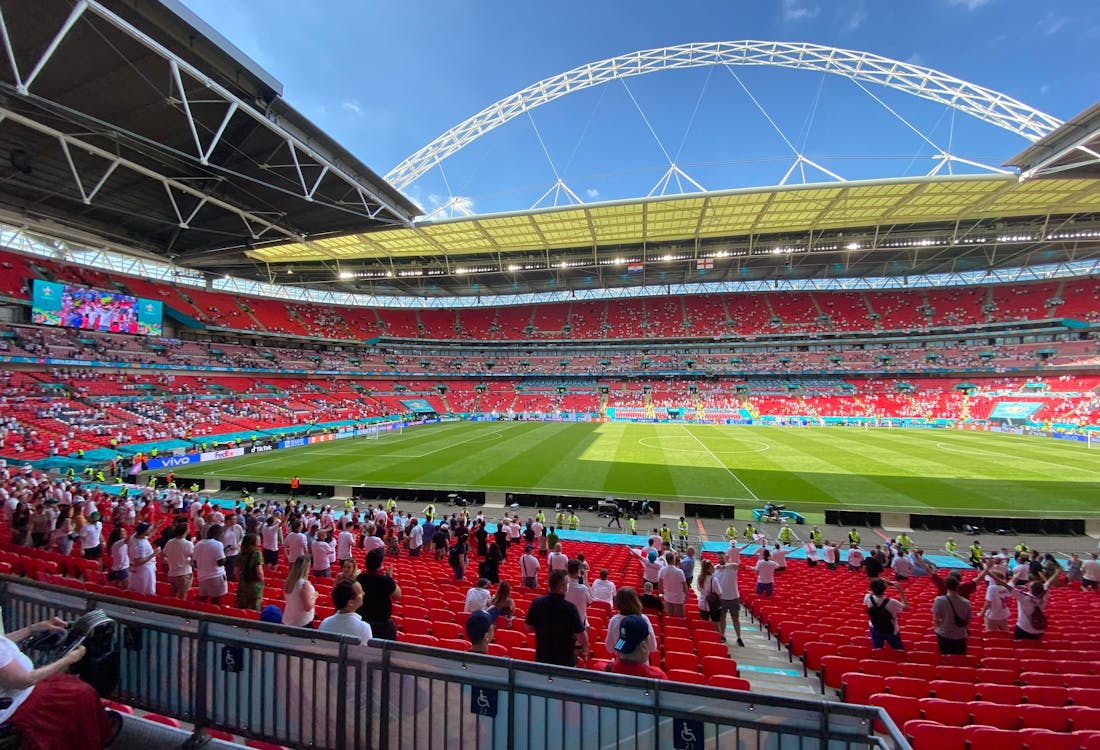 Where: Wembley, London
Capacity: 90,000
Okay, we may have cheated a bit since this one's not really a Premier League stadium, but then again we wrote this on the day Arsenal was playing (and won) against Manchester City for the FA Community Cup final in 2023. So, it is Premier League enough!
A symbol of English football and sporting history, Wembley Stadium is an arena where legends are made! Opened in 2007, it replaced the old Wembley Stadium, retaining its iconic arch and has since hosted major football events, including FA Cup Finals, UEFA Champions League Finals, and the 2012 Olympic Games. As of 2023, Wembley continues to be a stage for music concerts, NFL games, and more. The "Walk of Legends" in Wembley Park immortalizes stars who've performed there. The first honorees were Sir Bobby Charlton, Sir Geoff Hurst, and Pele. Since then, the Walk of Legends has grown to include over 100 honorees, from football greats to music legends such as David Beckham, Wayne Rooney, Mohamed Salah, Freddie Mercury, The Beatles, Elton John, Queen, The Spice Girls and One Direction. Whether you're a sports fanatic or a lover of live performances, a visit to Wembley is like stepping into a shrine of global entertainment history. If you can, catch a game or a concert here!
Recommended Stadium Tour
The Wembley Arch, one of the stadium's most distinctive features, is not just aesthetic. It supports the entire North Roof and over 60% of the entire roof load, symbolizing both architectural ingenuity and the unity of sports and entertainment that Wembley stands for.
6. Old Trafford, Home of Manchester United
---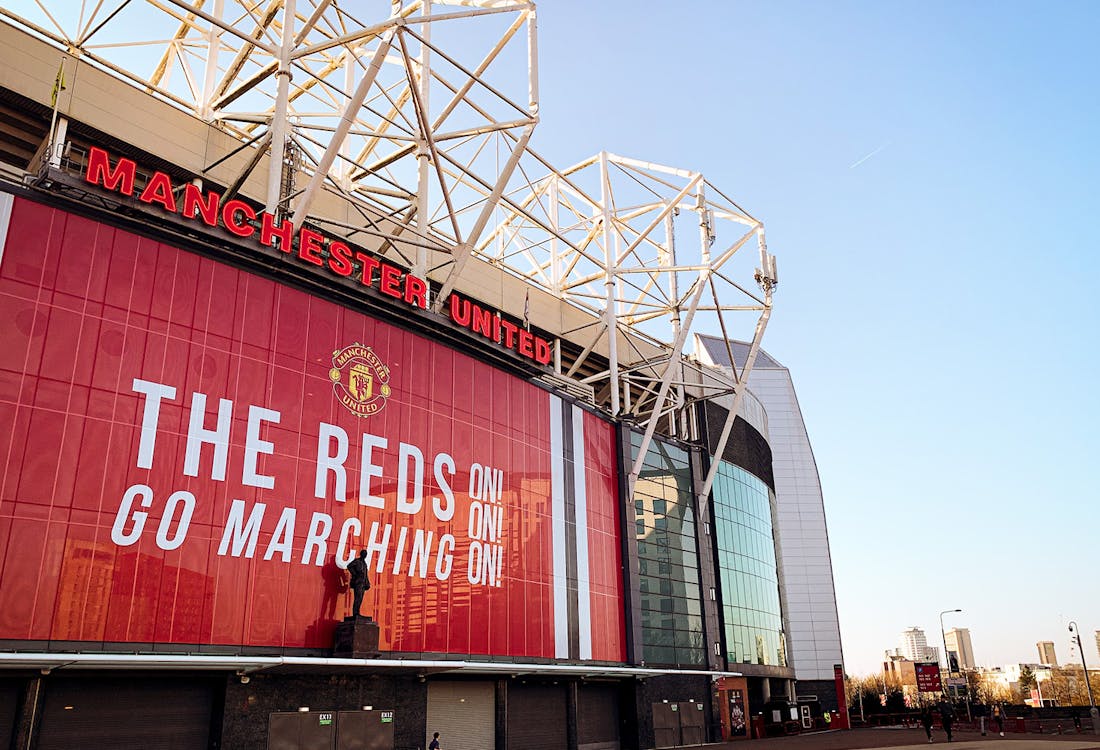 Where: Sir Matt Busby Way, Manchester
Capacity: 74,310
Since its first game in February 1910, it's been the "Theatre of Dreams" for fans and players alike, witnessing 20 Premier League titles and 3 UEFA Champions League triumphs. Despite the struggles and comebacks on the pitch, Old Trafford retains its majestic aura, with the Sir Alex Ferguson Stand honoring the manager who turned Manchester United into a global powerhouse. The Munich Tunnel is named after the 1958 Munich air disaster, a somber and significant memory etched into the club's history. At the museum, explore the Sir Alex Ferguson stand and dive into the football history spread across three floors. Meander through Captain Marvel, Bryan Robson's exhibition before you soak in all the Glory Glory, Man United at the famous trophy room. Oh, and don't forget the legendary kits of Sir Bobby Charlton and Wayne Rooney – they're the real MVPs! Then strike a pose in their new photo experience space and score some epic souvenirs at the Megastore later.
Old Trafford's nickname, "The Theatre of Dreams," was coined by the legendary Sir Bobby Charlton. And it's accurate too, seeing as Old Trafford is one of the most popular tourist destinations in Manchester with over 2 million visitors per year. It has also hosted two World Cup finals in 1966 and 1996, as well as the UEFA Champions League final in 2003 between AC Milan and Juventus which the former won.
7. Kenilworth Road, Luton Town FC
---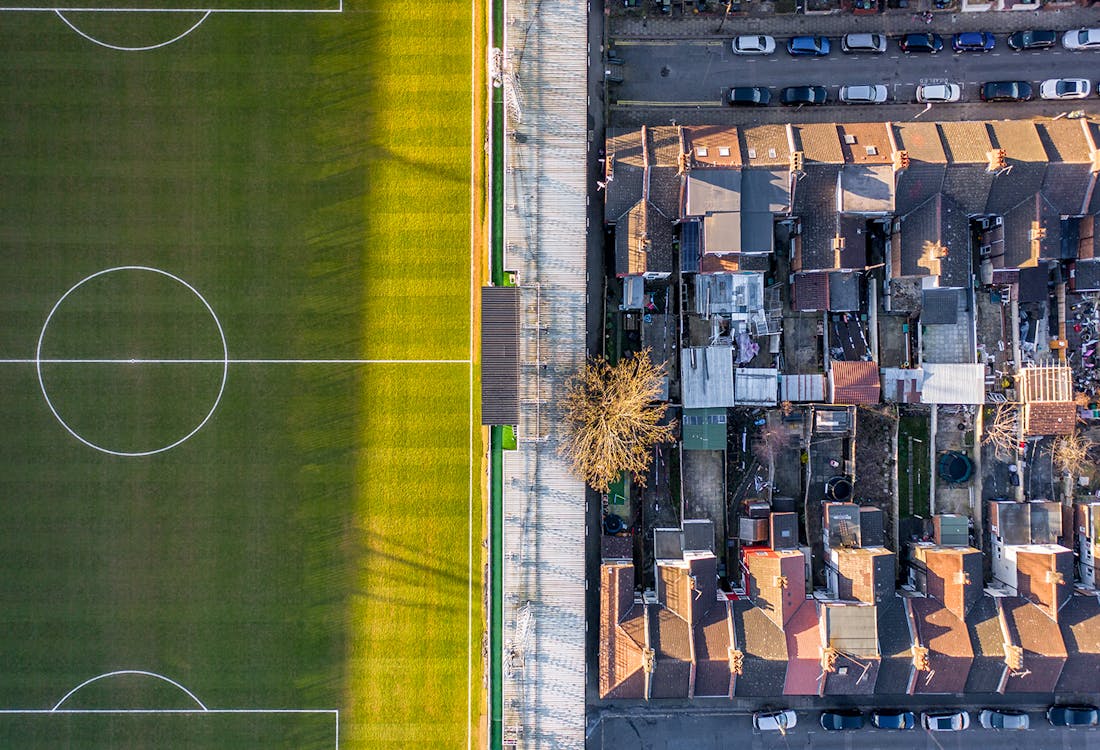 Where: Maple Road, Luton
Capacity: 10,356
If you don't know them, they're worth researching! Luton Town FC, based in Luton, Bedfordshire, England was founded on April 11, 1885, making them older than more popular clubs like Arsenal, Liverpool and Chelsea! A venue rich in history and character, Kenilworth Road has been the home of Luton Town FC since 1905. Nestled in the heart of Luton, this stadium may not have the modern grandeur of some larger venues, but it more than compensates with charm and tradition. With a capacity of around 10,356, it has been the stage for Luton Town's highs and lows, with the best to come this year as the club has been promoted to the Premier League for the season! If you're a Hatter, a visit to Kenilworth Road is a step back into a football era that's both comforting and invigorating. The walk through the row houses, their backyards and shops to enter the stadium is one of the most charming aspects of the stadium, and we're hoping that despite the promotion, that won't change!
Kenilworth Road's 'Oak Road' end was once shared between home and away supporters, a rarity in modern football. This quirky arrangement added to the stadium's distinctive atmosphere and is a fond memory for many fans, reflecting the close-knit community spirit that Luton Town continues to embrace.
8. Etihad Stadium, Home of Manchester City
---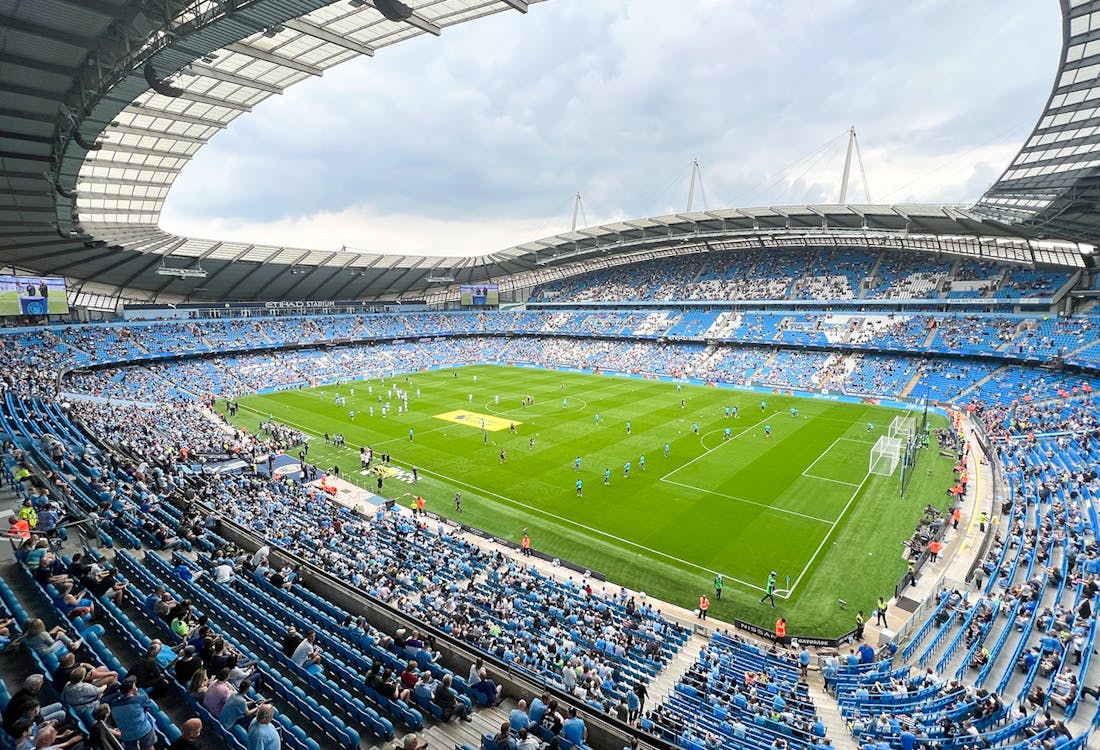 Where: Ashton New Road, Manchester
Capacity: 53,000
A symbol of transformation and relentless ambition, the Etihad Stadium embodies the modern success of Manchester City. Since adopting the stadium as their home in 2003, City has risen to become a dominant force in English football. More so with the arrival of Erling Haaland, we say! Ready to play reporter? Field questions with a virtual Pep Guardiola in the Press Conference space. Then take a look at the Home Team dressing room before diving into an immersive audio-visual show that's almost as thrilling as a last-minute goal. Walk down the famous glass players tunnel;then get a Pep's-eye view of the pitch from the dug-outs. And don't forget to walk through the multi award-winning hospitality suite, The Tunnel Club. You can even check out the First Team warm-up area; it's more intense than your gym session!
The Etihad Stadium's pitch has an advanced heating system that ensures the grass remains playable even in extreme weather conditions. Yes, Emirates has this too!
9. Goodison Park, Home of Everton FC
---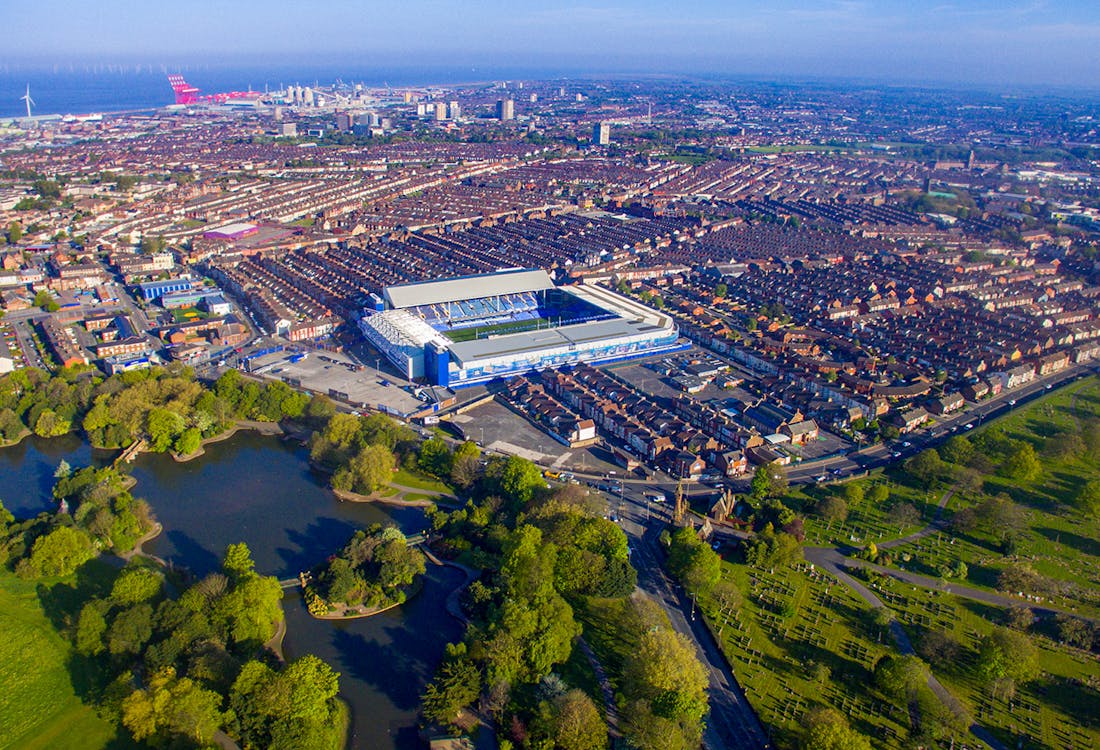 Where: Goodison Road, Liverpool
Capacity: 39,572
Steeped in tradition and football lore, Goodison Park stands as a monument to Everton FC, one of the oldest clubs in English football. Opened in 1892, it has the unique distinction of hosting more top-flight football matches than any other stadium in England. The most iconic stands here are Bullens Road and the Gwladys Street End, each echoing with fans and memories of when Everton was top notch! While Goodison Park retains its classic charm it has modern touches. Make sure to pay homage to the famous Dixie Dean statue, a tribute to one of football's greatest goalscorers.
Goodison Park was the first stadium to have under-soil heating and the first to have a two-tiered stand.
10. Villa Park, Home of Aston Villa FC
---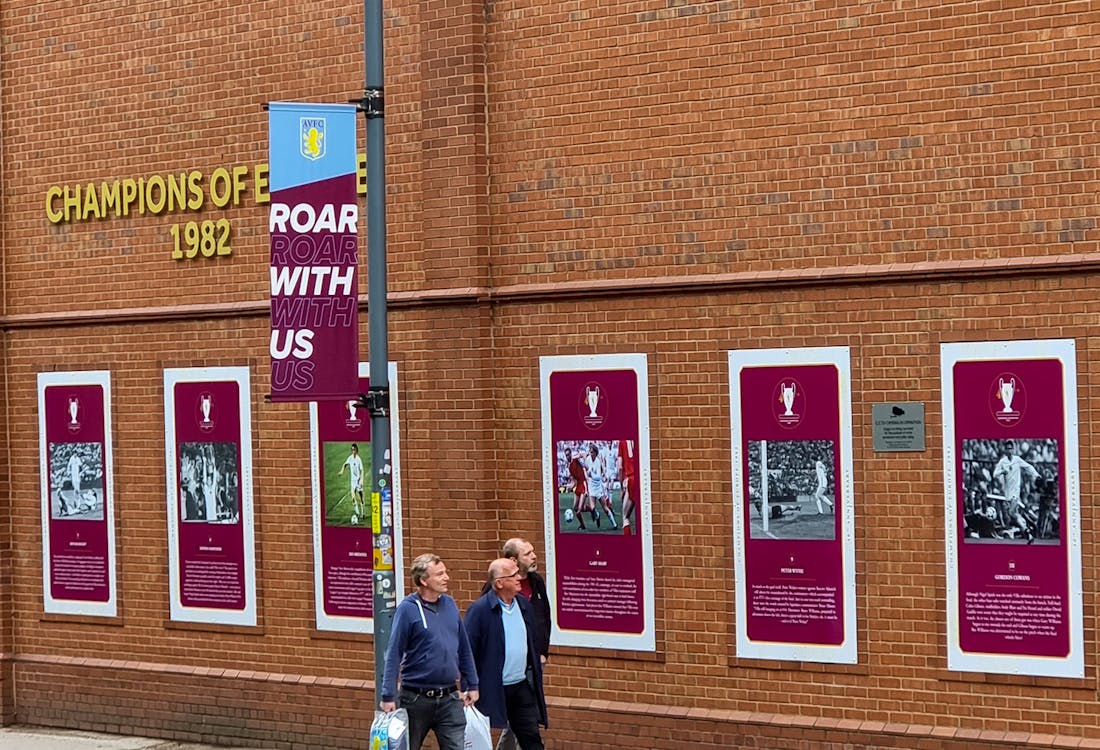 Where: Trinity Road, Birmingham
Capacity: 42,657
A symbol of tradition, resilience, and footballing passion, Villa Park has been the beating heart of Aston Villa FC since 1897. And in that time, it really has seen the highs and lows of the club - from triumphs to relegations. Don't forget to visit Villa Park's renowned stands, such as the Holte End, The Trinity Road Stand and the Doug Ellis Stand, which have become legendary in English football. If you're a fan of the claret and blue, a trip to Villa Park is not just a game day; it's a journey through time, filled with memories and a sense of belonging. Don't miss the iconic bronze statue of William McGregor, a club director and one of the founding fathers of the Football League. The Foo Fighters are set to have a concert there in 2024 in case that's more exciting for you than the football!
Villa Park is one of the few stadiums to have hosted international matches over three different centuries. It is also considered a Grade II listed building, which means that it is considered to be of architectural or historical importance.
11. London Stadium, Home of West Ham United FC
---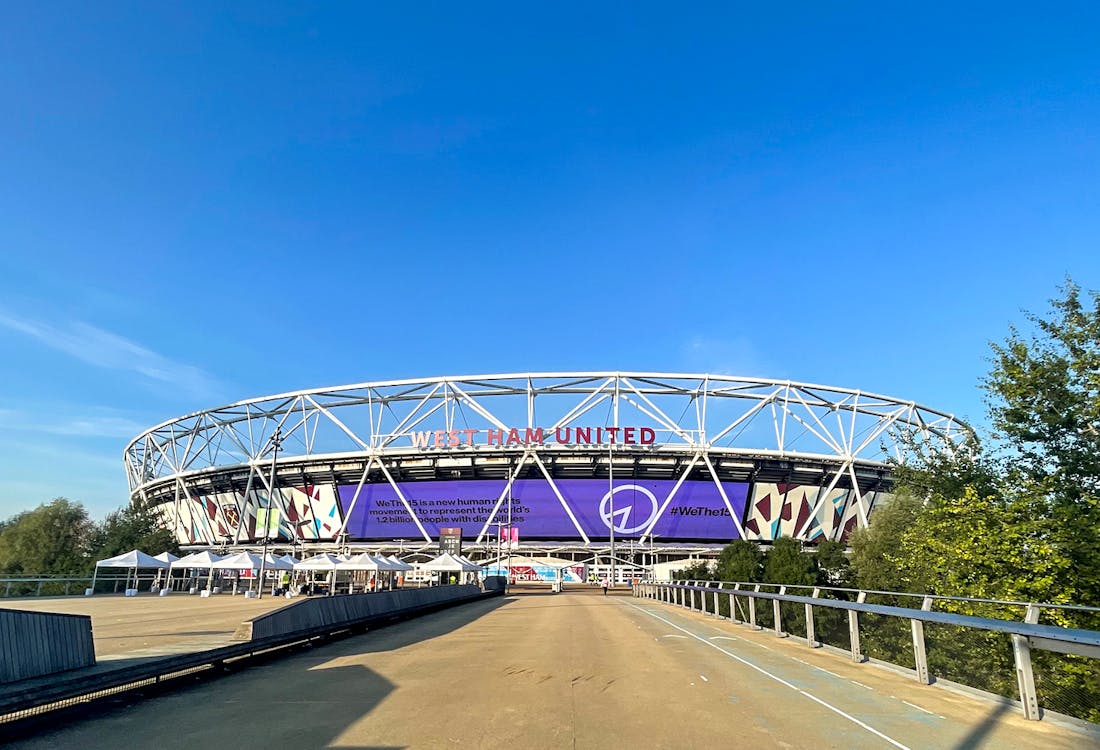 Where: Queen Elizabeth Olympic Park, London
Capacity: 60,000
A venue that epitomizes the blend of history and modernity, London Stadium is the iconic home of West Ham United FC. Initially constructed for the 2012 Olympic Games, the stadium underwent significant transformation before becoming West Ham's home in 2016, representing a new chapter in the club's storied history. If you're a Hammer, then you cannot miss the Legends Tour, a 30-minute session with two former players. You can even get signed photos if you pick this option. London Stadium also has an observation deck that offers panoramic views of the Queen Elizabeth Olympic Park and the surrounding area. Most times, that view is better than the scoreboard for West Ham. The highlight of the matchday experience is the bubble machine right before kick-off, and it all goes downhill from there.
London Stadium's transformation from an Olympic venue to a football stadium involved the reconfiguration of seating, the creation of the largest cantilevered roof in the world, and the preservation of the iconic triangular floodlights.
Best Premier League Stadiums