Uffizi Gallery Reopens - 4th May 2021
---
Uffizi Gallery has officially reopened on 4th May 2021. However, new guidelines have been put in place by the authorities to ensure a safe and enjoyable environment for all visitors.
Safety Measures in place at the Uffizi Gallery
---
All national and regional rules to prevent further transmission of coronavirus apply inside Uffizi Gallery. In particular, people with body temperatures above 37.5 degrees are prohibited from entering (visitors' temperature will be taken at the entrance); the use of the mask covering mouth and nose, is mandatory during the entire stay in the museum and it is necessary to keep the interpersonal distance of at least 1.80 m. Only 450 pax will be allowed inside the museum at a time, as opposed to the 900 that were allowed before. This will help follow the new rules of social distancing in place.

Assemblies of all kinds are prohibited and group tours cannot exceed 10 people. In any case they must always respect the interpersonal distance of 1.80 m and tour guides must always use the whisper system (microphone and earphones), regardless of the number of members of their group.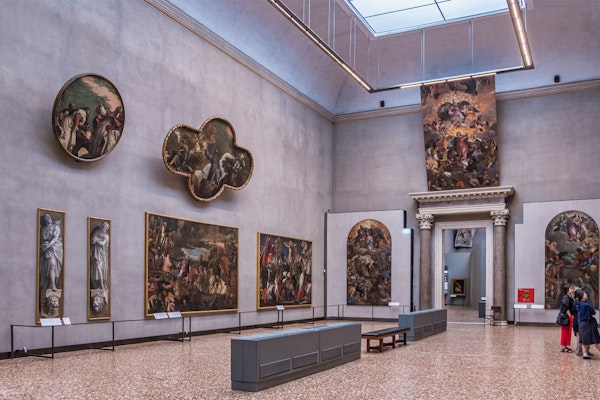 Booking Uffizi Gallery Tickets Today
---
Uffizi Gallery Tickets are available online.
To maintain maximum social distancing , all visitors are advised to book tickets online to avoid overcrowding at the ticketing office. Guests can select the date and time of their choice before making a payment. All visitors are required to reach at least 15 minutes before their selected time slot to avoid any delay. Children under the age of 12 must be accompanied by an adult.
Free admission to the National Archeological Museum and the Museum of the Opificio delle Pietre Dure is given along with the Uffizi ticket.
Uffizi Guided Tours Of 10 Pax Only
Due to safety reasons, group visits must not exceed 10 persons. Guests accompanied by guides must ensure to remain in a group, follow the guide or teacher/ accompanying person. Staff may temporarily close some rooms or itineraries in case of high attendance, in order to safeguard both the works on display and visitors.
Along with the new safety measures put in place, the Uffizi Gallery has also made it compulsory to submit the staff all LAG products and overcoats in order to facilitate inspection operations.
Uffizi Gallery Reopens - Revised Opening Hours
---
Wednesday to Friday, 2 pm - 6:30 pm, Last Entry 5:30 pm
Saturday and Sunday, 9 am to 6:30 pm, Last Entry 5:30 pm
For more information about visiting Uffizi Gallery, refer to the information on museum's official website.