Classical Concerts Tickets in Florence
Top Experiences
Free cancellation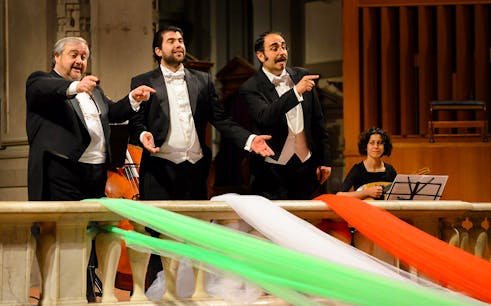 Book Tickets to Florence Concerts

Florence is widely known all over the world as a hub of classical music. Classical music artists from all over the world flock to the city for education and professional experience. Many stay back to perform in the city's various concert groups and orchestras. So Florence has become one of the bucket-list spots to attend a classical concert. Florence concerts are often elaborate, with internationally renowned groups playing the music of the Maestros - Beethoven, Bach, Mozart and others. Many of these concerts happen in churches like Santo Stefano al Ponte Church, Chiesa di Santa Monaca, St. Mark's Church and others, making the setting even more ethereal. So book your Florence concert tickets today and experience a divine musical event that you will remember for a lifetime.
What is the Easiest Way to Book Tickets to Florence Concerts?

The easiest way to book tickets to Florence concerts is to get them online. Not only will this save you from having to stand in line for hours and get sub-par tickets, but it may also save you money as there are many attractive deals and discounts on online ticketing websites and apps. Online booking portals also operate 24/7, therefore you can get your tickets from any corner of the world at a time that is convenient for you and make safe and secure transactions. Enjoy all these benefits when you book Florence concert tickets online!
Where Can I Find Discounted Tickets to Florence Concerts?

No matter when you check an online platform to get your Florence concert tickets, you will usually find exclusive discounts and money-saver deals on them, especially if you're a first-time customer. Plus, you'll be able to compare the prices of multiple websites and settle on the Florence concert tickets that suit your needs. Be sure to check if there are loyalty programmes that will save you money if you're a frequent buyer of Florence concert tickets. Save money and experience what you love — all with your Florence concert tickets!
What to Expect from Florence Concerts?

Florence concerts are some of the most beautiful and popular classical music events all over the world. They often have talented musicians playing popular compositions by the Greats of classical music like Bach, Mozart, Chopin, Vivaldi and others. They may be solo concerts on particular instruments like the violin or piano, or they may be orchestral concerts with conductors and even vocal artists. Many Florence concerts take place in churches, which give them an added layer of charm, with the historical surroundings and the magnificent acoustics. You will have to visit a Florence concert yourself to understand the attraction they hold. Once you have, there is no turning back.
What is the Dress Code For Attending Florence Concerts?

Usually, it is recommended that guests wear semi-formal or formal attire at classical music concerts all over the world. This is just to comply with the convention of going to concerts that have been followed for hundreds of years. At Florence concerts, too, it is advisable that you wear covered shows and formal evening wear — it is best to avoid jeans, shorts and other casual clothes. It is especially important to be dressed sensitively at places of worship like churches, which are often classical concert venues in Florence.
Is Photography Allowed During Florence Concerts?

Photography and videography are strictly prohibited during most Florence concerts. It is advisable to seek prior permission from the organizers if you wish to record the performance.
Can I Cancel My Florence Concert Tickets?

The cancellation policy depends and varies on the type of Florence concert ticket you choose. While some Florence concerts do allow for cancellations, some do not. Please make sure to check the cancellation policy on your preferred Florence concert ticket before making the purchase.