Florence's Uffizi Gallery is known to be one of the most-visited art museums in Italy and is home to some of the popular masterpieces from Western European art history. Spread across three floors, you will witness some extraordinary work from paintings to sculptures dating from the Middle Ages to the Renaissance and will travel back in time to discover a world of art back in the era.
With more than 2 million tourists visiting every year, the Uffizi Gallery is one of the most visited ones and we are here to help you make the most of your visit – from exploring stunning art, insider tips, how to get there, and more.
Grab Uffizi Gallery Tickets
---
If you're heading to the Uffizi Gallery, make sure to check out the different Uffizi Gallery tickets available beforehand.
Some of these are guided tours, which have their own perks. If you want to discover whether you should take an Uffizi Gallery guided tour, read up here before booking one.
Uffizi Gallery Entrances Explained
---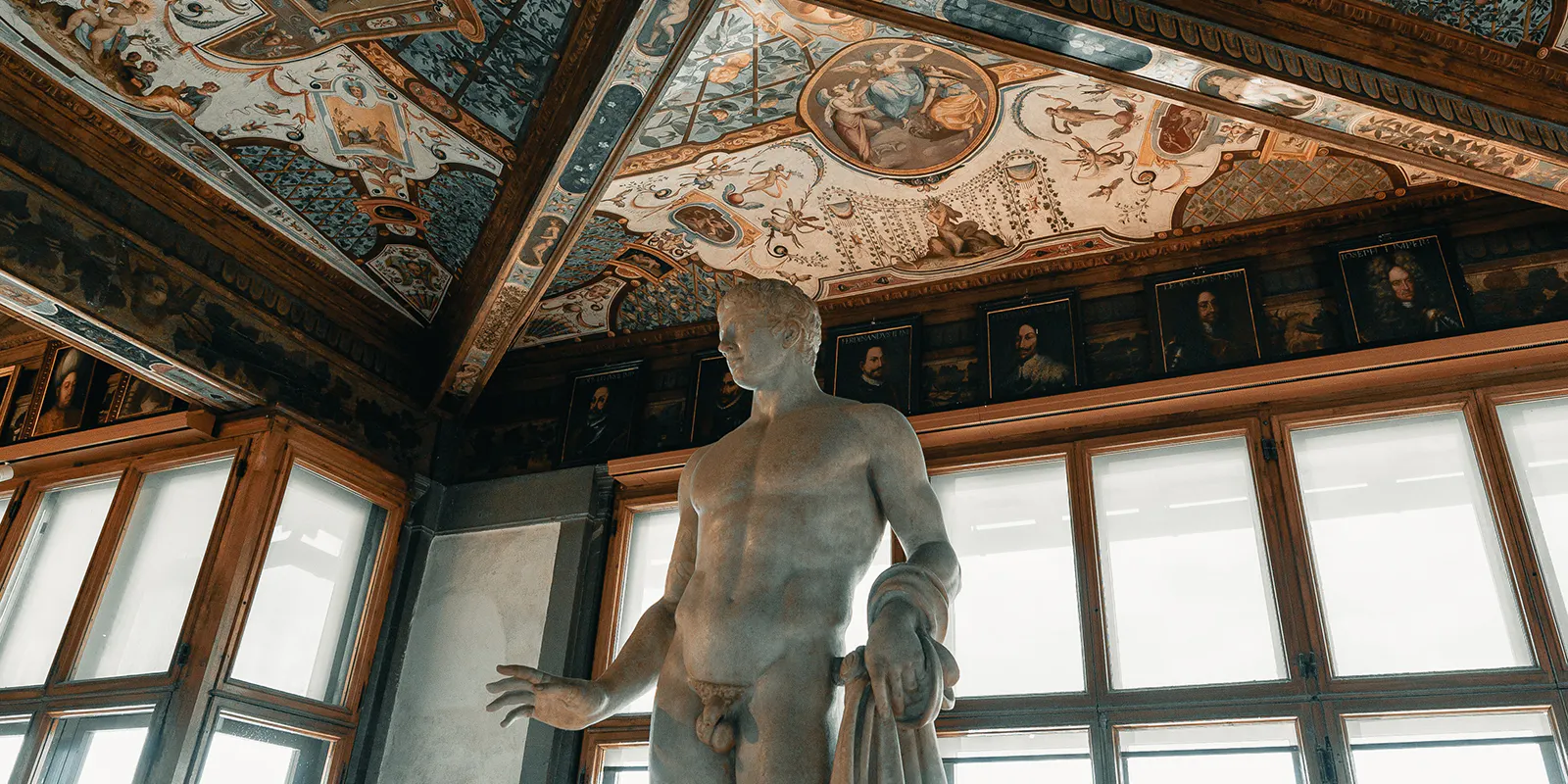 If you are trying to figure out entrances to the Uffizi Gallery, there is not much to worry as there are only two main entrances where you can access the museum from.
Door 1: An entrance reserved for large groups, school groups, or have special reservations at the attraction.
Door 2: This is the door for those who haven't booked your tickets online in advance and are hoping to get one on-site. Buckle yourself up for a long wait in the queues at this door!
Door 3: If you've booked your tickets online, you can skip the long lines at the Uffizi Gallery and head straight to this door, where you can display your booking and enjoy a hassle-free entry into the gallery.
How To Get To Uffizi Gallery Entrances
---
By Car
Within a 300m radius of the Uffizi Gallery, there are two paid parking lots available: Piazza Mentana and Garage Palazzo Vecchio.
By Bus
With a distance of 210m, the closest bus stop to the Gallery is the Galleria Degli Uffizi Bus Stop, lying on the C1 Bus Route.
By Train
If you are opting for a train to commute, the nearest station to the venue is Santa Maria Novella Station (SMN). Take a taxi or a bus to the gallery. If you fancy a walk, it is just 1.4km away from the station.
Can I Park Outside The Uffizi Gallery?
---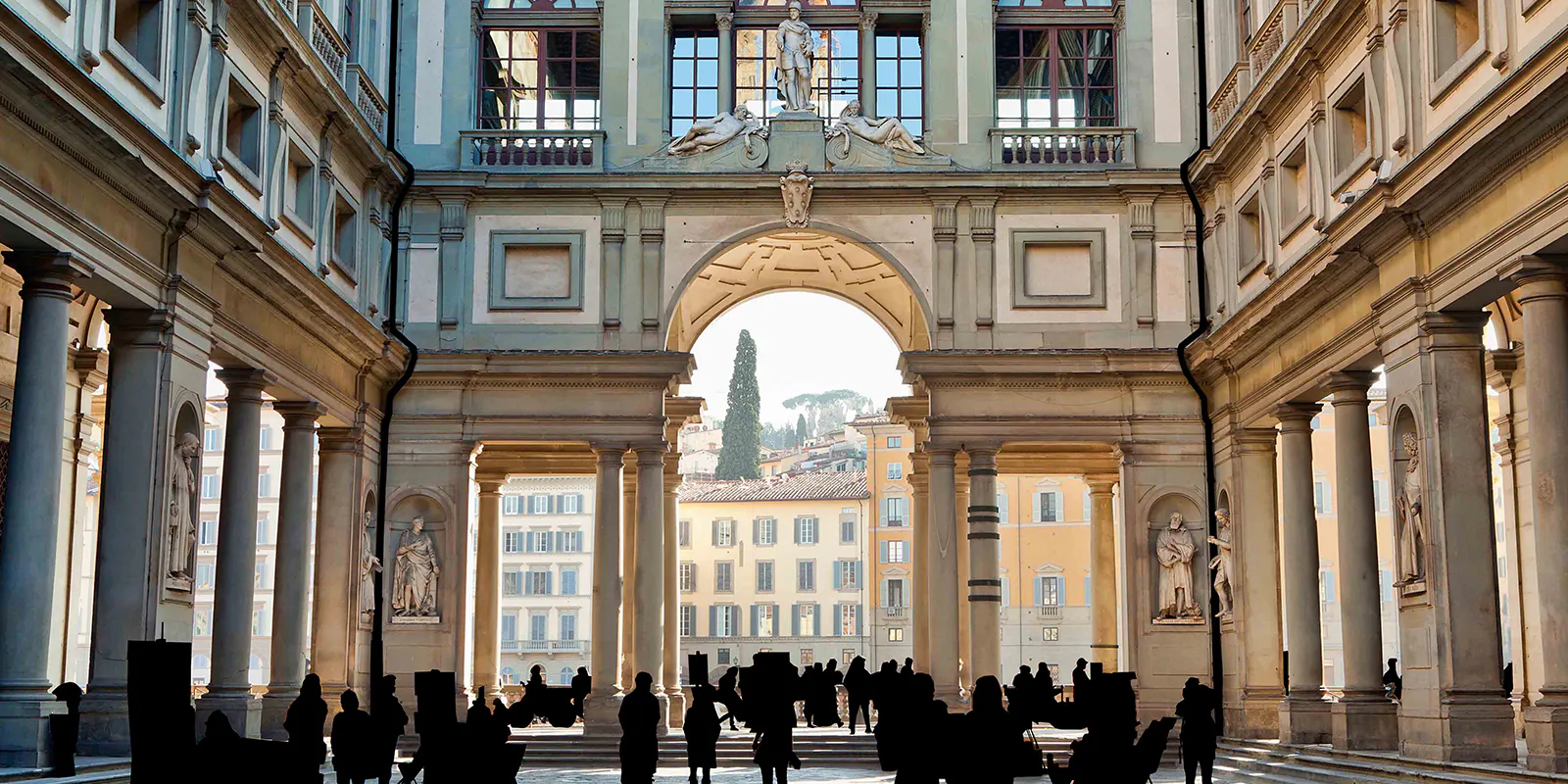 The city of Florence aims to reduce environmental pollution and hence, it is not always easy to find a space for parking anywhere in the open. One alternative to park outside the Uffizi Gallery is by reserving a parking space online and getting a permit. You can enter the ZTL zone for two hours on arrival and departure.
However, if you wish to find parking outside the ZTL zone, you can find a large zone outside the ZTL zone. The ones marked in blue are for everyone, including the tourists, but are chargeable. There are also multi-story car park regions that can be used.
Insider Tips: The Uffizi Gallery Entrance
---
Head Early: If you have not purchased your ticket online, we recommend you to be up in line at least 30 minutes before the museum opening time. In the case of a peak season, it is highly unlikely that you would get a last-minute ticket.
Book in Advance: The best way to go about your visit is by booking your tickets online well in advance. You will be guaranteed to spend less time in line. Just ensure you show up 15 minutes prior to your ticket time.
It's a Free Day: State museums are generally free of charge on the first Sunday of all months in Italy. If you can plan your trip around this area, you can go in for free. Be brave to face the crowds, in and out!
Visit During Off-Season: From November 1st till the end of February, the tickets cost half as much as they would during the peak season.
Kids Walk-In For Free: Children under the age of 18 can visit the museum with their families for free.
Travel Light: On your visit to the Gallery, make sure you don't have any luggage on you as you can save time from having to dump everything at a counter. If you have backpacks or any object, you can keep your things for free in the cloakroom near the entrance close to the ticket office.
Take an Audio-Guide or a Guided Tour: You can explore your way through the gallery and learn all about world-class art with the help of an audio guide or a guided tour. You get a complete insight to the place, thus making the most of your visit. We recommend you to keep 2-3 hours to fully explore the museum.
Go to the Top Floor for Fine Art: Explore treasures by Da Vinci, Michelangelo, and The Birth of Venus on the top floor that are pure gems.
Cafeteria: Enjoy panoramic views of Florence by sipping on a hot cup of coffee in the second-floor cafeteria.
Accessibility: The space is disabled-friendly. Wheelchairs can be used free of charge and are entitled to a priority entry for themselves and those accompanying them.
Photography: Photography is allowed only for your personal use. Your phone camera is ideal to capture photographs in the Uffizi Gallery.
Combo Tours: If you're in Florence for a few more days, we highly recommend you get yourself combo tours. This way, you get to experience multiple Florentine attractions in a single ticket!
Book Uffizi Gallery Combo Tickets:
Ready to Head to the Uffizi Gallery?
---
Purchase discounted Uffizi Gallery tickets via Headout today! Explore Uffizi Gallery in a hassle-free fashion with all the need-to-know information in hand.
Fancy heading out to some other stunning Florence attractions? Take inspiration from our list of the best things to do in Florence here. Use our comprehensive Florence Travel Tips & Guide to explore the rest of Florence in a hassle-free fashion with all the need-to-know information in hand.
In Florence for a few days?
In the city for a few days and want some help charting out an itinerary? Check out our 1 day in Florence and our 3 days in Florence itineraries for inspiration.
FAQs: The Uffizi Gallery Entrance
---
The Uffizi Gallery has 3 entrances: Doors 1, 2, & 3.
For special reservations and bookings, take Door 1.
Take Door 2 if you haven't booked your tickets yet.
For online bookings, take Door 3.
If you wish to find parking outside the ZTL zone, you can find a large zone outside the ZTL zone.