Pompeii was once a thriving city that is now a UNESCO World Heritage Site frequented by travelers from all across the world. After the devastating eruption of Mount Vesuvius in 79 A.D., the entire city was buried under layers of volcanic ash and pumice. This has resulted in the perfectly preserved remains of the city's streets and houses, which are a major attraction for history buffs and tourists visiting southern Italy. For this reason, the ancient city of Pompeii is often heavily crowded and it can take a long while to gain entry access to this historic site. Learn how to efficiently skip the lines at Pompeii!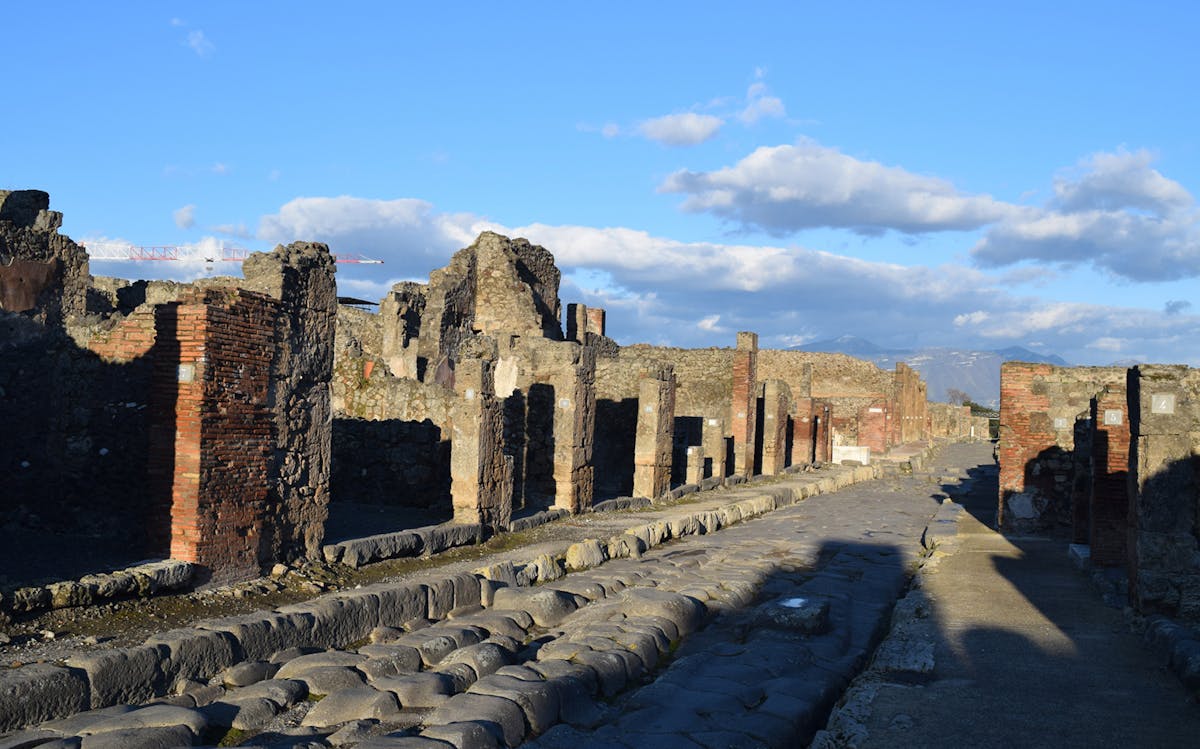 Wait Times - What to Expect at Pompeii
---
Pompeii is an important historical city, which has been preserved due to the catastrophic volcanic eruption in 79 A.D. that ended up burying it under layers of ash and lava.This archaeological site is one of the most well-known historic sites in Italy, and is often packed with tourists from all corners of the world who are eager to explore its streets and preserved remains.
Needless to say, Pompeii can become quite crowded and you may need to wait long hours before gaining entry to this UNESCO World Heritage Site. This is why it is a good idea to book skip the line Pompeii tickets so you can spend more time in the attraction, rather than outside it.
5 Ways To Skip The Lines at Pompeii
---
Now that you know how long the lines to get tickets are, you also know how important it is to plan in advance. Here are 5 ways you can skip the lines at Pompeii and make your visit a memorable one:
#1 Pre-Book Your Pompeii Tickets Online
Booking tickets online comes with many advantages. Not only can you reserve your tickets from the comfort of your home and choose your preferred dates without the distractions and crowd at the ticket counter, you can also avail discounts by making a booking in advance. Why stand in long queues for tickets when you can easily book them online and walk straight in at the attraction?
#2 Book dedicated skip the line tickets
If you want to go a step further, you may want to consider booking dedicated skip the line tickets to gain access to the ruins of Pompeii right away. These tickets would grant you premier access and take you right past the waiting crowds and straight inside the venue.
#3 Opt for Guided Tours
Usually, Guided Tour options come with Skip the Line access which will allow you to avoid standing in long lines for endless hours, and simply meet your tour guide inside the venue. Exploring the archaeological site with a local guide in a small group of 20 or so visitors will be a memorable experience.
#4 Beat The Crowds- Visit During Early Hours
One of the most straightforward ways to avoid standing in the lines before entering Pompeii is to simply visit the attraction during the least crowded times of the day. Since the crowds are always much thinner during the early hours of the morning, we suggest timing your visit accordingly.
Buying Skip the Line Pompeii Tickets
---
Skip the line Pompeii tickets not only save you time that would have been spent waiting in long lines, but also helps you save money. It's the go-to purchase for those who want to explore the historic site at their own pace.
For more promo codes, check out Headout Promo Codes, Deals and Offers.
Best Time To Visit Pompeii
---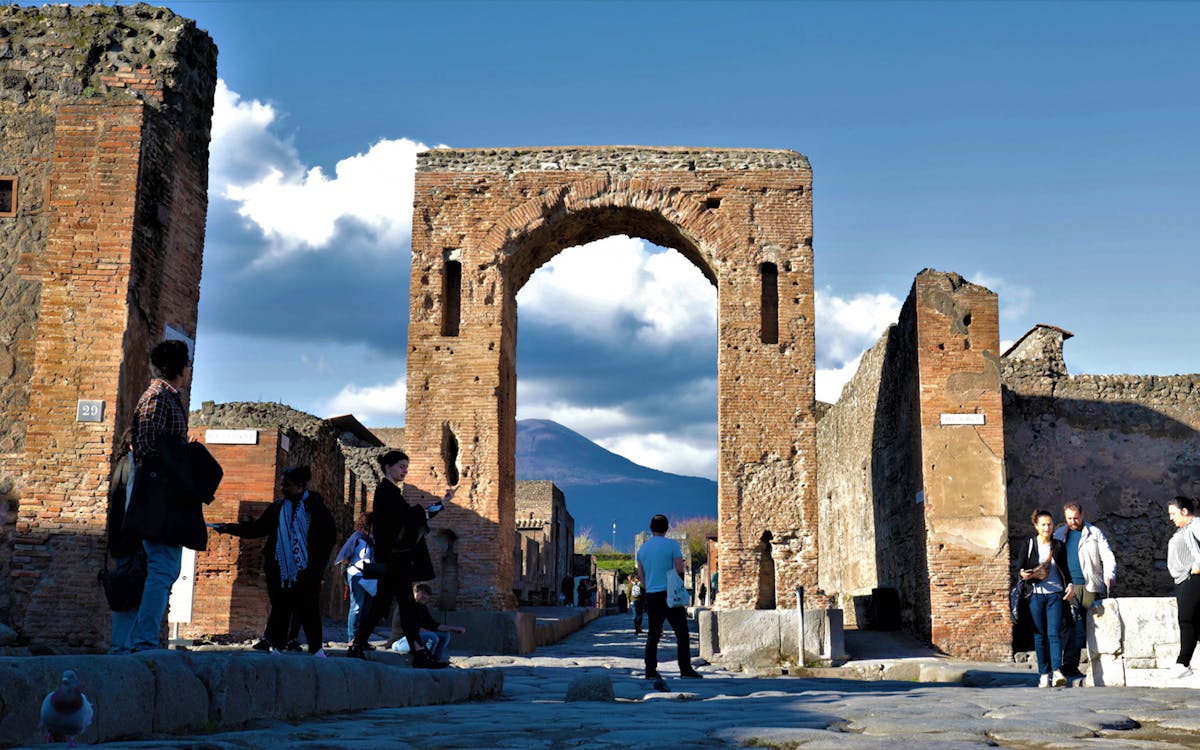 The best time to visit Pompeii is during its early opening hours, in the morning or in the afternoon. Owing to its popularity as a historic site, it is heavily frequented by tour groups and families. Since most tour groups arrive during the peak hours of 10 to 11 AM, you may wish to avoid visiting the site during those hours if you're looking to avoid crowds and long queues. Try and arrive early so you can be among the first in line to gain entry and explore this wondrous historic site. Do note that the site is likely to be crowded on Saturdays and Sundays, so a weekday will be your best bet to explore the ruins of this age-old city.
Pompeii Location & Opening Hours
---
Opening Hours
Pompeii is open almost every day of the year for sightseeing.
Normal opening hours are from 8:30 AM - 7:30 PM
Nov - March: 8:30 AM - 5:30 PM
GETTING TO POMPEII
Pompeii is just 26 km or 30 min away from Naples.
The easiest way to get to Pompeii is the Circumvesuviana train between Naples & Sorrento.
Pompeii Skip the Line Reviews
---
Reservation made a week before. Everything went very well: the tickets were accepted without problems; the discovery of Pompeii took place in very good conditions.
- Florence, Headout, May 2022
1st purchase on this site for entrance tickets to Pompeii, fast, efficient and you also used a reduction for an additional purchase Very good, it saves me from queuing at the Pompeii counter.
- Huguet, Headout, Apr 2022
Handy Tips: Skip The Lines At Pompeii
---
Remember to wear comfortable shoes to explore the historic site conveniently.
Get an early start to your day with a heavy breakfast so you can power through the day and have enough energy in case you're choosing a guided tour, or are arriving early to skip the lines.
If you're visiting in the early morning, make sure you cross check the opening hours and arrive 20 to 30 minutes early if you want to be one of the first people in line to gain entry.
While booking a guided tour, keep your ticket details handy to gain skip the line entry without any hassle.
If you want to avoid standing in long lines, then we suggest visiting Pompeii on the weekdays and avoiding it on weekends, or during public holidays, as those days are usually crowded.
Skip The Lines at Pompeii: FAQs
---
Skip the Line: Pompeii Guide
There are many ways to skip the lines at Pompeii. You can visit the archaeological site during its least crowded hours, or book special skip the line tickets. Even a guided tour is a great bet to get priority access and enter without having to wait in long lines.
Since Pompeii is a well-frequented archaeological site, and is also listed as a UNESCO World Heritage Site, it can get quite crowded. So it is a good idea to purchase skip the line tickets while visiting Pompeii as it will save you the hassle of spending a long time in waiting lines.
If you're looking for ways to skip the lines at Pompeii, you may want to consider booking dedicated skip the line tickets, or simply making advance bookings online, to avoid standing in queues for tickets at the venue. It is worth a shot to visit Pompeii during its less crowded hours as well.
Typically, the wait time at Pompeii can be between an hour or two, depending on the day of your visit and the time.
Although you can complete a tour of Pompeii's ancient ruins within a day, if you want to tour it in depth – you may want to spend 2 days visiting it and exploring the preserved streets and artefacts.