Declared a National Park by the Central Government in 2013, Sierra de Guadarrama houses an enormous ecosystem consisting of multiple biological and scenic elements. Barely an hour's drive away from the heart of Madrid, this National Park transports you to a tranquil moment in the wilderness away from the hustle and bustle of the city of Madrid.
The peak of Peñalara is a magnificent point in this national park at the height of 2428 meters, surrounded by the stunning picturesque view of the 34000 hectares of land that this national park covers. Vast forests, high mountain grasslands, snow-covered terrains, huge rocky areas, streams, seasonal waterfalls, and gorgeous glacial origin make up this national park's entire essence. This composition of ecological balance along with few endemic species and aesthetic values elevates the experience of a holistic time out in the wild.
Sierra de Guadarrama National Park - In a Nutshell
---
Sierra de Guadarrama National Park Timings
Open daily from 8 AM to 6 PM
Know before you go
Best time to visit: May - October
Starting Prices for Sierra de Guadarrama National Park Tickets at €149
Suggested duration: At least 3 and a half hours, 2 - 3 days ideally
Location: Madrid

Address
28741 Rascafría, Madrid, Spain
Get there
Sierra de Guadarrama National Park
---
Acting as a separation between the autonomous regions of Madrid and Castilla León through the Sistema Central, which is the Central System, this striking and luscious mountain range is majorly characterized by the huge definitions of granite rock formations. This national park is highlighted by many cols, out of which Peñalara peak, the highest point in the area, stands out due to its altitude as well as geological and biological uniqueness.
Sierra de Guadarrama National Park is also marked by other features such as Camino del Nevero, Cuerda Larga, the Sierra de La Morcuera, Siete Picos, La Fuenfría, La Pedriza and Peña del Oso. Most of these cols cover about 2000 meters or more in height, and due to this, are a magnificent view throughout winter and spring with their snow-capped ensembles. Below these peaks lie the dense and lush stretches of pin forests, Pyrenean oak woods, alpine grasslands, and much more greenery. This national park is truly a biological wonderland.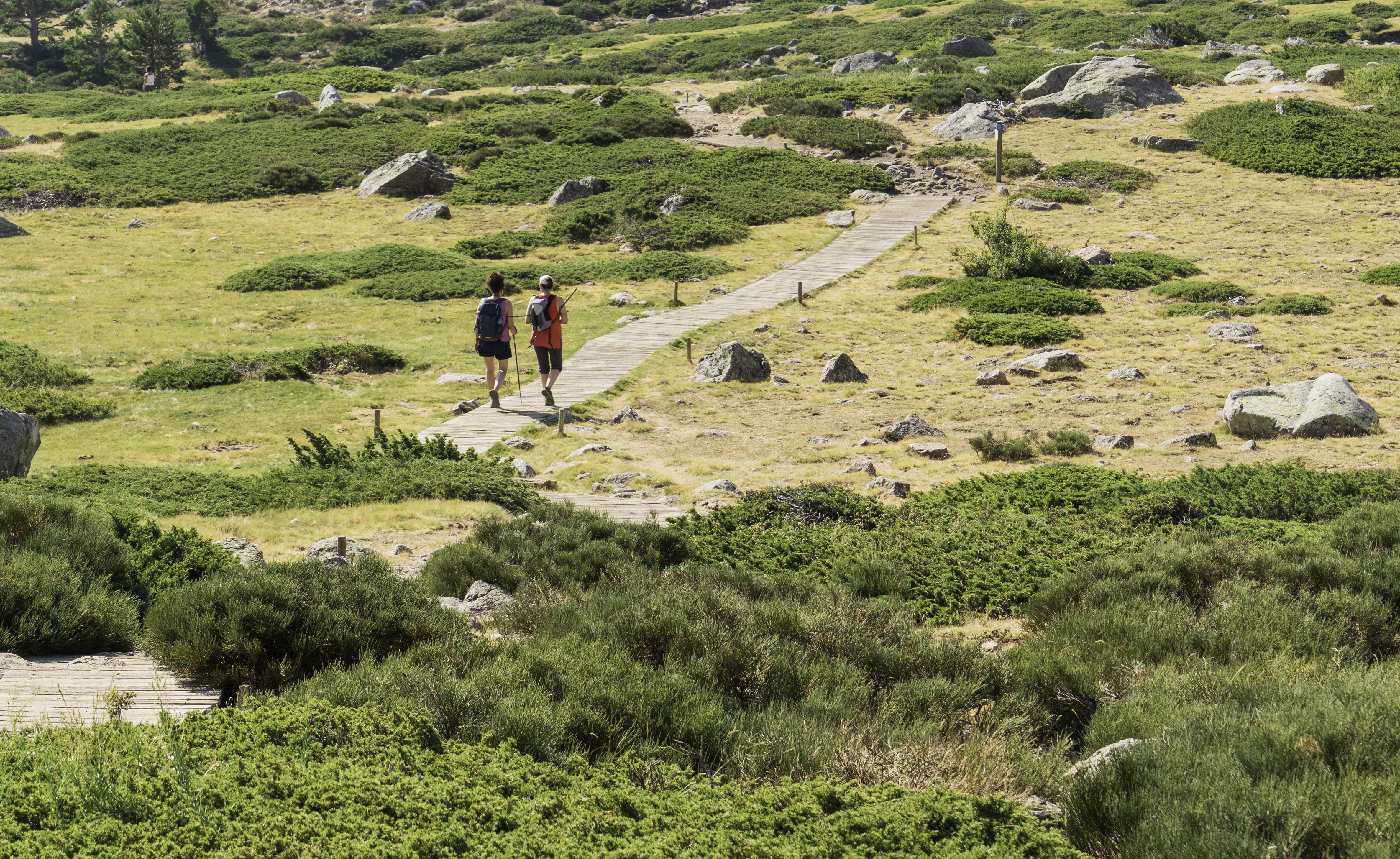 Which Sierra de Guadarrama National Park Tickets should you buy?
---
You can buy tickets for Sierra de Guadarrama National Park online for a hassle-free experience in the heart of the wilderness. We offer a range of tours specially created for all your requirements - you can choose from a range of tickets, from guided tours to rock climbing, hiking, and much more.

Head to our Sierra de Guadarrama National Park tickets section to check out the entire range of tickets and tours handcrafted for you!
Why Visit Sierra de Guadarrama National Park ?
---
Sierra de Guadarrama National Park is the place for all things wild and adventurous. This mountain range not only houses a large variety of flora, fauna, and animal life along with geographical assets, but it also has a range of activities and adventures that you can experience. The most popular sport in this area is cycling, along with other activities like canyoning, horse riding, zip lining, etc, a perfect amalgamation for the wild and adventurous soul within. During the months of winter and the beginning of spring, this location is also perfect for activities like skiing.
This national park reconnects you with nature with its wide collection of flora and fauna including beautiful elements of biological wealth like the Wild pine, Wild broom, Creeping juniper, and Psychroxerophile grasslands. There are records of 43 special trees spread around the area, ones which are enormous and about a hundred years old, out of which 10 are right in the national park. Apart from flora and fauna, this national park is also rich in birdlife with the frequent spotting of specimens like - The black vulture, Iberian imperial eagle, golden eagle, alpine accentor, bee-eater, chough, barn owl, red kite and the wood pigeon. When it comes to mammals, this area is known for the ever-increasing population of Iberian wolves.

Top Things to Do Inside Sierra de Guadarrama National Park
---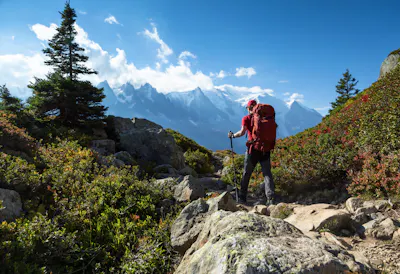 Hiking
It is every explorer's dream to be in the heart of a lush paradise surrounded by striking greenery and scenic perspectives, and this is exactly what the magnificent spread of the Sierra de Guadarrama National Park offers to its visitors. These mountainous terrains offer a range of trails suited for every visitor's choice, from beginner-level to advanced hiking trails. These hiking trails are most enjoyable in warm weather conditions. As winter sets in, the cold weather makes these hikes less enjoyable. .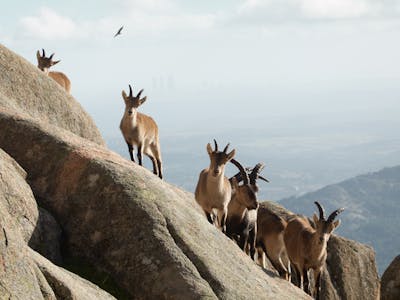 Wildlife Spotting
Sierra de Guadarrama National Park is a rich and dense area that houses about 45% of Spain's wildlife. This is the perfect place to spot a wide range of different species in their natural habitat with about 58 various kinds of mammals and around 133 types of exotic birds. You can spot an array of wildlife creatures here like fallow deer, Spanish ibex, wild boar, Eurasian black vulture, Spanish imperial eagle, and many more.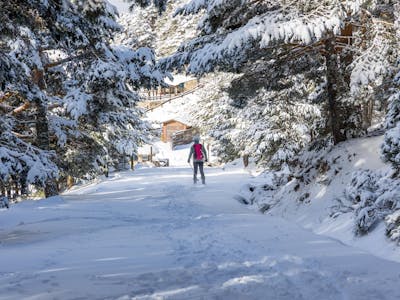 Skiing
Sierra de Guadarrama consists of many peaks, with the highest one - Peak of Peñalara, which is a winter wonderland with these peaks covered in snow. Owing to this beautification in the colder seasons, these peaks are the perfect spot for skiing. You can also enjoy snowboarding on these peaks when snowcapped. Valdesqui and Puerto De Navacerrada are the two most popular slopes in this National Park that are considered the best spots for snow activities with your family and friends.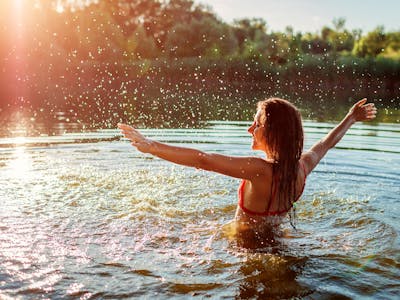 Swimming
Sierra de Guadarrama boasts the addition of another delightful activity - swimming. This national Park serves as a recreational getaway in all seasons. To beat the heat of the scorching sun, head up to the Las Presillas natural swimming pool or the Cercedilla's natural pool in this national park, which are the most popular sites amongst visitors.

Top 10 Things to see Inside the Sierra de Guadarrama National Park
---
There's a lot to see in this national park, are you confused as to how to go about it? Don't worry, let us make it a little easier for you! Check out this list of the top 10 things to see at Sierra de Guadarrama National Park: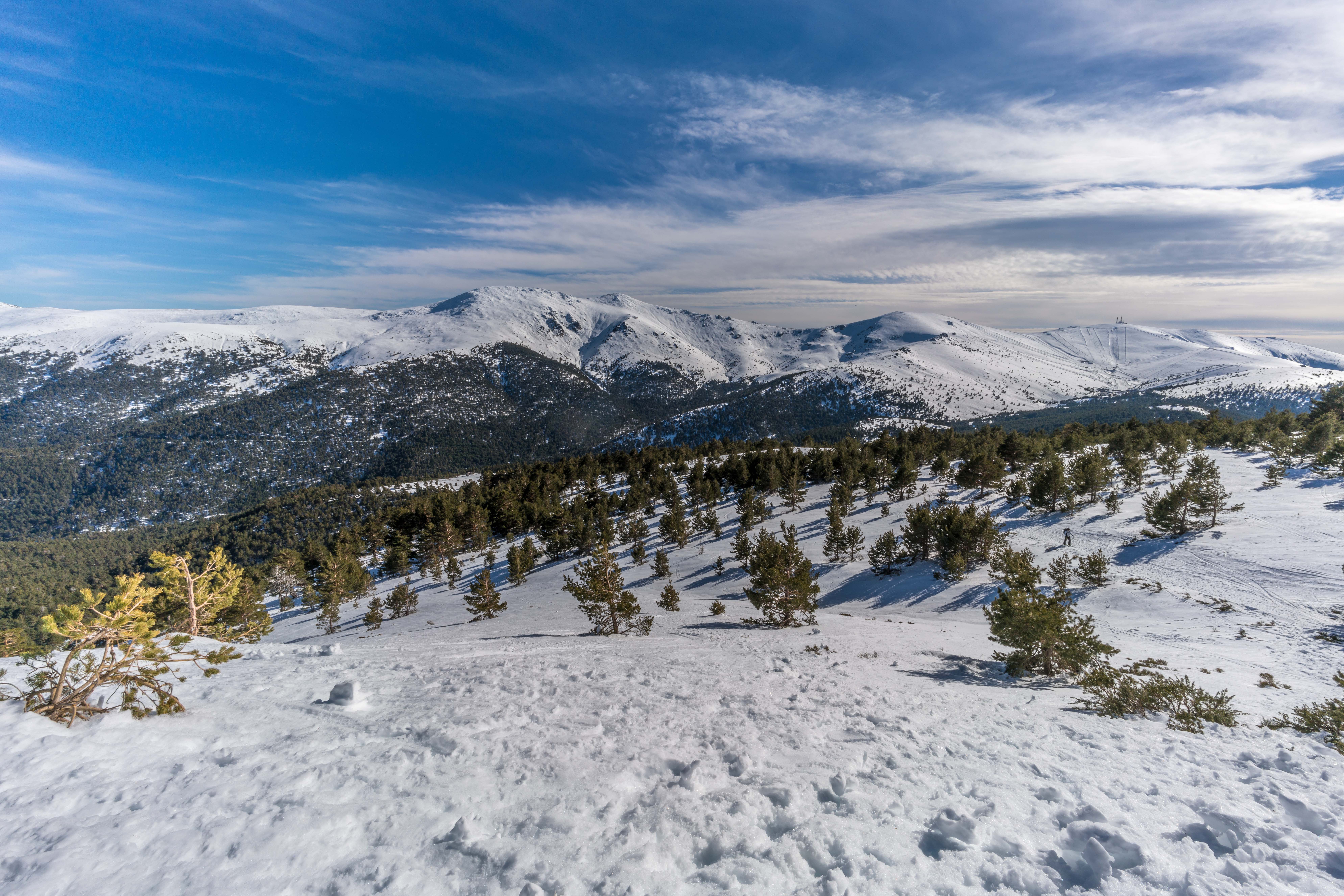 The Peñalara Peak (Pico de Peñalara)
Before the arrival of the Romans, it was the Celtic people who settled around and considered Pico de Peñalara a sacred mountain. This peak is popular with climbers, the ones who are just beginning or for practice, as the way to the summit is considerably easy. There are about 20 glacier lagoons housed on the slopes of these mountains, with the largest one - being Laguna Grande or the Peñalara Lagoon.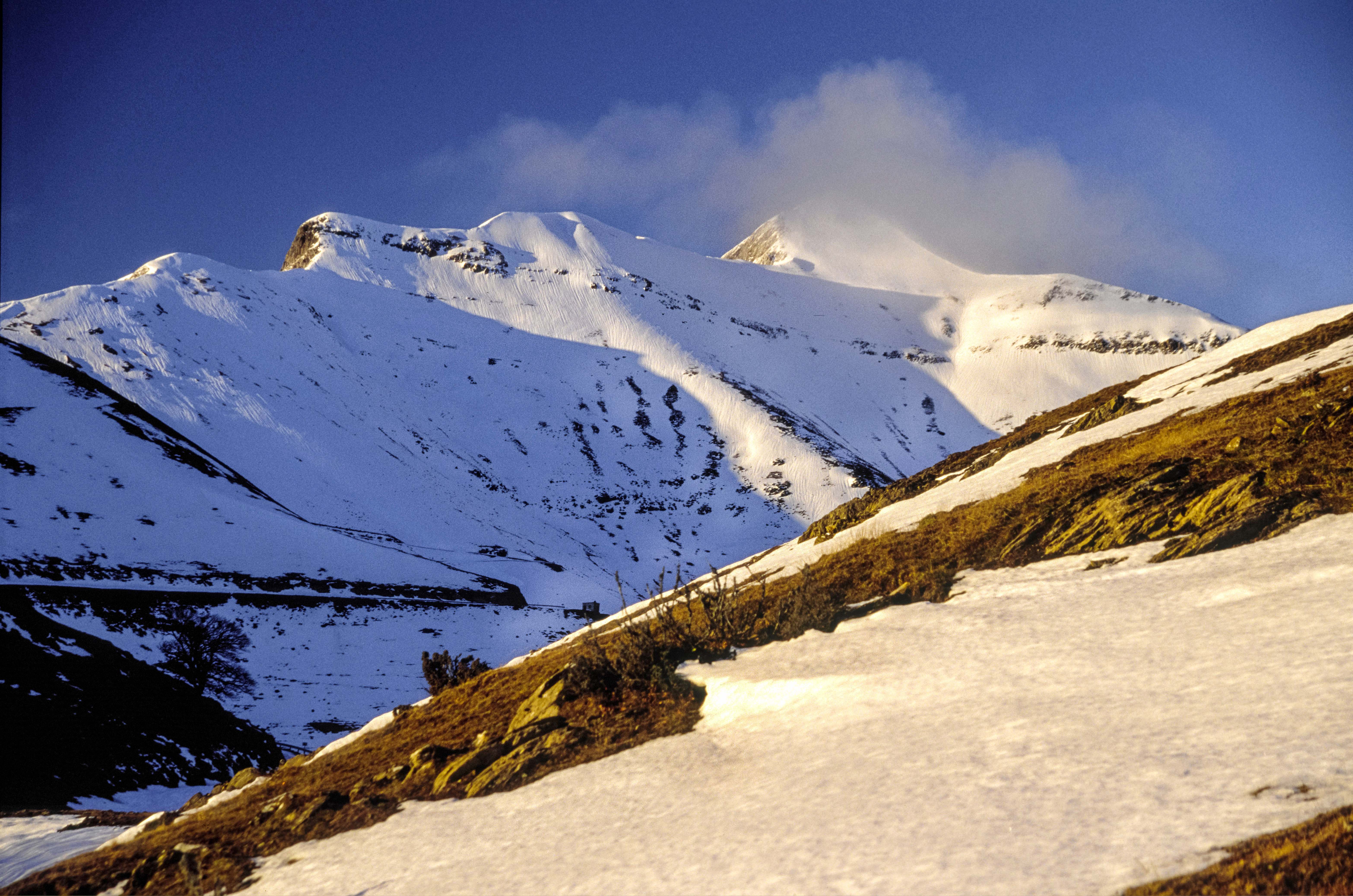 Situated between the regions of the Community of Madrid and the Segovia, Puerto de Navafríais a mountain pass at the whooping height of 1773 meters above sea level. Several paths from this pass lead up to the areas around the peak, The Nevero. Located in the midst of this Navafría pine forest is a gorgeous and rejuvenating cross-country ski resort to make the best of the snow-capped landscapes in the area.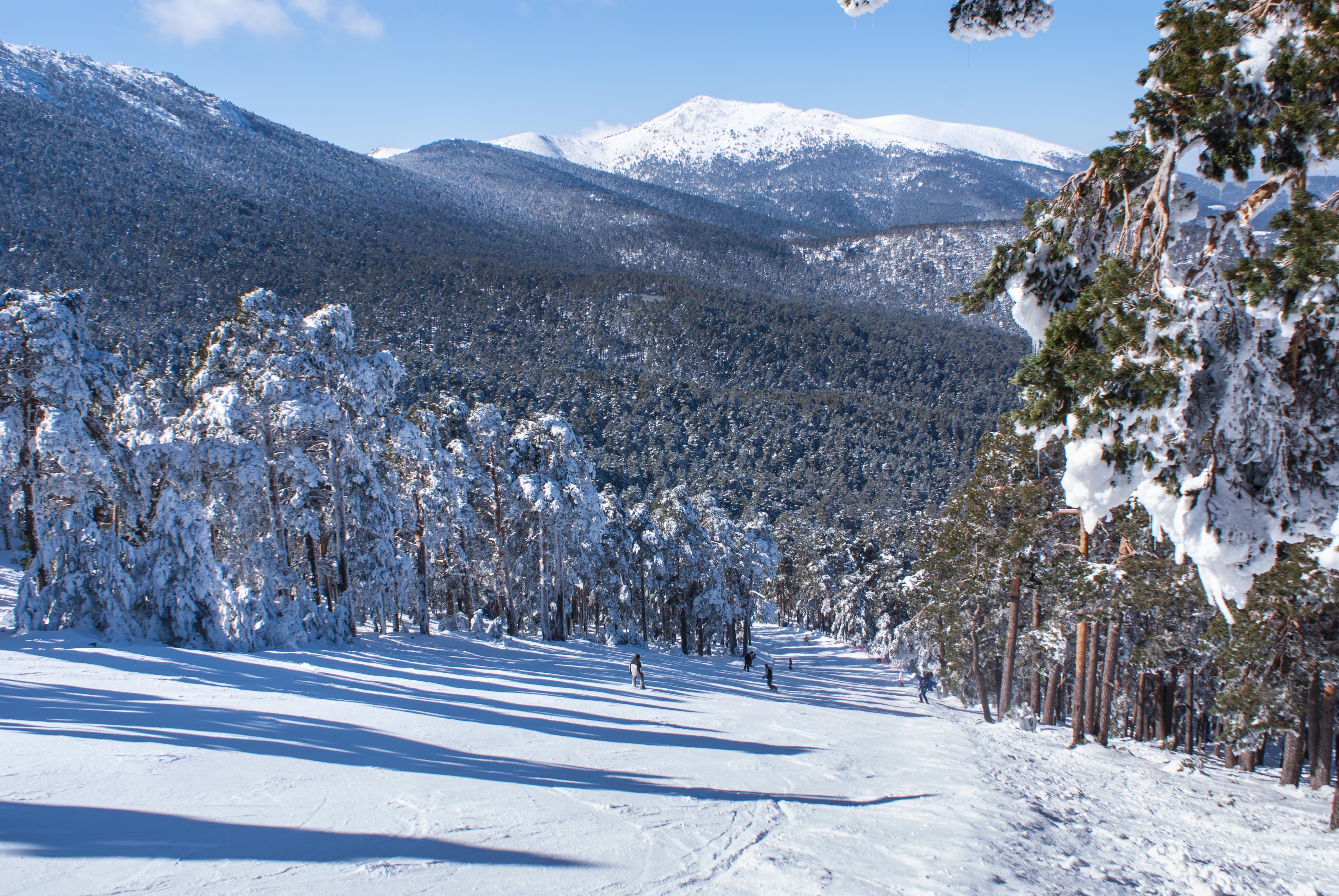 With a heart-racing summit of 2099 meters, the Reajo Alto is a mountain peak located in the northern end of Sierra de Guadarrama. An interesting fact about this peak is that its northwest slope belongs to the Navafría valley and its southeast slope is a part of the Lozoya valley. This majestic peak is adorned by a surplus of pine forests and as you rise to the top, you will notice the dominance of other mountain shrubs like creeping juniper or the broom.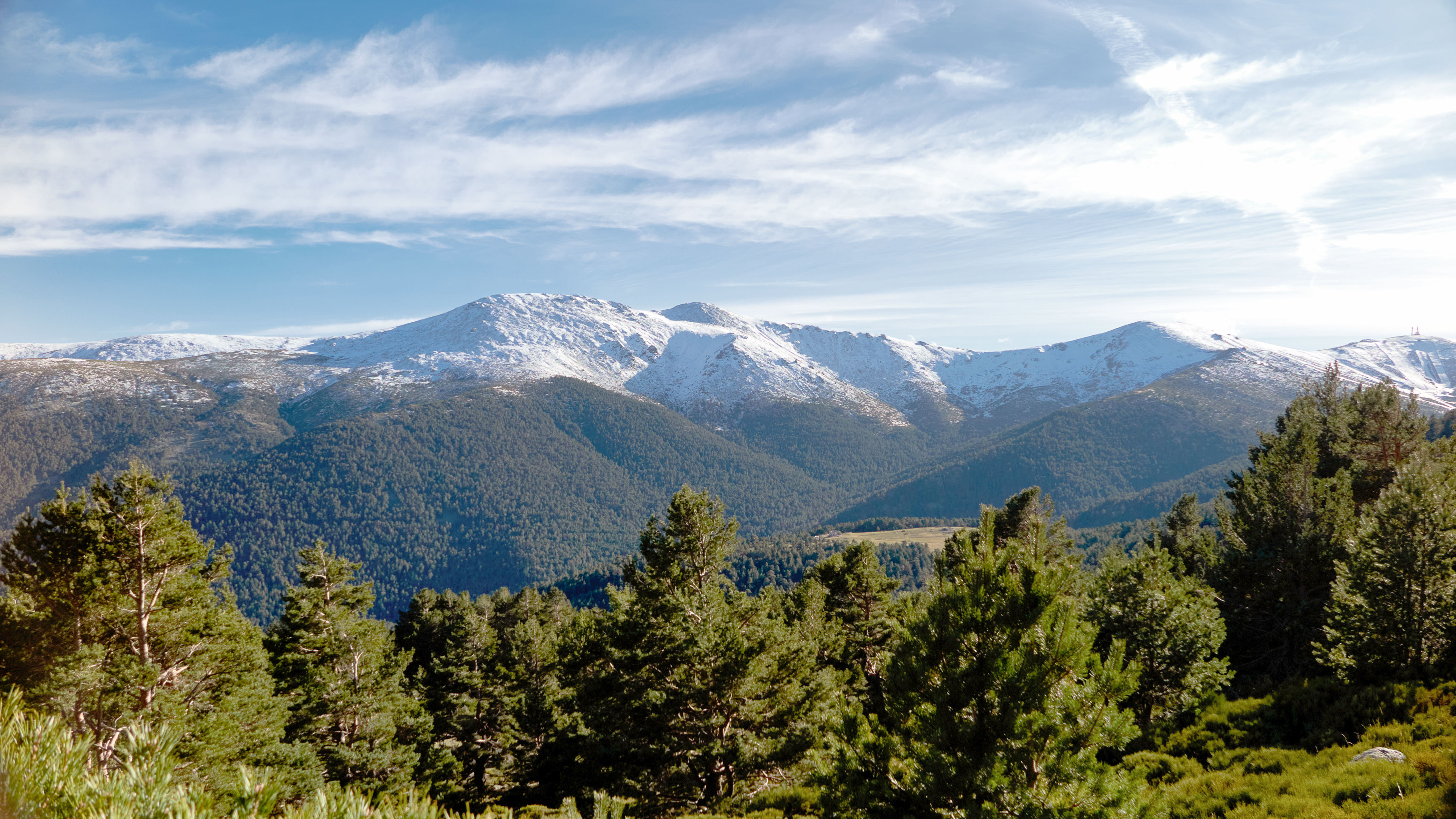 Cuerda Larga is one of the longest mountain ranges offering some of the most striking views of the landscape. It is also one of the highest areas with an almost constant altitude of more than 2100 meters. The highest peak at Cuerda Larga is the Cabeza de Hierro Mayor at a daunting height of 2383 meters. Although it does not require an extremity of technical knowledge of climbing, this crossing is still one of the most exciting yet difficult owing to the distance and unevenness of the terrain.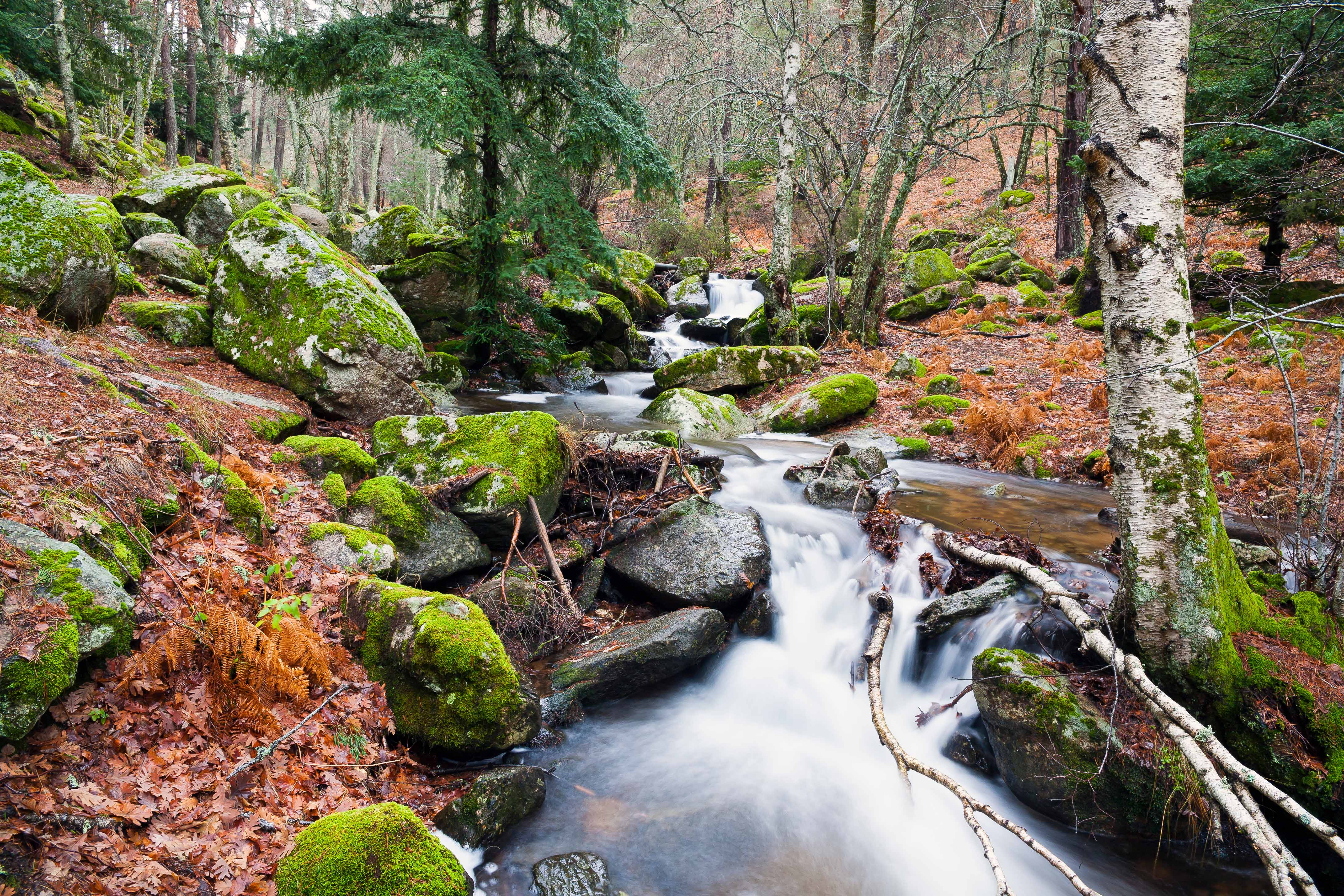 The Sierra de la Morcuera or Altos de la Morcuera is a range of mountains on the southern end of Sierra de Guadarrama spanning about 58 kilometers in length. On the western end of this range is the La Najarra peak with its summit at a height of 2108 meters above sea level. On this western end, the Sierra de la Morcuera joins the Cuerda Larga range forming the southern limit of the Lozoya Valley. Both of these mountain ranges have very similar terrains and orientations.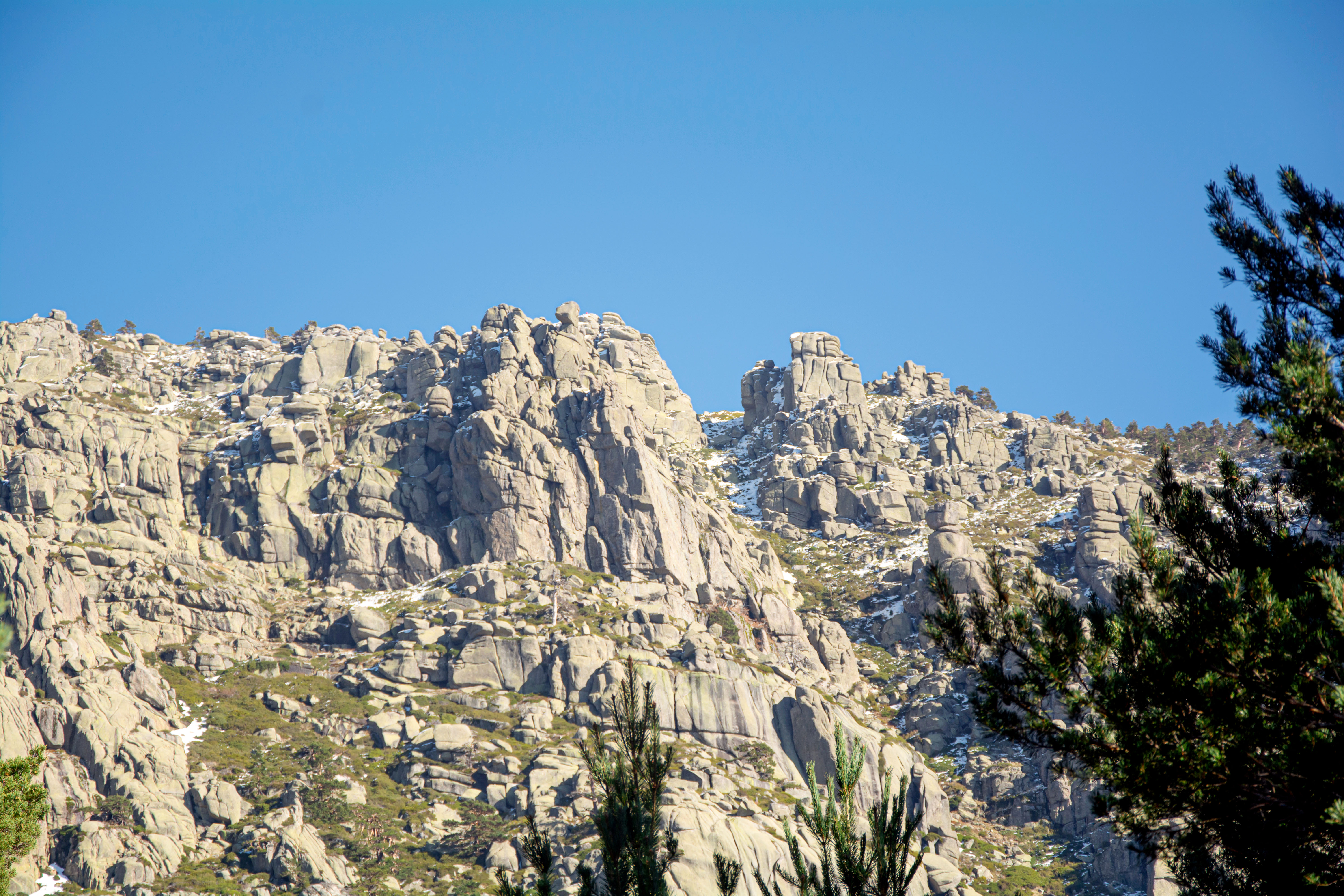 Siete Picos translates to 'seven peaks' and has been named so because of the seven small granite peaks that adorn this mountain and is a popular visual cue for Sierra de Guadarrama. This mountain is shaped like the backbone of a dragon and has mainly rocky features with an ample amount of forest surroundings. Siete Picos is by far the most iconic mountain amongst hikers in Sierra de Guadarrama and one of the most visited ones in the area.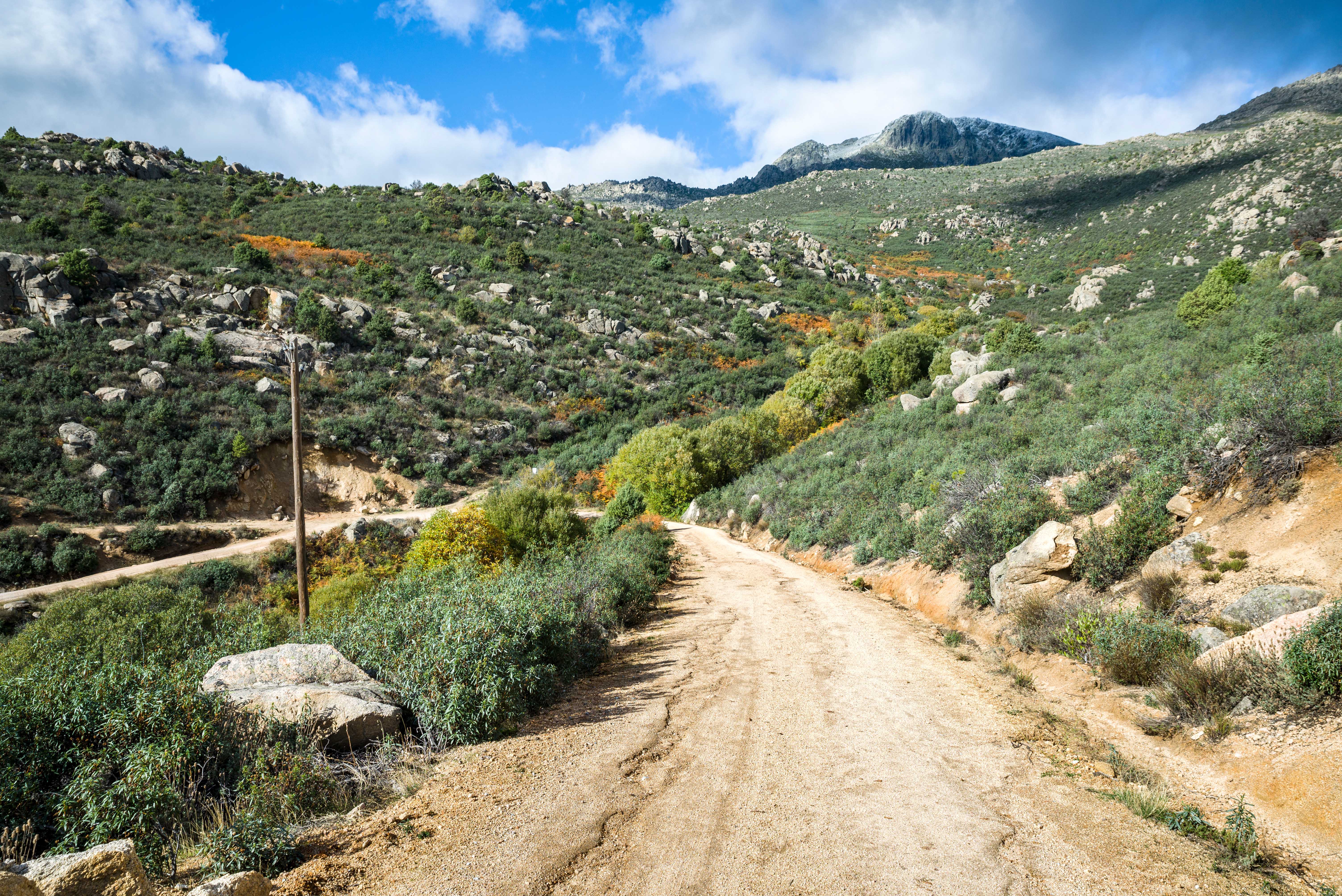 Sierra de los Porrones , also called Cuerda de los Porrones or Cuerda del Hilo, is approximately 7 kilometers in length and is situated in the central region of Sierra de Guadarrama. La Maliciosa in this range is the highest peak with a height of 2227 meters. This range also contains a short-distance trail, PR-M 16, with the beginning at Quebranta Herraduras pass and the endpoint at the top of the highest peak, La Maliciosa.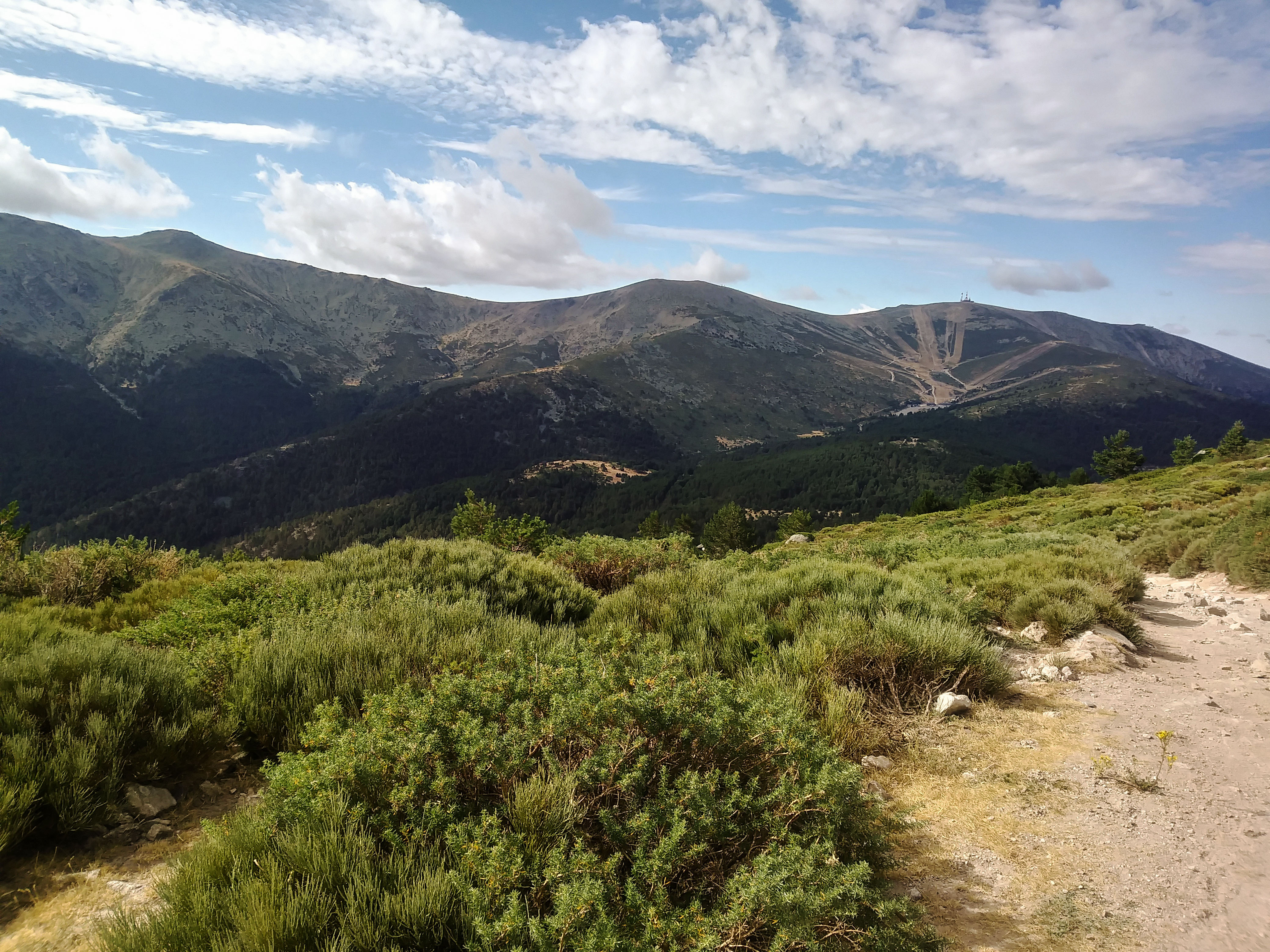 Peña el Oso, also known as Pico del Oso is a centrally located mountain in the ranges of Sierra de Guadarrama with a height of 2196 meters above sea level. The eastern part of the mountain is covered in shrubbery like broom and creeping juniper, and has a wide extension of pine forests as well. The southern part is defined by an old granite quarry. At the top of the mountain is a granite sculpture which resembles a bear.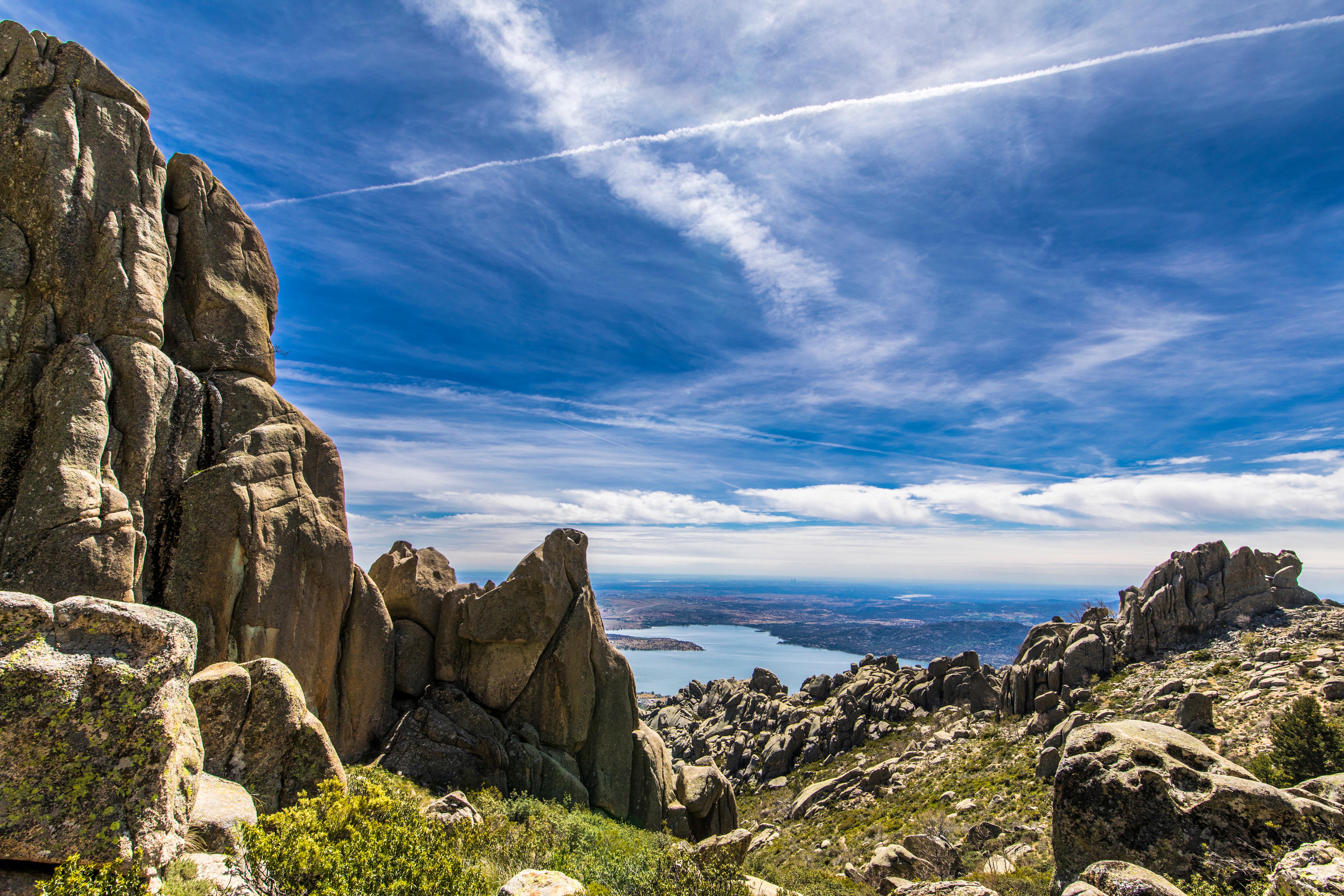 La Pedriza is a unique geographical feature made of boulders and rocks which makes for a majestic scenic area as well as a leisure spot for visitors. La Pedriza is also popular amongst rock climbers due to its eroded granitic outcrops making up a boulder field and offering these climbers a range of difficulties, from beginners to advanced. La Pedriza is also popular for being one of the largest granite ranges in Europe. The vegetation on this range is sparse because of its rocky texture and is occupied by birds of prey in terms of wildlife.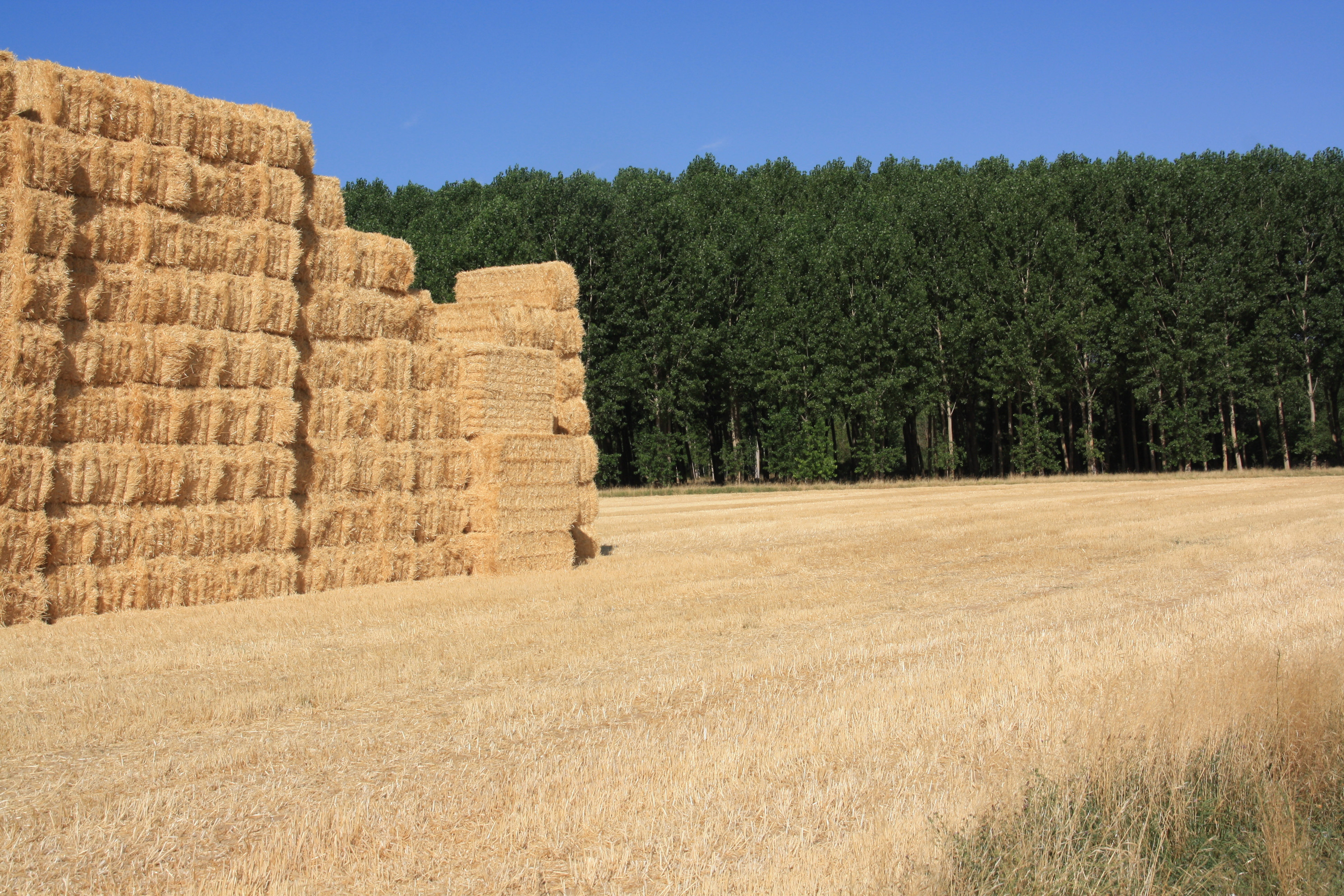 El Montón de Trigo is one of the highest mountains of Sierra de Guadarrama with an altitude of 2161 meters and its silhouette resembles the shape of a heap of wheat from the southern side. Till 2000 meters of altitude on this peak, the natural terrain are covered with pine forests and above that, the mountain is adorned by alpine meadows, high mountain bushes, and rocky topography.
Plan your visit
---
Opening Hours
The Sierra de Guadarrama National Park is open from Monday to Sunday from 8 AM to 6 PM daily.
Blackout dates - 25th Dec and 1st Jan.
Getting to the Sierra de Guadarrama National Park
By Bus
Reaching the national park by bus is definitely the most pocket-friendly and easy option for traveling.
It takes about 1 hour 45 minutes to reach from Madrid, by a direct bus that departs from Madrid Moncloa and drops you off at Ctra. M601 – Club Alpino Espanol.
By Train
No direct trains run from Madrid to Sierra de Guadarrama.
To reach the national park by train, take the train from Madrid Recoletos and get off at Cercedilla. From there take a train to Pto. Navacerrada which drops you off about 3 km away from Sierra De Guadarrama National Park. It will take you about 3.5 hours to reach the national park by train.
By Car
You can opt to reach the national park by taxi or your personal car. Neither of the options is pocket-friendly. You can reach the national park directly by road and it will take you only about 45 mins to cover the distance.
Best time to visit the Sierra de Guadarrama National Park
---
This area receives a very dry summer but during most of the months of the year, from November to April, it receives such low temperatures that it receives snowfall through these months too.
Although the national park has activities for all seasons, the best time to visit would be when the temperature is warmer, from May through October as it makes the hikes and explorations more enjoyable and comfortable.
Map of Sierra de Guadarrama National Park
---
History behind the Sierra de Guadarrama National Park
---
The history of this national park dates back to the 1920s when the Peñalara Mountain climbing society proposed that the Sierra de Guadarrama be declared a national park. Due to some circumstances, this project was put on hold till the beginning of the 21st century and taken over by the Community of Madrid for revival. With the proposal in place at the beginning of the 21st century, this park was set to be the fourth-largest national park in Spain. By 2006, the designation of the national park seemed imminent and thus, in November 2006, a plan for the part falling in the Community of Madrid area was approved.
Top 4 Facts About Sierra de Guadarrama National Park
---
Sierra de Guadarrama National Park is one of the largest national parks in Spain with a sprawling 34000 hectares under its official area.
Penalara Summit is the highest peak at in the mountain ranges of Sierra de Guadarrama National Park.
Sierra de Guadarrama National Park has magnificent natural pools which are a popular swimming spot in the summer.
45% of Spain's wildlife are inhabitants of this national park. Can you believe it?
Places to visit around Sierra de Guadarrama National Park
---
El Escorial
El Escorial is an architectural marvel of a complex located 45 mins away from Madrid. This building is a vital part of the Spanish Renaissance movement and dates back to 1584 (year of completion). King Philip II was the one to give way to this project as a multifunctioning complex.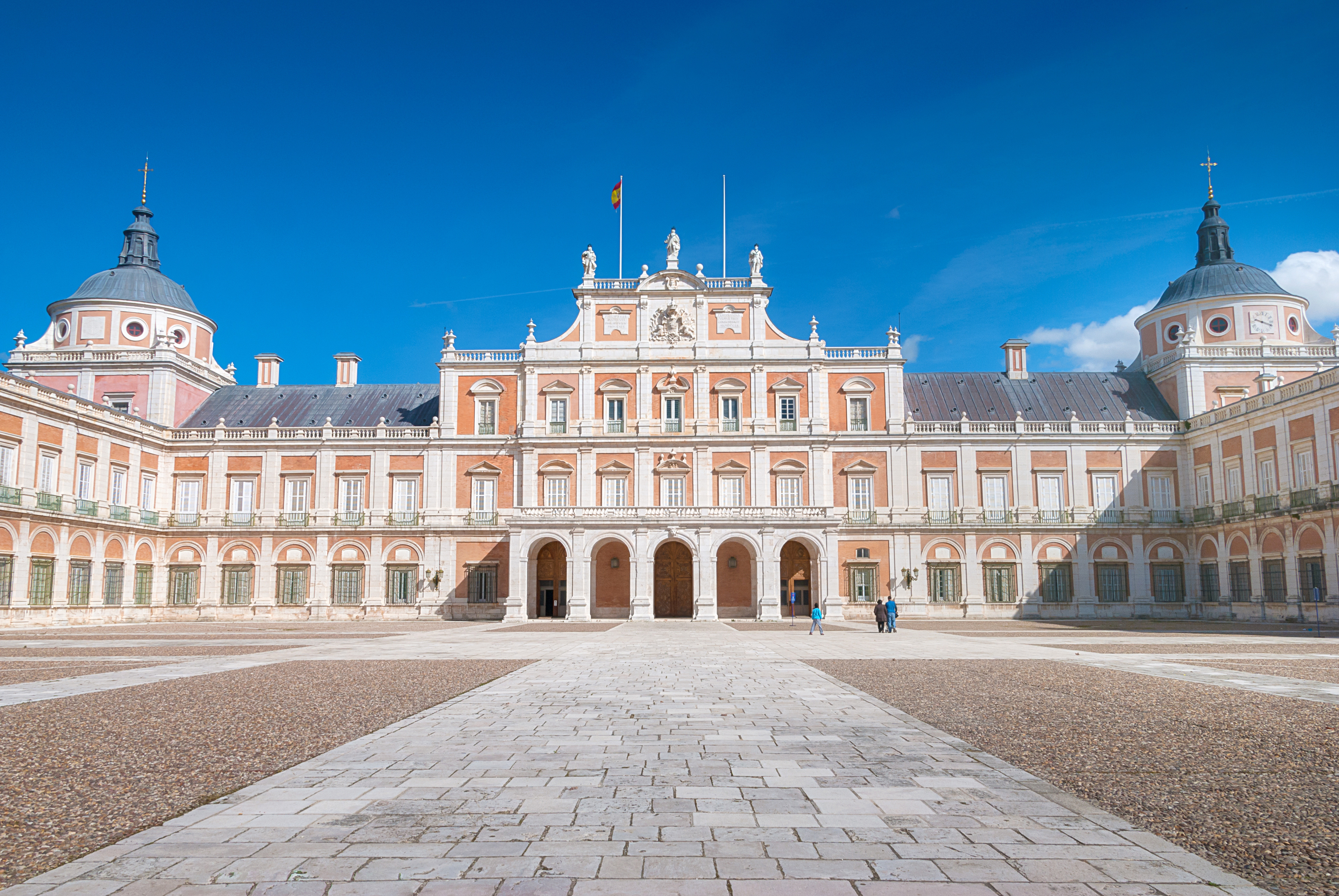 Aranjuez
Aranjuez has been a UNESCO World Heritage Site since 2001 and lies in the valley at the confluence of the Tagus and Jarama rivers. This town has been pure royalty in its history and The Royal Estate and Villa have been the springtime residence for the royalty.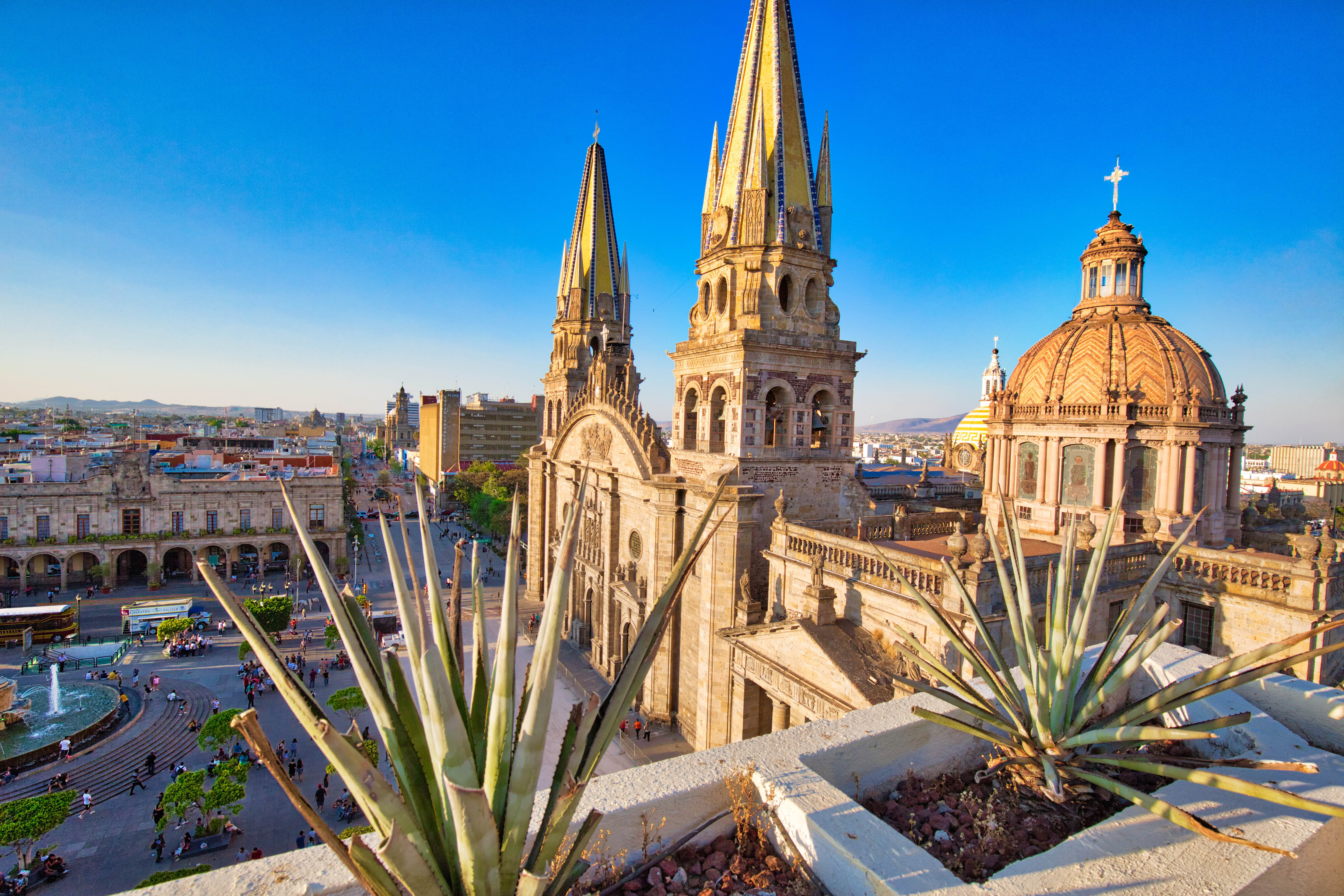 Guadalajara
From the 15th to 17th centuries, this city was the seat of the Mendoza family who were philanthropic patrons of Spanish artists and writers. Their palace is now an artistic symbol of the town along with the churches of Santa María de la Fuente, San Ginés and San Nicolás.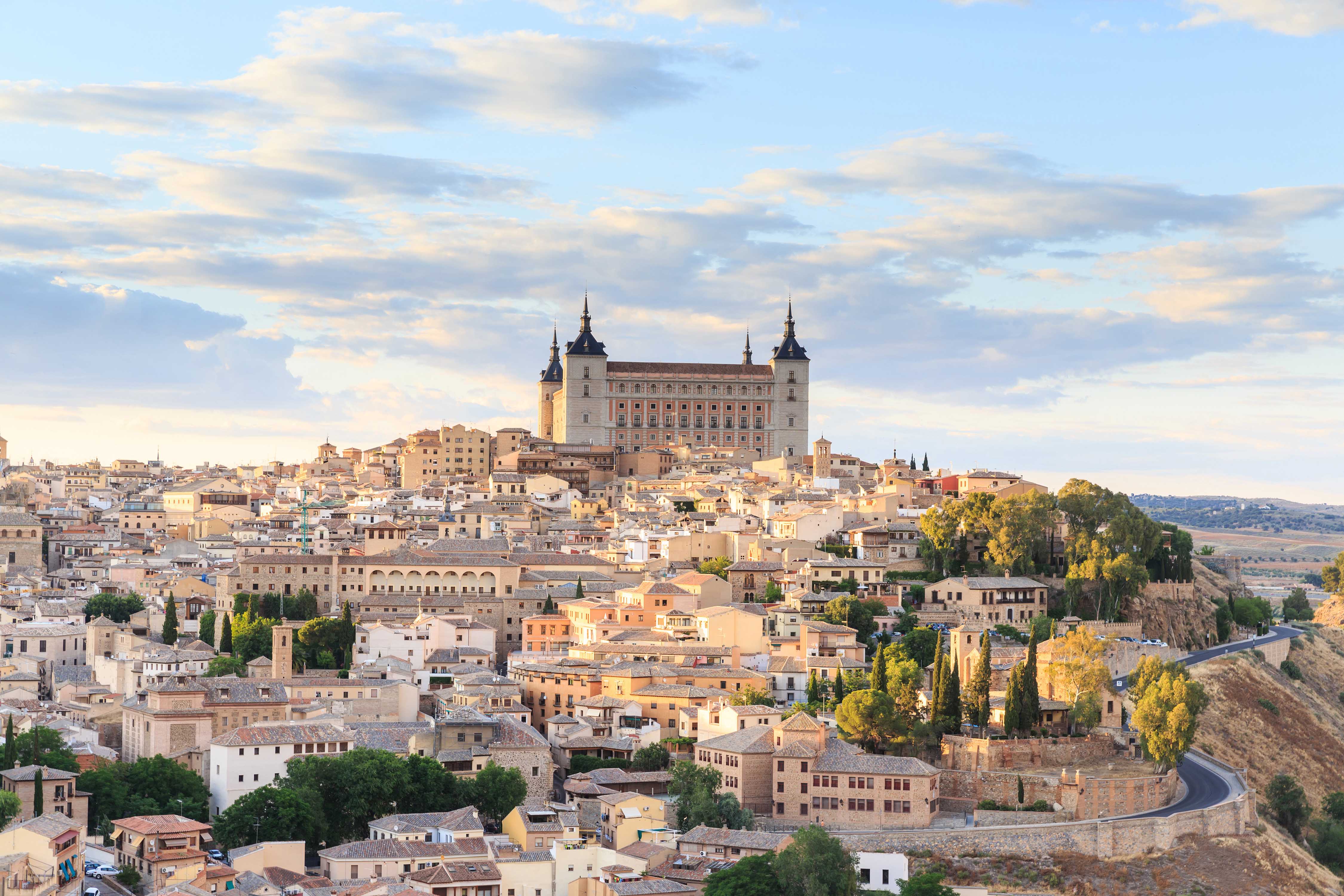 Toledo
In 1986, Toledo was declared a UNESCO World Heritage Site. This rich history arises from the Jews, Muslims, and Christians who lived and worked there side by side practicing their religions. Toledo has been created out of the rich heritage and architectural influences of the different people who have crossed paths with the city.
Places to eat in and around Sierra de Guadarrama National Park
---
La Variable
This restaurant is located 0.8 miles from Sierra de Guadarrama National Park and is one of the most popular spots. It serves Mediterranean, Spanish as well as fusion cuisines with vegetarian, vegan, and gluten-free options. It is highly rated for its food quality, service, and price per item.
Los Morales
This restaurant is located near La Pedriza, the peak in the national park, and offers delectable Steakhouse, Mediterranean, Barbecue, and Spanish dishes as a part of their menu.
La bodeguita D'Judith
Located in the Community of Madrid at a distance of 5.4 miles from the national park, this charming restaurant nestled in the corner of a beautiful town offers delectable dishes as a part of their menu, perfect options for a wholesome breakfast, lunch, and dinner.
Restaurante Parra
Located at just a mile's distance from the national park, this elegant restaurant is a sight to behold with just as irresistible a menu serving Mediterranean and Spanish food. Make sure you try their delectable steak upon visiting!
Sierra de Guadarrama National Park: FAQs
---
The Sierra de Guadarrama National Park is open all year round, but the best time to visit is from late spring to early autumn. The weather is usually milder during this period, making it more pleasant for outdoor activities such as hiking and camping.
There are a variety of activities you can enjoy at Sierra de Guadarrama National Park, including hiking, biking, skiing, and picnicking.
Sierra de Guadarrama National Park is located about 60 kilometers northwest of Madrid. You can reach the park by car, bus, or train.
Yes, Sierra de Guadarrama National Park is pet-friendly. However, pets must be kept on a leash at all times
The minimum duration for a visit to Sierra de Guadarrama National Park is two days. However, if you want to fully enjoy all the park has to offer, we recommend staying for at least three days.