Taking the plunge to become a digital nomad is daunting enough and for most, the biggest fear is financial planning. Will I have enough money to sustain myself in a foreign country? How much money will I be able to save? While having these fears is completely rational, all it takes is a little bit of planning and smart hacks to steer clear of financial mishaps. We've scoured the internet and spoken to multiple digital nomads from countries all around the world to put together this fool proof guide on how you can manage your finances as a digital nomad.
Why it's necessary to manage your finances as a digital nomad?
---
Like with any other job, it's necessary to manage your finances to sustain what you love for a long while. It's easy to get carried away with an extra coconut coffee or an acai bowl every day, which in the long run these "tiny pleasures" will eat into the money you could have saved for an extra month at your nomad base!
The first thing to consider while planning your finances for a digital life is to make sure you have enough to sustain you for atleast 6 months comfortably. The planning stage should happen several months before you plan to leave and you should take into consideration the kind of traveler you are.
Before you bid adieu to your old life, here are 13 hacks to help you save money and manage your finances through your location-independent life.
10 proven hacks to manage your finances & save money as a digital nomad
---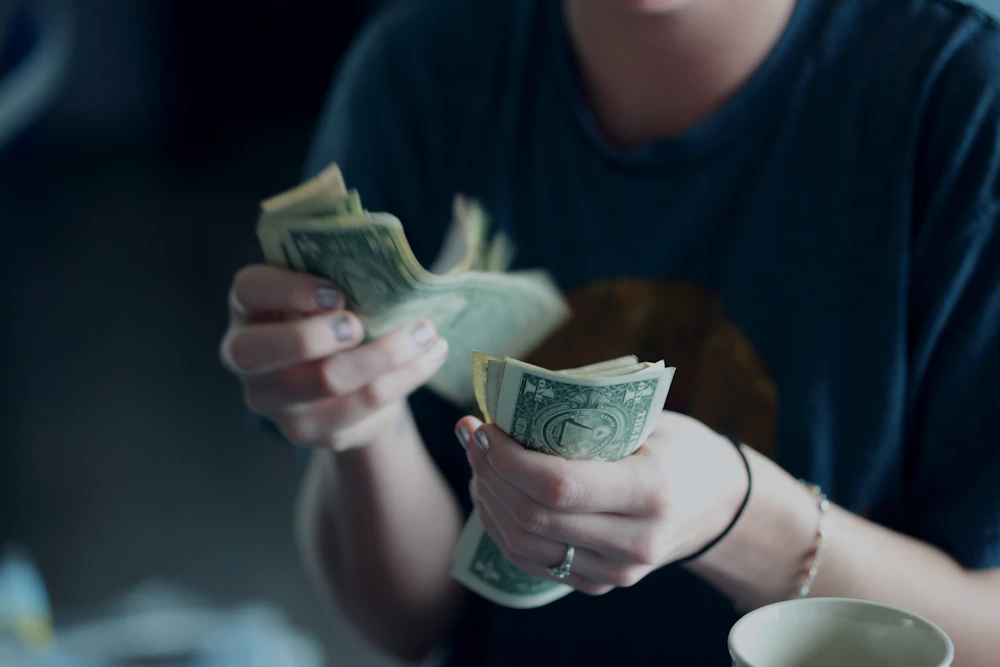 #1 Start saving atleast 6 months prior your departure
Your financial planning starts before you get to your dream destination. Cut down on the many recurring charges that you would not need traveling - Gym memberships, premium grocery memberships, subscriptions etc. After you cut down on these, you'll have a sizeable chunk that (magically) remains in your bank the month after. If you're moving to a relatively expensive country, make sure you cut down on all frills over the months leading to your shift in order to save every penny you can. 2 months before leaving start selling your things - your furniture,appliances and basically everything you can't carry along with you while traveling. If you're not sure how long you're going to be working from the road, don't sell your car. Lend it to a friend or maybe rent it out for the period you're out of home. All of these small, yet big impact money-savers will come handy when you reach your remote work destination.
#2 Chart a monthly budget (& stick to it)
As soon as you've finalised on your choice of location and how long you'll be staying there, chart a basic budget and start calculating the major costs - accomodation, transportation, insurance, bills & loans and similar big spenders. Crunch some numbers and figure out a rough, monthly cost of living. Spend the first month being conscious of where your money goes, based off which expenses actually matter to you and how you can spend better. Once you have that number, subtract it from your average monthly income and if you're in the negative, cut down on expenses. If you're not, set that aside as your monthly estimated savings. This number can vary month-to-month depending on how well business is going, but always make sure to save the surplus.
Also, it's not practically possible to stick to the budget in the first month, but two months down the line you should have a fair idea about the amount you have to set aside for "living expenses" and this number should be as close to accurate as possible.
#3 Bank & Card Strategy
If you're moving to another country, you'll need a credit and debit card with no international fees. You'll also need to make sure that your ATM card has no international fees. Some popular options among digital nomads are the Schwab Bank High Yield Investor Checking Account, N26 and TransferWise Borderless . These banks accounts don't cost a single cent, they can easily be opened online and they don't charge withdrawal fees for most countries. Everything can be managed via an app and customer support is impeccable. It's also good idea to have a lower balance account so that you don't have to maintain a minimum balance and get fined for not doing so.
As a digital nomad, since you'll be traveling a lot, cards that can rack up travel rewards to pay for country-hopping flights, as well as cards that either waive foreign transaction fees or give significant cash back on international purchases are good to have.
While a good chunk of the world has moved to a cashless economy, when you're withdrawing cash from an ATM overseas, make larger withdrawals less often, to avoid repeated bank charges.
#4 Track your expenses. Daily.
It's very simple - tracking your expenses helps you stay on track with your finances. The best way to do this is by actually tracking every dollar you spend. This way, you will notice what you are spending on and where you need to cut back on.
There are different ways to track your expenses. Excel sheets are the most commonly used and easiest to handle. If you find sheets boring, check out the NomadWallet or Mint which is sworn by many digital nomads around the world.
While you don't have to obsessively record every expense, it's helpful to gauge your spending in major categories, like travel expenses, housing, and food. Falling into the habit of tracking your expenses takes time, but once you do, you'll feel like you're in control of your spending — rather than having your spending control you.
#5 Finding the right accomodation
Accommodation is one of the biggest expenses that eats into a huge chunk of your budget. Steer clear of hotels and Airbnbs (unless they are really really cheap) and instead look at options like housesitting, homestays and long-term rentals. If you're not sure about the accomodation, take an Airbnb for a week or so and once you've had a chance to socialise and interact with locals, find a suitable accomodation that fits your budget.
Hot tip: The longer you stay, the better rates you get, no matter where or whom you're booking with. Bargain with the locals, maybe even barter a few chores and try and minimise your accomodation expenses as much as you can.
Sign up for our monthly newsletter
Your dose of travel fix - from hacks and deals to travel tips and everything in between, delivered monthly to your inbox
Please enter a valid email
Unsubscribe anytime
#6 A Solid Travel Insurance Plan
If there's one thing you cannot travel without, pick insurance. Not getting one can save you money (mometarily), but when the time arises it saves you so much money that you'll thank your stars for having one. You don't have pick a pricey one. There are quite a few reasonable options, especially catering to digital nomads. Our top picks would be be World Nomads and SafetyWing. Read more about the best travel insurance plans in the post covid world and learn in detail about the different types of travel insurance in the market, the best recommended travel insurance companies, how much they typically cost, the different kinds of coverages that comes handy for digital nomads and much more.
#7 Eat (and drink) like a local
The first few weeks its hard to eat like a local when you're exposed to a whole different cuisine with so many restaurants to try from. However, if you eat at touristy restaurants all the time, you will not only miss out on more authentic local dishes but also pay more. Watch out for where the locals are headed and eat there for more authentic and cheaper food. They may not look as fancy or be IG-worthy, but they'll save you big bucks. Another sustainable alternative is cooking your meals (provided you have the facilities to). Shop for seasonal fresh produce at local markets and whip yourself a meal. Definitely easier on the pocket and healthier too!
If you like going for parties and pub crawls, check out hostels in our area. Most hostels these days have a bar that is open to everyone even if you are not guest and prices for drinks are quite cheap. Some hostels also arrange for pub crawls where you check out several bars and pubs and get cheaper entrance and drinks. Essentially for a fun night out, hit up your neighbourhood hostel.
#8 Ditch co-working spaces
Yes! Co-working spaces are expensive (unless you pay for 1-3 months upfront). Instead, opt for accomodation that has a great connectivity or work out of a cafe. Most cafes offer free WIFI today that is decent enough to do your work. Depending on the kind of work environment you like, shuttling between your accomodation & cafes can help avoid the extra you'd have to incur on co-working spaces.
#9 Cancel your old sim and get a local sim card
There's no point paying an exorbitant amount for an international plan on your old sim for it to work internationally. Instead, research on the best local sim cards availble and purchase 1 as soon as you land. Moreoever, you'll have better connectivity with a local sim than an international one. Data plans will be locally cheaper and you can use the hotspot if you're keen on working out of the beach or a chalet in the woods on a certain day!
#10 Explore like the locals, not tourists
You've moved to a different country to experience its culture and discover its landscapes. Make sure you've set aside a "leisure travel fund" in your monthly budget and use it judiciously. Instead of going on paid guided tours, exploit the many free tours or pay-as-you-like tours or hire a bike/cycle and explore the streets yourself. It's definitely more rewarding and easy on the pocket too. That said, don't hold back on experiences because they cost a bit more than you'd accounted for. Like they say, time and travel wait for none!
#11 Don't forget a retirement fund
It is common for freelancers and digital nomads to forget retirement savings altogether. This is not a good practise in the long run because you can never stop working if you don't have a retirement fund. Keep aside a certain amount every month (a high-interest long term saving) and let it sit there and grow. If you're unsure how much you should keep aside as a retirement fund, this retirement calculator should help you.
#12 Optimize Travel Costs
Since you don't need to technically "travel to work", your travel costs are not likely to be a huge expense. That said, travel costs can run up your monthly budget if you don't account for it. This holds true if you shift bases often. Flight costs, taxis from airport etc are considerable costs you must take into account while shifting bases. Always stick to the public mode of transport in the city, unless you're planning to stay put for a year or so. In that case, it would be wise to buy a second-hand vehicle for the duration of your stay (should consider petrol costs too). In certain cities, public transport may not be the safest mode of transport. That's another time you should consider investing in a rented vehicle.
#13 Automate your monthly expenses
There are chances you're in some remote part of South America while your credit card bill deadline goes by and you're fined a hefty amount by the day. Use the convenience of the digital world to automate-the-heck out of all your financial expenses. Speaking of automated money transfers, savings, and money market accounts is another excellent option for financial automation. Savings accounts help to separate your "spendable" cash from cash that should not be spent from your monthly income.
5 rookie mistakes to avoid while leading a remote lifestyle - these run up costs too!
---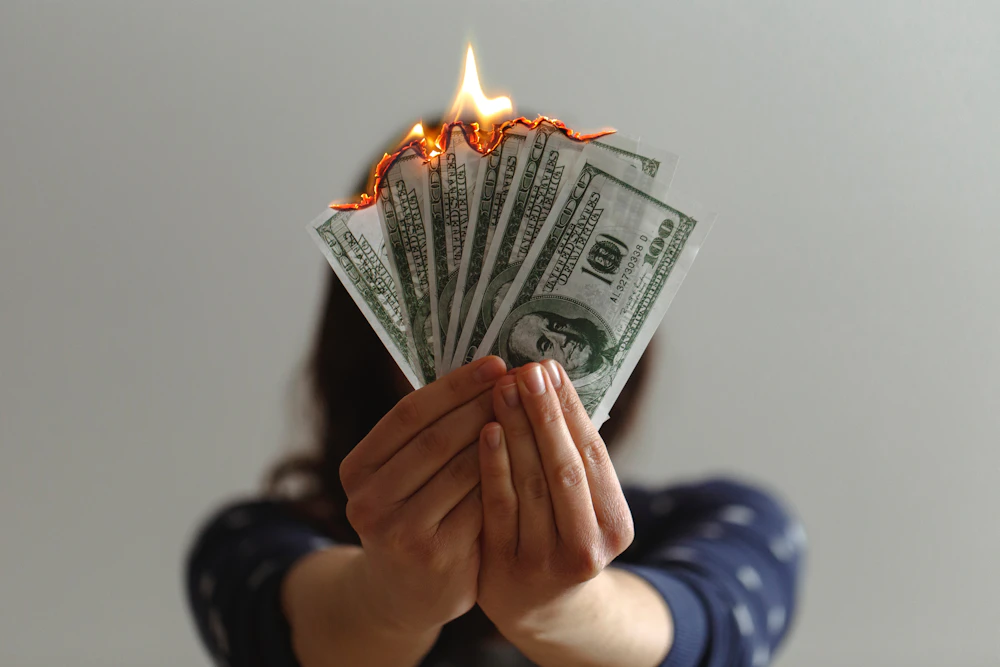 Not choosing the right base
While Tulum might seem like a great option to start off your digital nomad odyseey, make sure you extensively look into the living costs before choosing your base. Lots of aspiring remote workers go to well-known digital nomad hubs without analyzing the strong points and downsides of these destinations. Always remember, you're not traveling there as a tourist. It does't matter how great a nightlife it has, but is it feasible in the long run is what you should be asking yourself. Some of the most important criteria to consider would be infrastructure, connectivity, cost of living, cultural things to do, personal preferences, livability, and finally the presence of remote workers.
Not having a balanced routine
Have a routine & productive mechanism solves half the battle for remote workers. Don't wait to get settled in and then find a system. Start from day 2 and slowly nurture a productive work routine that helps you make the most of your day. A lot of successful digital nomads recommend a remote working dry run in a city close to home before you up and leave to a new country. If you're able to sustain during the dry run, chances of succeeding as digital nomad are far higher. Productive systems are the bread and butter of any remote worker. Most first-time digital nomads reverse this technique. They set off, arrive at their nomad base, and then try to build habits. This takes a lot of trial and error cycles before yielding a productive routine and can often become costly and time-consuming
Sign up for our monthly newsletter
Your dose of travel fix - from hacks and deals to travel tips and everything in between, delivered monthly to your inbox
Please enter a valid email
Unsubscribe anytime
Not planning for vacations & free time
While it's important to have a work routine, ensuring you keep free time to relax and rejuvenate is equally important. Intentionally set aside time to go on trips and take a break from work to avoid burn out. As a digital nomad, you'll be working a lot and while it may be hard to "take a vacation" (because you're technically workationing), you don't need to deprive yourself of a one. Plan occasional getaways and make sure to ditch your laptop during those times.
Not packing right
From a packing pov, going light is understandable. However, some things that you're used to may be difficult to find abroad and you may have to spend a "bomb" to get them. Medicines, feminine products, back up credit/debit cards, driving permits etc. As a digital nomad, you're likely to be staying put for atleast 3-4 months at a base and not being at ease with essentials you're used to can be bummer.
Spending more than you earn
Once you reach your new base, it can be tempting to try out everything from scuba diving to skydiving and everything in between. While the whole point of a location independent lifestyle is to earn money so you can travel and gain new experiences, keeping a check on your finances is extremely important if you intend to sustain the digital nomad lifestyle for long. The hard truth is that, no matter where you are, you still need to live within your means. If you you're overwhelmed by the number of things you want to try, make a list of the most important ones and keep aside a budget for it. Pencil in a one new activity each month that won't break the bank.
-------------------------------------------------------------------------------------------------------------------------------
Like they say, it's not about the money but rather the process of managing money. Be a master of your spending and enjoy your location-independent life for a long long while.
Like it? Pin it!
---