Located in Queensland, the mountain village of Kuranda is home to scenic sights, adventurous walking trails, and magnificent waterfalls. The Kuranda Scenic Railway is the best way to visit the hilltop village of Kuranda from Cairns. These century-old trains take visitors through the verdant landscapes of Kuranda, promising a memorable ride. These trains are also the most scenic way to travel from Cairns to the hilltop village of Kuranda. Read on to plan your visit to Kuranda with a memorable ride on the scenic Kuranda Railway.
Kuranda Railway Ride - Handy Information
---
Things to know
| | |
| --- | --- |
| 📍 Location: | Kuranda |
| ⏰ Suggested Duration: | 2 Hours |
| ☀️ Best Time to Visit: | March for monsoon weather |
| 🎟️ Kuranda Scenic Railway Price: | AU$50 |
Opening Hours
The rail operates daily except on Christmas.
Sights not to miss
Barron Gorge National Park
Tropical Gardens
Freshwater Railway Station
Stoney Creek Falls

Address
Kuranda QLD 4881, Australia
Get there

Why take the Kuranda Scenic Railway Ride
---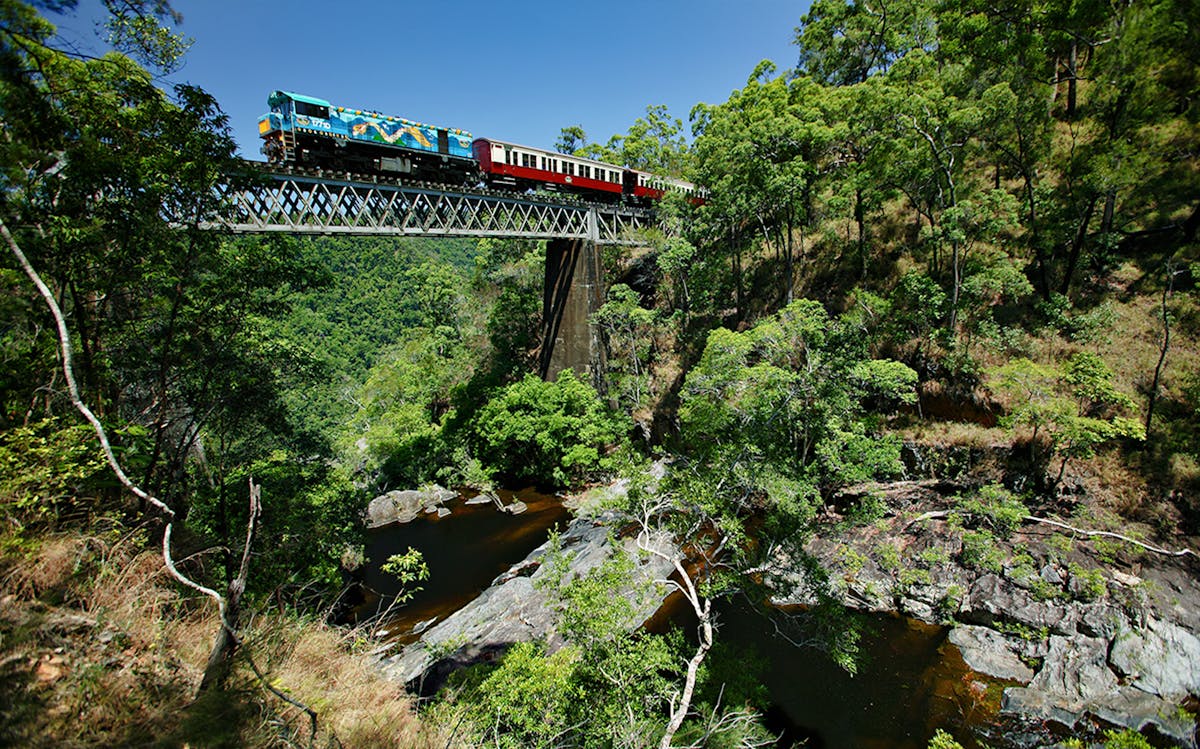 Kuranda Scenic Railway is a 125-year-old track that makes its way through rugged terrains. The 37 km long rail line takes about 2 hours and offers panoramic views of the village. From your window seat in the classical coach, fall in love with the green ambience of the World Heritage Rainforest, Barron Gorge National Park, Freshwater railway station, and many cascading falls. The 10-minute break at the Barron Falls is the absolute highlight! These falls stands at 410 ft tall from where the water gushes into the Barron River and frames a postcard perfect shot.
The Kuranda Station was declared a war zone during World War Ⅱ and claims to be one of the most photographed stations in the world. A ride on the Kuranda train creates a thrilling and educational pursuit for kids and adults alike. The carriages also offer an audio guide while on your journey providing an interesting commentary of the landscapes and the history of the village. A ride on the Kuranda train is a thrilling and educational pursuit for kids and adults alike.
Kuranda Scenic Railway Tickets
---
All options explained
There are five types of Kuranda Scenic Railway tickets you can choose from:
Heritage Class: Taste the old-world charm of travelling with The OG coaches. These are authentic timber carriages, most of which are over 100 years old. They are now refurbished and touched up to present you modern comfort.
Gold Class: With victorian carriages, mocktails and tea served with snacks at frequent intervals, these tickets offer a more luxurious ride at a slightly higher fare.
Locals Fare: If you are a local living in Kuranda, you can score a 20% off on Gold and Heritage classes with these tickets. Make sure you carry ID for verification.
Royale Class:If you're looking for a budget journey this large group ticket option is ideal.
All these ticket options travel the same route. The only downside of booking via the official website is that you will have to wait 24 hours before your seats are confirmed. Book through Headout for a quick confirmation, easy cancellation, and cashback of 5%!
Things To Do In Kuranda
---
Kuranda is a hill station with an abundance of wildlife. Here are other fun things to do at Kuranda to make the most of your time.
1

Rainforestation Nature Park
Save your afternoons to visit the Rainforestation Nature Park. It is only 5 km from Kuranda and is home to the famous World Heritage rainforest. Opened in 1976, the park was initially a coffee and orange plantation. Since then the park has expanded to 100 acres where visitors can explore adventure activities, various exotic fruit plantations, and indigenous culture. Make sure to check out the Rainforest Tours Pamagirri Aboriginal Experience. The latter offers exclusive performances by the Pamagirri Aboriginal Dance Troupe.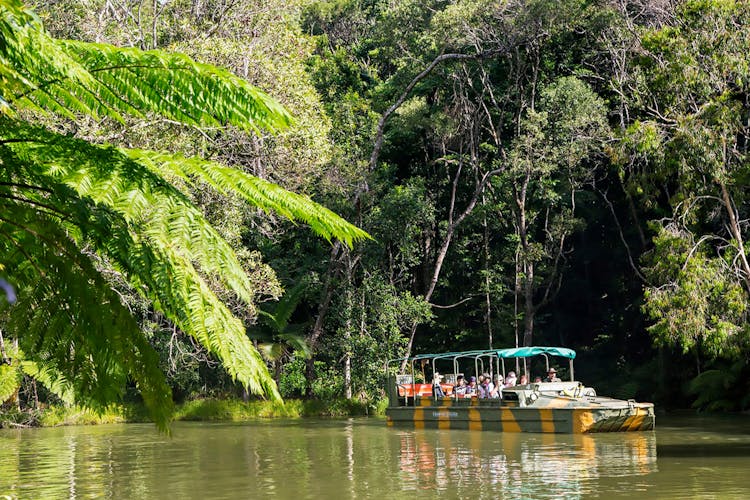 Of course, you'll have a sneak peek of the falls during the Kuranda train ride. But if you are as fascinated as us, spend a little more time at the natural beauty. It was a famous tourist attraction even during the 1890s, topping the wanderlust lists of the old times! Furthermore, it is named one of the Q150 Icons of Queensland. Fun fact, it was named after Thomas Henry Bowman Barron, Chief Clerk of Police in Queensland in 1860.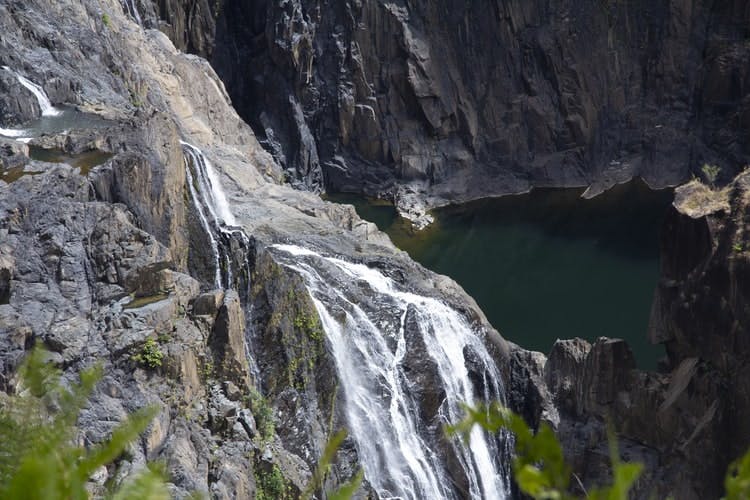 3

Australian Butterfly Sanctuary
Birdworld Kuranda is a natural habitat for over 350 aerial species of Queensland. Located at the Kuranda Heritage Markets, it is one of the most unique attractions of northern Queensland. You can find Amazonian macaws, cassowary, rainbow lorikeets, galahs, cockatoos, and many more flying freely in the rainforest. Don't forget your camera since there are many feeding and photo opportunities.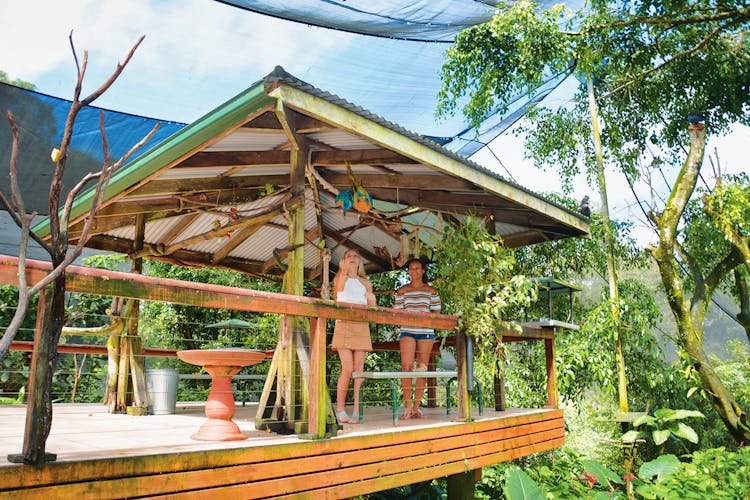 4

Australian Butterfly Sanctuary
The Australian Butterfly Sanctuary is being noted in the Guinness books of records for housing Australia's largest butterfly flight aviary and exhibit. It rears and breeds 30,000 caterpillars each year and releases 24,000 butterflies into the aviary. Cairns Birdwing Butterfly is one of the 1500 species of butterfly that can be spotted here. A visit here will surely invoke childish curiosity and awe for the little adorable insects.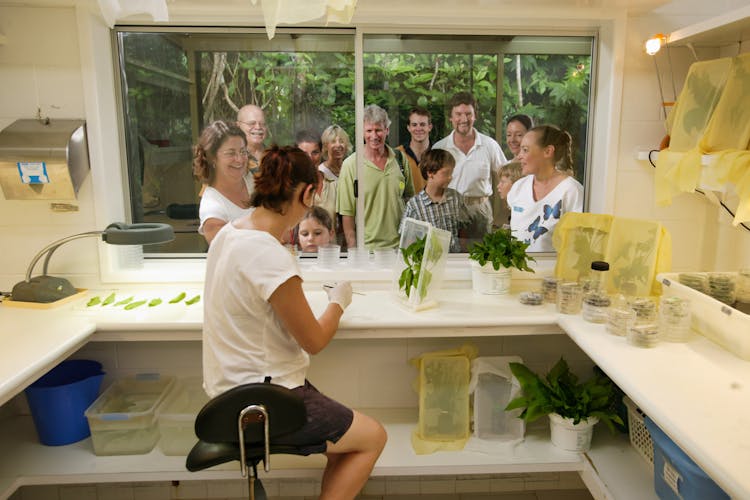 5

Kuranda Heritage Markets
Go on a shopping spree at the Kuranda Heritage Markets that welcome visitors all year round. Purchase souvenirs, art, craft, and fashion items made by the locals. Take home a part of the ancient Aboriginal community by purchasing their handcrafted items. Many top attractions such as Koala Gardens, Birdworld Kuranda, and the Australian Butterfly Sanctuary are also located inside Kuranda Heritage Markets. So a visit will get you covered with many of the interesting sights.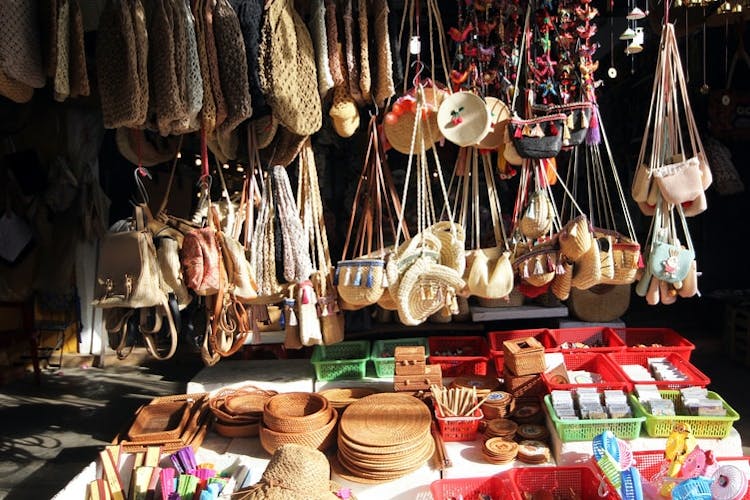 Combine the Kuranda train and Skyrail ride to get an all-around experience of the tropical village. Kuranda Rainforest Skyrail Cableway is a 7.5 km cable car ride that gives you a bird's eye view of the village and rainforest. It operates from Cairns to Kuranda and has won more than 25 awards. There are many lookout stops in between your rides. They also give you a short stop at Red Peak and Barron Falls. Take a rail to Kuranda and Skyrail back to Cairns to make your experience a memorable one.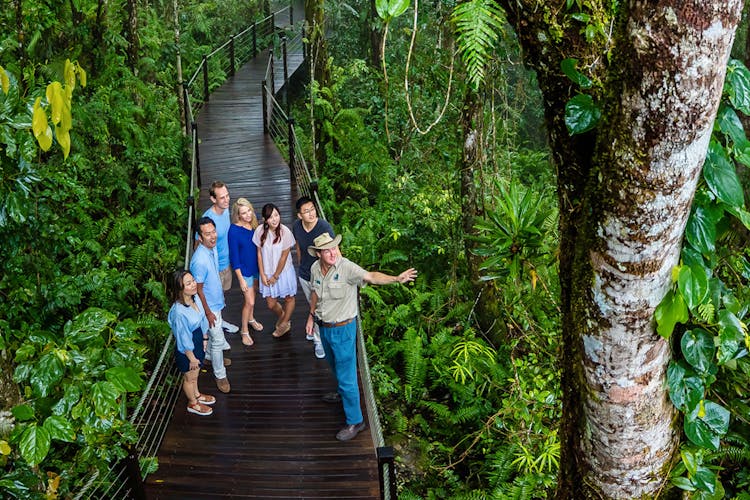 You cannot leave Australia without meeting their adorable native species, Koalas. The Koala Gardens at Kuranda Wildlife Experience is a must-visit for fun family time. Get to see the daily lives of Koalas, Kangaroos and wallabies from a close distance. Save a few dollars and buy the Kuranda Wildlife Experience Package. It offers entry to Koala Gardens, Birdworld Kuranda, and the Australian Butterfly Sanctuary.
Best time to take the Kuranda Railway Ride
---
Monsoons are the best season to visit any hilly region. The rain will add to your memory of the place and the trees will show off their best shades of green. The tropical Monsoon in Cairns starts in November and continues till March. The window opportunity is quite wide to make your trip anytime within these months.
Other experiences at Kuranda
---
Kuranda Scenic Railway Timetable
---
Although the rail operates daily except on Christmas, it has various maintenance days when it is not functional. Click here to get the list of the maintenance days. To escape this disappointment, buy your Kuranda Scenic Railway Tickets online to get confirmed ticket dates.
Departures To Kuranda
From Cairns - 8.30 am and 9.30 am
From Freshwater - 8.55 am and 9.55 am
These trains will arrive at 10.25 am and 11.25 am at Kuranda.
Arrivals from Kuranda
To Freshwater - 3.32 pm and 5.02 pm
To Cairns - 3.55 pm and 5.25 pm
These trains will depart from Kuranda at 2.00 pm and 3.30 pm.
Kuranda Scenic Railway Map
---
Here is a handy map for your journey through the sublime mountains.
Handy Tips For Your Kuranda Scenic Railway Ride
---
Book your tickets in advance. This is super important since there are many maintenance days where the train will not be functional. Keep an eye on the official website before choosing your dates.
Take pictures in front of the railway when it's at rest. They are beautifully decorated with aboriginal art.
In case you are travelling with your kids, keep an eye on them so they do not stick their heads or hands out of the windows.
If you are on a tight budget, bring your own snacks. Also, there are plenty of water bottles available inside the carriages for free.
A visit in the monsoon season can get quite cold. Get a pair of mufflers or sweaters to keep yourself warm.
Kuranda Scenic Railway FAQs
---
How much does the Kuranda train cost?
How long is the Kuranda train ride?
Is the Kuranda Scenic Railway worth it?
Is Kuranda Scenic Railway Open?
Can you drive to Kuranda village?
Where does the Kuranda train leave from?
Are there toilets on the Kuranda train?
Why did they build the Kuranda Railway?
Kuranda Scenic Railway Guide
Ready To Explore Cairns?
Check out more things to do in Cairns and pack your itinerary with the best experiences the city has to offer!