Free cancellation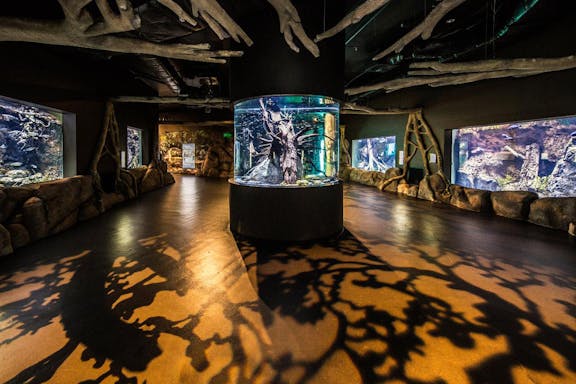 Aquariums are a wonderful way to connect with the oceans and its flora and fauna, which is usually hidden from our everyday lives. At the Cairns Aquarium, you get a close look at the most beautiful creatures from The Great Barrier Reef, The Wet Tropics, The Gulf of Savannah, and Cape York regions. If you're planning a visit, we've put together everything you need to know about Cairns Aquarium ticket options, opening hours, and other essential visitor information.  
All Your Cairns Aquarium Tickets Explained

The

Cairns Aquarium

is a must-visit for anyone interested in life under the ocean. If you're planning a visit, you can choose to book admission tickets, after-hours specials that include meals, exhibit tours, or adventure activities like shark dives.

Keep reading for a detailed look at everything that's included with each type of ticket.

Admission Tickets

After-Hours Specials Tickets

Guided Tour

Shark Dive
Plan Your Visit to Cairns Aquarium

Opening Hours

Getting There

Tips/Facilities

What are Cairns Aquarium opening hours?

Cairns Aquarium opening hours are between 10:00 AM to 3:00 PM daily. The last admission is at 2:00 PM.

What is the best time to visit Cairns Aquarium?

Most visitors plan their visit during June and October. These months bring with it pleasant weather to be able to enjoy outdoor activities. This season is often referred to as the 'dry season'. Try to avoid the 'wet season' from November to March where there are high chances of flash floods, humidity, afternoon showers, and occasional hurricanes. April/May is also a decent time to travel where you might get cheaper flight tickets since it is off-season.

How long should I spend at Cairns Aquarium?

If you have a general admission ticket, 2 hours should be enough to explore the aquarium. However, if you'd like to take your time with the visit or have additional activities included in your ticket, you can spend anywhere between 3-4 hours here.

Where is Cairns Aquarium located?

Cairns Aquarium is located in Cairns City, Queensland. The complete address is 5 Florence St, Cairns City QLD 4870, Australia. 

Google Map Directions

How do I get to Cairns Aquarium?

You can get to Cairns Aquarium by foot, car, or bus. It is easily accessible by foot from nearby accommodation like The Esplanade, Lagoon Pool, and Cruise Terminal.

Can I take the metro/tram to Cairns Aquarium?

There are two platforms at the Cairns Railway Station. You can take the Kuranda Scenic Railway line, which is one of the tourist lines at the station, the other being Savannahlander. Hop on at the Kuranda station and get off at Cairns, after which you can take a bus or taxi to the aquarium. The train journey takes about 38 minutes and goes through National Route 1.

Can I take the bus to Cairns Aquarium?

Bus stops are located just outside the aquarium on Lake and Abbott Street.

Is storage facility available at Cairns Aquarium?

Yes. You can rent out lockers to store your luggage at the entrance of the aquarium.

Is parking available at Cairns Aquarium?

There is no onsite parking available at the aquarium, but you can park on nearby streets where there is metered parking.

Is Cairns Aquarium wheelchair accessible?

Yes. All areas at Cairns Aquarium are accessible by wheelchair with multiple elevators, ramps, accessible washrooms, and wheelchair rentals.

Is photography allowed at Cairns Aquarium?

Photography is allowed inside the aquarium. Although, you should keep your flash off so the animals are not disturbed.

Is dining available at Cairns Aquarium?

Dundee's is a unique restaurant located within Cairns Aquarium which overlooks swarms of fish and sharks swimming across the pier. The restaurant is closed on Mondays and Tuesdays and open on all other days from 10:00 AM to late hours of the night.
What to Expect at Cairns Aquarium

At Cairns Aquarium you will find an ocean world dedicated to the tropics of North Queensland. Get a close look at the habitats and species of the natural wonders of Australia right in the city of

Cairns

.

River Systems

Take a trip down the far rivers of Northern Queensland, observing the unusual shapes, sizes, colors, and other features of many of its inhabitants. The wide range of species that thrive in these regions includes catfish, gudgeon, perch, and even the one-of-a-kind freshwater stonefish.

Creeks & Streams

Freshwater plants and animals form their unique ecosystems that live in unison with other marine life. The luscious green plants and colorful freshwater fish are bound to catch your eye, providing some unique, breathtaking sights. Here you can get a glimpse of giant prawns and brightly colored crayfish.

Waterways & Billabongs

Australia is well known for its rarest and most unique species, particularly in Cape York and Gulf Savannah regions. You can spot some bizarre yet magnificent creatures like the Freshwater Sawfish with its long sharp teeth on its long bony snout! Watch out for barramundi, mangrove jacks, sooty grunters, and the largest species of freshwater whip rays that you've ever seen!

Tropical Rainforest

Many animal species venture out into the wild only at night, which is why they are often hard to spot. The special displays at Cairns Aquarium will let you get a first-hand look at some of these spectacular nocturnal creatures, including unique species of snakes, lizards, and frogs.

Forest Floor

If you're a nature buff, you'll know that forest floors form their unique habitat with a wide array of unique species that thrive in these environments. In the forests of Tropical North Queensland, you can find the richest and most diverse collection of insects, spiders, and plant systems. Catch a glimpse at some of the largest forest giants that you've ever seen!

Life in the Mangrove

Plant systems play a vital role when it comes to marine life. Mangroves in particular filter out sediment from mountain water, providing a rich habitat for unique species to survive such as the fighting crab, crocodiles, reef stars, and other reef fish. The trees themselves have evolved over time to adapt to salt and freshwater, the concentrations of which keep changing.

Great Barrier Reef & Dangers of the Reef

The world-famous Great Barrier Reef is the largest collection of coral systems and islands spread across 344,400 square kilometers. You can even see it from space! Get an insight into the unusual shapes, colors, and behaviors of many species that live here, including a few dangerous ones that are potentially fatal to human life!

The Coral Sea

Australia is famous for its numerous colorful reefs spread across its oceans. Now you can take a look at these coral reefs right at the Cairns Aquarium at the main Oceanarium. In this area, you will find the highest number of fish in comparison to other reef zones including Reef Sharks, Stingrays, Leopard Sharks, and Coral Trout.

Ribbon Reefs

The Reef face at Cairns Aquarium is a 10-meter high, 200,000 liter tank containing rich complex growths of coral and algae. These usually serve as food for other marine animals, attracting them to the surface. The Ribbon Reef is visible from both levels of the aquarium, where you can watch how these creatures move around between shallow and deep surfaces of the ocean.

Under the pier

Some animals have grown to adapt to certain man-made structures like jetties and piers. They can make these structures their homes over a certain period. At the Aqualuna Restaurant, you get a close look at Baby Blacktip reef sharks, wrasse, stingrays, and angelfish swimming around a 70,000 liter shark exhibit.
Cairns Aquarium Tickets FAQ

Is Cairns Aquarium open in 2021?

Yes. Cairns Aquarium is open in 2021 all year round for visitors with various safety measures in place.

Are Cairns Aquarium tickets available online now?

Yes, Cairns Aquarium tickets are now available online for purchase.

What are the different types of Cairns Aquarium tickets?

Guests can choose to book admission tickets, after-hours specials that include meals, guided tours, or adventure activities like shark dives.

Are meals included in Cairns Aquarium tickets?

It depends on which ticket you book. After-hours tickets and some guided tours include meals, while standard admission tickets do not.

Are guided tours of Cairns Aquarium available?

Yes, guided tours are available at Cairns Aquarium. Learn about ecosystems, marine life, and much more from experts. Note that not all tickets include guided tours and you would have to specifically book those that do include the services of a professional guide.

What are Cairns Aquarium opening hours?

Cairns Aquarium is open daily between 10:00 AM to 3:00 PM. The last admission is at 2:00 PM.