The John F. Kennedy Space Center (KSC) is one of NASA's ten field centers, located on Merritt Island, Florida. It is the primary launch site for human spaceflight missions. Established in 1962 as part of the Apollo program, the first Saturn V rocket was launched from KSC in 1967, and the first humans landed on the Moon from KSC in 1969. KSC has also been the launch site for the Space Shuttle program, the International Space Station and a variety of other missions.
Today the KSC is a major tourist attraction, which offers a variety of tours and exhibits for people to enjoy!
With so much to see and do, planning a day-trip to the Kennedy Space Center with your family can be a daunting experience. But don't worry! We've curated this guide to help you plan and get the most out of your trip.
Top 5 must-see family attractions at the Kenndy Space Center
1. Rocket Garden
---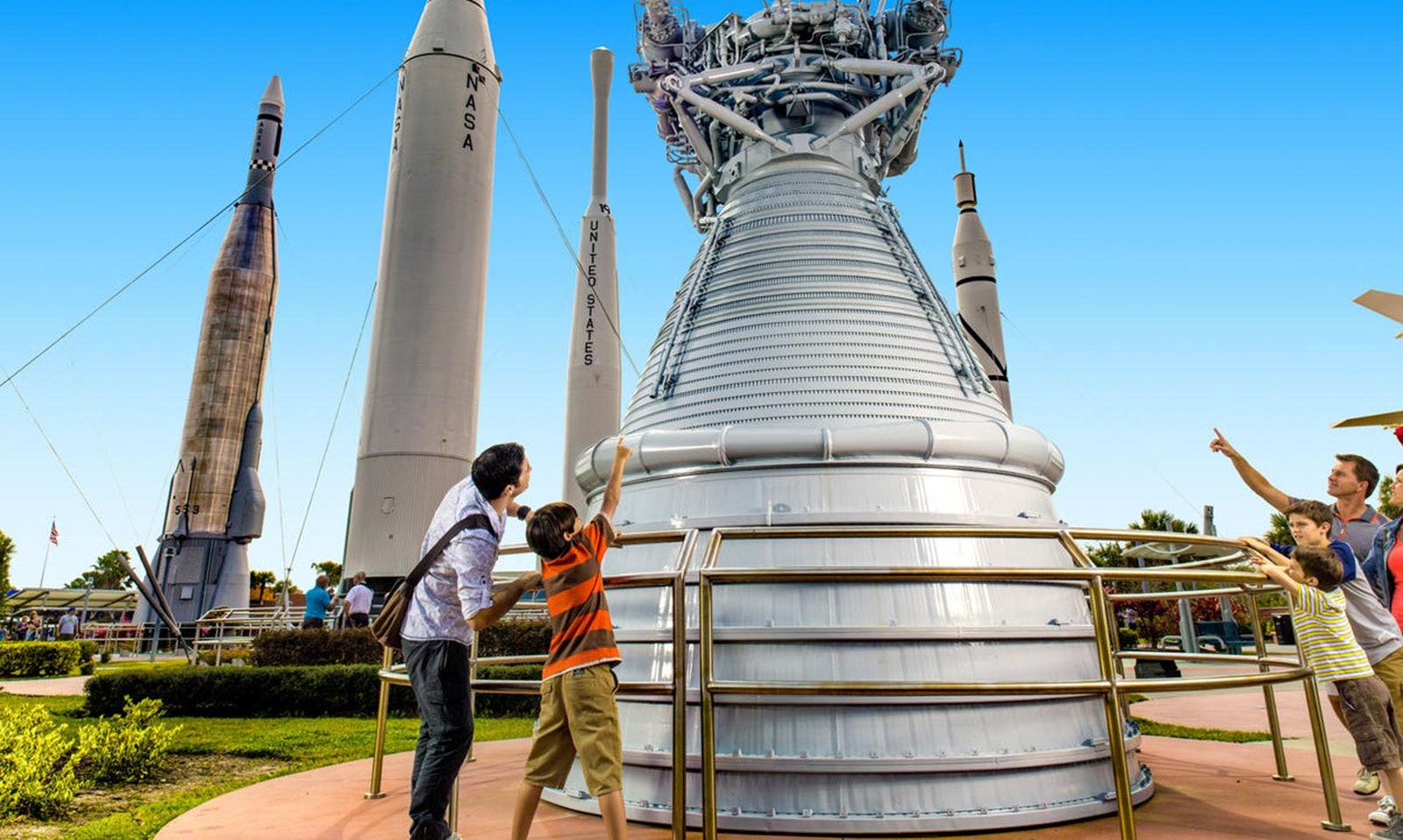 One of the most photographed attractions at the Kennedy Space Center's Visitor Complex is the Rocket Garden, a space which displays authentic machines which pioneered America's space explorations for decades. While most of these rockets have never been flown in space, they remain an integral part of America's space history.
Highlights include:
Delta II: Launched over 150 NASA missions including Mars Rovers Spirit.
Technical Details: 39 metres (128 feet) height | 1,084,200 pounds thrust
Atlas-Agena: Launched 8 missions of the Ranger program collecting over 11,000 detailed pictures of the Moon.
Technical Details: 32.1 metres (105.3 feet) height | 366,213 pounds thrust
Delta: Launched a Mylar balloon called Echo into the orbit in 1960 which helped the first live television signal to cross the ocean.
Technical Details: 27 metres (89.3 feet) height | 152,000 pounds thrust
Saturn 1B: Launched Apollo 7, the first crewed mission of the Apollo program.
Technical Details: 68 metres (223 feet) height | 1,600,000 pounds thrust
2. Heroes & Legends
---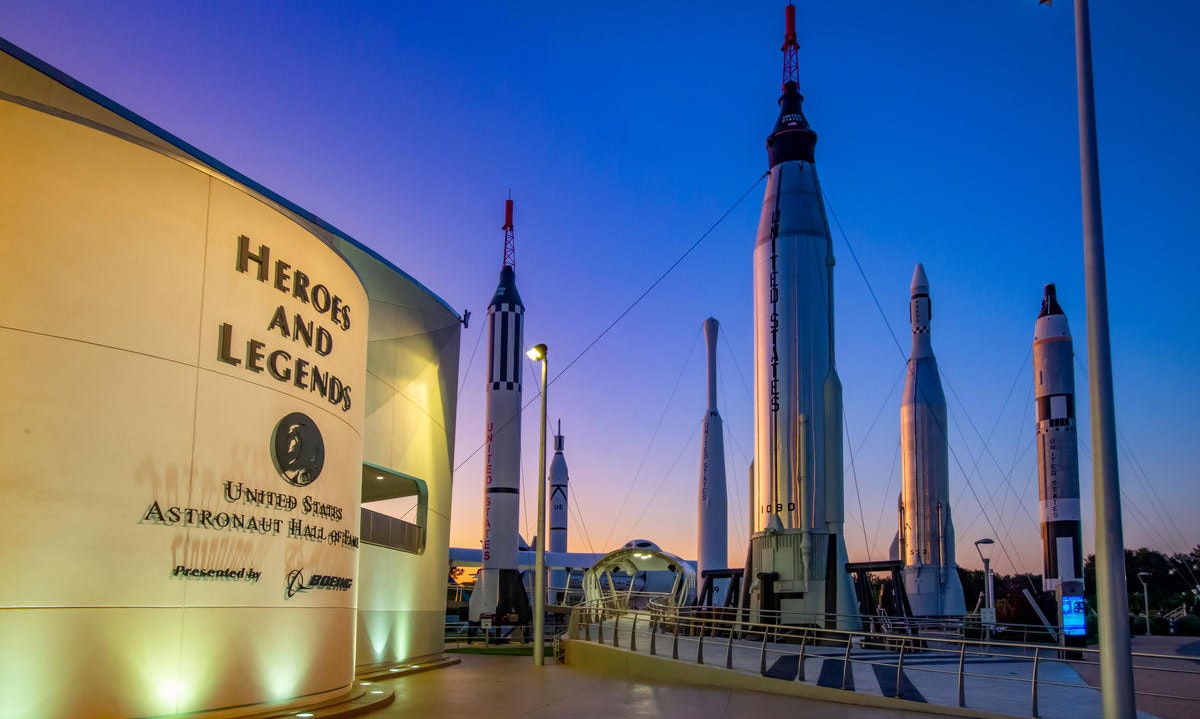 Discover a new immersive experience at the Kennedy Space Center called Heroes & Legends, which celebrates all the brave men and women of America's space program. It features a mix of interactive exhibits, artefacts, and multimedia presentations that tell the stories of the Mercury 7, the Apollo 11 astronauts and other space legends.
Highlights Include:
Through the Eyes of a Hero: An immersive experience that takes visitors through the history of human spaceflight, from the early days of the Mercury program to the current space shuttle era.
US Astronaut Hall of Fame: In honour of America's greatest astronauts, look at and listen to their stories.
Astronaut Encounter: Get an exclusive opportunity to meet and interact with an astronaut to learn about their journey.
3. Saturn V Rocket
---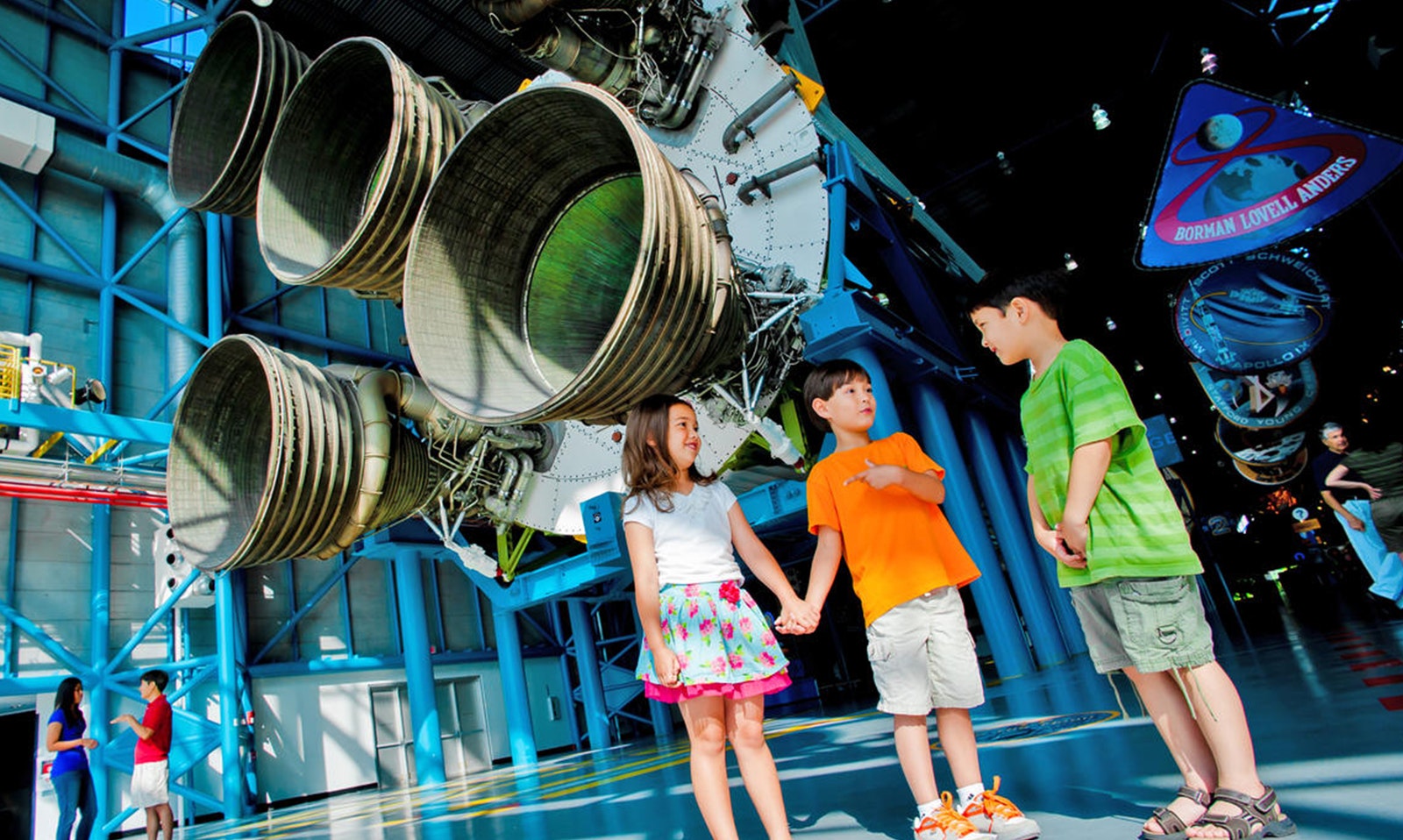 Bear witness to this spectacle of human engineering and space travel, the Saturn V rocket at the Kennedy Space Center. The largest rocket ever flown in space, the Saturn V stands tall at 111 m (363 ft) and weighs 6.6 million pounds (3 million kilograms) when fully fueled.
Highlights Include:
Apollo 8 and the Firing Room: Experience the launch of Apollo 8 unfold in the firing room as the first crewed Saturn V mission blasts into space.
Path to the Moon: Celebrate the accomplishments and the technology of Apollo missions 7-10.
4. Space Shuttle Atlantis
---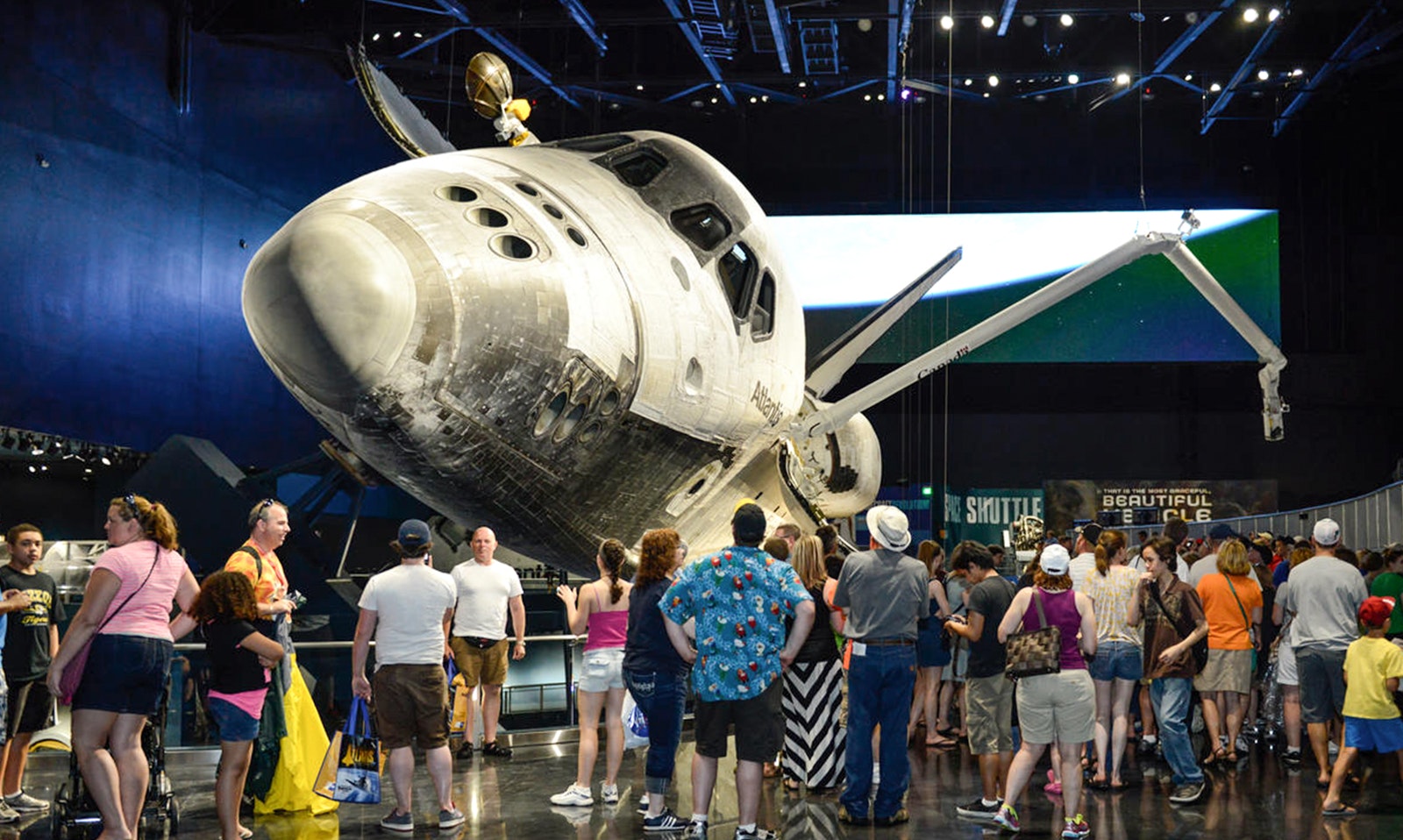 Displayed in a suspended flight configuration (rotated 43.21°) with its payload bay doors open and the Canadarm extended, the Space Shuttle Atlantis is one of the three remaining space-flown orbiters, and the last to fly in space in 2011.
Did you know? By the end of its final mission, Atlantis had orbited the Earth a total of 4,848 times, travelling nearly 126,000,000 mi (203,000,000 km), which is more than 525 times the distance from the Earth to the Moon.
Highlights include:
Forever Remembered: A memoria in honour of the astronauts who lost their lives during space shuttle missions STS-51L Challenger and STS-107 Columbia.
Space Mirror Memorial: A national memorial honouring fallen astronauts from the American Space program.
Hubble Space Telescope Theater: The first of NASA's Great Space Observatories, learn about the failures, successes and spinoffs of the Hubble Space Telescope.
5. Journey to Mars
---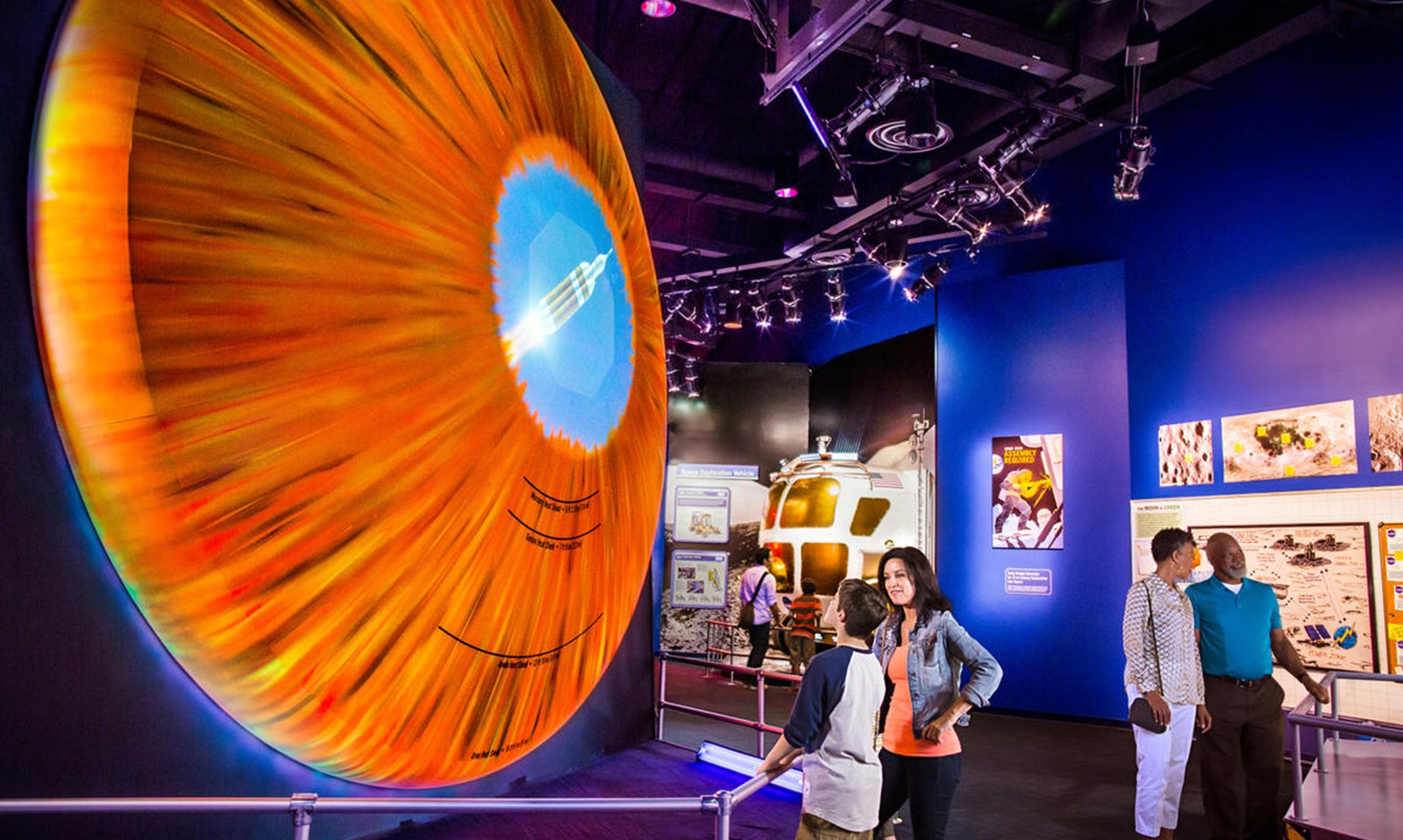 Experience this interesting and interactive experience put together at the Kennedy Space Center that features live presentation, interactive games and simulators and exhibits on the challenges of sending humans to Mars. From the earliest robotic missions to Mars to the plans for human missions, learn, explore and catch a glimpse of the future of human spaceflight.
Highlights include:
Mars Rover Vehicle Navigator: Check out the newest concept vehicle, the Mars Rover Vehicle Navigator (MRVN) designed to navigate the demanding landscape of Mars.
Planet Play: An immersive play arena for kids between the ages of 2-12 years to climb through a wormhole, walk on Saturn's rings and more.
Imax Theater: View incredible space-themed films featuring eye-popping images of space. Don't stop yourself from reaching out to touch them, they can feel that real.
Recommended Kennedy Space Center tickets
---
Dining
---
Enjoy an out-of-the-world dining experience at the Visitor's Complex in Kennedy Space Center. Equipped to serve vegetarian, gluten-free and healthy options, experiment, enjoy and fuel up right before you embark on your journey around space.
Did you know? All the serving bowls and plates are made from recycled pulp. The cutlery, straws and lids are biodegradable.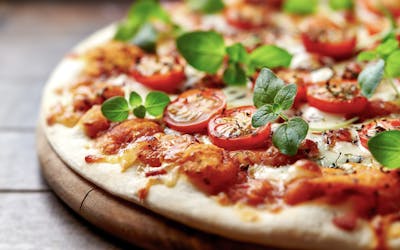 Orbit Cafe
Located opposite the space shop, it serves freshly baked pizzas, sandwiches, burgers and more. The lettuce and herbs used in their preparations are hydroponically grown in the towers, right there. So finish a good run of shopping and head this way to appease your hunger.
Timings:
9:30 a.m. - 4:00 p.m.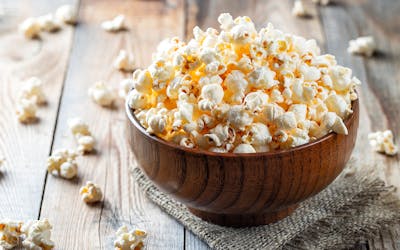 IMAX Snax
Enthralled by the documentaries playing at the Kennedy Space Center IMAX? Now enjoy it more with a serving of classic movie theatre snacks like soda, popcorn and candies from IMAX Snax.
Timings:
9 a.m. - 5 p.m.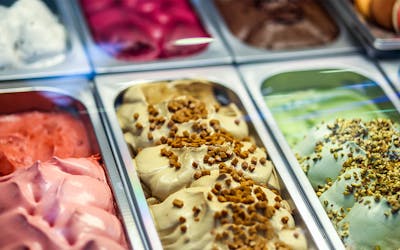 Space Dots
Located close to Space Shuttle Atlantis, cool off with innovative ice creams and a range of galactic gelato flavours.
Pro tip: Try out the exclusive Martian Rock Flavour.
Timings:
9 a.m. - 5 p.m.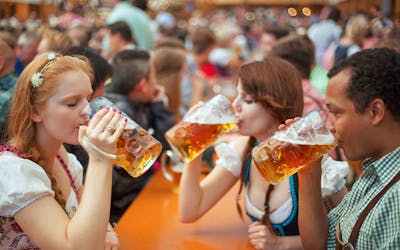 Planet Play Lounge
Parents are definitely going to love this place! Sit back, relax and recharge with a mug of beer or a glass of wine (on the second floor) as your young explorers go around learning about space.
Timings:
9 a.m. - 5 p.m.
Shopping
---
The Visior's Complex houses a 15,372 square feet Space Shop set up by NASA and dedicated to space memorabilia and NASA gear. Shop for souvenirs, latest NASA clothing, merch, accessories and gear.

1. The Space Shop:
Uncover hidden and rare space memorabilia here. Featuring the real Apollo 11 gantry, explore 300+ space centric hoodies, hats, tees, jackets, sweatshirts and so much more.
2. The Right Stuff:
Located at the Saturn V center, this store sells moon landing souvenirs and Apollo program memorabilia, including iconic statements as graphic tees "Failure Is Not An Option".
3. Shuttle Express:
Located inside Space Shuttle Atlantis, explore a range of exclusive space shuttle merchandise like caps, mugs, water bottles, t-shirts and so much more.
Did you know?
The Space Shop is the world's largest store solely dedicated to selling space memorabilia and NASA gear.
The bags provided here are made of biodegradable plastic and soy ink. You can also purchase a recycled bag from the retail shops that are made from 100% post-consumer plastic bottles.
Kid-friendly zones at the Kennedy Space Center
---
1. Fly with an Astronaut:
As part of a small group, explore the Kennedy Space Center with a veteran NASA astronaut guide. Kickstart the tour from the Space Shuttle Atlantis and blast off on Shuttle Launch Experience. Lastly, enjoy a private catered lunch with your astronaut guide.
2. Kennedy Space Center Explore Tour:
Enhance your experience at the Kennedy Space Center by adding the explore tour to your itinerary. Capture photographic views of numerous spaceflight icons like the Vehicle Assembly Building and historic Launch Complex 39.
3. The Launch Director Tour:
This is a 3 hour walking tour alongside Space Shuttle Atlantis's last launch director, Mike Leinbach as he takes you through the risks and rewards of the space shuttle program. Next stop is the Shuttle Launch Experience followed by Forever Remembered and the tour ends with a private sit-down to ask any remaining questions.
Hours of operation for 2023
---
The Kennedy Space Center is open
Monday - Sunday weekly
at the following times*:
January 1 - March 12, 2023:
9:00 a.m. - 5:oo p.m.
March 13 - April 16, 2023: 9:00 a.m. - 6:oo p.m.
April 17 - June 18, 2023: 9:00 a.m. - 5:oo p.m.
June 19 - August 13, 2023: 9:00 a.m. - 6:oo p.m.
August 14 - December 17, 2023: 9:00 a.m. - 5:oo p.m.
December 18 - December 31, 2023: 9:00 a.m. - 6:oo p.m.

*Timings are subject to change based on peak seasons.
Note:
Entry to the Visitor Complex ends 1 hour prior to closing time.
The last bus tour runs 2.5 hours before the complex closure.
Travel information
By car:
From Cocoa Beach: State Road 528
From Orlando: State Road 50
From Daytona Beach: Interstate 95
From Miami: Interstate 95
By bus:
There is no direct public transportation available.
The closest bus line passes near the Kennedy Space Center are: 11, 111 and 436S.
FAQs
---
The Kennedy Space Center is suitable for children of all ages but it is best suited for children above the age of 5 years because many of the exhibits/attractions are geared towards older children and adults.
There are a number of special hands-on programs designed for children at the Kennedy Space Center. These include:
The Junior Astronaut Space Program: A hands-on program that teaches children about space exploration.
The Space Camp Program: A week-long program that teaches children about different aspects of space exploration, including rocketry, robotics and life in space.
The KSC Kids Club: A free membership club that offers children exclusive discounts and promotions.
Be sure to pack the following for your kid's visit to the Kennedy Space Center:
Comfortable shoes since there will be a lot of walking.

Sunscreen and a hat, as Florida can get very hot.

A water bottle for hydration.

A camera, for them to capture pictures and videos of their visit.

Snacks, as food can be a bit on the expensive side.

Comfortable clothes, as they'll partake in activities.
Yes, there are a number of restaurants and cafes at the Kennedy Space Center that are suitable for children of all ages. Children's menus are available at different cafes.
There are a bunch of activities for your child to enjoy at the Kennedy Space Center, such as:
Watching an IMAX movie and enjoying snacks from IMAX Snax.

Seeing the Saturn V rocket up close.

Playing in the interactive kids space exhibit.
Kennedy Space Center mission zone