Viewing cherry blossoms in Japan is a magical experience that appears on countless travellers' bucket lists. While COVID-19 may have limited the chances of people seeing the cherry blossoms (sakura in Japanese) in 2020, 2021 brings an opportunity to cross this off your bucket list. Visiting Japan in spring not only gives you the chance to view the beautiful pink flowers and enjoy the excellent weather, but also to attend many spring and cherry blossom-centered festivals and join in the revelry.
Cherry blossom season typically starts in Okinawa in mid-February, after which the rest of Japan sees the flowers start to bloom. Kawazu and Atami city see their flowers bloom by late February; Tokyo and Fukuoka see it in March; and Kyoto, Osaka, and Sendai see the flowers start to bloom by early April. Aomori and Hakodate experience the bloom in late April, and north Hokkaido (Sapporo) sees cherry blossom season in May. Based on the weather predictions, you can plan your trip to Japan in a way that includes viewing the ethereal cherry blossoms in full bloom.
The cherry blossom season 2021 in Japan is expected to begin in early March. The borders of Japan are currently closed to most countries, so keep checking the official website for the restrictions and rules in place.
Why Go On a Cherry Blossoms Tour
---
Nature beauty that will leave you speechless: The beauty of the cherry blossoms is absolutely awe inspiring and opens your eyes to the raw power of nature. Such is its visual appeal that there are poems and songs written about this delicate flower and its importance. The blush-colored petals slowly fall off the trees, creating a blanket on the ground as well as above you, making for a memorable experience. Especially in towns and cities where sakura trees are planted in rows by the waterside, such as the Chidorigafuchi moat in Tokyo, a magical experience awaits visitors.
Discover a symbol of cultural importance: The cherry blossom is a symbol of transience or mortality. As it only blooms for a month, it is a reminder of the fleeting nature of beauty and life. It is a very famous symbol and icon in Japanese culture, so much so that it is featured on the 100 yen coin. While cherry blossoms grow across the world, it is in Japan that this flower plays an important role. It is featured in songs, poems, art, films, anime and manga, and is even featured in the mascot for the upcoming Tokyo 2021 Paralympics, Someity. The practice of hanami involves picnics, festivals, or parties to admire these blooming flowers and eat and drink sakura-flavoured snacks and drinks, and is done annually as soon as cherry blossom season begins.
See more than just the blossoms: As part of a cherry blossoms tour in Japan, you will get to discover more than just that — you will also get to explore some of Japan's iconic landmarks and attractions such as Fujisan Sengen Shrine, Hakone-en, Komagatake, Lake Ashi, Mount Fuji, and Shiraito Falls. If you plan your tour dates right, you will get to see the cherry blossoms in full bloom in these locations. For example, the Arakurayama Sengen Park is home to the Arakura Fuji Sengen-jinja Shrine and pagoda, and overlooks Mount Fuji. During cherry blossom season, you get to see three of Japan's famous attractions — the pagoda, Mount Fuji, and, of course, the cherry blossoms.
Hassle free experience: As part of a guided cherry blossoms tour, you will be accompanied by an expert English-speaking guide who will help you get the best possible views of this magnificent experience. Your guide will also tell you all about the historical significance of these blossoms and give you an insight into its cultural relevance; and will do the same for any other landmark you visit. Moreover, your transportation is also arranged as part of the tour, ensuring you have a stress-free experience, and all you have to do is show up.
The Best Japan Cherry Blossom Guided Tours
---
The best way to discover the cherry blossoms of Japan is through a guided tour that takes you to the best locations in the country to view these beautiful flowers. Based on your areas of interest and whether or not you want to visit another location while viewing the cherry blossoms, you can pick a tour that suits you best. Here are some Japan cherry blossom tour options.
Early Blooming Cherry Blossom Mt.Fuji Day Tour
This Japanese winter tour offers a glimpse into areas difficult for one to visit on their own
Witness vibrant cherry blossoms in full riotous bloom
Spend time picking and eating juicy strawberries in Yamanashi, the fruit Kingdom of Japan
Play in the snow along the slopes of the majestic snow-capped Mt. Fuji
Enjoy this tour under the guidance of a National Government Licensed English interpreter
Mt Fuji Best Cherry Blossom Spots Tour
Visit famous viewing spots along the outskirts of Mt. Fuji and witness the timeless blooming of cherry blossoms
Indulge in freshly picked, juicy strawberries in Yamanashi, the fruit Kingdom of Japan
Explore Arakurayama Sengen Park, where Mt. Fuji and a five-story pagoda can be seen simultaneously
Cover tricky areas with the help of a National Government Licensed English interpreter
Mt. Fuji Cherry Blossom Day Trip: 5th Station, Pagoda & Kawaguchi Lake
This Spring tour offers a glimpse into Japan, en-route Mt. Fuji
Witness a field of cherry trees in bloom at the Shin Arakura Sengen Shrine
Ride the Kachi-Kachi ropeway and enjoy spectacular panoramic views of Lake Kawaguchiko
Visit Mount Fuji's 5th station and enjoy a birds-eye view of the Fuji Five Lakes
Get your own complimentary Tokyo Travel Guidebook and character souvenirs
Your Experience
---
No visit to Japan is truly complete without seeing these flowers and walking underneath a canopy of cherry blossoms. With a guided cherry blossom tour, you can admire the beauty of Japan and make some cherished memories. As part of your tour, you will visit the area around Shizuoka Prefecture, which is home to Mount Fuji. Depending on the month your booking is for, you will get to see the cherry blossoms in different cities; Atami City between January and February, Matsuda between February and March, and Minamiashigara City throughout March.
You will meet your National Government Licensed English tour guide at the designated meeting point, from where you will begin your tour. Your transfers and (depending on the tour chosen) your lunch will also be included within your day tour, ensuring a hassle-free experience.
Some of the landmarks you will get to see on your tour include:
Mishima Skywalk: Mishima Skywalk is the longest suspension bridge in Japan, with a length of 400 meters. Providing visitors with spectacular views of Mount Fuji and the Suruga Bay, one can also zipline under the bridge towards Mount Fuji. In the north of the bridge is Forest Adventure, where visitors can try their hand at Tarzan Swing, Cliff Challenger, and other attractions.
Fujisan Hongu Sengen Taisha Shrine: Located in the southwestern foothills of mount Fuji, the Fujisan Hongu Sengen Taisha Shrine is over a 1000 years old. Initially built to protect the region from volcanic eruptions; it was built to appease the deity of the volcano. Those that want to climb Mount Fuji, often stop by here to take in its sheer beauty and pray for a safe climb.
Arakurayama Sengen Park: Located in Fujiyoshida, Arakurayama Sengen Park is home to the Arakura Fuji Sengen Shrine, which was built in 705, and the five-storied Chureito Pagoda. During cherry blossom season, visitors can see Mount Fuji and the pagoda framed by these cherry blossoms, making for an awe-inspiring view.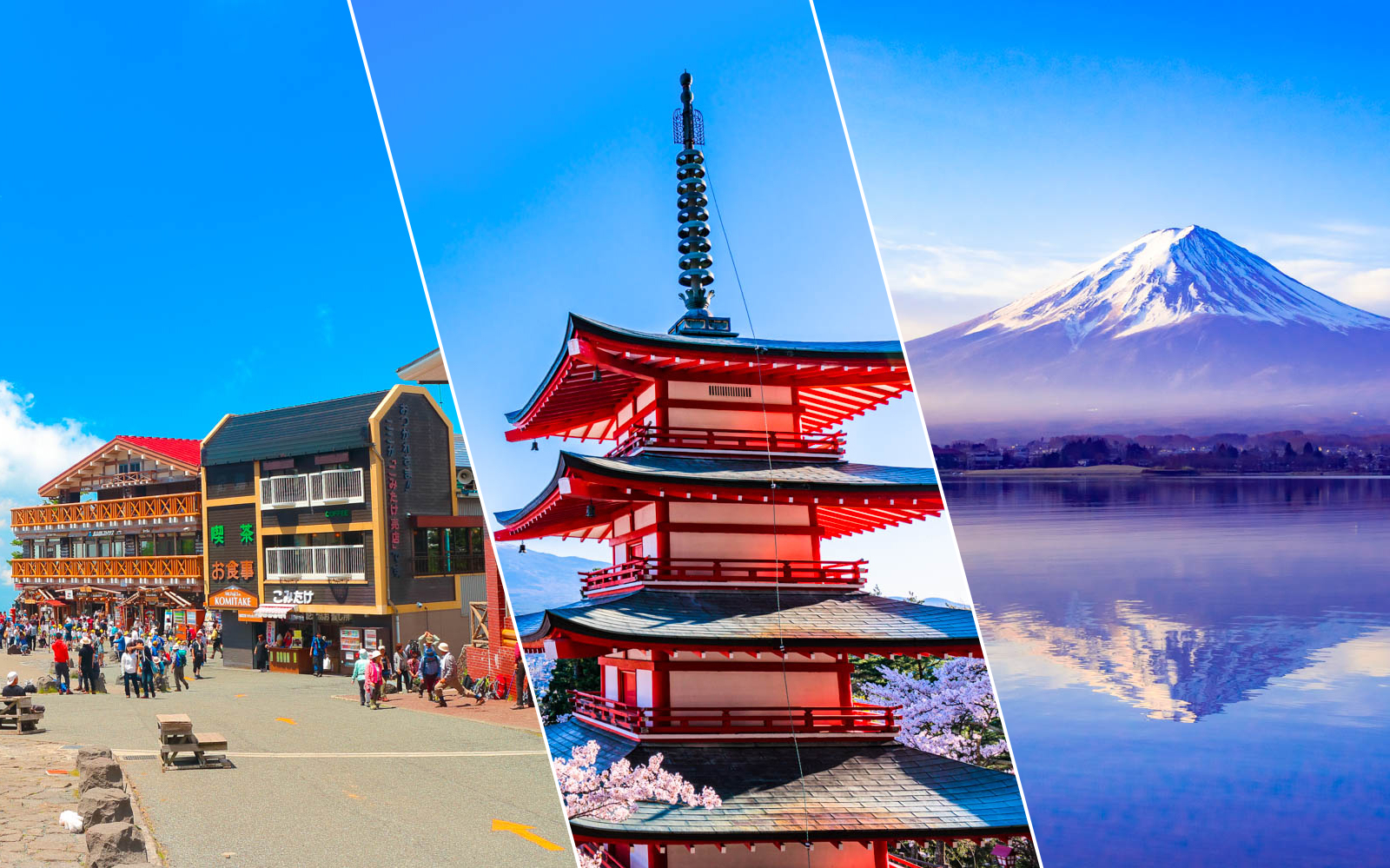 Shiraito Falls: Shiraito Falls is located in the Fuji-Hakone-Izu National Park. It is registered as a national monument and designated as one of the Ministry of the Environment's "100 best waterfalls" of Japan. The spring water from Mount Fuji plunges down from a height of 20 m — the many rivulets spread across 200 m form the Shiraito Falls and are surrounded by greenery, creating a peaceful environment.
Lake Ashi: Lake Ashi is located in Hakone, where the bright red torii to the Hakone Shrine resides. The indigo waters of this lake provide a striking contrast to the blooming sakura flowers surrounding the premises. Visitors can enjoy a boat ride and take in the mighty Mount Fuji and the surrounding pink blanket of flowers and verdant hills.
Mount Fuji Fifth Station: The highest station on the southern slope of Mount Fuji, the fifth station is 2400 m above sea level and closest to the summit. The station has a large parking lot, a restaurant, and a souvenir store, along with a magnificent unobstructed view of the lofty Mount Fuji. This is also the last station to get off for those looking to hike to the summit.
Practical Information
---
The tours only take place during cherry blossom season (between March to May).
Most Japan cherry blossom tours start around 8 AM, and go on for about 11 hours.
Your logistics are included in the tour — a private coach will take you to all the locations covered during the tour.
You will be accompanied by a guide to ensure you make the most of your experience.
Japan Cherry Blossom Tours: Tips
---
Ensure you wear comfortable shoes as the tours involve a fairly decent amount of walking.
Spring in Japan can get a little chilly, so ensure you carry a light cardigan or jacket along.
It is advised that you opt for a guided cherry blossom tour as it takes you to the best spots to view the blossoms, along with showing you some of Japan's best monuments and attractions.
Springtime in Japan is also when a lot of cherry blossom festivals take place across the country, so whenever your visit, try to check out at least one such festival.
Try sakura-flavoured snacks and drinks; these are especially popular during cherry blossom season.
Most tours offer discounted tickets for children under 11 and free entry for those under 5. Before you book your tickets, check what discounts you can avail.
Ensure you check what language the tour is in when booking tickets. Some tours are conducted in English, while others are conducted in Japanese (but offer video translation services in other languages).
Japan Cherry Blossom Tours: FAQs
---
A guided tour takes you to the best spots in the country to see the cherry blossoms in full bloom, and also to other notable places of historical and cultural importance so you can make the most of your trip.
A guided cherry blossom day tour in Japan typically takes 11-12 hours.
This depends on the tour picked. Headout offers a range of tickets, some that can be cancelled 24 hours in advance, and some that need to be cancelled up to 7 days in advance for a refund.
Different parts of the country experience cherry blossom season at different times. Okinawa, for example, experiences cherry blossom season by mid-February, Tokyo and Osaka get it by late March, and Sapporo sees cherry blossoms unfurl by May. But by and large, cherry blossom season is between March and April.
The best time to take a cherry blossom tour in Japan is between March and April as that is mostly the time when the flowers are in full bloom in most cities.
Yes, it is advised that you purchase your guided cherry blossom tour tickets in advance as it is a popular experience and sells out relatively quickly. Additionally, booking in advance ensures you get the tickets on the day you want to visit as per your itinerary.
Your tickets are valid only for the day the tour has been booked for.